Step into a tropical paradise with this delicious and refreshing mango milkshake.
Perfect for warm summer days or whenever you need a burst of sunshine, this shake blends the natural sweetness of mangoes with creamy yoghurt for a tasty milkshake.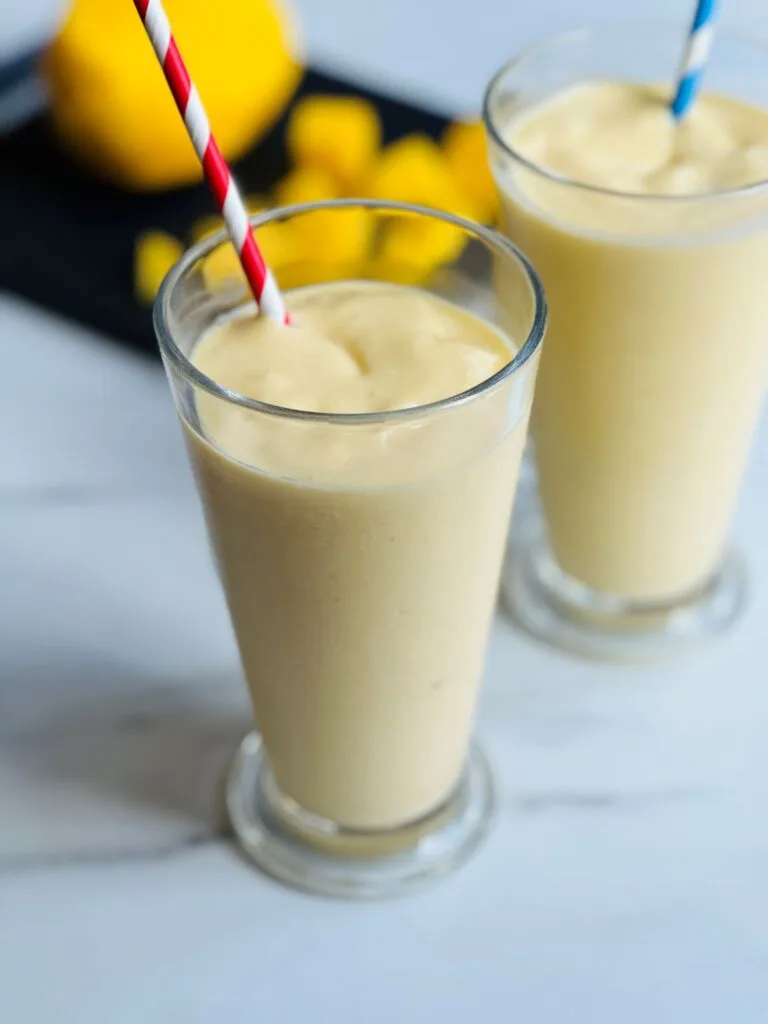 How To Make A Mango Milkshake
This mango milkshake is made without ice cream – it was thick enough without it, and I was trying to avoid adding too many calories! – but you can add a scoop or two of vanilla ice cream if you want to.
What You Need: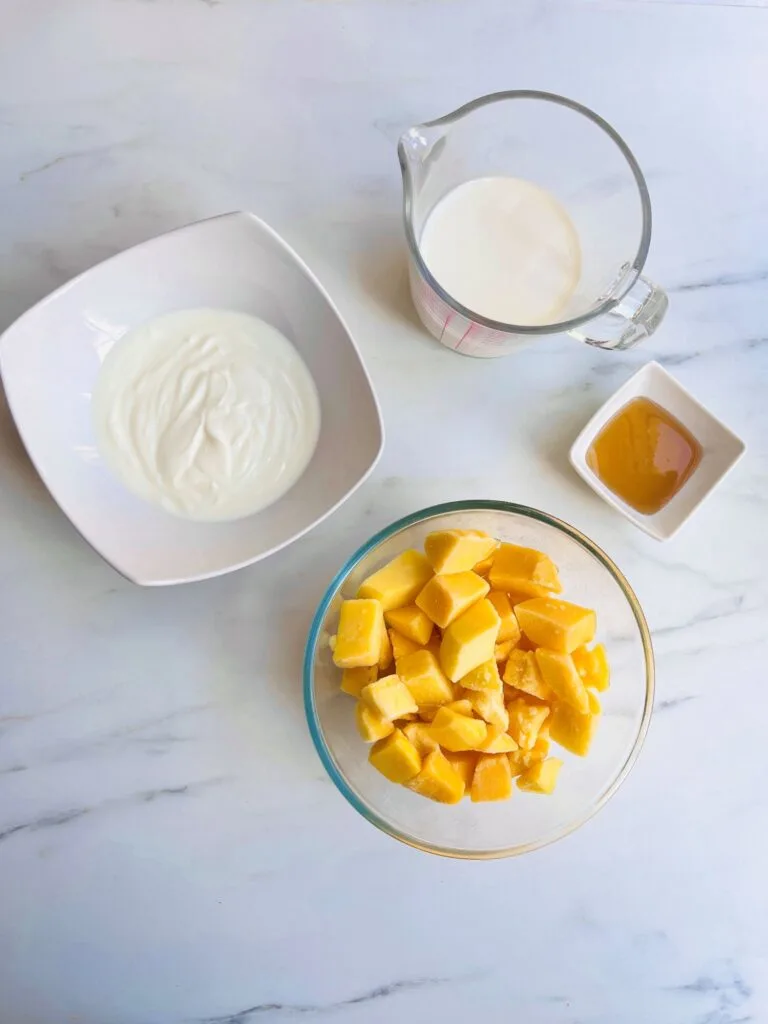 Here's what you'll need to bring this tropical treat to life:
400g of frozen mango chunks: This is the star of the show, providing a vibrant tropical flavour and a dose of essential vitamins. Fresh mango can also be used; just remember to add ice.
250ml of milk: Any type will do, from traditional whole or semi-skimmed milk to non-dairy options like almond, soy, or oat milk for a vegan-friendly version.
150g of plain or Greek yoghurt adds creamy thickness to your milkshake. Greek yoghurt is thicker and creamier, but plain yoghurt can do the trick. Non-dairy yoghurts can also be used for those with dietary restrictions.
1-2 tablespoons of honey or another sweetener (optional): Depending on the natural sweetness of your mangoes, you might not need this. However, if you prefer a sweeter milkshake, feel free to add honey or any sweetener you like.
I made this milkshake using a Ninja blender – but you can use any blender that can cope with crushing and blending ice.
Great For Milkshakes!
Ninja Blender and Soup Maker
Makes chunky or smooth soup, smoothies, sauces, jams, frozen cocktails.
Hot capacity: 1.4L
Cold capacity: 1.7L
Chop and sauté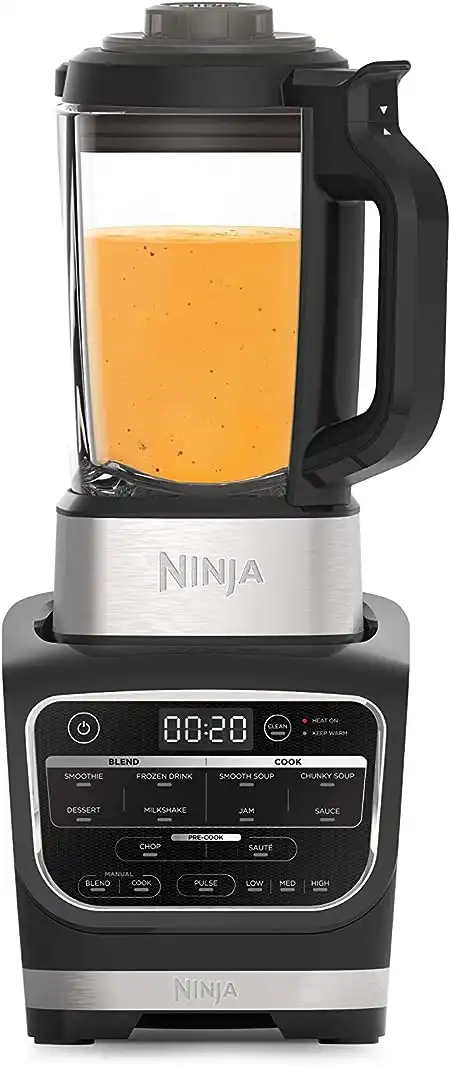 We earn a commission if you click this link and make a purchase at no additional cost to you.
Making Your Mango Milkshake
To begin, place your frozen mango chunks into the blender. The wonderful thing about using frozen fruit is that it gives your milkshake a naturally cold and thick texture without diluting the flavour like ice can sometimes do. However, be sure your blender is up to the task of blending frozen fruit!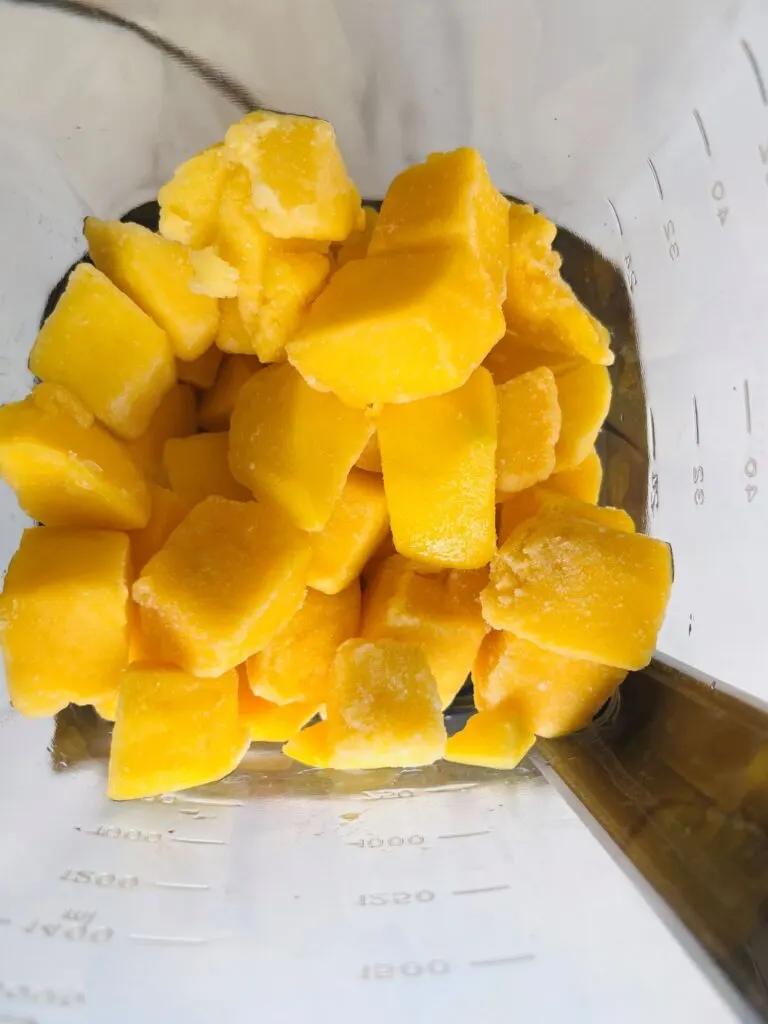 Next, add the milk. The quantity of milk can alter the consistency of your milkshake, so pour accordingly: less for a thicker texture, more for a lighter one. It's all about your personal preference here.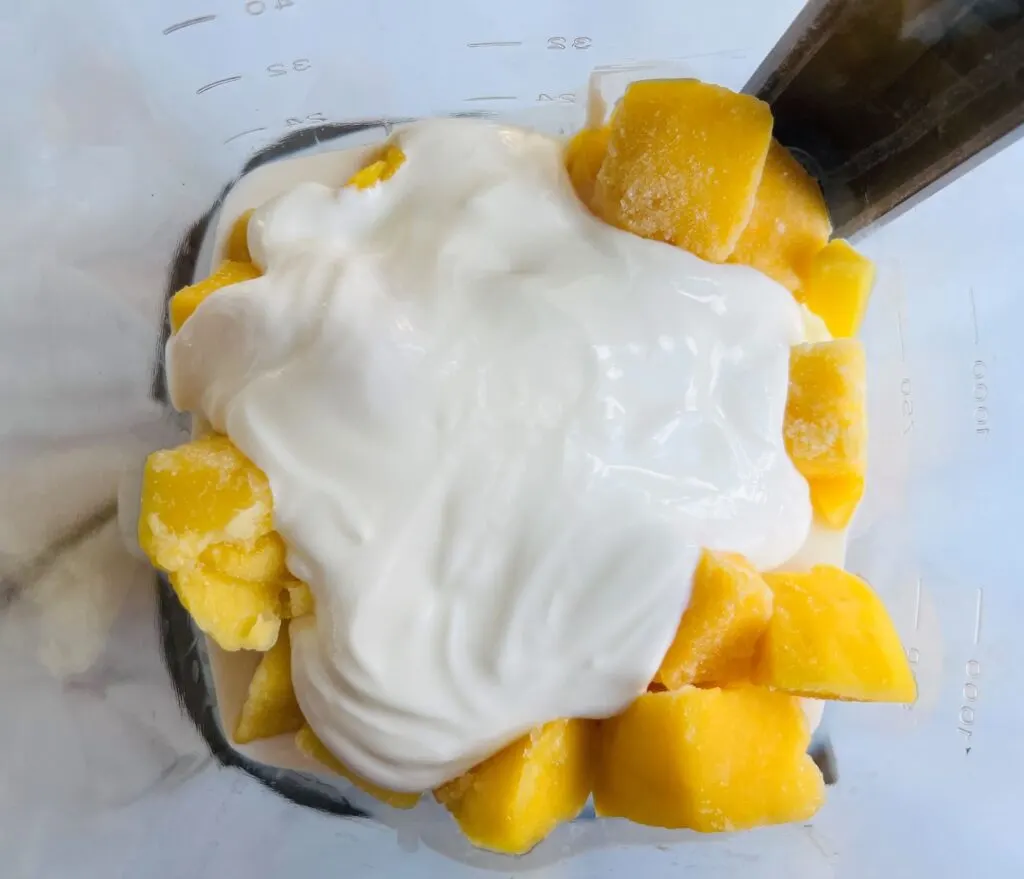 Following the milk, add your yoghurt. This gives your milkshake a deliciously creamy and smooth consistency.
And if you're craving a touch of extra sweetness, now's the time to add your preferred sweetener. A tablespoon or two of honey can really enrich the milkshake, but feel free to adjust it to your liking.
Next, blend it. How long it takes will depend on your blender's capabilities. I used the 'smoothie' button on the Ninja blender; your model may vary, so blend for 30 to 40 seconds or until all the mango chunks are smooth and blended.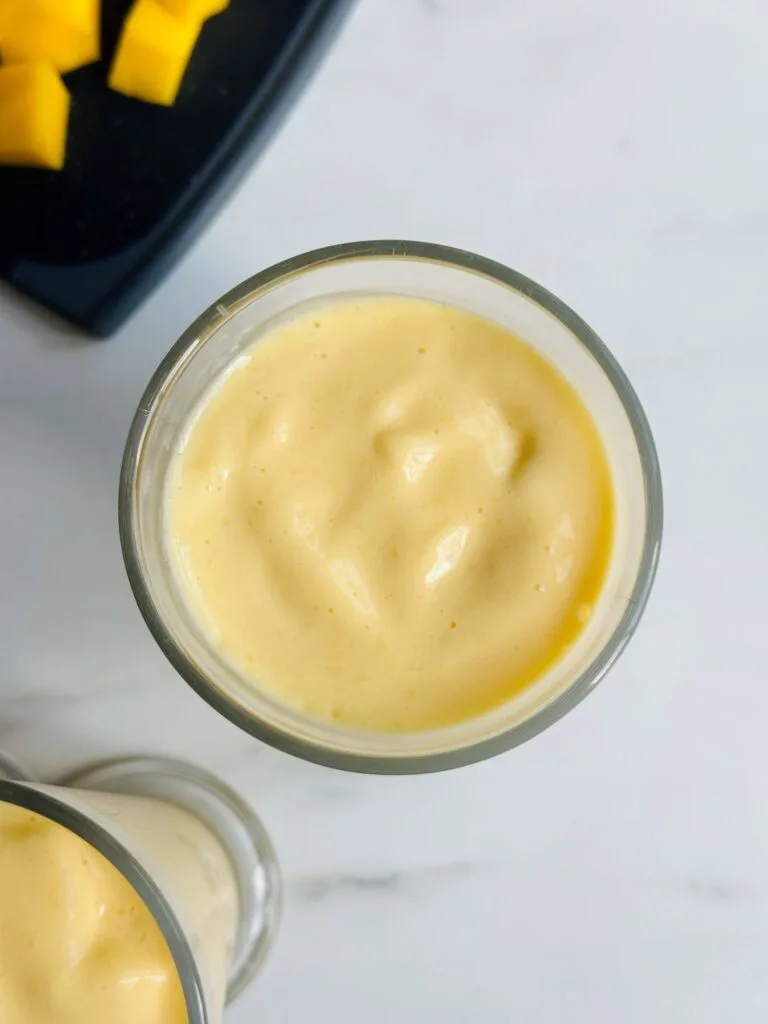 After blending, give it a taste, and if it needs a bit more sweetness, add some more honey or sweetener and blend again.
Serving Your Mango Milkshake
Once you've achieved the perfect balance of tropical mango and creamy sweetness, it's time to serve your milkshake.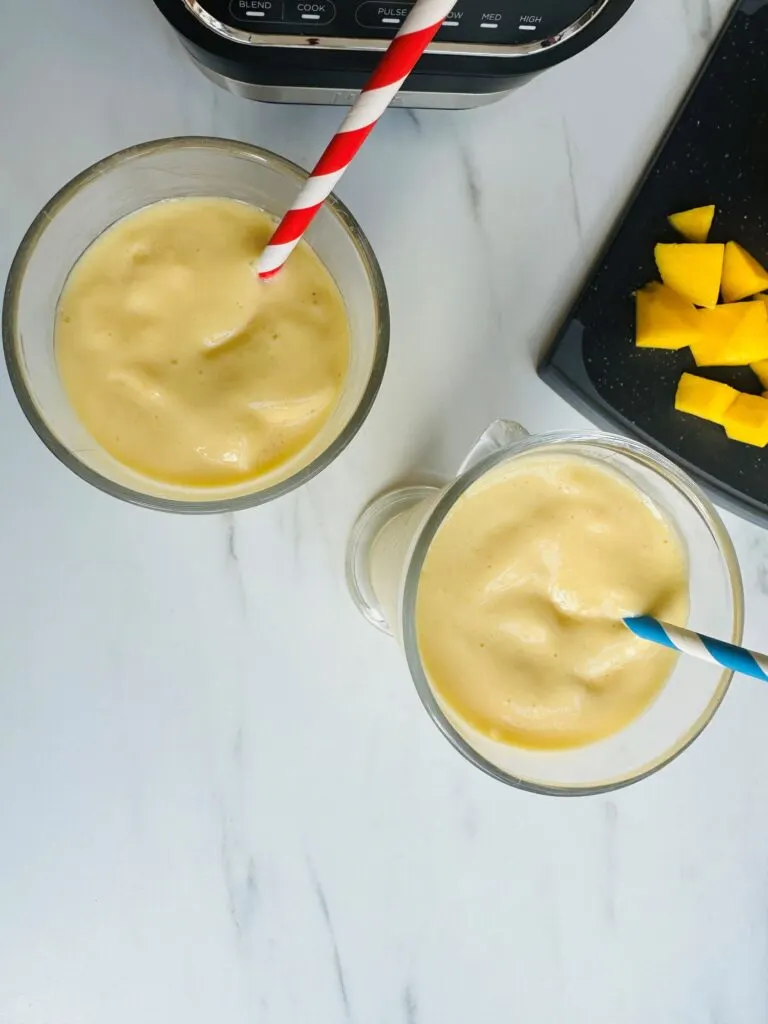 Mango milkshakes are a delightful way to cool off on a hot day, make a delicious dessert, or serve as a filling breakfast on the go. The rich, creamy texture also makes them a great snack option that both adults and kids will love.
Convert It To An Ice Lolly
Fancy making it even cooler? Why not pour the mango milkshake into some ice lolly moulds (like these ones from Amazon) and put them in the freezer for 6 to 8 hours, or until they are solid.
I turned this strawberry and banana smoothie into an ice lolly – delicious!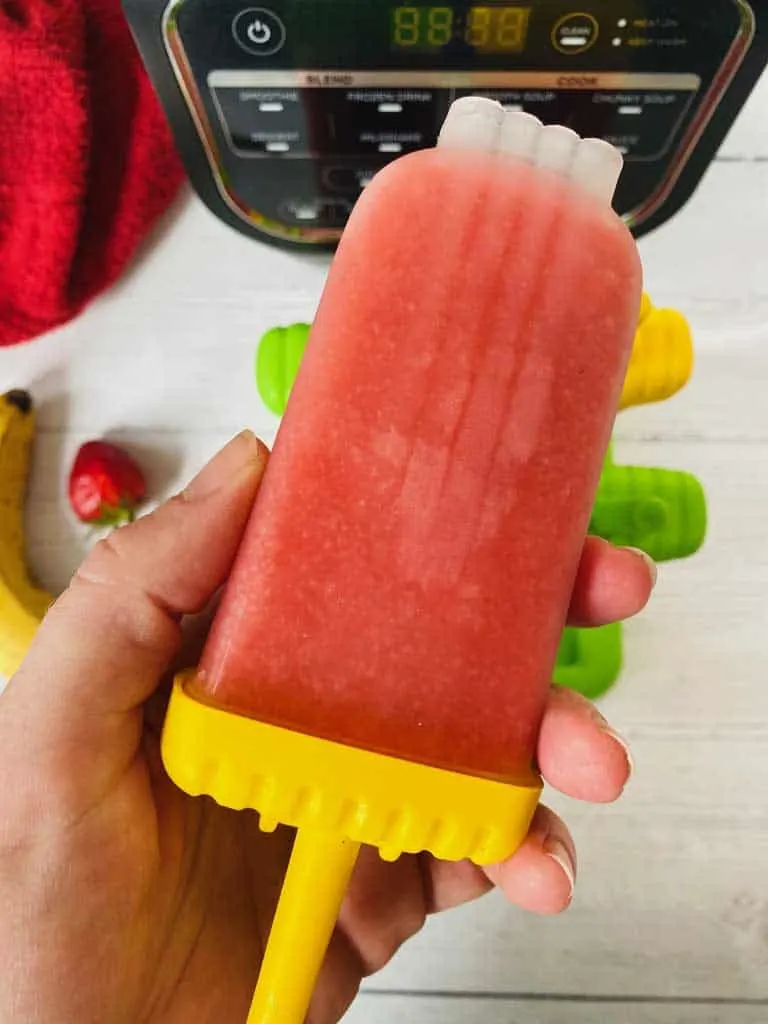 Storing Your Mango Milkshake
Should you have any leftovers, you can store your mango milkshake in the fridge for up to 24 hours. However, we recommend enjoying it immediately after blending for the best taste and texture.
Can I Use Fresh Mango Instead Of Frozen?
Yes, you absolutely can. Just remember to add lots of ice to make your milkshake thick and keep your milkshake cold.
Can I Substitute The Yoghurt?
You can try using a non-dairy yoghurt, a scoop of ice cream, or even a ripe banana for creaminess.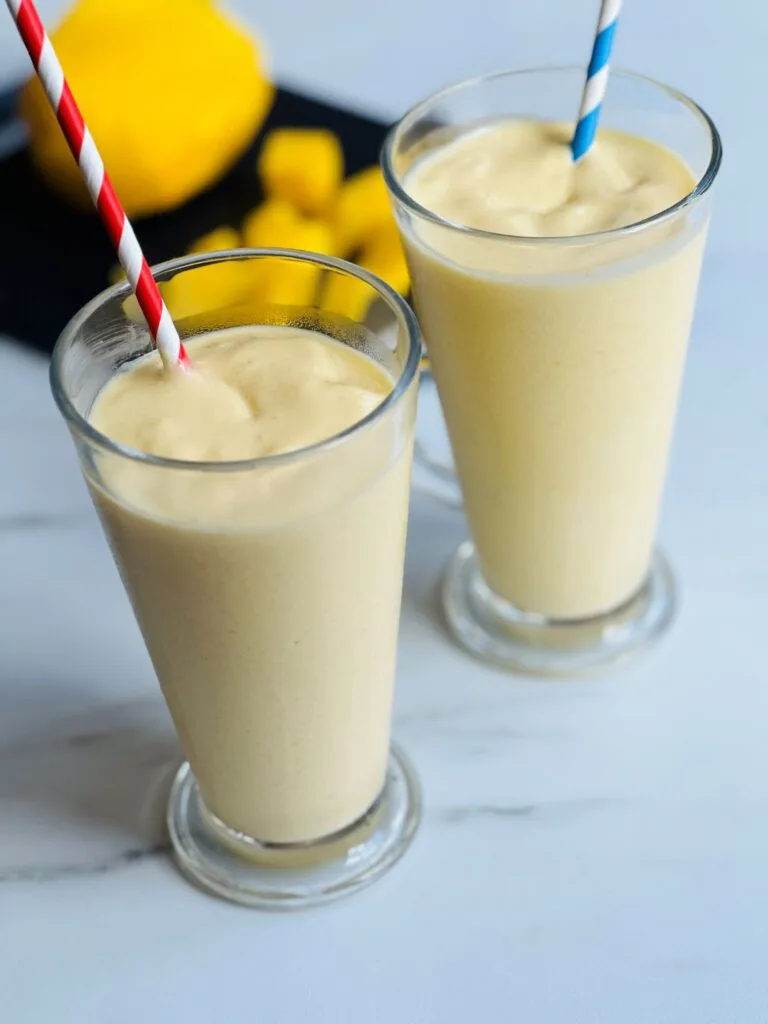 More Blender Recipes
Are you looking for more smoothie recipes? Check out some of these for some inspiration: