There are plenty of different variations on a green smoothie, making it flexible and easy to make depending on what ingredients you have available.
This green smoothie includes pineapple, cucumber, avocado and spinach – as well as a few optional extras to give it a tasty twist.
How To Make A Pineapple, Cucumber, Avocado Green Smoothie
I made this in my Nutri Ninja blender (which is still going strong after many years of use!) but it can be made in any high-speed blender.
I chose to use my Nutri Ninja blender rather than my larger Ninja Soup Maker and Blender as I only wanted one serving. If I was making 2 or more servings I would probably use the larger blender.
It's much quicker and easier to wash up the smaller Nutri Ninja blender and so I am more inclined to make myself a smoothie with this one!
Ingredients
As already mentioned, these are the quantities for 1 serving, double, triple etc according to your needs.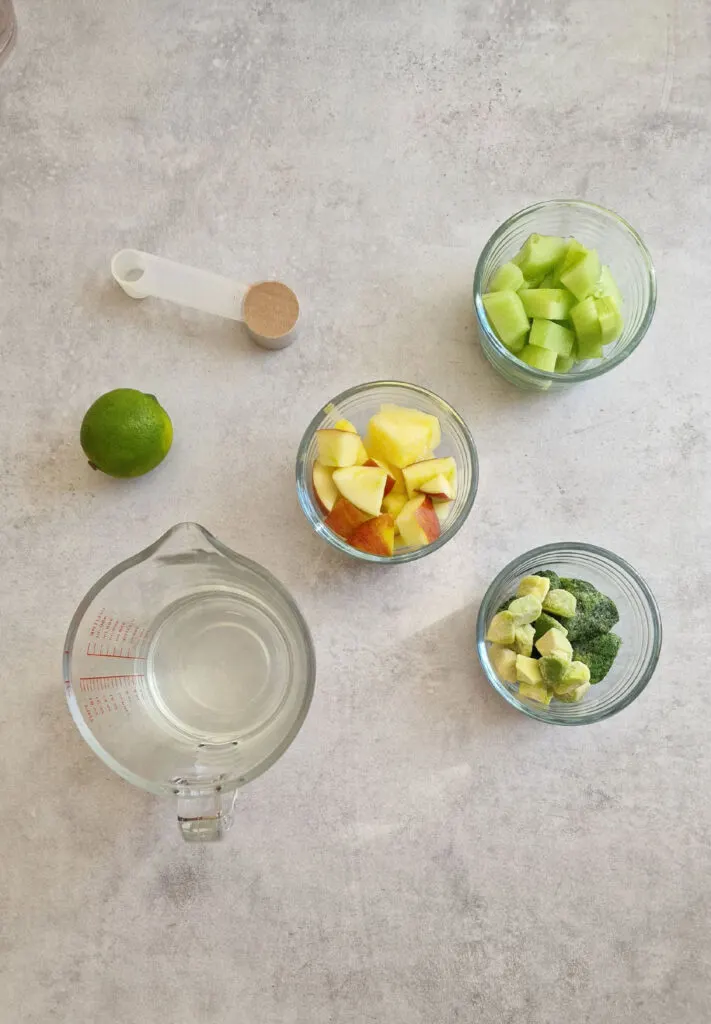 4cm chunk of cucumber
1/2 medium avocado
2 cm slice pineapple
1 handful spinach
1 small apple
Juice of 1 lime
200ml coconut water
1 tablespoon of protein powder (optional)
Ice (optional, depending on whether you are using frozen ingredients)
Preparing Ingredients For A Green Smoothie
When I can, I use frozen ingredients unless I have the fresh ingredients already and they need to be used up. This also means I don't need to add any extra ice.
Related: How To Make A Smoothie With Frozen Fruit
Using frozen already prepared ingredients also cuts down the preparation time.
In this smoothie, I used frozen avocado, frozen spinach and frozen pineapple chunks.
Prepare the ingredients:
Cucumber
Wash and chop up the cucumber. Peeling the skin is optional, most high-speed blenders will be powerful enough to make it smooth.
Avocado
Scoop out the flesh from a small avocado – make sure it's ripe or you'll have hard bits floating about in the smoothie (and that's really unpleasant!)
I tend to use frozen avocado chunks, mainly for convenience but also it can be quite tricky to time the ripeness of an avocado.
You can freeze a fresh avocado for when you need it. Simply remove the pit and slice up the flesh, lay it out on a lined baking tray and brush/spray with some lemon juice before putting it in the freezer. Once the avocado is frozen transfer the pieces to a freezer bag or airtight container and label with the date.
Pineapple
If you are using fresh pineapple, remove the skin and chop off a 2cm slice and cut it into chunks.
Fresh pineapple is another ingredient that is perfect for freezing.
If you are using frozen pineapple chunks add a small handful.
Spinach
Fresh spinach doesn't last too long so I always like to have a bag of frozen spinach in the freezer.
If you are using fresh spinach grab a small handful, if frozen, use 2 or 3 blocks.
Lime
Slice the lime in half and squeeze the juice from each side directly into the blender over the other ingredients.
Coconut Water
Start with 200ml of coconut water and add more at the end if the consistency is too thick for you. If you are using a lot of frozen ingredients, or a lot of ice cubes, it will be thicker.
You can use an alternative liquid if you prefer: water, juice (apple or pineapple) or nut milk.
Protein Powder
This is completely optional, I have been using Dare protein powder lately, mainly for making protein shakes but it also works well for adding into smoothies or some baking recipes.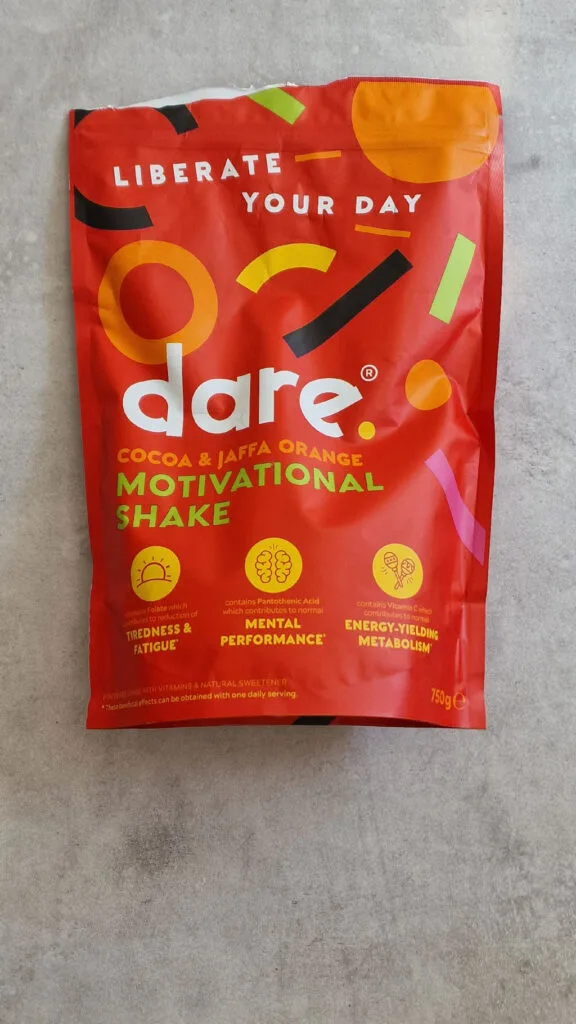 They come in lots of different flavours – I have the Cocoa and Jaffa Orange one which is perfect for adding to a smoothie.
You can buy it from Amazon or directly from the Dare Motivation website.
Making It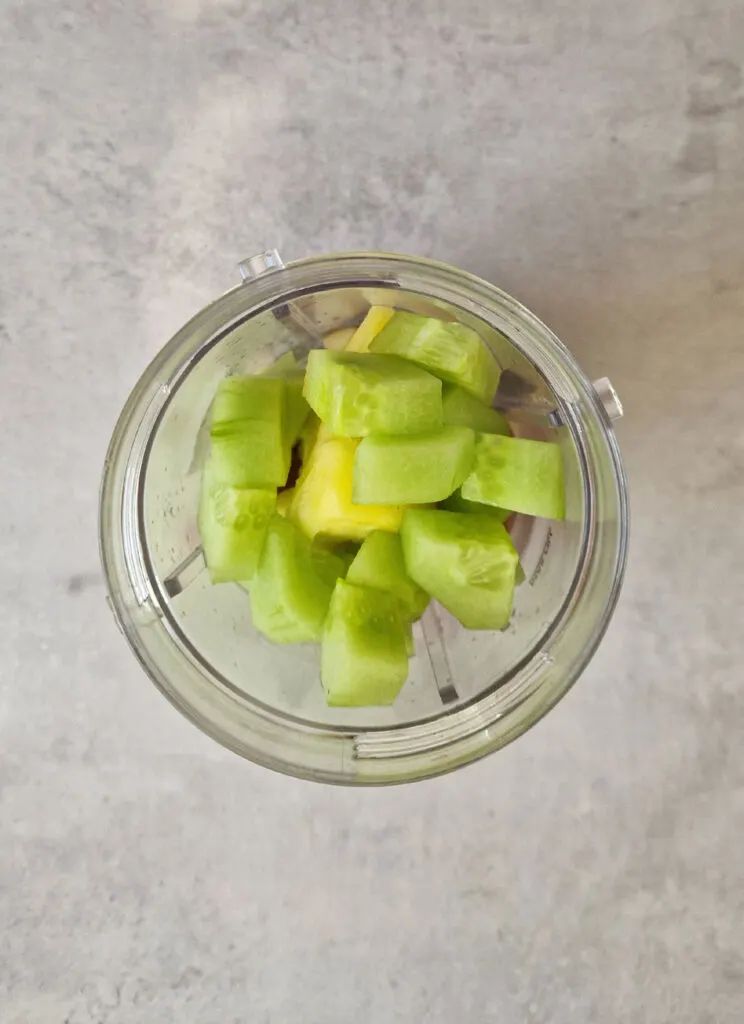 Add all the ingredients to the blender cup or jug. Blend for 30 to 45 seconds or until everything is perfectly smooth.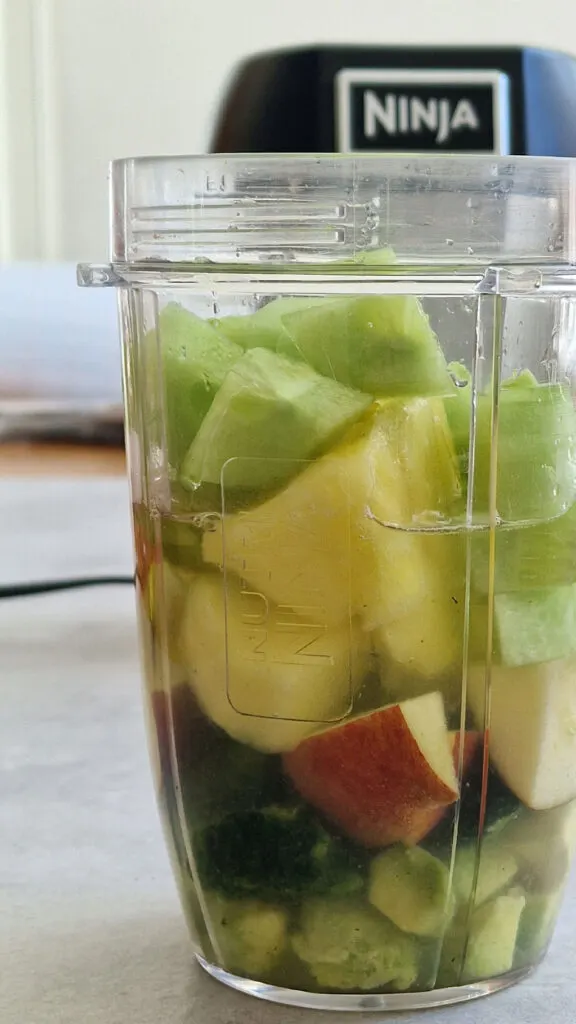 If the consistency is too thick, add in some more liquid to thin and blend again.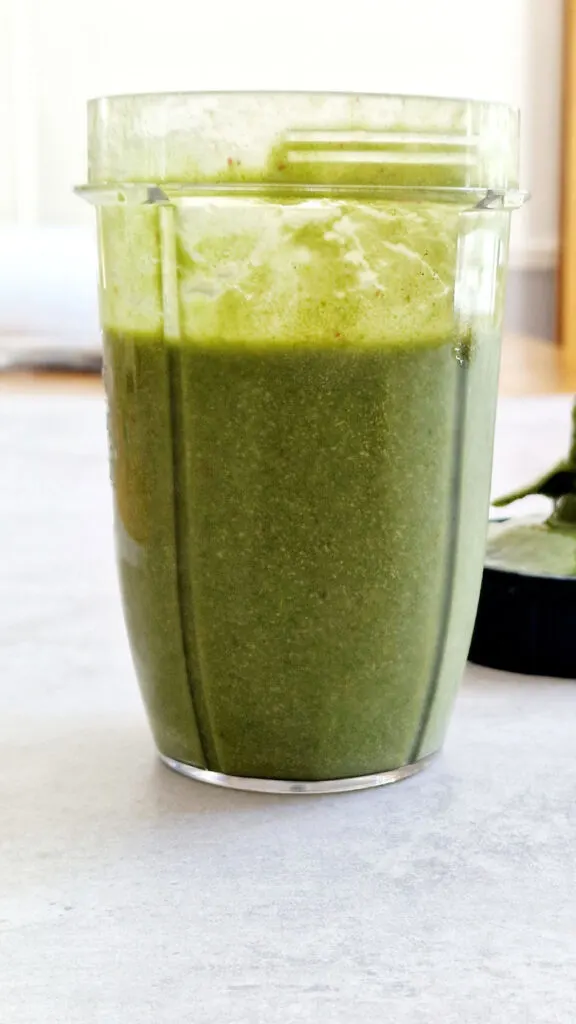 Pour the smoothie into a large glass and enjoy 🙂