Enjoy the rich, comforting flavours of red lentil & harissa soup, effortlessly made in a soup maker. This versatile recipe, made in a Ninja Soup Maker, is easily adapted to suit any model, bringing wholesome goodness to your table with minimal fuss.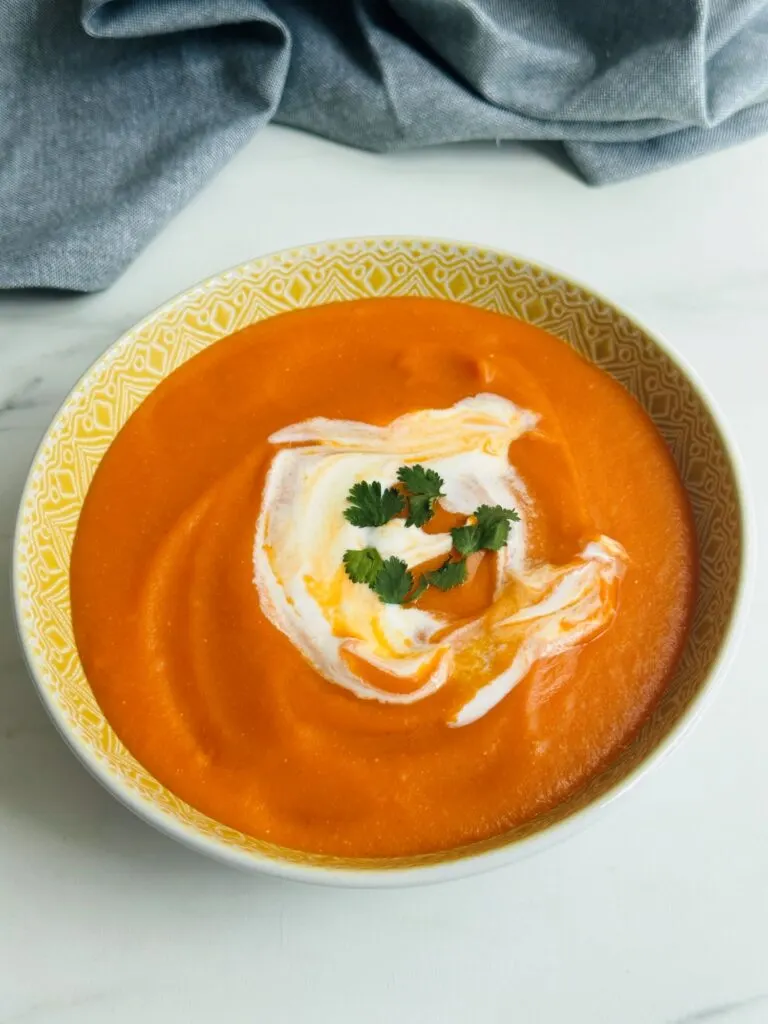 How To Make Red Lentil and Harissa Soup (In A Soup Maker)
The quantities below were perfect for making this soup in a Ninja soup maker, but it can be made in any soup maker.
Because of the lentils, this is a thick soup. Stir in some hot stock or water at the end if you want to thin out the consistency.
What You Need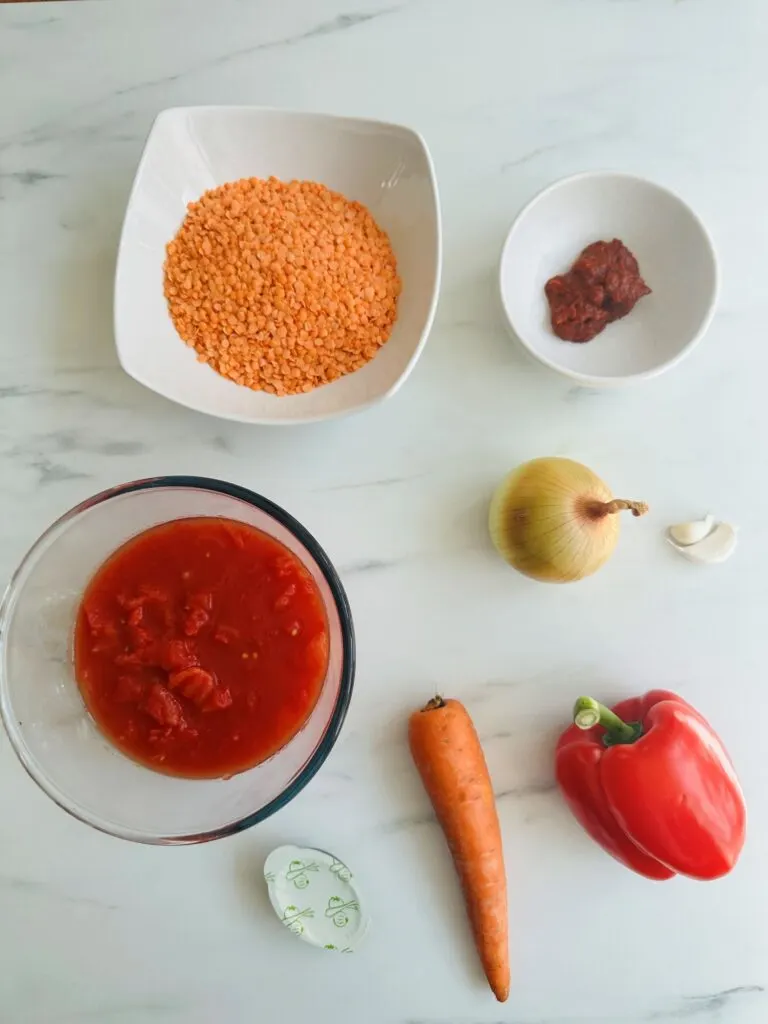 200g red lentils: Red lentils are the star of this soup, providing a rich, hearty texture. Make sure you rinse them well before using them. There is no need to soak them.
1 large onion & 2 cloves of garlic: You can substitute with shallots or garlic powder if necessary.
1 medium carrot & 1 red bell pepper: These add a little sweetness and extra goodness. Feel free to add other vegetables like celery or courgette.
1 tin of 400g chopped tomatoes: This adds a tangy depth. Fresh tomatoes can be used, but tinned tomatoes are a convenient time-saver.
Vegetable stock pot or cube
1-2 tablespoons harissa paste: this hot chilli pepper paste adds a delicious kick. Adjust the amount based on your spice preference. Small jars can be bought in supermarkets, or you can make your own homemade harissa paste.
Fresh coriander: optional for garnish; this adds a refreshing flavour. Other herbs like parsley or basil can be used too.
Yoghurt or crème fraîche: optional for serving; these add a creamy, cooling balance to the soup's spice.
Salt and pepper: To taste. Adjust according to your preference.
Making It
Add the rinsed lentils, chopped onion, crushed garlic, sliced carrot and bell pepper, and the entire tin of tomatoes to your soup maker.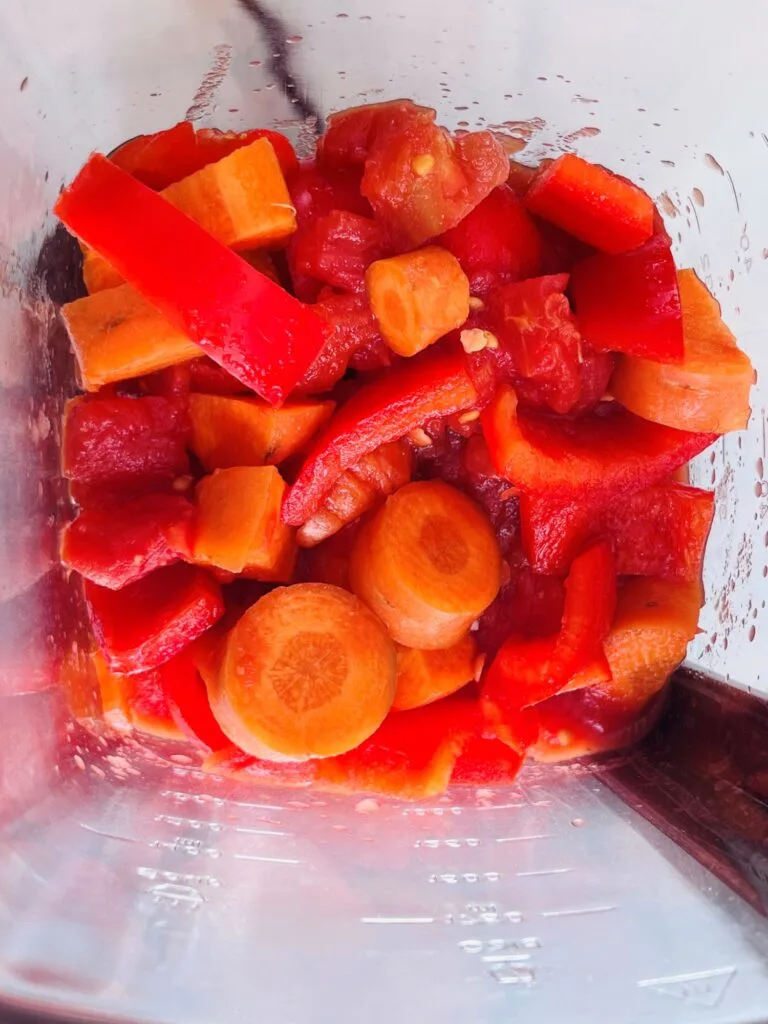 Next, add the harissa paste. This is where you can customize the heat level of your soup. If you're sensitive to spice, start with one tablespoon – remember, you can always add more later.
Now, it's time to add the vegetable stock pot/cube. Just pop it into the soup maker and top it up with hot water to the indicated line.
Side note: some soup makers can burn on the bottom, especially when using red lentils and tomatoes! The way most people seem to avoid this is by adding a little oil to the base and making sure there is enough stock/water so that the lentils or tomatoes don't stick to the bottom. You can also stir everything before setting it off to ensure these ingredients aren't resting on the bottom.
Once everything's in, close the lid and set your soup maker to the "smooth" option. This setting will cook and blend your ingredients into a silky soup in about 20-30 minutes, depending on your soup maker timings.
When the soup maker is finished, carefully taste the soup and adjust the seasoning with salt and pepper if needed.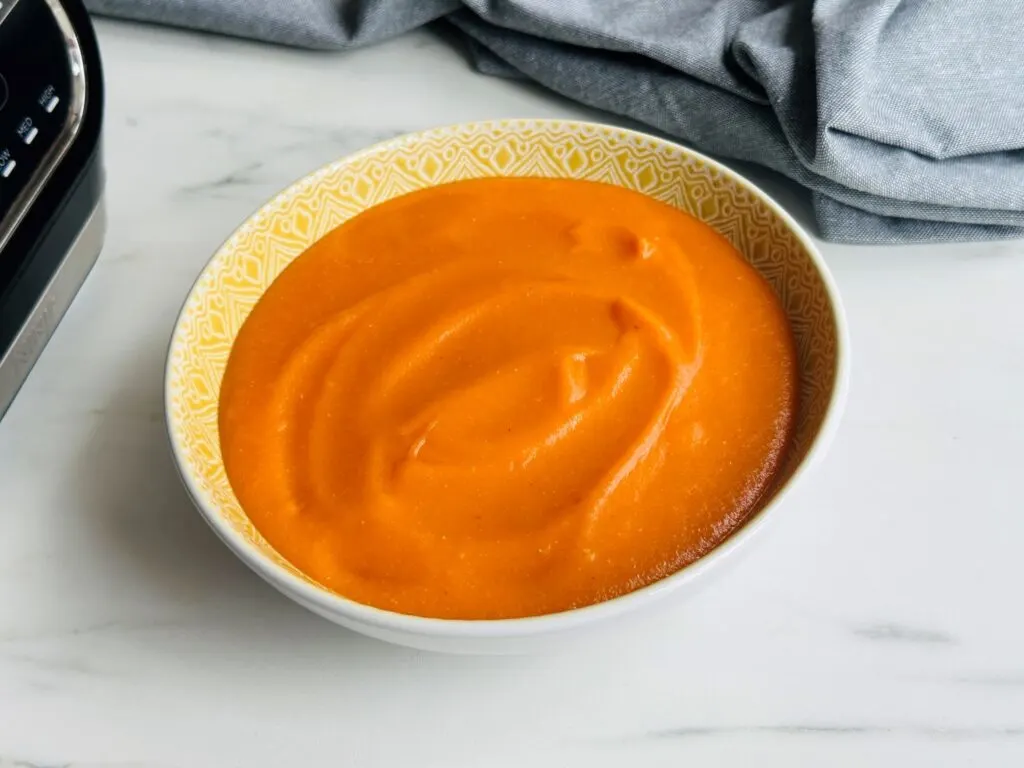 If you want more spice, now is the time to stir in extra harissa paste.
Serving Your Lentil and Harissa Soup
Ladle your warming soup into bowls, and if you like, top with a cooling dollop of yoghurt or crème fraîche. A sprinkle of fresh coriander adds a lovely colour contrast and a burst of fresh flavour.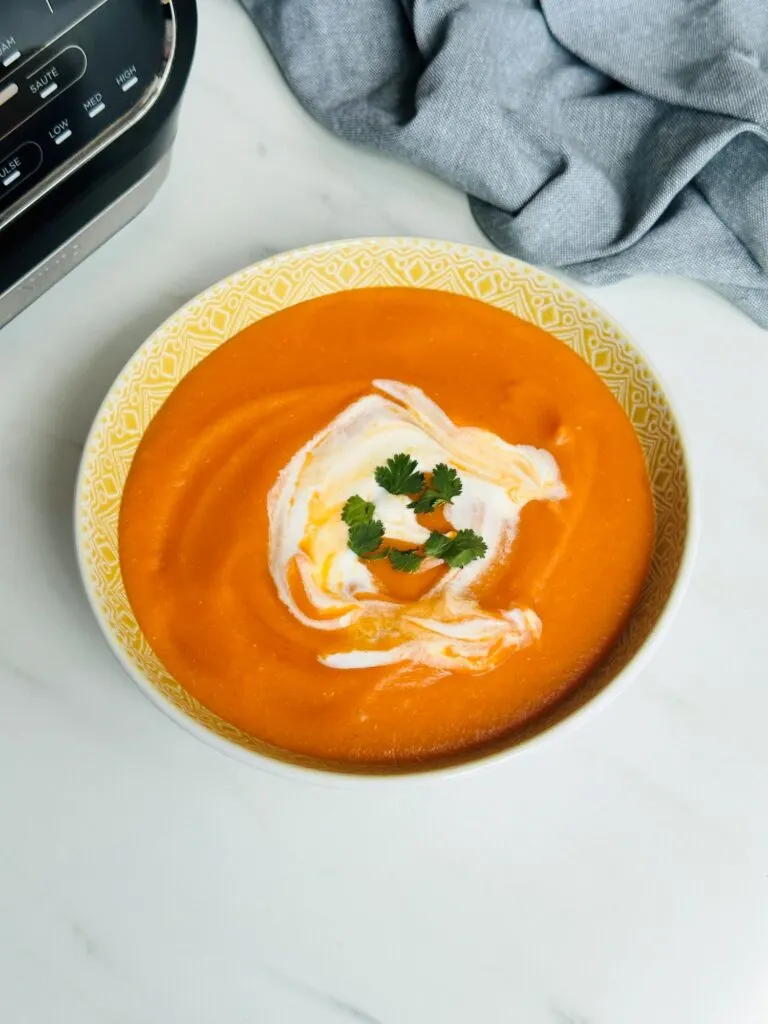 This soup is perfect as a light lunch or dinner, accompanied by a chunk of crusty bread for dipping.
Storing Your Red Lentil & Harissa Soup
If you have leftovers, you can store your soup in an airtight container in the fridge for up to 3 days. You can also freeze it for up to 3 months. To reheat, microwave it or warm it on the stove until hot.
Side Note: As red lentil soup cools down, it will start to develop a slight skin over the top of it and may appear a bit lumpy. Just stir it well, and when you reheat the soup, it will become smooth again.
More Red Lentil Soup Recipes
I hope you enjoy this red lentil and harissa soup! If you want more red lentil soup recipes, check out some of the below for inspiration, or see more soup maker recipes here.