Try this easy Air Fryer Thai Red Curry Salmon for a tasty, simple weeknight dinner.
This recipe combines delicious salmon with the popular flavours of Thai red curry. Cooking the salmon in the air fryer makes it quick and convenient, so you can enjoy a great meal without spending too much time in the kitchen 😉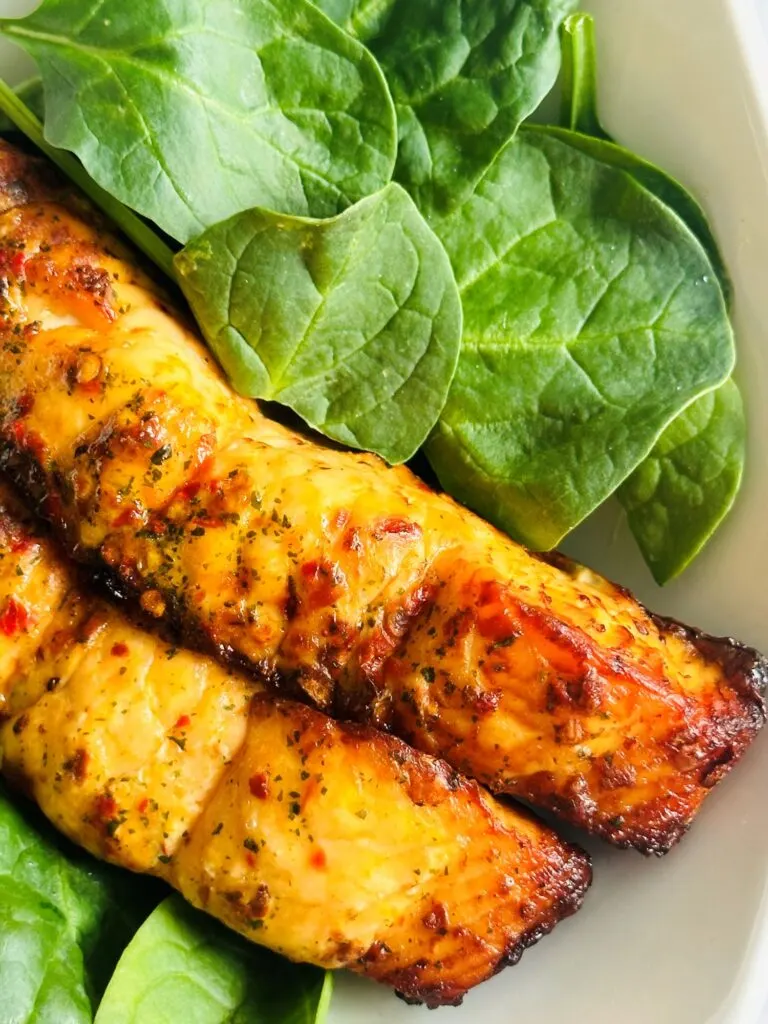 How To Cook Salmon In An Air Fryer
The beauty of air fryer salmon is that you can cook it as it is or add your favourite herbs, spices and marinades.
I have used Thai red curry paste in this recipe, but you can just as easily use something different. Also, keep an eye out for salmon sold in the supermarket already marinated.
I've made this salmon a few times; I used this one from Sainsbury's the first time, but I have since remade it using a jar of Thai red curry paste – Blue Dragon is a good choice, or any supermarket's own brand.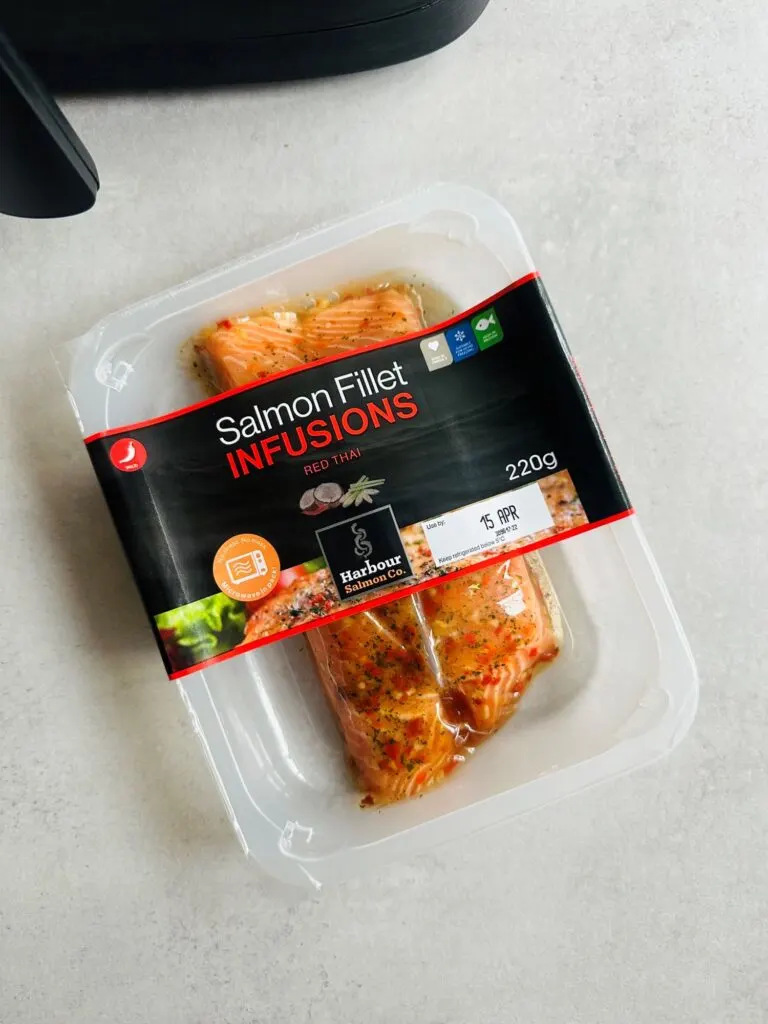 🛒 What You Need:
Fresh salmon (use how many you need)
1 jar Thai red curry paste
You can use any air fryer – I have cooked salmon in various different air fryers, including Ninja, Cosori and Proscenic.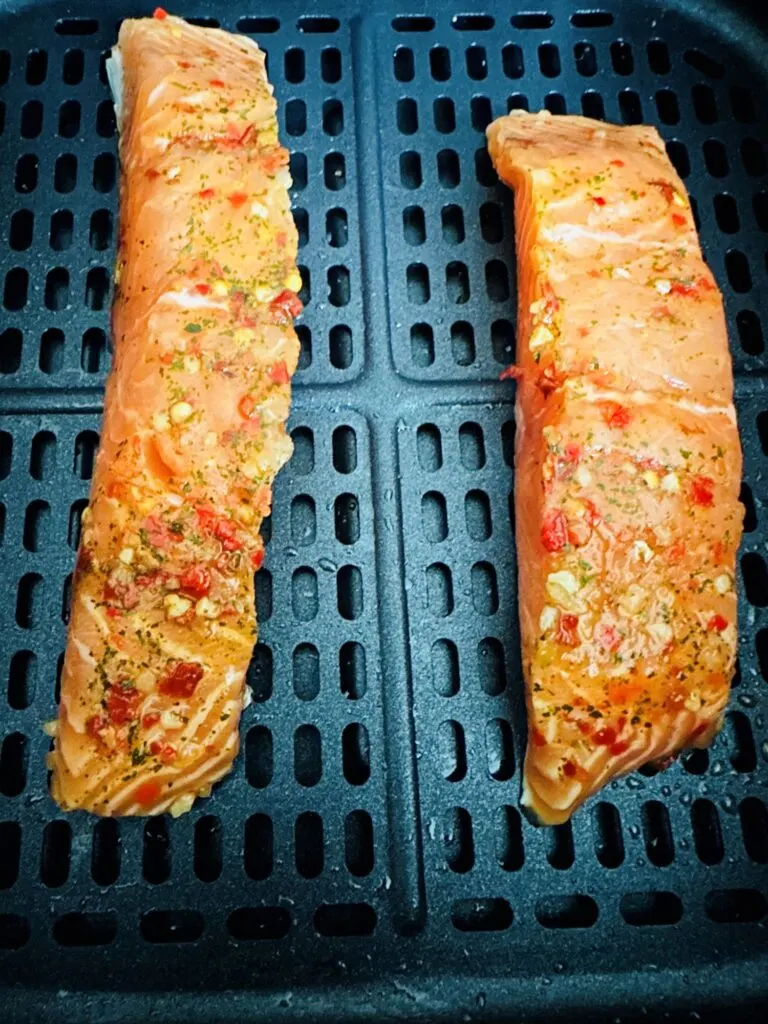 👩‍🍳 Making It:
Spread one to two tablespoons of Thai red curry paste over each salmon and leave to marinate for at least 30 minutes before adding to the air fryer.
How Long To Cook Salmon In An Air Fryer
To cook salmon in an air fryer, follow these general guidelines:
Preheat your air fryer to 200°C (390°F).
Season or marinate the salmon fillets with your choice of herbs, spices, pastes or simply salt and pepper.
Place the salmon fillets skin-side down in the air fryer basket, making sure they are not touching each other.
Cook the salmon for 8-10 minutes, depending on the thickness of the fillets, until they are opaque and flake easily with a fork. Thicker fillets may require slightly longer cooking times.
Remove the salmon from the air fryer and let it rest for a minute or two before serving.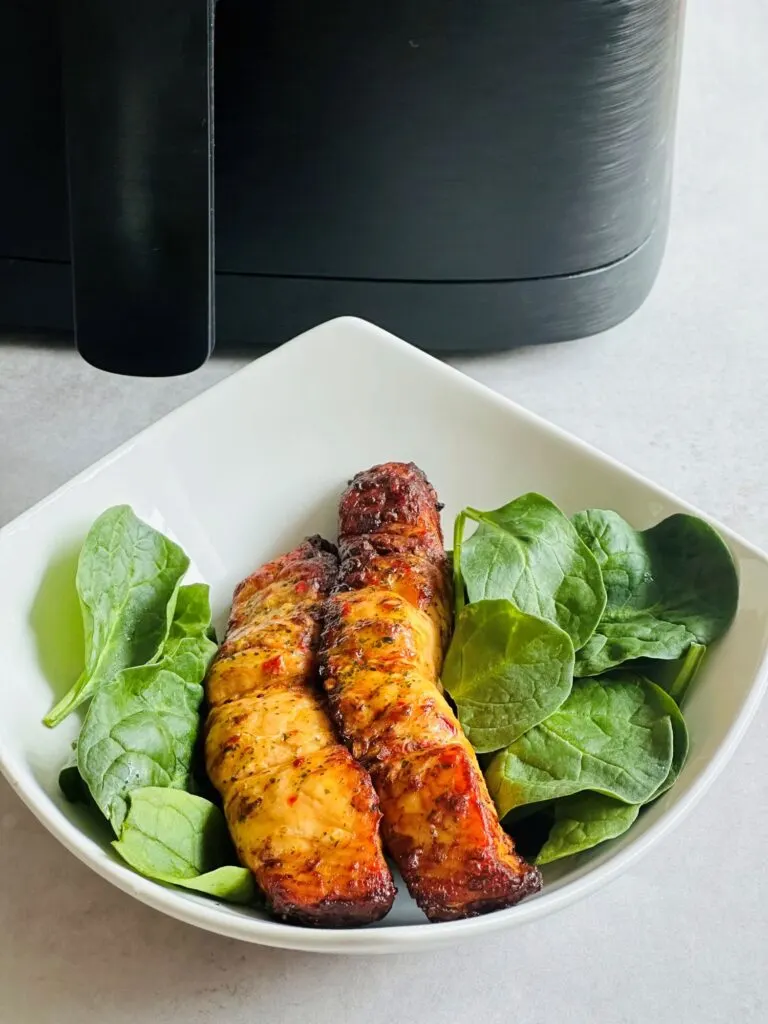 More Air Fryer Fish Recipes: