If you love chicken satay, you need to try this chicken satay style soup in a soup maker!
With just a handful of easy to get ingredients, this soup is simple to prepare.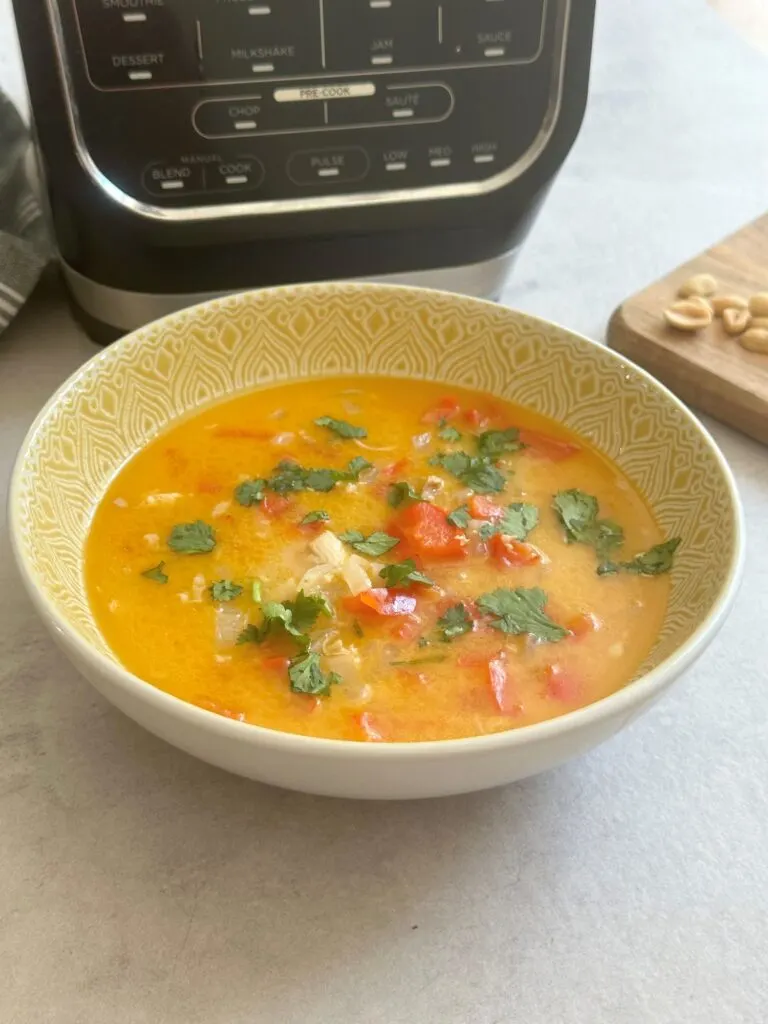 How To Make Chicken Satay Soup In A Soup Maker
Although this recipe takes inspiration from traditional Chicken Satay — a popular Southeast Asian dish consisting of marinated, skewered and grilled meat served with a peanut sauce — the soup maker transforms these familiar flavours into a tasty, comforting soup.
What You Need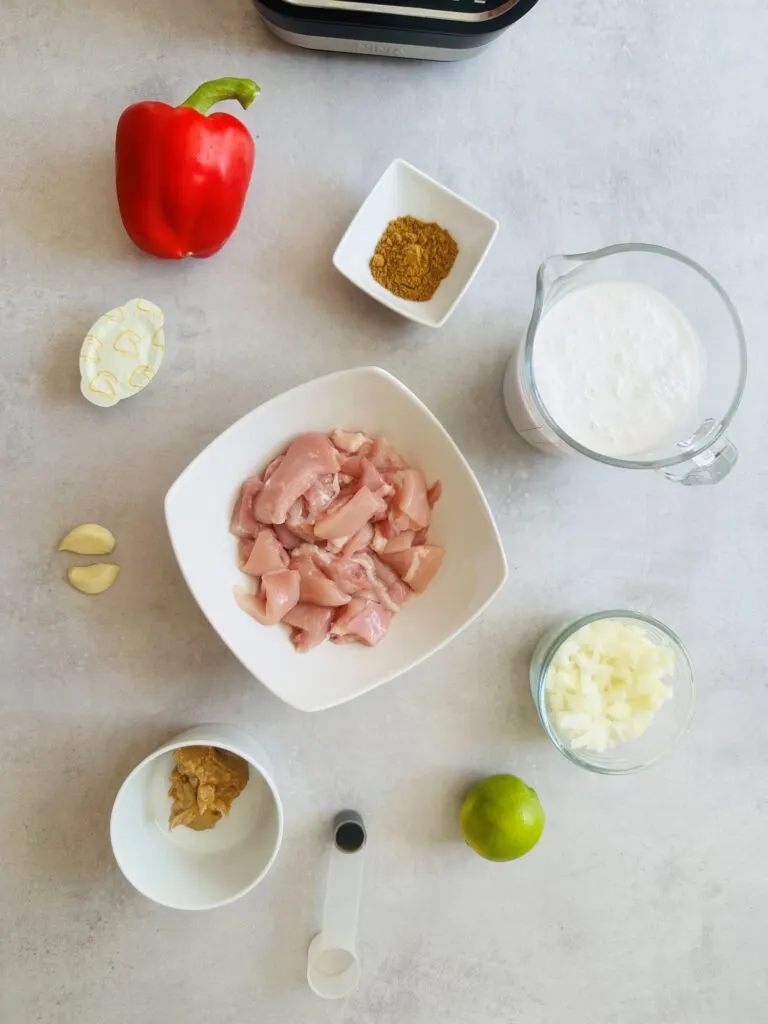 2 to 3 boneless chicken thighs (raw in a Ninja Soup Maker, cooked in other soup maker models)
Onion and garlic
Small red bell pepper, finely chopped
2 teaspoons of curry powder
2 tablespoons of peanut butter (I used crunchy, but you could also use smooth)
400ml can of coconut milk
1 tsp soy sauce
Juice of 1 lime
1 chicken stock pot/cube
Optional: Red chilli flakes for extra heat and fresh coriander for garnish
I use boneless chicken thighs, which I find richer in flavour than chicken breast – but you can use chicken breast and still get tasty results.
Remember, if you're using a soup maker that cannot cook meat from raw, you should substitute it with cooked chicken.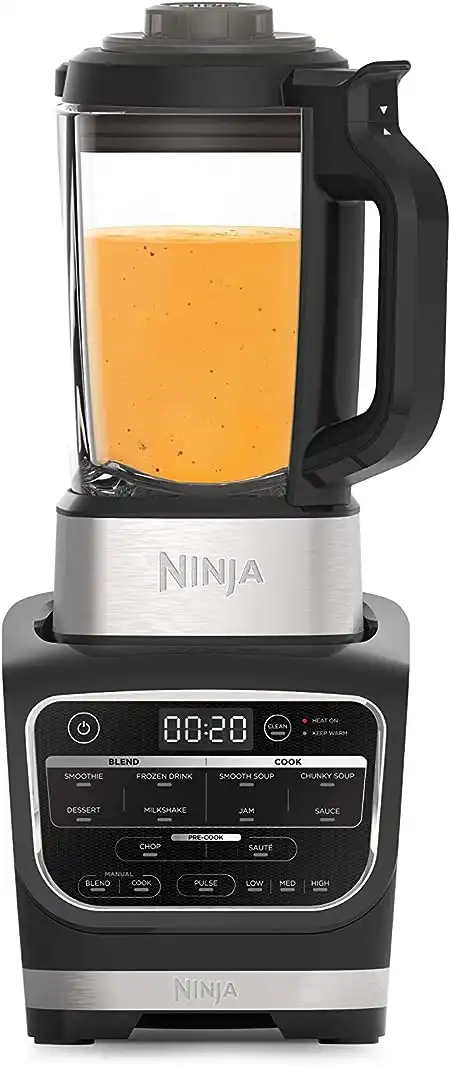 Ninja Blender and Soup Maker [HB150UK] 1000 W, 1.7 Litre Jug, Black
Makes chunky or smooth soup, smoothies, sauces, jams, frozen cocktails.
Hot capacity: 1.4L
Cold capacity: 1.7L
Chop and sauté
We earn a commission if you click this link and make a purchase at no additional cost to you.
12/03/2023 11:06 am GMT
Making It
If your soup maker has a saute function, you can optionally saute the onion, garlic and peppers. If it doesn't, feel free to skip the sauté step, I rarely use mine anymore.
Adding the lime juice is optional; I find it balances out the flavour, but feel free to leave it out or add it at the end according to taste.
Add all the remaining ingredients. Remember, if you are not using a Ninja soup maker or an alternative soup maker that can cook meat from raw, you must use cooked chicken.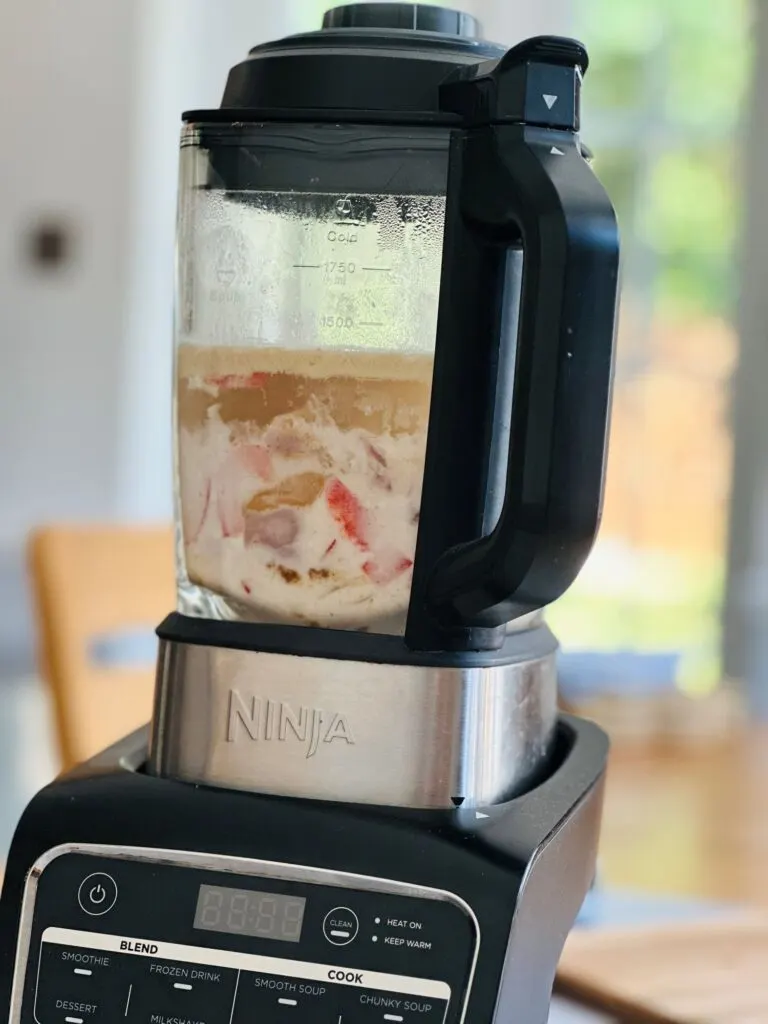 I usually add the stock pot straight to the soup maker pot, right at the end, and then add hot water from the kettle to fill it up to the line – I know some people prefer to make it up separately or use cold water – all methods are suitable.
If you want your soup to have a bit more kick, you can add some red chilli flakes at this point or a small red chilli.
Put the lid on, set the soup maker to the 'chunky soup' setting, and let it cook. Depending on your soup maker, this process will take about 25-30 minutes.
Once your soup is done, taste and adjust seasoning as needed, adding more salt, pepper, lime juice, or soy sauce as necessary.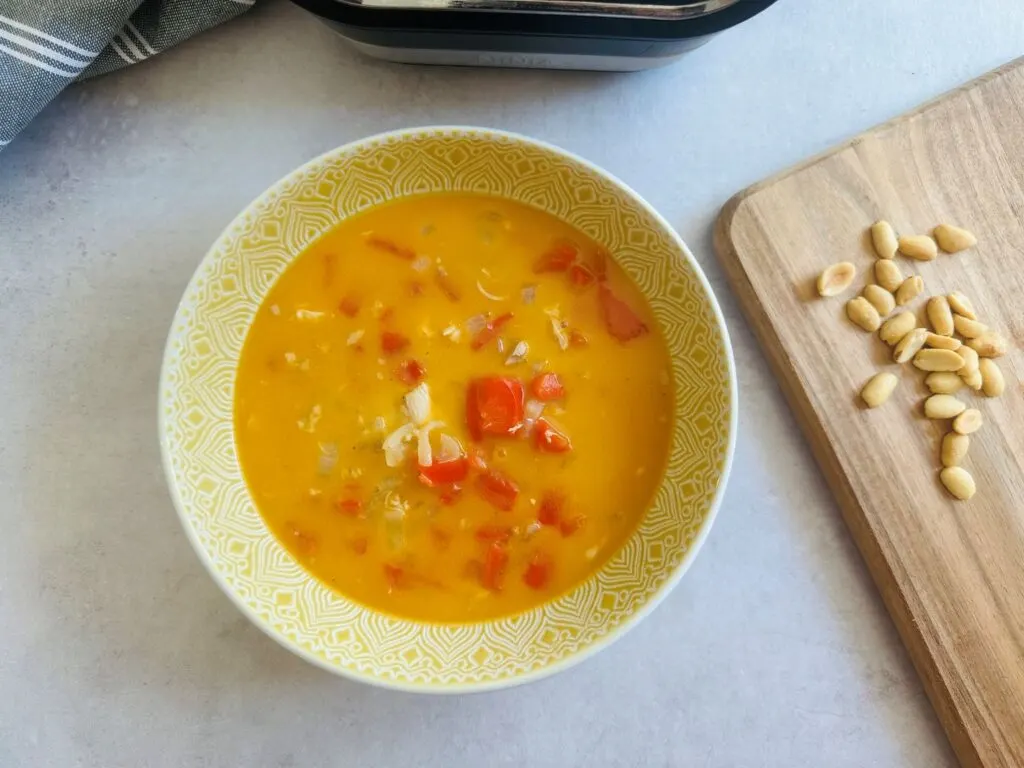 You can also do a quick pulse/blend to get that in between chunky and smooth texture.
Serve your chicken satay soup hot, garnished with fresh coriander leaves.
More Soup Maker Recipes:
Or, you can find plenty of soup maker recipes in my collection here 🙂