Elevate your air fryer meals with this Air Fryer Fried Chicken recipe. Enjoy the indulgence of fried chicken with a fraction of the oil, making it a healthier but no less delicious option for your family dinner.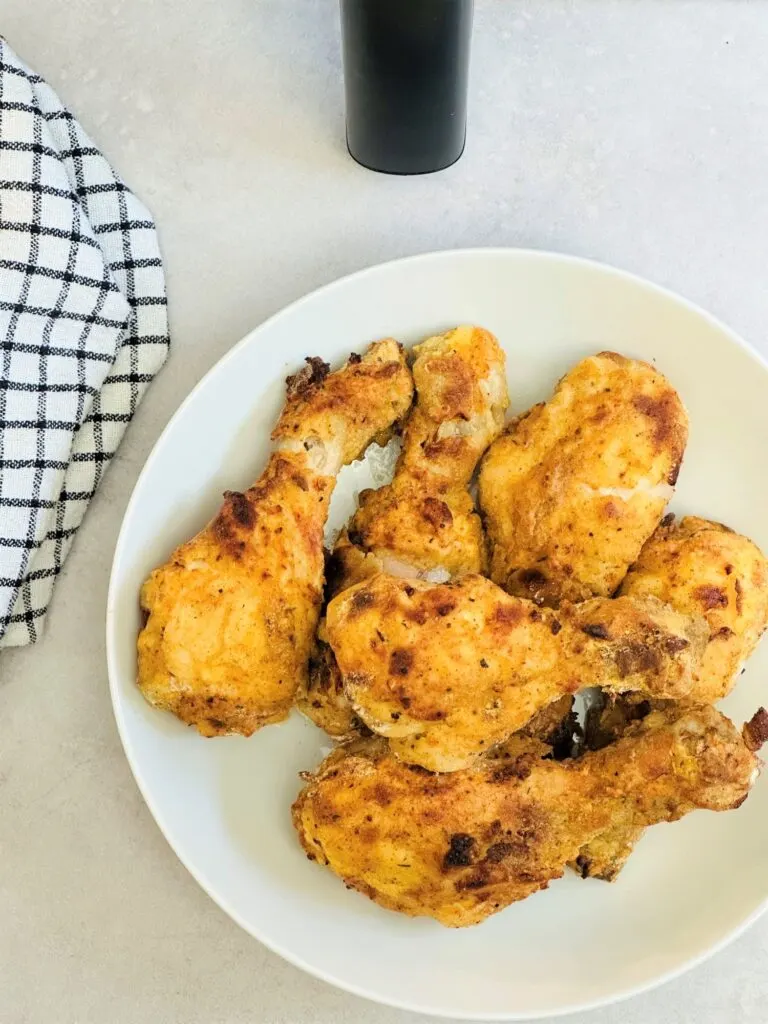 How To Make Fried Chicken In An Air Fryer
To make these mouthwatering fried chicken drumsticks, you'll need:
For the Chicken:
Chicken Drumsticks – I used 8 drumsticks – you can use more or less according to how many you serve. I used drumsticks for this recipe because they cook evenly and have enough skin to get crispy. You can also use chicken thighs or wings if you prefer.
Buttermilk (300ml) – Buttermilk tenderises the chicken and keeps it juicy during cooking. If you can't find buttermilk, add a tablespoon of lemon juice or white vinegar to a cup of milk and let it sit for about 10 minutes.
For the Coating:
Plain Flour and Cornflour (80g and 1 tablespoon) – These create a crispy, flavourful coating on the chicken. The cornflour, or cornstarch, as it's also known, adds extra crispness to the batter.
Spices and Seasonings – Celery salt, mixed herbs, cayenne pepper, onion powder, garlic powder, black pepper, and salt. These give the coating its deep, savoury flavour. Feel free to tweak the blend to your liking. Increase the cayenne pepper or add some chilli powder for a hotter kick.
Oil Spray – Used to help achieve a golden, crispy exterior. You can use any type of oil spray you like, such as olive or avocado oil.
Which Air Fryer Can Make Fried Chicken?
Any air fryer can be used to make air fryer fried chicken. I have made it in a Ninja Dual as well as in a few of the Cosori air fryers.
The air fryer pictured in this recipe is the Cosori Air Fryer 5.5XXL.
I MADE FRIED CHICKEN IN THIS: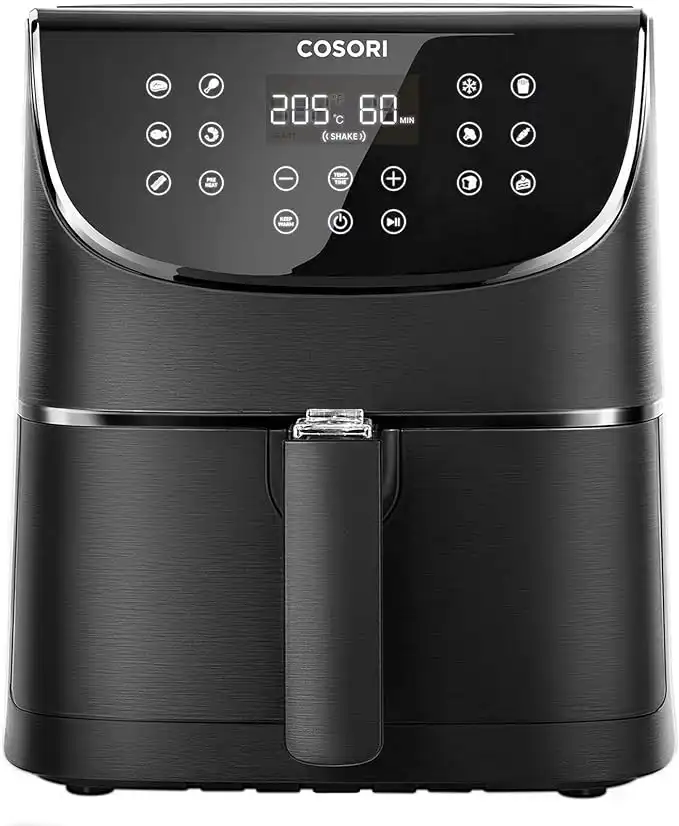 COSORI Air Fryer with 100 Recipes Cookbook, XXL 5.5L
We earn a commission if you click this link and make a purchase at no additional cost to you.
12/03/2023 01:26 pm GMT
Making the Air Fryer Fried Chicken
First, you'll want to soak the chicken in the buttermilk. Combine the chicken drumsticks with the buttermilk and a pinch of salt in a large bowl.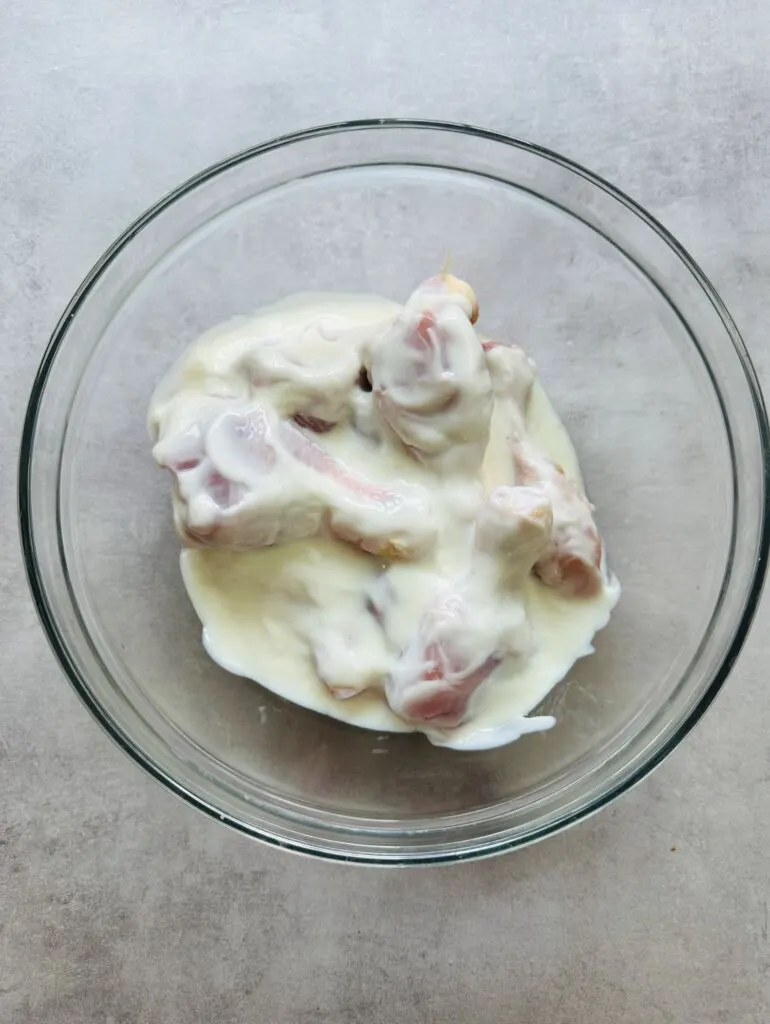 Mix everything well so that all the drumsticks are coated. Cover the bowl and let it sit in the refrigerator. If you can, leave it to marinate overnight – this will really let the buttermilk do its magic, but a minimum of 2 hours will still work well.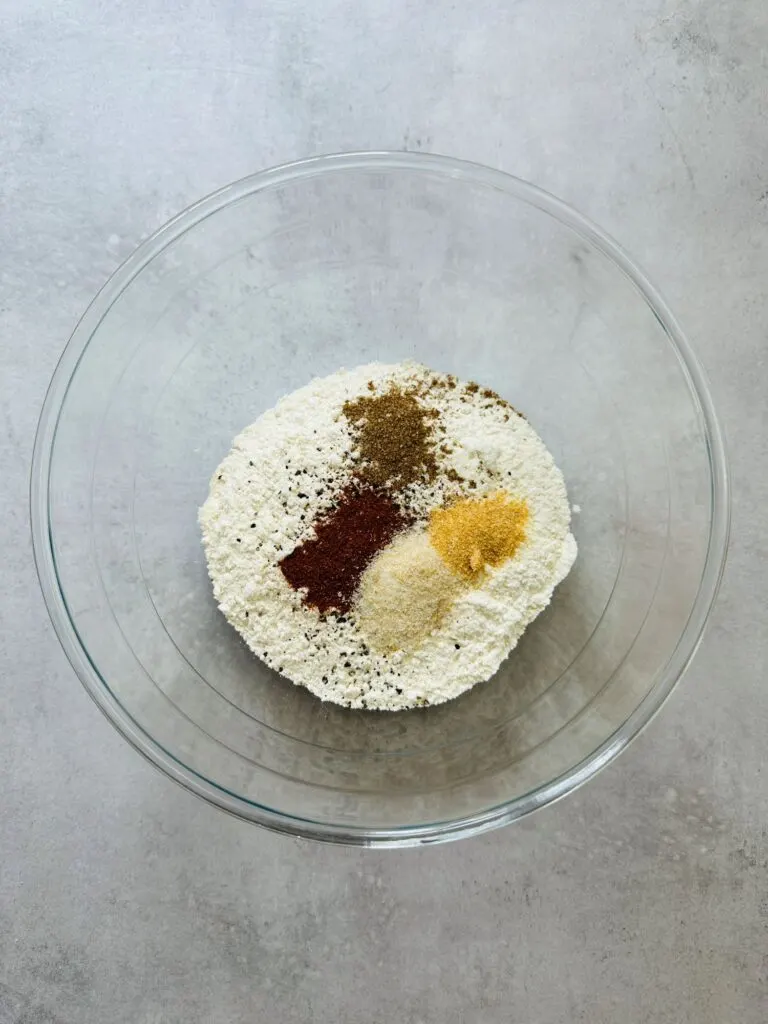 You can prepare your coating while the chicken is soaking in the buttermilk. Mix together the plain flour, cornflour, and all the spices in a separate bowl.
After soaking the chicken, it's time to coat your drumsticks in the flour and spice. Shake off the excess buttermilk to drip off before rolling each piece in the flour mixture. Press gently to make sure the coating adheres well to the chicken.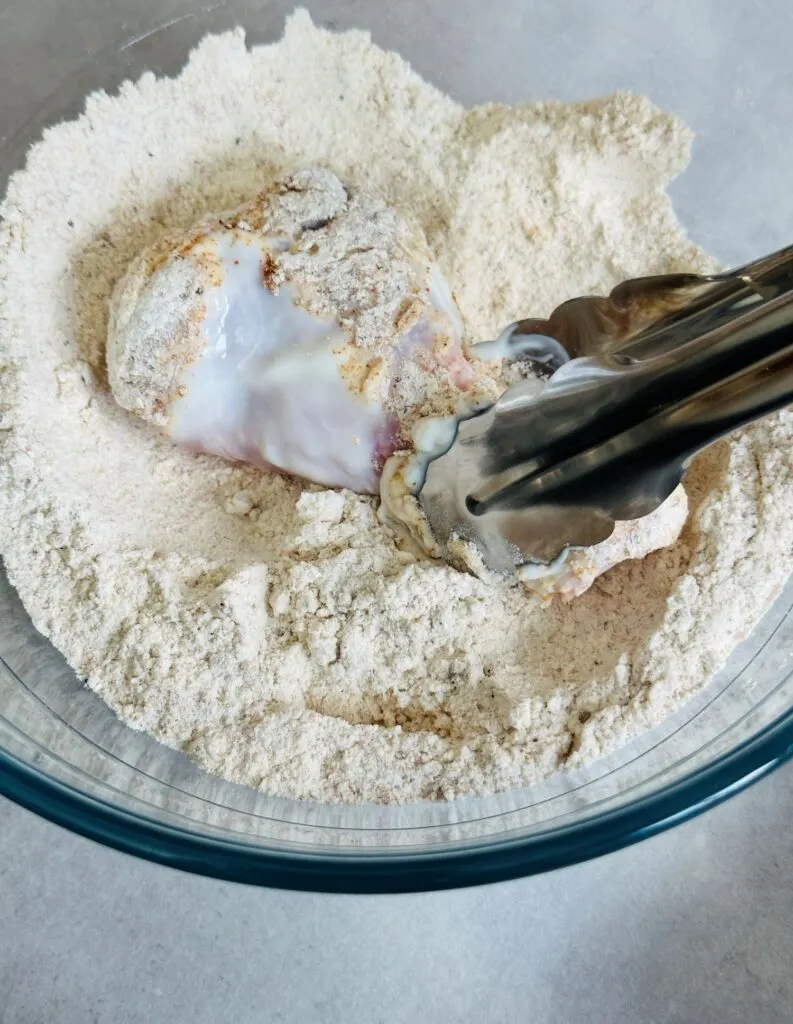 Now, it's time for air frying! Heat your air fryer to 180°C. Arrange the coated drumsticks in a single layer in the air fryer basket, making sure they don't overlap.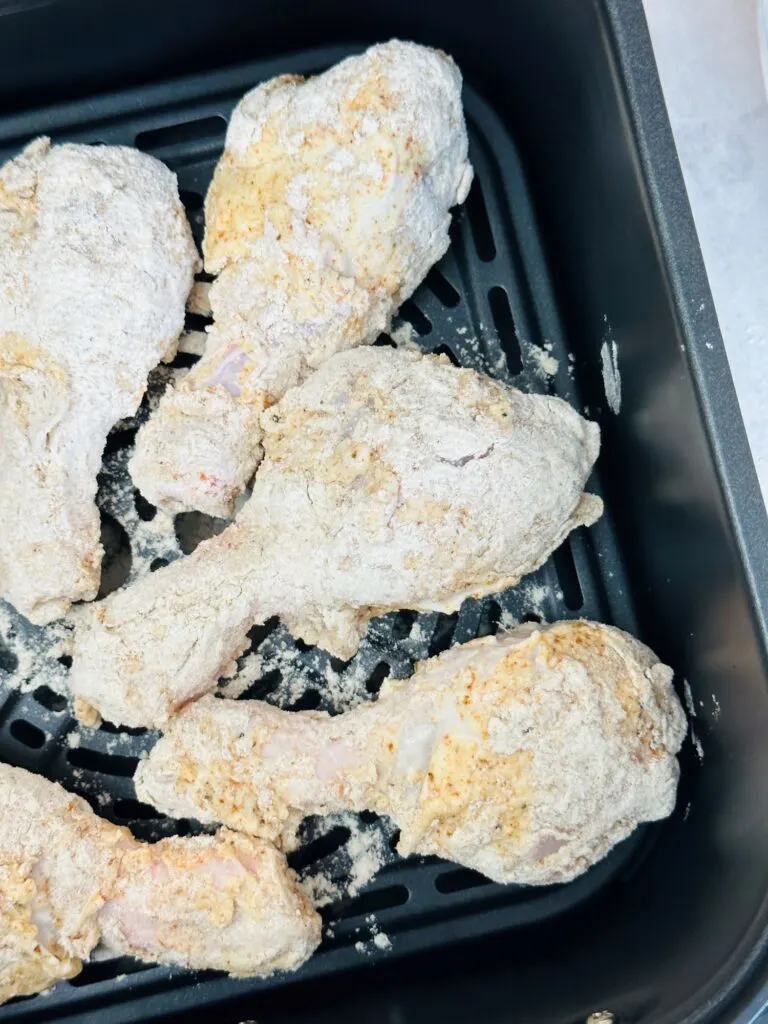 Spray the drumsticks lightly with oil. This step is key to achieving that golden-brown colour we love on fried chicken.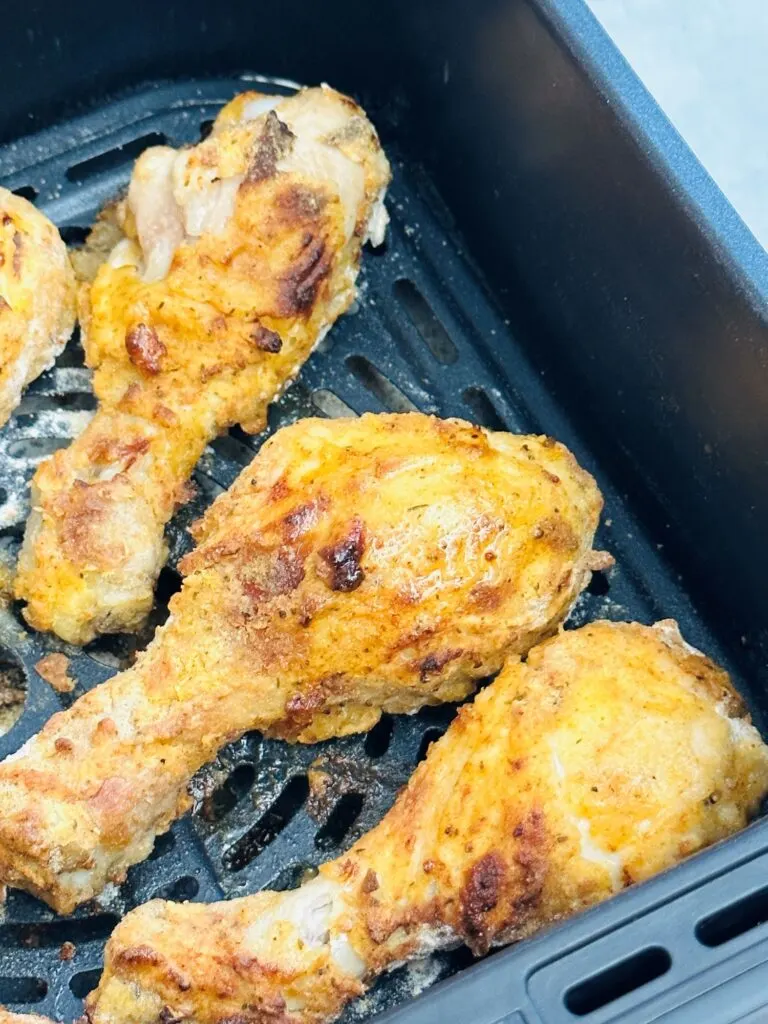 Cook the drumsticks in the air fryer for about 25 minutes, turning them halfway through. Be sure to spray a little more oil on any parts that look overly floury after turning.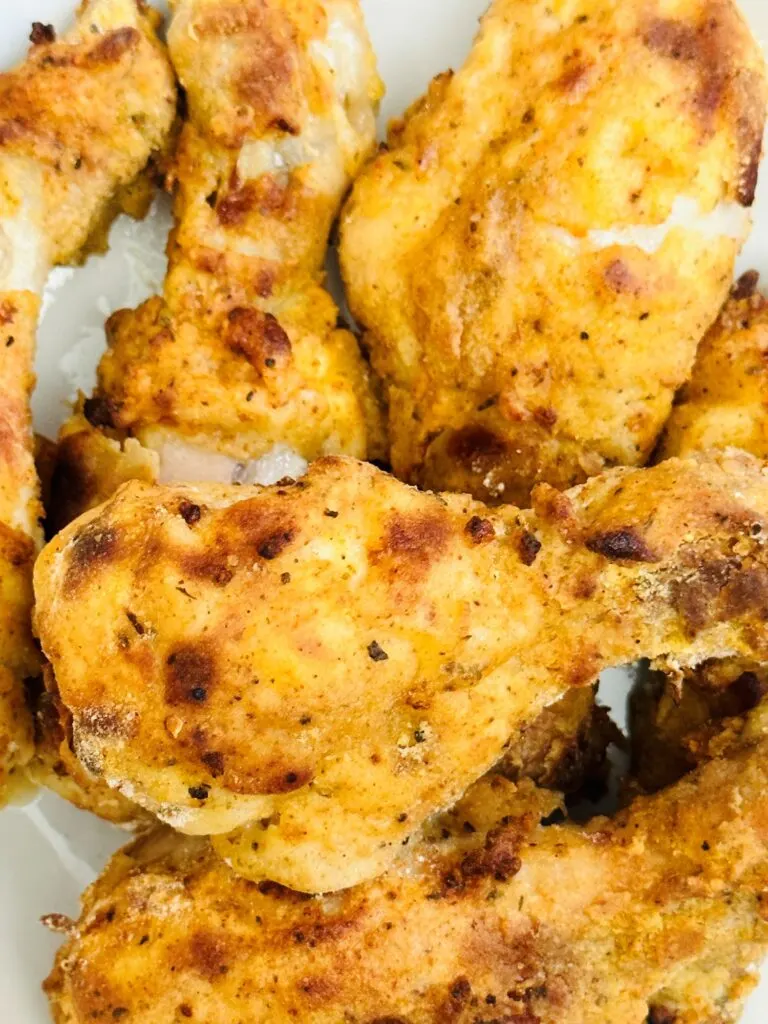 After cooking, check the chicken's internal temperature with a meat thermometer. It should read 75°C at the thickest part of the drumstick without touching the bone.
I use this meat thermometer (bought from Amazon).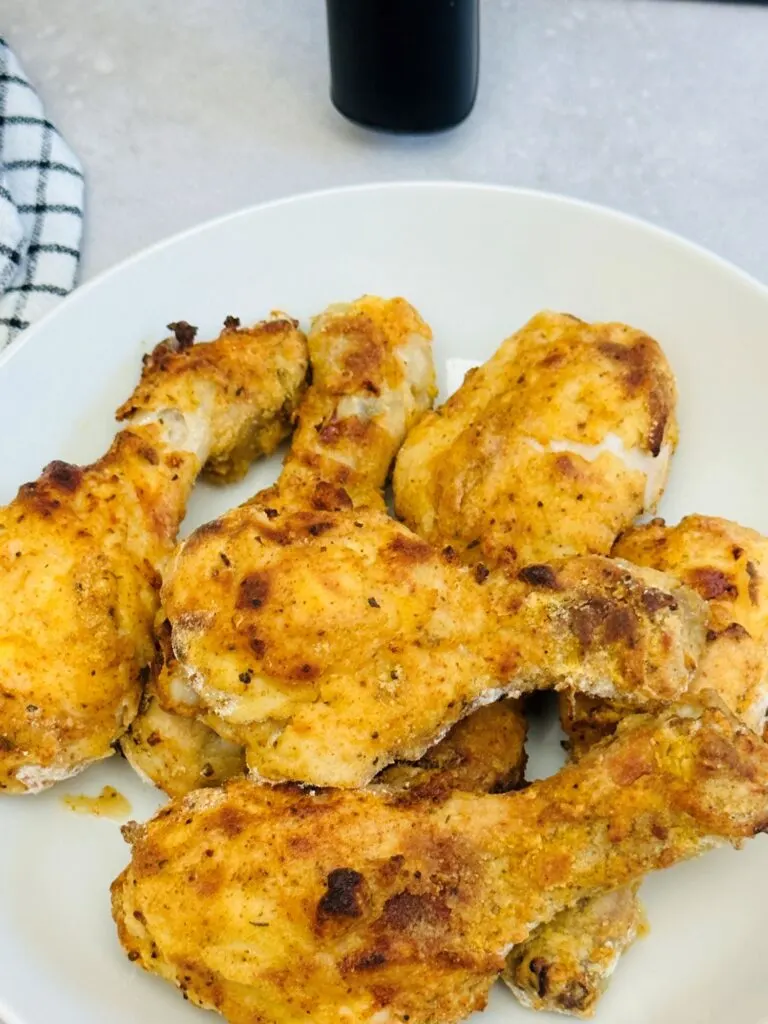 Serving the Air Fryer Fried Chicken
Once the drumsticks are cooked, let them cool for a few minutes before serving. Fried chicken can stand alone as a main dish or be paired with various sides.
Consider a refreshing coleslaw, sweet corn on the cob, mashed potatoes, or a simple green salad. Don't forget your favourite dipping sauces!
Can I Make Air Fryer Fried Chicken With Boneless Meat?
Yes, but you'll need to adjust the cooking time as boneless chicken cooks faster. Start checking the temperature around the 15-minute mark.
More Air Fryer Chicken Recipes
Are you looking for more air fryer chicken recipes? Check out the following recipes for inspiration: