Even though I love cooking and creating new recipes, it doesn't mean I want to spend all of my time in the kitchen. I mean, among other things, I like to have enough time to actually eat what I've made 🙂
The more ways I can save time in the kitchen, be it through shorter preparation and cooking times, or preferably, faster clean up times, the better.
Below is a round up of some of my favourite kitchen time savers.
1. Join a Food Subscription Service
This takes a lot of the thinking and preparation time out of meal times. It also cuts down on supermarket shopping time (which is a definite plus in my world!)
It works out more expensive than buying it all yourself – but I found the service a real treat. It was kind of like an in between of doing it all yourself and ordering in a takeaway. It's not something I would do every week, more a once a month kind of thing to look forward to.
I loved trying recipes I wouldn't necessarily think to make myself, as well as cut down on food waste – Gousto weigh and measure it all out for you.
Read my full Gusto Reviews here >>
2. Use A Slow Cooker
Slow cookers are both time and money savers. Did you know a slow cooker uses up around the same amount of electricity as a light bulb? You can also use cheaper cuts of meat in a slow cooker – due to the slow cook time they will come out tender and tasty.
Not only that, they are really convenient.
I love being able to throw all my ingredients in my slow cooker in the morning and then have a delicious meal ready to serve at dinner time. I plan slow cooker meals for when I know the time leading up to dinner time is going to be hectic.
Slow cookers also enable you to double up and cook in bulk (depending on the size of your slow cooker!)
Are you interested in some more recipes to try in your slow cooker? Check out our slow cooker recipes and sign up to the newsletter to find out when my 100 Slow Cooker Recipes book is released (it'll be available for free download on launch!)
3. Use A Pressure Cooker
The Instant Pot is the most talked-about time saving, space saving appliance in recent months. And I am inclined to agree with the raving reviews scattered across the web. We snapped up a great deal on one during the Black Friday sales and I'm just starting to put it through its paces. Expect a full and thorough review very soon!
An electric pressure cooker can shave a whole lot of time off your cooking length. And the great thing about the Instant Pot is it's multi cooking abilities. It isn't just a pressure cooker, it is also a slow cooker, rice cooker, yoghurt maker, steamer…phew.
For an idea of some of the amazing meals, you can make in the Instant Pot check out these recipes on the Instant Pot site.
4. Use A Microwave
The microwave oven is the original time saver when it comes to cooking food. And meals made in your microwave don't have to be of an unhealthy variety. We use ours for making popcorn, defrosting food and also experimenting with the occasional cake in a mug!
5. Cook In Bulk
You can save a few cooking evenings by simply doubling up recipes and cooking in bulk. When I am making things like spaghetti bolognese or chilli con carne, I often make more so that I can either freeze it for another meal time, or reheat it for lunch the next day – usually on a jacket potato.
6. Plan Ahead
Since I started planning my meals ahead of time, my wasted moments in the kitchen are less frequent. Each week I list out the main meals we will be having for dinner and then write my shopping list from that. Not only a great time saver, but also another money saver!
7. Clean Up As You Go Along
The cleaning up is the worst bit. I know cleaning up as you go along sounds pretty tedious, but there is nothing worse than enjoying your lovingly cooked meal to then have to go and clean up the mess you made. Aside from the dishes, you are eating off you should be able to tidy at least some things up before you serve. Leave the dishwasher open so you can load it as you go and fill the sink with warm soapy water so you can leave things to soak as soon as possible.
8. Get Someone Else To Do It
Or at least get them to help. As much as you might love cooking it doesn't mean you have to always be the one doing it. If you have kids get them involved – there will always be something they can help with. Tell them their pocket money depends on it 🙂
9. Peeling Hacks
Hands down this is the bit that takes up the most time for me. Peeling and chopping various ingredients. As much as I would love to just buy all the supermarket ready peeled and chopped foods, I can't really justify it!
Fortunately, there are ways to cut down on this time-consuming activity;
Kiwis
Cut them in half and grab a spoon. Scoop out the flesh to eat it. Less waste, no peeling and slicing. The kids love it – more so when I put them in an egg cup!
Ginger
How many times have you scraped your finger when grating ginger? Did you know you can use a spoon to peel it and a fork to grate it?
Mango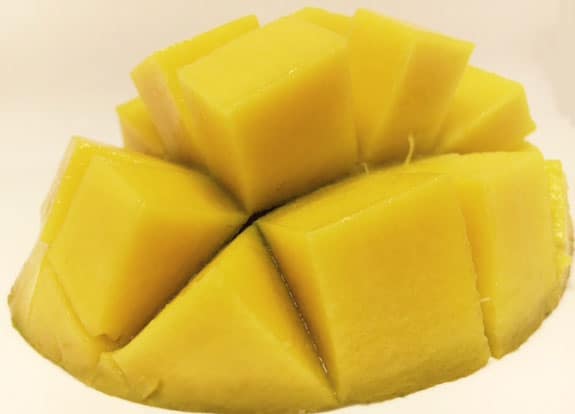 Mmm, mango. It's got to be one of the best fruits out there. But wow, how much do I hate peeling them?! I must confess to buying the ready peeled and chopped mango from the supermarket on many an occasion. Until I saw this tutorial. Now we peel and chop mango using the hedgehog method 🙂
Stop Peeling
You don't really need to peel the skin off of everything. We get through a lot of potatoes in our house and I've recently taken to leaving the skin on them. As long as you give them a good scrub and wash, they'll be just fine. Unless you're making mash. And then you've got to peel 'em (assuming you like your mash smooth!)
Carrots don't really need to be peeled either. Most of the benefits are found just under the skin – so don't scrape it off!
In fact, you don't really need to peel many of your vegetables – just go rustic and reap the nutritional benefits that the skin brings!
Save
Save