Making a chicken curry in the Ninja Foodi is quick and simple to prepare and requires only 8 minutes of pressure cooking – you'll be enjoying a tasty curry in less than 30 minutes!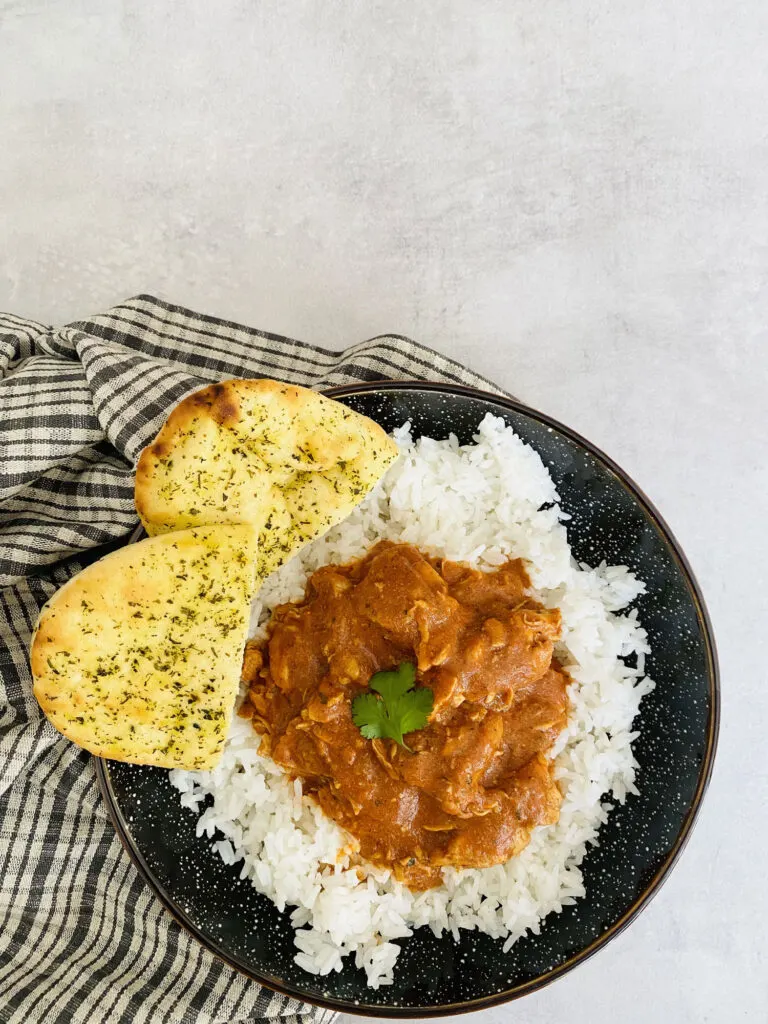 How To Make Chicken Curry In A Ninja Foodi
You can make any type of chicken curry in a Ninja Foodi – I went for a straightforward, very quick and easy style – I don't pretend that this is an authentic Indian curry, but I love the simplicity of it.
If you have a favourite homemade curry recipe of your own you can adapt this one, using the cooking times as a guideline.
What You Need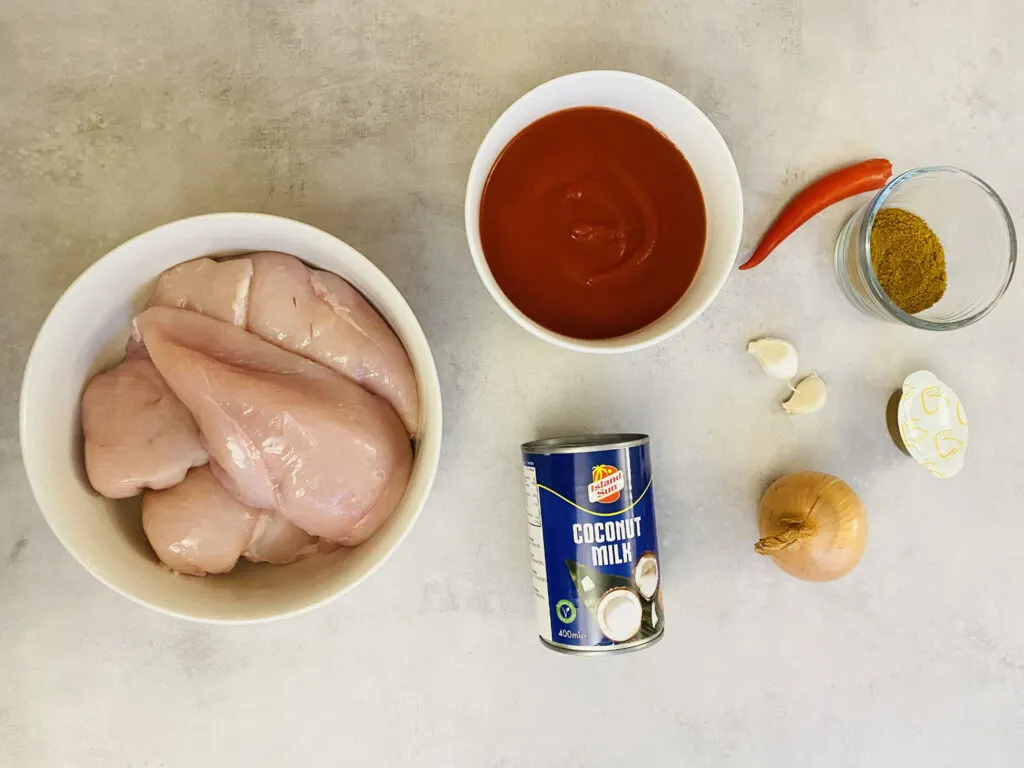 The below measurements are based on 4 servings, you can adjust accordingly depending on your numbers.
1tbsp oil – I used olive oil but you can also use coconut oil, or the oil variety you usually use
1 onion & 2 cloves garlic
4 chicken breasts (or boneless thighs), diced
3 to 4 tbps curry powder of your choice – I used a general mixed medium curry powder but you could also use Tikka, or your favourite blend
1 x red chilli
1 x 400g tin of chopped tomatoes or passata
1 tbsp tomato puree (optional)
1 x 400g tin coconut milk
Making It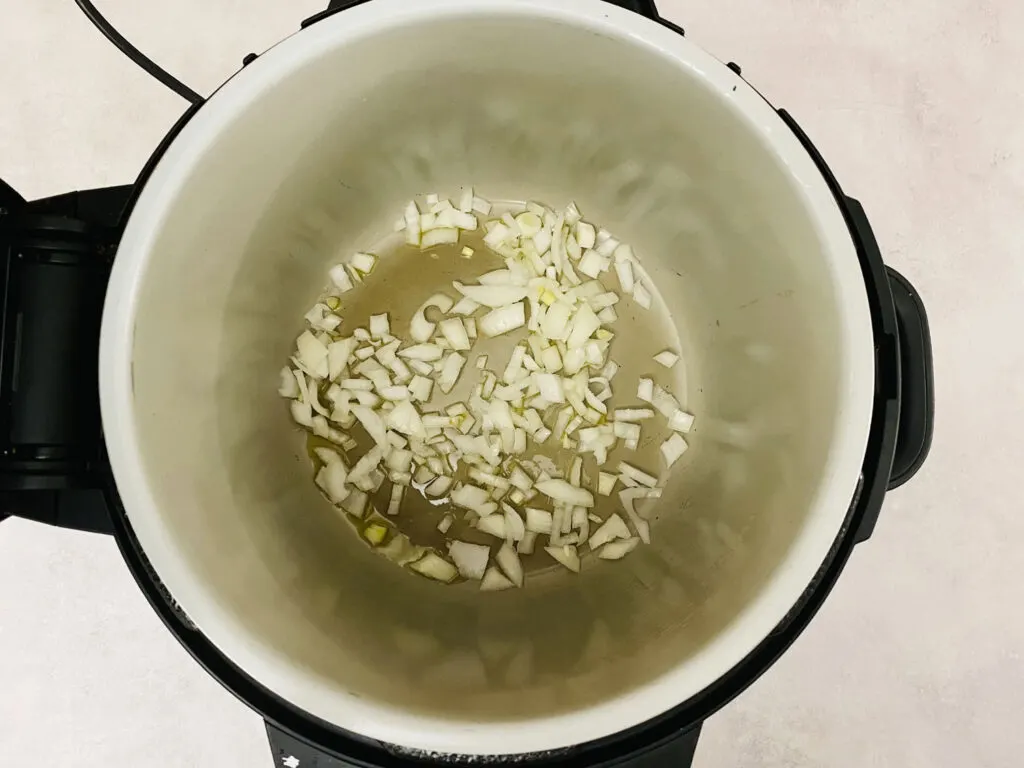 Add the oil to the inner bowl of the Ninja Foodi and switch on the saute function. Add the chopped onions and saute for a few minutes until they begin to soften.
Add the diced chicken and continue to saute until the meat is sealed. Add 2 tbsp of curry powder and stir until the chicken is coated. Try not to let anything stick to the base of the bowl – if something does, deglaze the bowl with some hot water and scrape off with a wooden or silicone spatula or spoon (don't use metal).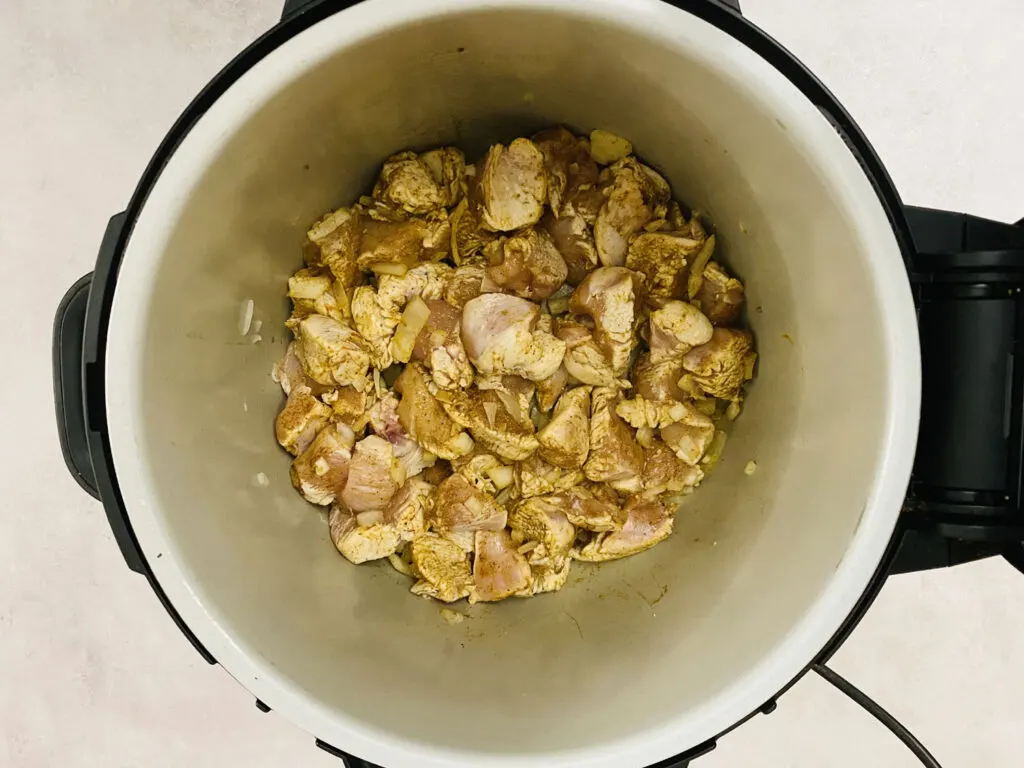 Switch off the saute function on the Ninja and add the remaining curry powder, sliced red chilli, tomatoes (or passata), tomato puree and just the liquid part of the coconut milk, reserving the cream.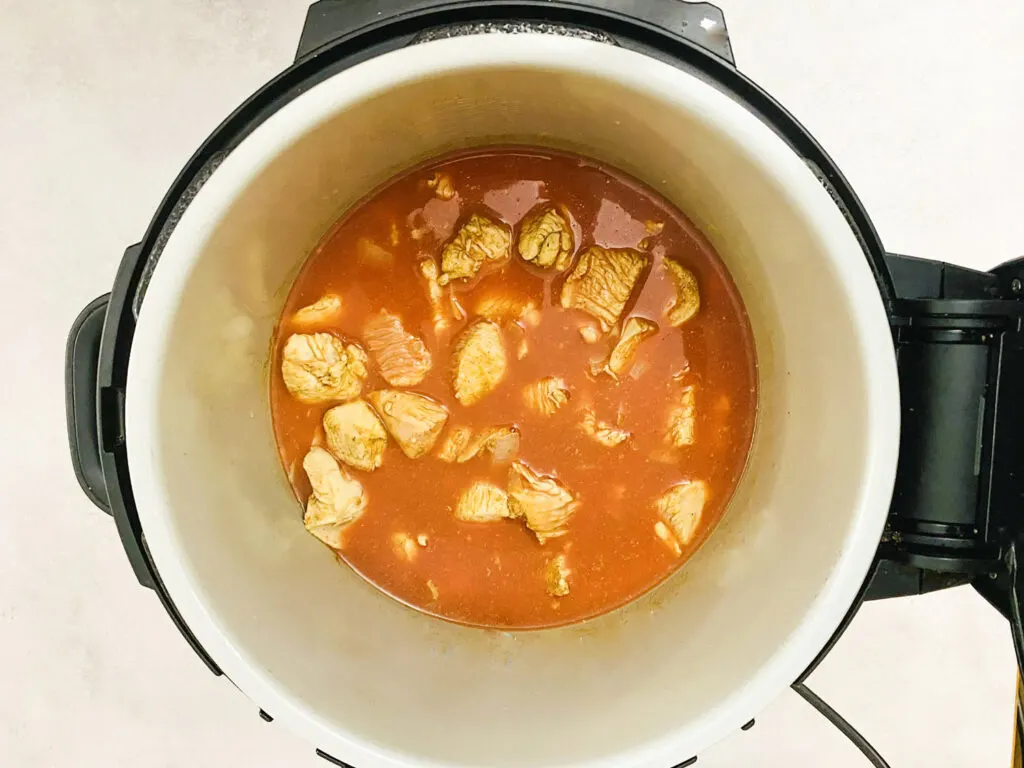 Stir everything together before placing the Ninja Foodi pressure cooker lid on and switching the valve to seal.
Choose the pressure cooker function and set it to high for 8 minutes.
While the Foodi is reaching pressure and cooking you can start to prepare any sides you are having.
What To Serve With Chicken Curry
Chicken curry can be served with a variety of sides;
Rice
Poppadoms
Naan Bread
Cucumber Raita
At the end of the pressure cooking time perform a quick release by switching the valve to vent and carefully removing the lid.
Switch the Ninja Foodi function to saute and stir in the reserved coconut cream. If the sauce is too thin, continue to saute it until it boils down a little.
Optionally garnish with some fresh coriander and serve with your favourite choice of side.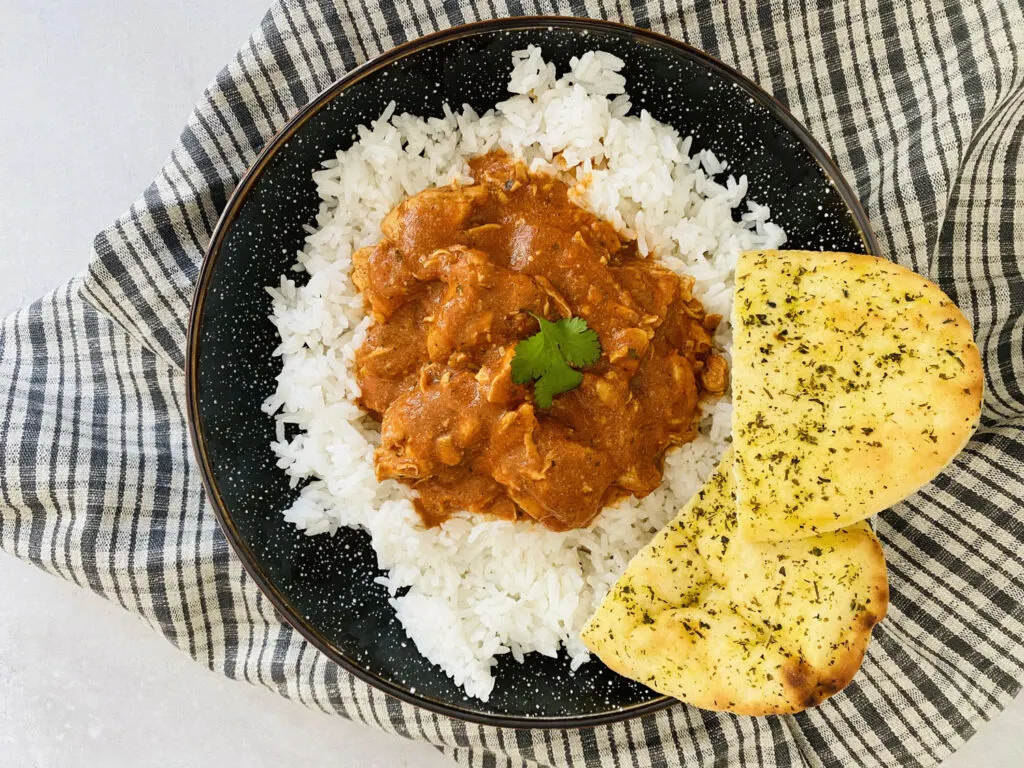 How To Store Chicken Curry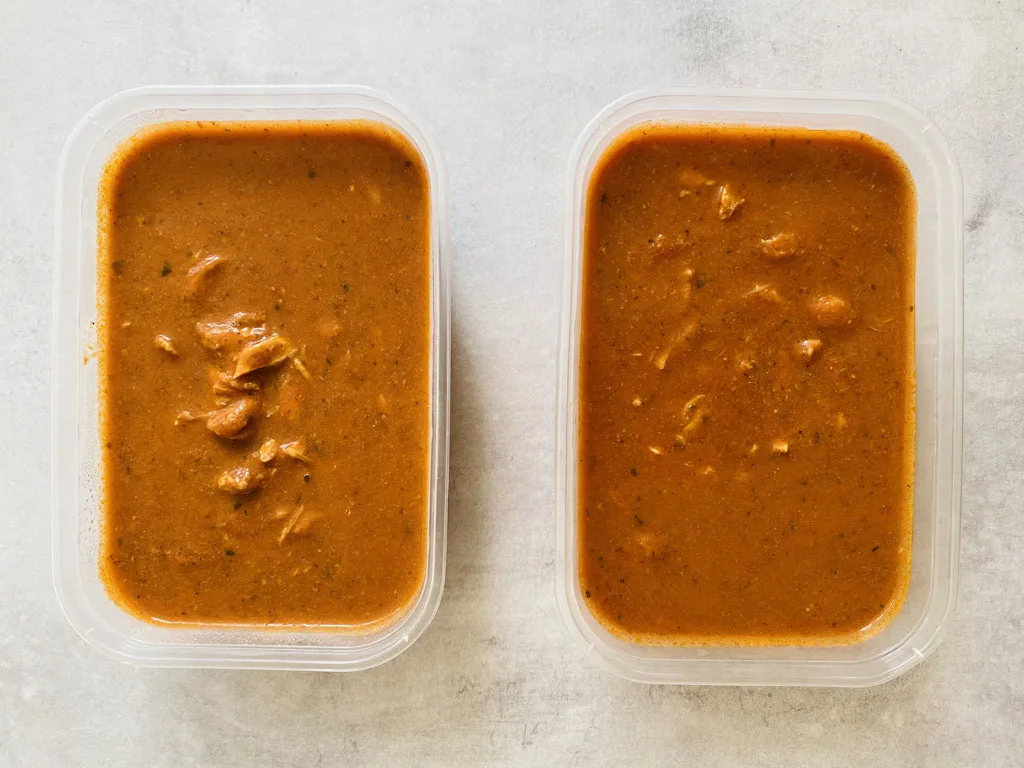 Once the chicken curry has cooled down, store it in an airtight container in the fridge for up to 3 days, or in the freezer for 3 months.
Related: Ninja Foodi Recipes