Chicken Tikka Wraps are the perfect sandwich alternative. Use prepared chicken tikka pieces, or make your own at home.
Wraps are quick and easy to make and you can vary up the sauces and ingredients you add in each time.
Follow the simple steps below to create tasty chicken tikka wraps at home.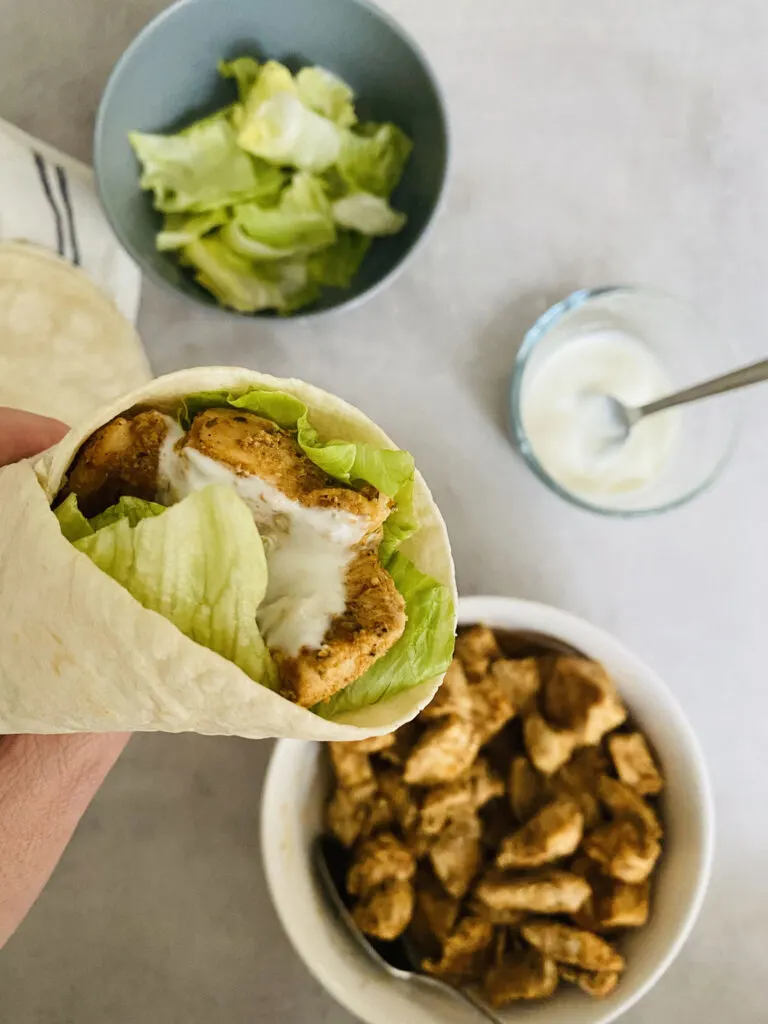 How To Make Chicken Tikka Wraps
Making chicken tikka wraps at home can be as simple as buying a packet of chicken tikka meat from the supermarket and assembling it in a tortilla wrap with some additional ingredients.
But if you fancy having a go at making your own chicken tikka it's easy enough to do. The instructions for this are below.
Homemade Chicken Tikka Wraps – What You Need
The below ingredients are per serving, increase the amounts to make multiple wraps.
Tortilla wraps
Chicken tikka pieces (see below for how to make from scratch)
Choice of salad: lettuce, peppers, tomatoes, cucumber
Yoghurt (optional)
Pepper to season
Making Chicken Tikka
If you want to make your own chicken tikka from scratch it is easy enough to do. To make a quick and easy version, these are the ingredients that I used;
1 chicken breast (depending on the size of the breast you might make two or three tortilla wraps from one)
4 tbsp natural yoghurt (either full or low fat)
2 tbsp tikka masala paste or 1 tbsp powder (add more or less according to taste)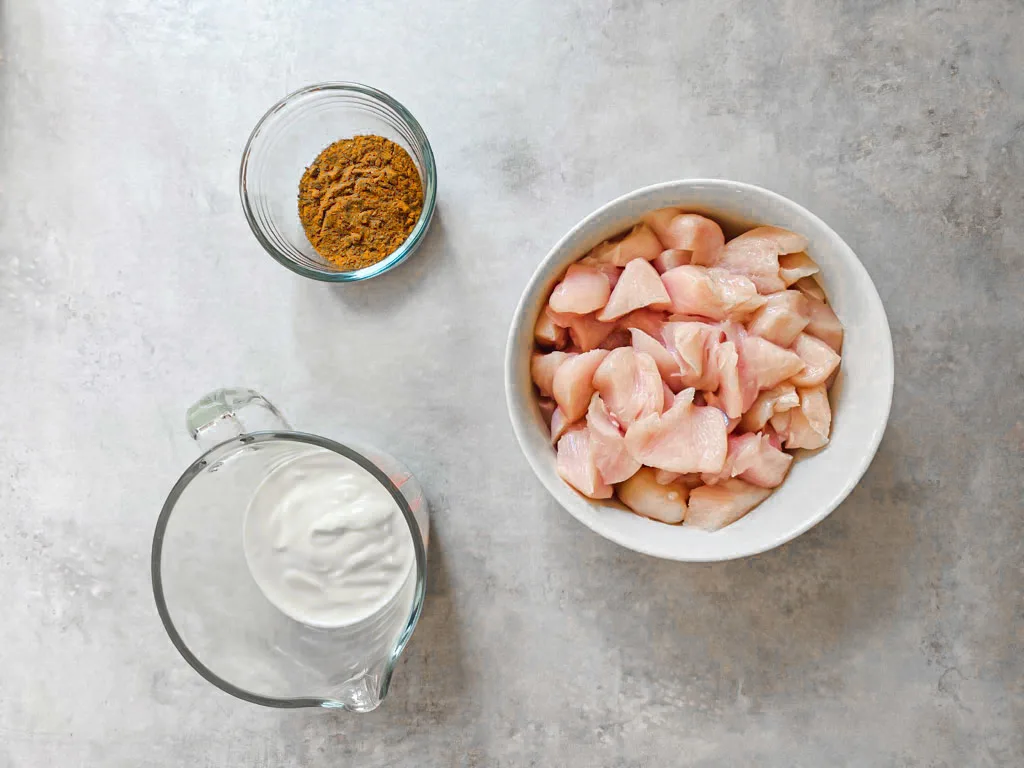 Step 1 – Cut The Chicken Breast
Using a sharp knife or some kitchen scissors, cut the chicken into thin strips or small chunks.
Step 2 – Make The Tikka Yoghurt
Mix the tikka powder or paste in with the yoghurt. Stir it together so that it is well combined.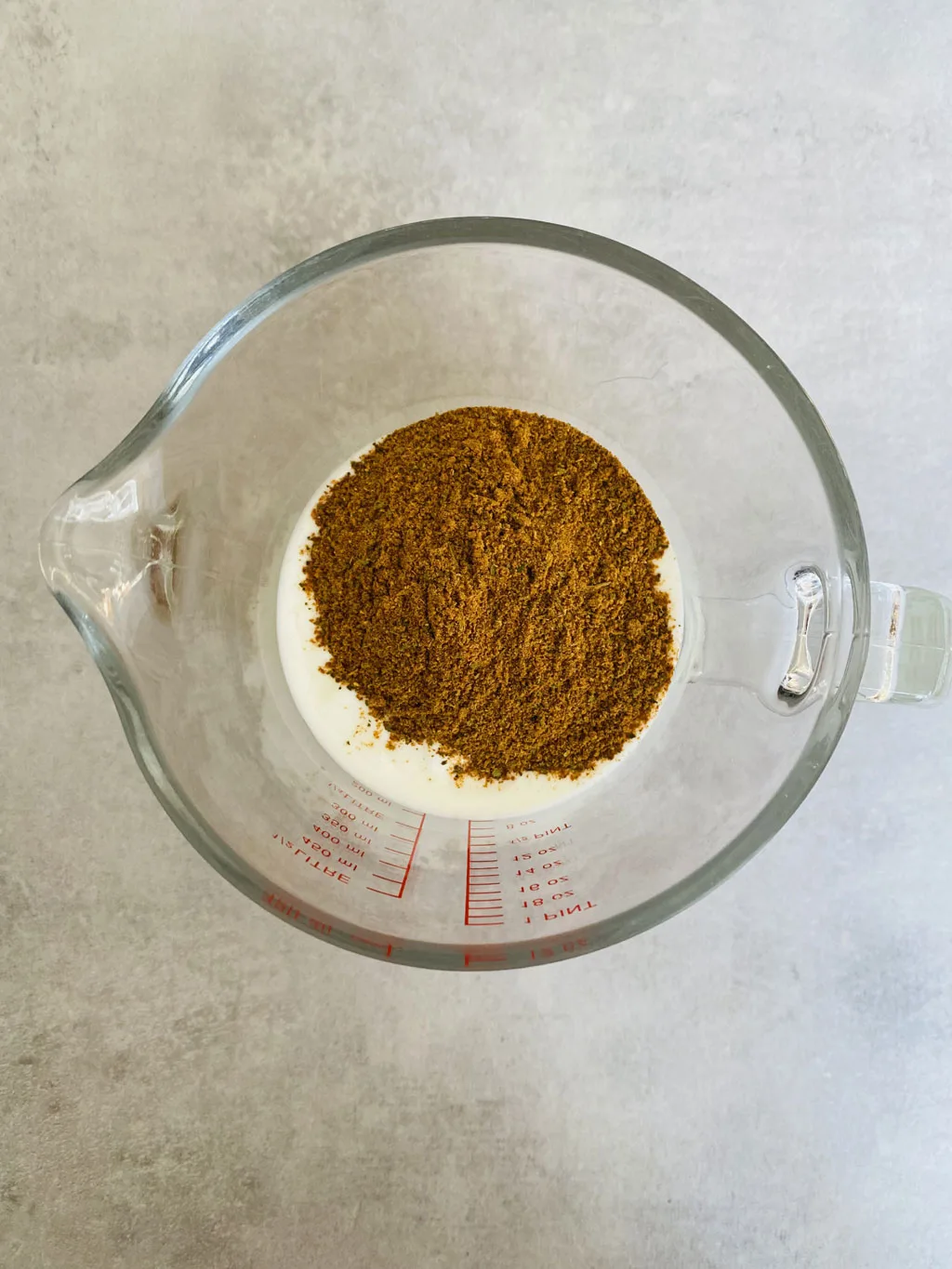 Step 3 – Coat The Chicken
Cover the chicken in the tikka yoghurt mixture. Stir the chicken round to make sure that all the pieces are completely covered.
Cover with cling film and leave to marinate in the fridge for at least 15 minutes, longer if you have the time.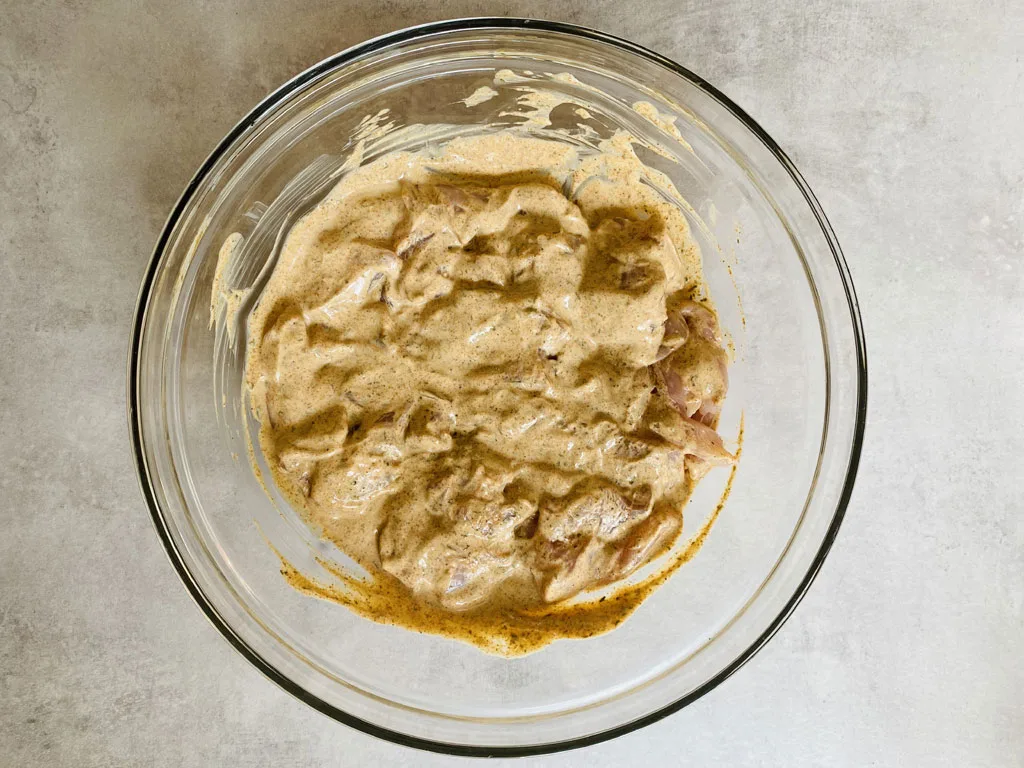 Step 4 – Cook The Chicken
You can either fry the chicken or cook it in the oven.
If you are cooking it in the oven either thread the chicken onto skewers or, if you don't have any, spread the chicken out on some parchment paper.
Cook for 10 to 15 minutes at 200°C/fan 180°C/Gas Mark 6 or until the chicken is cooked through. It might take less time depending on how thinly you have cut the chicken.
You can either eat the cooked chicken tikka straight away or leave it to cool to eat at a later time.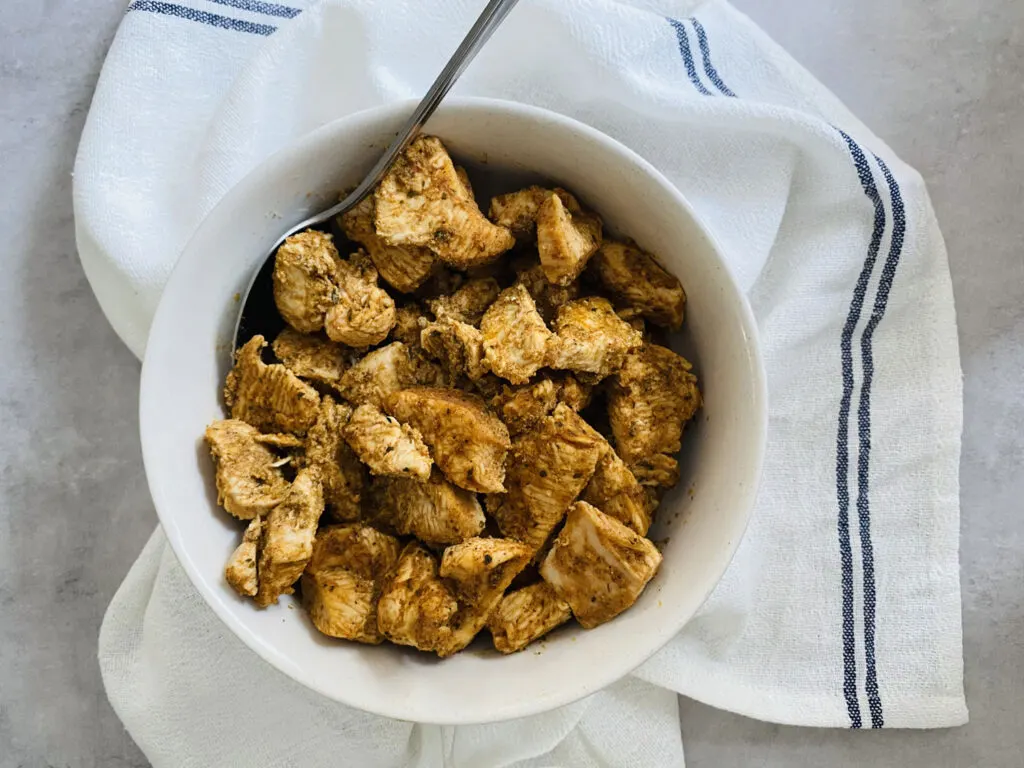 How Long Does Chicken Tikka Last?
You can keep cooked chicken tikka for up to 3 days when stored in an airtight container in a fridge.
Assembling Chicken Tikka Wraps
Whether you are making your own chicken tikka or using a store-bought version, the next steps are the same.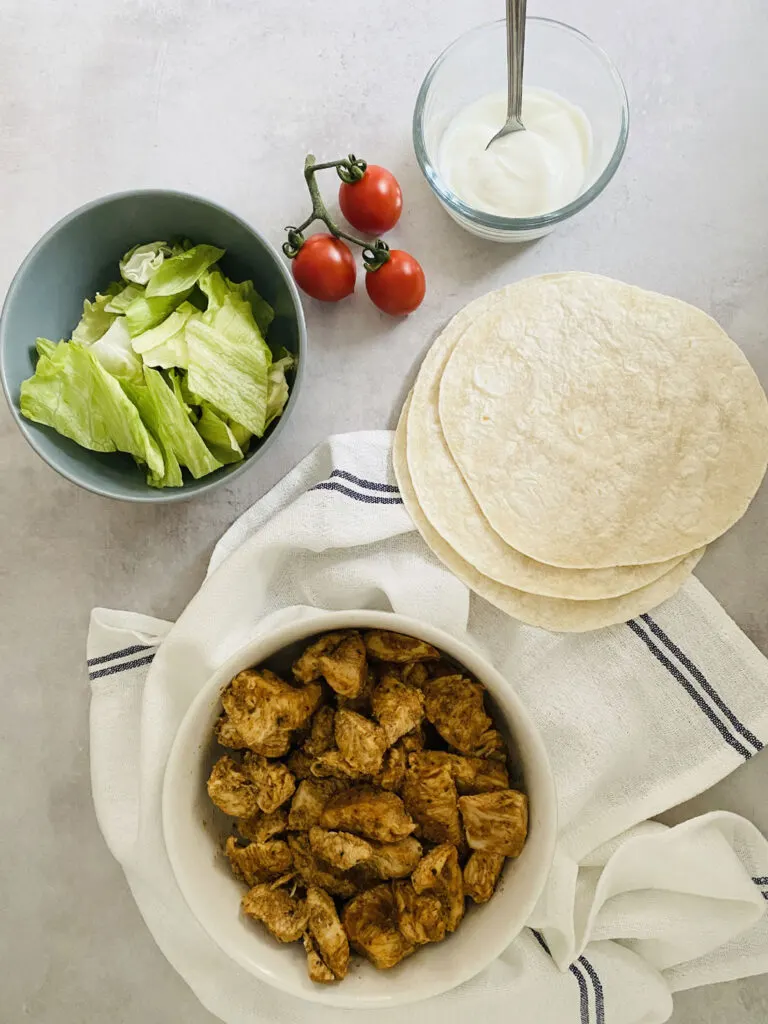 Lay all the ingredients out, including any extras that you want to add in.
Spread yoghurt – or any other sauce you are using – over the tortilla, followed by the chicken pieces and finally the lettuce and any extras such as pepper, tomatoes and cucumber.
Try not to overfill the tortilla wraps or you will struggle to keep everything in when you are folding it up and eating it!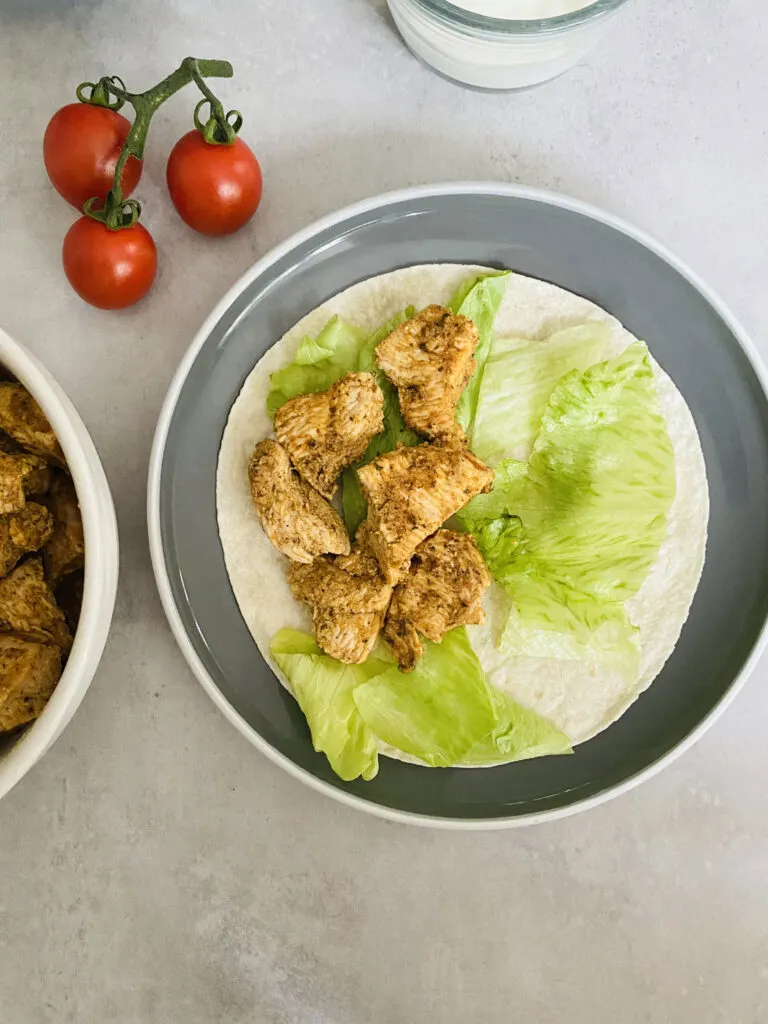 Fold the tortilla up either by rolling it from one side or, folding from the bottom up and then folding in the sides.
To keep the tortilla wraps closed, either place them with the opening side face down or, use a cocktail stick poked through the assembled wrap until you are ready to eat them.