These savoury puff pastry cheese straws are a perfect snack for any occasion!
You can make this recipe really quickly, you just need a few ingredients.
Cheese straws are easy to make when you need something interesting to snack on in the afternoon, or a great party pleaser for guests of all ages.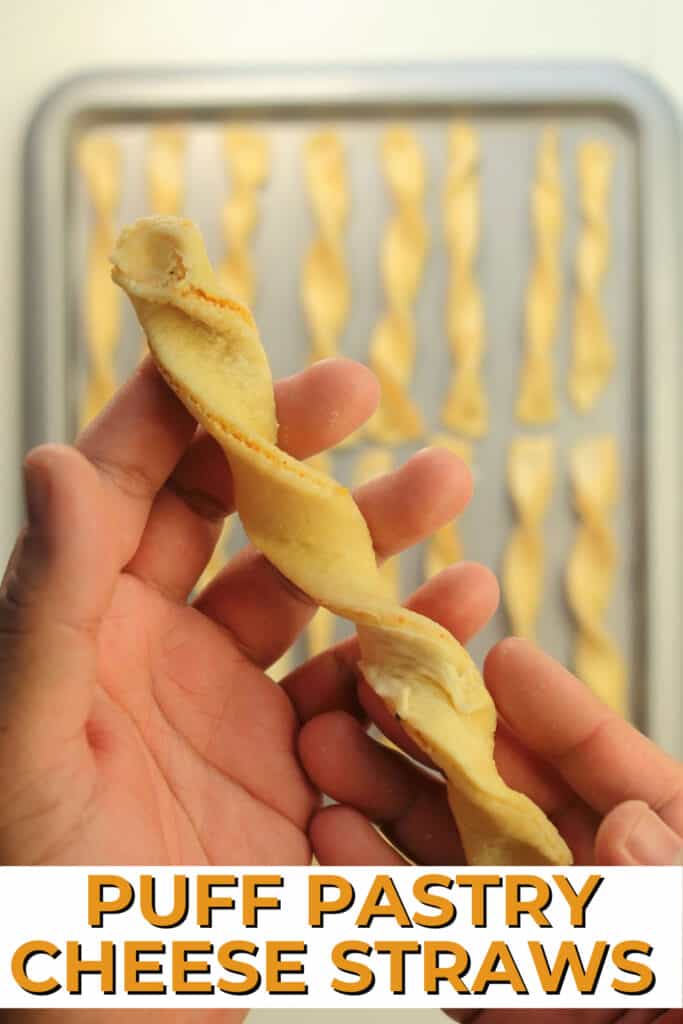 How To Make Puff Pastry Cheese Straws
Cheese straws are made with an all-butter puff pastry which is then cut into long thick strips. You can optionally twist the strips to make a fun shape, or just leave them as long thick strips.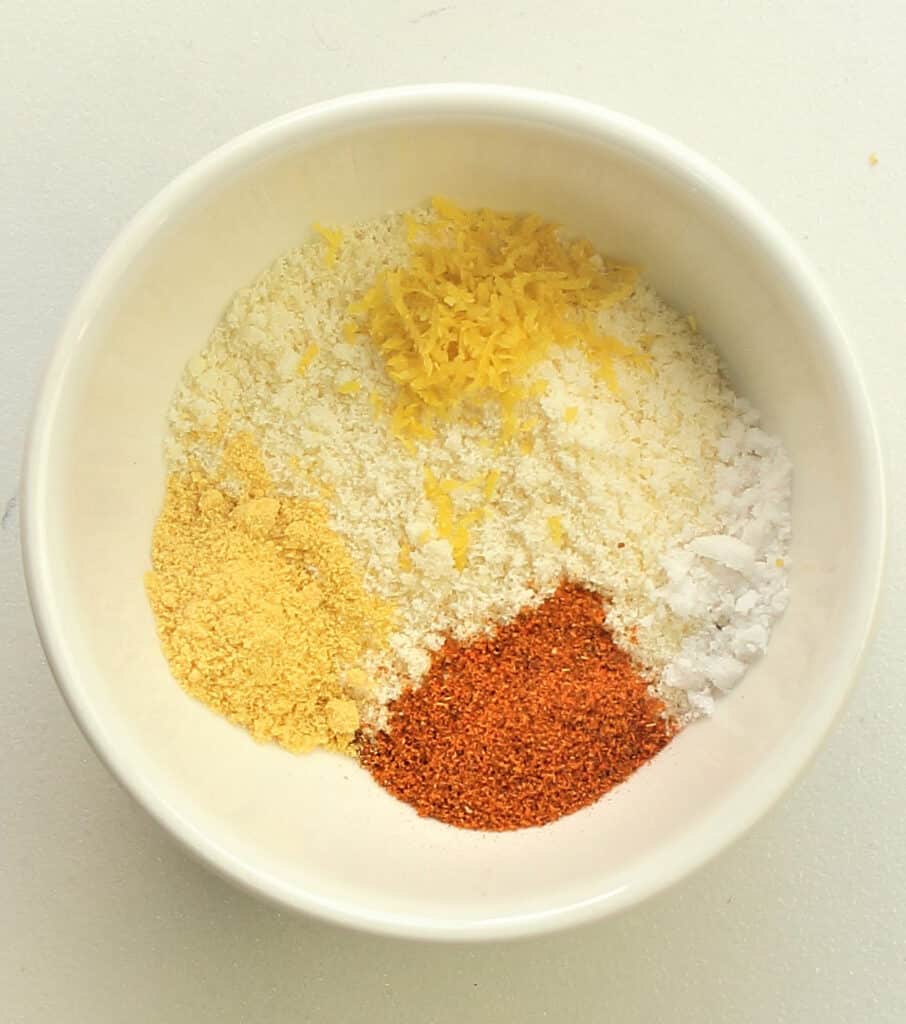 What You Need:
Puff Pastry – you can choose to make your own puff pastry, or buy some already made from the supermarket.
Cheese – any aged cheese (see more details below)
Herbs and Spices
It would be best if you defrost frozen puff pastry sheets overnight. Defrosting the pastry sheet in the refrigerator is the best way to prevent the sheet from getting soggy.
When buying a puff pastry from supermarkets, make sure to read the label if it is an all-butter pastry sheet or it contains hydrogenated fats. The butter will give these cheese straws an extra body and flavour.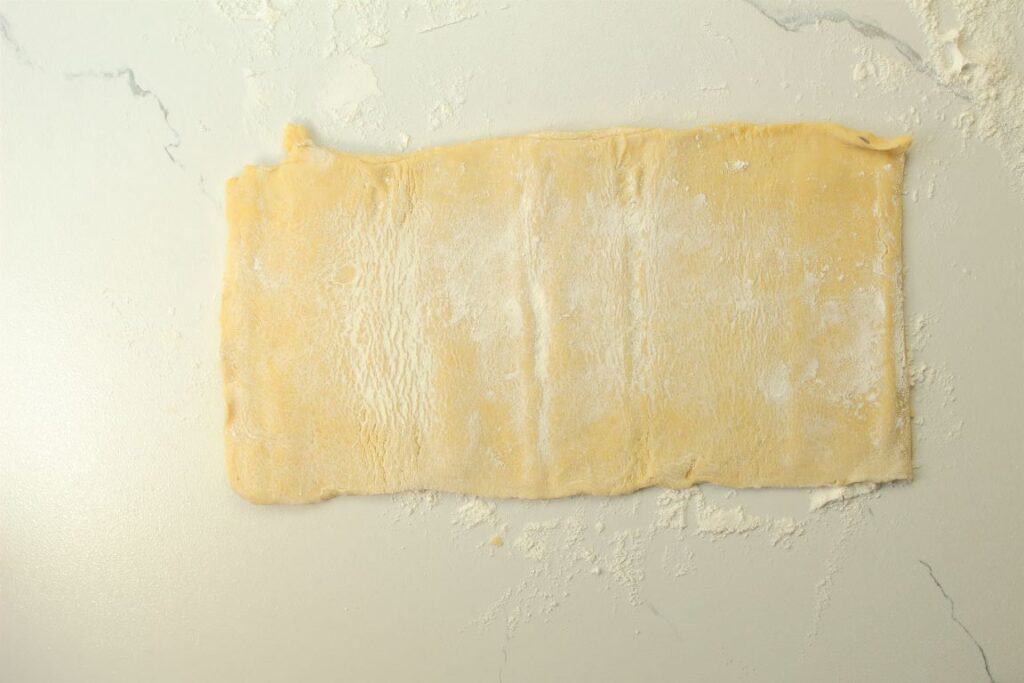 When working with puff pastry, you need to dust your working surface with a little bit of flour to prevent the sheets from sticking to the surface.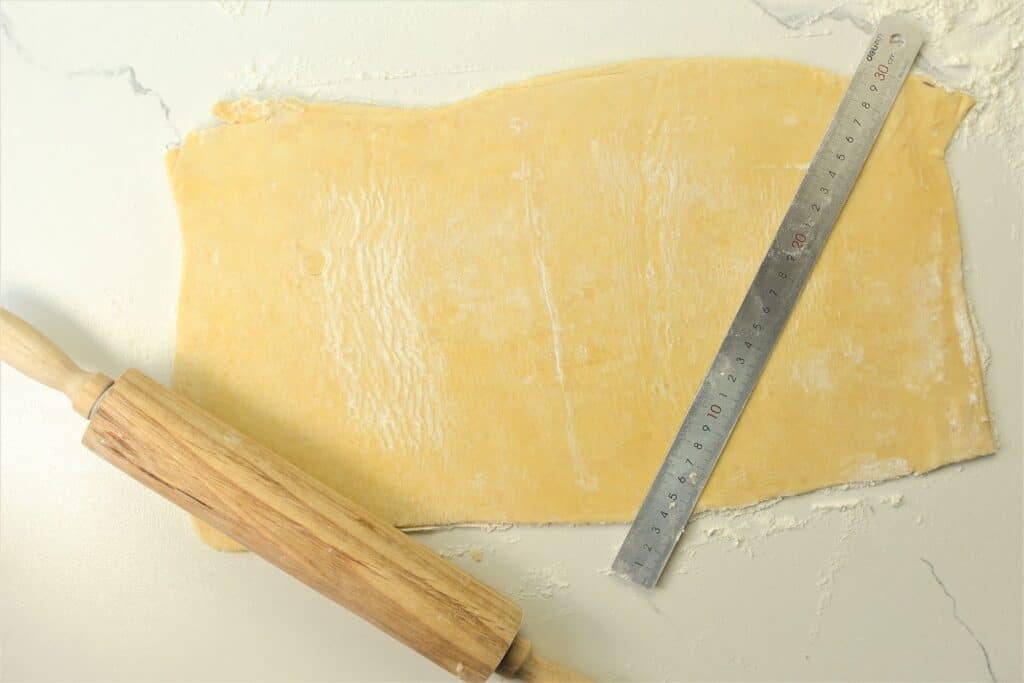 Roll out the puff pastry to about 30cm x 40cm (12inch x 16inch) – or to the size you want your cheese straws.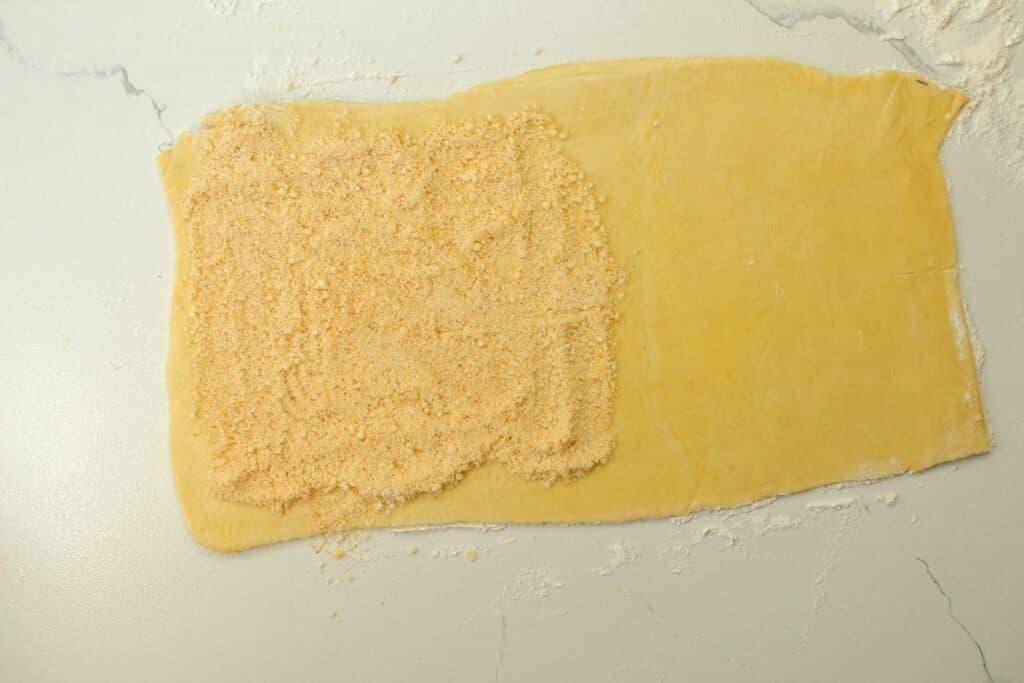 Sprinkle the cheese and herb/spice mixture over one side of the dough.
What Cheese To Use
Any aged cheese will work with this recipe. Using cheese that doesn't have a high amount of moisture is the key to making crispy cheese straws.
Aged cheese such as Pecorino Romano, Parmesan or aged cheddar will work best. You can experiment with various hard cheeses with this recipe including Emmental, Gruyère, and Manchego.
If you are worried that the unbaked cheese straw strips are a little bit soft, you can put it in the freezer for 5 minutes until it becomes stiff enough before placing it in the oven.
Herbs and Spices
You can add fresh or dried rosemary leaves into the cheese mixture. It will give the cheese straws an aroma with a gentle kick from the ground mustard and cayenne pepper.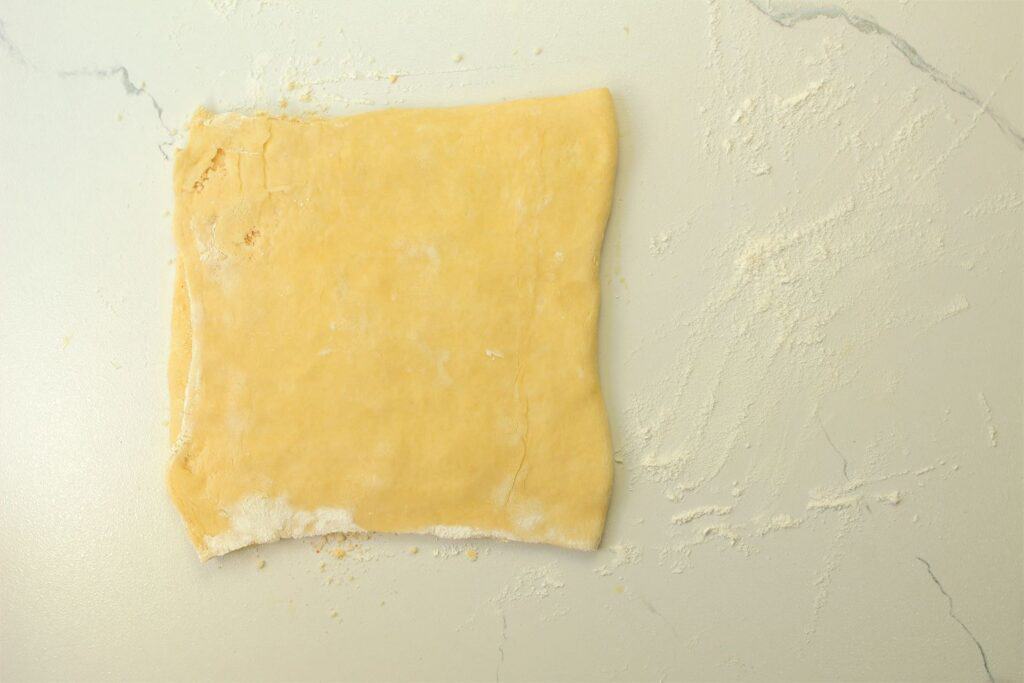 Fold over the dough, sealing the edges, before cutting it up into strips. You can use a pizza cutter if you have one, or a sharp knife if not.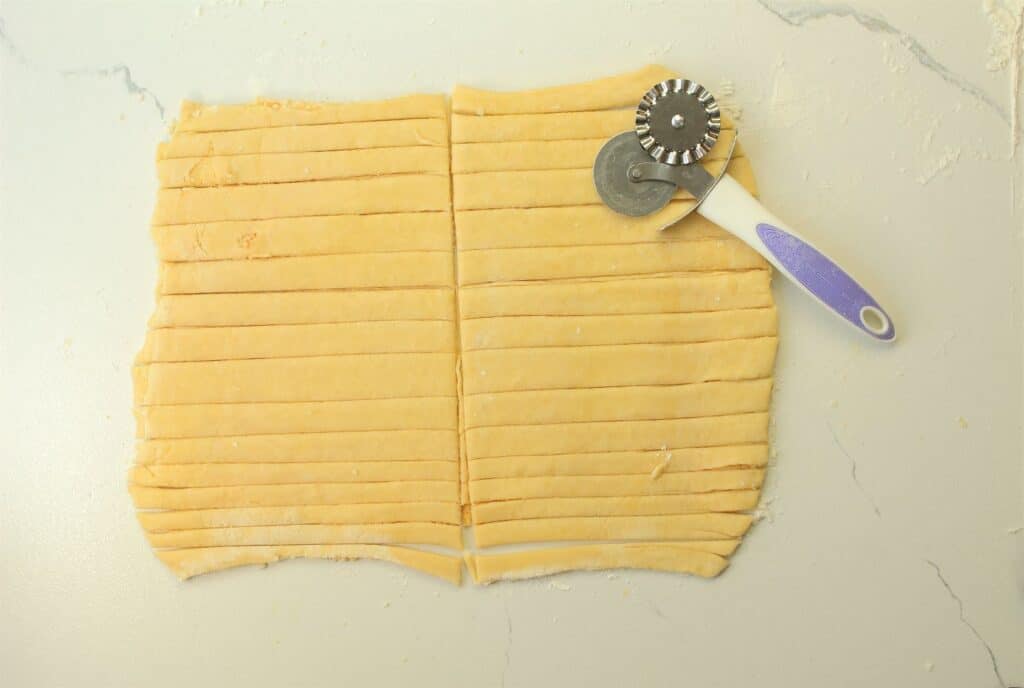 You can just bake the cheese straws as they are, or give them a little fun twist.
They only take about 10 minutes to cook in the oven. Once they are cooked, leave them to cool a little before enjoying with a dip, or just a snack on their own.

Making Cheese Straws in Advance
If you are using premade puff pastry there isn't much preparation time, but you can follow the steps to combine the pastry, cheese and seasoning to make the cheese straw dough ahead of time, just make sure to defrost the dough overnight before popping it in the oven.
How Long Do Homemade Cheese Straws Last?
You can store the baked cheese straws in an airtight container for six days.
How To Keep Cheese Straws Crispy
As long as you have stored the cheese straws in an airtight container they should still be good to eat for up to 6 days, but they may lost a bit of their crisp texture. If so, cook them on a low heat in the oven for about 3 – 4 minutes.
Recipes That Go Well With Cheese Straws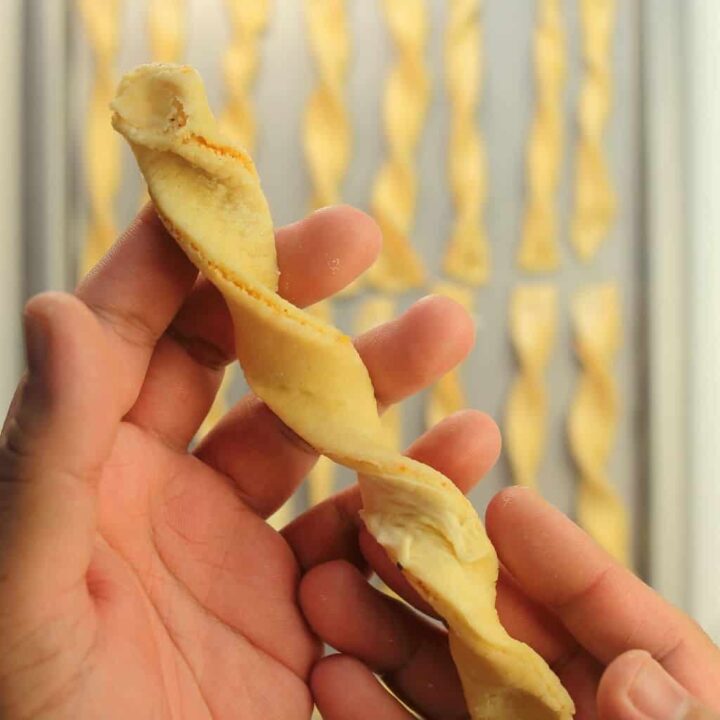 Puff Pastry Cheese Straws
These savoury cheese straws are a perfect snack for any occasion. A recipe that you can whip up quickly - you just need a few ingredients to get these right!
Ingredients
35g parmesan cheese, grated
¼ tsp cayenne pepper
½ tsp ground mustard
¼ tsp salt
400g -500g store-bought puff pastry
¼ tsp lemon zest
1 large egg
15ml water
Flour, for dusting
Instructions
Preheat oven to 220°C/Fan 200°C/Gas 7.
Combine parmesan cheese, cayenne, ground mustard, lemon zest, and salt in a medium-sized bowl; set aside.
Dust the working surface with all-purpose flour.
Roll out the puff pastry into a 12x6-inch rectangle, cut any excess.Lightly brush the puff pastry dough with a combination of egg and water.
Sprinkle the cheese mixture on half of the dough.
Take the other side of the dough and fold it onto the side with cheese mixture.
Gently roll the dough using a wooden roller to seal the edges.
Cut the dough into long thick strips.
Place the strips into a baking sheet.
Take the strips and twist to give it a texture and shape.
Push down the two ends of the dough before baking.
Bake for 10 - 12 minutes until golden.
Let it cool completely before serving.
Notes
You can use any aged cheese you have - Parmesan, Pecorino Romano, or aged Cheddar.