In our savoury roasted homemade tomato salsa recipe, we show you step-by-step instructions on how to bring the authenticity of your favourite Mexican restaurant to your table with very simple ingredients and less than 5 minutes preparation time.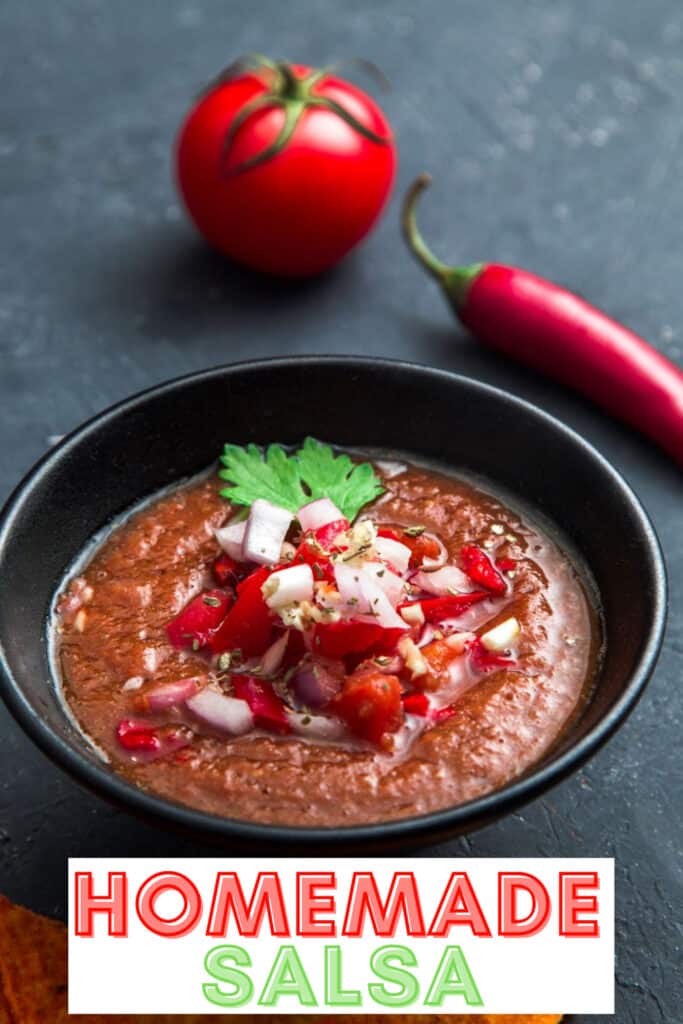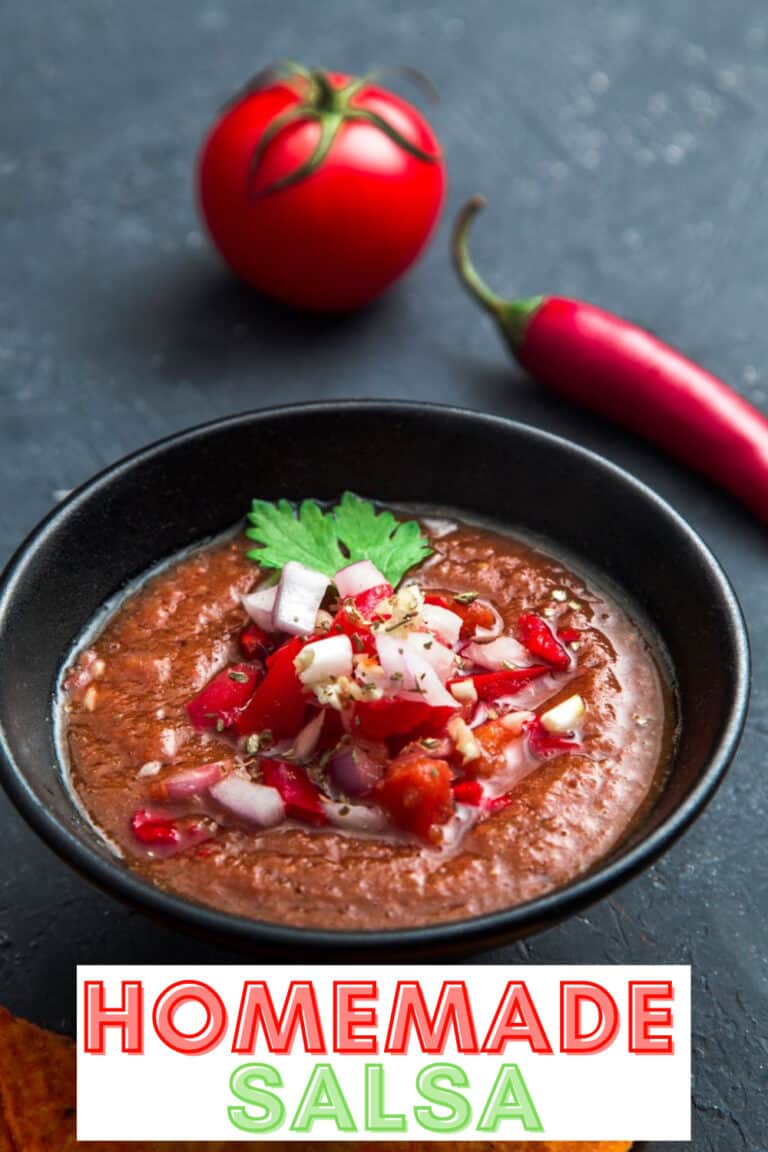 How To Make Homemade Tomato Salsa
This salsa recipe is made by using fresh tomatoes and roasting some of them first – adding in the roasting stage is well worth the extra time, but if you are after a quicker salsa recipe you can skip the roasting.
What You Need To Make Salsa: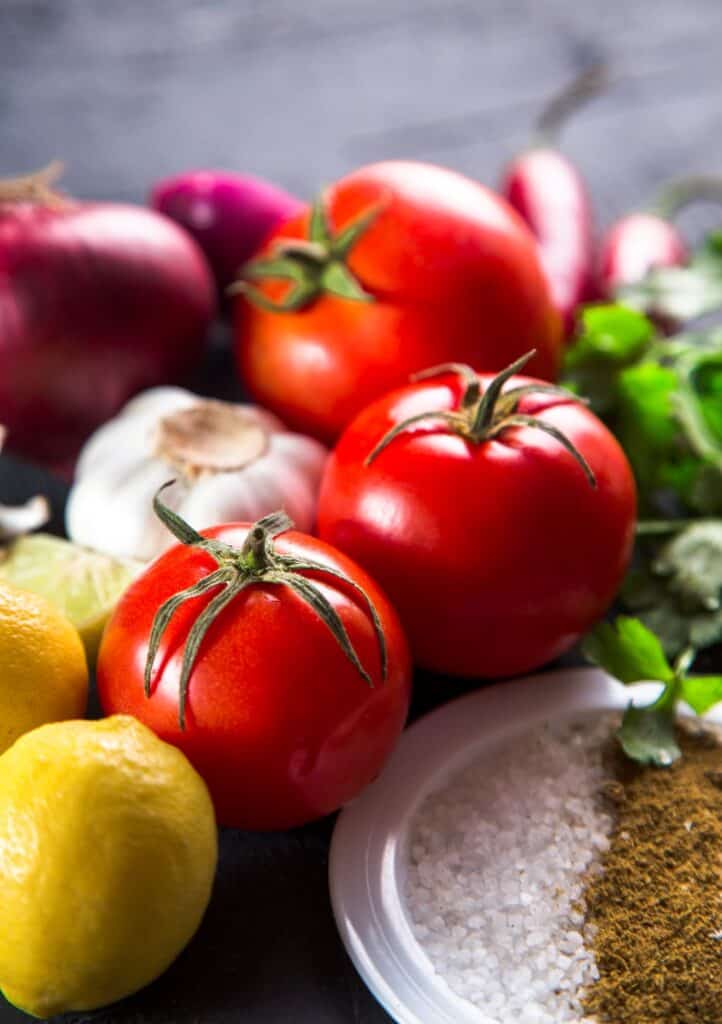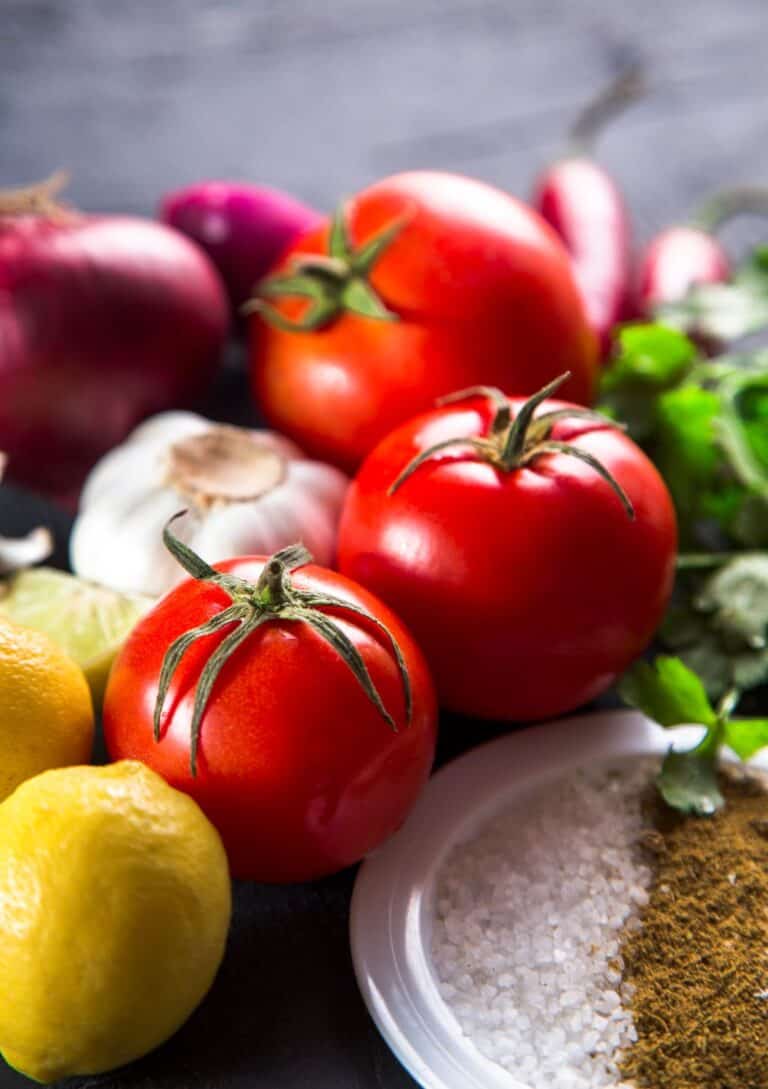 4 large tomatoes – ripe, fleshy and slightly firm

2 chilli peppers – can be substituted with jalapeños

2 garlic cloves – peeled

1 medium size red onion

30g fresh coriander

Juice of 1 lime

½ tsp garlic powder

½ tsp cumin

½ tsp oregano

1 tsp sugar

1 tsp salt to taste
Roasting The Ingredients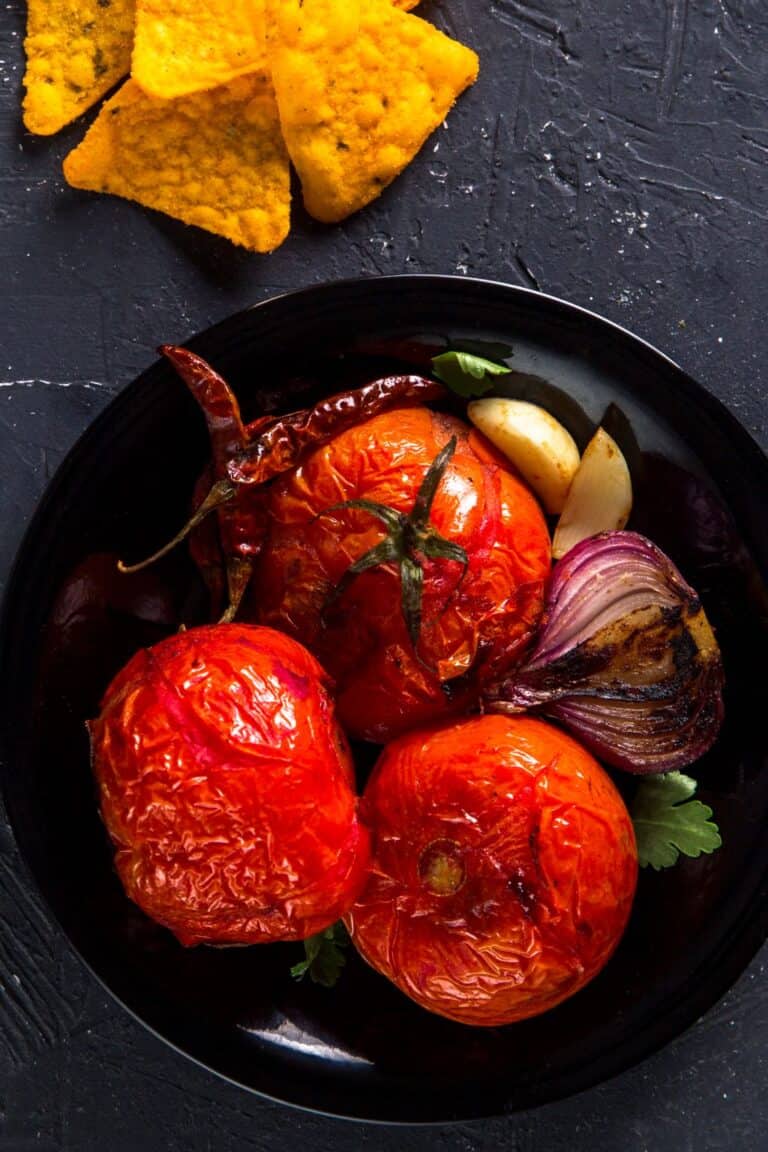 Roast 3 of the tomatoes alongside the garlic cloves, chilli and half the red onion. Roasting the ingredients is highly recommended as it enhances the overall flavour and increases authenticity.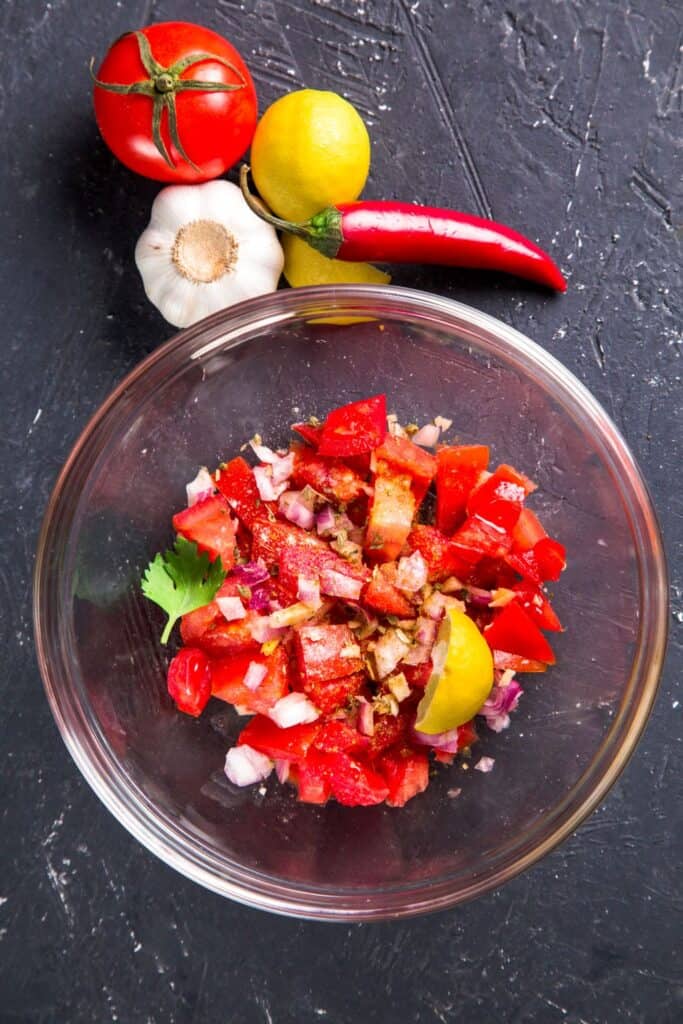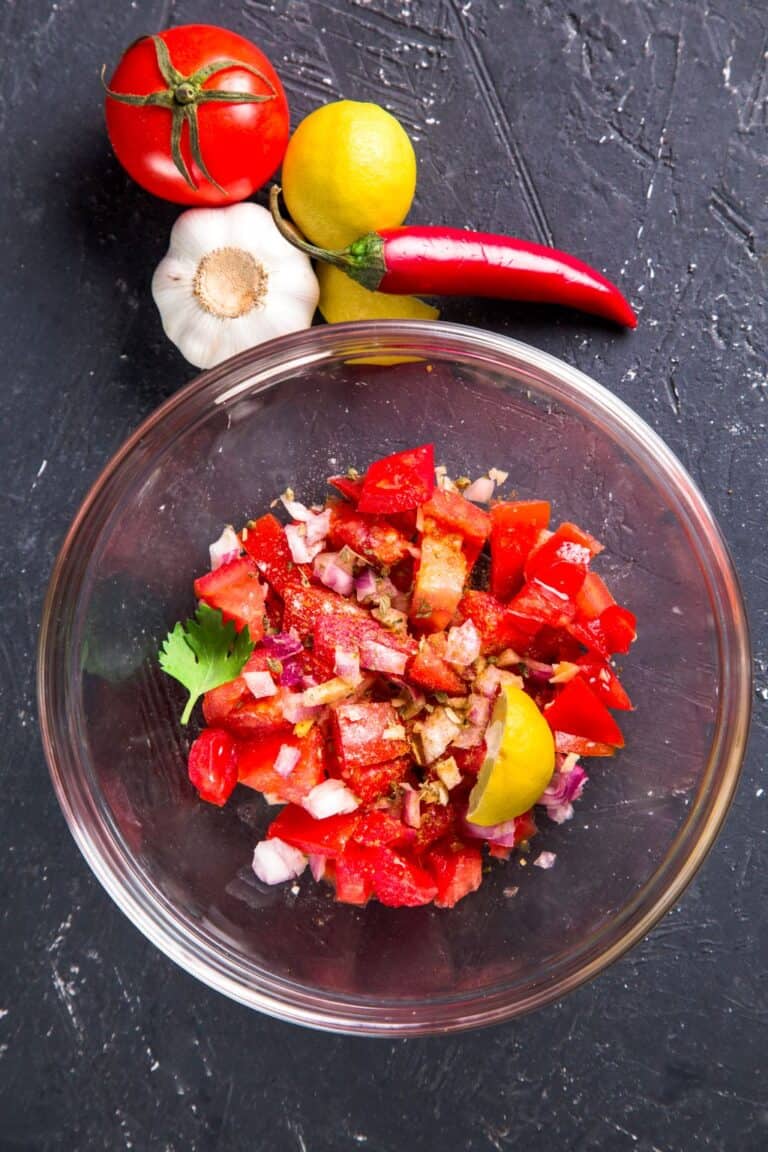 The remaining raw ingredients are then chopped and mixed together and left to marinate in the fridge for about 30 minutes to 1 hour.
Once the roasted ingredients have cooled down they can be pulsed in a food processor or blender before being combined with the raw ingredients.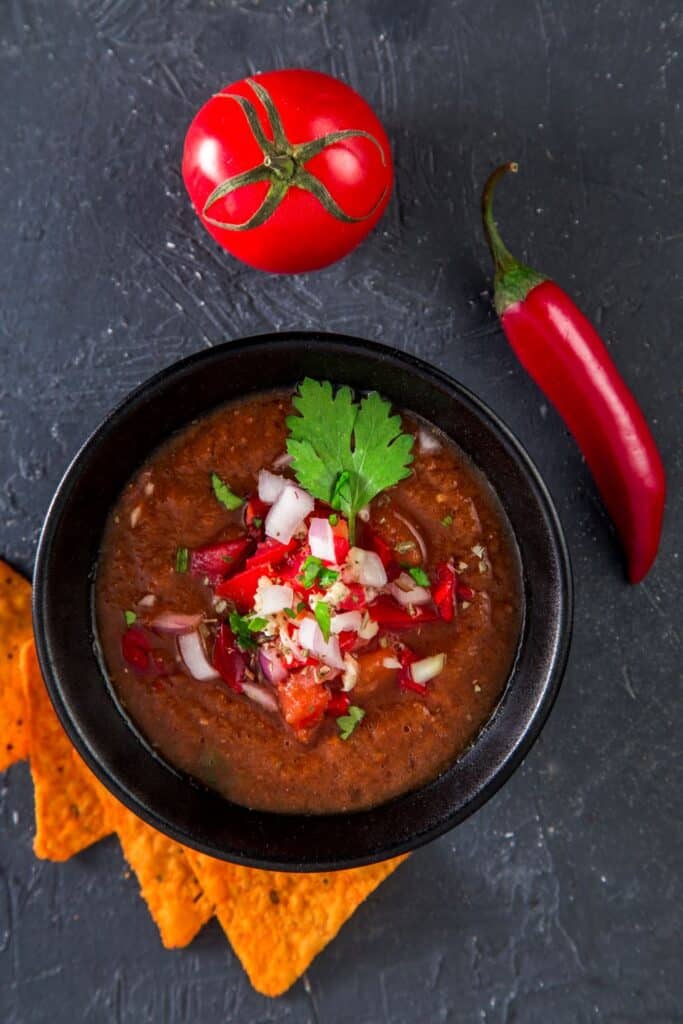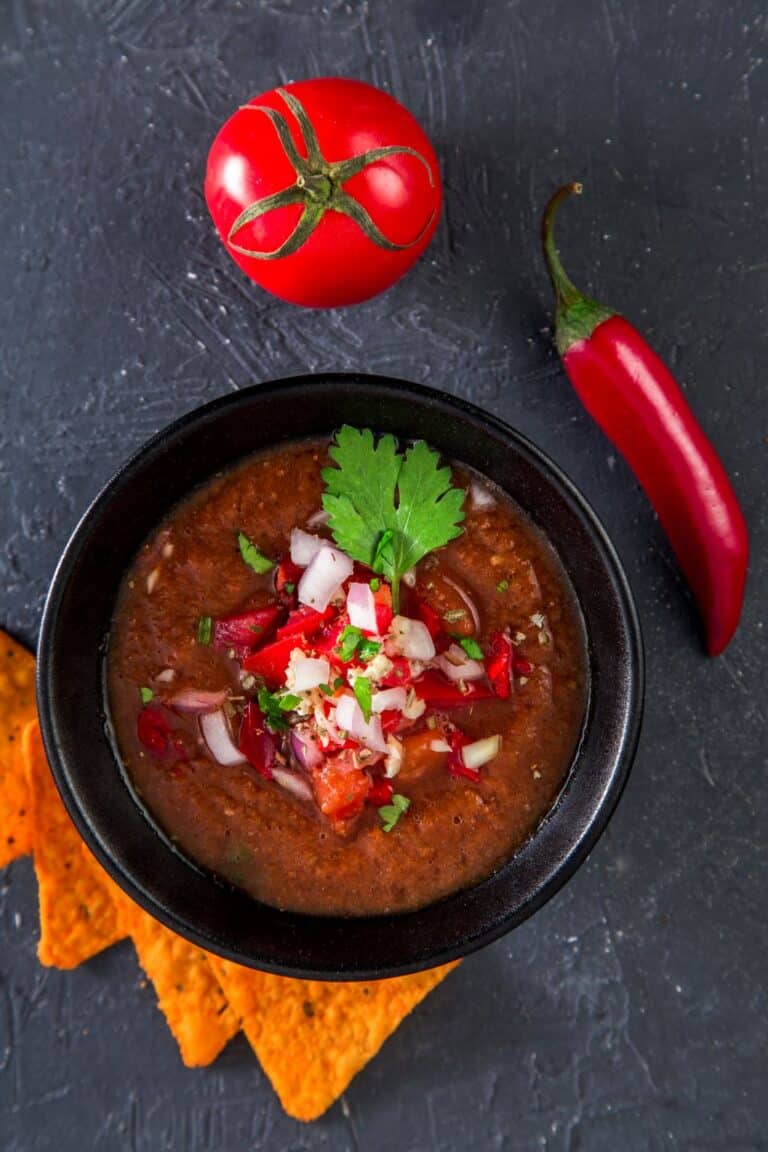 How Long Does Homemade Salsa Last For?
This homemade salsa will keep well for 4 to 5 days if kept in a sealed container in the refrigerator and for up to 7 days if the onion is removed.
Make sure to not allow the salsa to sit too long at room temperature, refrigerate it immediately after consumption.
It is possible to freeze this homemade salsa for up to 4 months by wrapping it with foil and putting it in a freezer safe container.
How Can I Make The Salsa Thicker?
You can control the thickness of this homemade salsa by using the pulsing and not the beating option in the food processor. You can also use a blender that has a pulse function.
The thickness of the salsa will also depend on the thickness of the tomato used. This recipe is ideally made with firm, fleshy tomatoes but of course you can make this recipe by using any kind of tomatoes (including canned)!
How To Alter The Spice Level Of Tomato Salsa
Removing the seeds from the pepper will make the salsa less spicy (of course you can add some later to increase heat if the salsa isn't hot enough).
While using chilli pepper, it is advisable to taste the pepper before integrating it in the recipe, make sure to be very careful while handling jalapeños: avoid touching it with your hands or rub them with olive oil beforehand, wash your hands after touching it and of course do not touch your eyes afterwards!
Adjust to taste – the best part of this recipe is that you can control so many variables (sweetness, acidity, heat and texture), so feel free to get creative and adjust the recipe according to the needs of your family.
Make sure to go easy with the jalapeños if you have kids!
Which Tomatoes Are Best For Homemade Salsa?
If you are using fresh tomatoes try to use ripe, yet still slightly firm ones. Using cherry tomatoes will give sweetness to the salsa more than on the vine, roma or beef tomatoes, but any of these varieties can be used.
How To Make Salsa Without Sugar
For a lower calorie/low carb alternative, replace white sugar with powdered diet sugar or remove sugar altogether.
Other Salsa Tips
To avoid having an overly acidic homemade salsa; it is better to start with a small amount of lime juice then add more to taste if needed as acidity is irreversible.
Another variation of this recipe is Pico de Gallo, which is a chunkier version of the homemade salsa. In order to make Pico de Gallo, do not use a food processor or a blender, just mix the diced ingredients together and serve.
What To Serve Salsa With
Tomato salsa works as a dip at a party with tortilla chips alongside it, or, breadsticks – try our puff pastry cheese straws.
You can also serve salsa as part of a main meal such as fajitas, in a burger or to spice up a plain salad.
You might also like: Slow Cooker Chicken Fajitas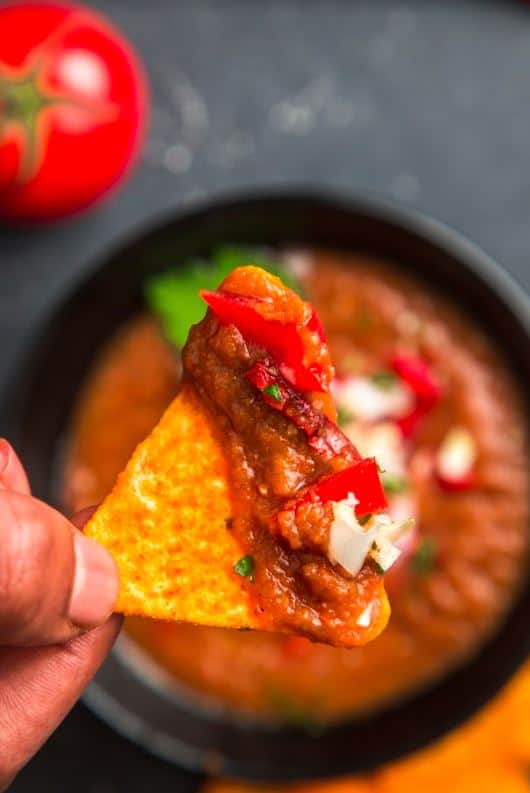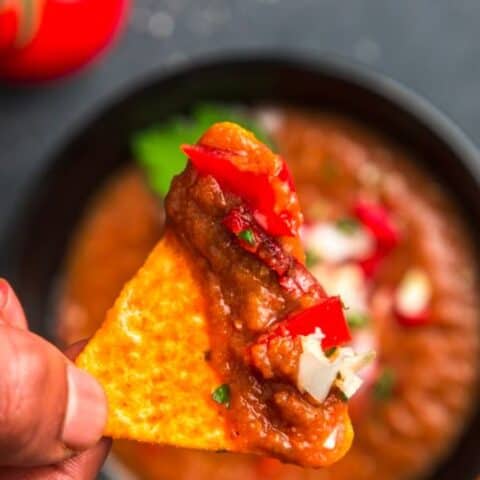 Roasted Tomato Salsa Recipe
Total Time:
1 hour
25 minutes
Enjoy our savoury roasted tomato homemade salsa recipe. Bring the authenticity of your favourite Mexican restaurant to your table with very simple ingredients.
Ingredients
4 large tomatoes – ripe, fleshy and slightly firm
2 chilli peppers – can be substituted with jalapeños
2 garlic cloves – peeled
1 medium size red onion
30g fresh coriander
Juice of 1 lime
½ tsp garlic powder
½ tsp cumin
½ tsp oregano
1 tsp sugar
1 tsp salt to taste
Instructions
Preheat the oven to 160C/140C fan/gas 3
Place 3 tomatoes in a medium-sized tin with two garlic cloves, seeded chilli and half an onion.
Cook for about 20 minutes to 30 minutes. Once the ingredients are roasted all over, place them in a dish until they cool down to room temperature.
Dice the remaining tomato and the other half of the onion into small chunks and season them with cumin, garlic powder and salt, then mix them well. Let the mix rest in the refrigerator for 30-60 minutes.
Add all of the roasted ingredients as well as the coriander, sugar, lime juice and oregano into a food processor or blender and pulse until you get the desired consistency.
In a bowl combine both roasted and raw ingredients then refrigerate for half an hour before serving.
Serve with tortilla chips (optional) and enjoy!