This slow cooker minestrone soup is super easy to make, is full to the brim with goodness and tastes amazing!
If you are looking for a slow cooker soup that will fill you up, minestrone is the answer – it's a meal in itself.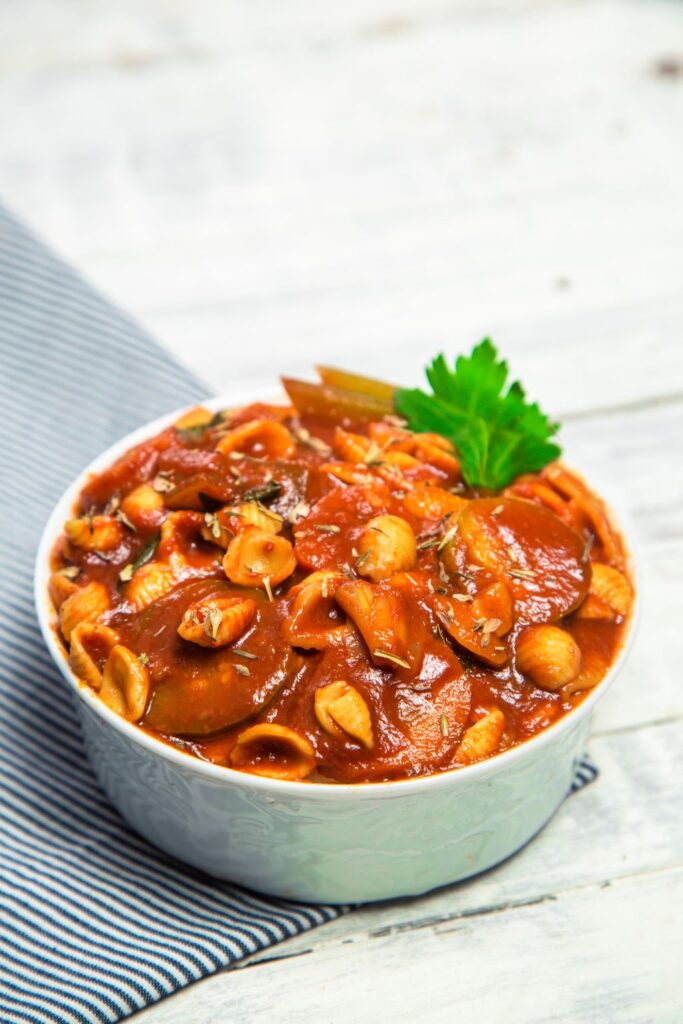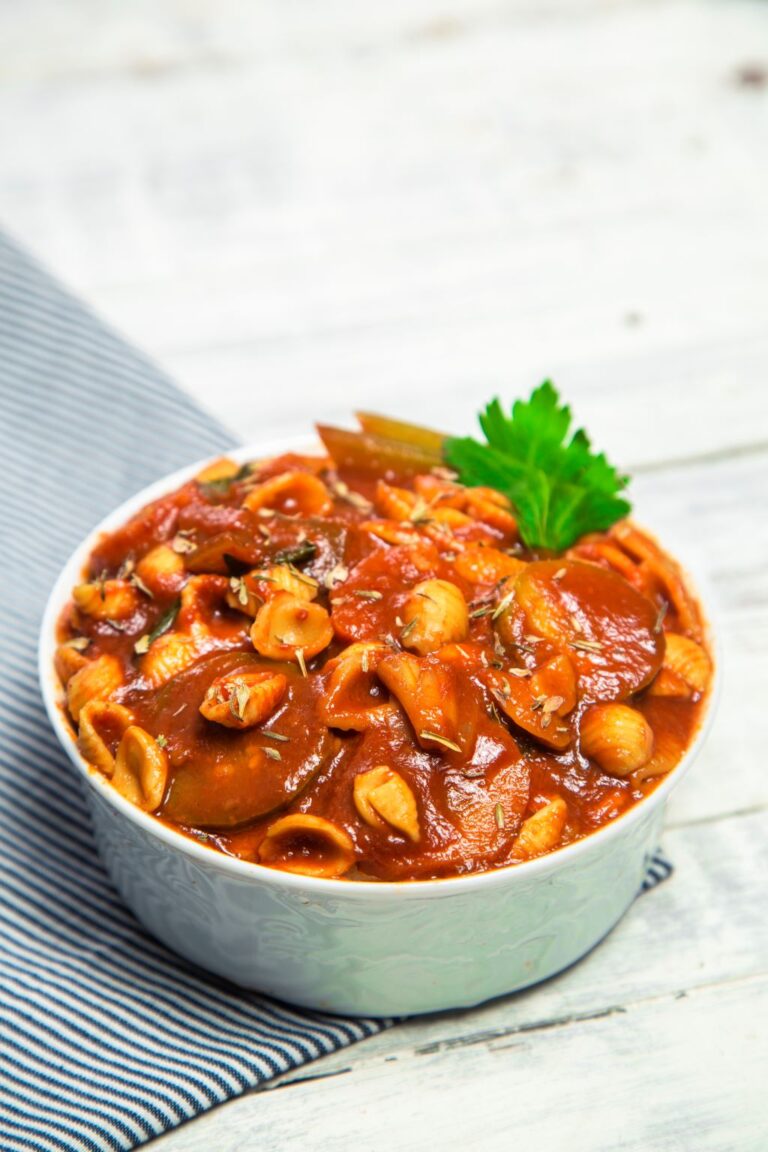 How To Make Minestrone Soup In A Slow Cooker
Like many of my slow cooker recipes, this one opts for the simplest and quickest way to make something tasty!
For this recipe, I just add everything into the slow cooker, apart from the pasta and spinach (this gets added 20-30 minutes before the end), put the lid on and set it off.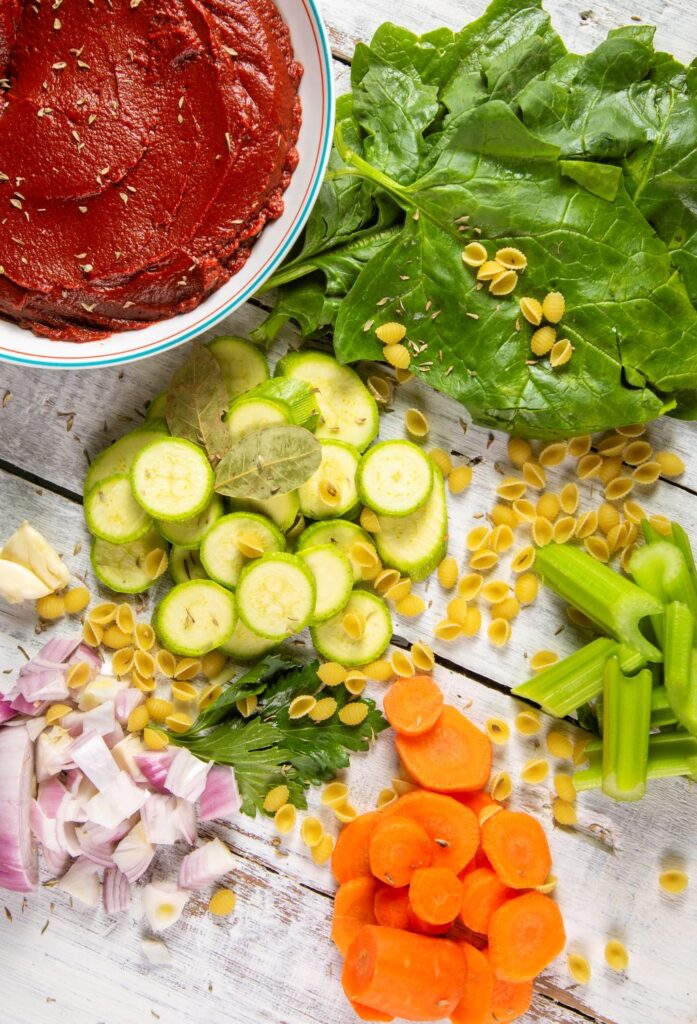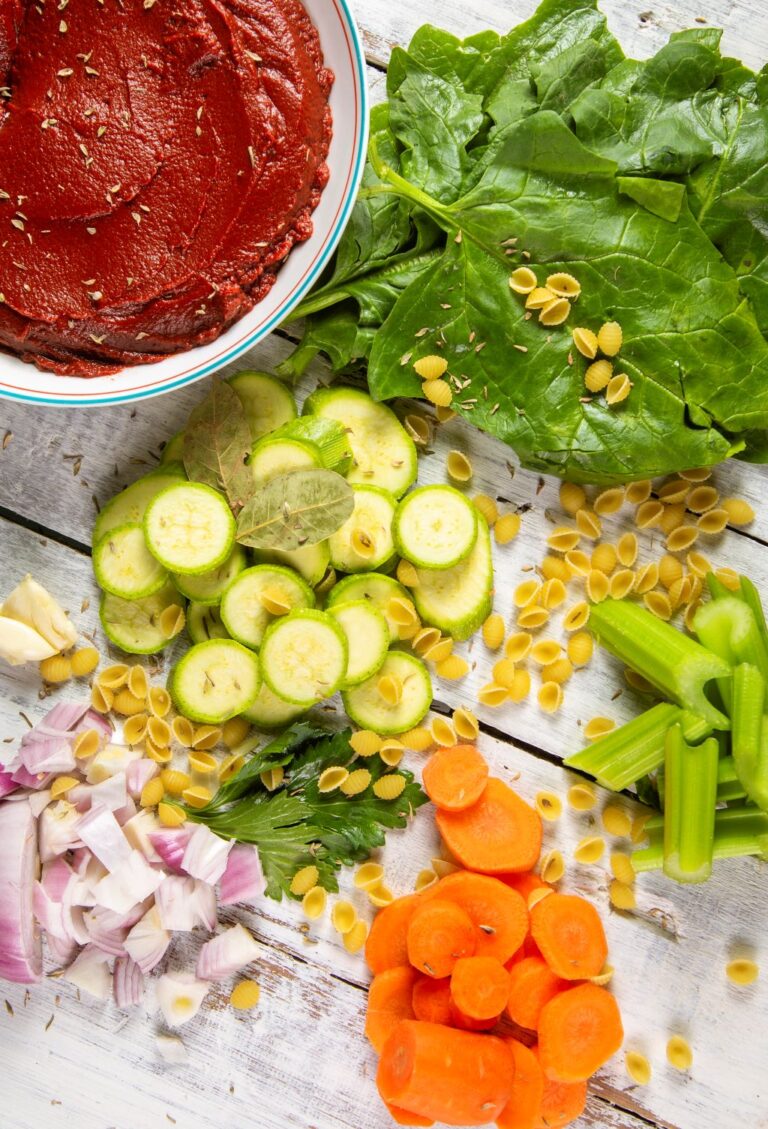 What You Need
This Italian soup is intended to be thick and full of a variety of vegetables, pasta, tomatoes and optionally some smokey bacon.
The great thing is you can add in whichever vegetables you have available – just keep some small pasta shapes in the cupboard as well as some tinned tomatoes or passata for when the mood takes you, or you have some excess vegetables to use up.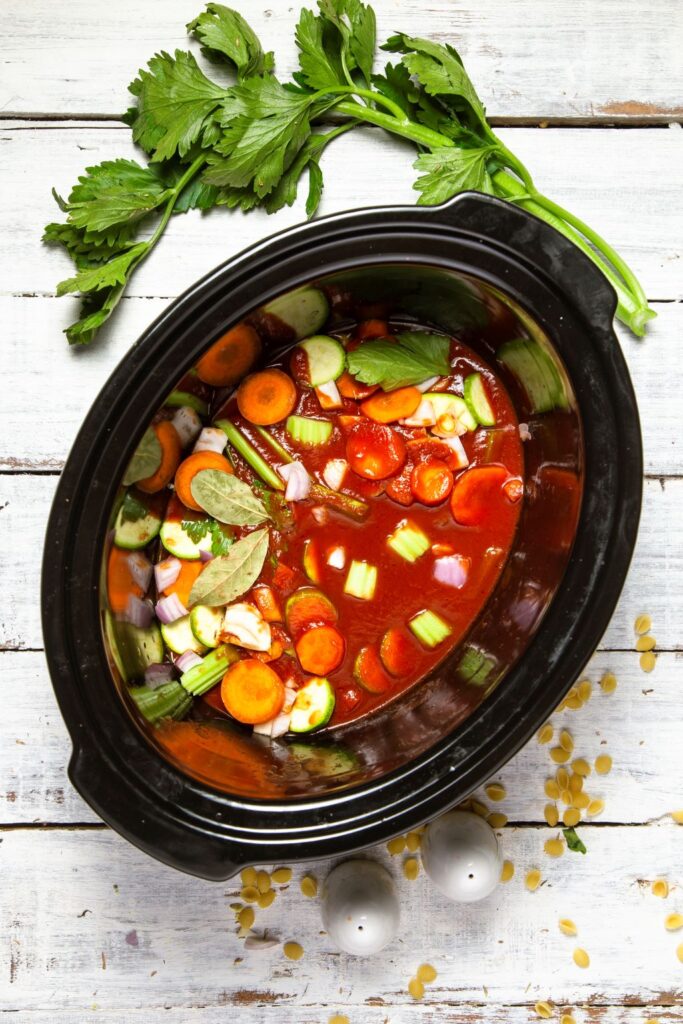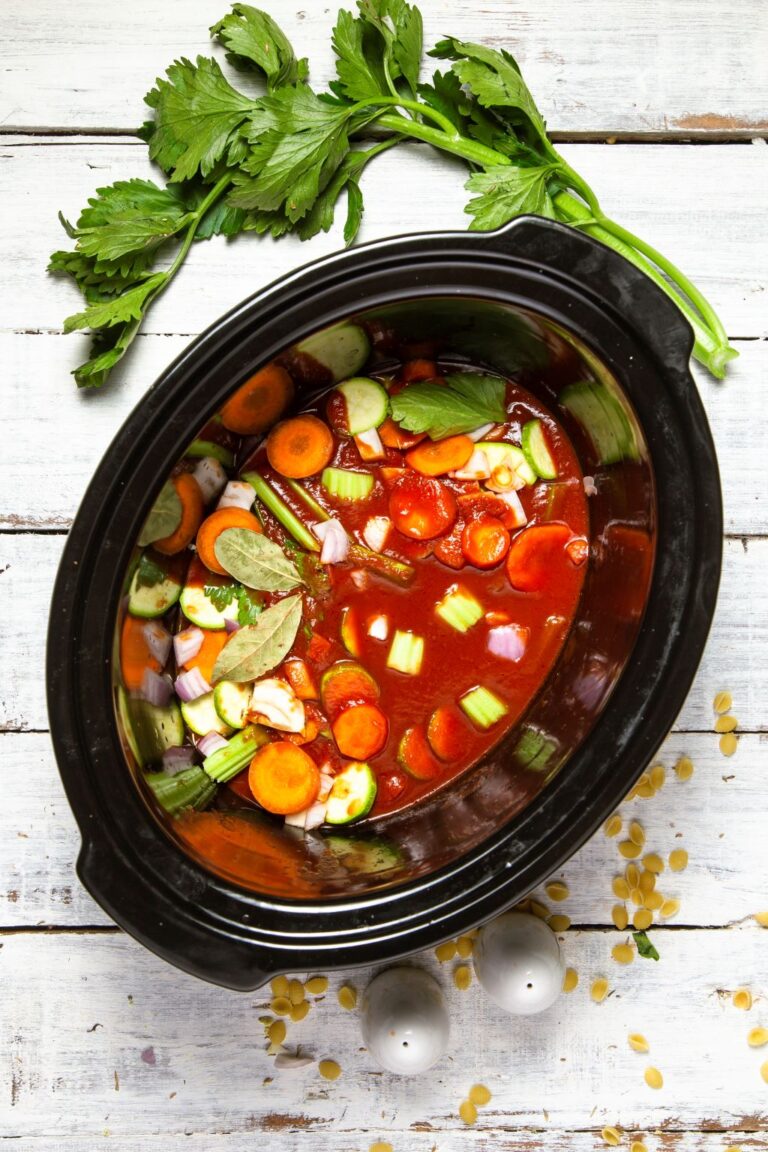 This recipe uses onions, garlic, courgettes, celery, carrots and spinach. You could add in or substitute with potatoes, cabbage and some beans such as cannellini or butter bean.
If you have an abundance of flavoursome fresh tomatoes you can use those instead of tinned tomatoes or passata.
You can use any dried pasta for minestrone soup, but try and use the smaller variety, or, break up some spaghetti to add in.
You can optionally saute the onions, garlic and bacon in a little oil before adding them to the slow cooker – if you are not adding bacon I would skip this step.
Add everything to the slow cooker apart from the pasta and spinach. Set it off on low for 6 to 8 hours, or high for 3 to 4 hours.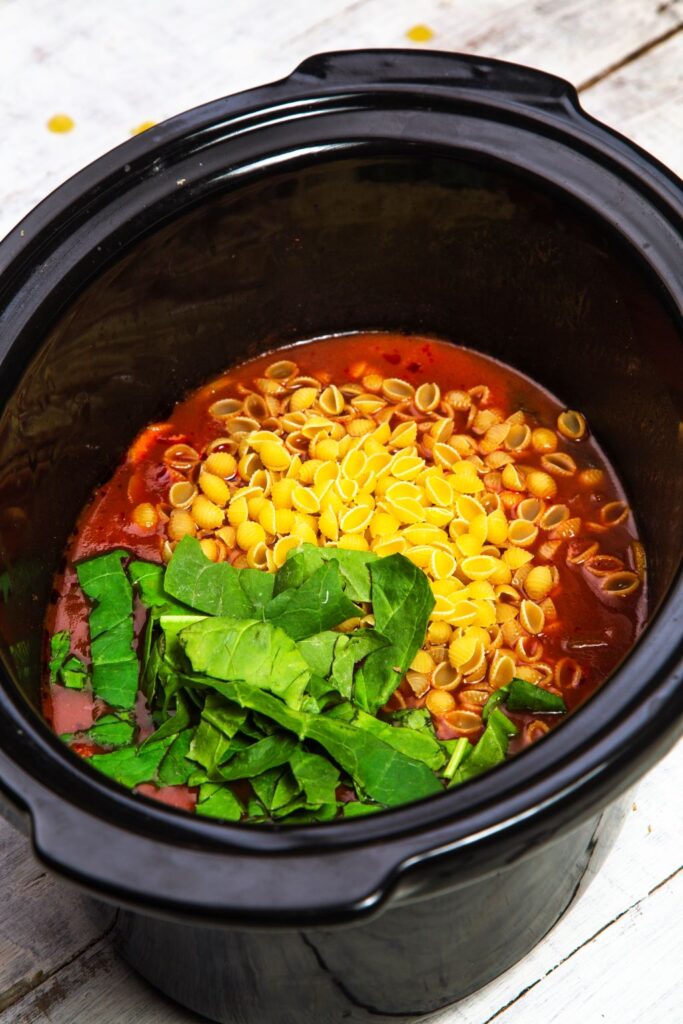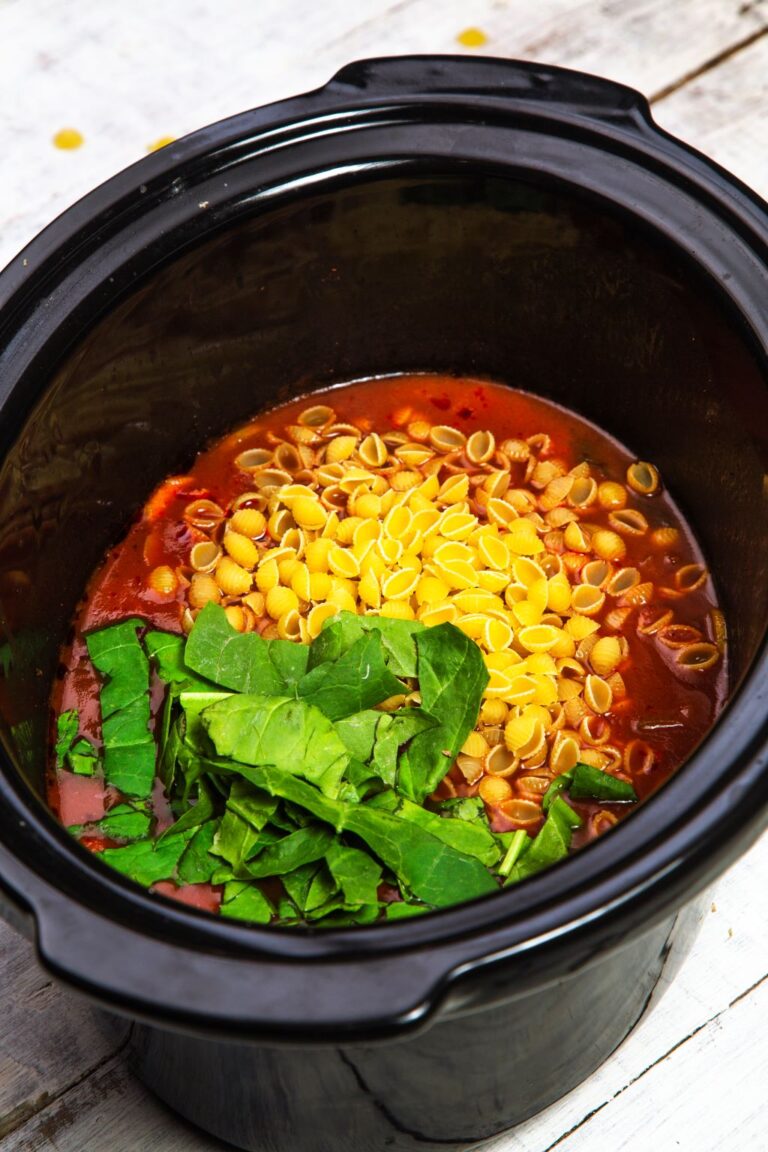 Remove the lid at this point and add in the pasta and spinach leaves, stirring them in so that they are submerged. Replace the lid and continue to cook for a further 20 to 30 minutes or until the pasta has softened.
Serve in a bowl with some grated parmesan cheese on top and optionally some crusty bread to dunk in.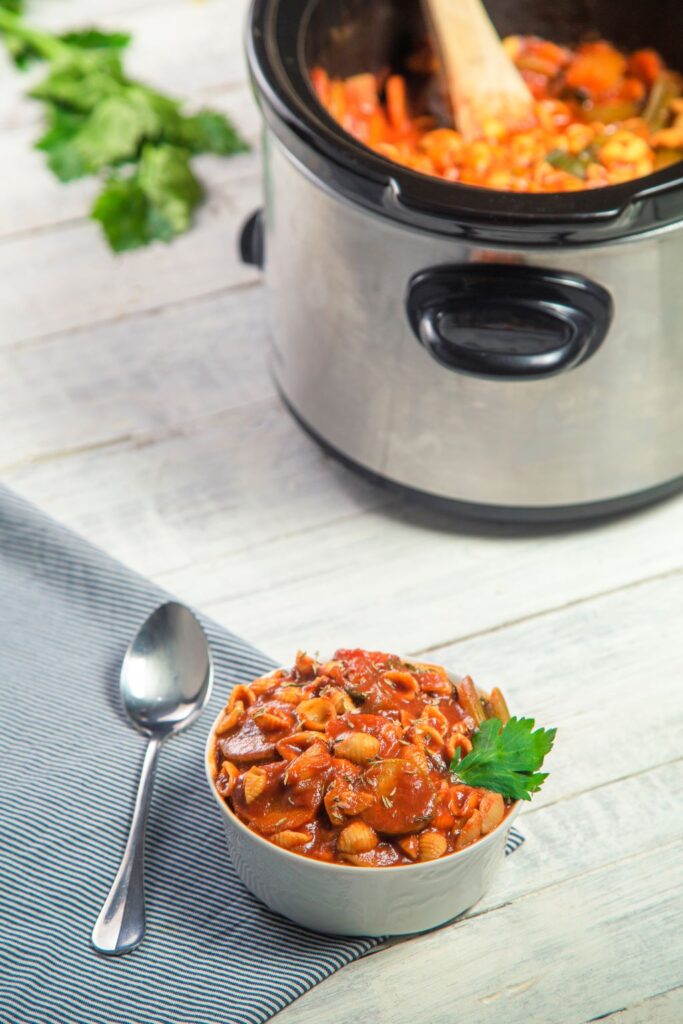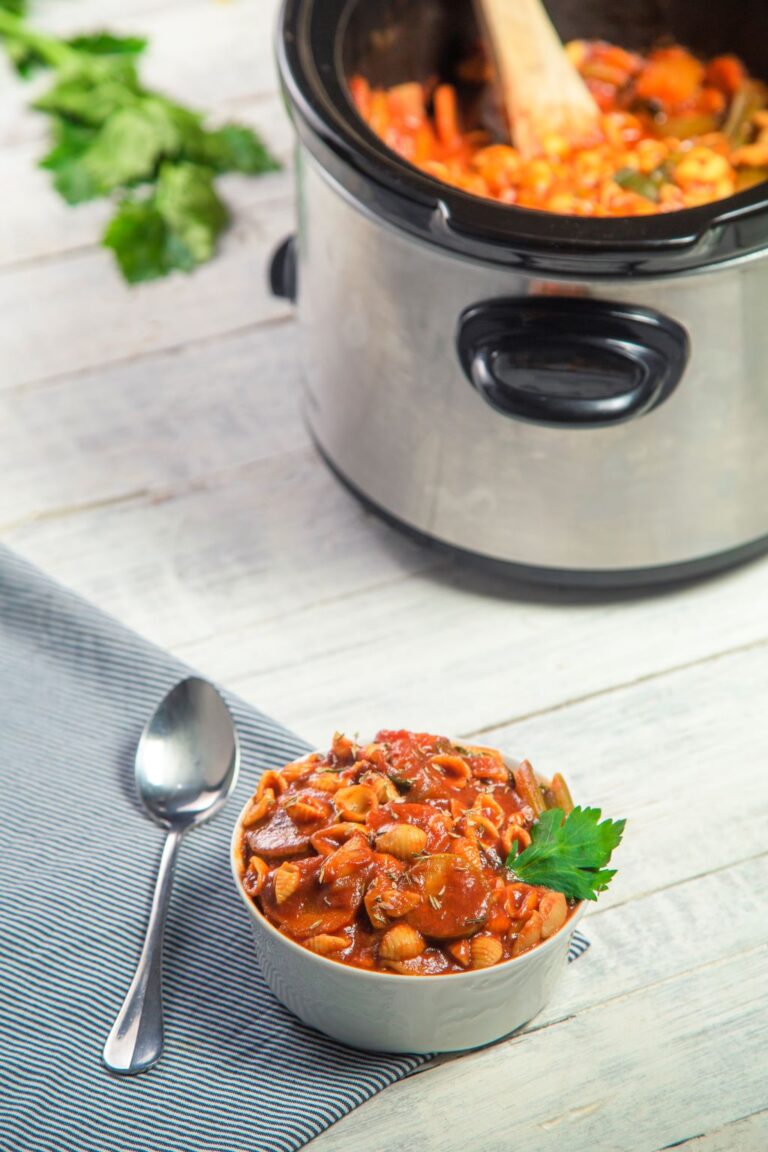 How Do You Thicken Minestrone Soup?
The consistency of minestrone soup can vary depending on what vegetables you put in, the type of pasta, as well as the type of tomatoes – even down to the brand of tinned tomatoes. If your soup ends up being too thin, add in a larger quantity of pasta when it's time to add it in or leave the lid off for 20 minutes of slow cooking time at the end to allow it to boil down some more.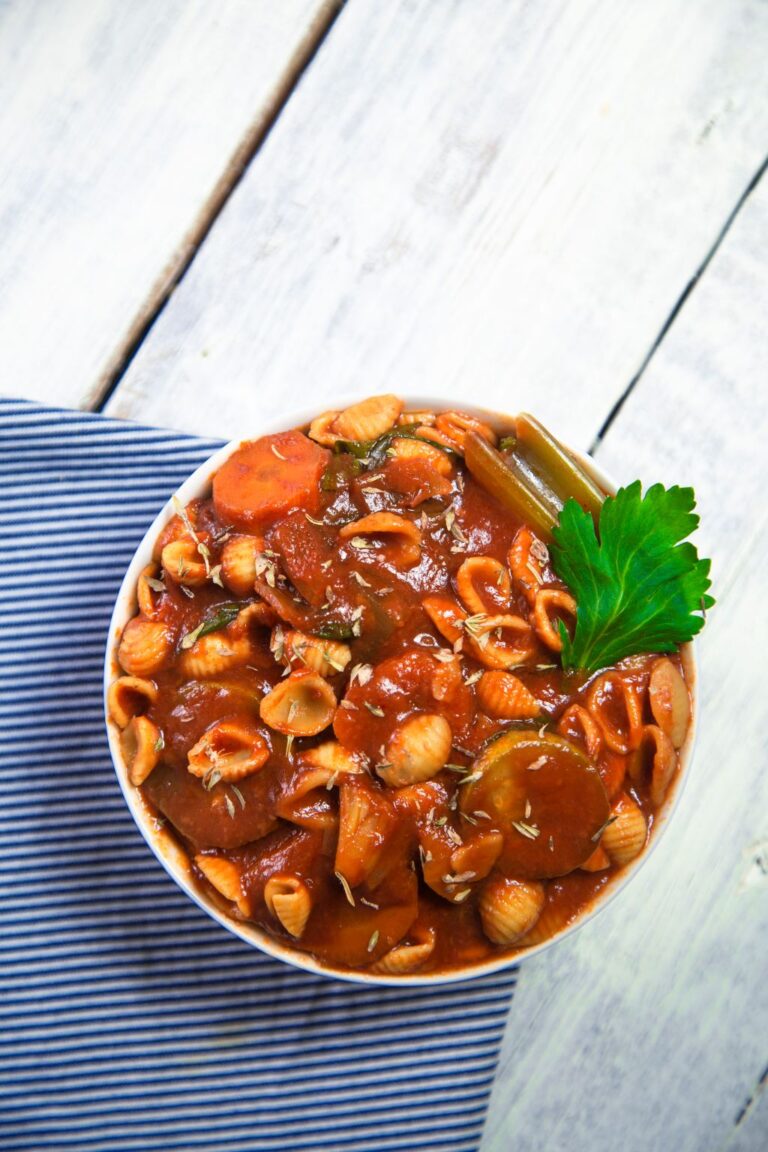 How Do You Make Minestrone Soup Thinner?
Minestrone soup is intended to be thick, but if you prefer a thinner soup, stir in some extra vegetable stock.
How Long Does Minestrone Soup Last?
It will last for up to 3 days in the fridge (leave it to cool first), or you can freeze it for up to 3 months.
How Do You Reheat Minestrone Soup?
You can reheat it in a saucepan until it is hot all the way through. If it is too thick you might need to add in some extra water or stock. If you have frozen the minestrone soup, defrost it thoroughly before reheating it.
Let me know if you made this recipe? Let me know in the comments what you think!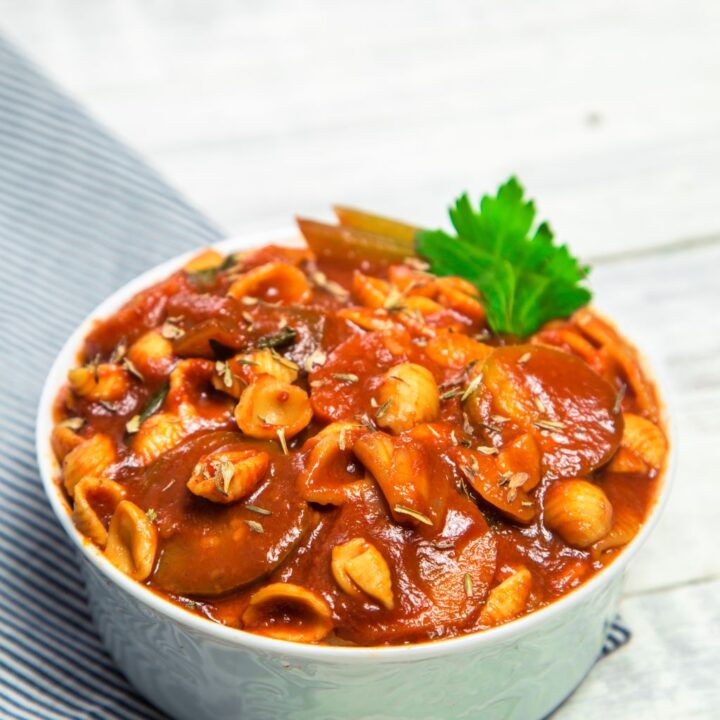 Slow Cooker Minestrone Soup
Total Time:
4 hours
10 minutes
Slow cooker minestrone soup is quick to prepare and full of goodness that keeps you feeling full for a long time! It's the ultimate cosy soup!
Ingredients
2 onions, chopped
2 cloves garlic, crushed
3 rashers smokey bacon, chopped (optional)
2 small courgettes, chopped
3 celery sticks, chopped
3 carrots, chopped
2 tins x 400g tomatoes
½ tsp dried oregano
2 bay leaves
1 litre of chicken or vegetable stock (from 2 stock pots/cubes)
100g dried soup pasta*
Large handful of spinach
Salt and pepper to season
Instructions
Optionally saute the onions, garlic and bacon in a little oil. If you choose to do this step you can also saute the courgettes, celery and carrots.
Add everything to the slow cooker apart from the pasta and spinach.
Place the lid on and cook on low for 6 to 8 hours, or high for 3 to 4 hours.
Remove the lid and add the spinach and pasta. Cook for a further 20 to 30 minutes, or until the pasta is soft.
When finished, gently stir, season some more if required.
Serve with grated cheese (parmesan is a good choice) and crusty bread.
Notes
*You can use any pasta for minestrone soup, if you can't get small soup pasta then use macaroni, or broken up spaghetti.
Nutrition Information:
Yield:

6
Serving Size:

1
Amount Per Serving:
Calories:

370
Total Fat:

18g
Saturated Fat:

5g
Trans Fat:

0g
Unsaturated Fat:

11g
Cholesterol:

102mg
Sodium:

541mg
Carbohydrates:

22g
Fiber:

5g
Sugar:

8g
Protein:

32g