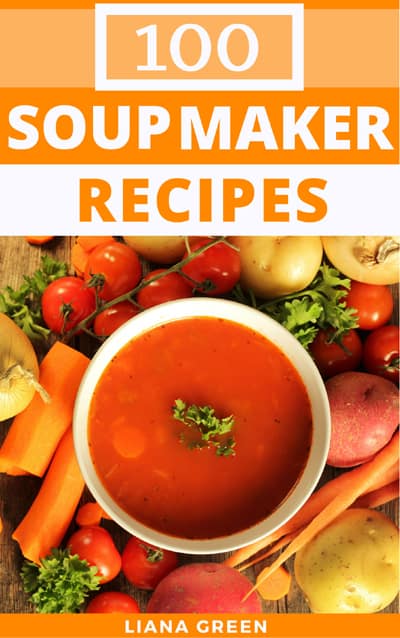 Available in:

Paperback, Kindle
SEE ON AMAZON
The Soup Maker Recipe Book is perfect for anyone with a soup maker. In fact, the recipes can be used for making soup in a pan on the stove, with some recipes requiring a blender to make them smooth.
By making your own soup you control exactly what goes in. The soup recipes found in this book have been made in a Morphy Richards Soup Maker, but they can easily be made in any other soup maker, or even with a pot on a stove.
By including an abundance of healthy ingredients in your diet you will do wonders for both your health and well-being.
Soups are a fantastic way to lose weight – they are usually high in fibre but low in fat and calories. In fact, I have included the calorie count of each of the 100 soup recipes found in this book.
Why Get The Soup Maker Recipe Book?
Increase your energy levels and feel great about yourself.
Improve your health – Look amazing with clear skin, vibrant eyes and be your perfect weight
Make economical meals – homemade soups are so much cheaper than shop bought ones!
Make the very same recipes I have researched and tested out to;
Lose weight and look great
Improve mine and my children's health. I never dreamt my hot dog crazy son would be requesting a vegetable soup for lunch!
What Recipes Are Included?
There is a soup recipe for everyone in this book. In fact there are lots for everyone! I've included classics like chicken soup, leek and potato soup, tomato soup, as well as more unique recipes.
The following are a small taster of the 100 soup recipes included in the Soup Maker Recipe Book;
Butternut Squash Carrot and Ginger
Chicken and Asparagus
Cauliflower Cheese
Honey Roast Parsnip
Caribbean Pumpkin
Tomato and Basil
Leftover Turkey
Seriously Garlicky Chicken (it is!)
Thai Green Curry Cod
Sweet Potato and Parsley