Ninja Foodi roast potatoes are the ideal way to enjoy a crispy on the outside and soft and fluffy on the inside roasted potato.
Roast potatoes are a classic side dish for many different types of meals, in particular, a Sunday Roast or a Christmas Dinner.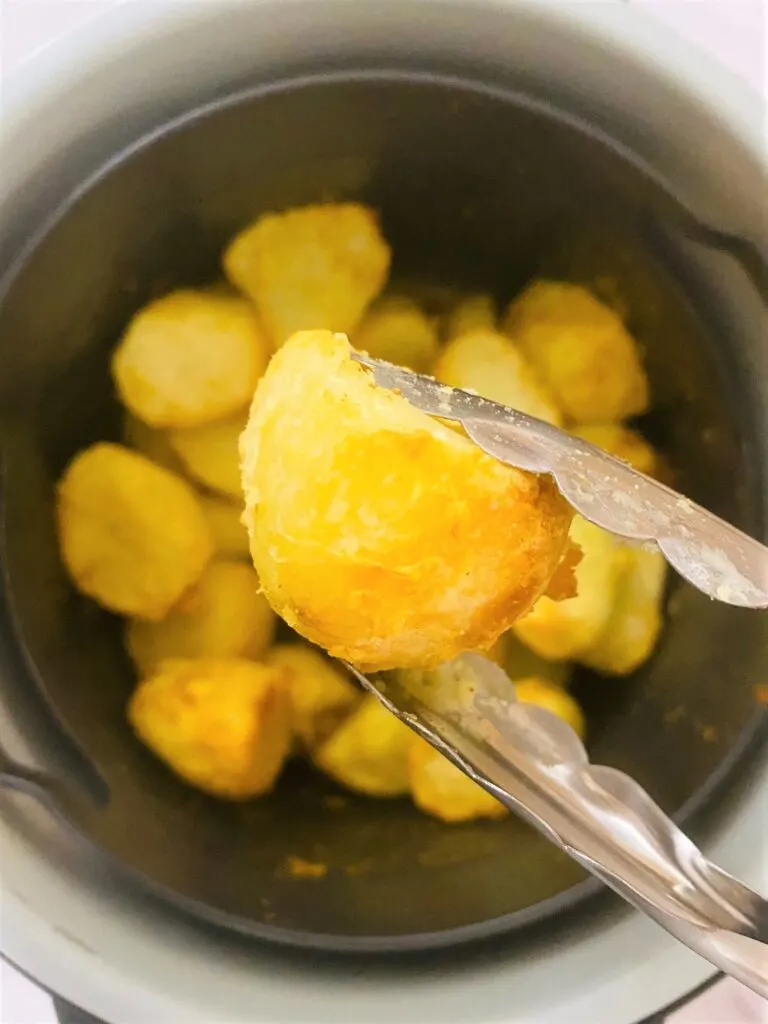 What You Need To Make Roast Potatoes In A Ninja Foodi Multi Cooker
The best part about roast potatoes is that they're so easy to make. The benefit of making them in a Ninja Foodi is the space it will free up in your oven.
Related: Ninja Foodi Recipes
Like oven made roast potatoes, aside from the potatoes, all you need is some oil or fat, salt and pepper and optionally some additional seasoning such as sage, rosemary or thyme. You can even add garlic if you want an extra flavour boost without too much effort.
1 kg Maris Pipers or King Edwards
500ml boiling water
1 to 2 tbsp olive oil – or oil/fat of your choice
Salt and pepper
Optional seasoning – rosemary, sage, thyme and or garlic
Making Ninja Foodi Roast Potatoes
Like when you are making roast potatoes in an oven, the potatoes will benefit from being parboiled first. Having said that, you can skip the parboiling stage if you don't have time and cook them straight in the air fryer. They won't be as crispy on the outside if you skip the parboiling, but they still taste amazing.
Preparing Potatoes For Roasting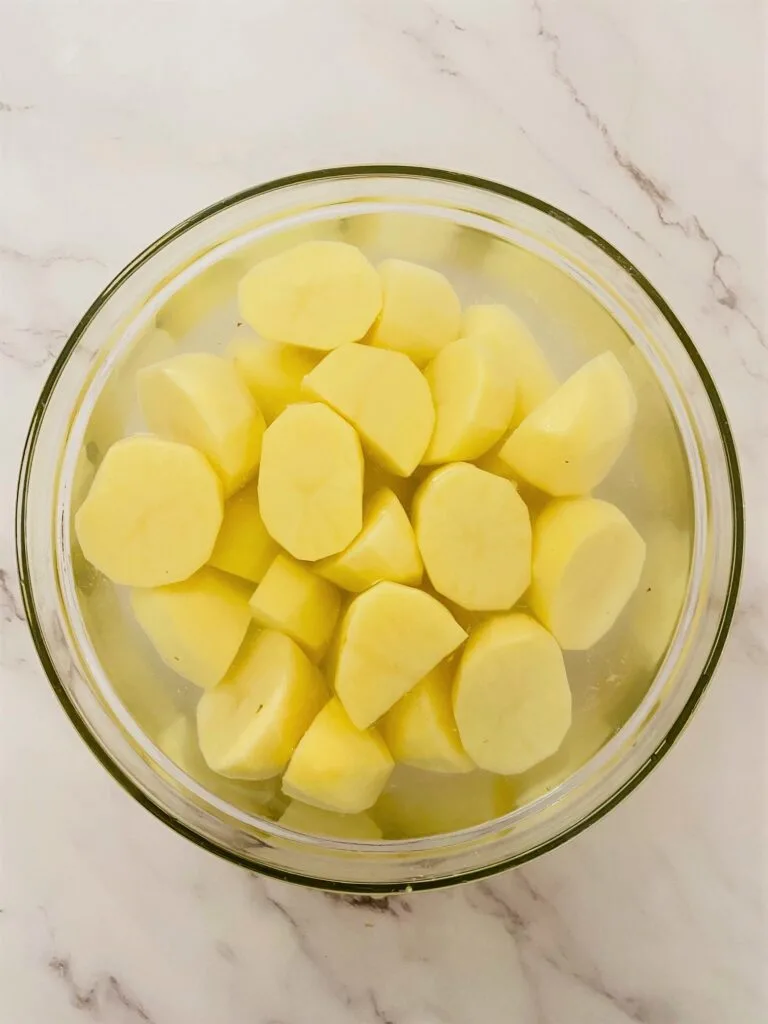 As with all methods for making roast potatoes, start by peeling the potatoes and cutting them in quarters (depending on the original size of the potato). I prefer to use Maris Pipers for making roasties, but you can use King Edwards or any other type of floury potato.
Related: Best Potatoes For Roasting
Give the potatoes a little rinse under cold water before placing them in the Ninja Foodi Cook and Crisp Basket.
Pressure Cooking The Potatoes (Par Boiling)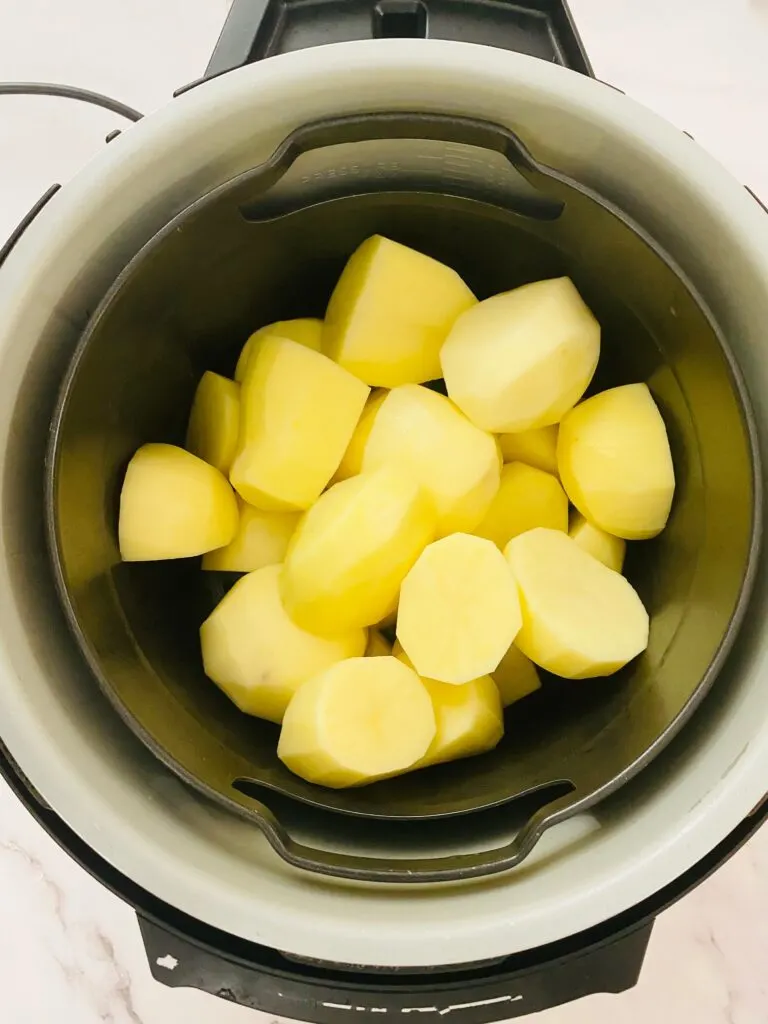 Pour 500ml of boiling water into the Ninja Foodi cooking pot before adding the potatoes (in the basket).
Place the pressure cooker lid on top of the Ninja Foodi and switch the valve to 'seal.' Select the pressure cooker function and set it off on high for 2 minutes.
When the pressure cooker has finished perform a quick release before removing the lid. Take the basket of potatoes from the Ninja Foodi, make sure you use oven gloves or similar to protect your hands.
Pour the water from the cooking pot and pat it dry before returning it to the Ninja Foodi.
Oiling And Seasoning The Potatoes For Roasting
Give the potatoes a gentle shake in the basket to fluff up them up slightly – this will help to produce that delicious crispy skin we all love!
You can either remove the potatoes from the basket and transfer them to a larger bowl, or leave them in the basket for this step. I prefer to leave them in the basket as it saves on additional washing up 😉
Drizzle the oil or fat over the potatoes, using a brush if necessary to make sure they all get coated.
Add your favourite roast potato seasoning, this could be as simple as just a little bit of salt and pepper.
Other options could include parsley, rosemary, thyme, sage or garlic.
Return the seasoned potatoes to the Ninja Foodi and close the lid. Select the air fryer function and set it off at 200C for 25 minutes, checking on them 3 or 4 times during this time to turn them.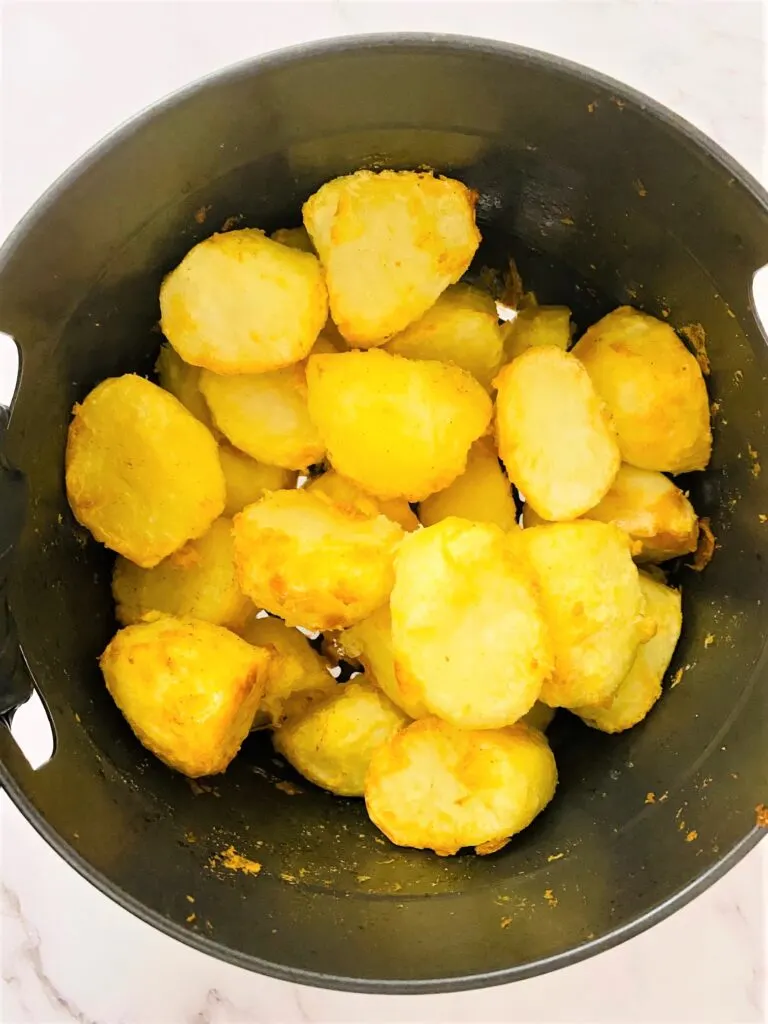 Can You Freeze Roast Potatoes?
Yes, you can freeze roast potatoes. Leave them to cool completely before freezing. If you have the space lay them out on a baking tray to freeze with some space between them. Once they have frozen transfer to a freezer bag or container and return to the freezer.