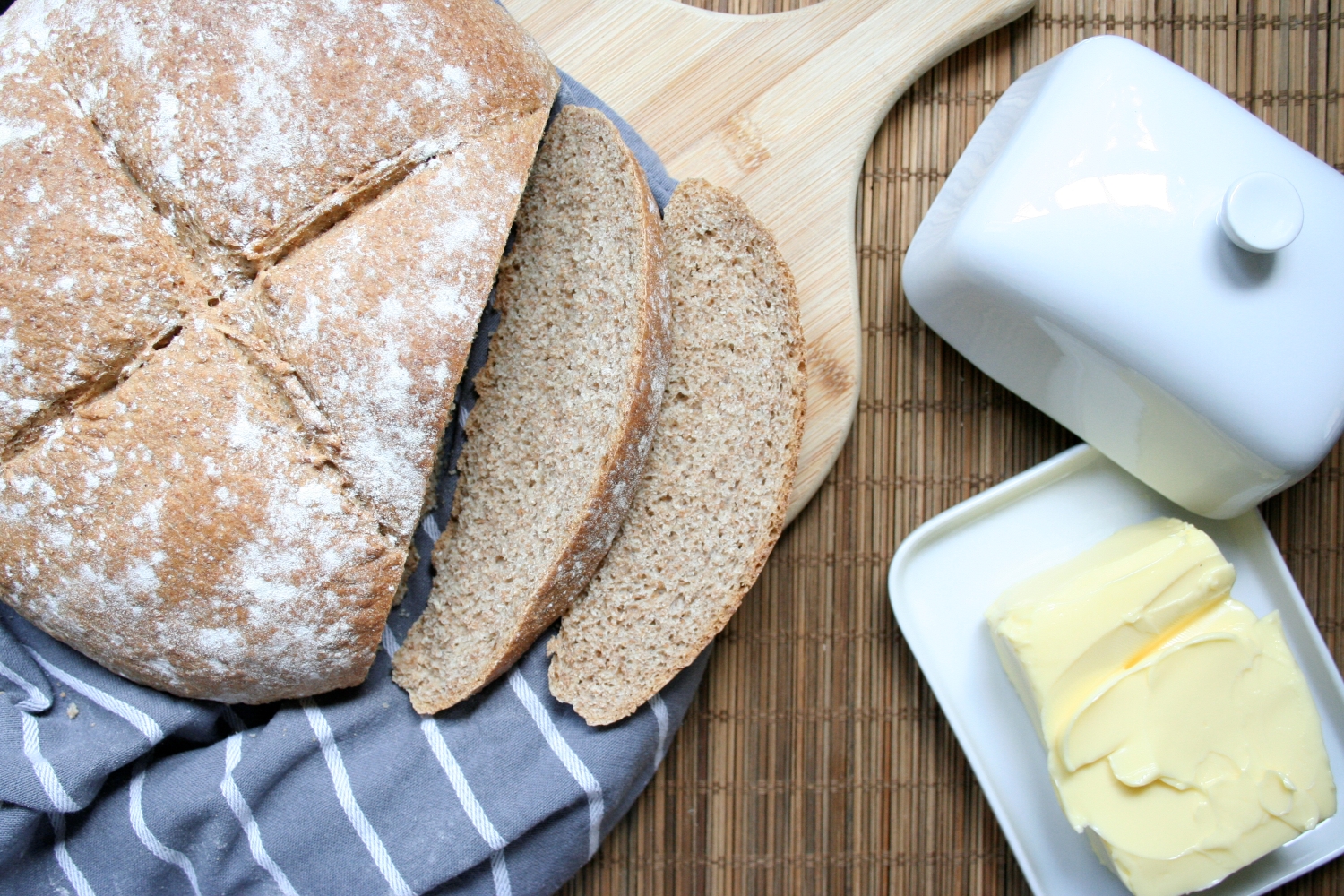 Nothing beats the smell and taste of freshly baked bread…
Baking your own bread is very rewarding, and is a must-do for all budding bakers.
Brown vs wholemeal flour- what's the difference?
Wholemeal flour is made from the entire wheat grain, including the bran and germ, whereas brown flour is made from the grain, with a bit of the bran and germ removed (white flour has all the bran and germ removed).
The same principle applies to naming breads. In this recipe, we used wholemeal bread flour with some white bread flour too (but this could be substituted for brown bread flour, if you can find it).
This is a brown bread, as it still has some white flour in it. This makes the dough easier to work with, and to make it rise more effectively, as the white flour has a lot more gluten than the wholemeal flour.
Making it:
You will need:
400g wholemeal bread flour
100g strong white bread flour
2 tsp dried yeast
50g butter
1 tbsp sugar
1 tsp salt
300ml warm water
Method:
Start by melting the butter in the microwave in a medium-sized bowl. Mix with the sugar and warm water.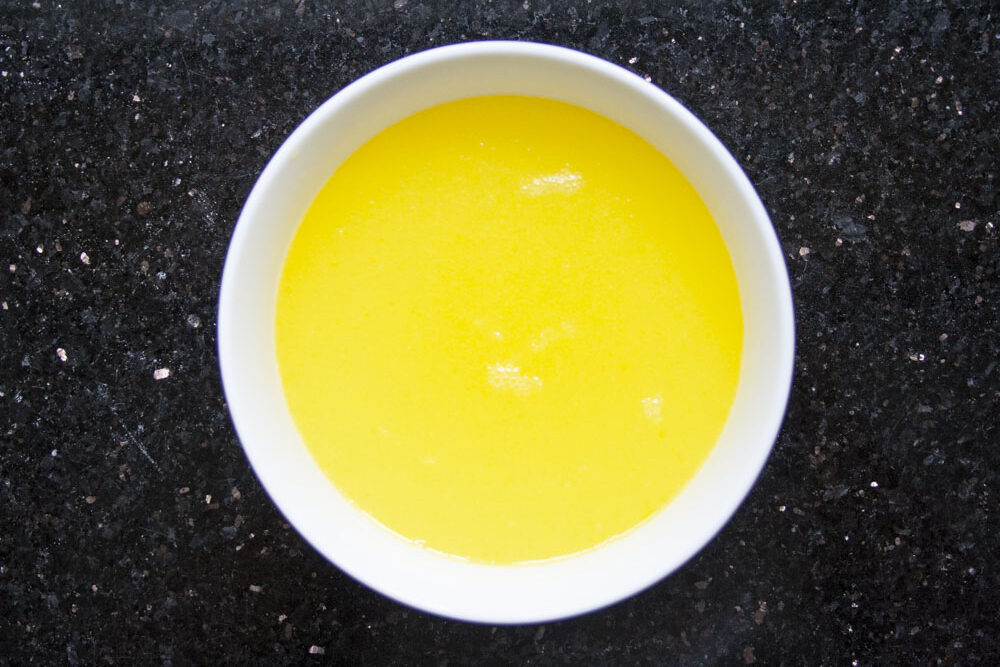 In a large mixing bowl, mix the wholemeal and white flours, salt and yeast. Form a well in the centre.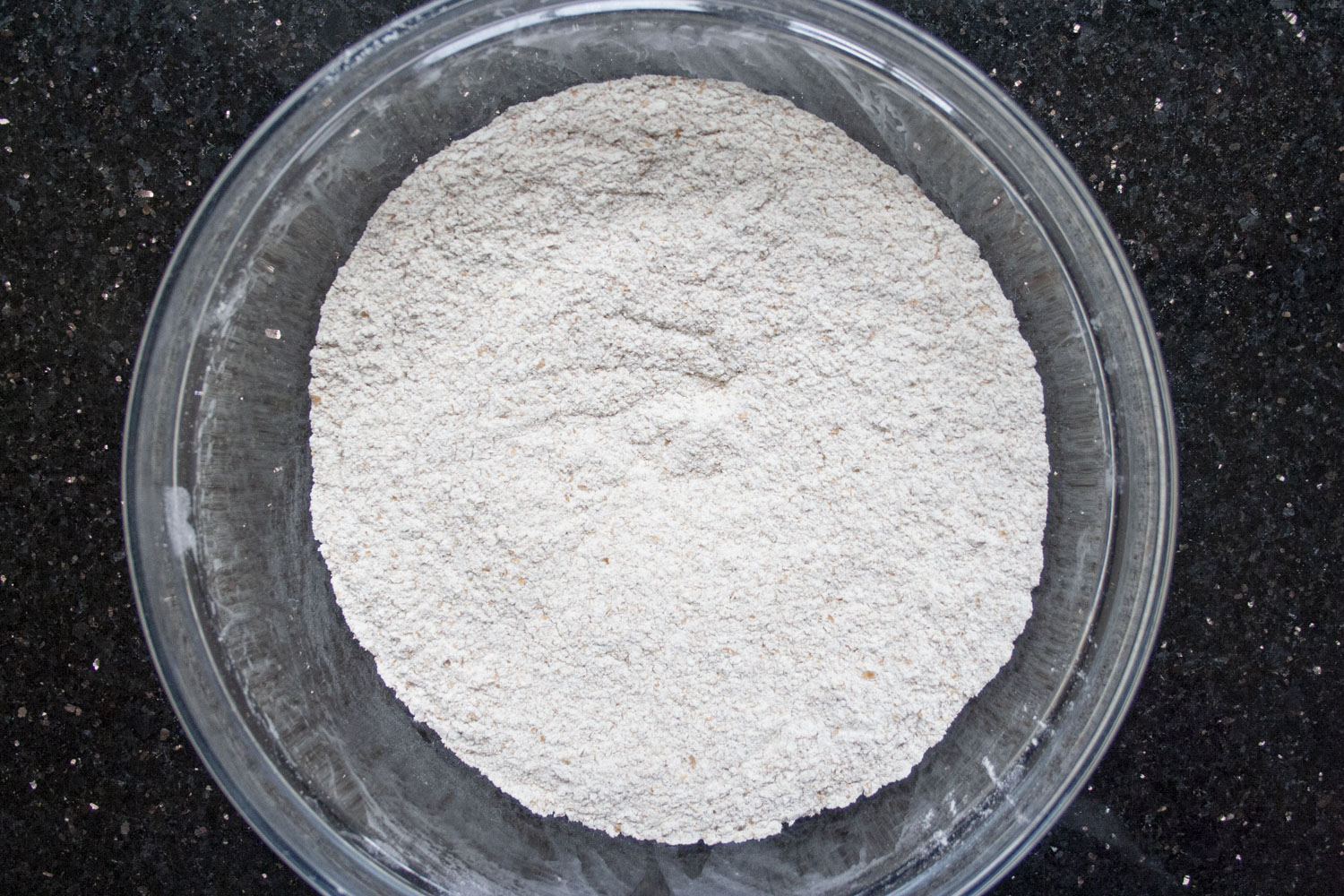 Pour the butter mixture into the well, and stir with a wooden spoon to incorporate it into a rough dough, using your hands when it becomes too doughy to stir.
Knead on a floured surface for 10 minutes, by when the dough should become smooth, elastic, and firmer to the touch.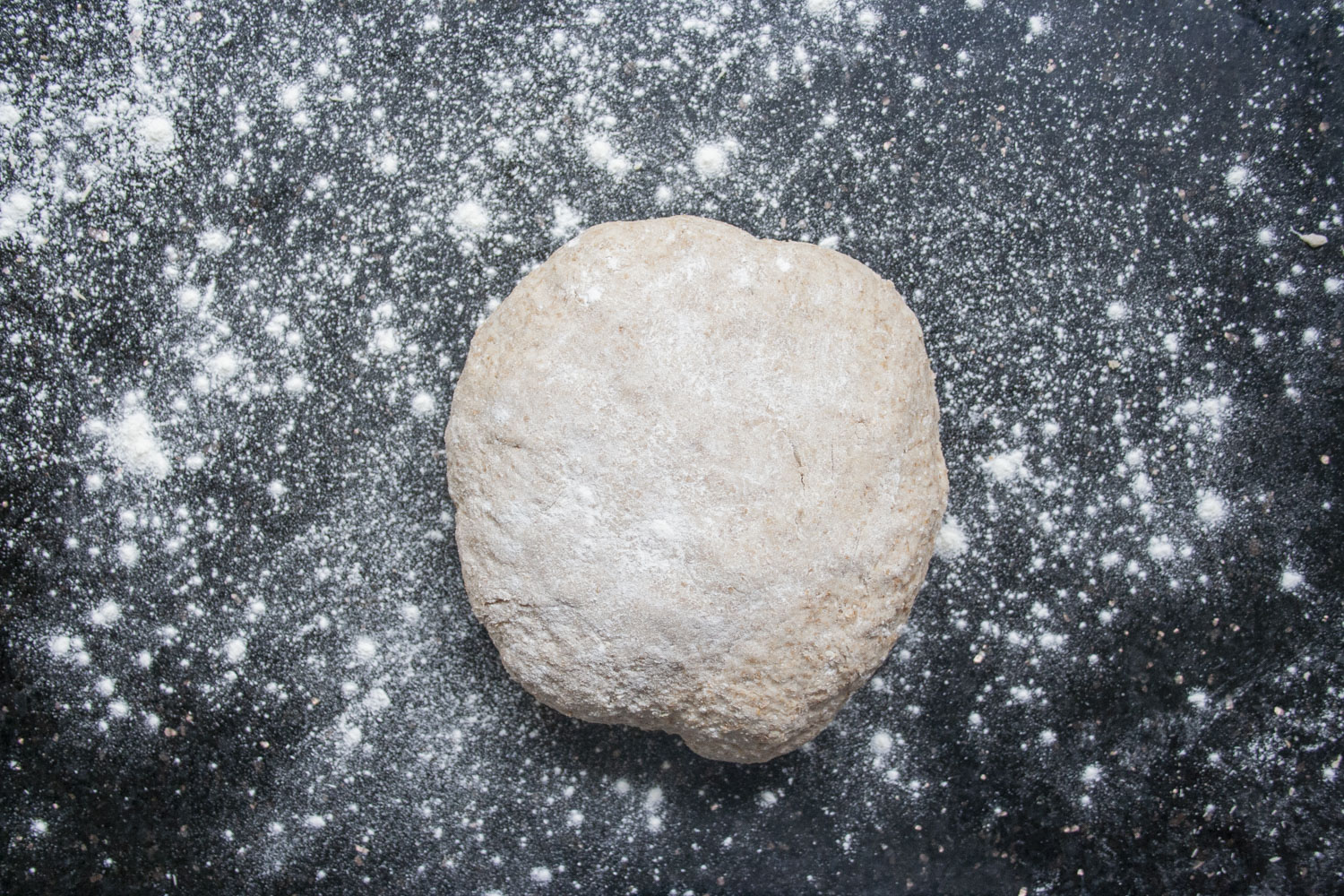 Oil the mixing bowl, and return the dough to the bowl, and cover with cling film. Leave in a warm place until doubled in size, about 1.5-2 hours.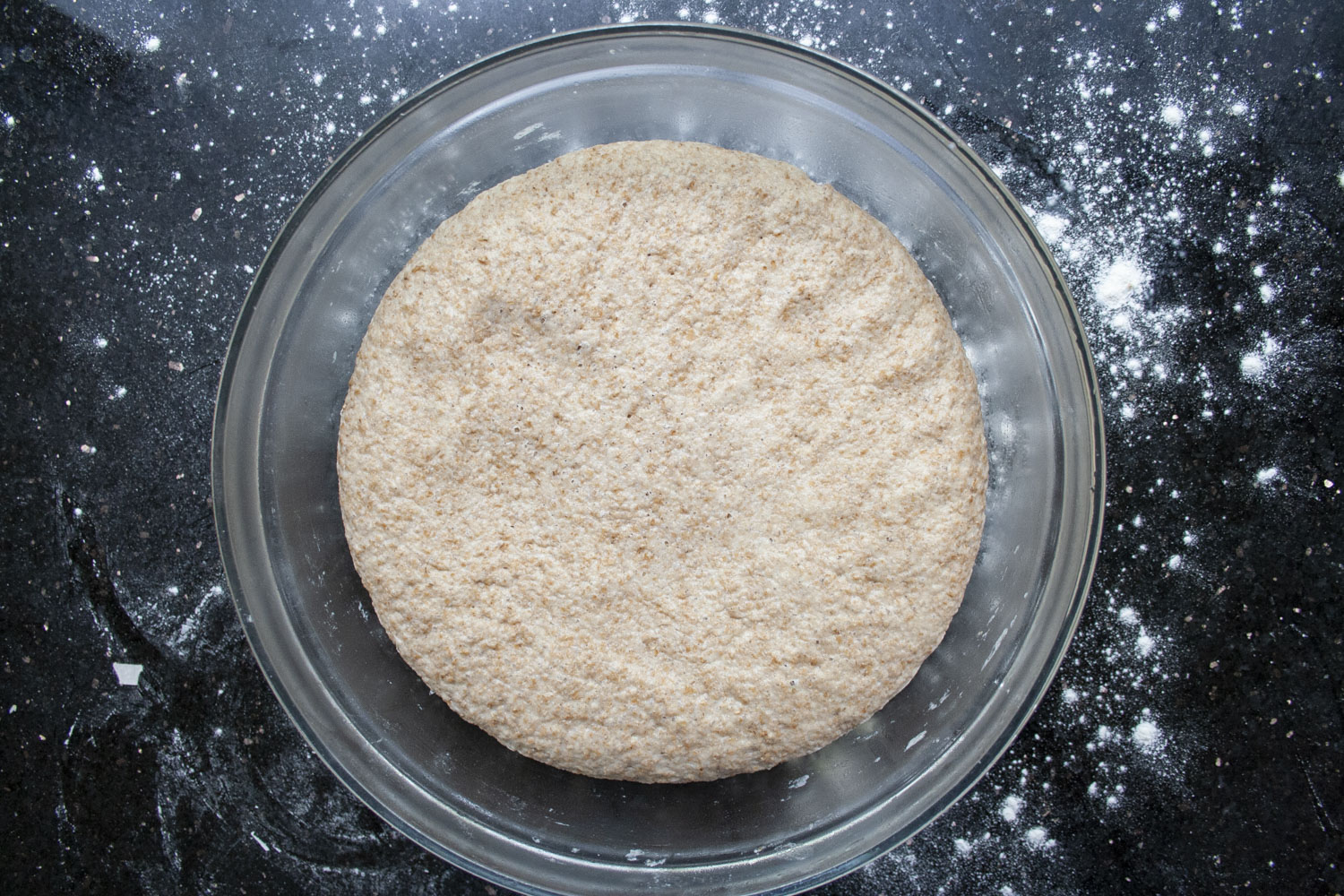 When risen, briefly knock back the dough , and shape it into the shape of the final loaf. I chose to do a traditional cob (circular shape). Place on baking paper and return the dough to a warm place to rise again for another 1-1.5 hours.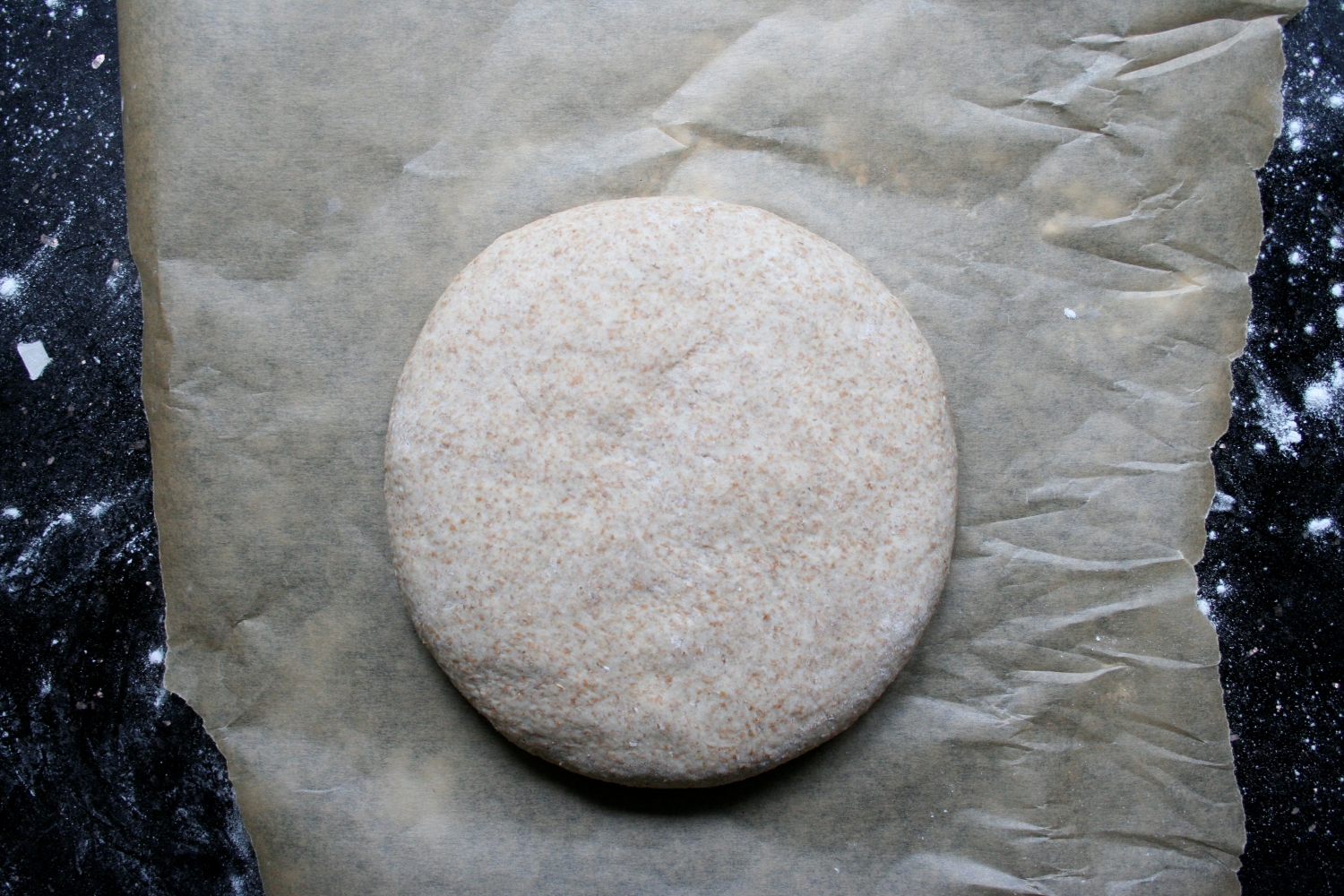 Preheat the oven to 190C/Gas Mark 5.
Before baking, use a very sharp knife to score the top of the bread, with a couple of relatively shallow incisions in the top of the dough. This will help the bread keep its shape while baking, while adding a traditional look. Dust with a small amount of flour. Place the dough and paper on a baking tray.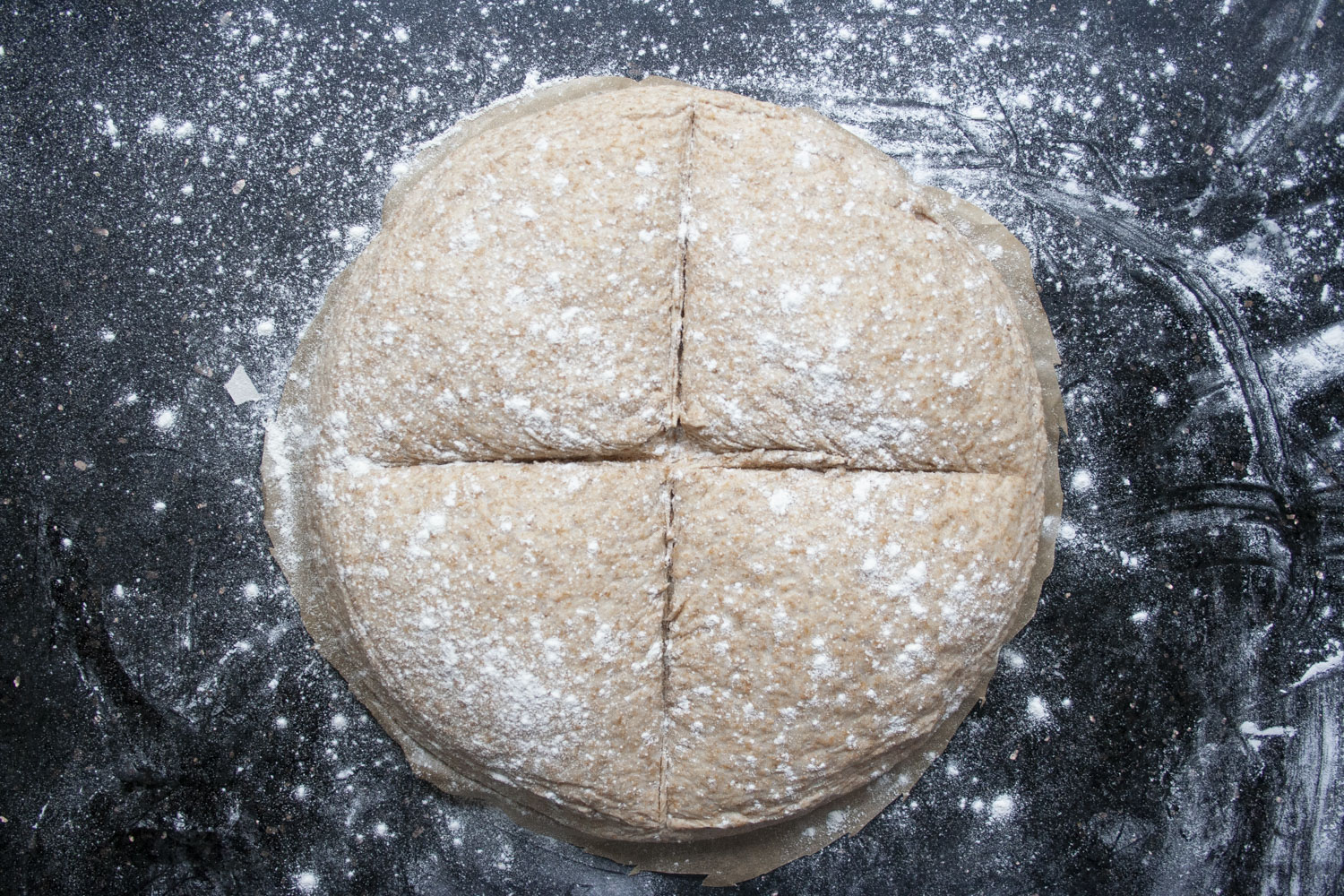 Bake for 35 minutes, until evenly brown and the underside of the bread sounds hollow when you tap it. I baked mine on the bottom section of a cake tin, as it was just the right size, and handy at the time!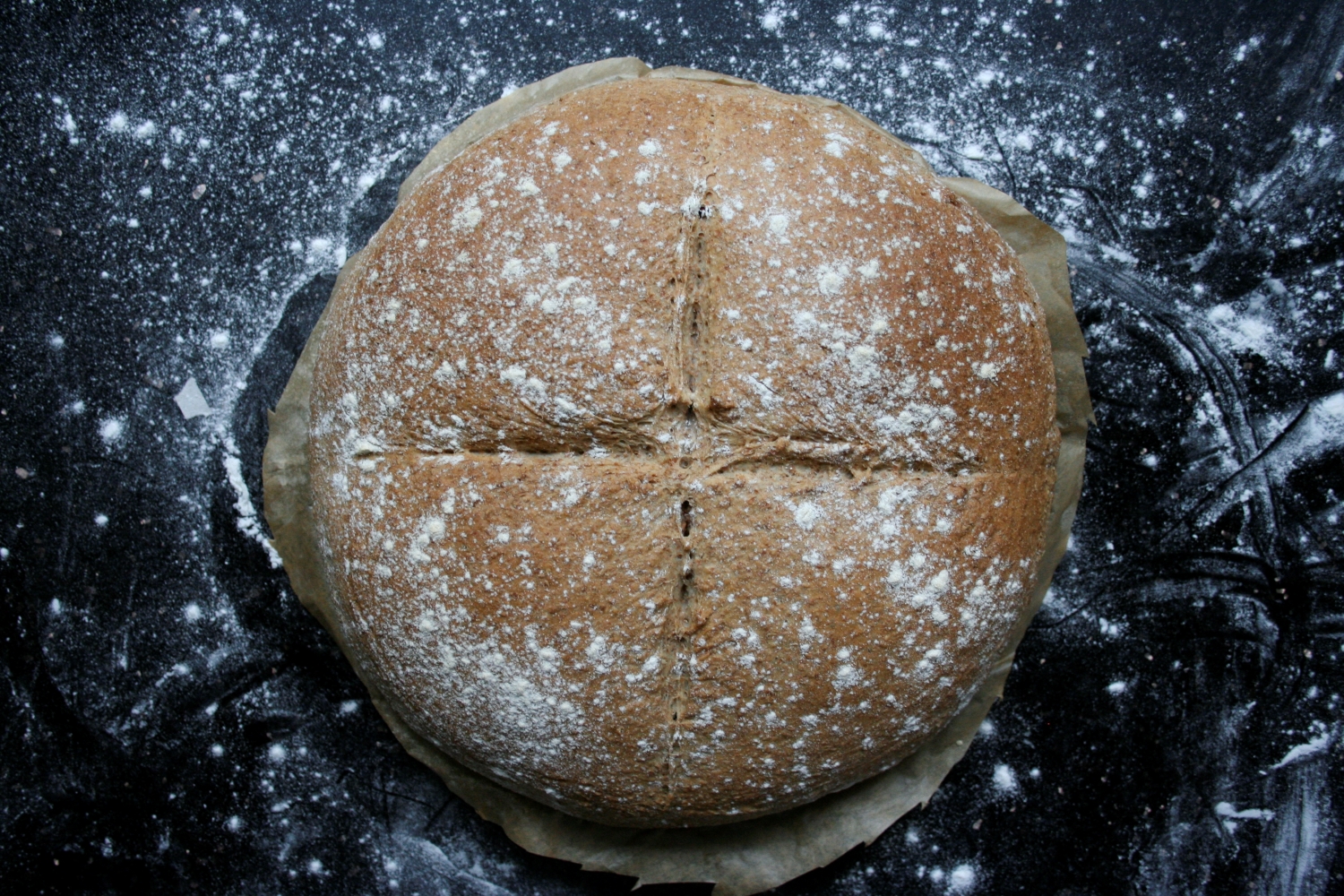 Leave to cool on a wire rack before slicing.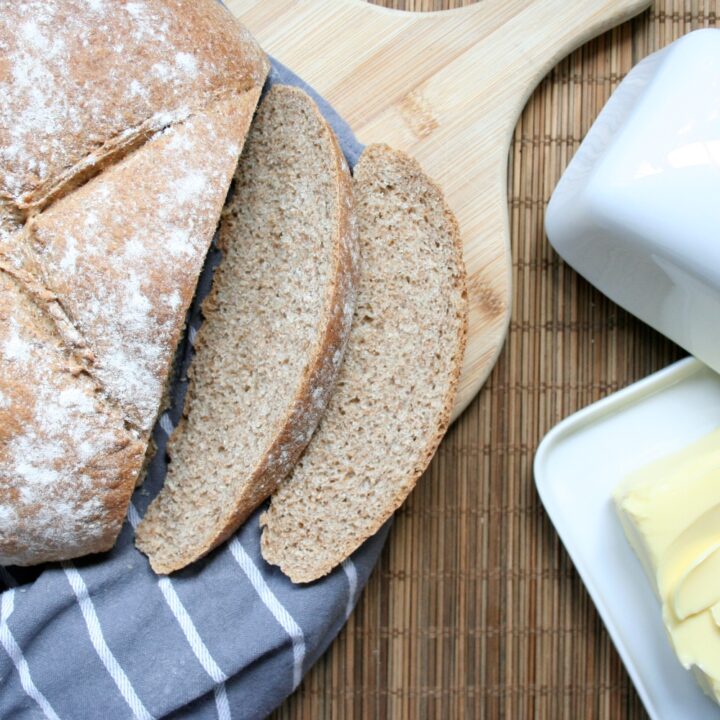 Brown Bread Recipe
Ingredients
400g wholemeal flour
100g white flour
2 tsp yeast
300ml warm water
50g butter, melted
1 tbsp sugar
1 tsp salt
Instructions
Mix the flours, yeast and salt in a large bowl. In a separate bowl, mix the melted butter, warm water and sugar.
Make a well in the flour, add the butter mixture, and incorporate the flour into the liquid by mixing with a wooden spoon, to form a rough dough.
Bring into a dough, and turn out onto a floured surface. Knead for 10 minutes until the dough is smooth, elastic and springy to the touch.
Place in a greased bowl covered with clingfilm, put in a warm place, and leave until doubled in size, about 1.5-2 hours.
Briefly knock back the dough on the side, and shape into the shape you want. I went for a cob shape, by shaping a circle about 5cm thick. Try not to work it too much, as you will squeeze all the air out of it. Leave to rise again in a warm place for another 1.5-2 hours.
Preheat oven to 190C/Gas Mark 5.
Score the top of the bread with a sharp knife, dust with some white flour, and bake for 30 minutes until evenly brown and crusty.
Notes
This bread is more of a brown bread and uses some white flour to introduce more gluten, which will enable it to rise successfully. While it can be made with 100% wholemeal, the results may not be what you were aiming for.