Chicken stir fry is a quick and delicious dinner that is healthy and versatile, as well as extremely delicious!
It's packed with stir-fried and crunchy vegetables; this recipe uses peppers, mangetout, mushrooms and broccoli but you could use any other vegetables you like.
A tasty stir fry sauce has been made from soy sauce, rice vinegar, honey, sesame oil, Chinese 5 spice and cornflour.
We've also boosted the flavour with ginger, garlic and chilli for even more depth.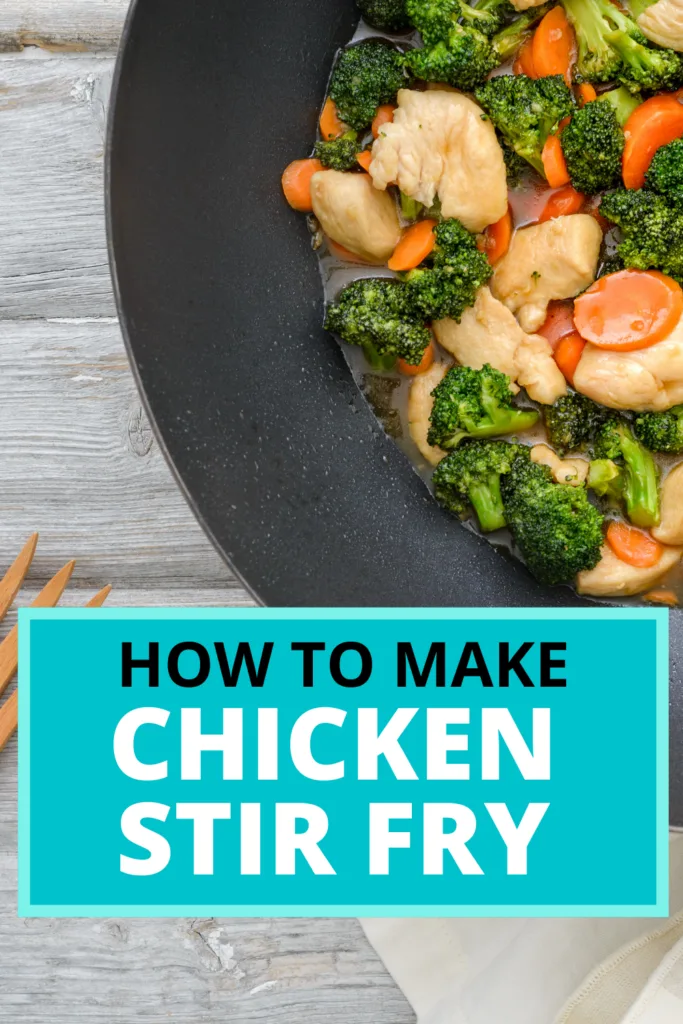 Ingredients For Chicken Stir Fry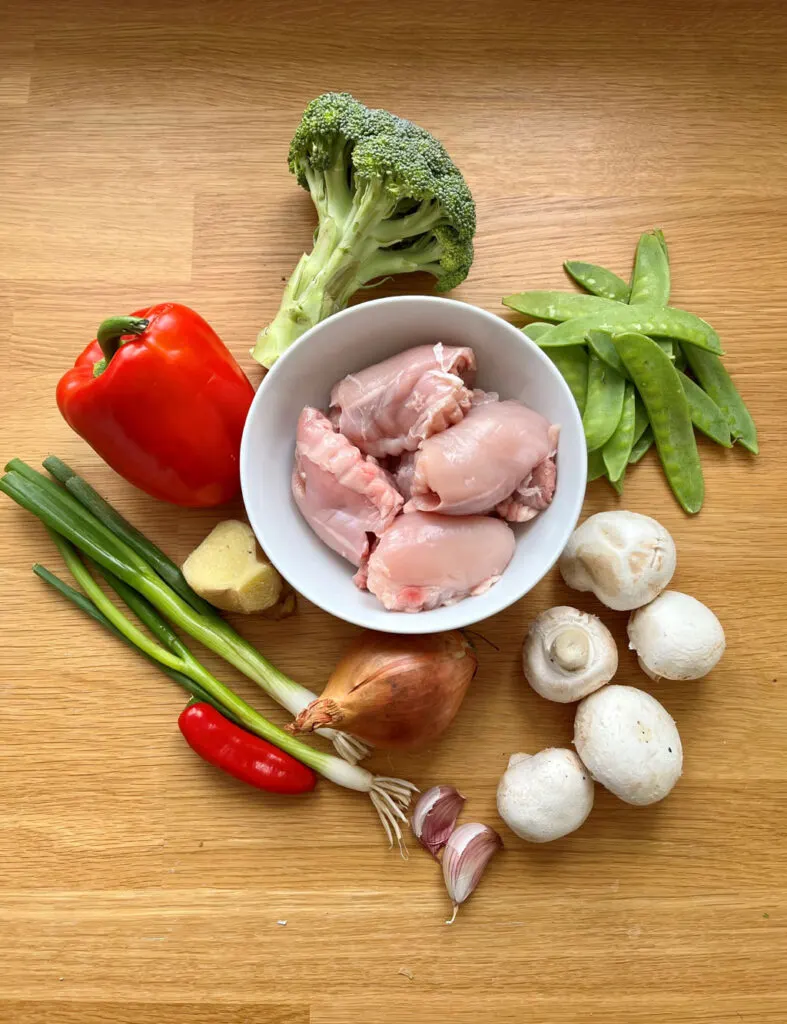 250g dried egg noodles
100g cashew nuts
1tbsp vegetable oil
450g skinless boneless chicken thighs
1 red pepper, thinly sliced
1 onion, halved and thinly sliced
150g mangetout
250g mushrooms, sliced
1 medium head of broccoli, florets halved lengthways
2 garlic cloves, crushed
3cm piece of ginger, peeled and thinly sliced into matchsticks
½ – 1 red chilli, finely chopped
4 spring onions, trimmed and finely sliced
1 lime, cut into wedges
Chicken Stir Fry Ingredient Notes
We have used egg noodles here but you could also use rice noodles here if you prefer.
We have chosen this combination of vegetables but carrots, courgettes, green beans or tender stem broccoli, pak choi or cabbage would also work really well.
Cashew nuts add a delicious crunch, we've used unroasted unsalted ones as the salted ones can make the finished dish very salty.
Toasting them is optional but does improve their flavour. Peanuts would also work really well here if you prefer.
You can use more or less chilli depending on your tastes, if you are cooking for people who prefer less heat you could keep the chilli to the side and can be sprinkled on top when you serve it.
For this recipe, we have cut the ginger finely into matchsticks but you could also grate it or finely chop it.
You could also use sliced steak, pork or prawns instead of chicken. If you want to keep this dish vegetarian you could use tofu instead. Firm tofu would be best for a dish like this, just make sure to pay it dry really well then you can cook it in the same way as the chicken.
Related: Beef Noodle Stir Fry
Ingredients For Stir Fry Sauce
4tbsp light soy sauce
2tbsp rice vinegar (you could also use white wine vinegar)
2tbsp honey
1tbsp sesame oil, plus extra to drizzle
½-1 tsp Chinese 5 spice
2tsp cornflour
Chinese 5 spice is made up of star anise, fennel seeds, Szechuan peppercorns, cloves and cinnamon and has a deliciously complex flavour. You can add more or less of it to taste – we've stirred it together with the other ingredients for a really simple sauce.
The cornflour also thickens the sauce as it cooks which means that the final result will nicely coat the chicken, vegetables and noodles without being soggy.
Light soy sauce is actually saltier than dark soy sauce which has a more syrupy consistency and a sweeter flavour.
We have used light soy sauce here as it seasons the stir fry really well and is balanced by the addition of honey.
How To Make Chicken Stir Fry – Step by Step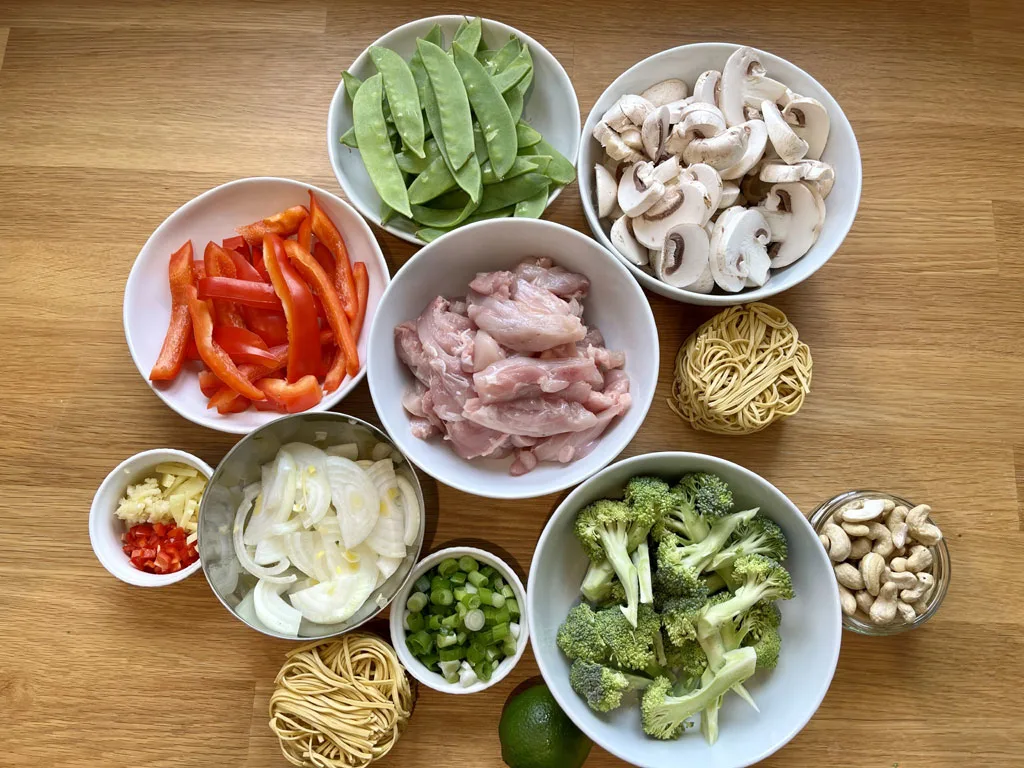 Start by cooking the noodles following pack instructions. Drain them and run them under cold water until they are completely cold, this stops the cooking process and prevents them from sticking together.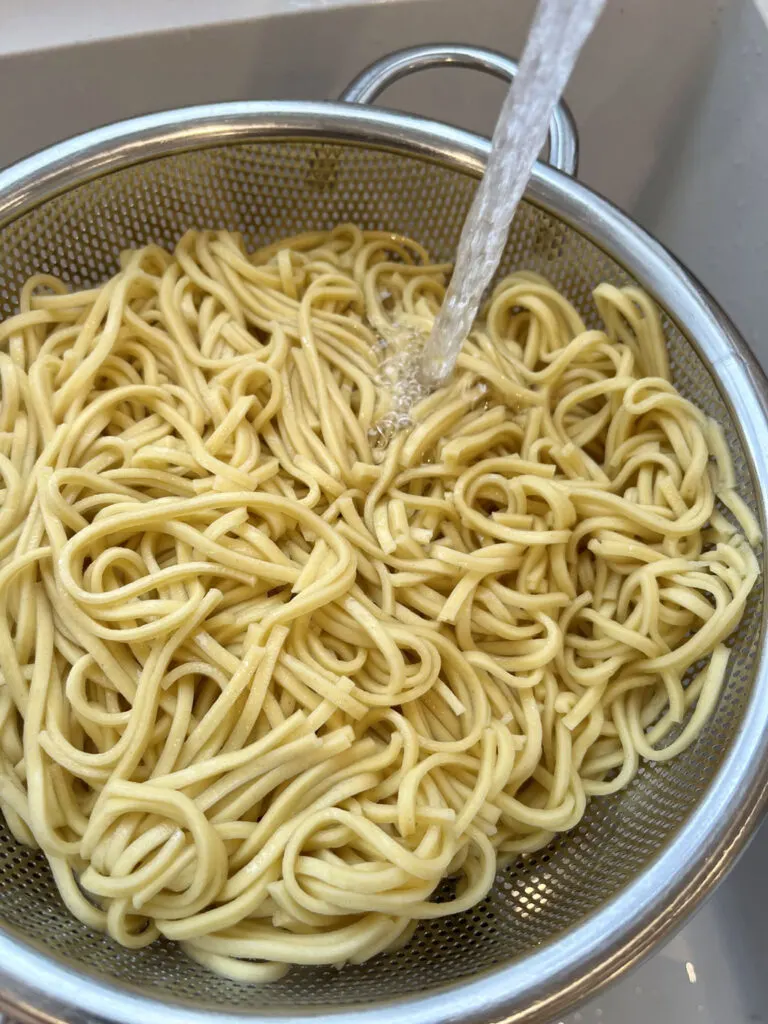 Drizzle with a little sesame oil and set aside. Meanwhile, stir all the sauce ingredients together in a jug and set aside.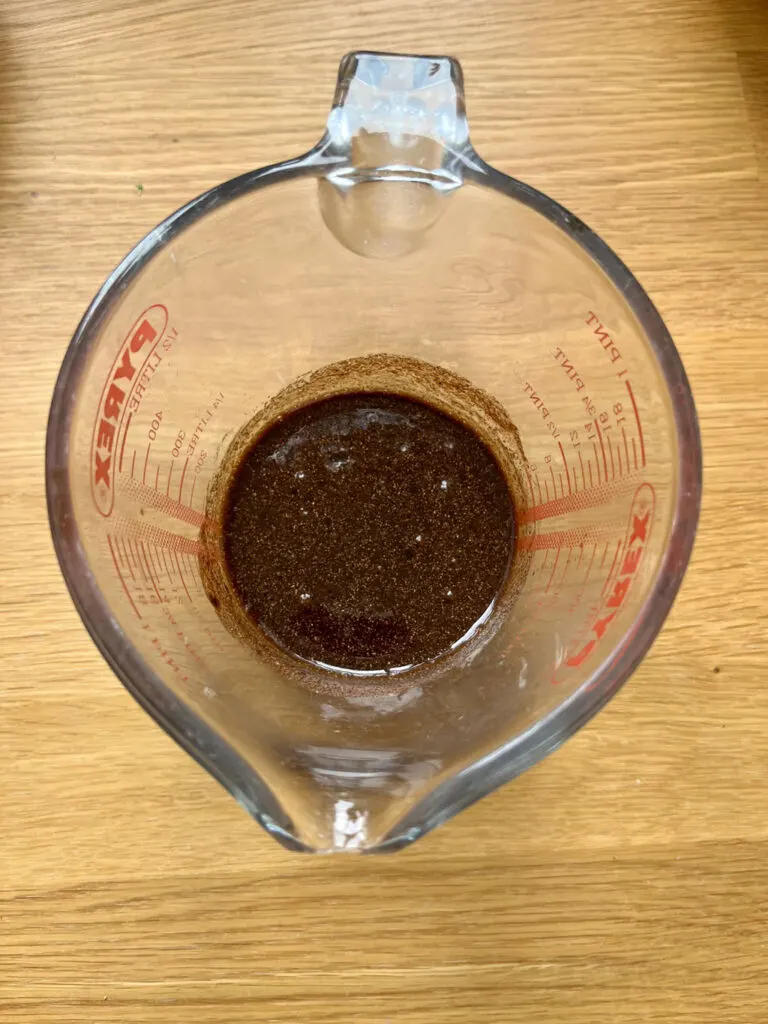 Heat a wok or large frying pan over medium high heat. Add the cashews and stir fry for 2-3 minutes until golden brown all over then transfer to a bowl and set aside.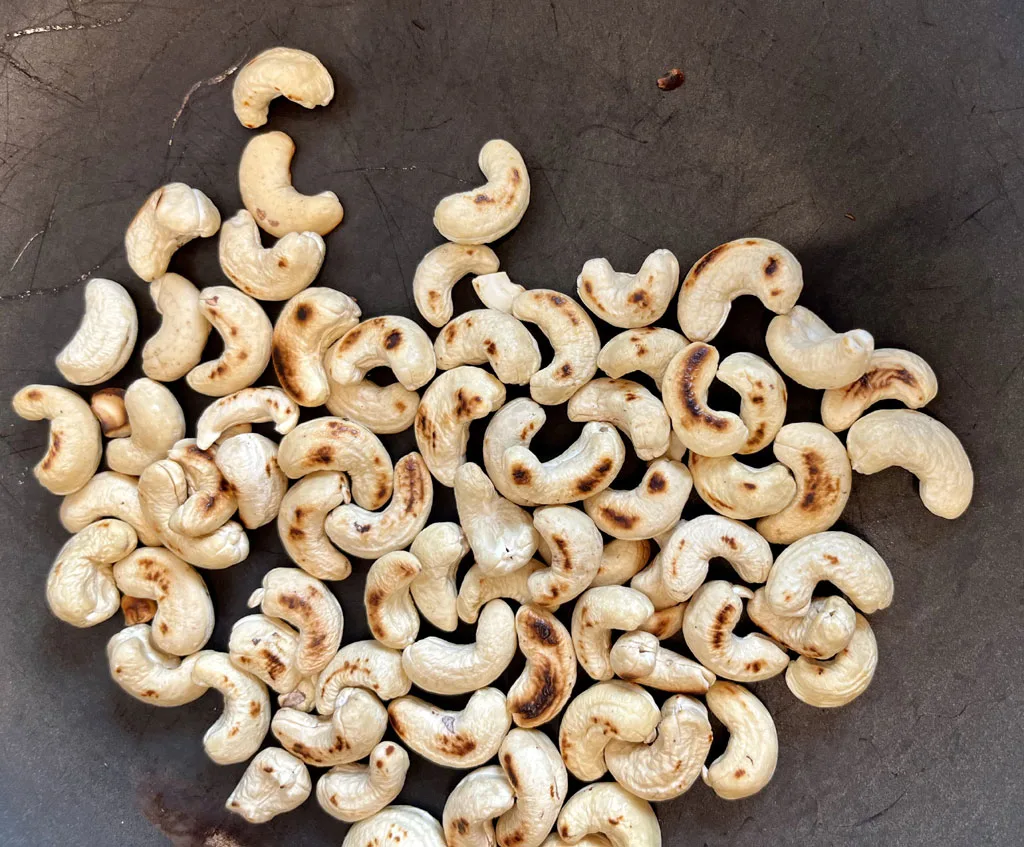 Return the pan to high heat with the vegetable oil. Once really hot, add the chicken thigh and stir fry for 6-8 minutes, until golden brown all over and cooked through.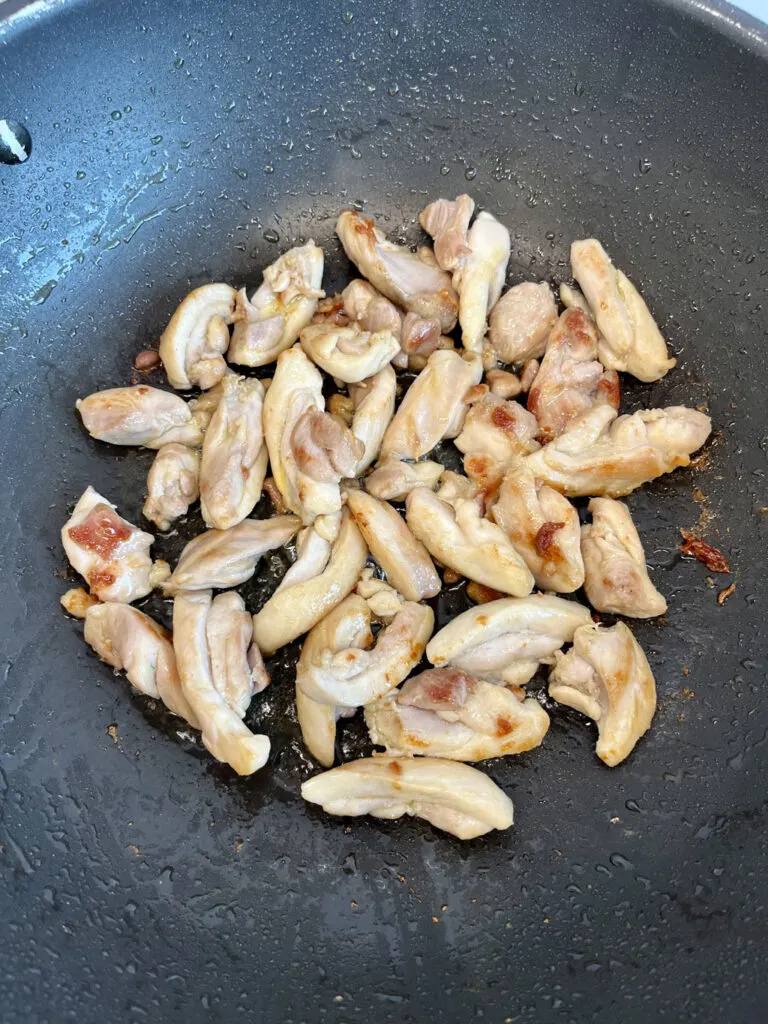 Transfer to a plate and set aside.
Add the pepper, onion, mangetout, mushrooms and broccoli and stir fry for about 5-6 minutes, until lightly golden and tender. Add a little more oil if needed. The key is to keep the heat really high and keep stirring the vegetables so that they are golden brown and tender but still retain their crunch.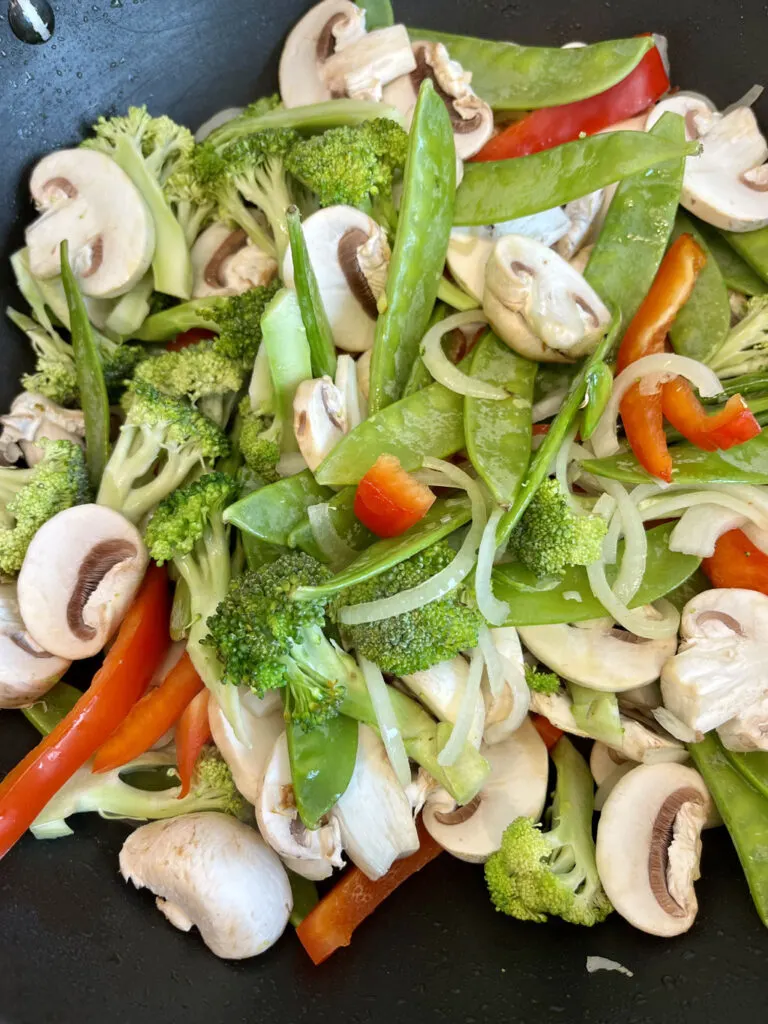 Add the garlic, ginger and chilli and stir fry for a further minute then return the chicken to the pan with the noodles.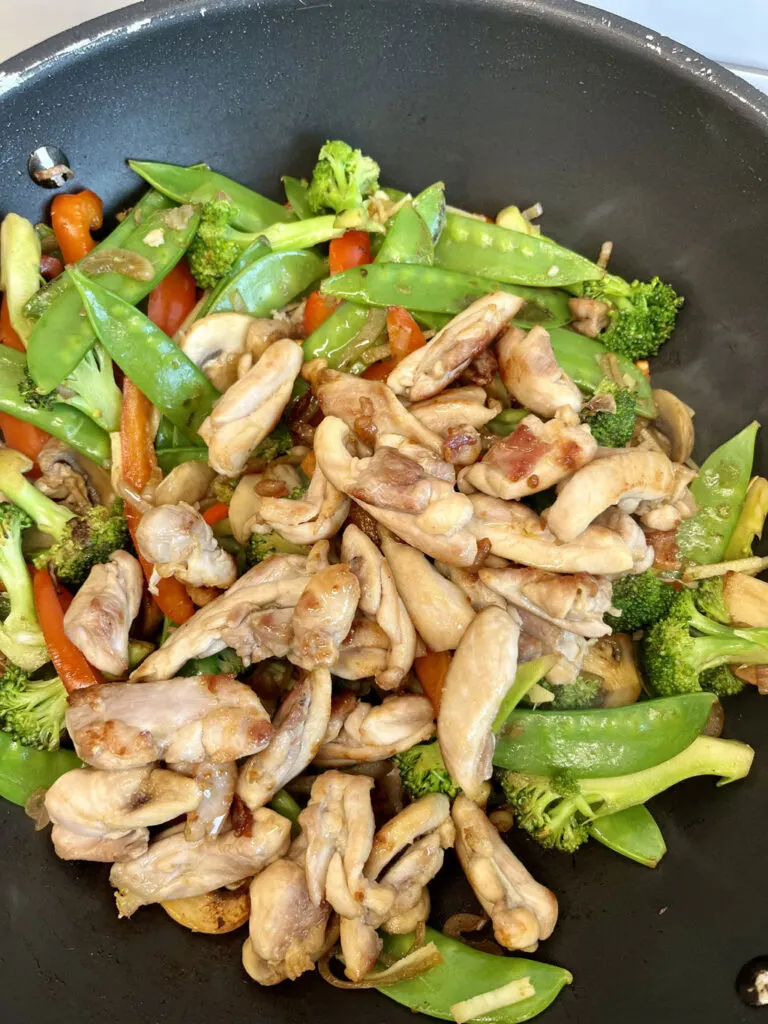 Add the sauce mixture and toss everything together until piping hot then stir through most of the cashews and spring onions.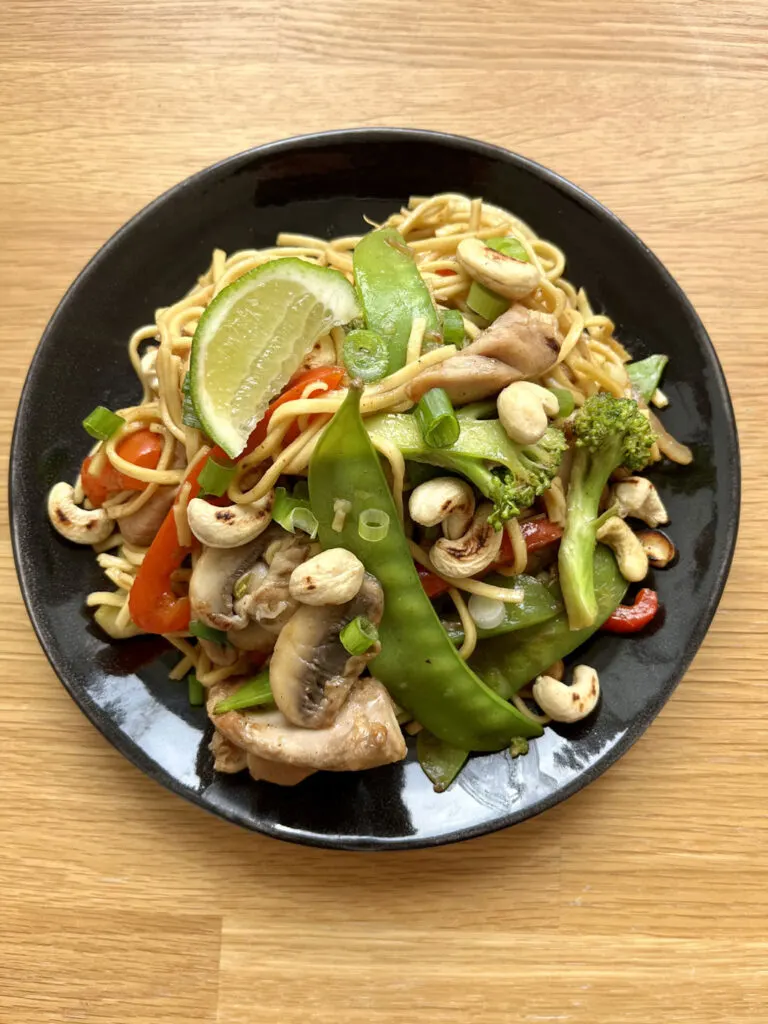 Divide between plates and top with the remaining cashews, spring onions and lime wedges.
What To Serve With Chicken Stir Fry
Chicken stir fry is a complete meal in itself, however, you could cook the chicken stir fry without the noodles and serve it with rice instead.
You could also serve this with some dumplings such as gyoza, or spring rolls.
If you are a fan of spice you could also serve this with your favourite hot sauce such as sriracha.
Top Tips For Making The Perfect Stir Fry
The key to making the perfect stir fry is to get all the ingredients chopped and prepared in advance because the cooking time is really fast.
Cooking the noodles beforehand and then running them under cold water means that they are cooked in advance and prevents them from sticking together.
Chopping the vegetables to a similar size to each other helps everything to cook evenly and keep the vegetables crunchy, adding a bite to the finished dish.
Using a high heat is important because the ingredients get a lovely golden brown colour on them which improves the flavour while retaining a crunch to them, it also means that the ingredients don't end up soggy as the moisture evaporates quickly.
Related: How To Make The Perfect Stir Fry
Can You Prepare Chicken Stir Fry Ahead Of Time?
You can prepare the ingredients such as chopping the chicken, vegetables, garlic, ginger and chilli up to a day in advance if you store them in the fridge.
You could also prepare the sauce and toast the cashews up to a day in advance. However, chicken stir fry can't be cooked in advance as it needs to be served freshly cooked.
Can You Freeze Chicken Stir Fry?
You can't freeze chicken stir fry as it would not defrost well. However, you can use previously frozen chicken.
What Is The Best Cut Of Meat For Making Chicken Stir Fry?
We've used skinless boneless chicken thigh because it has a higher fat content which stops it from drying out while cooking, plus this cut of meat also has a great flavour.
However you could also use sliced chicken breast, just make sure not to overcook it as it has a tendency to dry out if cooked for too long. You could also use leftover cooked chicken if you like.