Are you looking for a quick and easy dinner solution?
Stir fry is the answer.
This beef stir fry with noodles is simple to make and can be tailored to your liking. It's a fantastic, easy weeknight meal.
The beef and veggies can be cooked in your favourite stir fry sauce and served with delicious easy to cook noodles.
You'll love this one!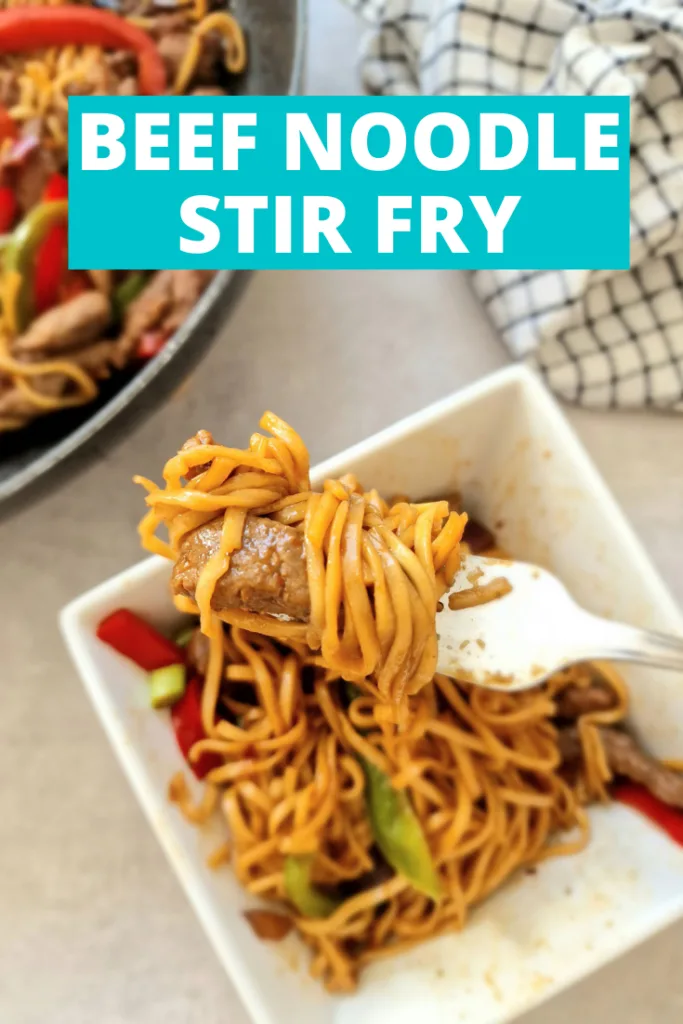 How To Make A Beef Stir Fry With Noodles
There are many different ways to make a stir fry, from the vegetables you include to the sauce you use.
Use this beef noodle stir fry as it is, or, add in some extra vegetables, or change up the sauce to a different flavour.
These ingredients will make enough to serve 4 people, adjust if you need to make less or more. To print out this recipe head down to the card at the bottom of the post.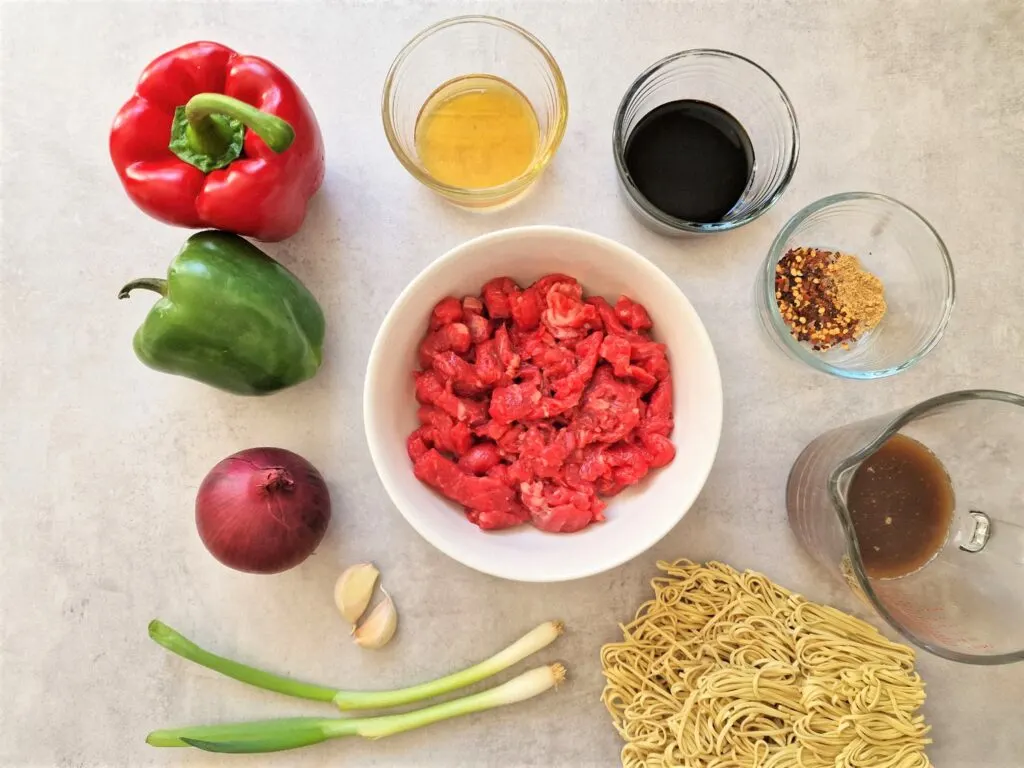 What You Need To Make A Beef Stir Fry
4 tbsp soy sauce
2 tbsp honey
1 tsp dried chilli flakes (use more if you want it hotter)
1 tbsp fresh root ginger, grated (or 1/4 tsp ground ginger)
300g – 400g stir fry beef steak
4 dried egg noodle nests
2 cloves garlic, crushed
2 sweet peppers, deseeded and sliced
100ml beef stock
2 spring onions and a handful of fresh coriander chopped (optional garnish)
Some Notes About The Stir Fry Ingredients
Vegetables
A stir fry is a great way to use up any vegetables you have in the fridge, and there are endless possibilities when it comes to ingredients.
You can include pretty much any vegetable you like, so get creative and experiment with different combinations.
Some of our favourites include sweet peppers, broccoli, sugar snap peas, carrots, mushrooms, baby corn and mangetout.
Sauce
Again, you can use any sauce you like in a stir fry. We've gone for a chilli, honey and soy sauce combination in this recipe, but you could use sweet and sour sauce, hoisin sauce, or a black bean sauce.
Noodles
We've used dried egg noodles in this recipe, but you could also use rice or rice noodles.
Beef
The best beef to use for a stir fry is a lean steak, such as sirloin or rump. Many supermarkets sell packets of beef steak already sliced and ready for stir-fries.
If you are buying a larger cut of steak to cut yourself, make sure it is sliced into thin strips before cooking. This will help it to cook quickly and evenly.
Use a sharp kitchen knife and to make it easier to slice, place the beef in the freezer for 30 minutes beforehand.
Fancy trying a different stir fry? Check out this easy chicken stir fry recipe.
Making Beef Noodle Stir Fry – Step By Step
1. In a bowl or large jug, mix together the soy sauce, honey, dried chilli flakes and ginger.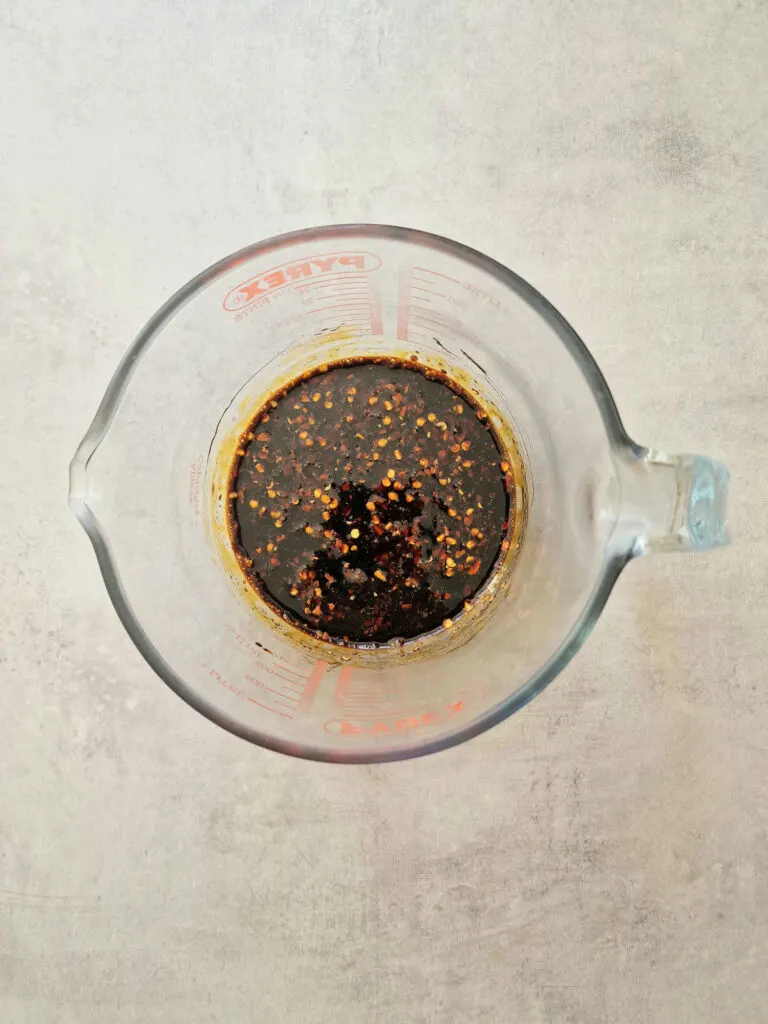 2. Reserve half of the mixture. Add the sliced beef strips to the remaining sauce and leave to marinate for 15 to 20 minutes.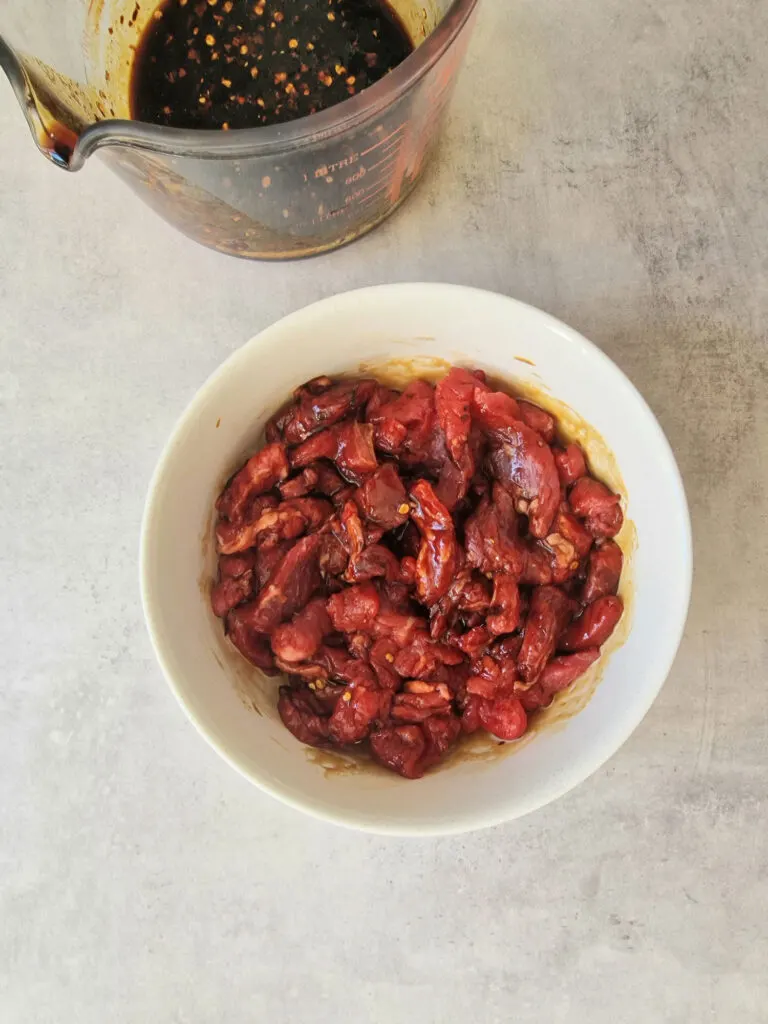 3. Prepare the vegetables while the beef is marinating. Cut the vegetables up into thin and equal strips or pieces.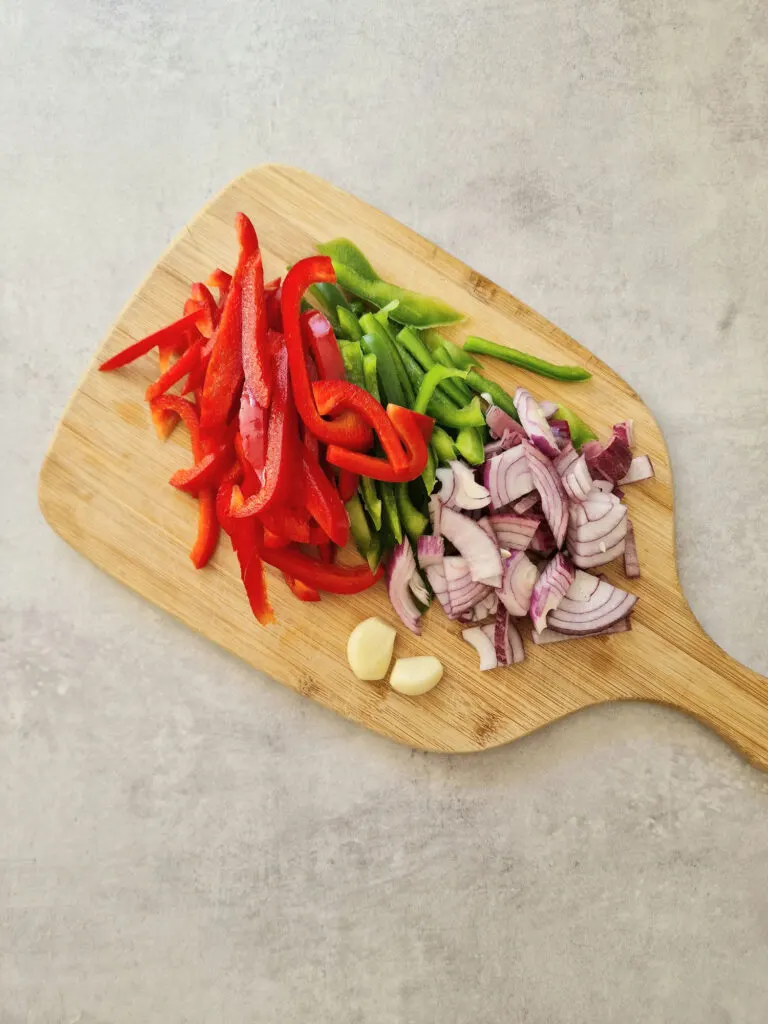 4. Cook the noodles according to packet instructions, then drain and set aside.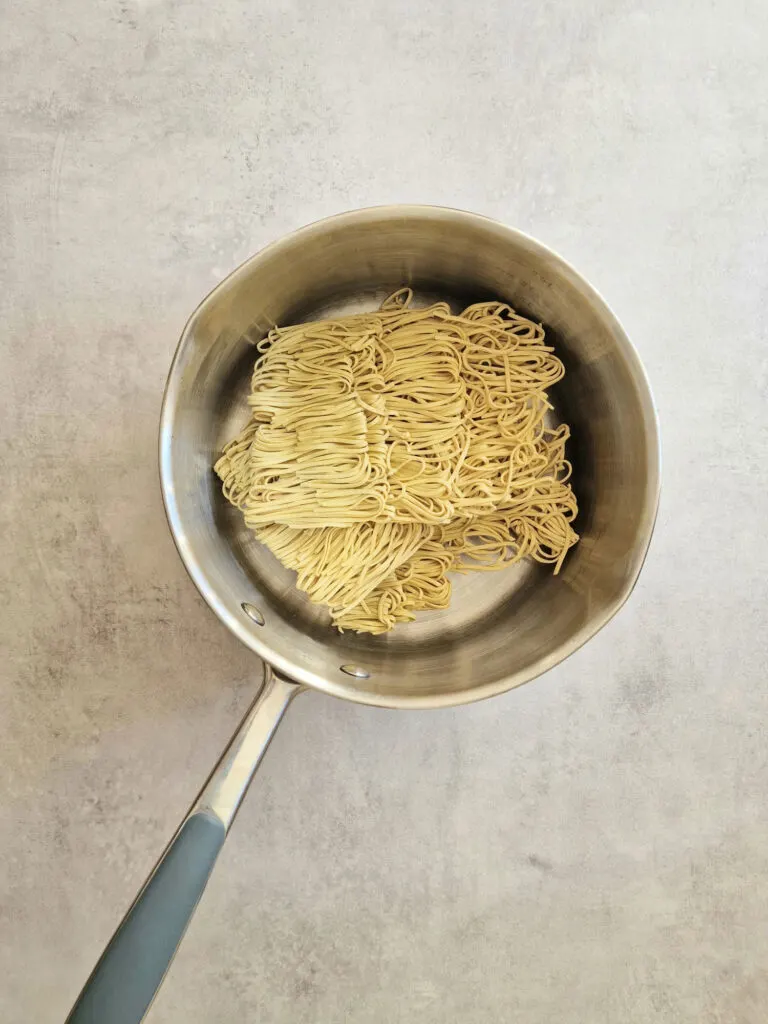 5. Heat a tablespoon of oil in a large frying pan or wok over high heat. I used sesame oil.
6. When the pan is hot, add the marinated beef and fry for 1 to 2 minutes, until it starts to brown.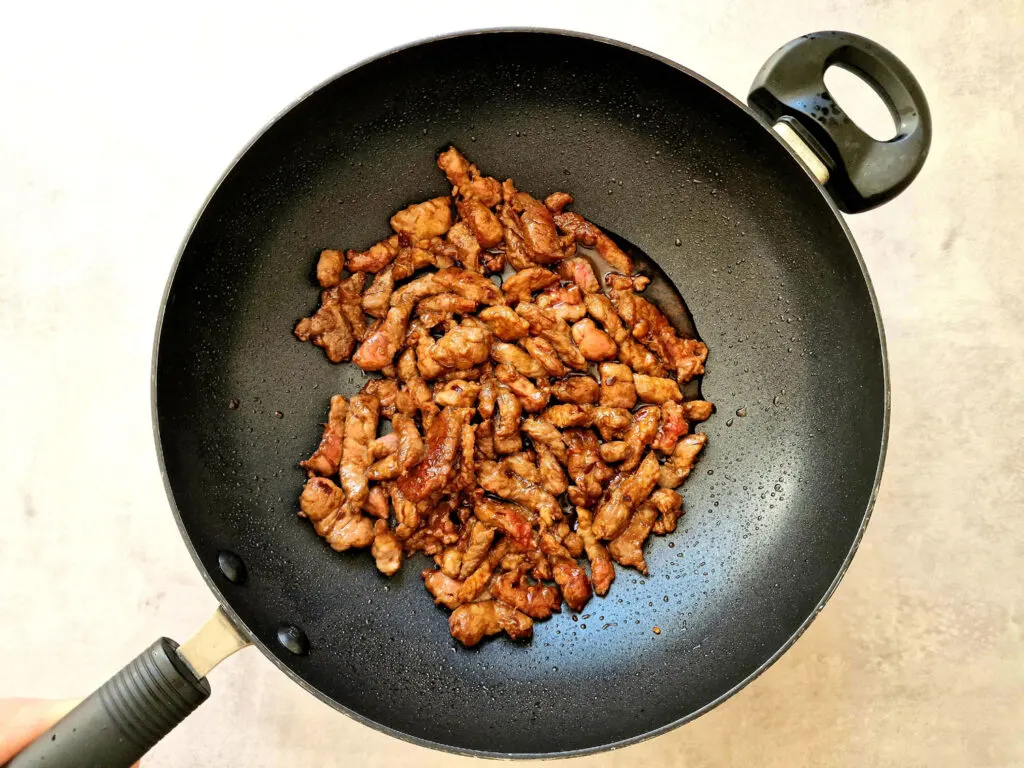 7. Remove the beef from the pan and set it aside.
8. Add onion and sweet peppers to the pan and stir fry for 2 to 3 minutes until they start to soften. Add the garlic, reserved sauce and beef stock and bring to a boil briefly before reducing the heat.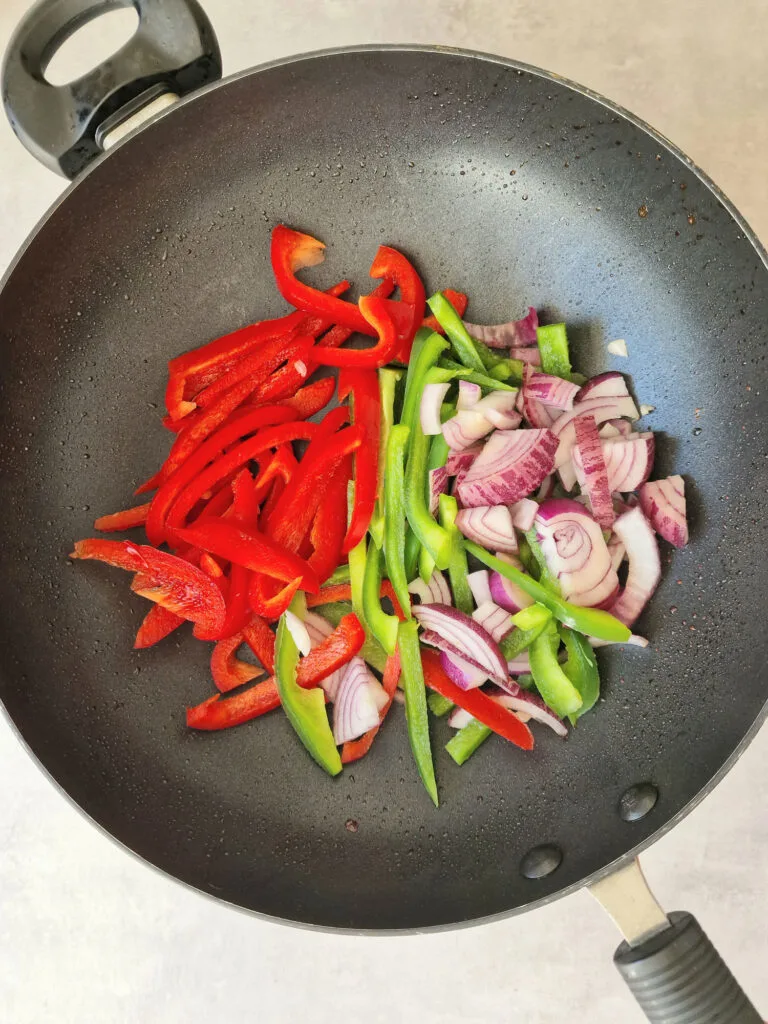 9. Add the cooked and drained noodles to the pan and mix in.
10. Return the beef strips to the pan and briefly cook until everything is heated through.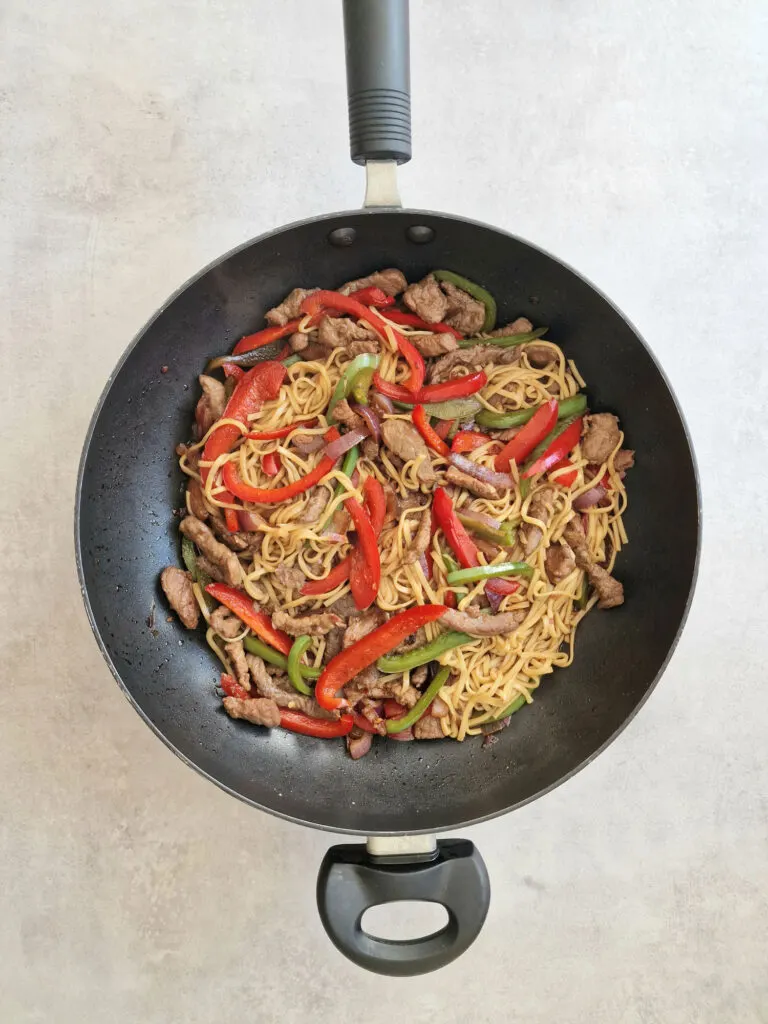 11. Serve with some sliced spring onions and chopped coriander leaves on top. Enjoy!
This beef stir fry with noodles is simple to make and can be tailored to your liking. It's a fantastic, easy weeknight meal.
Do you like making stir fry? Let me know in the comments if you made this and also what your favourite stir fry is!