Have you ever made pork chops in an air fryer? If not, you're missing out! This cooking method is quick, easy, and produces perfectly crispy pork chops every time.
Air fried pork chops are crispy on the outside and juicy on the inside, and they pair perfectly with any number of sides.
Best of all, they're super easy to make. So fire up your air fryer and give this recipe a try!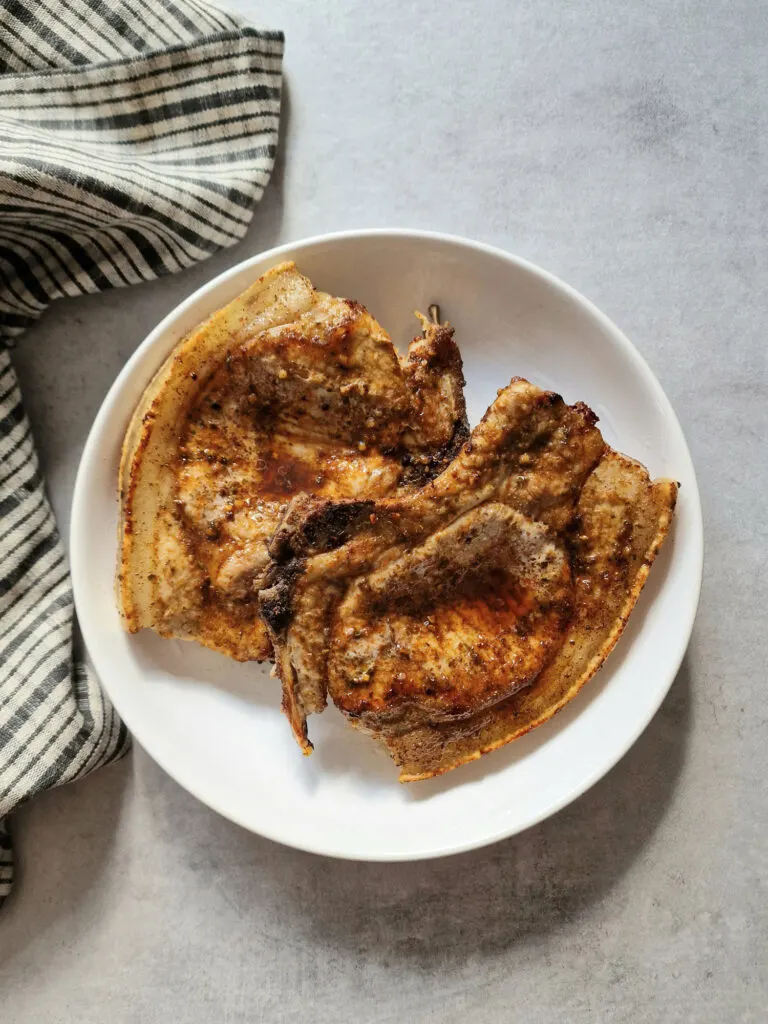 How To Make Pork Chops In An Air Fryer
The process for making pork chops in an air fryer is similar to grilling or frying. I do however think the result is much better in an air fryer, producing a deliciously crisp rind and juicy and tender on the inside.
Pork chops can be cooked plain as they are, or, seasoned to add some more flavour.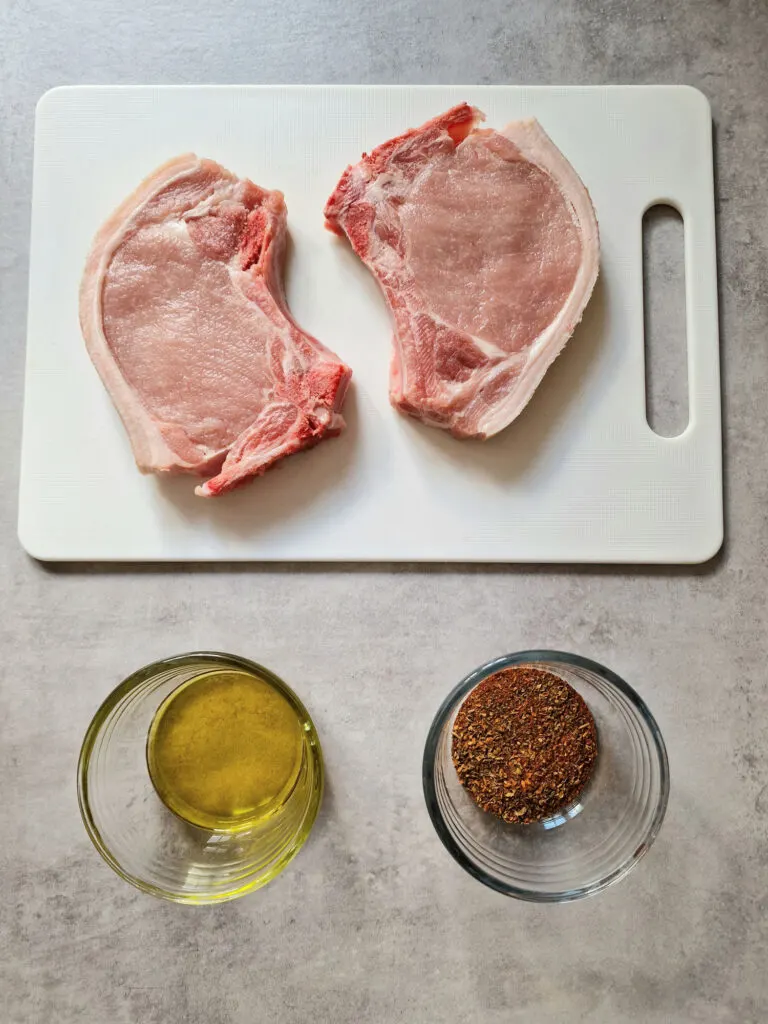 What You Need:
1 pork chop per person – the thicker the better!
1/2 tbsp olive oil per pork chop
1/2 to 1 tbsp seasoning (see below for options)
Air fryer – these we made using the air crisp function of the Ninja Foodi, but you can use any air fryer
Related: Air Fryer Buying Guide
Pork Seasoning Ideas
You can of course air fry the pork chops without and seasoning, or just a little salt, but I like to add some different flavours depending on what I'm in the mood for, or, what side dishes we are having with the pork.
Here are some pork seasoning ideas;
BBQ – either buy a premade mix (I like this one) or make one up with some garlic powder, smoked paprika, salt, pepper and optionally some celery salt.
Curried – add a mild curry powder mix, or just use a little ground cumin, ground coriander and garlic powder.
Garlic and Herb – mix a little garlic powder with a dried herb such as basil.
Peri Peri – most supermarkets stock a blended Nando's Peri Peri spice mix – perfect for pork chops!
Making Air Fryer Pork Chops – Step By Step
Preheat the air fryer for 5 minutes at 200C (400F). While the air fryer is heating up you can prepare the pork chops.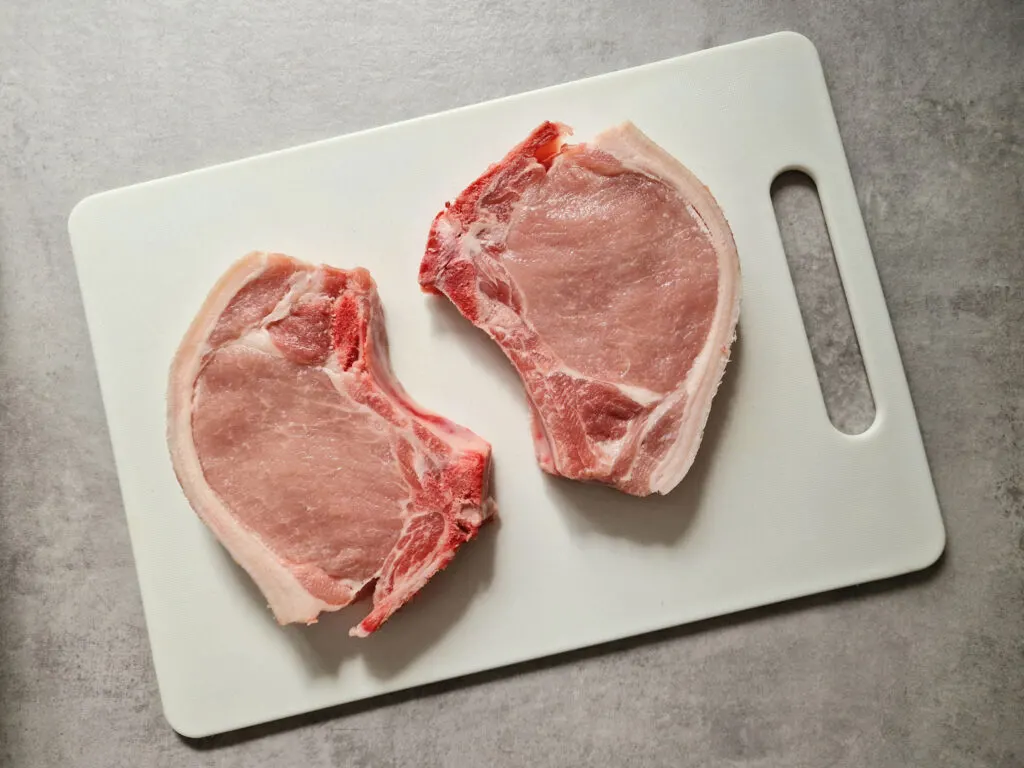 Lightly oil each pork chop. It isn't essential to oil them but it does help to crisp up the outside as well as help any seasoning stick.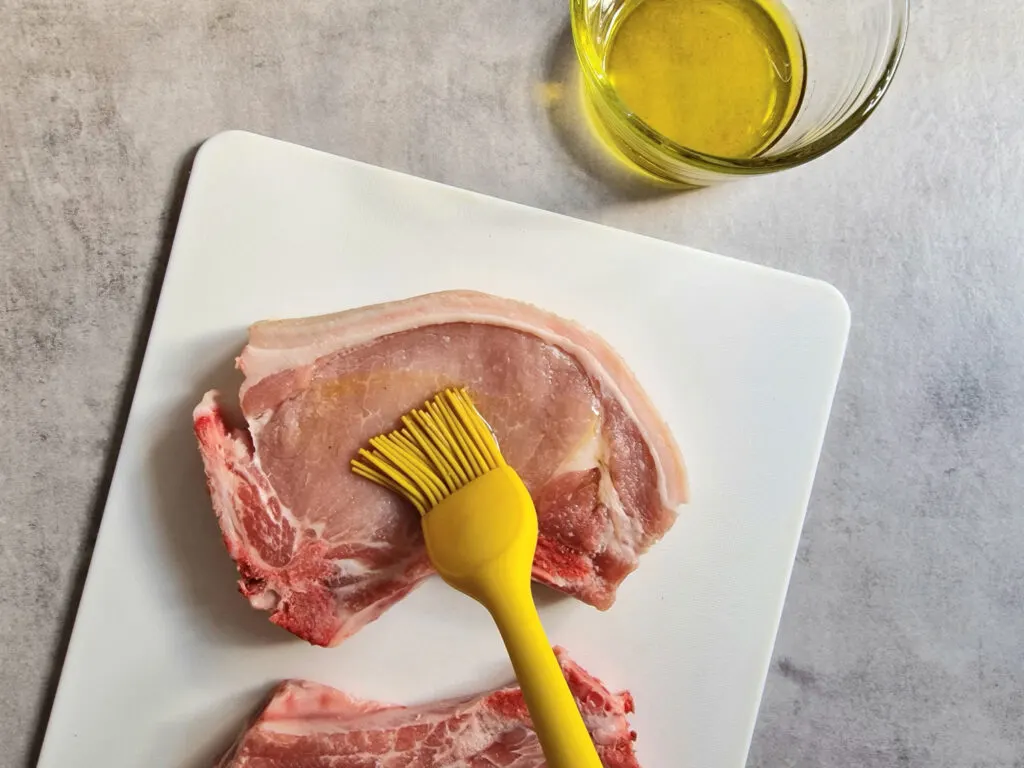 Sprinkle the seasoning on each side – how much seasoning you add will depend on the size of the pork chop as well as how intense you like the flavour. I use between 1/2 and 1 tablespoon for each pork chop.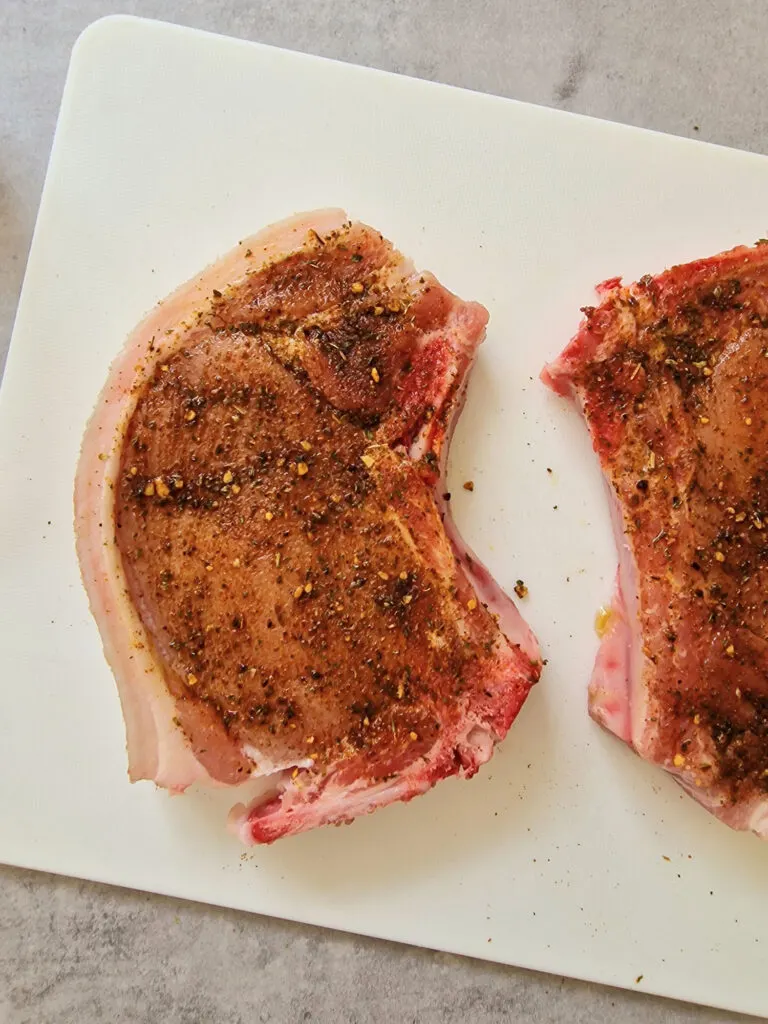 Place the pork chop (s) in the heated air fryer, and set the timer for 12 minutes. Flip each pork chop at around the 6 minute mark.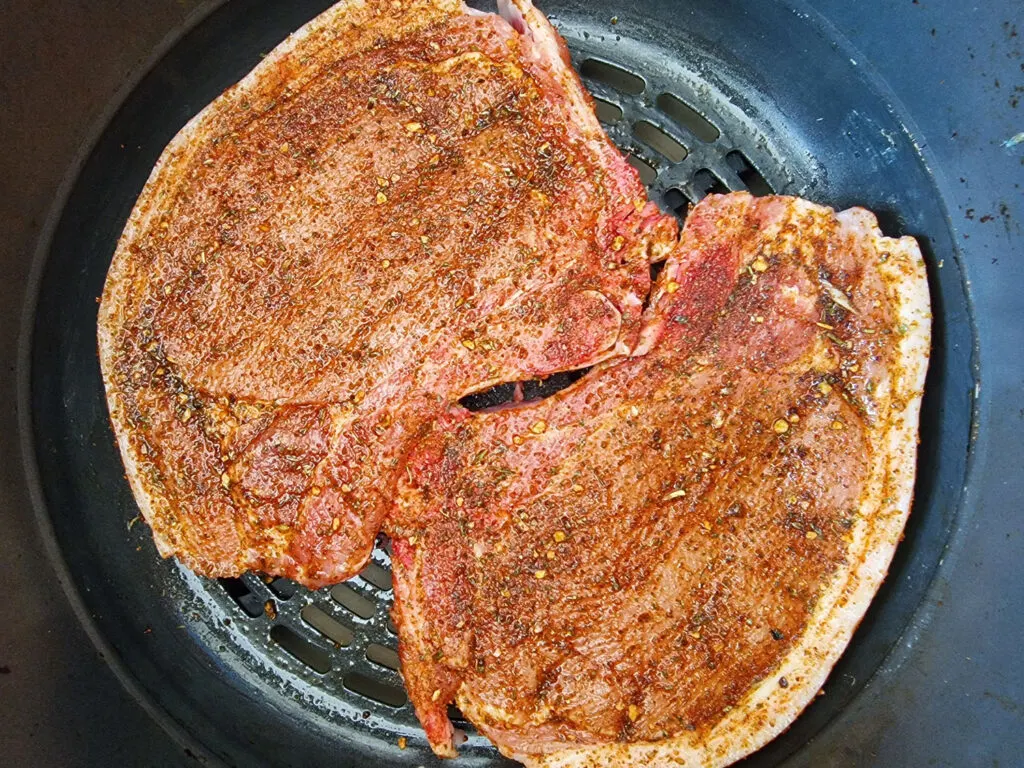 Check at the end of the 12 minutes that each pork chop is cooked all the way through. They should be golden brown on each side and any juices should run clear.
Depending on the thickness of the pork chops and your air fryer, you might need to cook them for a little longer. Check on them after 1 or 2 further minutes though to prevent them from over cooking and drying out.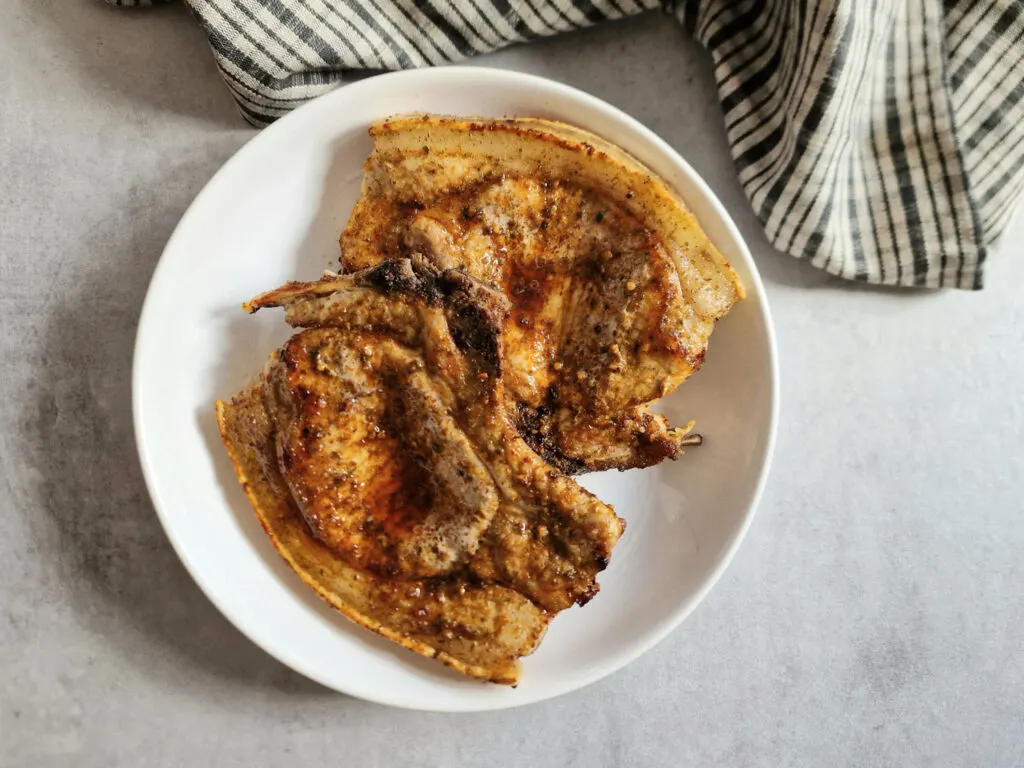 Leave the pork chops to rest for 5 minutes before serving.
What To Have With Pork Chops
Pork chops can be served with many different types of side dishes, below are some suggestions;