Chocolate truffles are the perfect recipe to make as a gift, or to serve as a crowd pleaser at your next dinner party.
The beauty of chocolate truffles, aside from the taste, is the simplicity of making them.
And the end result is as elegant as it is delicious.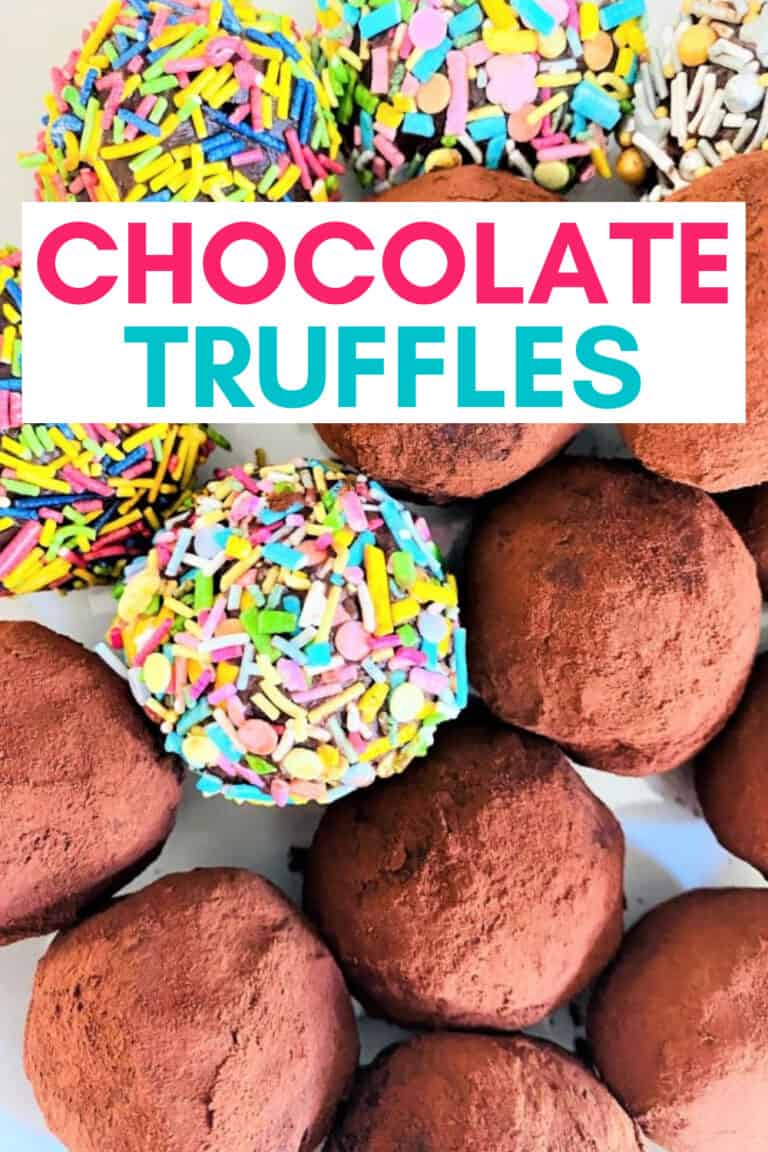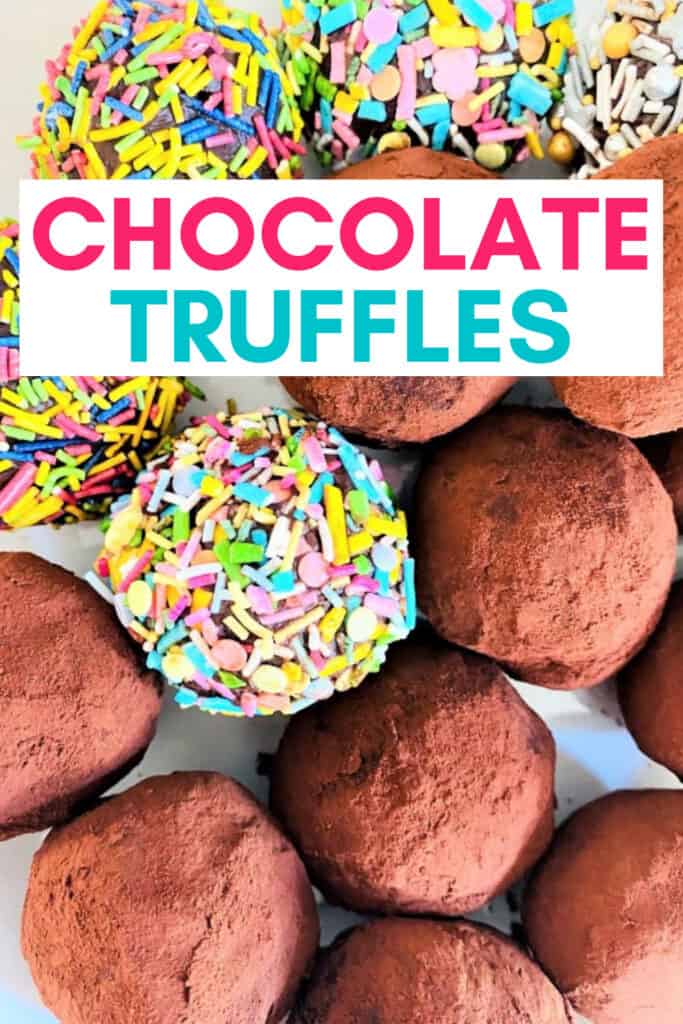 How To Make Chocolate Truffles At Home
What You Need To Make Chocolate Truffles
At a minimum you need 2 ingredients to make homemade chocolate truffles – chocolate and cream.
Chocolate
It's important to use high quality chocolate if you can, preferably with a minimum of 60% cocoa content, higher if possible.
Cream
Use double cream for chocolate truffles or they won't set properly.
Butter
Adding a little butter to chocolate truffles is optional, but it helps to add a richer and smoother consistency.
Optional Extras
You can add in some extra flavours such as spices, rum, brandy, chilli flakes, orange zest.
Toppings
You can serve chocolate truffles as they are, or add some toppings. Cocoa powder is a popular choice, or you could add crushed nuts, sprinkles, desiccated coconut etc.
Making The Chocolate Ganache
Chocolate truffles are essentially chocolate ganache rolled into balls and often dipped in a topping such as cocoa powder.
Chocolate ganache is also used in many other baking recipes including cake fillings and pastries.
Depending on what you are using the ganache for will determine how much chocolate vs cream you use. That is, the ratio of chocolate to cream.
For chocolate truffles you want a thicker and firmer consistency than you would for say a cake filling. For this reason, it's necessary to use more chocolate than cream.
At a minimum it should be 1:1, which is what some recipes call for, but I feel a ratio of 4:3 produces better results.
For this recipe I used 400g of chocolate vs 300ml of double cream.
The chocolate needs to be broken up, the smaller you can cut it the easier it will be to melt it. The chopped chocolate needs to be in a heatproof bowl together with the butter (if you are adding that in).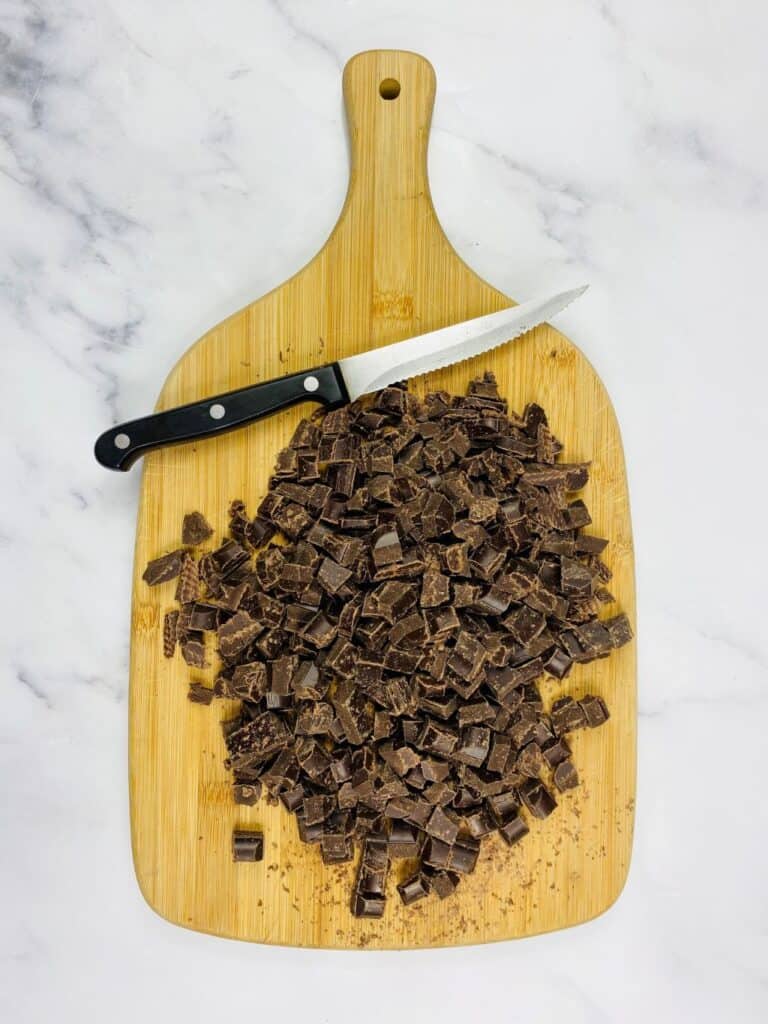 Heat the cream up, either in the microwave or in a saucepan. Heat it up to a simmer in the saucepan, or, in the microwave, heat it on full power for about 90 seconds.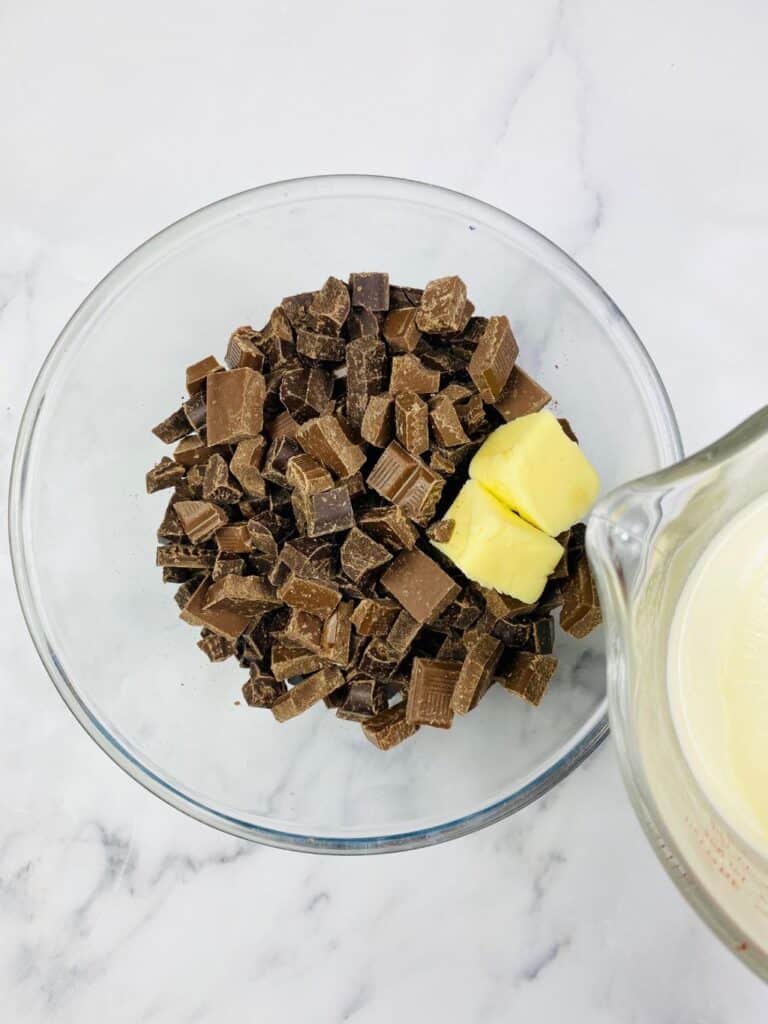 Once the cream has been heated, pour it over the chocolate. Leave it to stand for about 3-5 minutes. Then gently stir the mixture until all the chocolate has melted. It now needs to be left in the fridge for a minimum of 2 hours, or overnight if easier.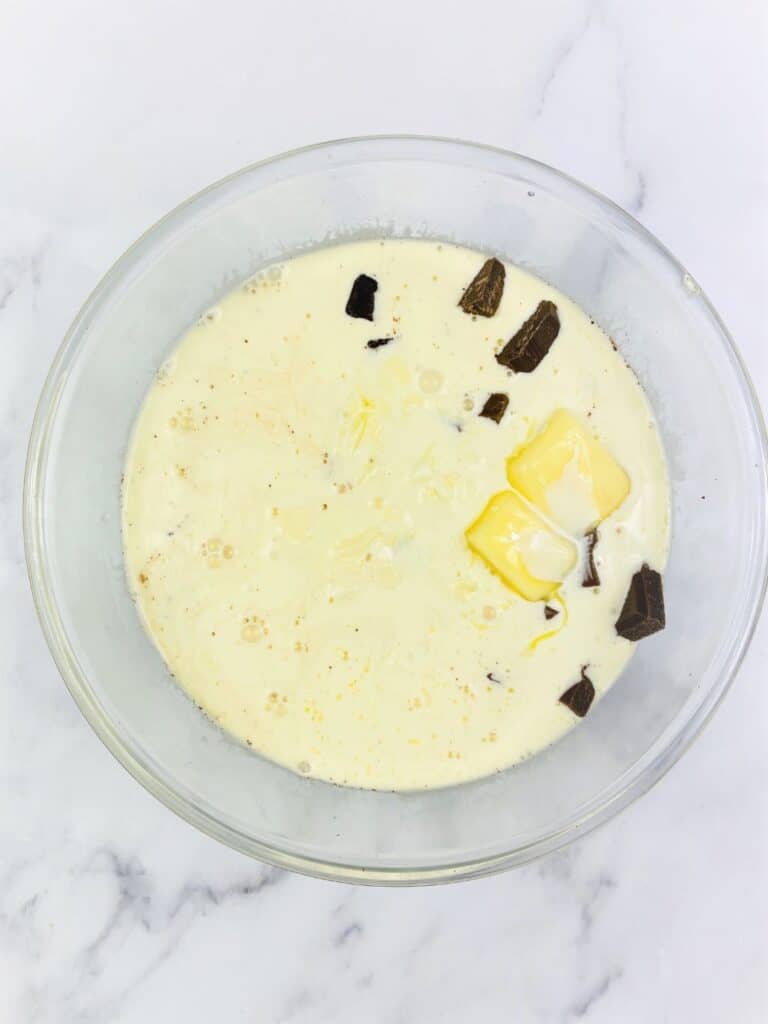 Rolling The Chocolate Truffles
Prepare the toppings/coatings that you will be using by placing them in bowls. I used some sprinkles for some, and cocoa powder for others. Put each topping in a separate bowl.
This is when everything gets a bit messy!
You need to try and keep your hands as cold as possible while you are moulding the chocolate ganache into truffle shaped balls.
Use a table spoon to scoop out a heaped amount of the ganache. Use your hands to roll it into a ball – don't keep the ganache in your hands for long, it will soon go soft and start melting over your hands. If you have them, food gloves come in very handy here!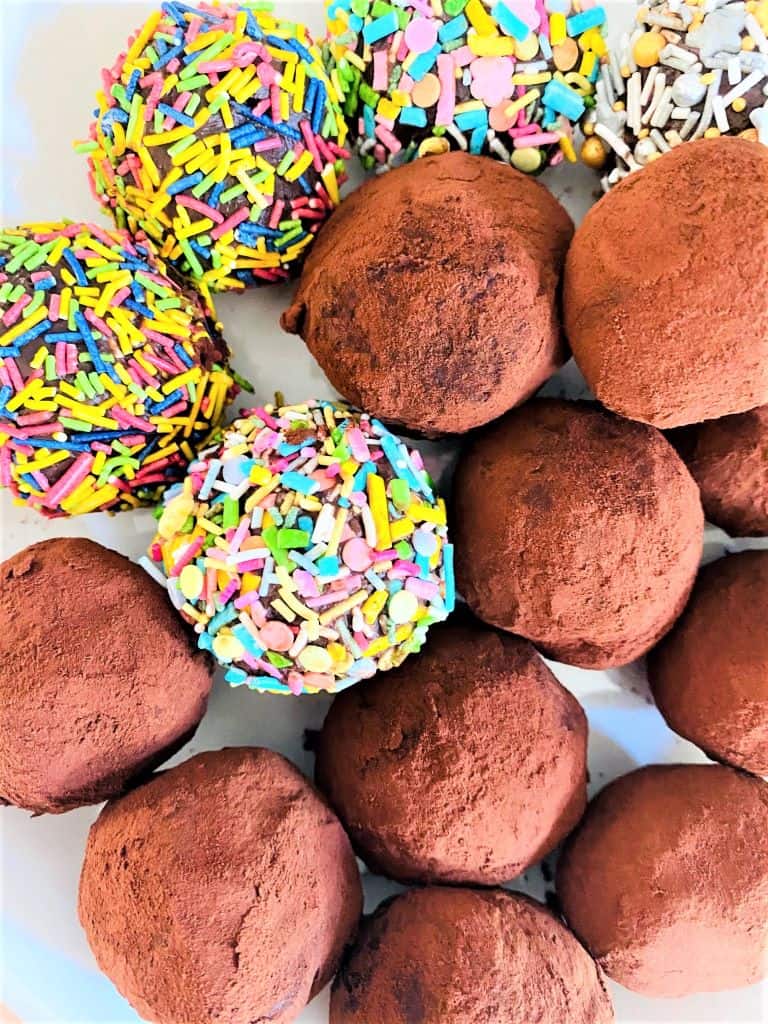 Once they are in a small ball, roll them through your chosen topping. Once the truffle has been completely covered place it in a bowl or plate.
Top Tip: A chilled bowl or plate will help to stop the truffles from going to soft.
How Long Do Homemade Chocolate Truffles Last?
If kept in the fridge they will last for around 2 weeks. Leave the truffles to get to room temperature before serving/eating.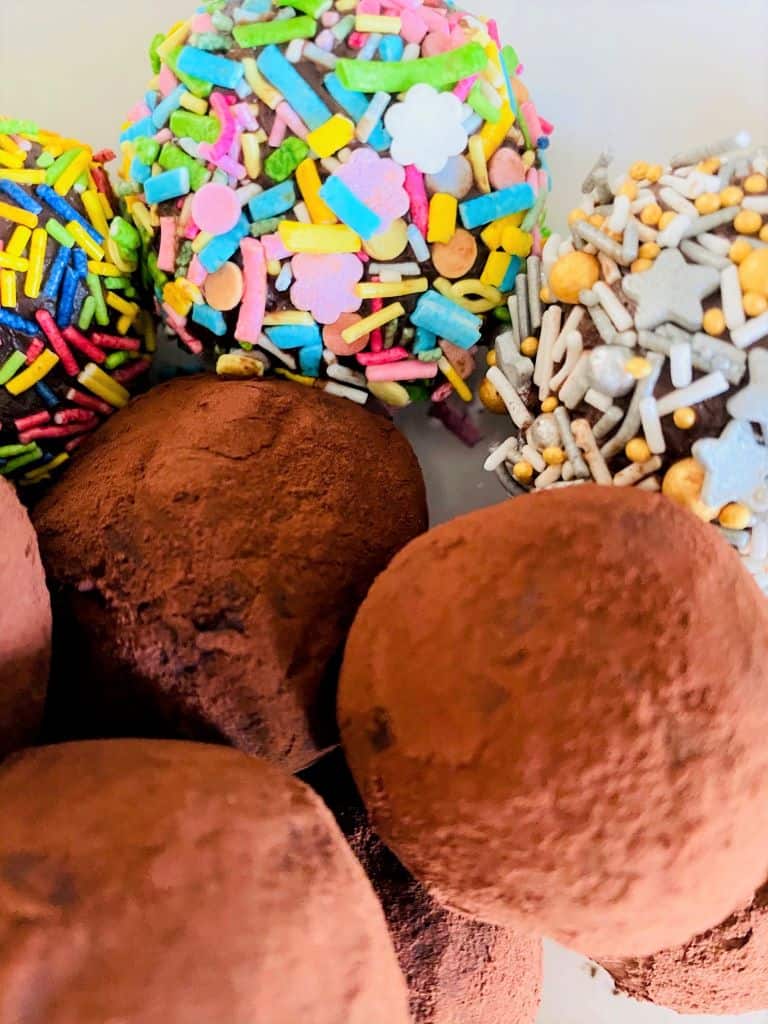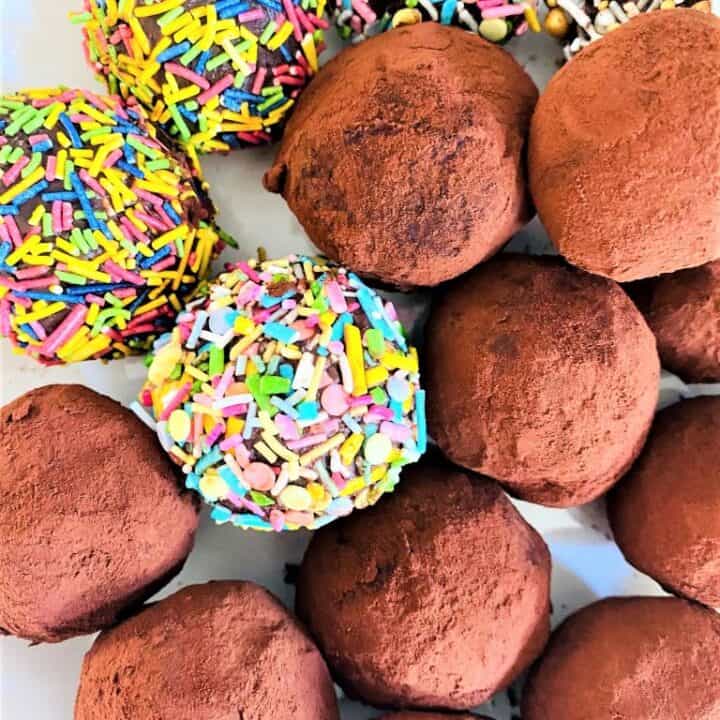 Chocolate Truffle Recipe
Total Time:
2 hours
20 minutes
Chocolate truffles are a simple yet delicious treat to make for a special gift or a dinner party surprise!
Ingredients
300ml double cream
400g chocolate (minimum 60% cocoa content)
1tbsp unsalted butter (optional)
Toppings - cocoa powder, sprinkles, crushed nuts
Instructions
Chop the chocolate up into tiny pieces, the smaller the better, and place in a heatproof bowl.
Bring the cream to a simmer in a saucepan.
Pour the warm cream over the chopped chocolate and add the butter (if using). Leave it to stand for 2 to 3 minutes.
Gently stir the mixture until the chocolate is completely melted.
Place the mixture in the fridge to set - around 2 hours. To speed up the setting process, transfer the mixture to a wider but shallower tray/tin.
Prepare the toppings by putting them in bowls which you can roll the truffles through.
Take the set truffle mixture from the fridge and scoop it out and roll it into truffle sized balls. Tip: if you have a small enough ice cream scoop use this, if not use gloves. If you have neither, it's time to get your hands all chocolatey (I can think of worse things!) Try and keep your hands cold if you can.
Roll each truffle in your choice of topping until they are completely covered.
Truffles taste best when they are eaten at room temperature.
Notes
Use chocolate with a minimum of 60% cocoa content.
If you are chilling the ganache overnight you might need to leave it at room temperature for around 30 minutes before scooping it out to form into truffles.
Serve truffles at room temperature.
Nutrition Information:
Yield:

20
Serving Size:

1
Amount Per Serving:
Calories:

174
Total Fat:

13g
Saturated Fat:

8g
Trans Fat:

0g
Unsaturated Fat:

4g
Cholesterol:

23mg
Sodium:

24mg
Carbohydrates:

13g
Fiber:

1g
Sugar:

11g
Protein:

2g