Are you looking for some Halloween cupcake decorating ideas? We made up some of our basic easy cupcakes and added some fun Halloween decorations.
Decorating cupcakes for Halloween is the perfect activity to keep the kids busy, especially if they've had enough of pumpkin carving!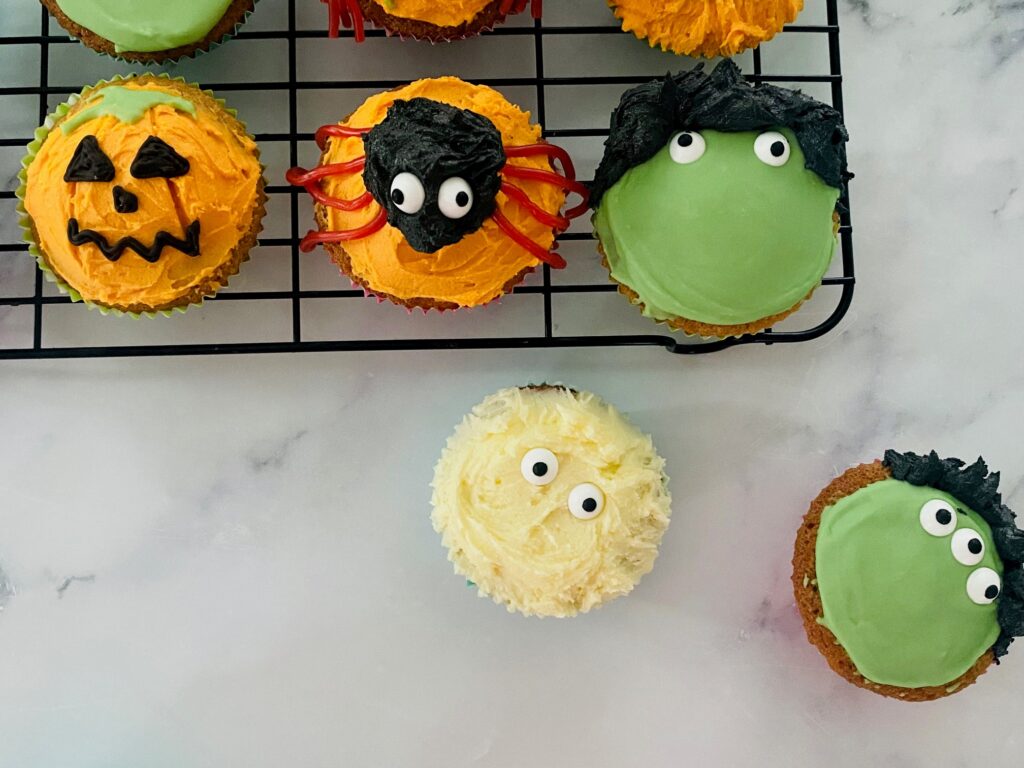 Making Halloween Cupcakes
The measurements below will make 24 cupcakes, if you only want to make 12 simply halve the amounts. Adjust as required – if you are having a Halloween party you might want to make some more!
250g butter softened/margarine
250g caster sugar
250g self-raising flour
4 eggs, beaten
2 tsp vanilla extract
For a printable version for Halloween cupcakes, scroll to the recipe card at the bottom.
These are the same ingredients as used in my easy cupcakes recipe, but as we didn't have any caster sugar left, I used light brown sugar instead.
Cream together the butter and sugar before adding the beaten eggs, self-raising flour and vanilla extract.
Mix everything together until you have a smooth batter.
Line a cupcake or muffin tray with cupcake cases and fill up about halfway/three-quarters of the way.
Cook in a preheated oven (180C/160C fan/gas 4) for 15 to 20 minutes. They are ready when they have risen and are golden brown on the outside.
Leave the cupcakes to cool on a wire rack until you are ready to decorate them.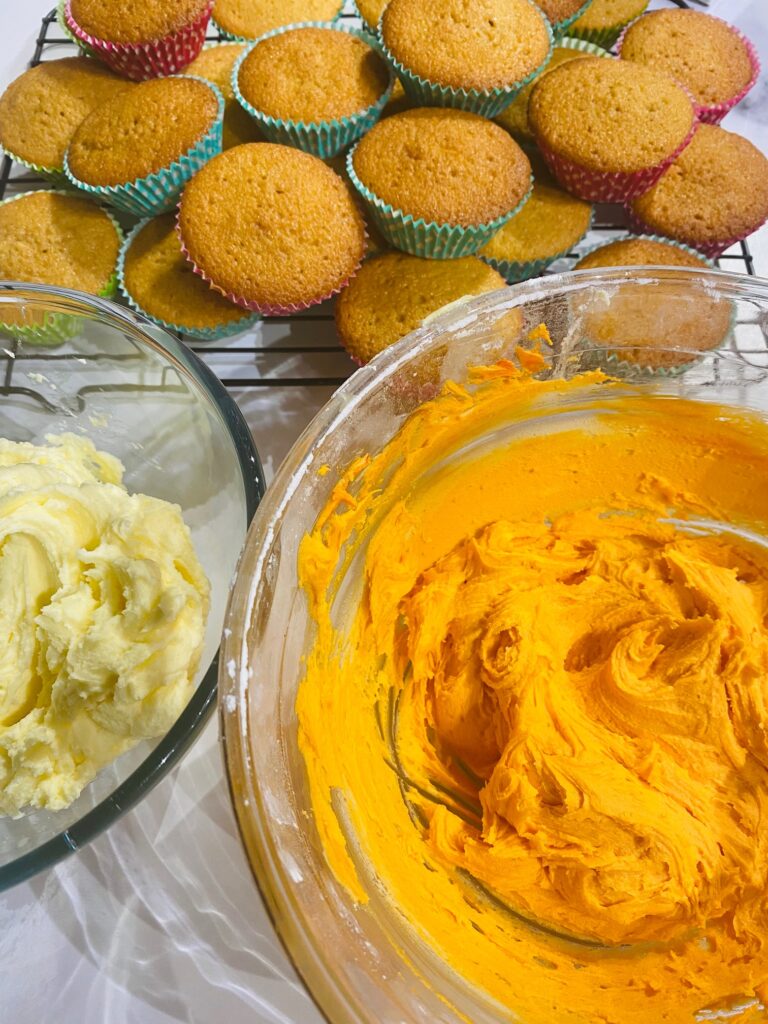 Halloween Cupcake Decorating Ideas
Get creative and use lots of different icing colours, sweets and decorations.
Making Buttercream Icing
You can either buy some premade buttercream icing or make up some of your own.
To make your own use;
150g butter
300g icing sugar
Food colouring
The butter will need to be soft before using it. Beat the butter in a bowl until smooth before adding the icing sugar. If the consistency is too stiff, stir in 1 to 2 tbsp of milk to loosen it up.
Divide up buttercream depending on how you are decorating your cupcakes. For example, we divided ours into 3. One part was left plain, one we added orange food colouring, and the other we added black.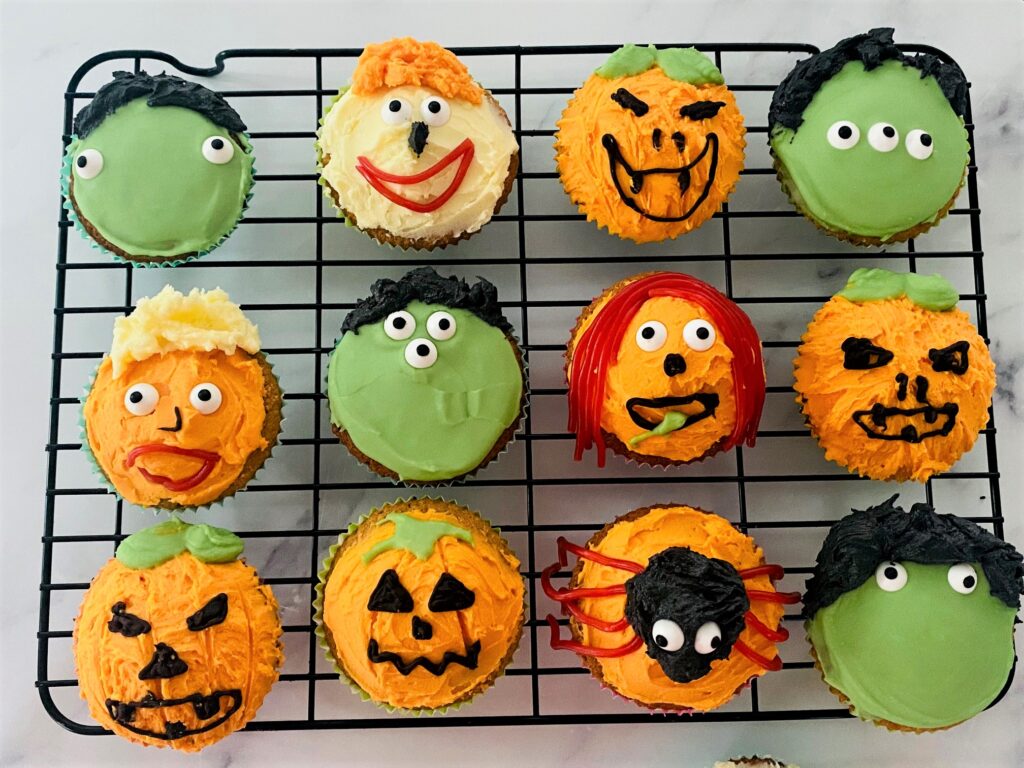 For the monster cupcakes we mixed together some icing sugar and water (check the pack instructions for ratios, but you don't want it to be too thin or it will run off the edges before setting!) We added a few drops of green food colouring.
You can make either buttercream or frosting icing, or glace icing (icing sugar and water). Or, you can use a combination of both.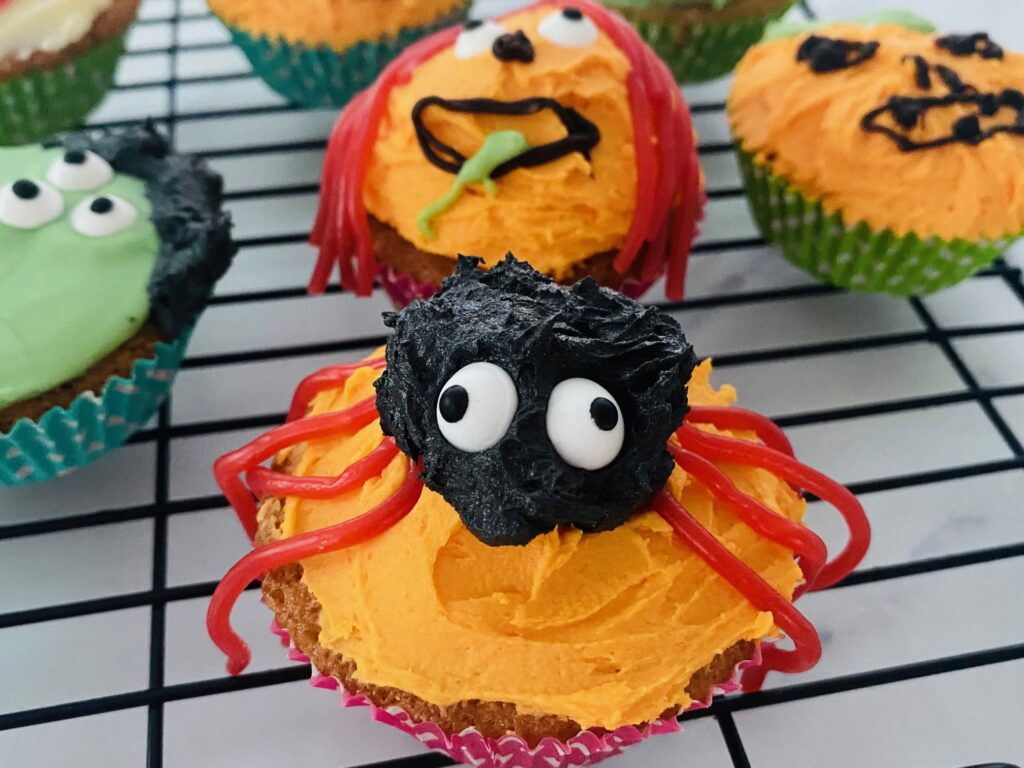 If you check the baking section in any supermarket you will see a wide range of options, there are tubes and pens to make decorating the smaller details easier, or, you can transfer the icing from above into a piping bag.
Buying some sweets is also a good idea for some of the decorations, we used strawberry laces for the legs on the above spider.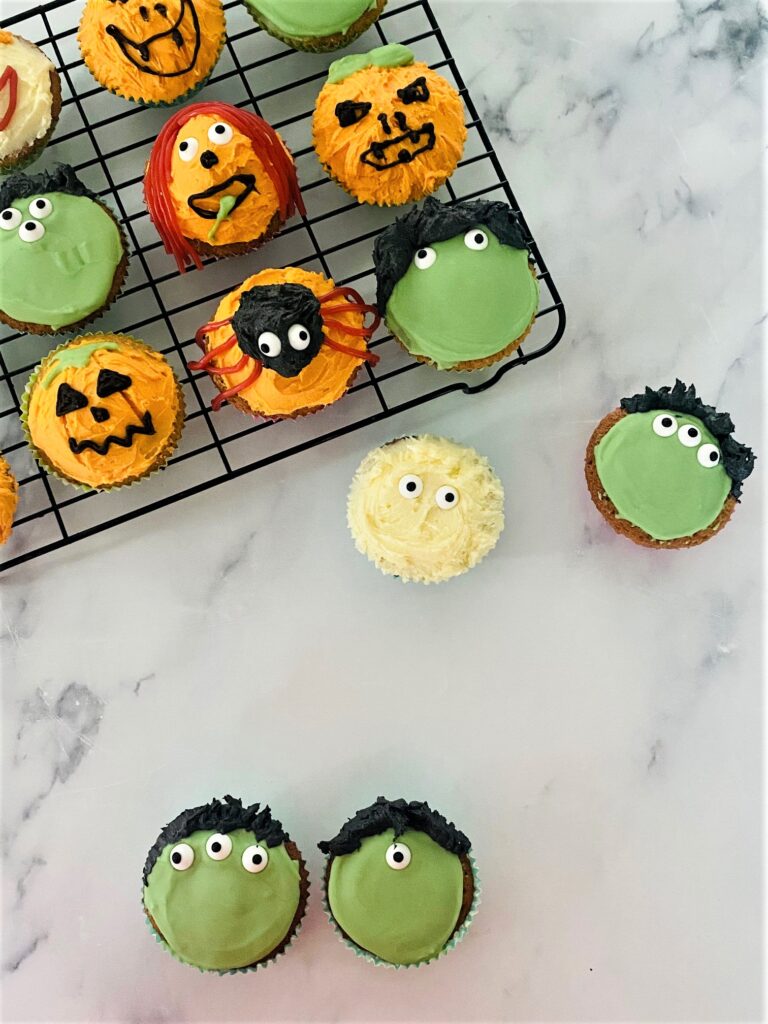 You can't go too far wrong when decorating Halloween cupcakes – they are meant to be scary after all! The most important part is to have some fun – oh, and enjoy eating them too!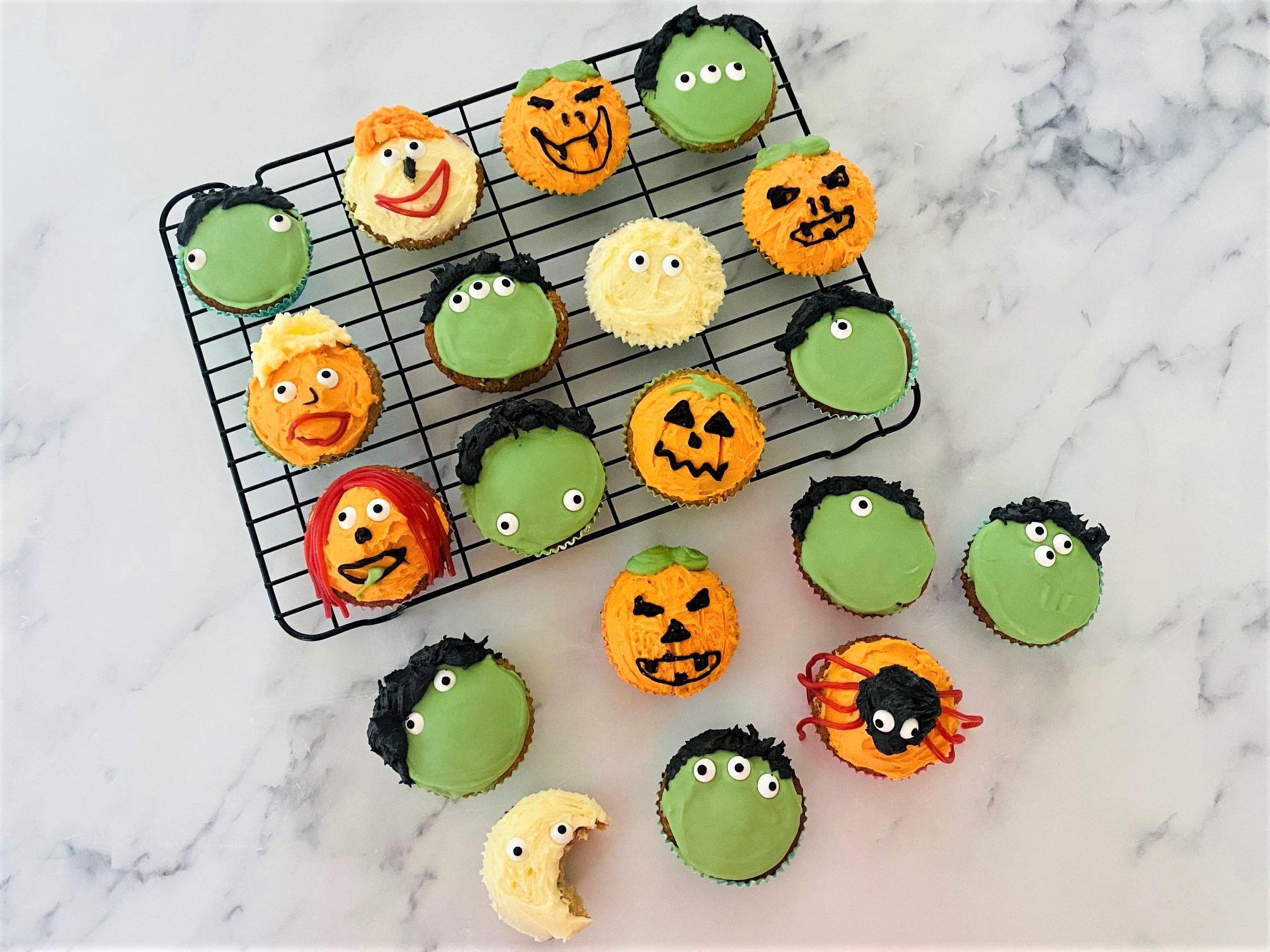 Halloween Cupcakes
Halloween cupcakes are a super fun baking activity to do with the kids! Get creative and make some spooktacular cupcakes!
Ingredients
250g butter softened/margarine
250g caster sugar
250g self-raising flour
4 eggs, beaten
2 tsp vanilla extract
Buttercream Icing
150g butter, softened
300g icing sugar
Food colouring (a few drops)
Instructions
Preheat oven to 180C/160C fan/gas 4.
Cream the butter and sugar together in a bowl.
Stir in the beaten eggs and vanilla extract.
Sift in the self-raising flour and mix until just combined.
Take care not to overmix.
Transfer the mixture into cupcake cases, filling halfway.
Bake in the oven for 20 minutes.
When the cupcakes are ready they will have risen and be a golden brown colour. If in doubt, check they are cooked through by inserting a metal skewer/cocktail stick and checking if it comes out dry.
Leave to cool on a wire rack before decorating.
To make the buttercream icing beat the butter in a bowl until soft. Add the icing sugar and stir in. Divide the buttercream icing depending on how many different colours you want to use. Stir in a few drops of your chosen food colouring and mix until the colour is even throughout.
Decorate with sweets and cake toppings according to your own preference!
Nutrition Information:
Yield:

24
Serving Size:

1
Amount Per Serving:
Calories:

262
Total Fat:

15g
Saturated Fat:

9g
Trans Fat:

1g
Unsaturated Fat:

5g
Cholesterol:

67mg
Sodium:

244mg
Carbohydrates:

31g
Fiber:

0g
Sugar:

23g
Protein:

2g