I hope you enjoy this Slow Cooker Thai Green Curry recipe as much as we do!
Experience the deliciously fragrant taste of Asian spices infused in the tender chicken that has been cooking all day, or afternoon, in the slow cooker.
How To Make Thai Green Curry In A Slow Cooker
Making Thai Green Curry can be as simple as adding all the ingredients to the slow cooker and switching it on.
However, it is worth taking an additional step and releasing some of the spices from the Thai Green Curry Paste by gently heating it first.
This step isn't essential – if you are in a rush, or you don't want to dirty up any extra pans, feel free to skip this part.
What Ingredients Should I Include In A Thai Green Curry?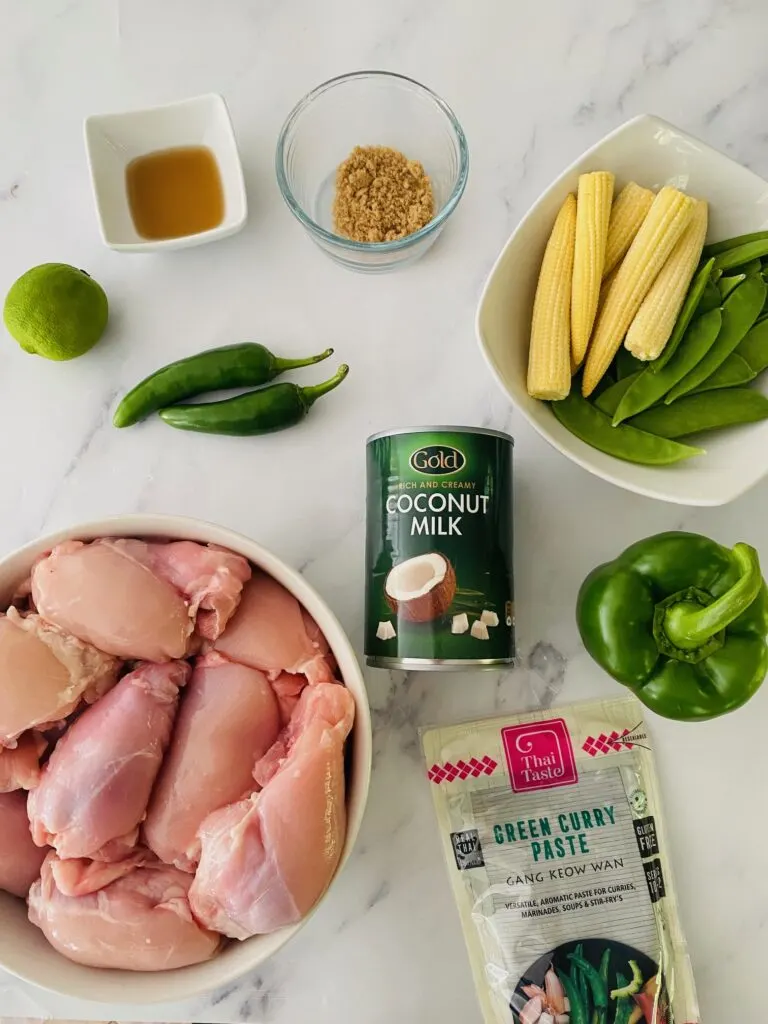 Please note these ingredients are what I use to make a Thai Green Curry in a slow cooker – if you are making it using a different method your choice of ingredients may well be different.
Chicken
I prefer to use boneless chicken thighs in the slow cooker. Chicken breast is also fine to use but it will turn out a little drier than chicken thigh, as well as require a shorter cooking time.
Vegetables
I like to include peppers (usually yellow and green), mangetout, baby corn and fresh green chillies. Alternatives include aubergine and sugar snap peas.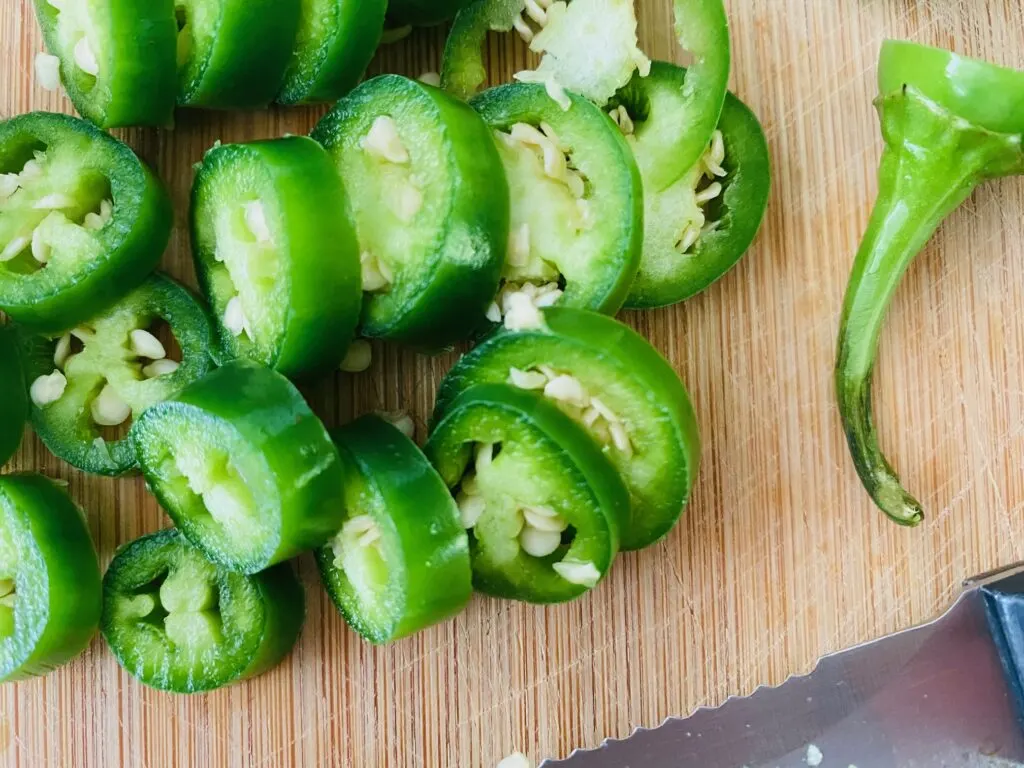 Spices and Remaining Ingredients
You will be adding Thai Green Curry paste. You can either make your own or, for convenience, use a premade one.
Not all Thai Green Curry pastes are created equal though – we've tried a fair few of them! Our current favourite is from Thai Taste – available in most supermarkets or online.
We have found many other Thai Green Curry pastes from supermarkets to be bland.
Other ingredients include lemongrass stalk, kaffir lime leaves, fish sauce and a little brown sugar.
When I haven't had kaffir lime leaves I use the juice of 1 lime.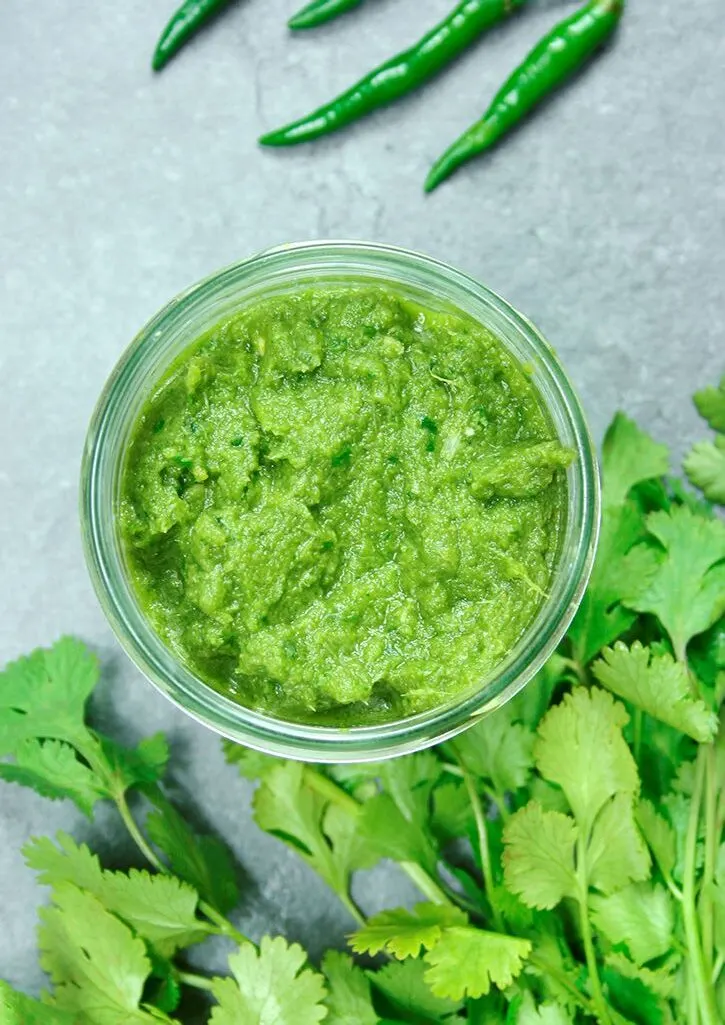 Coconut Milk
I added a tin of coconut milk (400ml). I always use full fat for curries, it adds more flavour and stops the sauce from thinning out too much.
Making Thai Green Curry
Some Thai green curry pastes are firmer than others and need to be gently heated to loosen them up, this also serves to release some of the flavours.
If you have a sear feature in your slow cooker, or, you are using a multi cooker you can do it in there. Alternatively, use a small saucepan to heat up the paste before stirring in the coconut milk.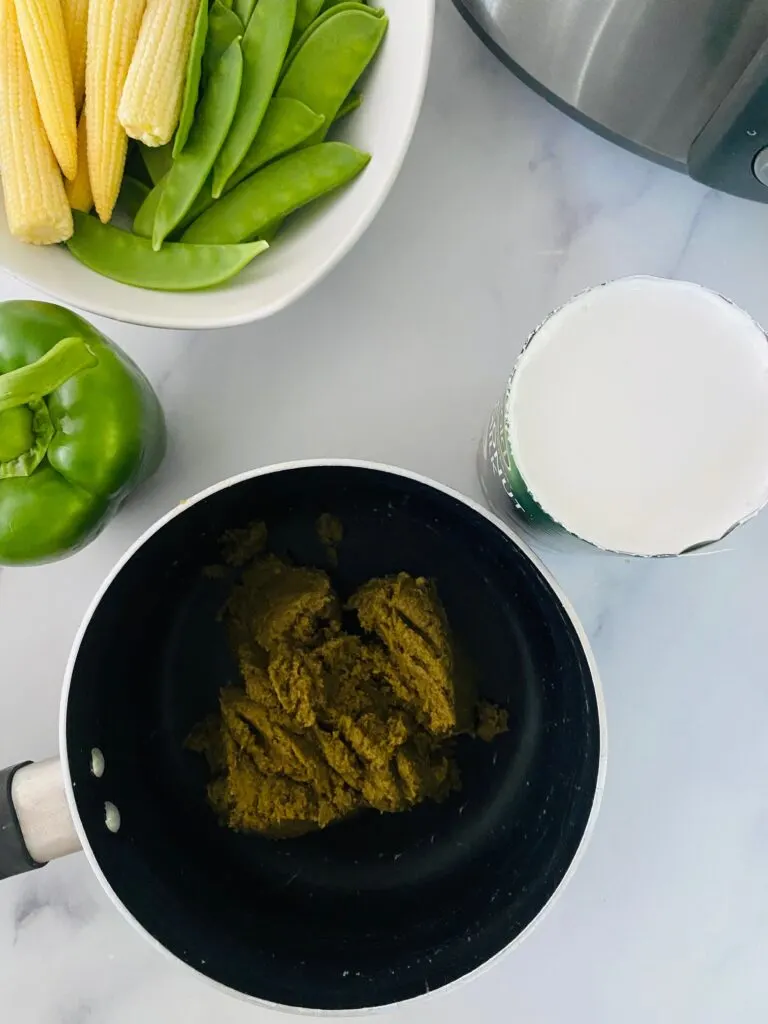 Remove from the heat and stir in the brown sugar, lime juice/kaffir lime leaves, fish sauce and lemongrass (if using) and fresh green chillies.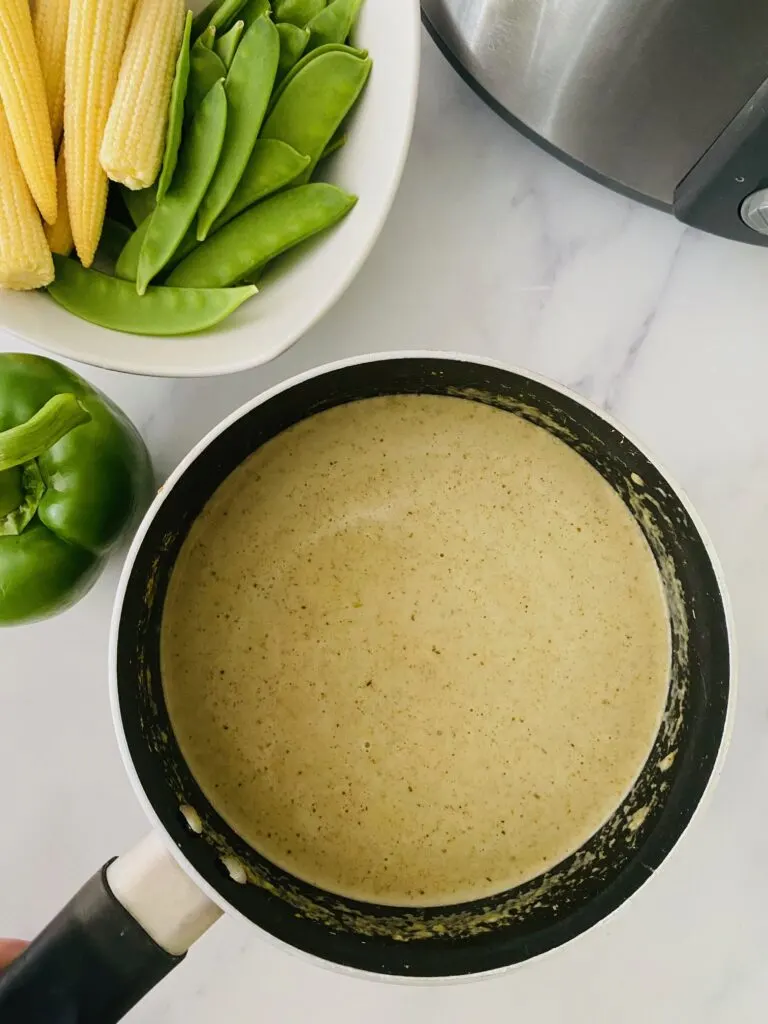 Add the chicken to the slow cooker and pour the Thai Green curry sauce over the top.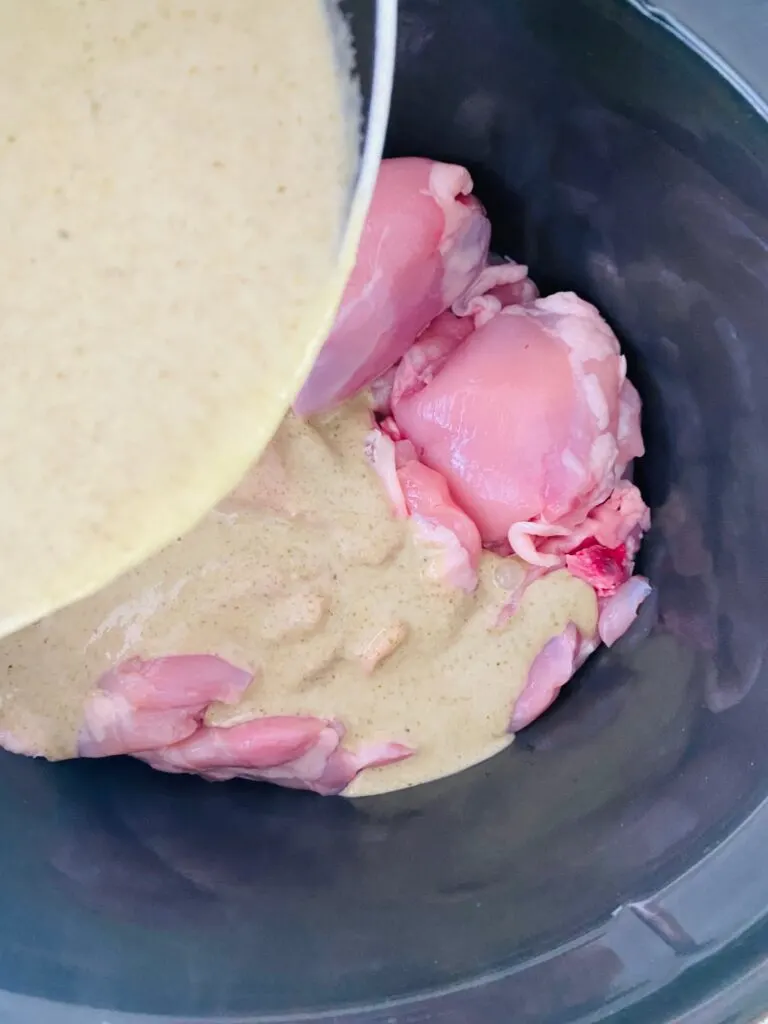 I add the green peppers, mangetout and baby corn half an hour before the end of the cooking time so that they maintain their crunch – you can add them at the beginning if you don't mind them being a bit softer.
Switch the slow cooker on and set it off on low for 4 to 5 hours or high for 3 to 4 hours.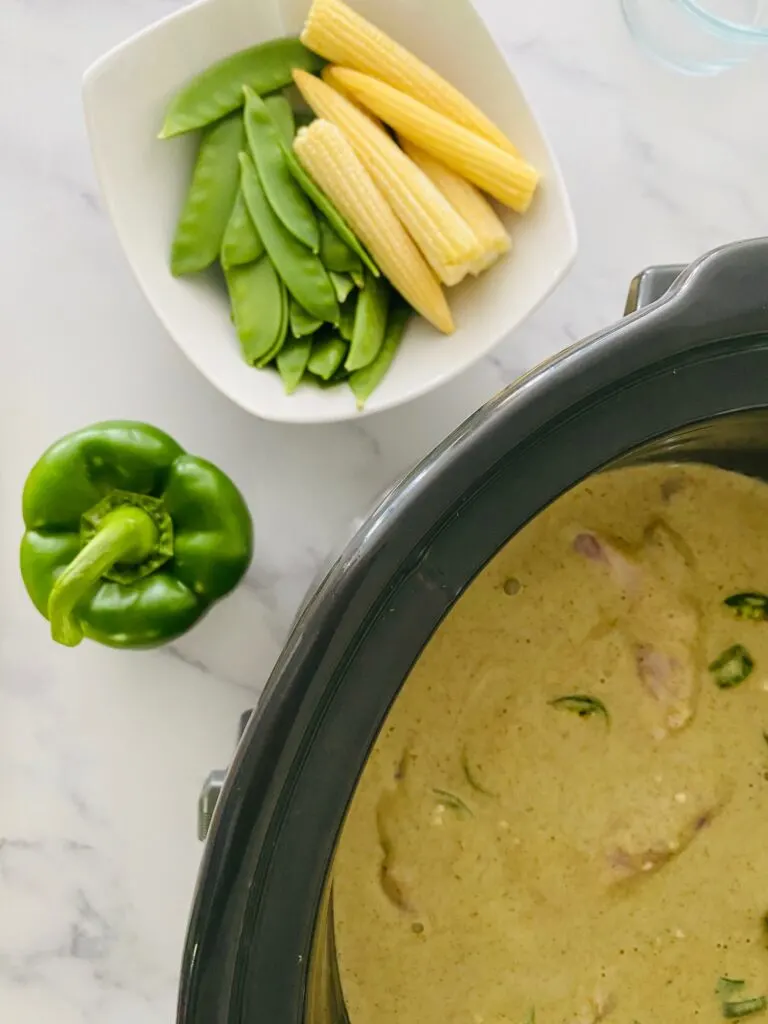 How Do You Thicken Thai Green Curry Sauce In A Slow Cooker?
During the slow cooking time, the chicken will release quite a bit of liquid and so the sauce might be a little bit thin.
You have a few options for thickening up the sauce at the end;
Leave the lid off for half an hour and switch the slow cooker to high.
Make a cornflour slurry to stir through.
Stir in some yoghurt or more coconut milk.