The best part about asparagus is that it is an extremely versatile vegetable that cooks in just a few minutes. From boiling to frying, there are a number of easy ways to cook asparagus, where each method makes these elegant green spears pop with a whole lot of flavour and aroma.
Although the natural flavour of fresh asparagus is incredibly delicious, and it doesn't really need more than a sprinkle of salt and pepper with a drizzle of olive oil, try cooking it in different ways to enjoy a unique eating experience.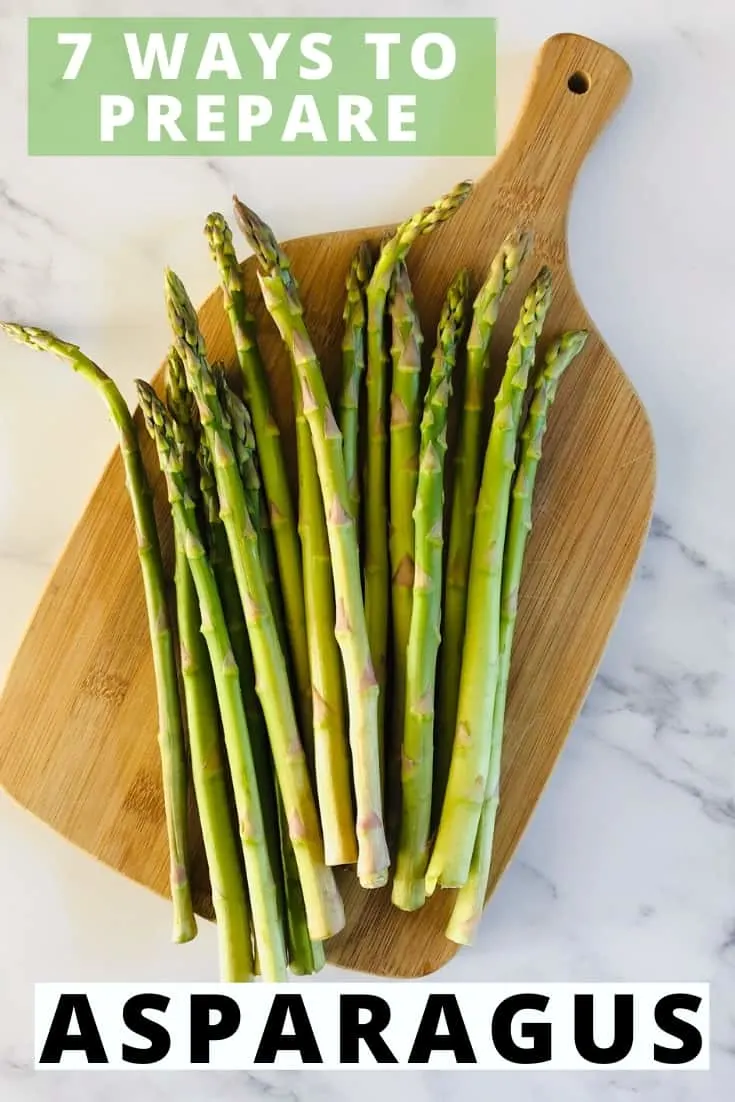 7 Different Ways to Cook Asparagus
Here are some of the most common and popular ways of cooking asparagus, each of which will help unlock new and rich flavours!
1. Blanched
Blanching is a method of cooking a fruit or vegetable in scalding water for a few minutes, after which the food item is transferred into iced water to halt the cooking process. This process helps make vegetables super tender and more flavourful, which further makes them extremely enjoyable to eat.
Blanched asparagus offers a mixture of slight crispiness on the outside and super soft textures on the inside when you bite into it.
Follow this easy method to perfectly blanch your asparagus.
Trim the asparagus by cutting a few centimetres from the bottom of the stalk.
Fill a pot with water, add a few tablespoons of salt, and bring it to boil.
Once the water has boiled, add in the asparagus stalks and cover with a lid.
While the stalks are blanching, in the meantime, fill a large bowl with ice water and lay out a kitchen towel on the counter.
Once the asparagus stalks are bright green and crisp-tender, remove them from the boiling water and plunge them into the ice bath to stop them from cooking further.
Let them cool for a minute or two and then pat them dry on the clean kitchen towel.
Serving Tip: Simply sprinkle with salt and pepper.
2. Roasted
Asparagus season definitely calls for roasted asparagus, which has been touted as one of the best ways to get the most out of this delicious vegetable. Roasting the fibrous stalks in the oven crisps them a little, which is not only scrumptious but also kills their bitterness.
Here is an easy method for roasting asparagus:
Preheat your oven.
Remove the woody ends from the stalks and place the asparagus in a mixing bowl.
Drizzle some olive oil and toss vigorously to properly coat the spears.
Sprinkle garlic powder, salt, black pepper, paprika, and parmesan cheese and toss again.
Line them on a baking tray and bake for about 12-15 minutes until the stalks are just tender.
Serving Tip: Sprinkle some lemon juice or add a drizzle of balsamic vinegar for maximum flavour.
3. Fried
Pan-frying asparagus makes it super crunchy on the outside, leaving them a tad tender from the middle.
For crispy, fried asparagus, you need to:
Place a pan over medium heat and melt some butter.
Add some olive oil, chopped garlic, salt and pepper, and cook for 10-12 minutes.
Make sure to turn the asparagus for even cooking.
Serving Tip: Fried asparagus is best served with a dipping sauce such as garlic mayonnaise!
4. Grilled
For all those who love char marks and smoky flavours in their vegetables, grilled asparagus is truly meant for them! Those grill marks on the green stalks add a whole lot of rich flavour.
Preheat your grill pan till you hear an obvious sizzle.
Remove the woody ends of the asparagus and generously sprinkle with salt and pepper.
Toss lightly in olive oil and lay the stalks on the grill.
Grill for 5-10 minutes till they have char marks and give off a smoky aroma.
Turn occasionally for even grilling on all sides.
Serving tip: Toss in grated parmesan cheese and chopped garlic, and serve.
5. Boiled
Boiled asparagus is best described as 'simply delicious and humble' that is amazing on its own and also perfectly complements any main dish.
To enjoy perfectly boiled asparagus:
Boil salted water and add asparagus to it.
Cook for a few minutes until tender and then drain them.
Transfer on a serving plate and sprinkle with your favourite seasonings.
Serving Tip: Top with a pat of butter to enjoy that rich buttery goodness!
6. Steamed
This is probably the healthiest method of cooking asparagus and works as a tasty side dish for any meal.
Heat water in your steamer till it begins to boil.
Close the lid as soon as it's boiling to increase the internal temperature.
Once the water begins to steam, place the asparagus on the steamer basket and allow it to steam for a few minutes.
Poke with a fork to check if they are fully steamed; the insides should feel tender and firm, and not mushy.
Remove from the steamer and transfer on a serving platter.
Serving Tip: Add a splash of lemon juice and sprinkle with garlic powder for some extra zip.
7. Raw
Raw asparagus is as delectable as cooked and can be equally enjoyed, but with the right preparation.
Remove the woody ends of the spears.
Use a grater or sharp knife to cut the asparagus into small, thin pieces. The thinner they are, the easier it will be for you to chew them
Serving Tip: Toss the cut pieces in a delicious dressing of vinegar, olive oil, and black pepper for an extra kick of flavour!
When Is Asparagus Season?
The much-awaited asparagus season in the UK arrives in late April and ends in June, which gives you just a few weeks to enjoy this humble vegetable in every way possible!
Make sure to stock your refrigerator with a large asparagus supply, but before that, take a look at a few tips to select and buy the best from the lot.
Look for the ones with:
Bright green stalks with violet-tinged ends.
Closed and compact tips.
Thinner stalks.
Dry and firm tips.
How To Store Asparagus
The best way to store asparagus is to trim off the ends up to a few centimetres and remove them. Place the asparagus up in a tall glass or jar that is filled with an inch or two of water. Make sure that the ends of the vegetable are sitting well in the water. Hold all the asparagus together with a rubber band and cover it with a plastic bag.
You can easily store this in the refrigerator for a week; however, make sure to change the water if it starts looking cloudy.
How To Prepare Asparagus – Quick Recipes
Asparagus is truly amazing on its own, but you can always prepare it in different ways for added flavour and aroma.
Here are a few quick and easy methods for preparing asparagus.
Make an asparagus soup.
Sauté cut-up pieces of asparagus with olive oil, sliced shallots and grated ginger and garlic.
Add cut-up asparagus to your favourite soup and serve with crusty bread.
Boil asparagus and then top with chives and hard-cooked eggs.
Roast asparagus with fresh thyme sprigs, olive oil and potato cubes.
What's your favourite way to cook asparagus? Let me know in the comments!