Chances are you've arrived here looking for an easy pancake recipe on or around pancake day? Why do we always forget how to make pancakes?! I know I do.
Then we were gifted a pancake maker, and the kids decided pancakes weren't just for Shrove Tuesday. I found it tough to disagree.
Side Note: We've gone back to using a frying pan to make our pancakes – we missed the 'flipping!'
When Is Pancake Day (2023)?
This year pancake day falls on Tuesday, 21st February 2023.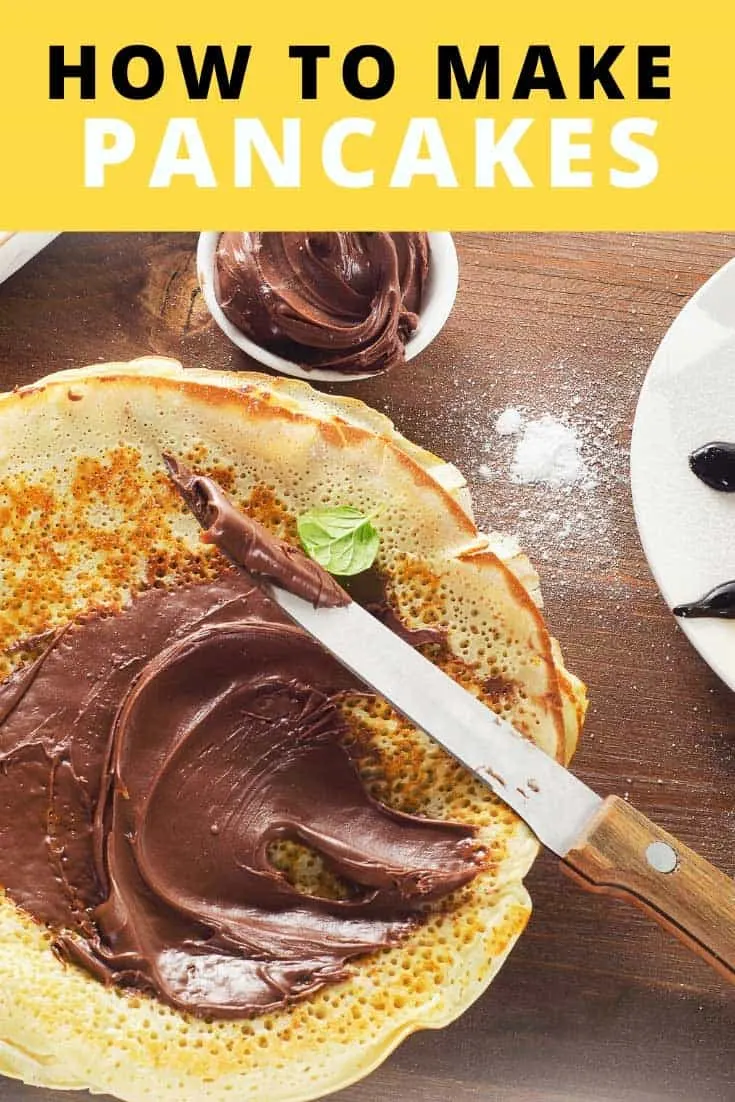 Gathering The Pancake Batter Ingredients
Depending on where you look, you will find variations of a pancake batter mix. They should all have at a minimum, flour, eggs and milk (unless you are making eggless pancakes).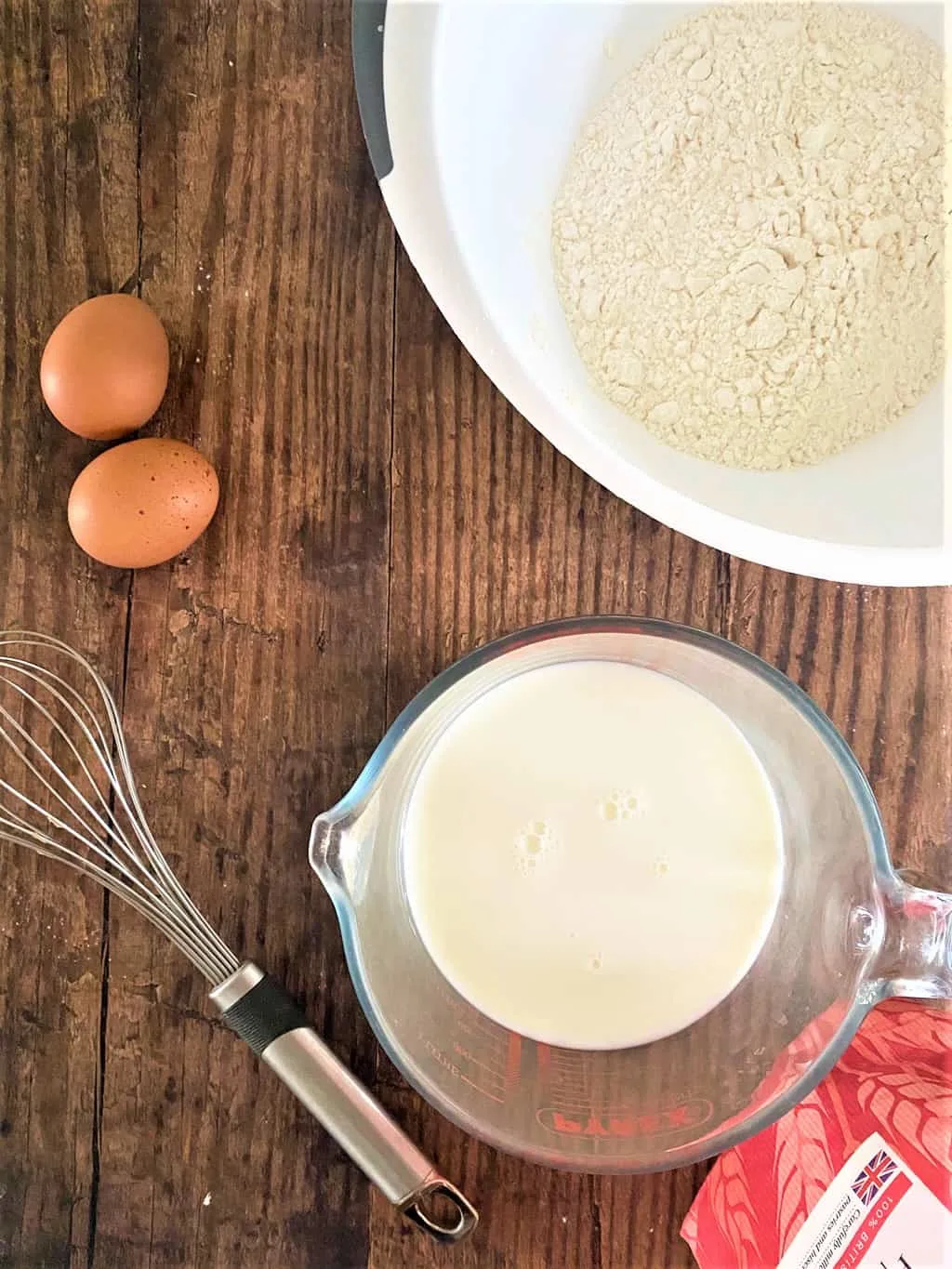 Extras such as butter, salt and sugar are optional. See below for why you may or may not want to add these ingredients.
What you may discover is that some pancake batter recipes differ in proportions, that is, some use more milk than others, or some use more eggs etc.
In the name of finding the perfect pancake batter, I kindly stepped up and tested out many (many) variations. I wanted to get it just right. You can thank me later 😉
This, I believe, is the easiest way to make pancake batter, to produce the best pancakes ever!
And do you know what? You can use the same pancake batter recipe to make Yorkshire puddings and toad in the hole!
How To Make Pancakes
Pancake batter can be made ahead of time so that you're ready to get cooking (you can store the mixture in the fridge), or you can make it right before you're ready to fry.
Equipment Needed For Making Pancakes
Large bowl or jug
Whisk
Frying pan
Spatula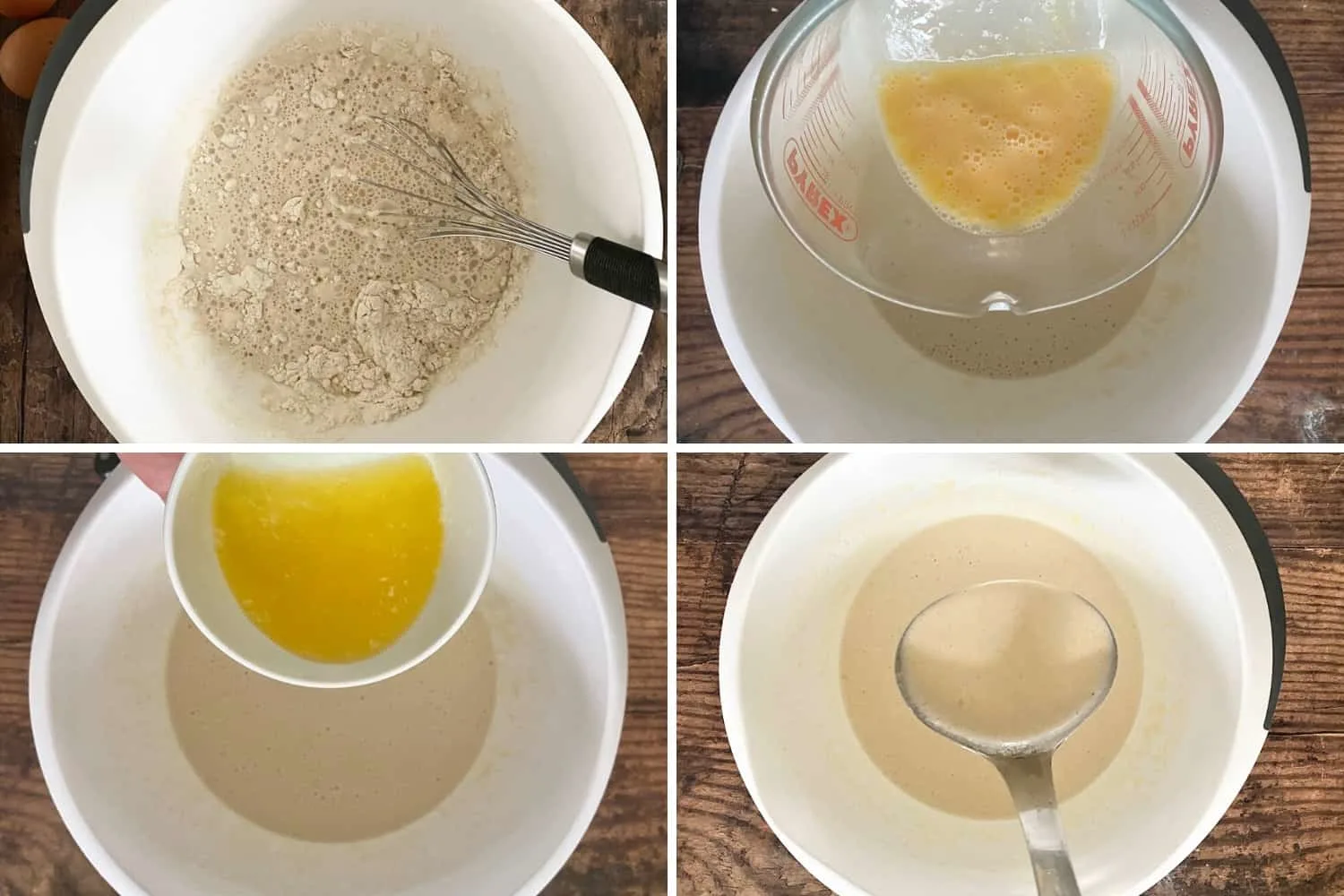 Add the flour and milk to the bowl and whisk together until all the lumps have gone. Add in the beaten eggs and stir in. If you are adding butter/oil, and/or sugar, also add it in at this stage and whisk in.
How Thick Should Pancake Batter Be?
It needs to be able to spread over the frying pan without too much assistance – if it is too thick it won't cook properly and will taste all doughy – but if it's too thin it will burn and break apart. Tricky huh?
That's why it's best to make enough batter to do your 'test pancakes.'
What Heat Should I Cook Pancakes On?
Whether you are using butter or oil to grease the frying pan, heat it up on a medium heat, it should take about 1 to 2 minutes to get hot enough. When the pancake batter hits the frying pan it should make a sizzling sound.
How Long Do Pancakes Need To Cook For?
Pancakes cook in about 1 minute on either side. Once you have added the batter to the heated pan, swirl the pan so that it is evenly spread across the base and then leave it to cook. Don't be tempted to flip it before it's ready or you will rip it. After about 1 minute, using a spatula, flip it over and allow it to brown on the other side.
What Pancake Toppings Should I Use?
Pancakes can be served plain as they are, or with just a sprinkling of sugars. However, if you want something more substantial or indulgent you might want to check out our pancake toppings guide.
Do I Need To Let The Pancake Mix 'Rest'?
In an ideal world yes, allowing the pancake mixture to rest for at least 30 minutes before adding it to the hot pan will thicken up the batter, producing softer textured pancakes. However, it's unlikely once you start the process of whisking up the pancake batter that anyone in the house will have the patience to let anything 'rest.' Time is precious when we're talking pancakes 😉
However, should you be inclined, yes, pancake batter can be made ahead of time (even the night before) and left in the fridge until ready to use.
FAQ and Troubleshooting
The mixture is too thick – add more milk and whisk.
The mixture is too thin – whisk in a little more flour.
The mixture is too lumpy – it doesn't matter if the batter still has some lumps in it – in fact, if you over mix the batter your pancakes will end up more chewy and rubbery, rather than light and fluffy.
Should I fry my pancakes in butter or oil? – You can use either, but butter can burn when it's heated up for too long which will leave brown/black streaks on your pancake. You only need to use a little bit of oil (I use vegetable) on the pan.
Can I use margarine in the batter instead of butter? – Again, I wouldn't. Butter will produce a much tastier pancake than margarine 🙂
My pancake isn't cooking – you might have added too much batter to the pan.
My pancake isn't crisping up – if your pancake is taking a long time to brown (a pancake should only take 1 to 2 minutes on each side at the most), it is likely your pan isn't hot enough.
Can I freeze pancake batter? – in the unlikely event that you have pancake batter leftover, yes you can freeze it.