In my goal to be more organised with what we eat each day, I have created a weekly meal planner template.
I've made it as simple as possible, all you need to do is print it out each week, and plan out your meals. Stick it to your fridge, notice board, or wherever you'll easily see it.
Benefits Of Using A Meal Planner
If you like to batch cook meals for the week ahead, a meal planner will help you organise the meal prep.
If you're following a specific diet or meal plan, a meal planner can help you stay on track.
Save money on your food bill by planning out what you really need to buy.
Less food waste.
Eat more inspiring meals – when you are planning ahead you'll have more time to browse recipes to try out – or think up some of your own!
If you want to try it out too please feel free to download my meal planner template and print it out. I've deliberately made it in black and white to save your colour ink levels!
Do you plan out your meals ahead of time? Let me know in the comments!
Weekly Meal Planner Template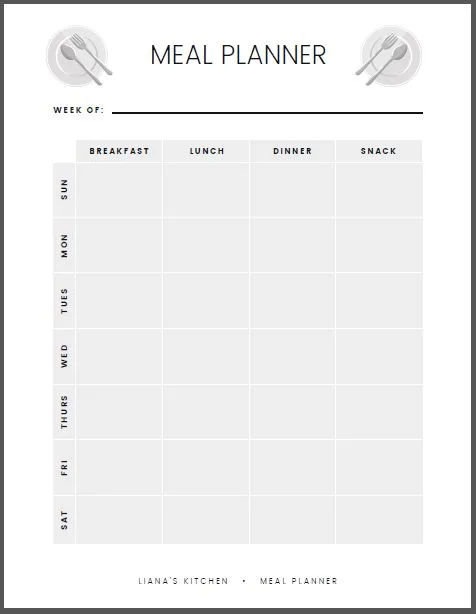 If you liked this template, why not grab my Quick Start Meal Planner Pack? It's completely free, just register below to get it delivered to your inbox.