I think we can all agree that pancakes are one of the best breakfast foods. (And they're great for dinner too!)
But sometimes, having the same pancake toppings each time can get boring. That's why today I'm going to share some of my favourite toppings for pancakes!
Golden Syrup
Golden syrup is an excellent topping for pancakes. It's very sweet, so a little goes a long way. It goes well with chocolate chips or bananas in your pancakes.
Maple Syrup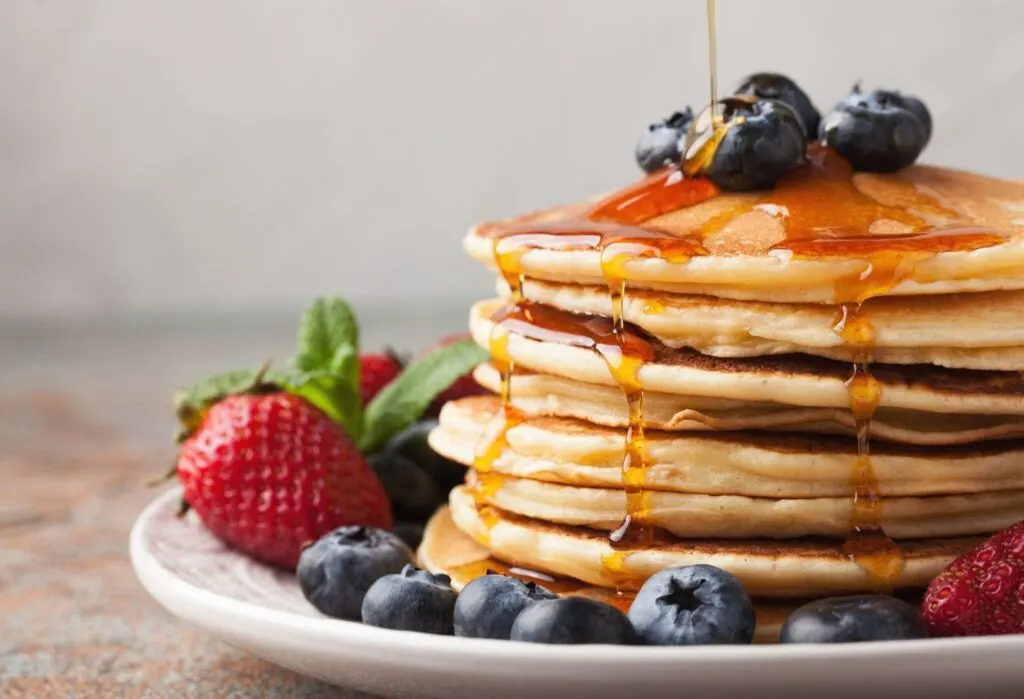 Maple syrup is a sweet, thick liquid made by boiling the sap from sugar maple trees. It's often used on pancakes and waffles or in baking recipes as a substitute for regular sugar.
When purchasing this delicious ingredient, it's worth getting real maple syrup. It's important to look for one that doesn't have any added ingredients like corn syrup or other artificial flavours.
Bacon and Maple Syrup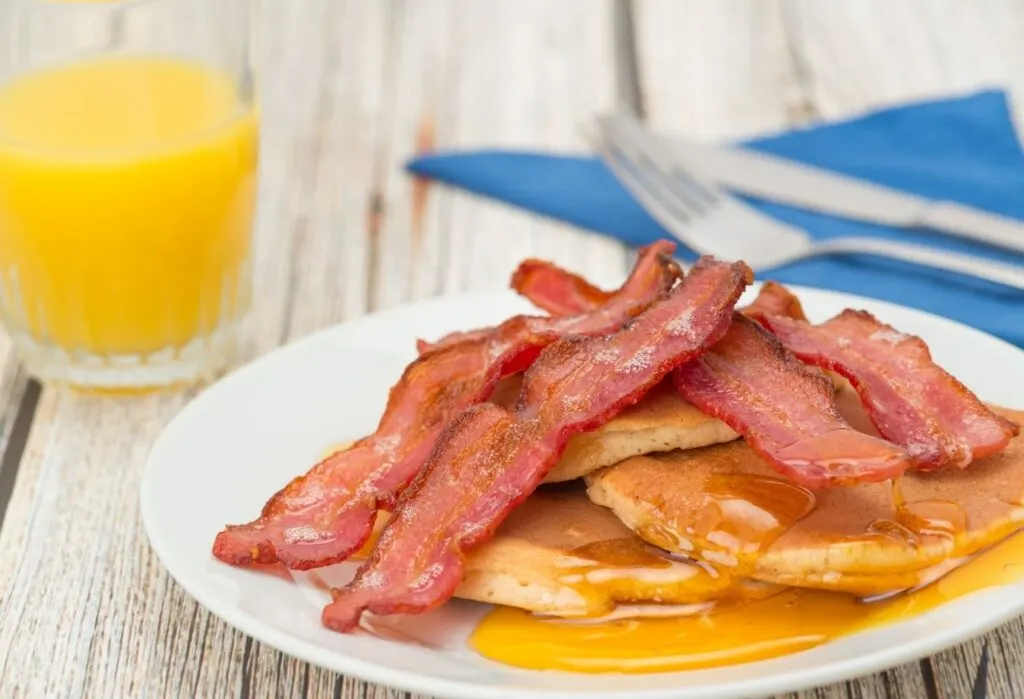 Bacon and maple syrup pancakes are a well deserved weekend treat.
These American inspired pancakes make the perfect brunch. With just enough sweetness from the maple syrup and the crispy edges of the bacon, these pancakes are excellent!
Lemon and Sugar
Lemon and sugar is an excellent topping for lemon lovers. It's super simple to make. Just squeeze the juice of half a lemon into your warm pancakes, and then add some sugar. Lemon and sugar are also delicious with fresh blueberries!
Cinnamon Sugar
Cinnamon tastes amazing with most dishes, and when you mix it with some sugar, you get something incredible.
To make a batch of cinnamon sugar, mix 100g sugar (granulated or brown sugar) with 1-2 tablespoons of ground cinnamon. This cinnamon sugar mixture will be enough for about six pancakes.
Fruit
Adding some sweet fresh fruit to a pancake is easy and delicious.
Some of my favourite fruit toppings for pancakes include blueberries, strawberries and bananas.
Optionally add some whipped cream or, for some extra indulgence, spread some melted chocolate or Nutella on the pancake too.
Biscoff Spread
If you somehow haven't heard of it, Biscoff spread is made from the delicious Biscoff biscuits – and it tastes like heaven.
It goes excellent with pancakes; try combining it with some chopped bananas or strawberries.
Nutella
When you think of pancake toppings, Nutella is often top of the list.
As well as going great on its own with pancakes, Nutella also tastes amazing combined with chopped fruit.
Peanut Butter
Peanut butter is an excellent topping for pancakes or any other nut butter.
Smooth peanut butter works best, heat it in a saucepan with some butter and a little maple syrup and pour it over your cooked pancakes.
Ice Cream
Ice cream is a classic topping for pancakes. It's one of the easiest ways to make your ordinary pancakes taste amazing!
All ice cream flavours work; simply add a scoop or two to cooked pancakes together with your favourite sweet sauce or some chopped fresh fruit.
Salted Caramel Sauce
If you're a salted caramel fan, then you'll agree that it goes great with almost anything! So why not pancakes? You can either serve it drizzled warm over your cooked pancakes or add some to the plate for dipping!
You can buy salted caramel sauce or have a go at making your own at home by combining caramelised sugar with melted butter, double cream and salt.
Toffee Sauce
Chocolate sauce is a traditional pancake topping, but have you ever tried toffee sauce? It's something special!
This deliciously thick and creamy sauce includes butter, cream and light brown sugar.
Cheese
Cheese is surprisingly great on pancakes. You could use any type of cheese you like, but my favourites are cheddar or gouda – any cheese that melts quickly is suitable.
When the pancake is cooked in the pan, add the cheese, grated or very thinly sliced, and fold the pancake over.
Ham and Cheese
Cheese is an obvious pairing with ham, so why not combine the two? You can use any type of cheese that you like here as well.
When the pancake is cooked in the pan, add some ham and a little cheese on top. Fold it over, and it's done!
Crepes Suzette
Crepes Suzette is a French dessert that consists of crepes with an orange-flavoured liqueur such as Grand Marnier or Cointreau mixed with sugar and butter.
It's usually topped with some form of citrus zest and sometimes mint leaves.
Final Thoughts
Pancakes are delicious on their own, but they're even better with some tasty toppings!
Whether you choose a simple drizzle of maple syrup or whip up a sweet sauce to dip your pancakes in, there's something for everyone. Enjoy!
Let me know in the comments what your favourite pancake topping is!