Cheesecake is a firm favourite on many menus, but there are a variety of ways to make it. Recently we experimented with making a no bake lemon cheesecake. Yes, that's right – a cheesecake that requires absolutely no cooking!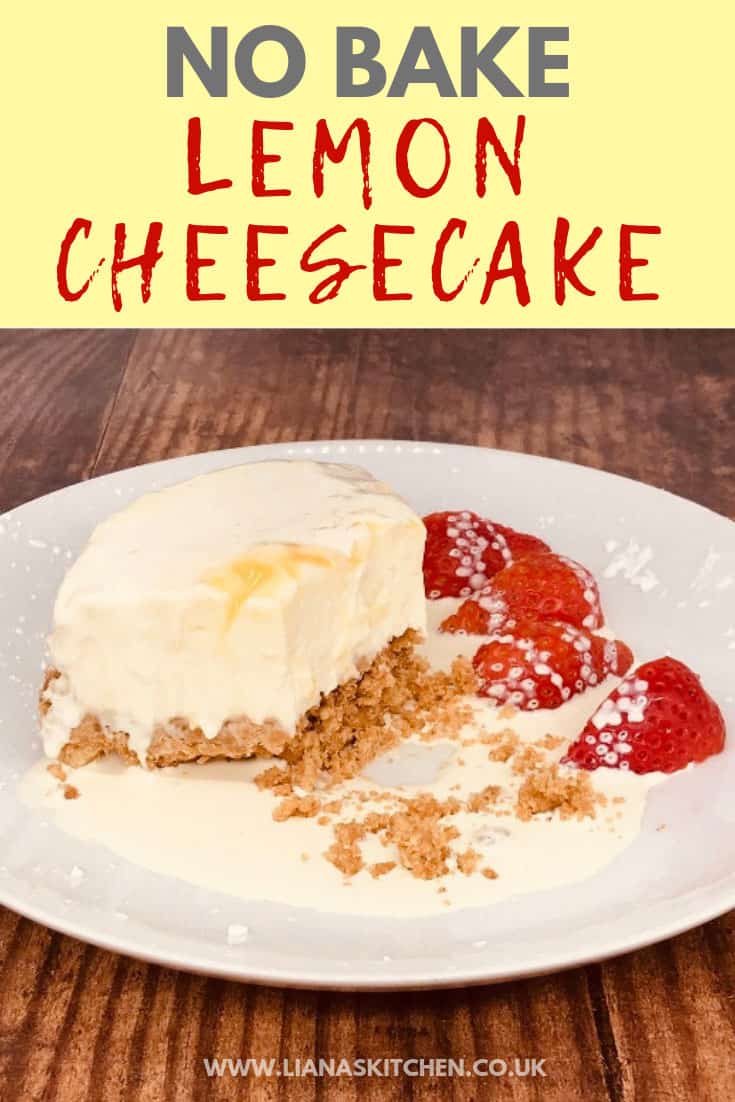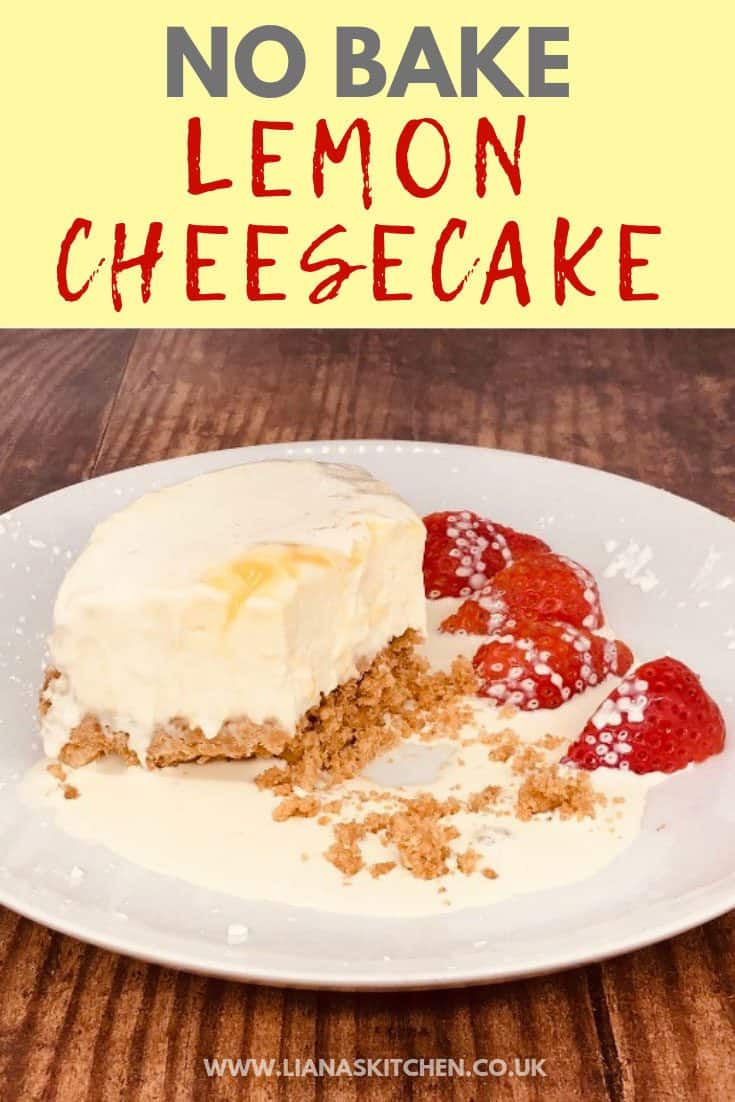 How To Make A No Bake Cheesecake
There aren't a huge amount of ingredients in a no bake lemon cheesecake, especially as I used digestive biscuits as the base – this meant that there was no need to add any extra sugar to sweeten it up.
Making The Base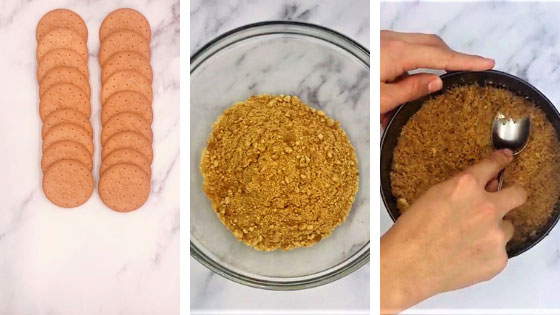 The cheesecake base is super simple to make – you only need digestive biscuits and butter combined together. Once you have crushed the biscuits stir in the melted butter.
Making The Topping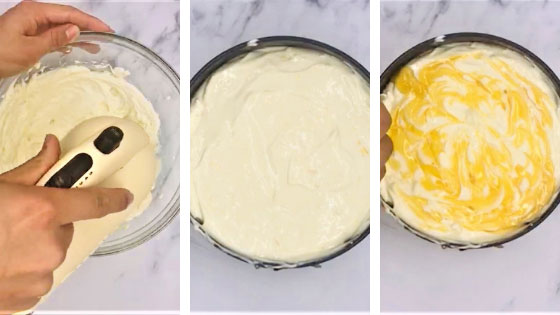 The topping is slightly more time consuming to make, but with the use of an electric mixer, is still relatively quick. I highly recommend the use of an electric mixer, as otherwise you will be mixing for ages, and potentially end up with a sore arm.
Leaving It To Set
You may have finished making the no bake cheesecake but you'll need to practise a little more patience and leave it to set in the fridge for at least 4 hours, but preferably over night if you have the time/willpower to achieve the best results.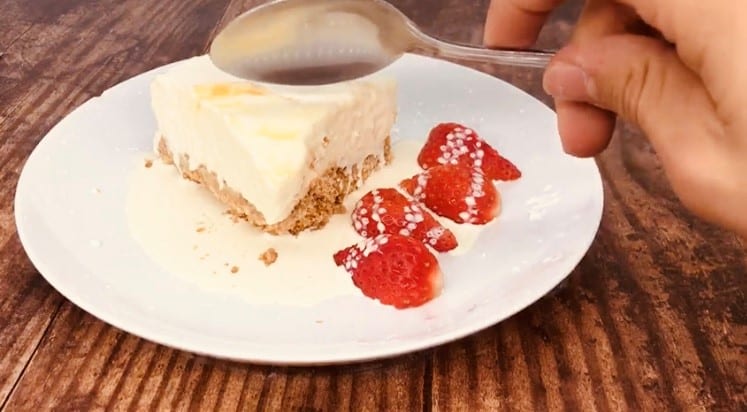 No Bake Lemon Cheesecake
Total Time:
4 hours
25 minutes
This no bake lemon cheesecake is an indulgent yet simple dessert to make. The hardest part is only having 1 slice 🙂
Ingredients
18 digestive biscuits
150g butter, melted
500g cream cheese/mascarpone
150ml double cream
150g icing sugar
zest and juice of 2 small lemons
2 tbsp lemon curd, heated in saucepan
Instructions
Crush the biscuits into a fine a powder as you can. You can do this by putting them in a bowl, and striking them with the end of a rolling pin, or by putting them in a food bag, and repeatedly hitting them.
Combine with the melted butter, flatten into a greased cake tin with a spoon, and put in the fridge to harden.
Put the cream cheese or mascarpone into a bowl, and mix briefly with a handheld mixer. Add the double cream, and mix again until combined.
Add the icing sugar and lemon zest, and mix again.
Finally, add the lemon juice and, you guessed it, mix again. Mixing in between each addition ensures that all ingredients are thoroughly combined for a smooth, consistent cheesecake.
Pour the cheese mixture onto the chilled base, and flatten with a spatula or knife.
Melt some lemon curd in a saucepan, until it has thinned. Pour globs of it onto the top of the cheesecake, and create a swirly pattern with a skewer or kebab stick.
Chill in the fridge for at least 4 hours, or, preferably, overnight.
Notes
Using a springform or removeable base tin is recommended to ease serving, and to maintain the cake's shape, but some excess liquid may drain out the bottom, so place the tin on a plate when chilling in the fridge.
Be careful if using the food bag method to crush the biscuits - after the Great Biscuit Incident of 2018, all I can say is make sure your bag is strong, and that there's no air trapped inside, or else it will pop.