We're working our way through the Simply Cook recipes and gathering all our favourites.
Today I'm sharing the Simply Cook Balinese Chicken recipe from their Indonesian and Malay category, it was also labelled as hot (it has 3 out of 3 for their spice rating), as well as low calorie.
Read on to see what you get in the recipe box, how it is made and last, what we thought about it.
Balinese Chicken Simply Cook Recipe
The Simply Cook recipe card says about this recipe:
We've taken inspiration from Bali's hawker market-style curries to create our own coconut curry with galangal and kaffir lime leaf – fragrant spices that are characteristic of Indonesian dishes.

Simply Cook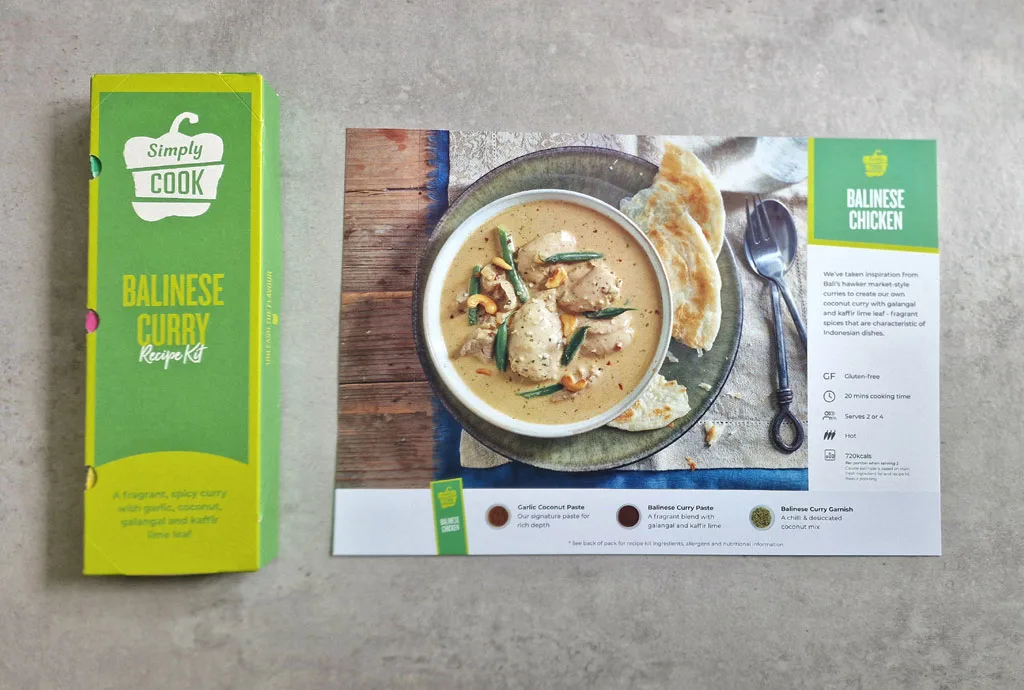 The three flavour pots you receive with the Balinese Curry recipe kit are;
Garlic Coconut Paste
Balinese Curry Paste
Balinese Curry Garnish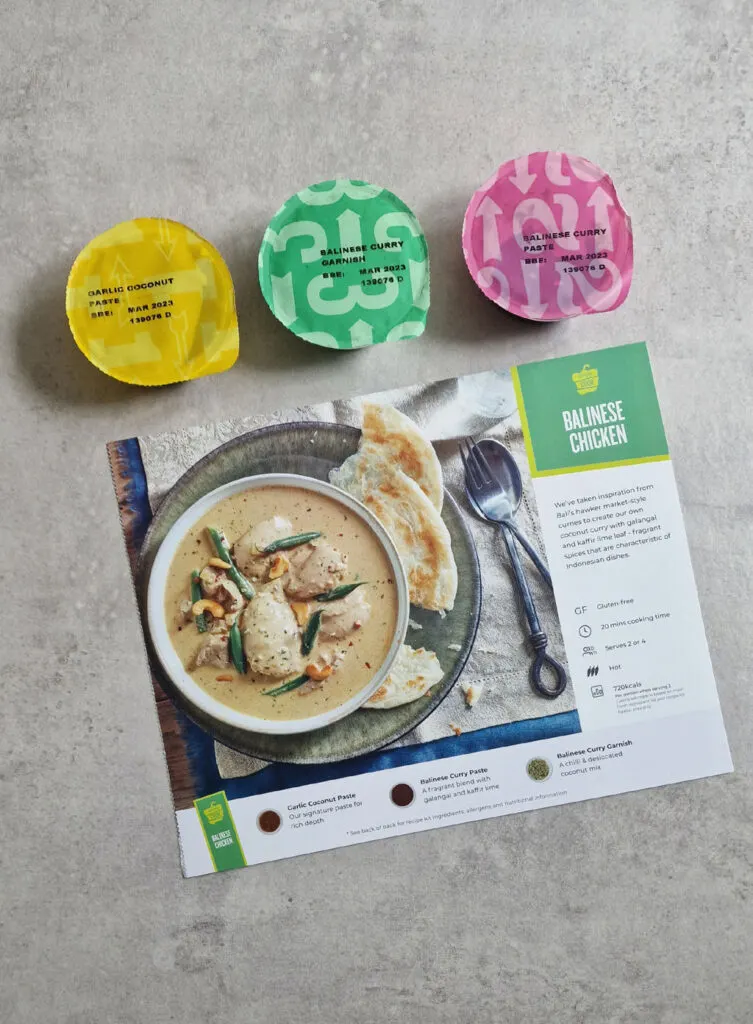 You will also need to buy:
4 chicken thigh fillets (or 6-8 if you are cooking for 4 people)
1 small onion, chopped (or 1 large for 4 people)
400ml coconut milk
150g green beans or 1 red pepper (chopped)
Store Cupboard: vegetable oil
The recipe card also offers plenty of suggestions for swapping ingredients, adding extras in and how to make it milder.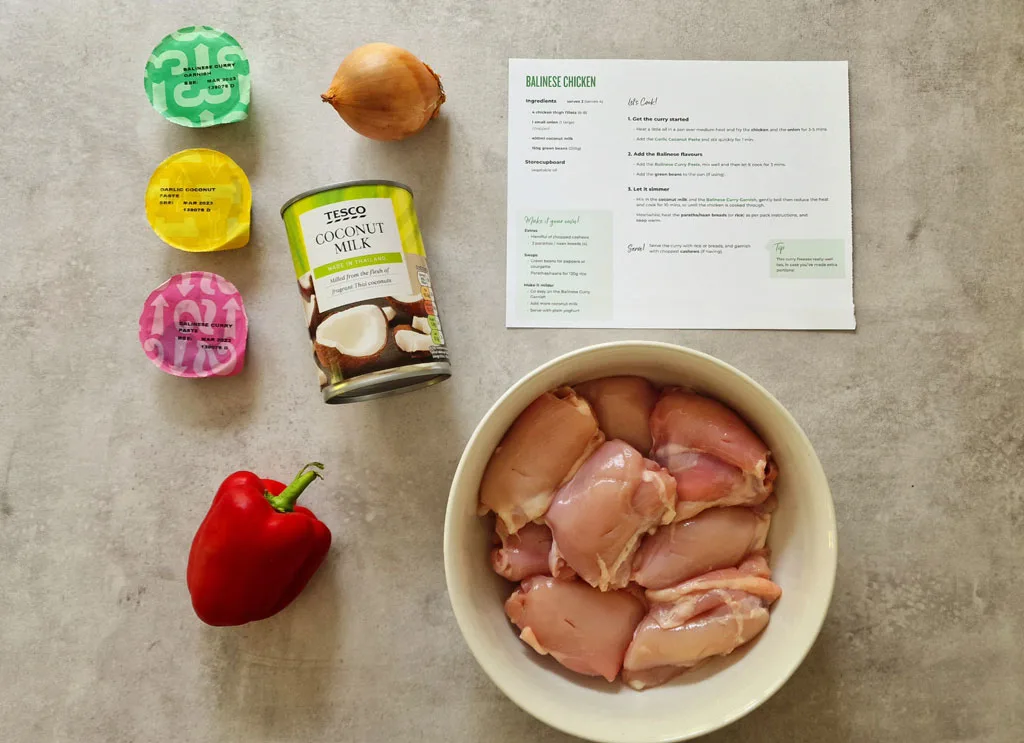 Making Simply Cook's Balinese Chicken – Step By Step
The recipe card instructions are really easy to follow and preparation is truly minimal – my favourite kind of meal!
It's only the onion and pepper (or green beans if you are using instead) that need prepping, everything else is ready to go.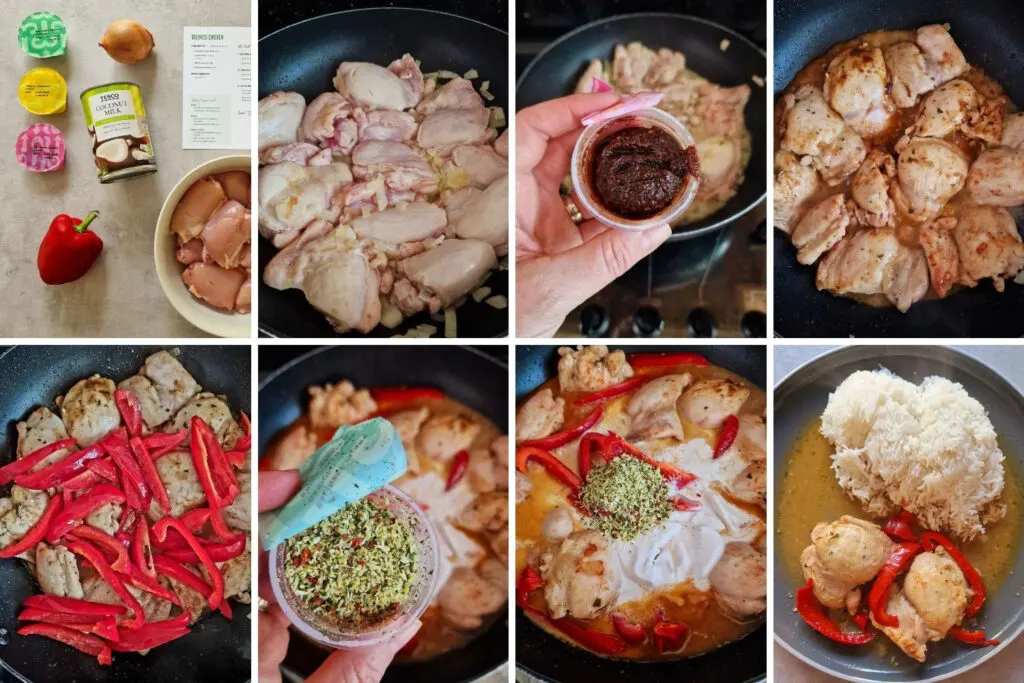 The steps to follow are (taken from the Simply Cook recipe card, shortened in places)
Heat the oil in a pan, fry the chicken and onion for 3-5 minutes. Add the Garlic Coconut Paste and stir quickly for 1 minute.
Add the Balinese Curry Paste, mix well and then let it cook for 3 minutes. Add the red pepper (or green beans if using) to the pan.
Mix in the coconut milk and the Balinese Curry Garnish, gently boil then reduce the heat and cook for 10 minutes, or until the chicken is cooked through.
While the curry is simmering you can cook the rice, or naan bread (or whatever you are serving as a side).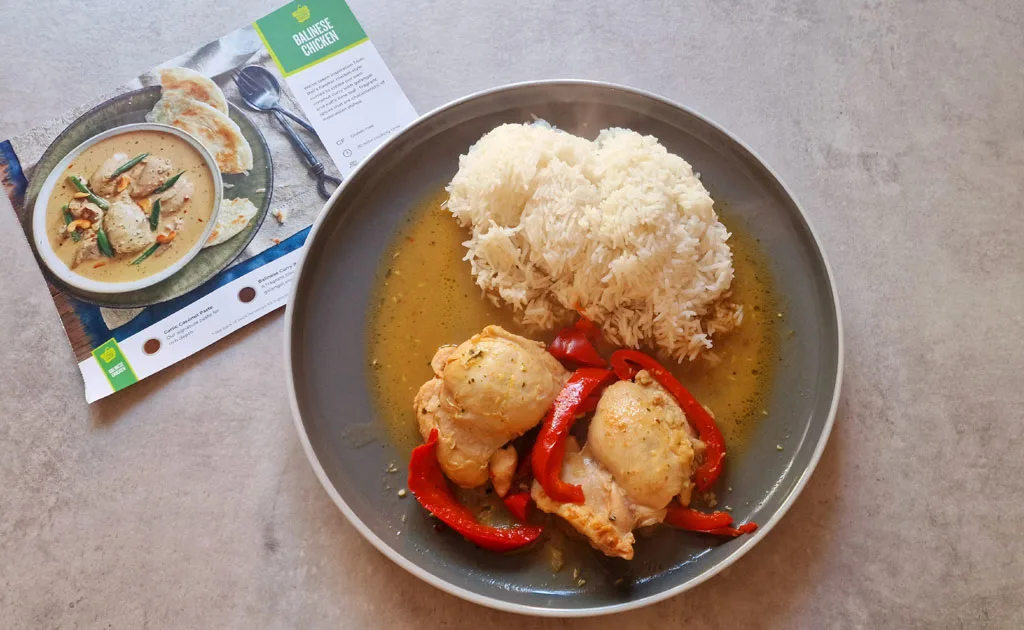 Who Are Simply Cook?
Simply Cook is a popular recipe box delivery service. It differs to many food subscription boxes in that it only sends you the 'flavours' that you need for recipe, that is, the spices, pastes and and stock.
In comparison to other leading food subscription boxes such as Hello Fresh and Gousto who provide all the ingredients required to make the recipe such as the meat, beans, vegetables etc, Simply Cook requires you to buy that yourself.
You can check out my Simply Cook review in full here.
If you want to test out a Simply Cook recipe box (containing 4 recipes) you can take a trial for just £1. If it's not for you it's easy enough to cancel your subscription.
£1 TRIAL
Simply Cook
1st box free (only pay £1 postage)
4 recipes per box
Choose from more than 140 easy-to-follow recipes
Letterbox delivery
Gluten-free, vegetarian and under-600-calorie options
Choose from a weekly or fortnightly subscription and change, pause or cancel anytime

We earn a commission if you click this link and make a purchase at no additional cost to you.