Lamb is a great meat to cook in the slow cooker because it's so tender, and there are plenty of spices you can use to make some delicious curries. This is an Indian curry recipe that I think will be perfect for anyone who loves lamb as much as I do!
I love the flavours of a good lamb curry. The combination of spices, vegetables and meat wrapped in naan bread, or poured on top of rice, is one that can't be beat.
This recipe is easy to prepare with minimal advanced work required before adding it to the slow cooker.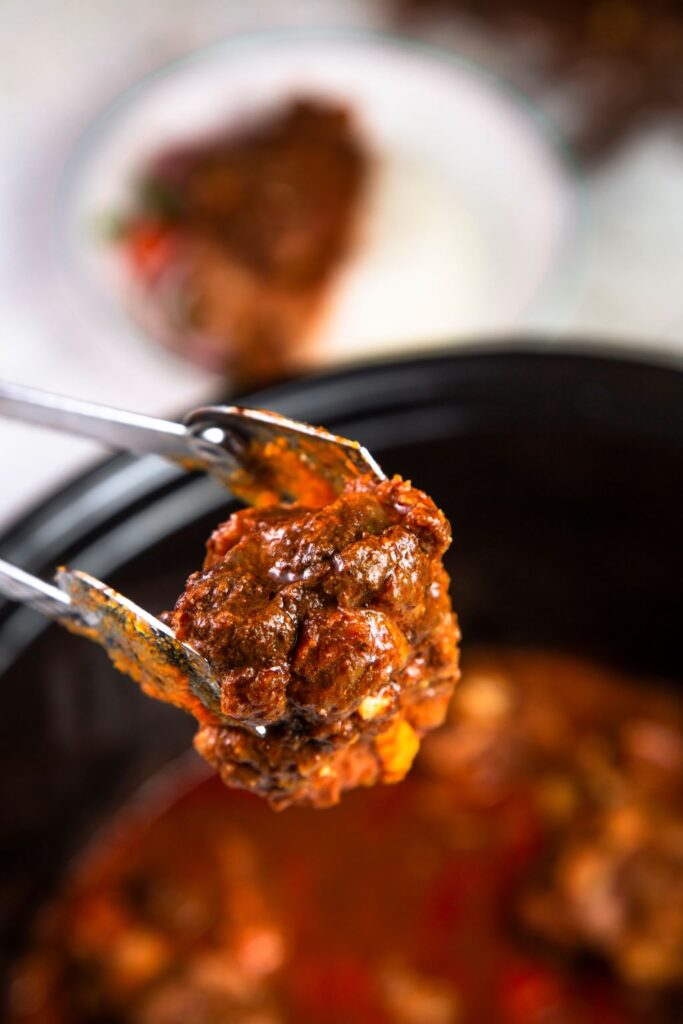 How To Make Lamb Curry In A Slow Cooker
Like most of my slow cooker recipes, all you need to do is add everything to the slow cooker and stir it together. No messing about with pre-cooking anything and creating additional washing up!
You can of course seal the lamb before adding it to the slow cooker, but this is purely optional and I don't think it is necessary.
What You Need
Please scroll down to the recipe card for the exact measurements.
Lamb, diced
Onion, garlic, ginger, cumin, cinnamon
Curry paste
Tomato puree + chopped tomatoes
Vegetable stock
Spinach (optional)
What Is The Best Cut Of Lamb For A Curry?
Lamb shoulder is a good choice for a slow cooking a curry, it is full of flavour and becomes very tender when cooked on a low heat for a long length of time. You can pick up diced lamb from the supermarket or butchers, or dice it yourself.
Do You Have To Cook Lamb Before Adding It To A Slow Cooker?
Lamb can be added raw to a slow cooker, no pre cooking is required. Some people prefer to seal lamb first by gently frying it in a separate pan, or in the slow cooker itself if your model has that feature.
What Curry Paste Should I Use?
It depends on how hot you like your lamb curries. A popular choice for lamb is Madras, but you can use something like Korma if you prefer a milder taste.
Making It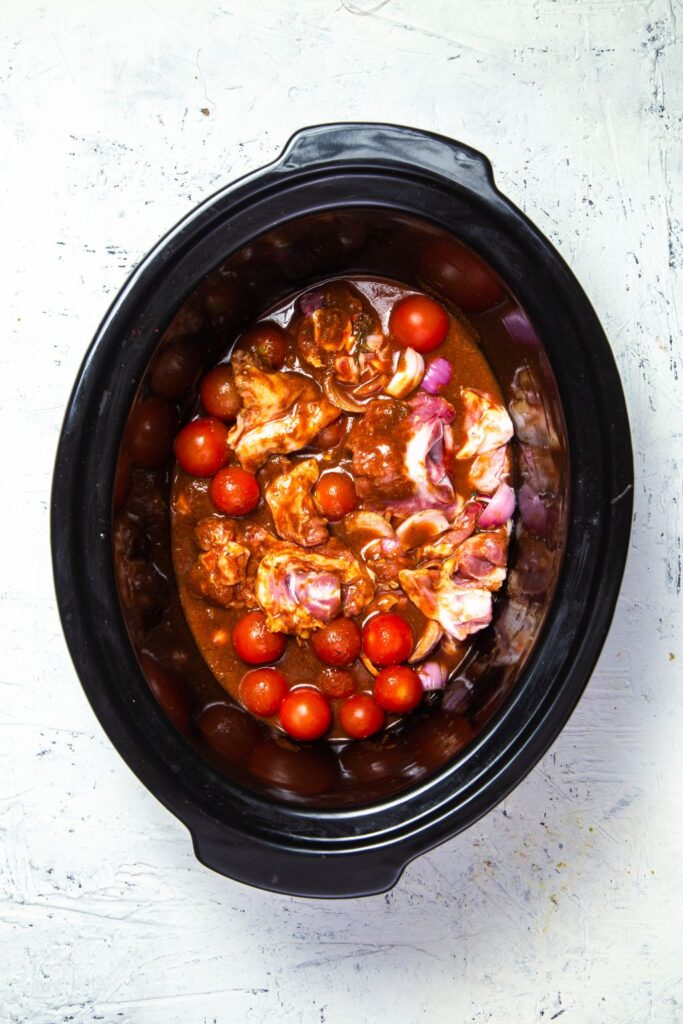 Add all the ingredients to the slow cooker, apart from the spinach (if you are using), and mix together. If you don't have any fresh tomatoes you can use a tin of chopped tomatoes instead.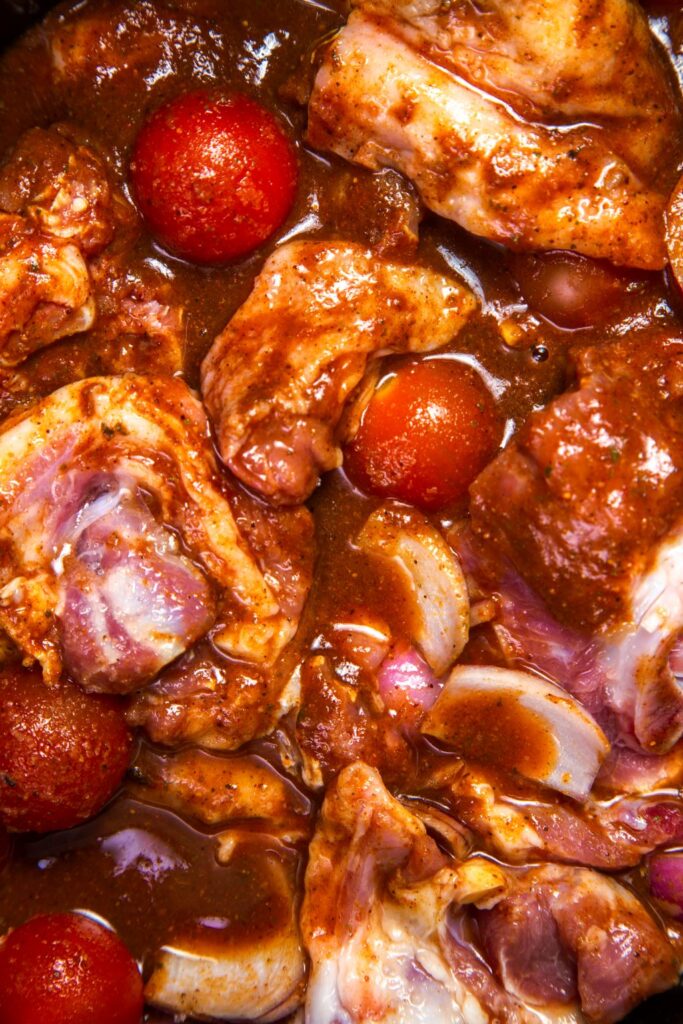 Put the lid on the slow cooker and set it off on low for 6 to 8 hours. The longer the lamb can cook on a low setting, the more soft and tender it will be.
If you are adding spinach, lift the lid and add it 20 minutes before the end.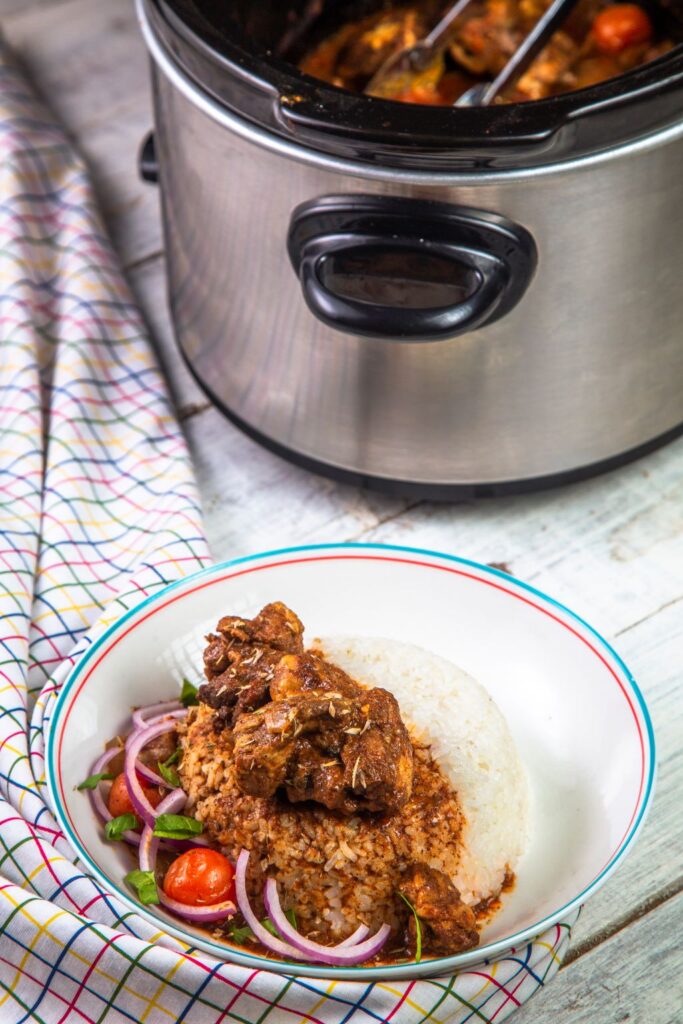 Serve with a side of rice, salad and/or naan bread.
How Long Does Lamb Curry Last?
To store any leftovers, once it has cooled, store it in an airtight container in the fridge for up to 3 days.
Can I Freeze Lamb Curry?
Yes, leave the lamb curry to cool down and then store it in a freezer friendly container for up to 3 months.
Slow Cooker Resources
I hope you enjoyed this slow cooker recipe – let me know in the comments how it went! If you want more recipes to make in your slow cooker you might be interested in;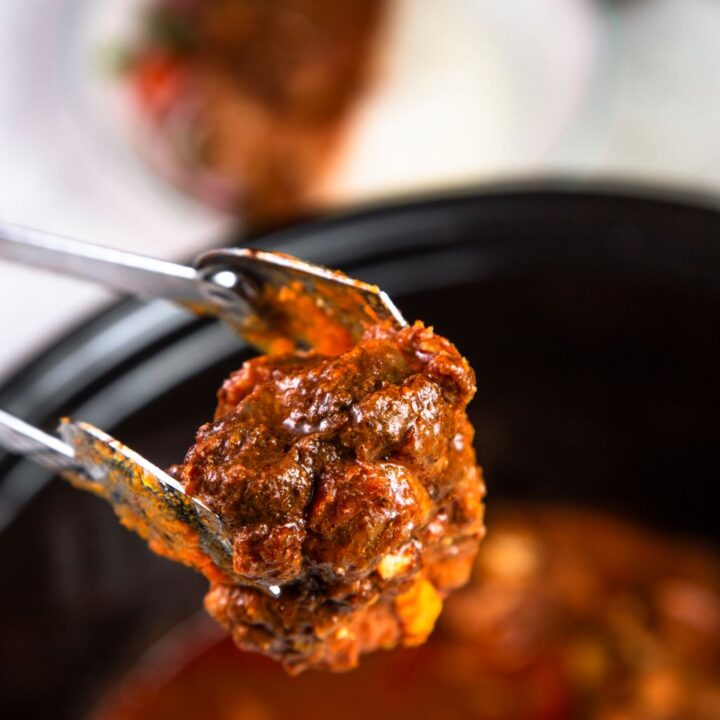 Slow Cooker Lamb Curry
Total Time:
8 hours
10 minutes
Slow cooker lamb curry is melt in the mouth tender and full of flavour. Serve with rice or naan bread.
Ingredients
600g lamb, diced
2 onions, chopped
3 garlic cloves, crushed
1 tbsp fresh ginger, grated (or 1tsp ground ginger)
6 tbsp. curry paste*
2 tsp ground cumin
1 tsp ground cinnamon
4 tbsp. tomato puree
400g tomatoes (fresh or tinned)
1 vegetable stock cube dissolved in 50ml hot water
A handful of baby spinach (optional)
Instructions
1. Mix all the ingredients together in the slow cooker, apart from the spinach, if using.
2. Set off on low for 6-8 hours, or until the lamb is soft and tender. If you are adding spinach, lift the lid and stir in and leave to cook for a further 20 minutes.
3. Serve with rice and naan bread.
Notes
Curry Paste - you can use your favourite curry paste for this, madras is a popular one with lamb, but if it's too hot, use a milder one such as korma. You can also make your own curry paste if you have the time or inclination! Increase or reduce the amount of curry paste you add according to your own taste.
Nutrition Information:
Yield:

4
Serving Size:

1
Amount Per Serving:
Calories:

530
Total Fat:

32g
Saturated Fat:

13g
Trans Fat:

0g
Unsaturated Fat:

16g
Cholesterol:

146mg
Sodium:

826mg
Carbohydrates:

19g
Fiber:

4g
Sugar:

7g
Protein:

40g