If you're looking for a delicious and healthy alternative to traditional meat burgers, this spicy bean burger recipe is perfect!
Made with mixed beans, red onion, chillies and spices, these burgers are packed with flavour and nutrition.
Plus, they're easy to make and can be grilled or baked.
Read on for a step by step guide on how to make a spicy bean burger.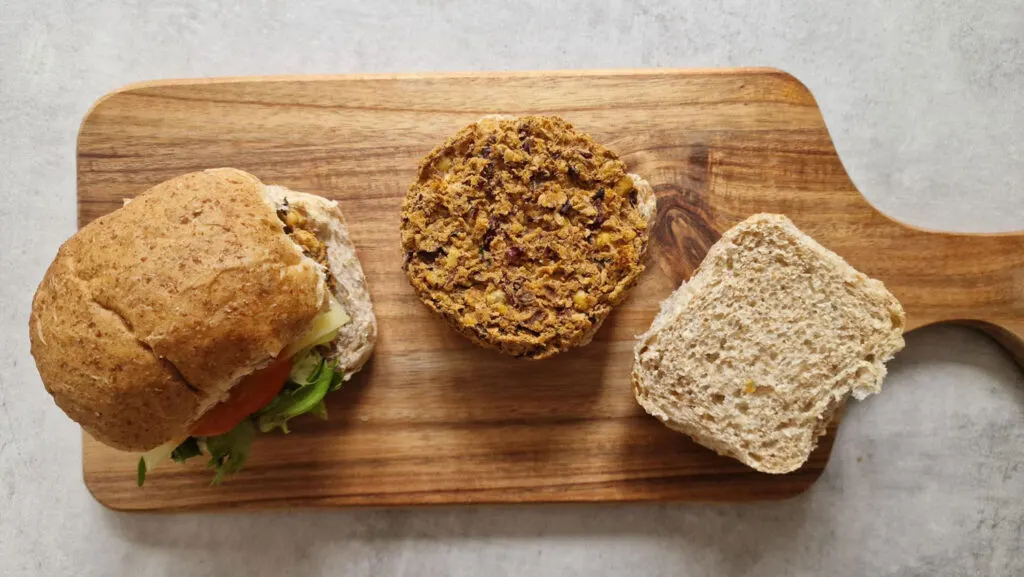 What Are Bean Burgers Made Of?
Most bean burgers are made with a combination of beans, breadcrumbs, and seasonings.
The type of beans used can vary, but black beans, chickpeas and kidney beans are the most popular options.
Dried beans are usually cooked until they are soft and then mashed or pureed before being mixed with the other ingredients. This helps to bind the burger together and gives it a firm texture.
I tend to use tinned beans for convenience and speed, but I will cover both methods using dried beans or tinned beans.
In addition to breadcrumbs, many recipes also call for chopped onions and garlic, as well as spices such as chilli powder, cumin, and paprika.
Once the burgers are formed, they can be cooked on the grill, in a frying pan, in the oven or in an air fryer.
Bean burgers are a delicious and hearty alternative to traditional beef burgers.
Spicy Bean Burger Ingredients
The ingredients below are enough to make 4 bean burgers.
You can double up if you are serving more people, or, if you want to freeze some of them to use at a later date (freezing and reheating instructions will be covered further down).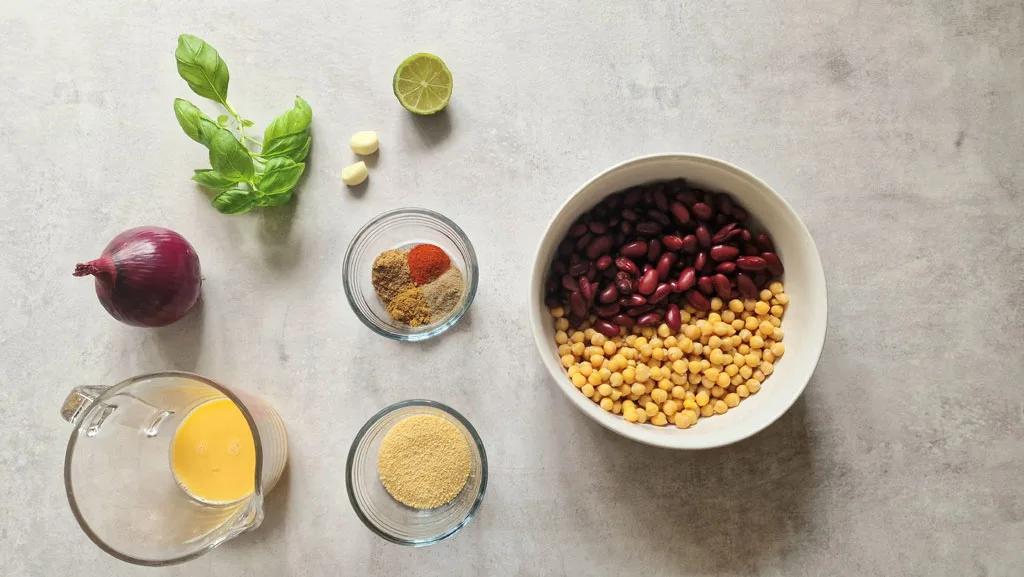 1 tbsp olive oil
2 x 400g cans of beans*, drained and rinsed
1 red onion, chopped
1 red chilli, seeded and chopped (optional)
2 cloves of garlic, crushed
1 egg, beaten
50g breadcrumbs
1 tsp each of ground cumin, coriander, smoked paprika and ground black pepper
15g fresh coriander or basil, chopped
Juice of 1/2 lime
What Beans To Use In A Bean Burger
As mentioned earlier, you can use dried beans or tinned beans.
It's of course much easier to use tinned beans as all you need to do is mash them before moulding them into burgers, dried beans will require that you soak overnight and cook them.
But, on the flip side, dried beans are more economical, especially as you can buy them in bulk.
No matter whether you are cooking with dried or tinned beans, you can pick your favourite variety. I like to use 2 tins of mixed beans but you can mix and match.
Below are some options to choose from;
chickpeas
kidney beans
black beans
cannellini
Cooking Dried Beans
If you are using dried beans, remember to factor in the longer cooking time and overnight soak.
Cooking time for dried beans varies according to the bean variety, the age of the bean as well as the presoak time.
Allow at least 1 hour to cook soaked dried beans, after rinsing them from their overnight soak, add them to a large pot and cover with water (double the amount of water vs beans). Bring to the boil and then reduce to a simmer and cook for about 1 hour, or until they are tender.
If you have a pressure cooker you can also skip the overnight soaking and pressure cook for about 40 minutes.
What Spices To Use In A Spiced Bean Burger
You can use any combination of spices. I used 1 tsp each of ground cumin, ground coriander and smoked paprika. However, you can use 1 tbsp of curry powder, or a piri piri or fajita spice mix.
How To Make Spicy Bean Burgers – Step By Step
To print out this recipe head down to the recipe card at the bottom.
Preheat the oven to 200C/fan 180C/Gas Mark 6.
Heat the oil in a frying pan and cook the chopped onions for 2 to 3 minutes, or until soft, before adding the crushed garlic and chopped red chilli (if using). Cook for a further 30 seconds.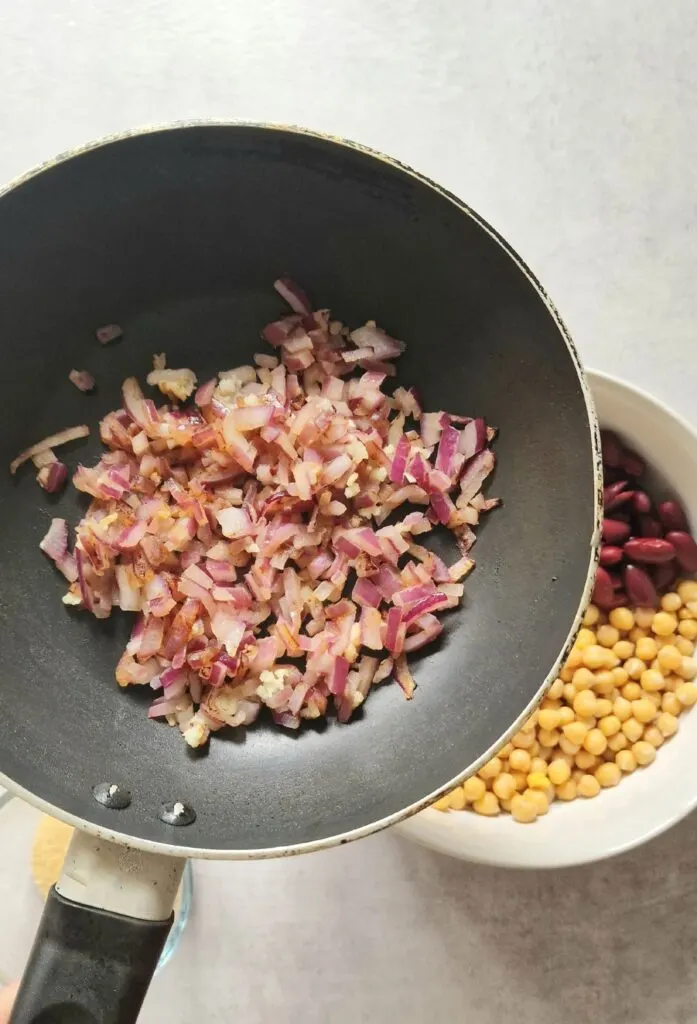 Add the drained and rinsed tinned beans or cooked dried beans to a large bowl and either mash with a potato masher, or, use a food processor.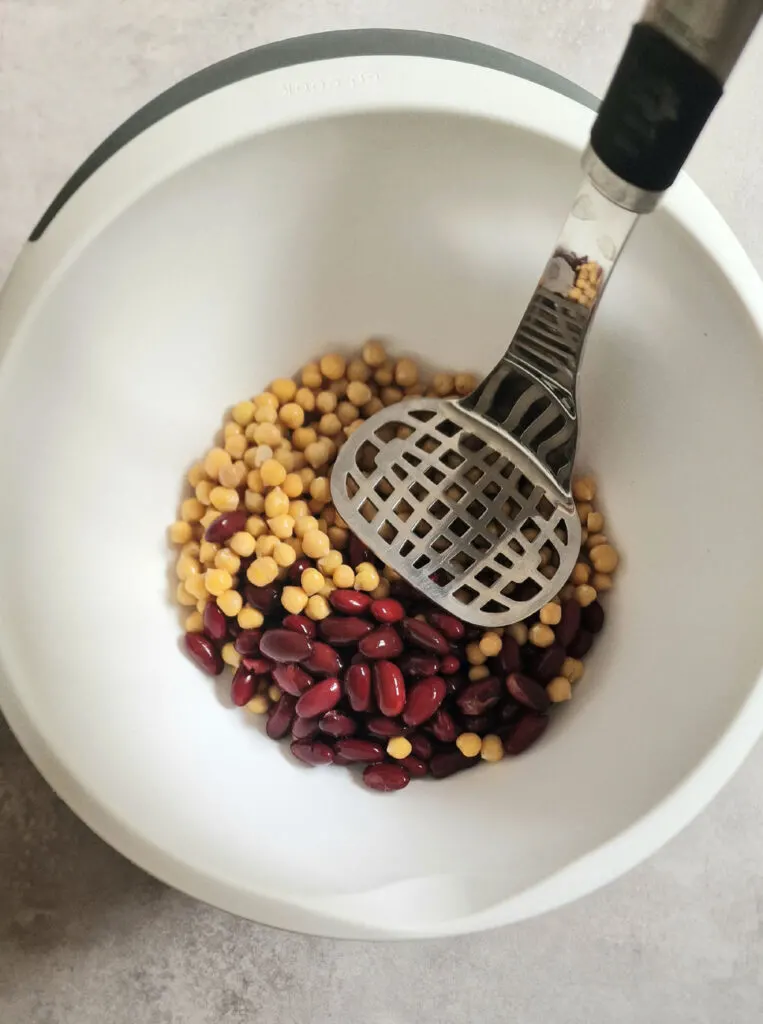 Add in the spice and any additional salt and pepper as required.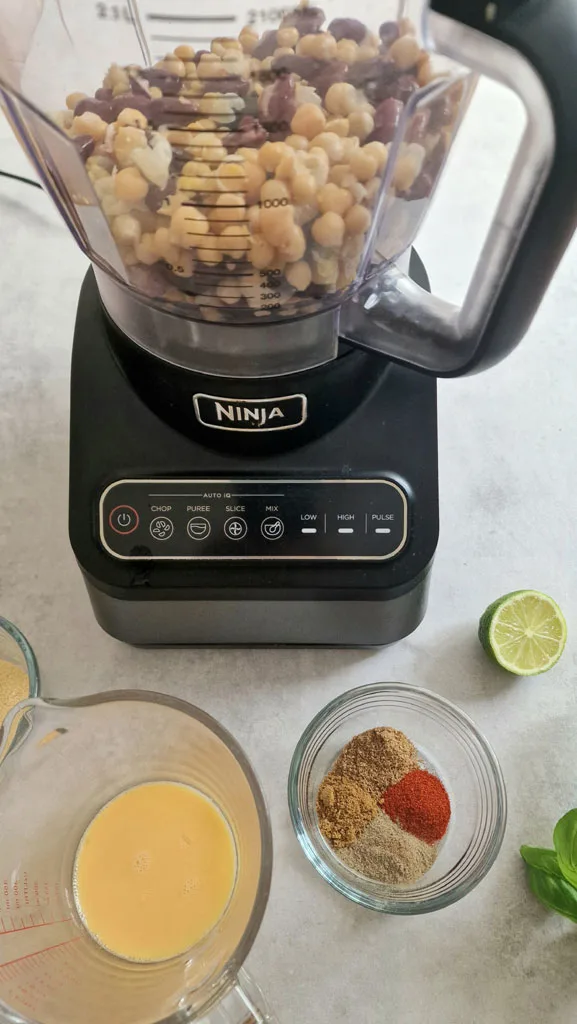 Add the beaten egg, lime juice, breadcrumbs and the chopped fresh coriander or basil. Mix until everything is well combined.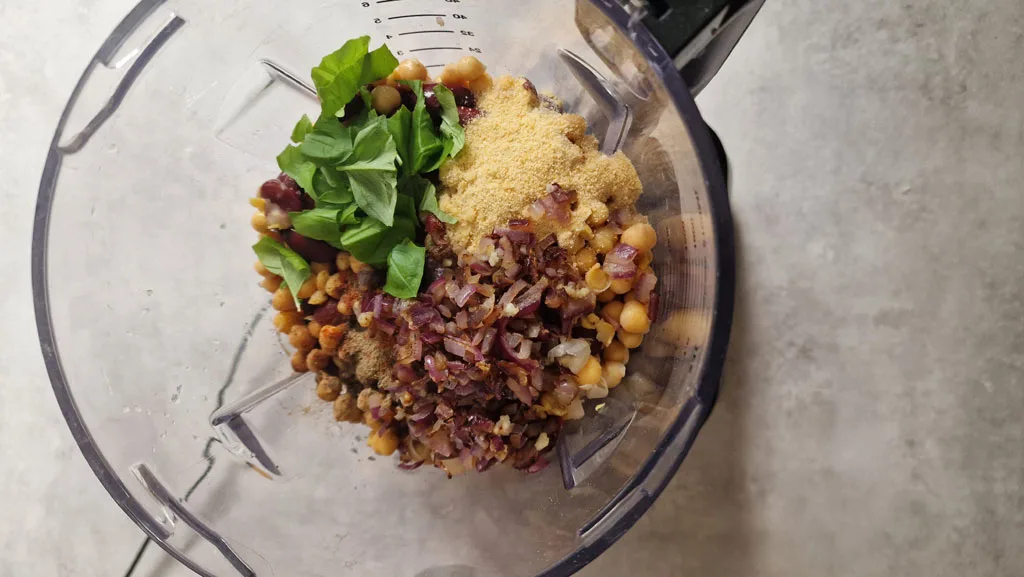 If you are using a food processor, don't over mix it, you want to have some texture to the burger.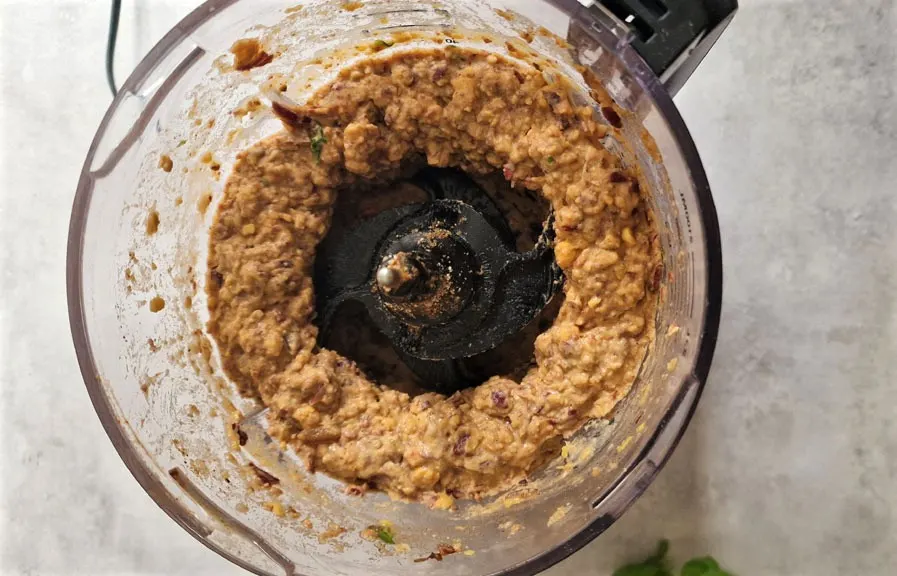 Using your hands or a burger press, mould into 4 burger shapes.
Place the burgers on a lined or greased baking sheet and lightly brush with a little olive oil. Cook in the oven for 20 to 25 minutes, or until they are lightly browned and piping hot throughout.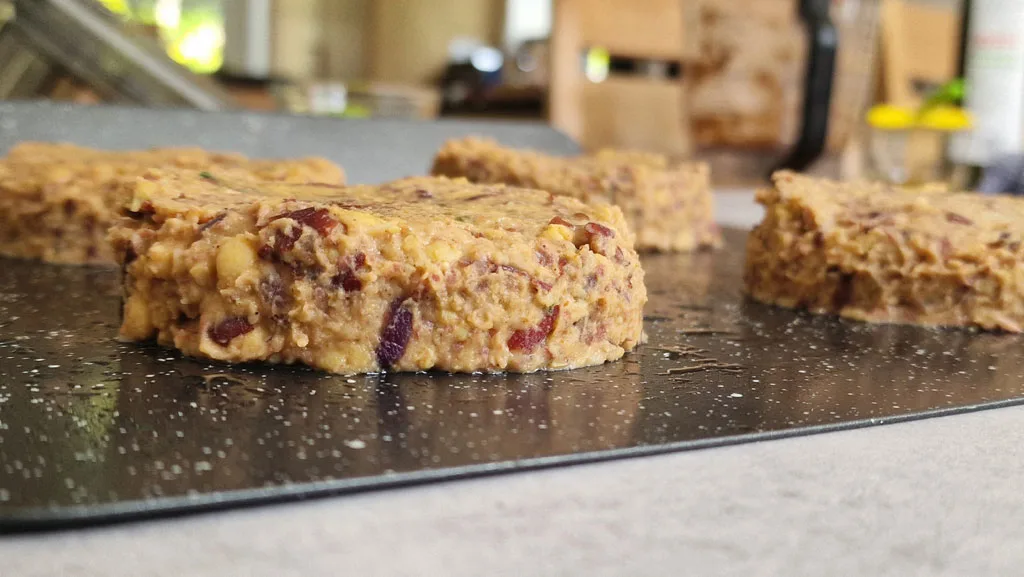 Can You Cook Bean Burgers In An Air Fryer?
Yes, you can. They won't take as long to cook in an air fryer – check on them at 15 minutes.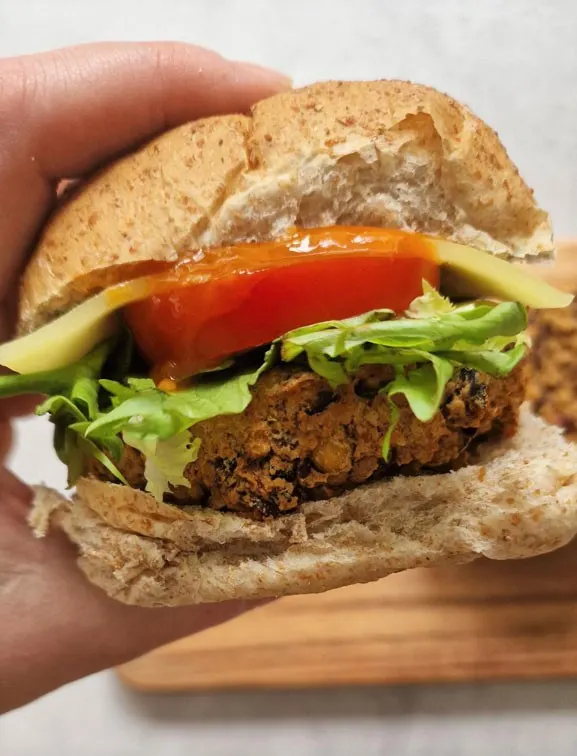 Can You Freeze Spicy Bean Burgers?
Yes, these burgers freeze well. Let them cool completely and then place them in a freezer-safe bag or container for up to 3 months.
To reheat, you can cook them from frozen (200C/Fan 180C/Gas Mark 6) for about 15 minutes or until they are cooked throughout.
You can also freeze them before you cook them, at the moulding stage. Lay them out on a lined baking sheet and place them in the freezer until they are solid. Remove from the baking sheet and transfer to a freezer safe bag or container.
They can also be cooked from frozen at 200C/Fan 180C/Gas Mark 6 for about 25 to 30 minutes, or until hot throughout.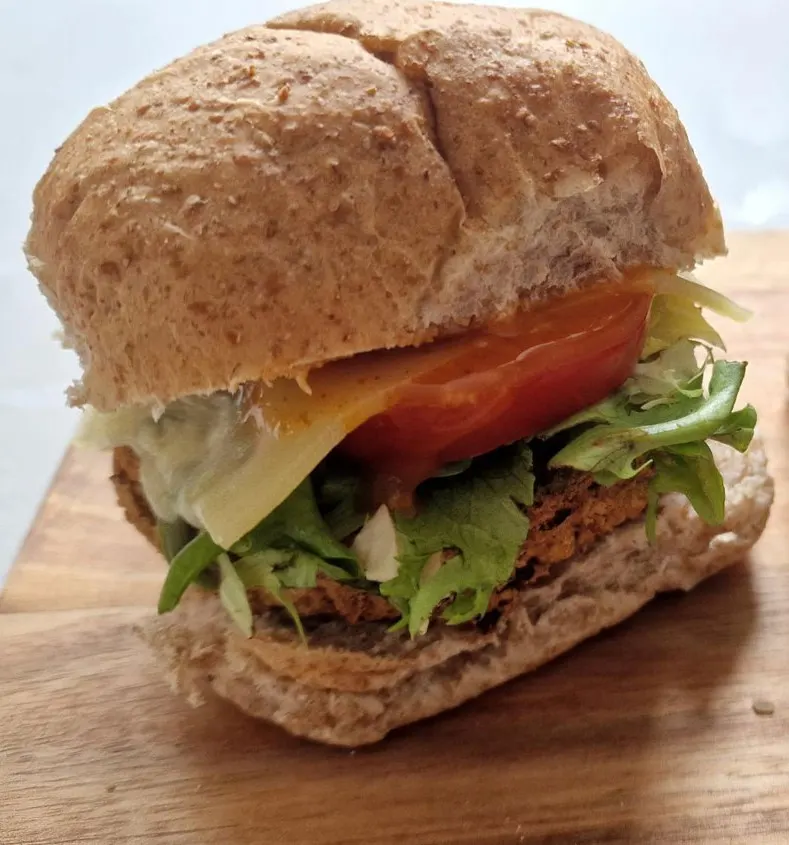 What To Serve With Spicy Bean Burgers
Spicy bean burgers can be served up in toasted burger baps with some melted cheese and salad, or, served alone without any bread alongside a mixed salad.
I like to pour some Nando's Peri-Peri sauce over them, or garlic mayo.
Spicy bean burgers also work well with potato wedges or rice.