Although this Greek salad recipe is perfect for summertime, it can be enjoyed any time of the year.
Today, we're going to show you how to make a Greek salad that is perfect for any summer party or barbecue!
You'll love the combination of ingredients in this salad. This recipe is easy to follow and doesn't require many ingredients.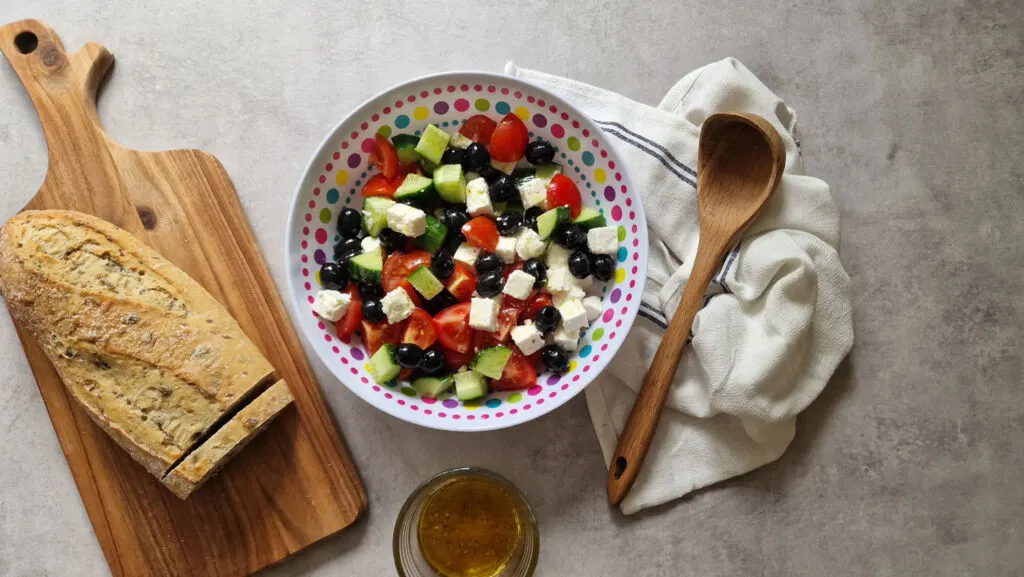 What Is A Greek Salad Made Of?
A Greek salad is a simple salad made with chopped cucumbers, tomatoes, onions, feta cheese, and olives.
It is typically dressed with olive oil, sometimes mixed with red wine vinegar.
How To Make Greek Salad
The key to a good Greek salad is choosing the right ingredients. Fresh, high-quality olives, feta cheese, and tomatoes are essential.
The salad also usually includes cucumbers, onions, and sometimes peppers. For a traditional touch, add a few slices of Greek-style bread.
Greek Salad Ingredients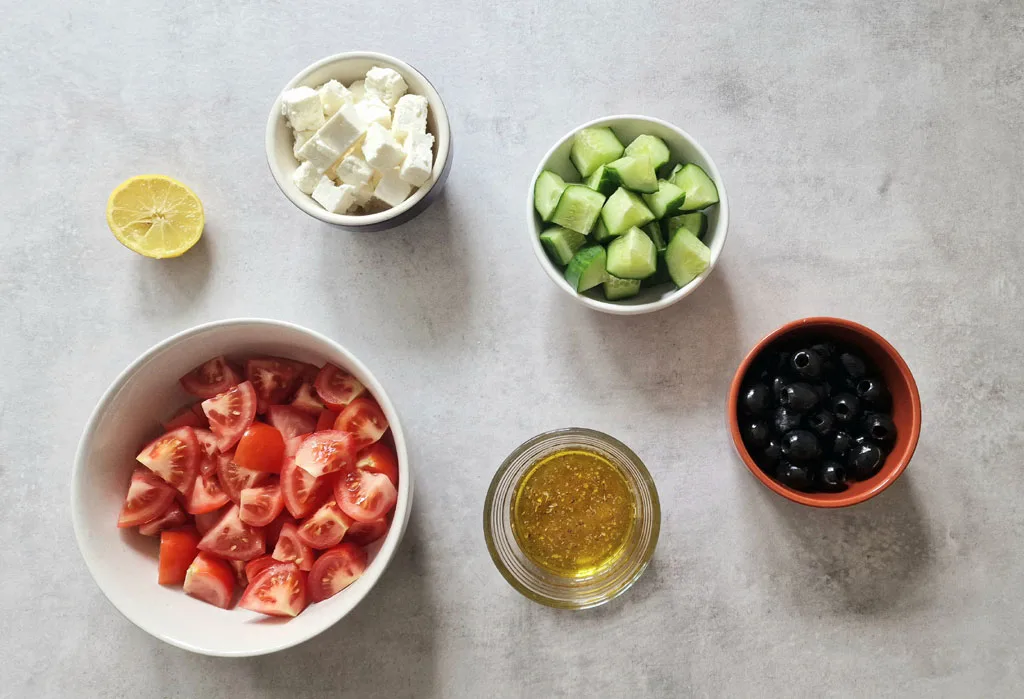 The following quantities are enough for 2 to 4 servings depending on whether you are serving it as a side dish or a main meal. Adjust according to how many people are eating.
To print out this recipe, scroll down to the bottom to the recipe card.
6 large ripe tomatoes
1 cucumber
100g black olives
150g feta cheese
Juice of 1/2 a lemon
3 tbsp extra virgin olive oil
1 tbsp red wine vinegar (optional)
Salt and ground black pepper to season
Once you have gathered all the ingredients, it is time to start preparing and assembling the salad.
Start by chopping the tomatoes and cucumber into bite-sized pieces and place them in a large bowl.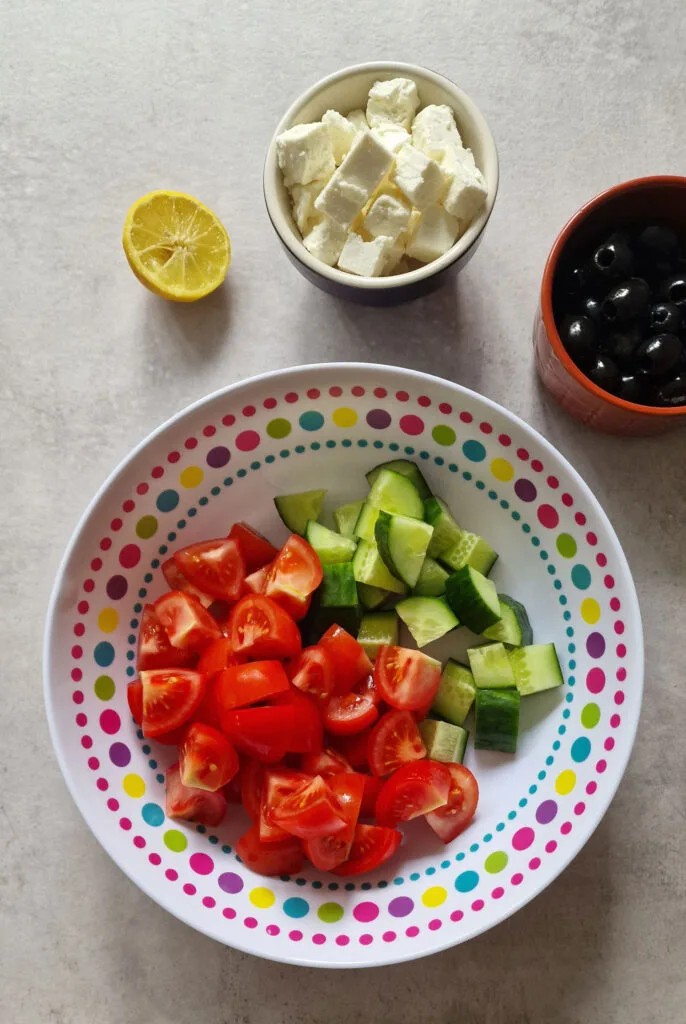 Drain the feta cheese and chop it into small chunks and add to the tomatoes and cucumber.
If you are using canned olives drain them before adding them to the salad.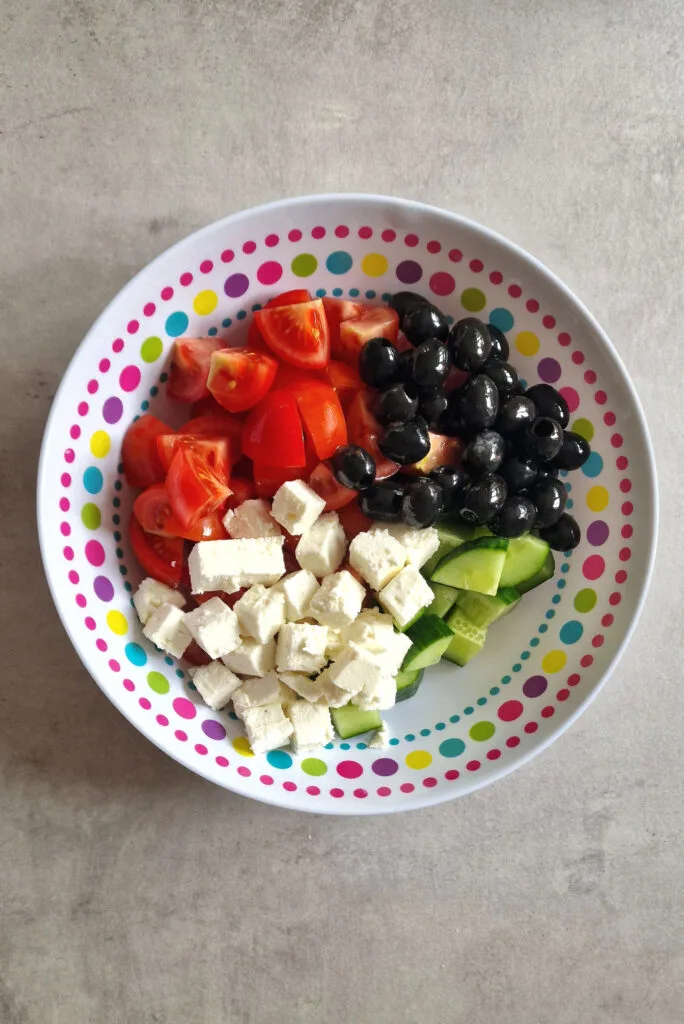 Once everything is chopped and mixed together, squeeze some lemon juice over the salad.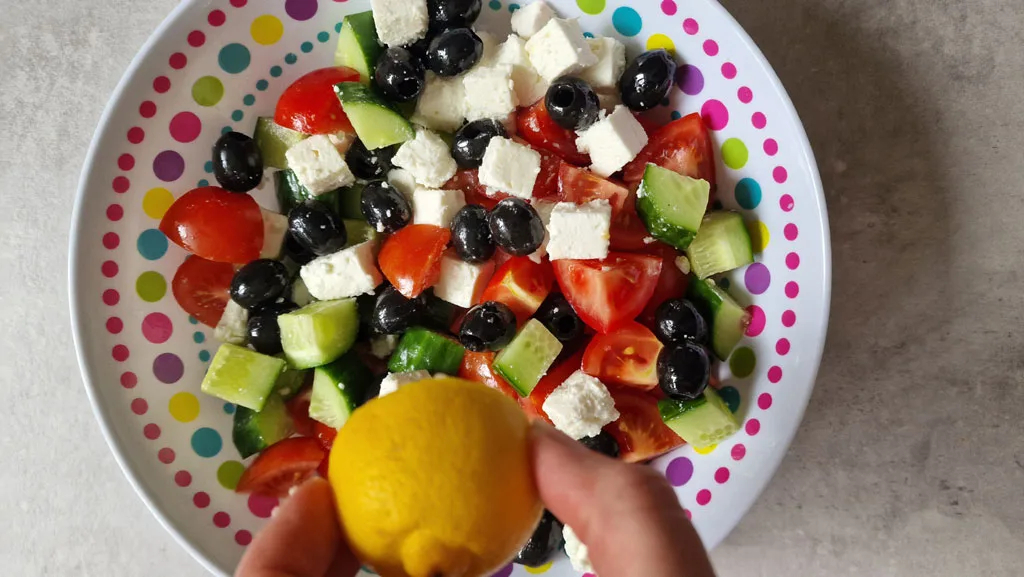 Now it is time to add the dressing. A simple dressing of olive oil and vinegar is all that is needed to bring out the flavours of the salad.
For a finishing touch, sprinkle some dried oregano on top.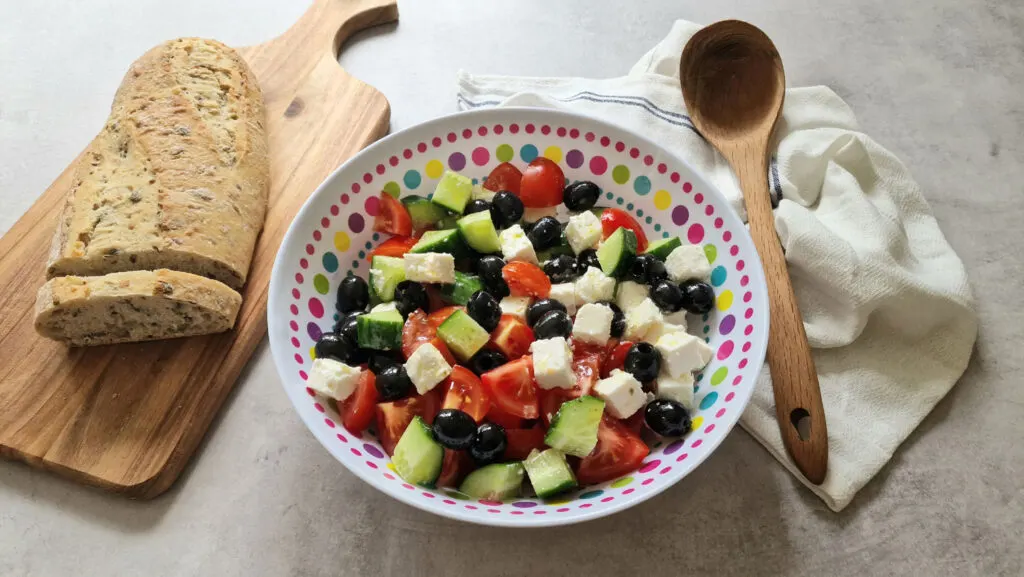 What Tomatoes Should I Use In A Greek Salad?
Tomatoes are a key ingredient in many Greek salads. There are many different types of tomatoes, and each one has its own unique flavour and texture.
For a classic Greek salad, it is best to use Roma or beef tomatoes – but any large ripe tomatoes will be ok.
What Are The Best Olives For A Greek Salad?
Olives are another key ingredient in Greek salad. The most common type of olive used is the Kalamata olive.
These olives are large, dark, and have a slightly fruity flavour. If you can't find Kalamata olives, any black olives will be ok.
What Is The Best Cheese For A Greek Salad?
Feta cheese is a perfect choice for a Greek salad. It is a salty, crumbly cheese that is made from sheep's milk. Feta pairs well with the other ingredients in a Greek salad, such as olives, tomatoes, and cucumbers.
The strong flavours of feta cheese also help to offset the sweetness of the dressing.
Another good option for a Greek salad is goat's cheese. Goat cheese is a creamy, mild-tasting cheese that is made from goat's milk.
Related: Cheese Varieties
Greek Salad Dressing
A good quality olive oil is often enough to drizzle over a Greek Salad. Sometimes extras are added in such as lemon juice, vinegar, garlic, salt, and pepper.
Other common ingredients include oregano, thyme, and mustard.
The proportions of these ingredients can vary depending on personal taste, but the goal is to create a balance of sour, salty, and sweet flavours.
Greek salad dressing is traditionally used on salads made with fresh vegetables like tomatoes, cucumbers, onions, and olives.
It can also be used as a marinade for grilled meats or fish.
When made with quality ingredients, Greek salad dressing is a delicious and healthy way to add flavour to any dish.
What To Serve With Greek Salad
Greek salad is a versatile dish that can be served as a main course or as a side dish.
If you are serving it as a main, it goes well with grilled chicken or fish.
Greek salad is best enjoyed fresh, but it will keep in the fridge for up to two days.
If you are looking for a light and healthy summer recipe, look no further than this classic Greek salad.