There's nothing quite like a roast leg of lamb on a Sunday afternoon.
It's the perfect dish for a family gathering, and it's surprisingly easy to cook!
Roasting a leg of lamb is a simple way to produce a flavourful and elegant main course.
In this recipe, we will walk you through the steps necessary to make a perfect roast leg of lamb.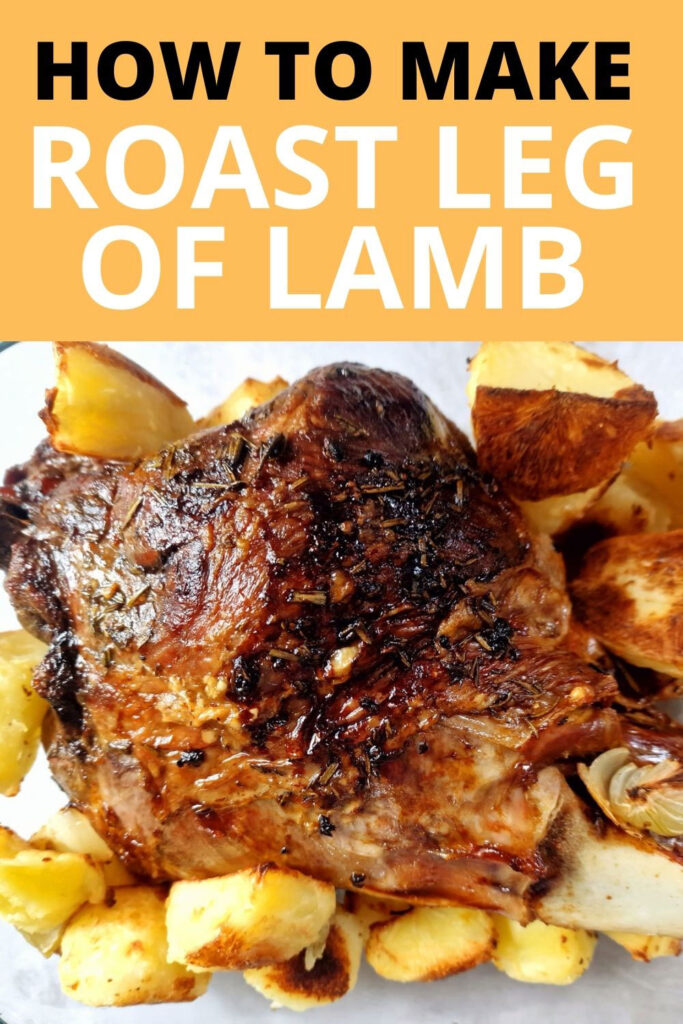 How To Make Roast Leg of Lamb
The key to success is to start with a good quality cut of meat and to cook it slowly so that the flavour has a chance to develop.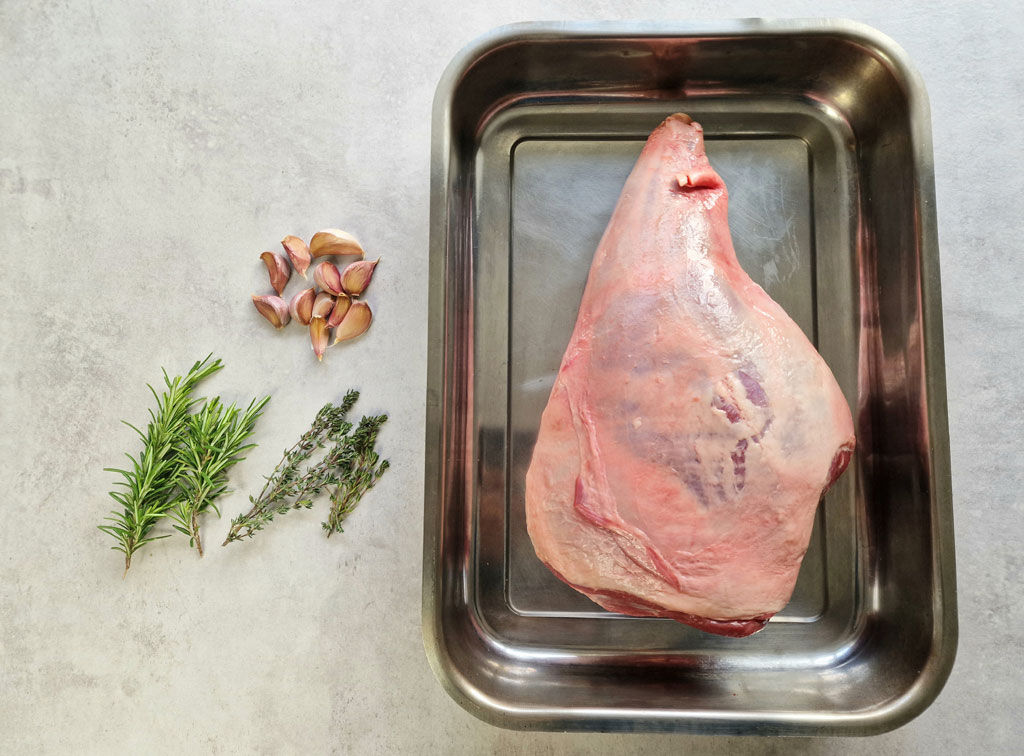 Remove the leg of lamb from the fridge and leave it at room temperature for about 1 hour before preparing. This will help to ensure that the meat cooks evenly.
Prepare The Leg Of Lamb Marinade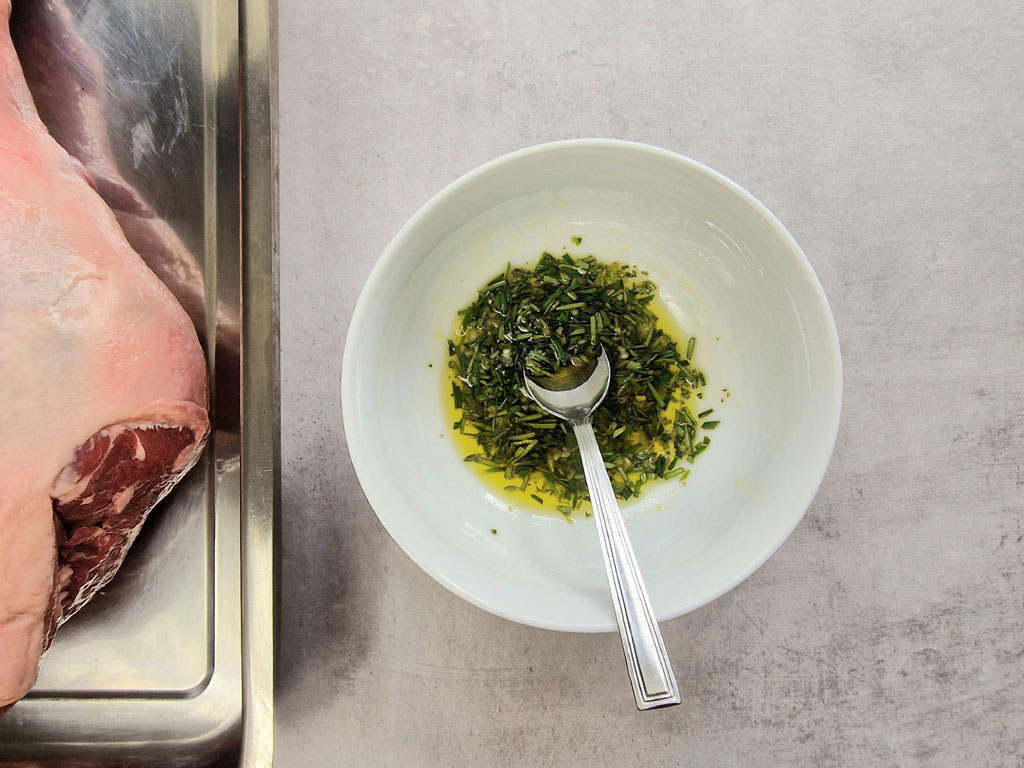 To begin, preheat the oven to 180C/160C Fan/Gas Mark 4.
Then, rub the leg of lamb with a mixture of olive oil, garlic, and herbs. Optionally add in some chopped onions and bashed garlic cloves.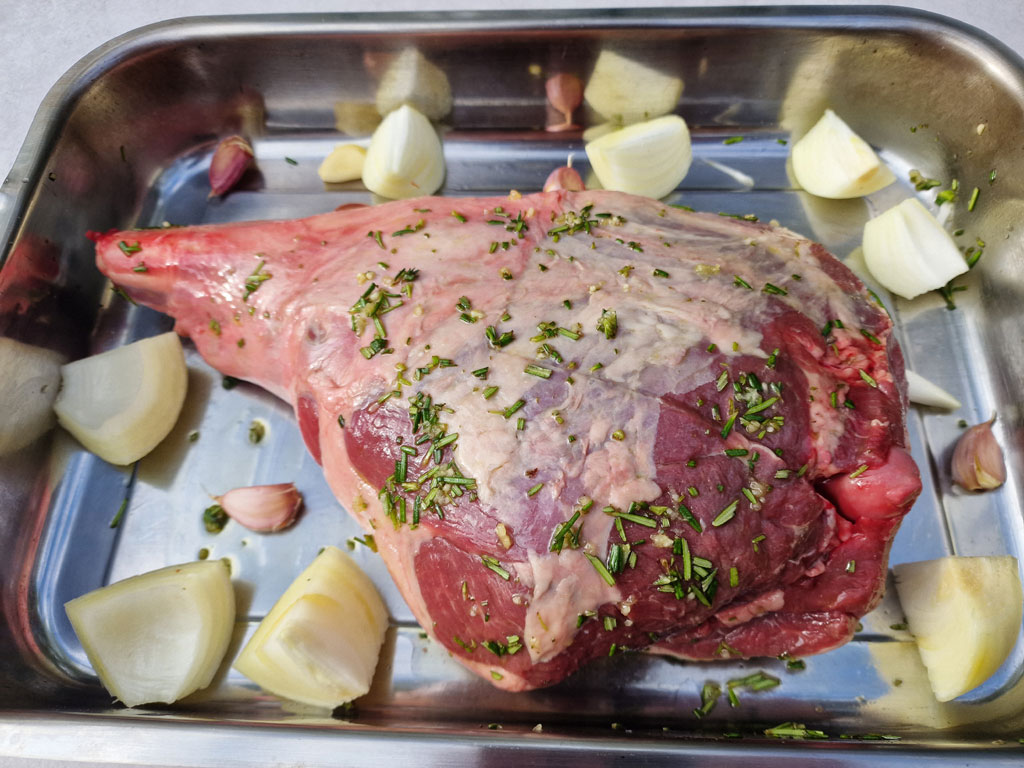 Roast for about an hour and a half (more details on the leg of lamb cooking times below).
When the meat is cooked through, remove it from the oven and let it rest for 10 minutes before carving. This will give the juices time to redistribute throughout the meat, resulting in a juicy and delicious final product.
What Is The Cooking Time For A Roast Leg Of Lamb?
The cooking time for a roast leg of lamb will vary depending on the size of the lamb you are using.
As a rough rule, for well-done lamb cook for 30 minutes per 500g plus 30 minutes, and for a medium lamb cook for 25 minutes per 500g plus 25 minutes.
Cook at 180C/160C Fan/Gas Mark 4.
Oven capabilities do vary so check on the lamb during the cooking time to make sure it isn't cooking too quickly.
Leg of Lamb Cooking Times
| WEIGHT | MEDIUM | WELL DONE |
| --- | --- | --- |
| 1kg | 1hr15 | 1hr30 |
| 1.5kg | 1hr40 | 2hrs |
| 2kg | 2hrs05 | 2hrs30 |
| 2.5kg | 2hrs25 | 3hrs |
What Size Leg Of Lamb Do I Need?
The below weights are approximate suggestions for the size of lamb you should get depending on how many people you are serving.
2 people – 1kg
4 people – 1.5kg
6 people – 2kg
8 people – 2.5kg
Should A Leg Of Lamb Be Covered When Roasting?
No, a leg of lamb doesn't need to be covered when roasting, unless the outside is browning too quickly.
The olive oil and garlic mixture that is rubbed into the meat before cooking will help to create a flavourful and succulent final product.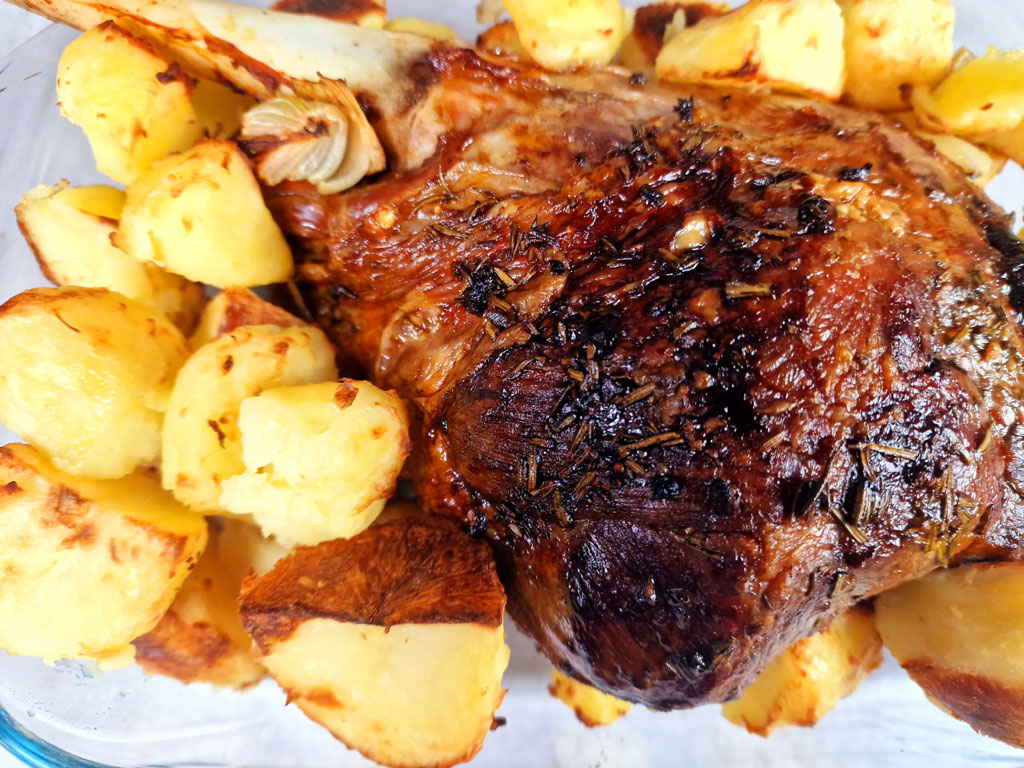 What Herbs Go Best With Lamb?
Some of our favourite herbs to use with lamb are rosemary, thyme, and mint.
You can either use fresh or dried herbs, depending on what you have available.
What To Serve With Roast Leg of Lamb?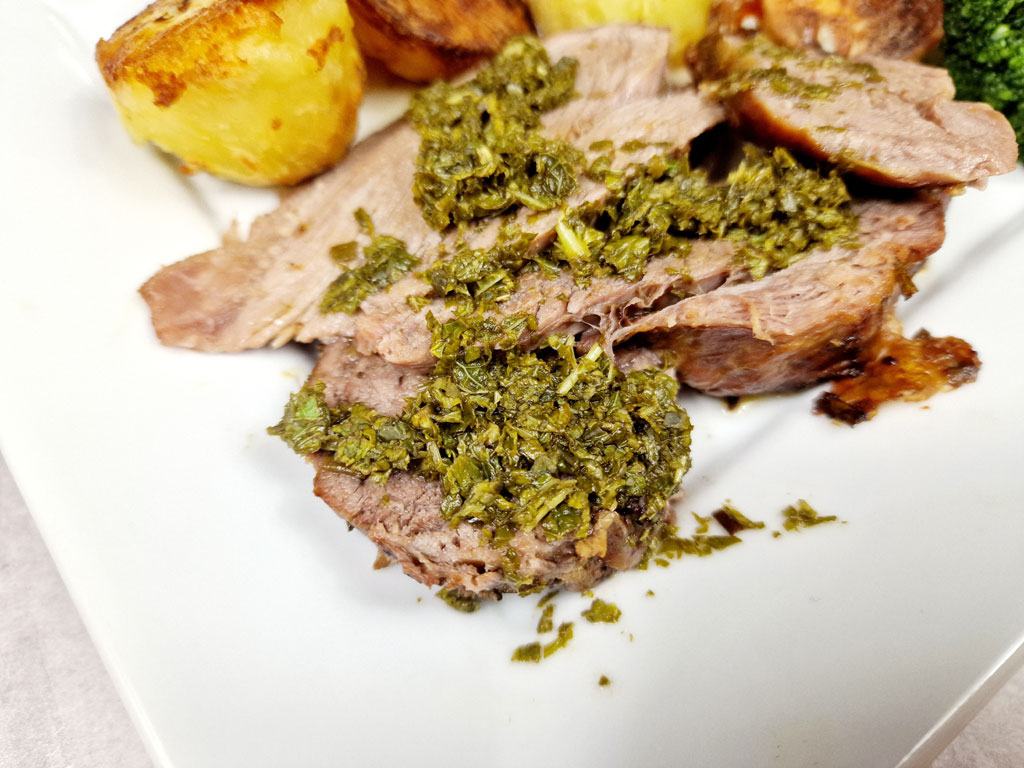 There are many delicious sides that go well with a roast leg of lamb. Of course, the most favourite sauce is typically mint sauce, but you could also try garlic or peppercorn sauce.
Some of our favourite vegetables include roasted potatoes, green beans, carrots, and a simple green salad.
How Long Does Cooked Lamb Last In The Fridge?
Cooked lamb will last in the fridge for up to four days.
Make sure to store it in an airtight container so that it doesn't dry out.
Can I Freeze Cooked Lamb?
Yes, cooked lamb can be frozen.
Again, make sure to store it in an airtight container so that it doesn't dry out.
Frozen lamb will last for up to three months.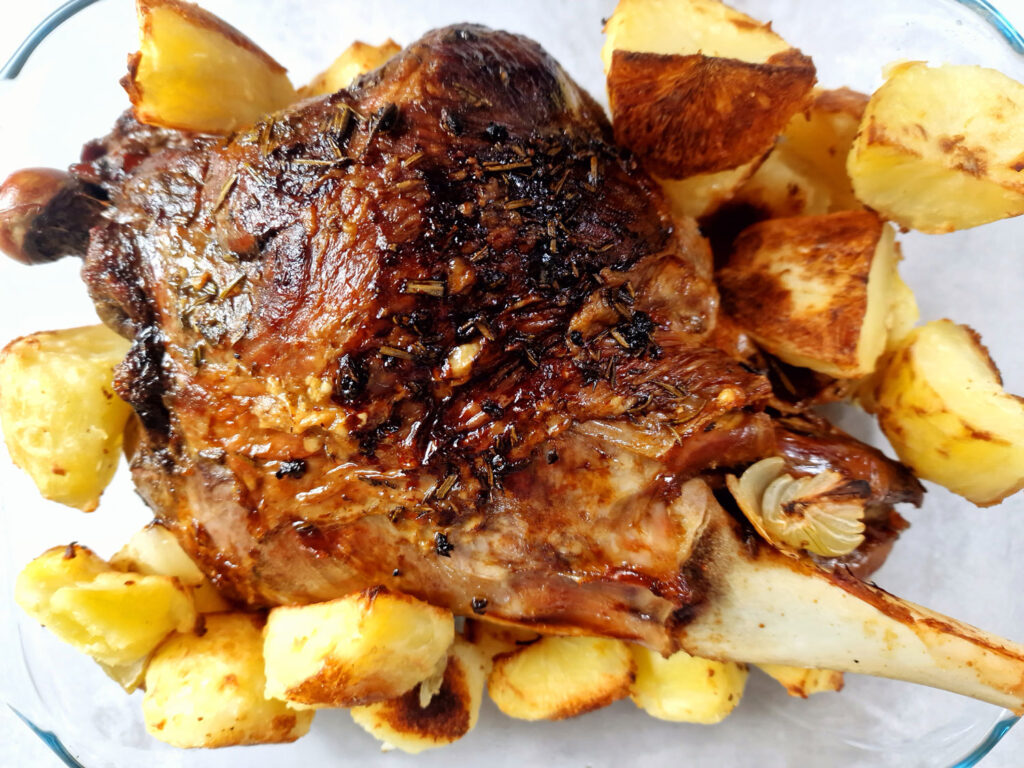 I hope you enjoy this roast leg of lamb recipe, let me know in the comments how you like your lamb!