A Strawberry and banana smoothie is the perfect drink to cool off and relax on a hot summer's day, or to enjoy as a breakfast smoothie.
This drink uses fresh fruit rather than frozen to provide a stronger flavour, but frozen can be used too. This classic smoothie is so quick to make and is naturally sweet, so it is a handy smoothie to know.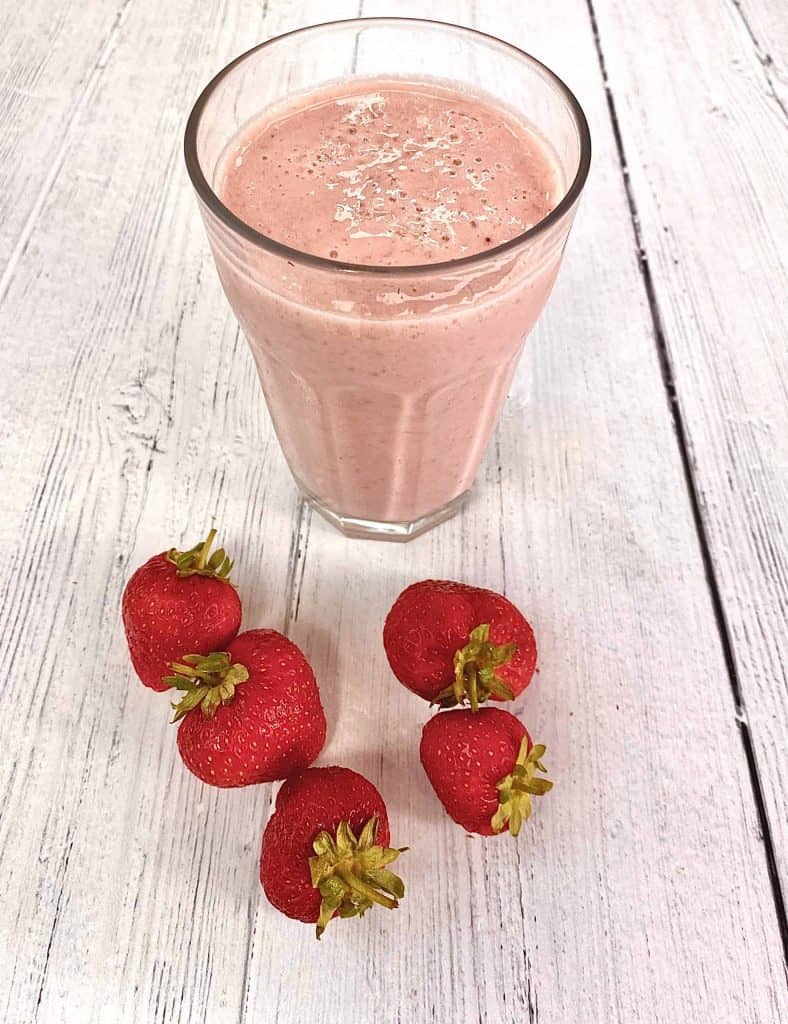 Personally, it is my favourite smoothie- the strawberry and banana flavours compliment each other really well.
The milk and yoghurt give the smoothie a smooth, creamy consistency, as well as a protein boost.
In this smoothie, I used fresh fruit, as it is more flavoursome, and inexpensive (it was summer when I made it), but during other times of the year, frozen is ok too.
Fresh strawberries can sometimes be expensive, so you can substitute them with frozen strawberries. Fresh bananas are cheap and available, so I always use them, but like with the strawberries, you can use frozen ones too.
I made this in my Ninja blender but you can use any blender you have.
Using Frozen Fruit In Smoothies
Adding frozen fruit and ice to smoothies thickens them up (until they defrost or melt), so if you use frozen fruit, you should leave out the ice, as it makes it thicker.
Strawberry and Banana Smoothie Ingredients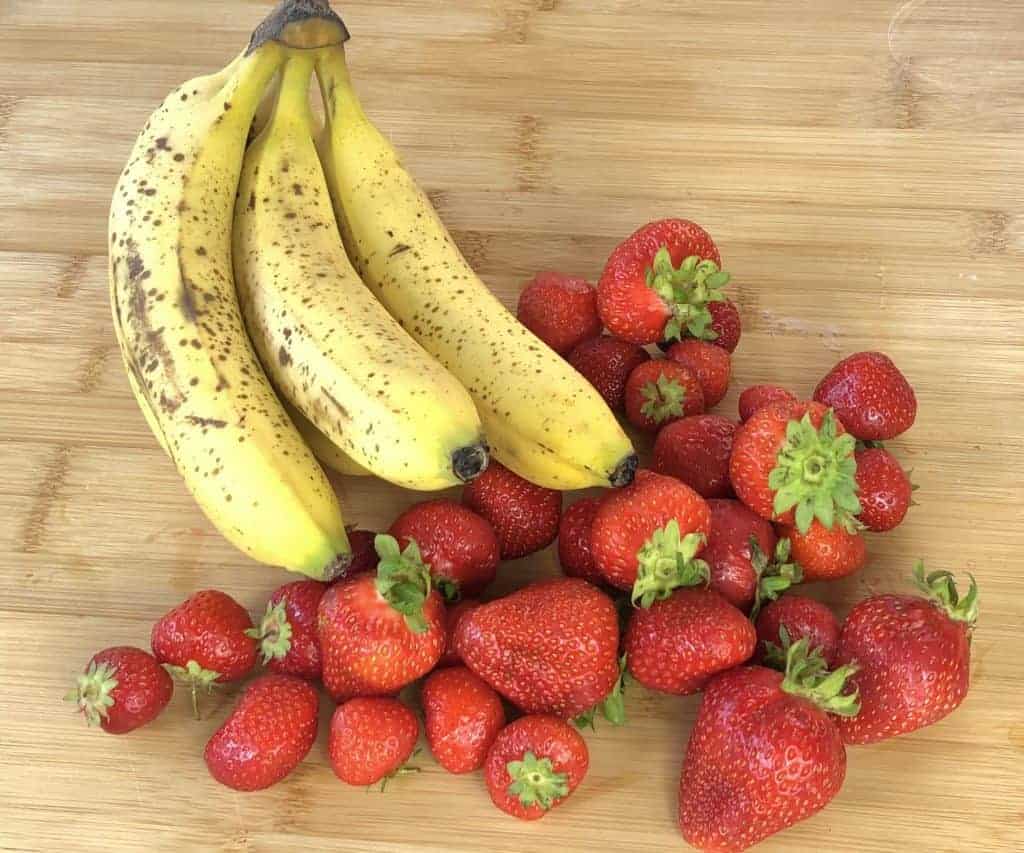 There are no specific measurements you need to follow for this smoothie, it all just depends on your personal preferences.
Want a thicker more banana tasting smoothie? Add more bananas.
Want a thinner smoothie? Add more milk or less ice.
Have fun experimenting, and find what you like.
Strawberries – I used fresh, but frozen can work just fine too, just don't add any ice.
Bananas – I find fresh tends to taste better, but again, you can use frozen. The riper, slightly spottier bananas are great as they have a sweeter, more noticeable flavour.
Milk – I just used semi-skimmed milk, but you can substitute it for a dairy-free alternative if you want eg. almond or soya milk.
Yoghurt – This helps create the smooth, creamy texture we're after. It makes the smoothie better but isn't essential if you don't have any. Instead, you can add some almond butter, or just not add anything.
Ice – How much ice you add changes the consistency of the smoothie, but if your smoothie has a lot of ice, then it will get considerably thinner and more watery as it warms to room temperature, so if it isn't going to be drunk immediately, bear this in mind.
How To Make A Smoothie More Filling
If you want some more health benefits or want to be filled up more, try adding some milled flaxseed or oats to the smoothie- they're packed with goodness, although they do make it thicker, so compensate by adding more milk.
Making The Smoothie
Smoothie making is very simple and only takes about 5 minutes from start to finish.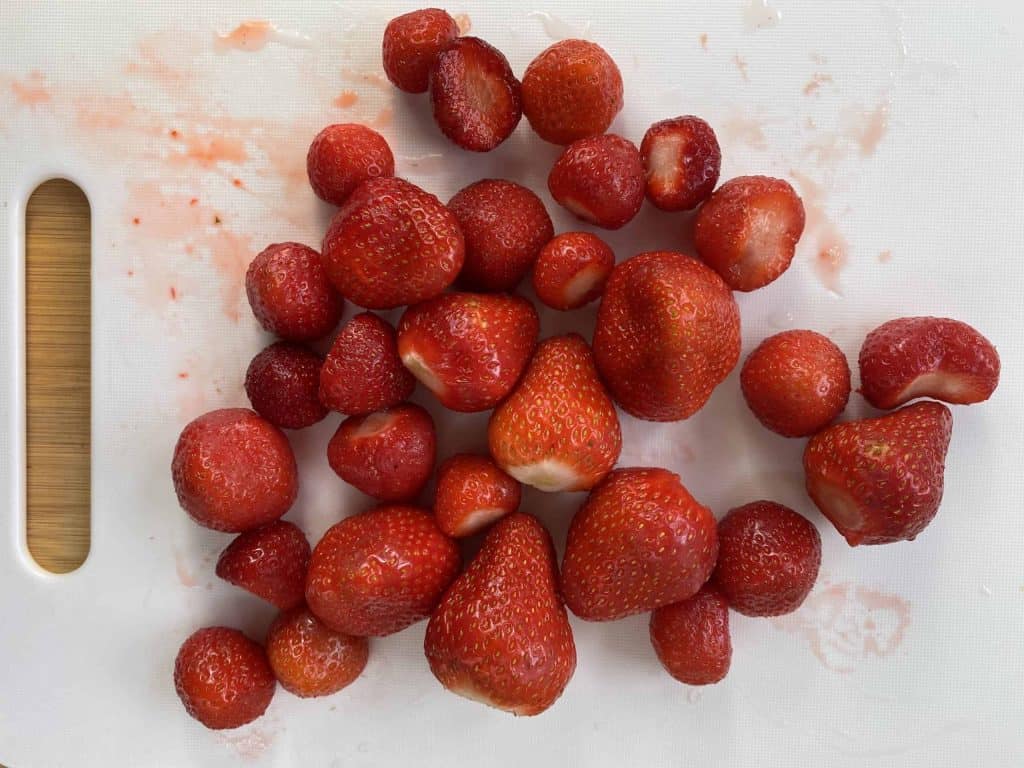 Start by preparing the strawberries, if you are using fresh ones, wash them, and then remove the leaves. Chop or break the bananas up into smaller slices and chunks.
Add all of the ingredients to the blender.
Add a large handful of ice if using fresh fruit.
Pulse in increasing bursts for about 30 seconds, by which time the contents should be a smooth, light pink colour.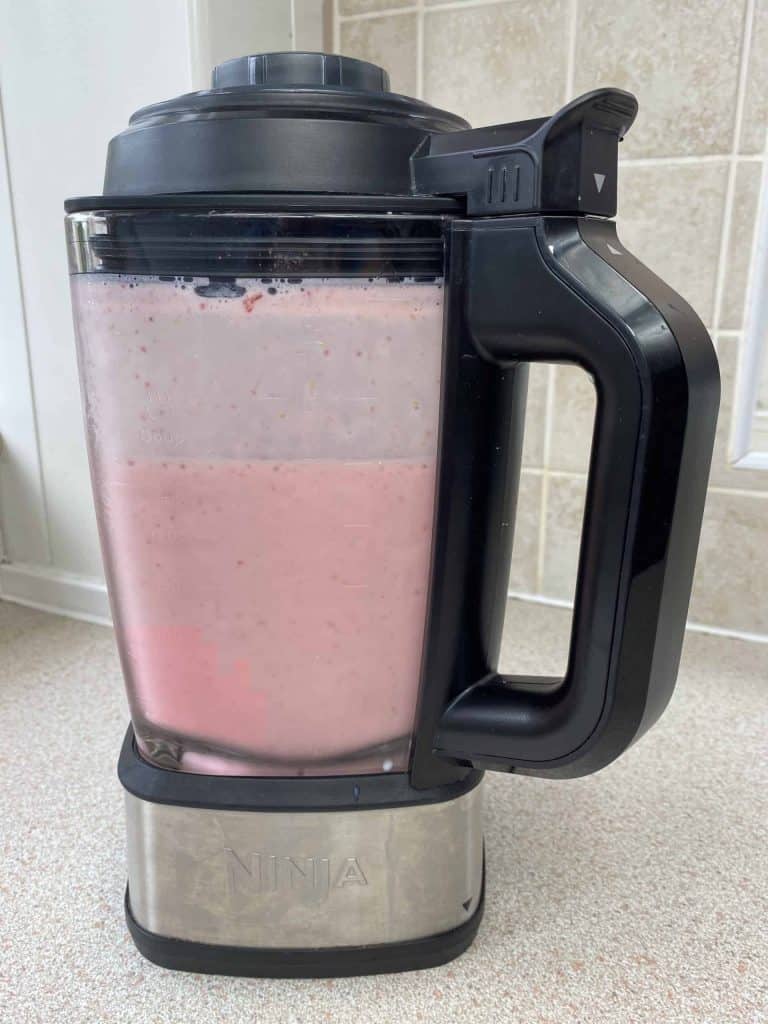 Serve and enjoy!