Follow this quick and easy recipe for roasting pumpkin in your air fryer.
Whether you want to enjoy roasted pumpkin chunks as a side dish, turn them into pumpkin puree, or make a soup out of them, air-frying roasted pumpkin is a simple process.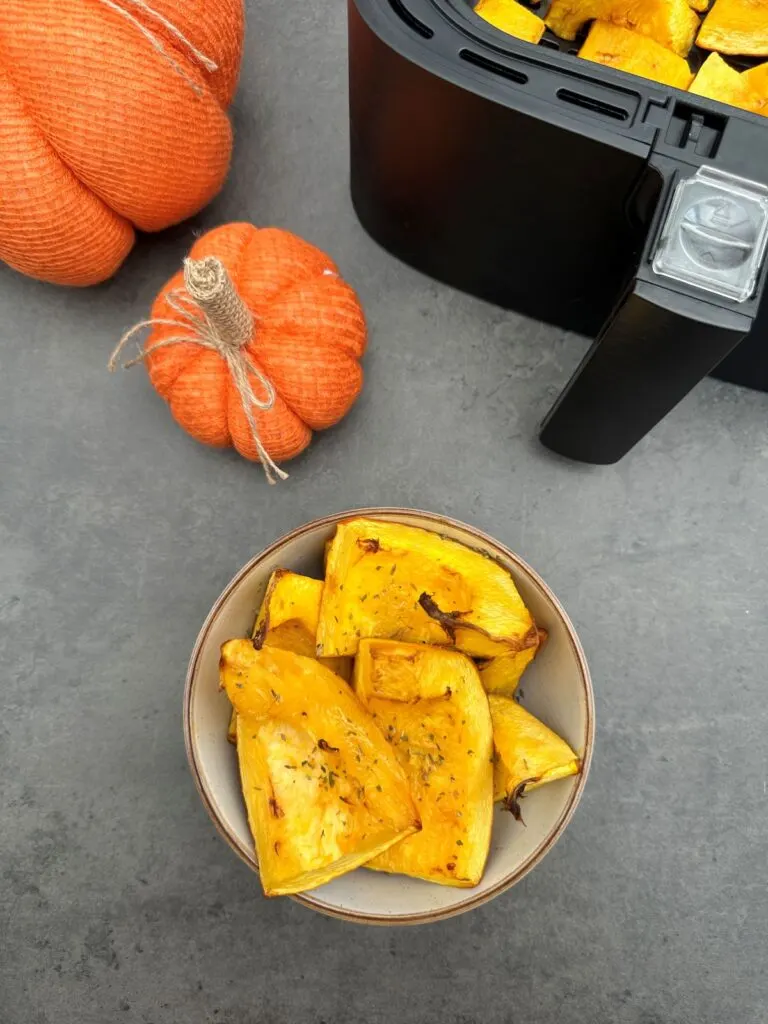 What You Need:
Ingredients
1 small pumpkin
2 tbsp olive oil
Salt, to taste
Freshly ground black pepper, to taste
Optional seasonings: garlic powder, smoked paprika, cinnamon, or nutmeg
Equipment
Air fryer
Knife
Spoon
Bowl
Cutting board
Pastry brush (optional)
Making It:
Step 1: Prepare the Pumpkin
Rinse the pumpkin under cold water to remove any dirt before cutting the top and bottom ends of the pumpkin with a sharp knife.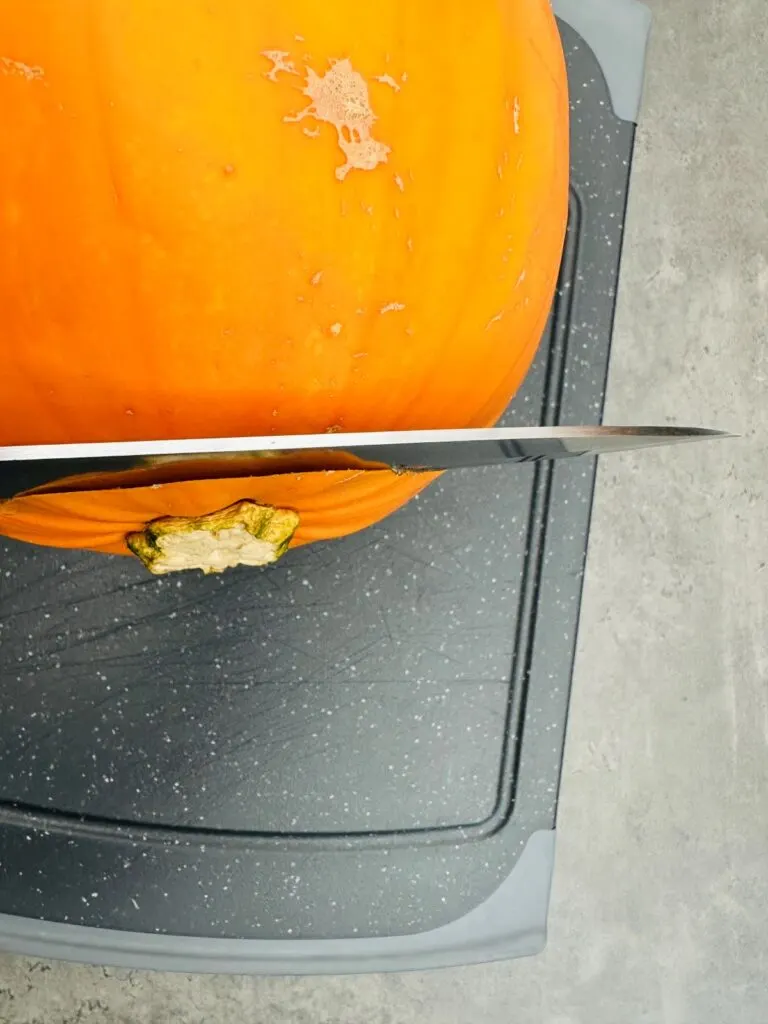 I prefer to leave the skin on the pumpkin when I roast it, as I find it easier to peel off once it's been cooked.
You can, however, remove the skin before roasting. Stand the pumpkin upright on a cutting board and carefully slice off the skin.
Cut the pumpkin in half and use a spoon to scoop out the seeds and strings, saving the seeds for roasting if you like!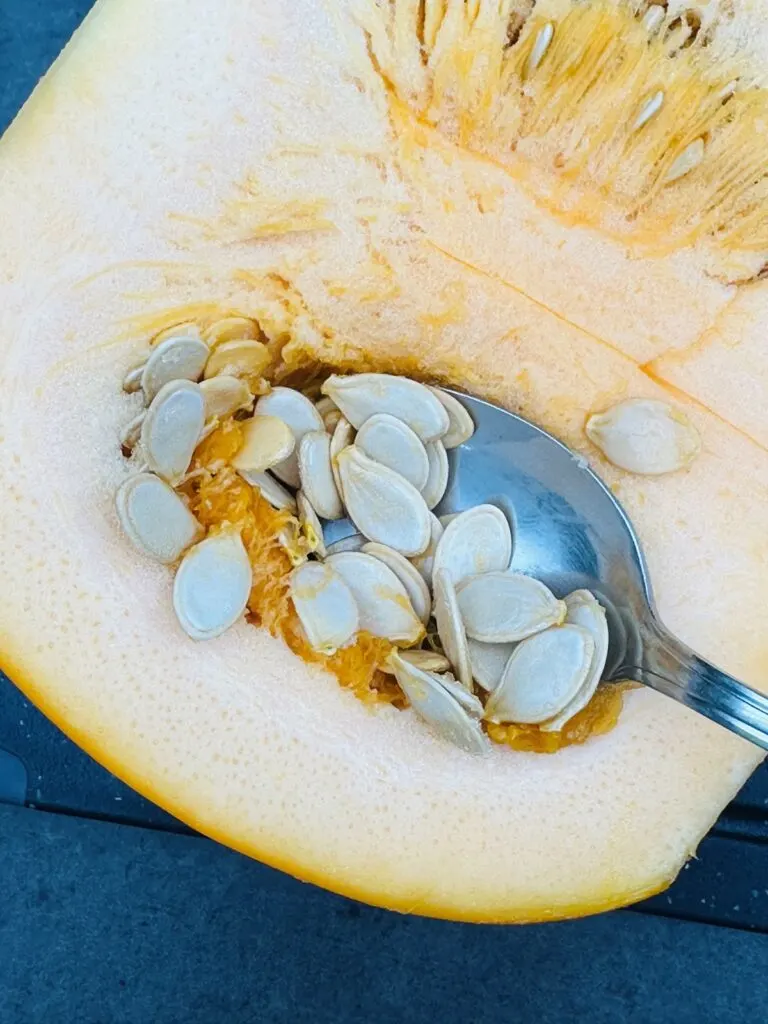 Related: Air Fryer Pumpkin Seeds
I cut my pumpkin into quarters, but you can cut it in half, or if you prefer, into 1-inch (2.5 cm) cubes, depending on your preference and the size of the air fryer.
Step 2: Season the Pumpkin
In a bowl, toss the pumpkin pieces with olive oil until they are well coated. Season with salt, pepper, and any other seasonings you are using. Toss again to evenly distribute the seasonings. You can also use a brush to oil the pumpkin before sprinkling the seasoning on top.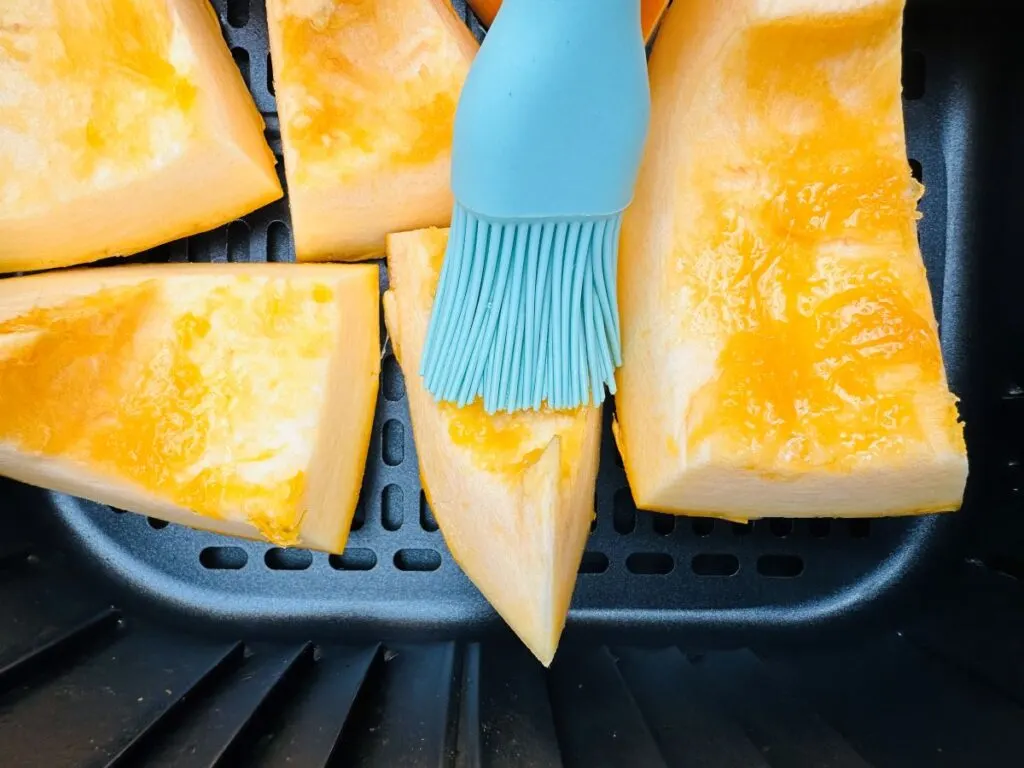 Step 3: Cook the Pumpkin:
Spread the pumpkin pieces out in a single layer in the air fryer basket. Try not to overcrowd the basket to ensure they cook evenly.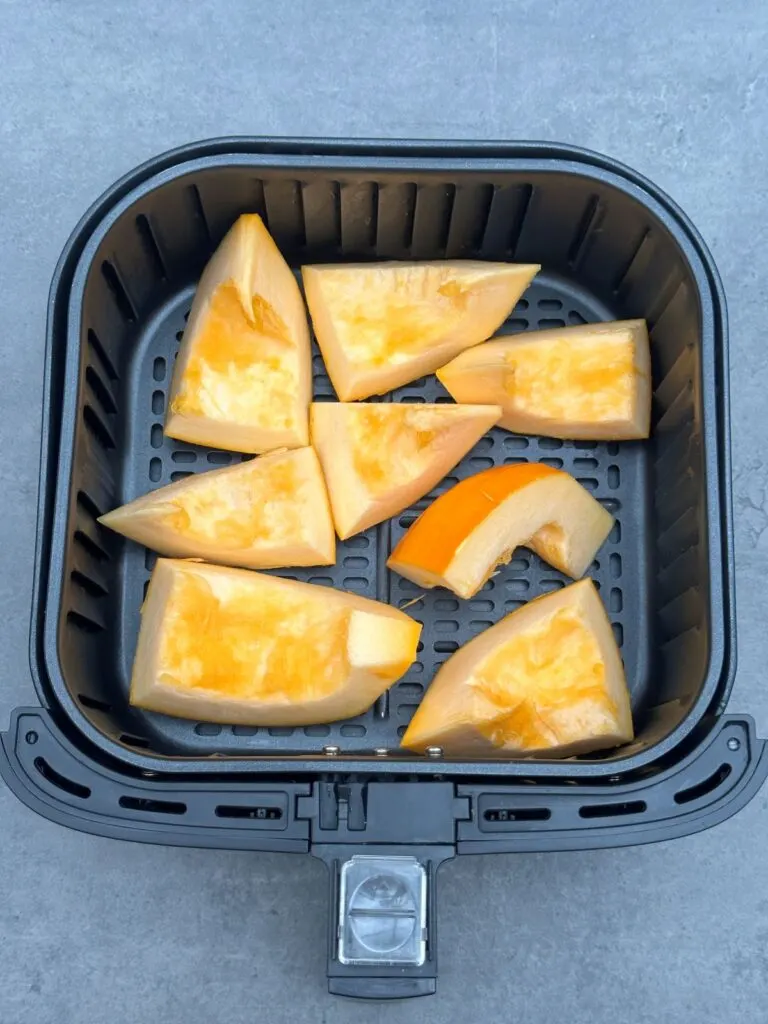 Air fry for 15-20 minutes at 180°C, or until the pumpkin is tender and the edges are starting to brown, shaking the basket or stirring the pumpkin halfway through cooking.
Step 4: Serve (Or Turn Into Puree)
Once the pumpkin is cooked to your liking, carefully remove it from the air fryer.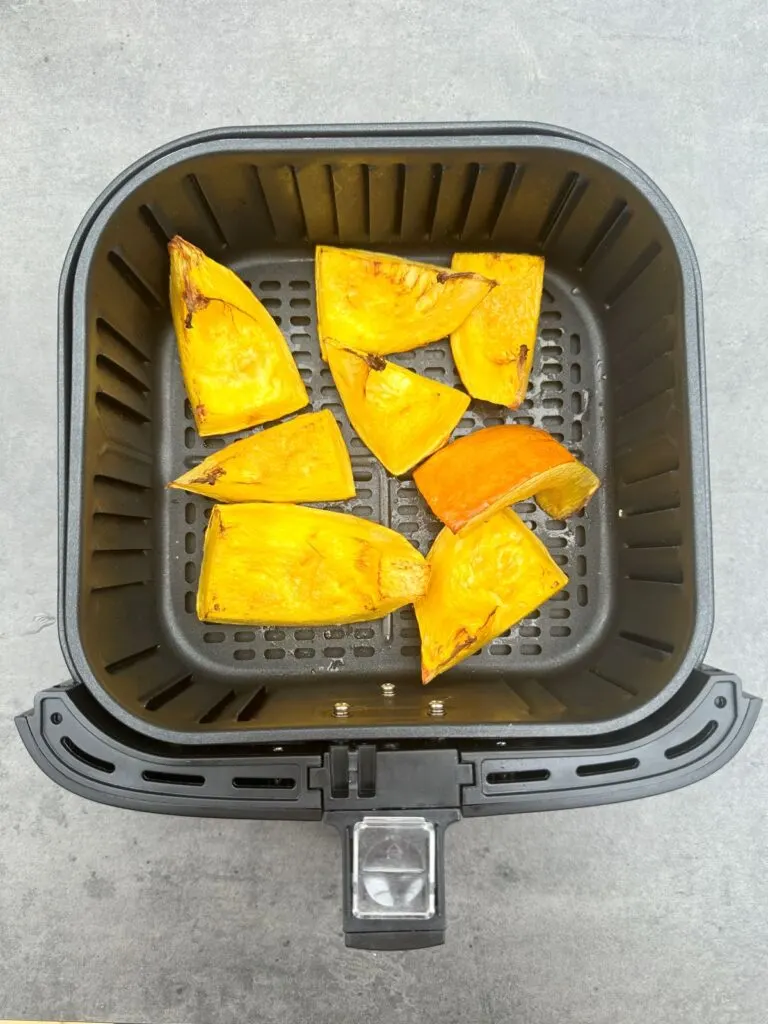 If you have cooked it with the skin on, leave the pumpkin to cool until you can comfortably handle it. Once it has cooled enough, peel away the skin. If it doesn't come away easily, you may need to use a spoon to scoop the flesh out or a knife to slice the skin off.
Taste and adjust the seasoning if necessary, then serve hot as a side dish or incorporate it into your favourite recipe.
Related: Spicy Pumpkin Soup (In A Soup Maker)
Roasting Pumpkin Tips
The cooking time can vary based on the size of your pumpkin pieces and your specific air fryer model, so keep an eye on them to make sure they cook evenly.
For a sweet version, toss the pumpkin with a bit of melted butter, cinnamon, and a sprinkle of brown sugar before air frying.
Leftover air-fried pumpkins can be stored in an airtight container in the refrigerator for up to 3 days. Reheat in the air fryer or microwave before serving.