If you want to cook a small batch of Halloween cupcakes, cooking them in an air fryer is the perfect way to avoid switching the oven on.
Follow any basic cupcake recipe, and you'll soon be decorating them with your favourite spooky designs.
Read on for step-by-step instructions on making air fryer Halloween cupcakes.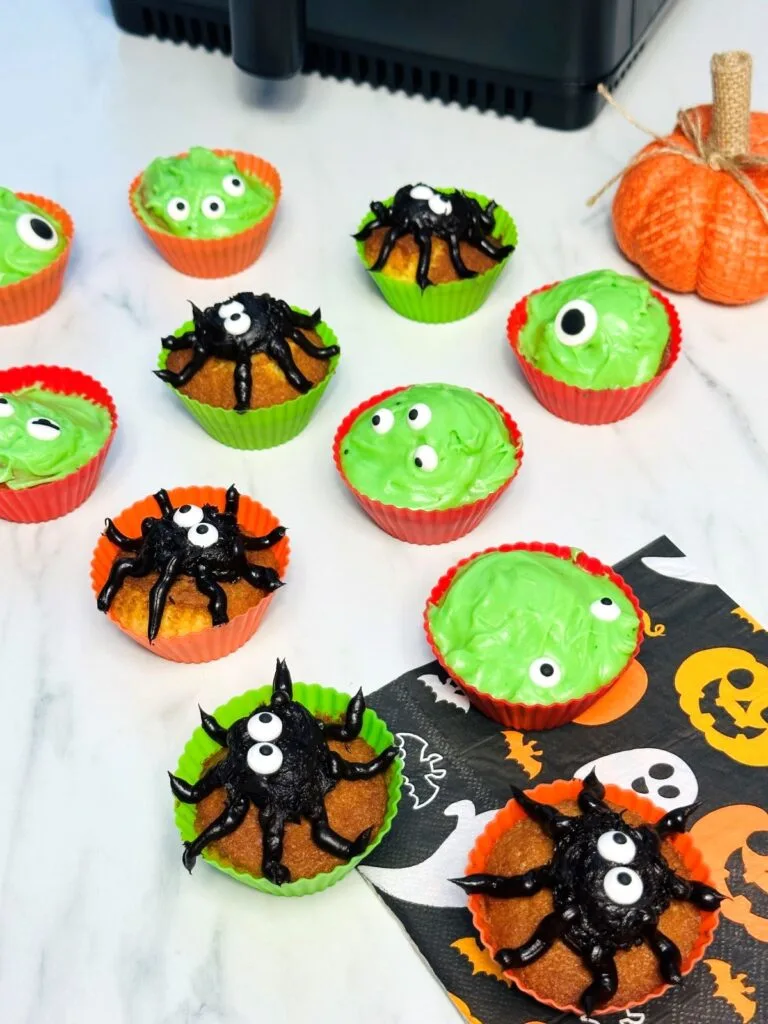 What You Need To Make Halloween Cupcakes
This recipe is best suited for when you want to make about 12 cupcakes. Any more than that, and it probably makes more sense to cook them in an oven due to space constraints in an air fryer.
The ingredients are the same for my easy cupcake recipe:
125g caster sugar
125g butter, softened (or margarine)
125g self-raising flour
2 large eggs
1tsp vanilla essence
Halloween cupcake decorations
What Air Fryer Should I Use For Cupcakes?
You can use any air fryer for cooking cupcakes, but ones with more capacity will be best suited for cooking batches of 12 cupcakes.
I made these cupcakes in a Ninja Dual Air Fryer, as I could easily fit 6 cupcakes on each side.
I USED THIS AIR FRYER!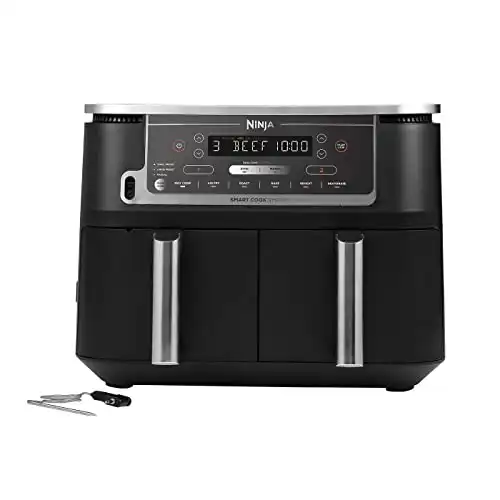 What Cupcake Cases Can I Use In An Air Fryer?
I've tested various different ways of cooking cupcakes in an air fryer. You can use cupcake cases made from paper, but they will become misshapen and a little lopsided.
Like when you are baking cupcakes in an oven, they need to sit in a cupcake tray to keep the cupcakes in shape.
Most air fryers won't be large enough to fit a cupcake tray in the basket (unless you have an oven-style air fryer with shelves), so you will need to improvise a little bit.
I bought these metal tins to experiment with making small pies in the air fryer (mince pies, apple pies, etc.), and they are ideal for placing cupcake cases inside.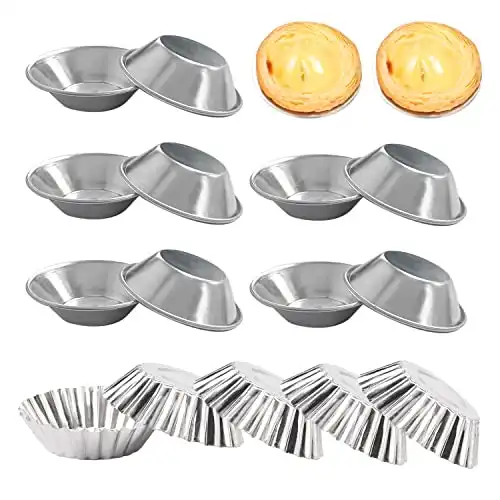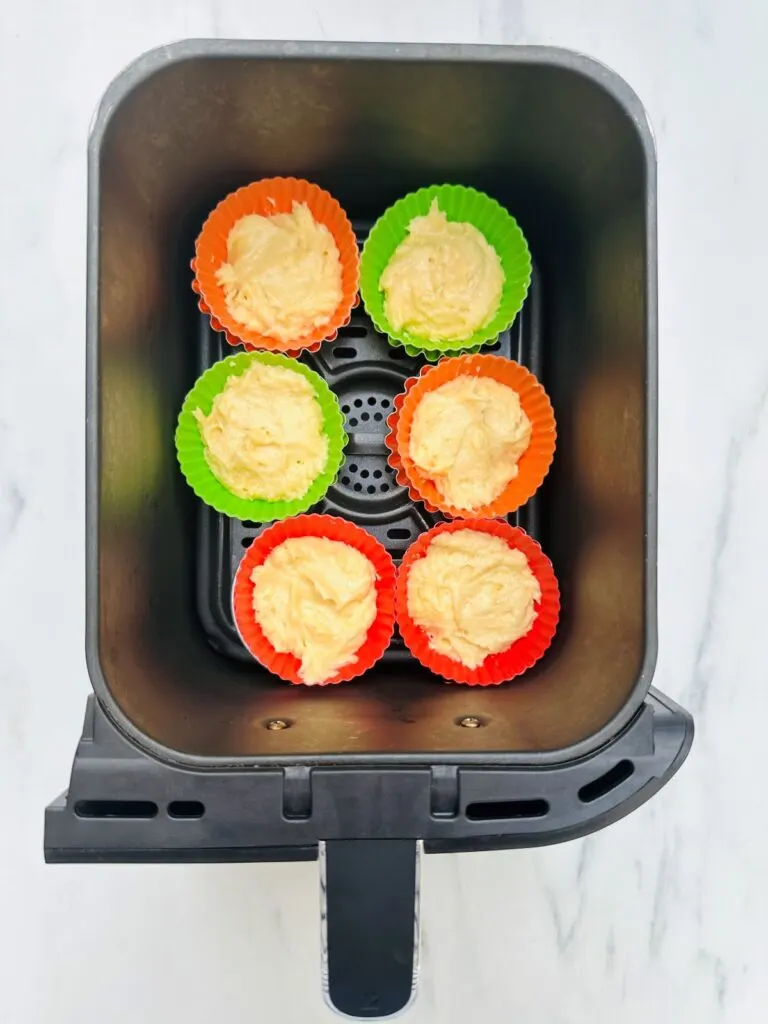 Preparing The Cupcake Batter
Prepare the cupcake batter in the same way you would for oven-baked cupcakes.
Cream the butter and sugar together in a bowl.
Stir in the beaten eggs and vanilla extract.
Sift in the self-raising flour and mix until just combined. Take care not to overmix.
Transfer the mixture into cupcake cases, filling halfway.
Place cupcake cases in the air fryer basket.
Set the air fryer off at 160°C and air fry for 12 minutes.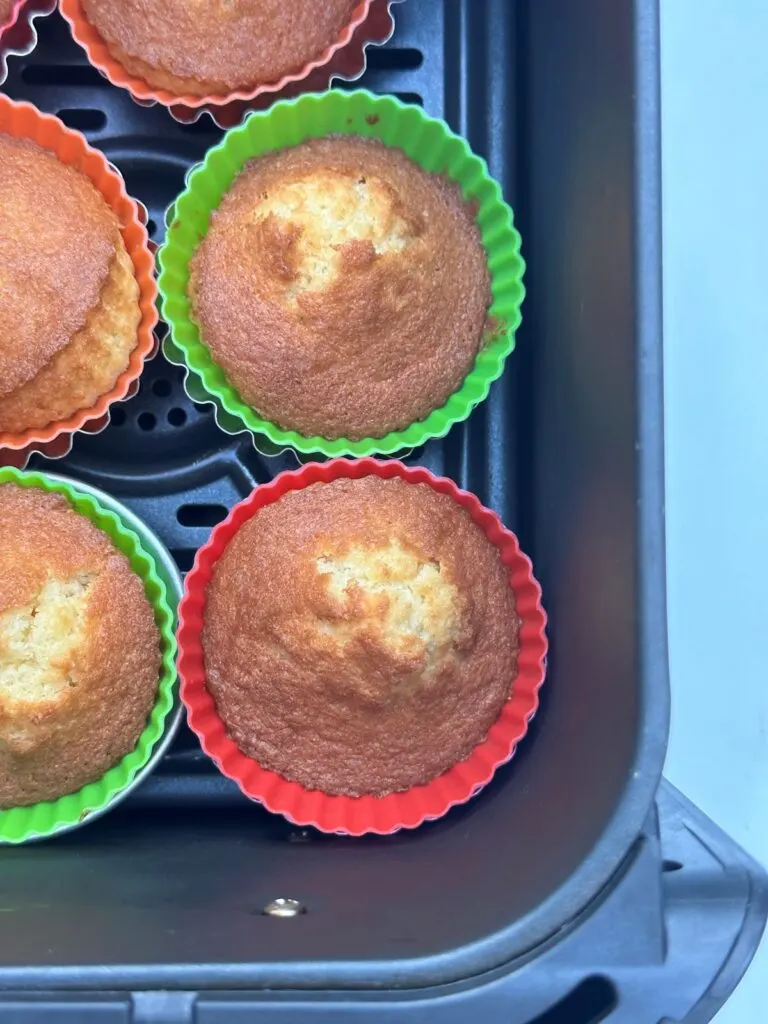 The cupcakes are ready when they have risen and have a golden brown top. To be sure, insert a metal skewer or sharp knife into one of the cupcakes to check it comes out dry.
Leave the cupcakes to cool down before decorating them with your favourite Halloween designs. I bought some coloured buttercream icing and some edible eyes from the supermarket.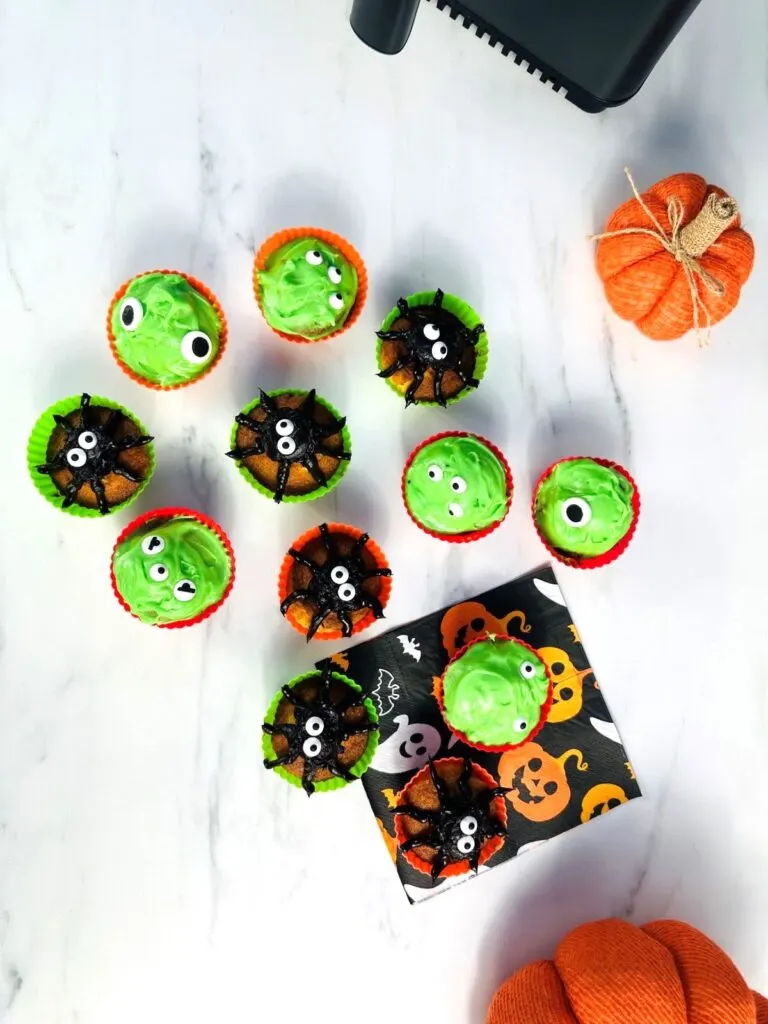 How Long Does Cupcake Batter Last?
If you don't want to cook all the cupcakes at once, or you want to prepare the batter ahead of time, the cupcake batter can last in the fridge for up to 48 hours.
How To Store Cupcakes
Cupcakes can be stored in an airtight container for 2 to 3 days. There is no need to put them in the fridge unless the frosting contains dairy.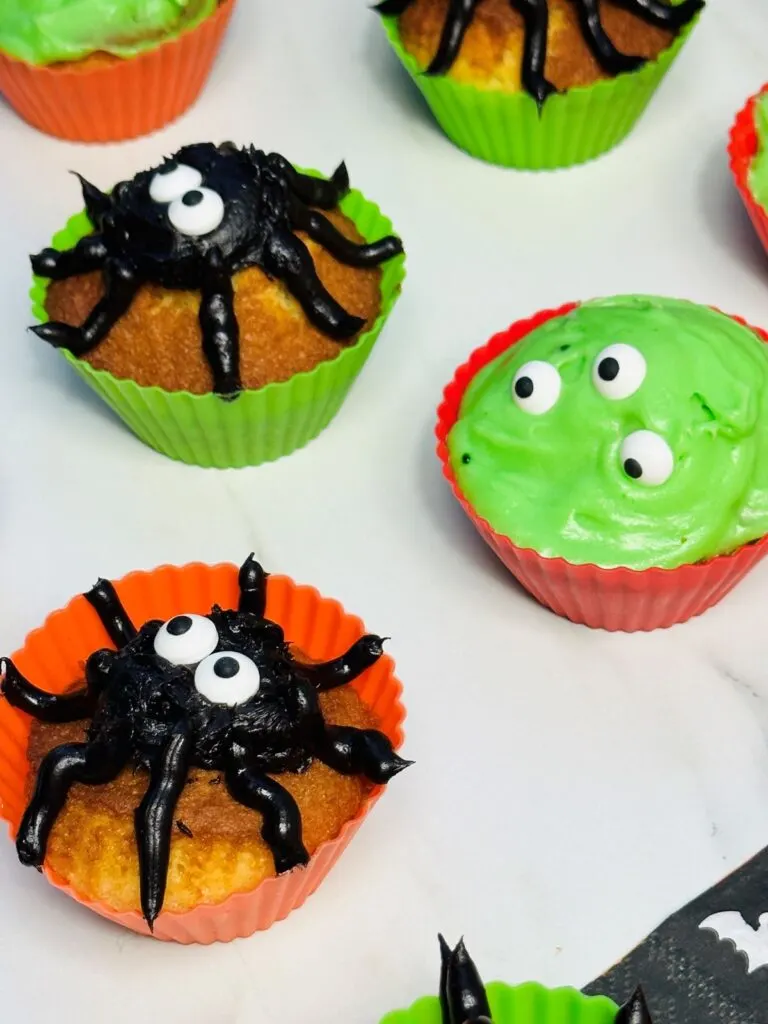 More Air Fryer Baking Recipes
The air fryer is a versatile appliance with plenty of different recipes available. Try some of these air fryer baking recipes for inspiration:
I hope you enjoy these air fryer Halloween cupcakes! Let me know in the comments if you end up making them!