Don't let those pumpkin seeds go to waste; turn them into a delicious snack!
Once you've scooped them out of the pumpkin, give them a good rinse, and instead of switching the oven on, pop them in the air fryer!
Read on to discover how simple it is to cook pumpkin seeds in an air fryer.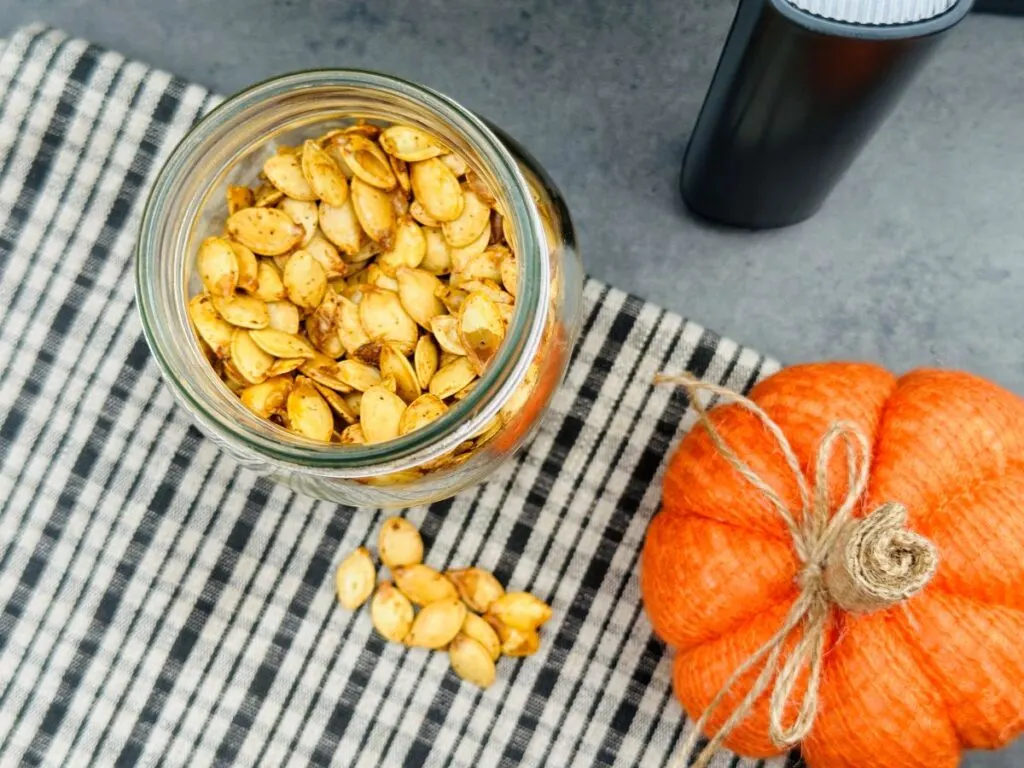 How To Cook Pumpkin Seeds In An Air Fryer
Whether you are carving a pumpkin or using a pumpkin for another recipe, you'll have what feels like an endless supply of pumpkin seeds!
What You Need To Cook Air Fryer Pumpkin Seeds
Pumpkin seeds
Oil: I used one teaspoon of olive oil, but you can use a different variety
Seasoning: I used smoked paprika, but you could use garlic powder, cayenne pepper, or cinnamon and sugar for a sweet version
As you scoop them out, put them in a bowl or a colander, ready to be rinsed. Remove as much of the fleshy string as you can from the seeds.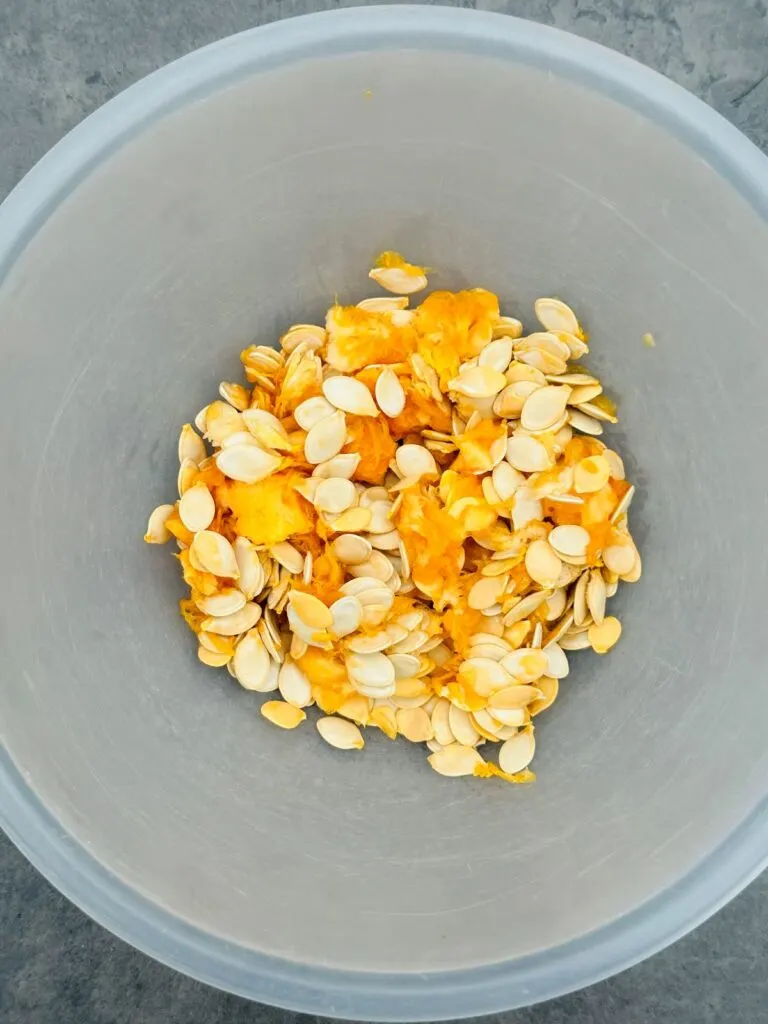 Clean The Pumpkin Seeds
Run the pumpkin seeds under water to clean them, then lay them on a chopping board or tray and pat them dry with kitchen paper towels or a clean tea towel.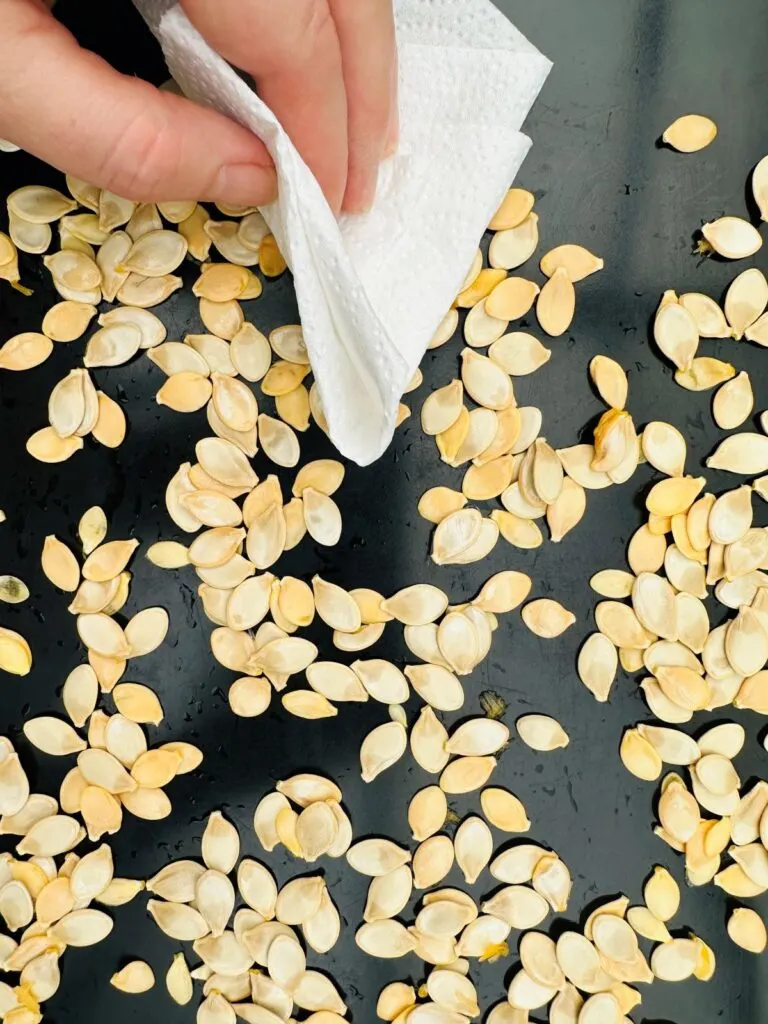 Dry them as much as possible; the drier they are, the more they will crisp up in the air fryer.
Season The Pumpkin Seeds
In a bowl, toss the dried pumpkin seeds with the olive oil until they are well coated.
Season with salt and any other seasonings you are using. Toss again to distribute the seasonings evenly.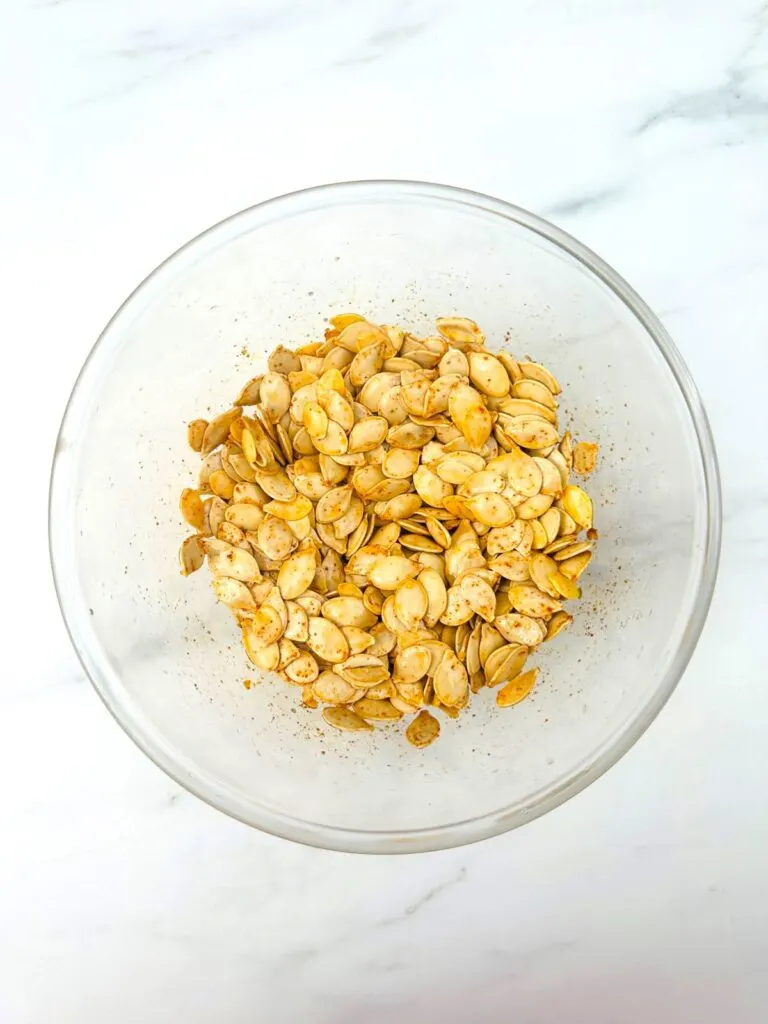 Transfer The Pumpkin Seeds To The Air Fryer Basket
Put the seasoned pumpkin seeds in your air fryer basket.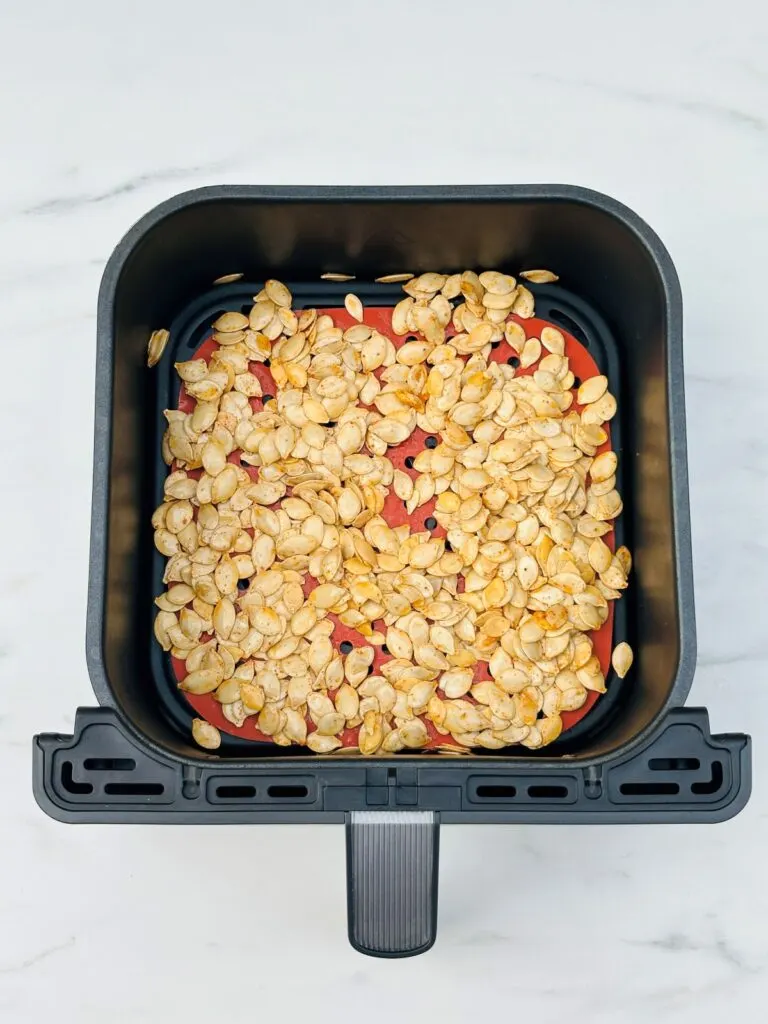 Depending on your air fryer type, you might need to put some baking paper or an air fryer liner down to prevent the pumpkin seeds from falling through any gaps in the basket.
Set your air fryer to 180°C (350°F) and cook the seeds for 8 to 10 minutes. As I had quite a few pumpkin seeds to air fry, they took a little longer to crisp up all over. I also had to shake them in the basket a few times.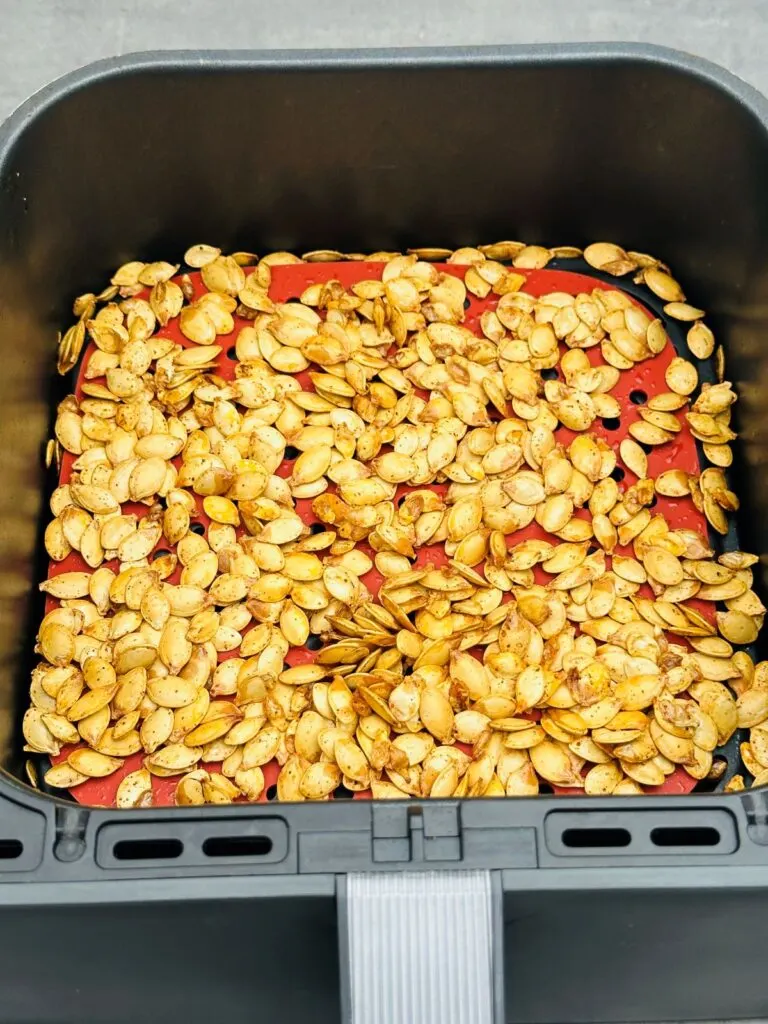 When the pumpkin seeds have turned a golden brown and are crunchy to bite into, remove the air fryer basket and leave them to cool slightly.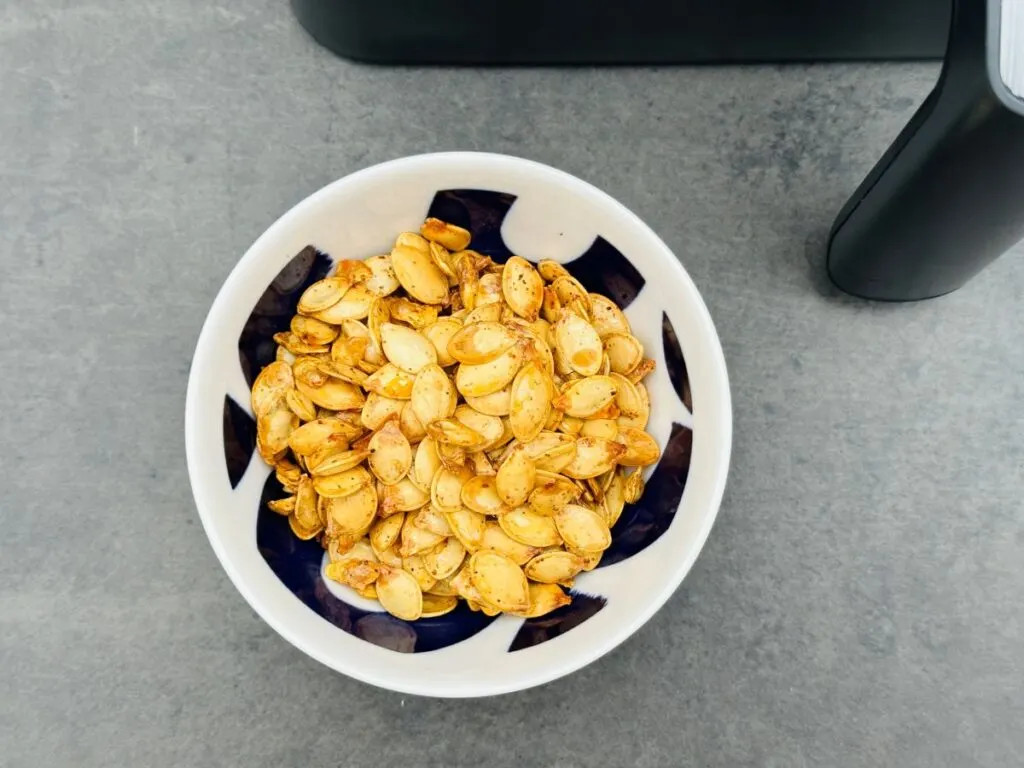 Serve them in a bowl as a tasty snack or sprinkle on a soup or over a salad.
How Long Do Air Fried Pumpkin Seeds Last For?
Pumpkin seeds cooked in an air fryer should last for up to 7 days if kept in a suitable, airtight container. If they have softened up during storage, pop them back in the air fryer for a few minutes to crisp up.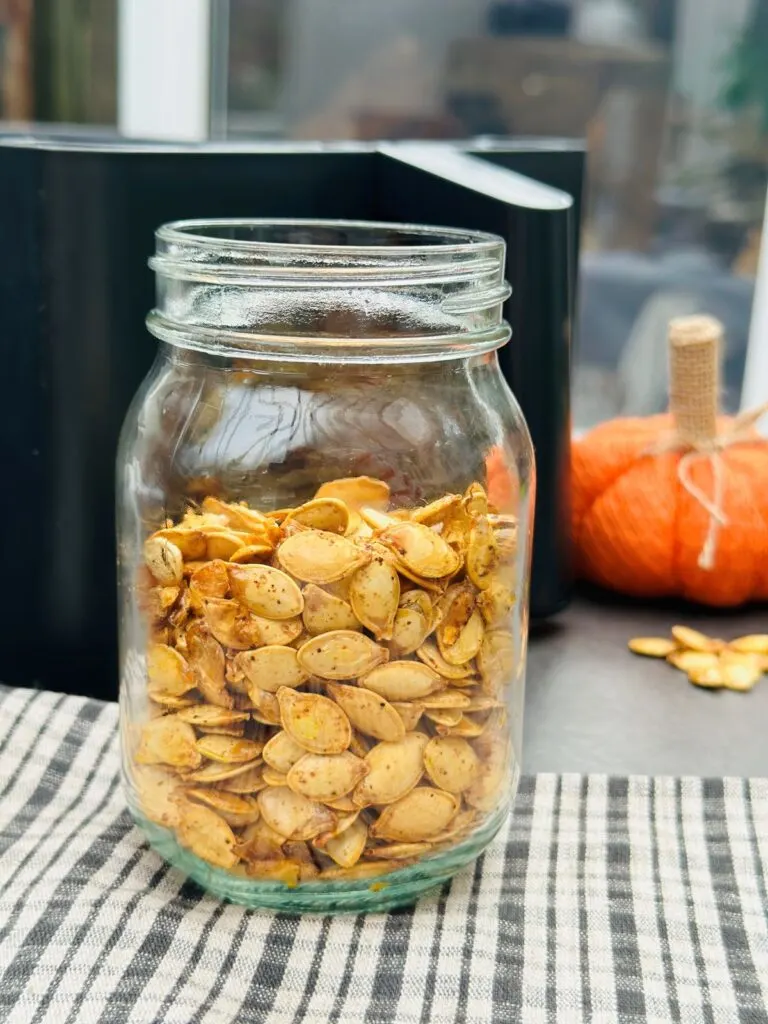 I hope you enjoy this air fryer pumpkin seeds recipe. Let me know in the comments if you end up making it!
More Air Fryer Snacks
An air fryer is perfect for making snacks – check out some of my favourite air fryer snack recipes for inspiration: