Are you looking for a healthy air fryer snack?
Look no further – air fryer kale chips are the perfect way to get the crunch and flavour you want.
Read on for step-by-step instructions for making delicious and nutritious kale chips in your air fryer.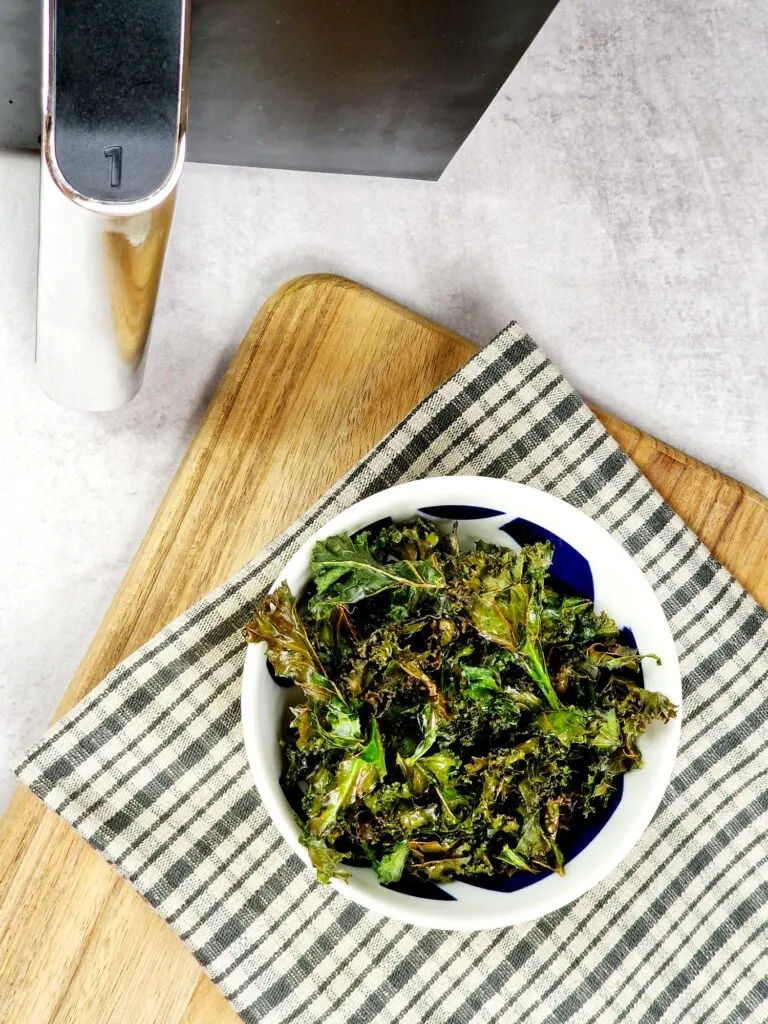 How To Make Kale Chips In An Air Fryer
You can make crispy kale chips in any model of air fryer. The below quantities made enough for a small snack; scale up as needed.
What You Need:
Fresh kale – washed, dried and shredded. I grabbed a couple of large handfuls, and when weighed (before air frying), they came in at 50g. This was enough for one snack serving, for more increase accordingly. I used a packet of kale that was already washed and shredded.
Olive oil – I used olive oil from a spray bottle, but you can use it from a normal bottle. I prefer to use olive oil, but you could use a different oil variety if you prefer.
Sea salt – I added a pinch of sea salt before adding the raw kale to the air fryer basket, but you can use any seasoning you like. I also sprinkled a little more sea salt on the kale once it had been air fried.
Air fryer – I made these kale chips using the air fryer function of a Ninja Foodi, but you can use any air fryer. You will also probably need something such as a metal rack or trivet to place over the kale in the basket to stop it from flying about the air fryer once it is switched on.
Making It:
As you would imagine, there are very few steps to make this kale chips recipe – ideal for a quick and healthy snack!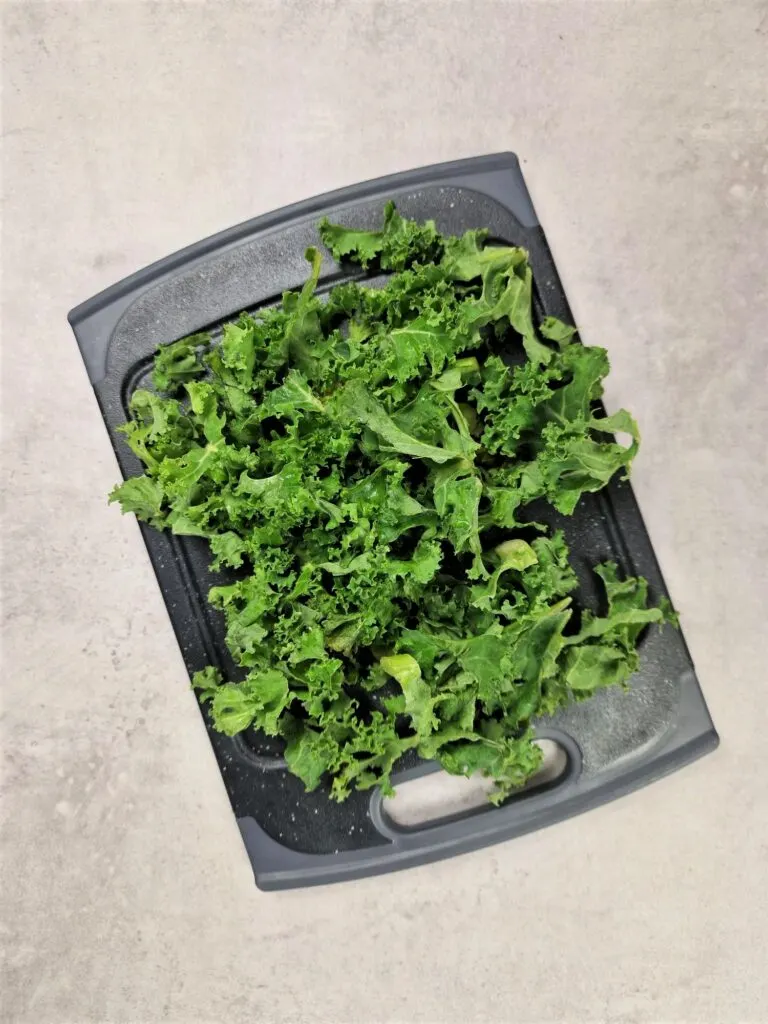 If needed, wash and shred the kale before spraying or drizzling the oil over it. For a 50g portion, you will probably use about 1/2 tbsp of oil.
Once the oil has been added, it's a good idea to use your hands to ensure the oil is massaged across as much of the kale leaves as possible.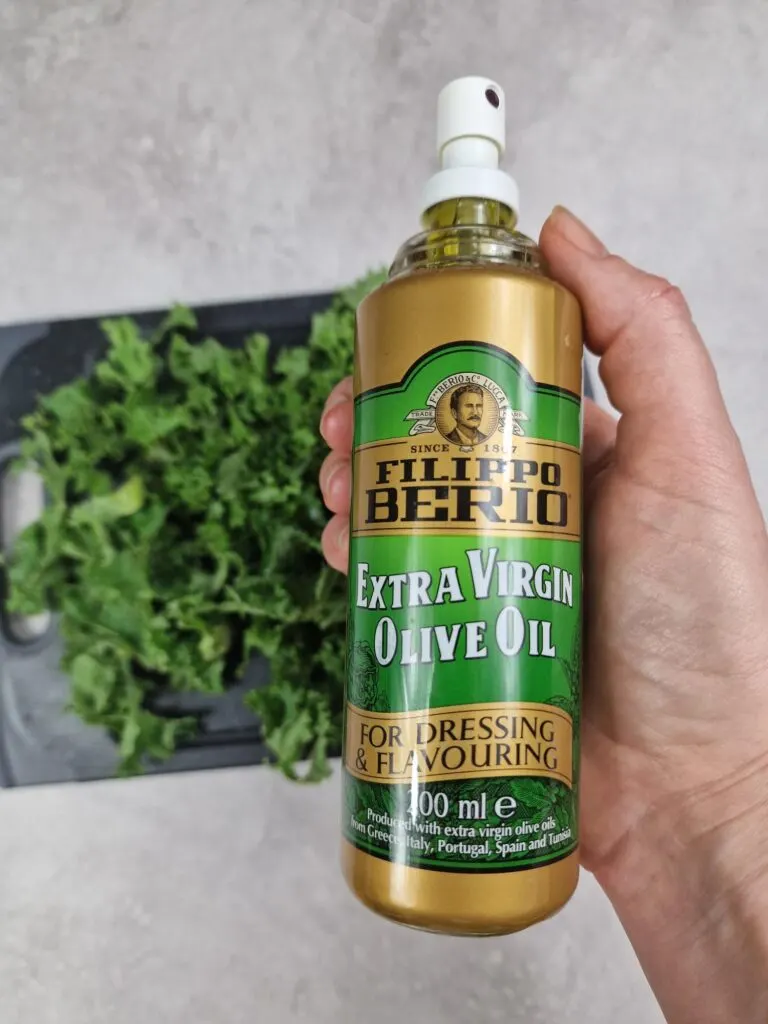 I use a spray bottle of oil to make it easier to distribute – but you can use a bottle if that is all you have – but remember to use your hands to redistribute the oil evenly.
I sprinkled a little sea salt over the oiled kale before transferring it to the air fryer basket.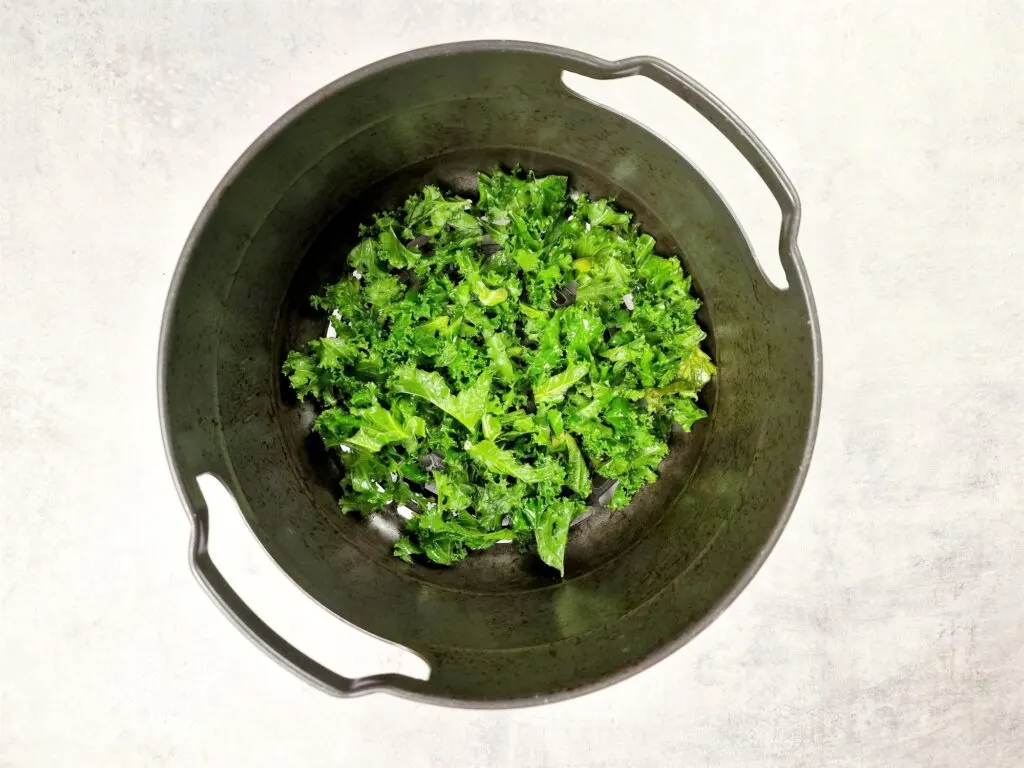 As kale is so light in weight, chances are it will start to fly about in the basket once the air fryer is switched on.
To prevent this from happening, lay a metal grill or trivet across the kale. This will ensure the kale doesn't fly up into any of the air fryer elements but still gets reached by the hot air to produce a crispy kale chip.
Your air fryer might have come with one, or you might have a suitable one to use. It's worth getting some accessories for your air fryer; they come in handy for many different air fryer recipes.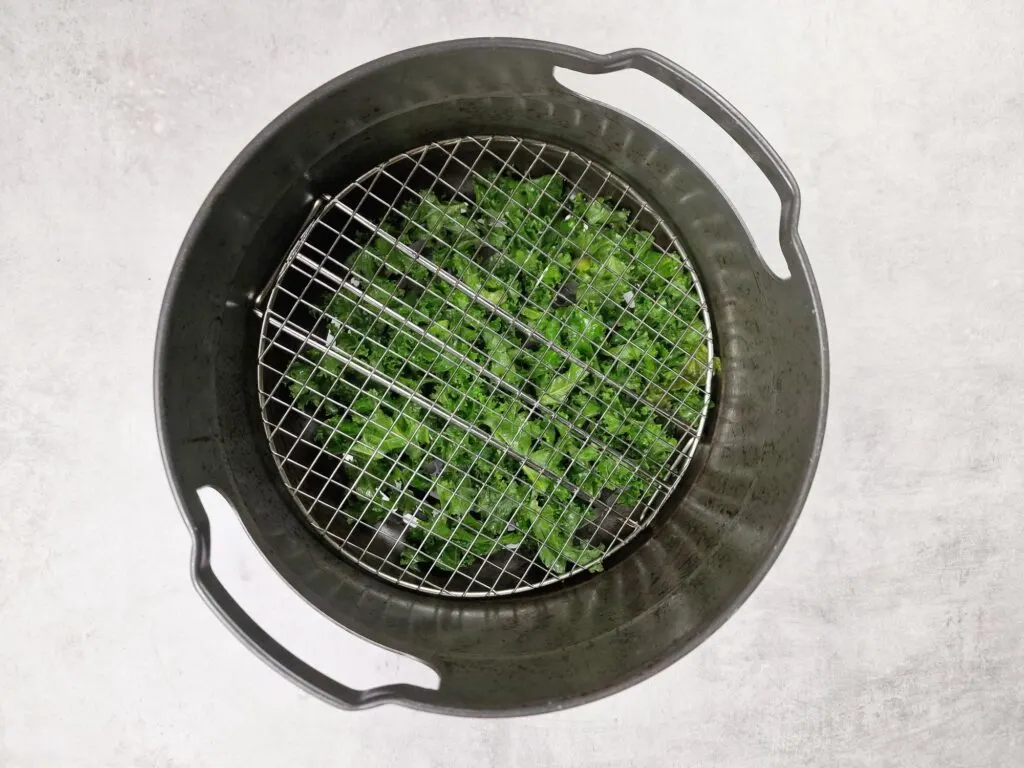 Place the air fryer basket in the air fryer and cook at 190°C for 5 to 8 minutes. I cooked it for 8 minutes as I like kale chips to be as crispy as possible.
The key is to keep checking on them and shaking the kale about in the basket so that they are all evenly crisped up. If the kale chips look crispy enough at 8 minutes, remove them.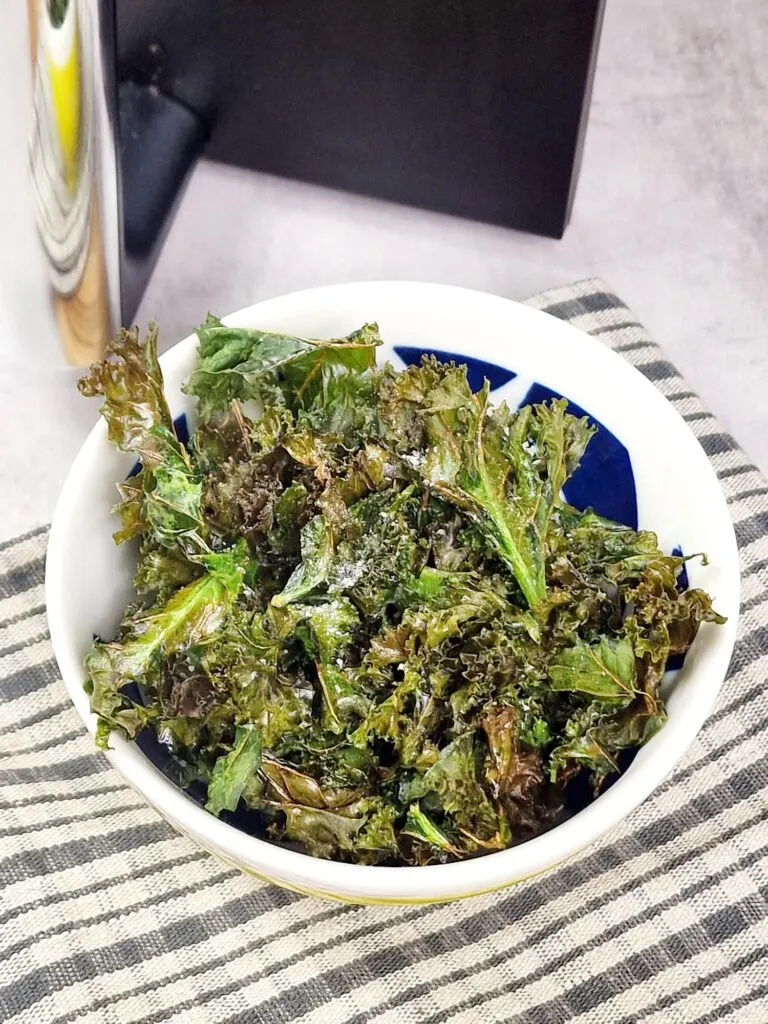 I sprinkled the kale with a little more salt before serving; you can optionally do this to taste.
Air fryer kale chips are ideal to eat in place of other unhealthier alternatives or serve alongside other air fryer snacks.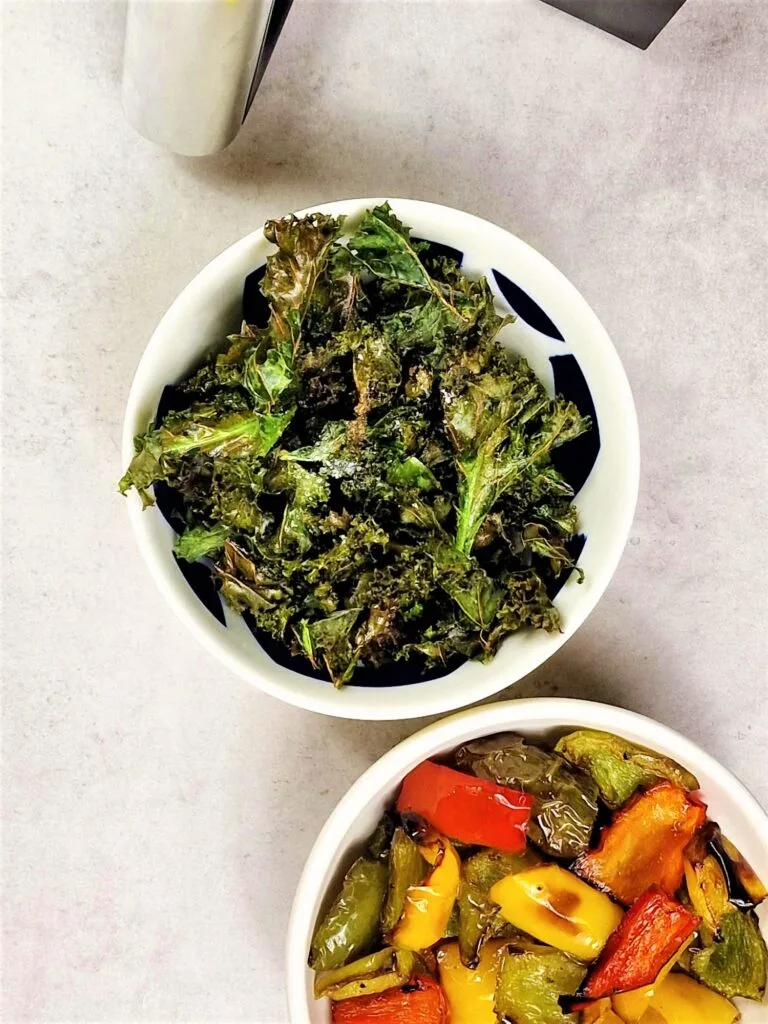 I hope you enjoy making these crispy kale chips in your air fryer – let me know how you get on in the comments!