Are you a recent convert to air frying?
Perhaps you've just got your first air fryer, and you're thinking about all the different foods you can cook in your air fryer.
And you may be thinking about what air fryer accessories you could get to help your air fryer cooking experience.
I will guide you through some of the best accessories available, from shelves that double as dividers for multi-ingredient dishes to shallow heat baskets ideal for wings or vegetables.
Accessories Pack vs Individual Items
You can either buy separate items, which will largely depend on what recipes you intend to make, or you can buy an air fryer accessories pack which will enable you to create a more versatile range of foods.
You'll often find that the bundles of air fryer accessories will work out a more economical purchase than buying them separately.
First, I will list the individual air fryer accessories sold separately, followed by the air fryer accessory bundles below.
Individual Air Fryer Accessories
Silicone Liners, Inserts and Trays
A silicone liner in an air fryer is a great way to simplify cleanup after cooking. The non-stick surface of these liners prevents foods from sticking to the bottom of the air fryer, making it much easier to remove cooked dishes without leaving behind any stuck-on messes.
Additionally, silicone liners are much more heat-resistant than metal trays, meaning they won't warp or deform when exposed to high temperatures for long periods.
Silicone liners also provide insulation between the air fryer's heating element and your food, allowing faster and more even cooking.
This makes it perfect for baking items like cakes and pizza that require longer cooking times; the insulation helps keep moisture locked in while still allowing heat inside so you can achieve the perfect texture and flavour in your finished dish.
Finally, because they're made of silicone rather than metal, these liners won't rust or corrode over time—making them a reliable kitchen accessory that will last for years.
Plus, many silicone liners are microwave-safe—so you can quickly warm up leftovers before eating them!
Recommended Silicone Liners
---
Disposable Liners and Parchment Papers
Disposable liners are made from non-stick materials that remove cooked dishes easily without leaving any mess or residue in the air fryer basket.
Paper or parchment liners will keep your air fryer much cleaner than using just the air fryer basket.
This is especially helpful if you plan on doing a lot of breaded dishes—as bread crumbs, batter and other ingredients won't stick to the surfaces and create hard-to-clean messes.
The holes in the baking paper help the hot air to circulate as it is intended.
Although I prefer to use reusable liners (see silicone liners above), disposable liners can have their uses, so you can use them once and then promptly discard them afterwards—you don't have to worry about any cleaning or dishwashing processes before reusing them!
Remember to choose the correct size to suit your air fryer.
Recommended Disposable Liners and Parchment Papers
---
Air Fryer Racks Or Trivets
An air fryer rack or trivet helps to provide extra space for adding sides or cooking multiple foods at once.
A trivet or rack in an air fryer can also help to crisp up foods like fries or chicken wings. Simply place the rack inside your air fryer and add food. The air will circulate around the food, helping to crisp and cook everything evenly.
I find that kebabs cook much better when they are on this rack. Some metal racks even come with metal skewers that are the perfect size for cooking kebabs.
It is also useful when you don't want your food to touch the base of the basket.
My first air fryer was a smaller Phillips Air Fryer (HD9220). Owing to the smaller 800g capacity, I often used a rack or trivet to squeeze in more food.
You will need to choose between a circular, square or rectangular shape, depending on the style of your air fryer.
Recommended Air Fryer Racks Or Trivets
| Image | Product | Features | Price |
| --- | --- | --- | --- |
| | | Multi-purpose stainless steel steam grill, one stainless steel skewer rack, and four stainless steel grill sticks to help you make kebabs. | Check Price On Amazon |
| | | Stainless steel round steam rack with a diameter of about 19.5cm and a height of about 5.5cm. | Check Price On Amazon |
---
Air Fryer Kebab Skewers
Kebab skewers are great for making creative dishes like kebabs or shish-like creations and keeping food compact and contained in the air fryer.
Thread your ingredients onto a skewer, then place it inside the air fryer basket—the heat will circulate around the food, evenly cooking each item.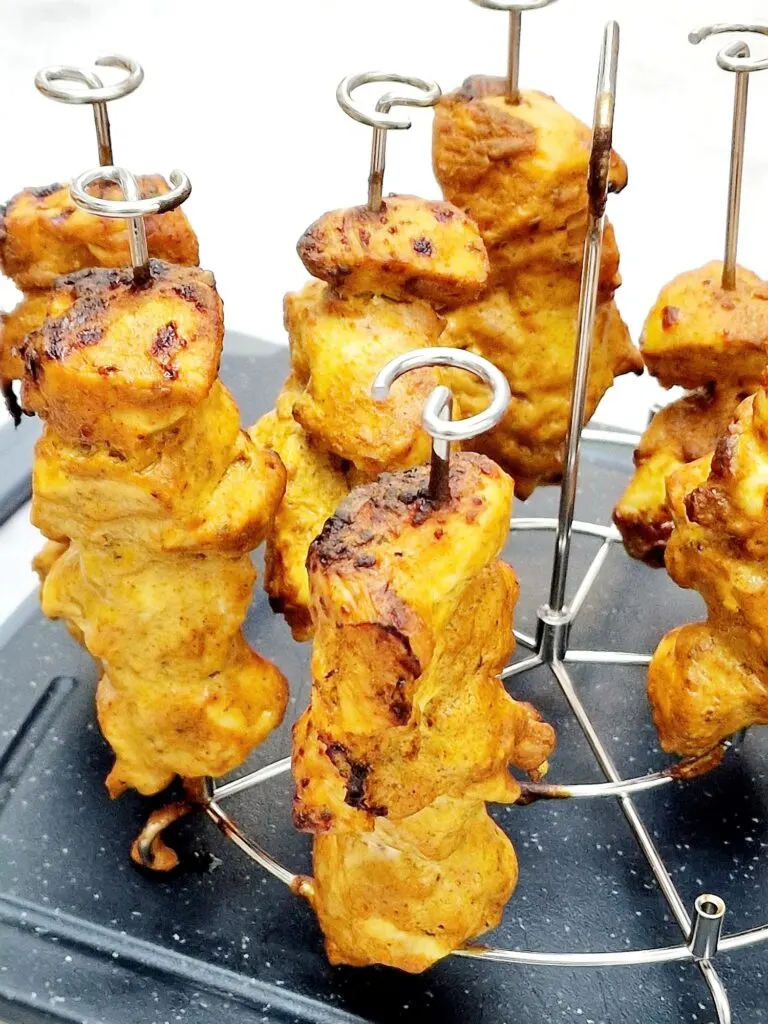 I made these chicken tikka kebabs using the air fryer function in a Ninja Foodi 15-in-1.
You can follow the same recipe for any air fryer but remember to check the skewers fit in your air fryer model.
Recommended Air Fryer Kebab Skewers
Image
Product
Features
Price

16 cm in height that can be easily dismantled for storage
15 skewers
Suitable for Ninja Foodi 15-in-1

Check Price On Amazon

1x Stainless Steel Steam Grill, 1x Stainless Steel Skewer Rack, and 4x Stainless Steel Grill Sticks.
Compatible with dual air fryers.

Check Price On Amazon

Air fryer rack stainless steel multi-purpose double layer rack with 5 kebab sticks

Suitable for 5L air fryers
Can be used to make kebabs, grilled steaks, grilled vegetables, grilled potatoes, grilled pizza, and more
1x Stainless Steel Steam Grill, 1x Stainless Steel Skewer Rack, 5x Stainless Steel Grill Sticks

Check Price On Amazon
---
Cake Tin – perfect for baking foods; I have made bread and cakes in my air fryer using a cake tin. Carrot cake in an air fryer is particularly tasty!
Pizza Pan/Quiche Tin – shallower than a cake tin; this one can make frittatas, quiches, pizzas etc.
Cooking Mat – this one has come in really handy. Although you can use any heat-resistant board, I found this small silicone mat very useful for keeping by the air fryer so that I could quickly grab it when pulling out the air fryer drawer and then having somewhere to place it.
Silicone Glove(s) – After a few uses of your air fryer, you will likely decide you need some flexible oven gloves! They are useful for grabbing close-fitting pans out of the air fryer basket without burning your hands. You can get them as mittens or with fingers. I prefer the finger version to provide more flexibility.
Gripper – you might already have one for baking trays you use in an oven. They essentially act as a removable handles for taking pans and tins from the air fryer.
Food Tongs – if you don't already own a pair of food tongs, these are essential, in my opinion. When you cook with an air fryer (and many other appliances), you often need to turn food over and move it about. Easy to use food tongs are your answer.
Oil Mister – you can use commercial oil sprays or make your own mister by getting an oil sprayer and filling it with your preferred oil.
Basting Brush – if you don't already own one, a basting brush is useful for spreading a thin, even layer of oil over food. I prefer silicone brushes as you don't find random bits of hair in your food that have fallen off a brush-type variety! They are also much easier to clean.
Toast Holder – ok, so certainly not a necessity, but if it comes as part of an air fryer accessory pack, why not? Useful for standing up slices of bread to ensure they cook evenly and enable you to fit more slices in.
Cupcake/Egg Mould – I love these silicone moulds for making individual cakes. They can also be used for pouring beaten eggs into some lovely air fryer egg bakes.
Size
Unless you buy a product, the manufacturer makes for your air fryer; you will need to check its size. Many packs advise that they are universal, but I always double-check the measurements.
Materials
I find silicone a more versatile material with a lot of bakeware. It is flexible, but I find it more hard-wearing and easier to clean than some metal varieties. Some 'non-stick' metals are anything, but they usually peel off after a few months of use.
Do you use any air fryer accessories? What's your favourite? Let me know in the comments!