Like any kitchen appliance or gadget, a soup maker can at first glance seem daunting when they are first taken out of the box. Fortunately, most soup makers are really easy to use, as well as being quite intuitive on first use.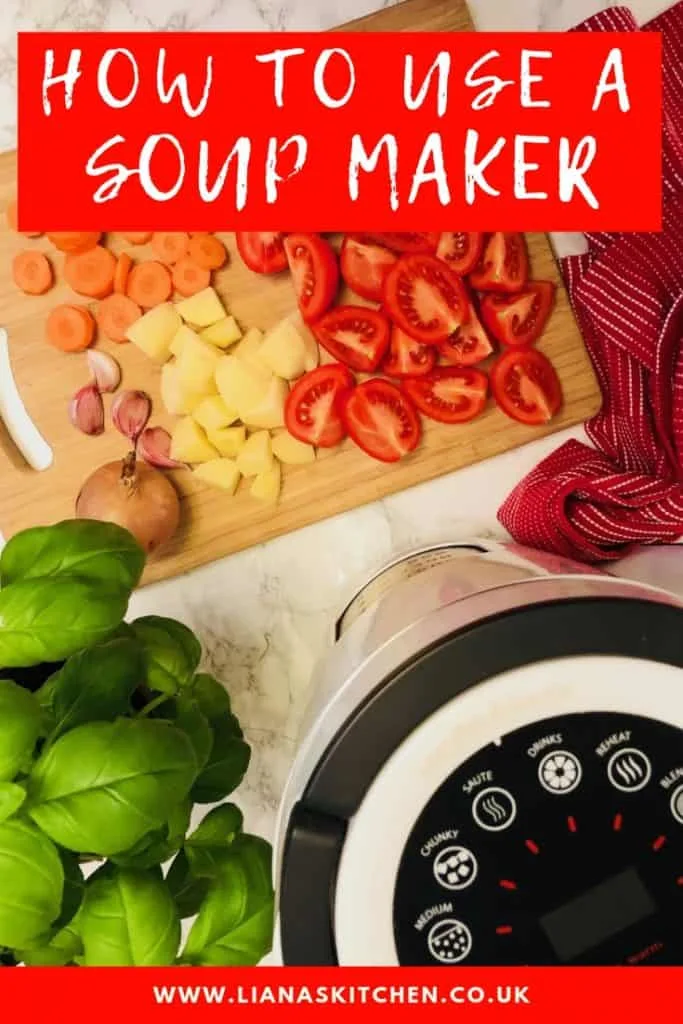 Many soup makers look just like kettles, in fact, many of them are of a similar size. This is especially true of the Morphy Richards Soup Maker range, as well as some of the other brands, including the Salter and Tefal Soup Maker.
Any reputable soup maker should come with a detailed user manual to help you get started, and sometimes a few recipes. If you are experiencing any user issues you should in the first instance refer to the manual, and if you are unable to resolve it, contact the manufacturers customer support line.
This guide will take you through the main principles of using a soup maker, what ingredients to use, what stock etc. For more detailed information on using each individual soup maker model please refer to either the manual that came with it, or our soup maker reviews.
Soup Maker Beginner's Guide
1. Should You Sauté?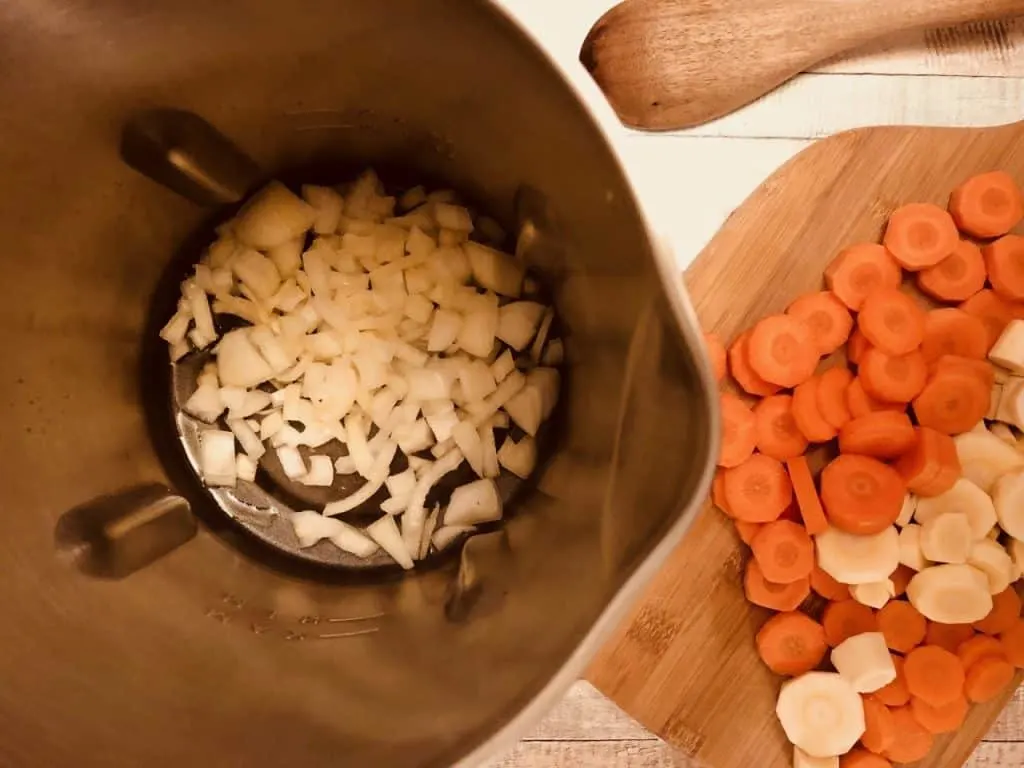 Sauté is just another word for frying. Whether you choose to sauté any of your ingredients prior to making a soup out of them is a matter of personal taste.
When you lightly cook some of the ingredients you will be releasing some of the flavours and intensifying some of the taste. This is especially true when including ingredients such as onions, garlic and spices.
However, if your soup maker doesn't have a built-in sauté feature you may not have the time or inclination to use a separate pan to take this step. It really is down to personal taste and not sautéing ingredients is not a problem – you'll still get a great tasting soup!
2. What Is The Best Oil For A Soup Maker?
Some soup recipes call for a sauté step (see point 1 above). If this is the case then you will need to consider which oil you want to use.
If the recipe doesn't state which oil to use then olive oil, rapeseed oil, or even just some butter will do the job. If you like the taste of coconut oil this can also be suitable. If you are following a plan like Slimming World you can also use the low-calorie FryLight Spray.
3. What Is The Best Stock For Soup?
The best stock for soup is homemade. But let's be realistic, many of us don't have the time to make stock from scratch. Having said that it is more straight forward than you might think – for a homemade chicken stock it is simply a case of using up leftovers from other meals.
If convenience is the name of the game (which I totally understand), then it is worth having a stockpile of supermarket stocks on standby. If I'm using pre made stocks than my order of preference would be fresh stock from the chilled section, stock pots and finally stock cubes. Most of the time I use stock pots as these can often be found for a reasonable price and pack quite a bit of taste in them.
Always check the ingredients before buying store stocks as there is often lots of salt included within them. If there is, remember to reduce or remove any necessary seasonings from the recipe you are following. Kallo makes very good low salt stocks (vegetable, chicken and beef).
4. Can I Use Tomato Sauce Or Passata In A Soup Maker?
Yes you can but be careful how you do. If you are adding passata or tomato sauce as your only liquid then you run the risk of it burning the bottom of your soup maker. Make sure you add some additional stock or water and give it a really good stir to reduce the chances of this happening.
5. How Do I Stop My Morphy Richards Burning At The Bottom?
I have heard from some users that their Morphy Richards Soup Maker has burnt on the bottom – I also heard it from a few users of the Salter Soup Maker.
I've never suffered from this problem but I think that maybe those users are either not using enough liquid, or are not mixing the ingredients around enough.
Also, the usual culprit for burning tends to be tinned tomatoes or passata (see #4 above). Not all shop-bought passata and chopped tomatoes are created equal – I always used to think it was the sugar content, but after some internet sleuthing I came across this very informative article about why tomato sauces can burn in a pressure cooker – the same principle can be applied to a soup maker.
Essentially it's down to the thickness of the tomato sauce. Have a read of the article if you can as it has a really useful chart explaining different tomato products and their viscosity (thickness).
The solution is to ensure you have enough stock in your soup maker to prevent the tomato based product from burning.
Always make sure there are no ingredients resting on the bottom of the machine before switching it on. You can also add a little oil (rapeseed or olive) to stop this from happening.
6. Can I Use Frozen Ingredients In A Soup Maker?
That will depend on the soup maker you have. I am not aware of any soup makers that can be filled completely with frozen foods. Some of my recipes include small amounts of frozen food which make up a very small ratio of the whole recipe. It might just be 100g of frozen peas or other vegetables, combined with many other ingredients and hot stock. Too much frozen food may damage the blade of the soup maker.
7. Can I Cook Meat In A Soup Maker?
Some soup makers will be suitable for cooking meat, but most will need the meat to be precooked. If you have the Morphy Richards Sauté Soup Maker you can fry up small amounts of raw meat, no more than 200g though. Anything more than this will need to be cooked separately. I always find that using up extra and leftover meats from other meals is the best way to include it in any meat-based recipes. I particularly like to use meat from our roast dinners and turn them into yummy chicken, beef or lamb soups, depending on what we have had.
8. My soup is coming out too thin – how can I make a thicker soup?
You might be using too much stock and not enough ingredients. Increase your ingredients and reduce your stock. Also, adding ingredients such as potatoes, lentils or butterbeans can thicken up a soup.
You Might Like: How To Thicken Soup
9. Can I use lentils in my soup maker?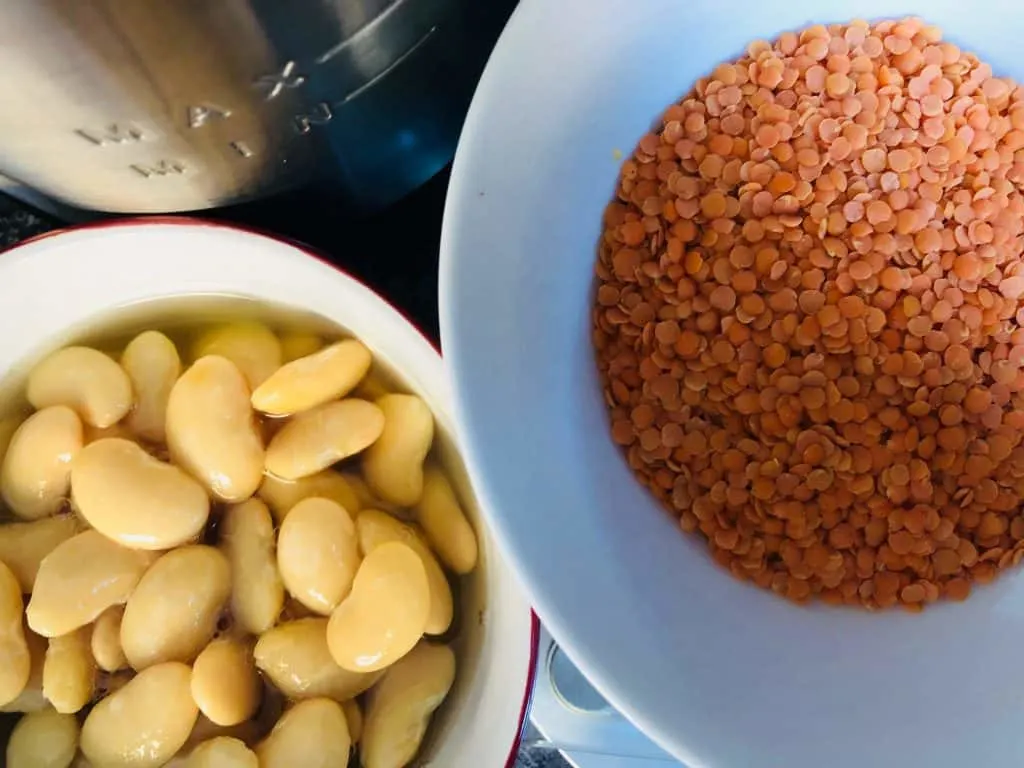 You certainly can. In fact I love lentil soups made in a soup maker. Just rinse the lentils in water and leave them to soak for an hour or two before making your soup.
Add them and whatever vegetables you have lurking about, together with some stock and you'll have yourself a yummy lentil soup! When I use red lentils I don't even soak them, I just give them a good rinse as per the packet instructions.
You Might Like: Bacon and Lentil Soup
10. How small do I need to cut the ingredients?
In order for all the ingredients to cook adequately, I find cutting them up into small chunks is best. This is especially true for ingredients like potatoes or butternut squash that might take a little longer to soften up. This will also ensure that the blades can easily cut through them to blend them up if you are making a smooth soup.
11. How To Convert A Soup Recipe
Almost any soup recipe you find in a cookbook or online can be converted into a soup maker recipe. The main thing you will need to adjust is the volume to make sure it fits within the maximum quantities of your soup maker. This is quite easy to do, just make sure you trend all the ingredients down in equal measure accordingly. You can also find some soup maker recipe inspiration here.
12. Should I Add Salt To My Soup?
Salt and any seasoning can really enhance the taste of a soup. However, I always recommend leaving the salt until after the soup has been made. This is simply because sometimes you won't need it – and why add extra salt to your diet unnecessarily? In addition, many shop bought stocks have high levels of salt already added to them.
13. How Long Will My Soup Keep For?
Some soup makers require that you make minimum quantities, this will often mean that you will have around 4 servings of soup. If you only require 1 serving you want to make sure the rest doesn't go to waste.
Soup can be safely kept in a fridge for 3 to 4 days, as long as it is stored in an airtight container. A soup flask is another good way to store soup in the fridge. Just make sure that you allow it to cool down first before placing it in the fridge so that it doesn't raise the temperature of the rest of the foods. When you are ready to reheat the soup simply gently cook it in a pan on the hob, or in the microwave.
You can also freeze soup, just portion it up, leave it to cool and pop it in a suitable freezer container. When you are ready to have it, take it out of the freezer, leave it to completely defrost before reheating it in one of the ways discussed above. It will last for 4 to 6 months in a freezer. Bulk soup making here we come!
Side Note: If you have the lastest Morphy Richards Total Control Soup Maker you will be pleased to know that you can a) make smaller soup portions (minimum or 2), as well as, b) reheat it in the soup maker – there is a setting to do this!
Do you have any questions about using a soup maker? Please ask away in the comments or send me an email. You can also join my private Soup Maker Recipes Facebook group for additional tips and recipe inspiration – it would be great to see you there!