Do you want to cook an air fryer rotisserie chicken?
A rotisserie chicken tastes juicy, with tender meat and a crispy, golden-brown skin. The slow rotation of the chicken on the rotisserie ensures that it cooks evenly, allowing the natural fats and juices to circulate throughout the meat. This gives the inside a rich flavour and makes it juicy and moist.
Here's a step-by-step guide on how to cook a delicious rotisserie chicken in your air fryer oven.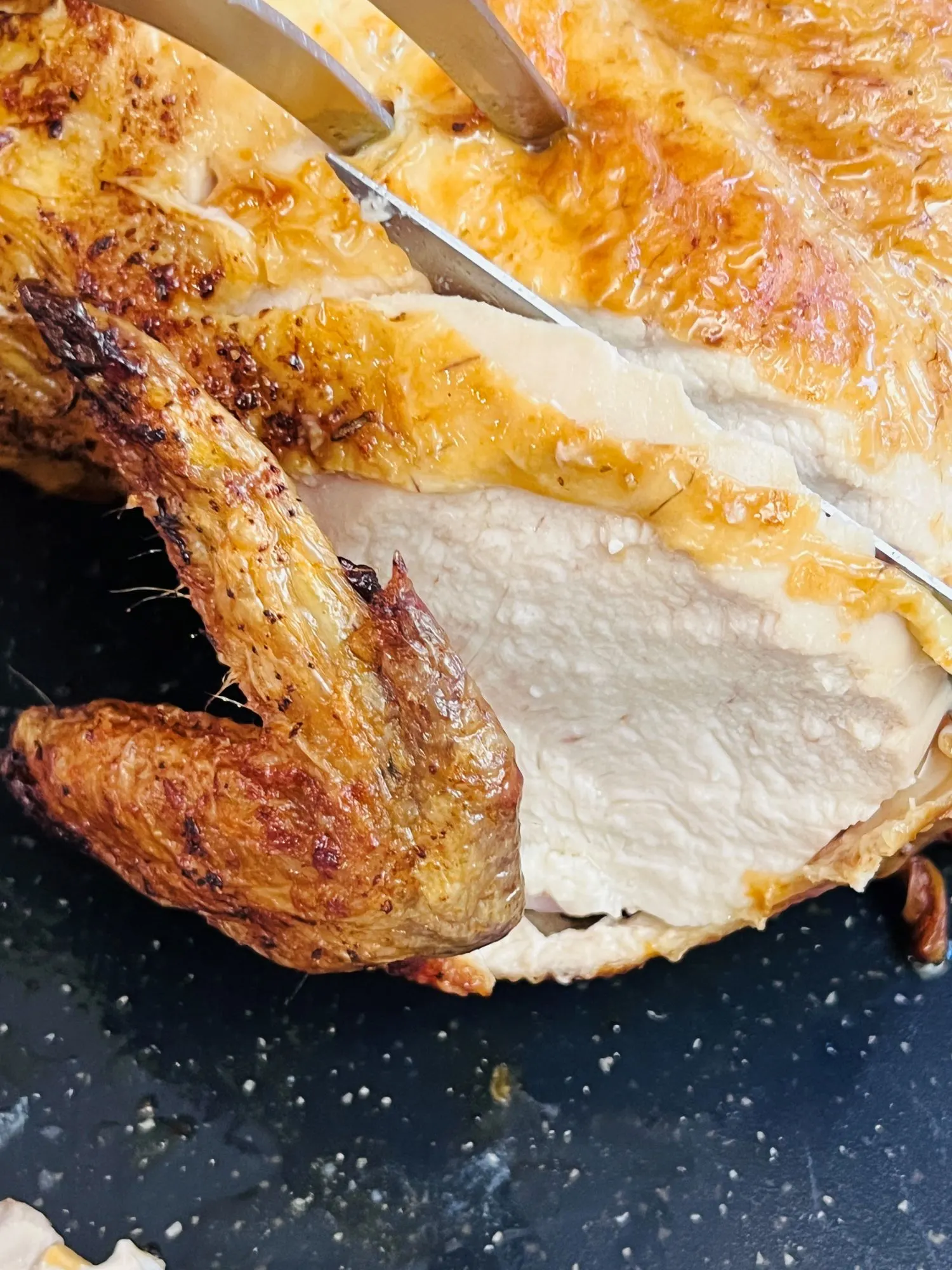 How To Cook A Rotisserie Chicken In An Air Fryer
If you want to cook a rotisserie chicken, you will naturally need an air fryer with a rotisserie function. If you have a regular model with a basket, you can also cook a whole chicken in this type of air fryer.
Equipment Needed:
Air fryer oven with rotisserie function and accessories (rotisserie spit and forks)
Meat thermometer
Kitchen/butchers string
I used a Proscenic T31 Air Fryer Oven that has rotisserie forks, spits and tongs. It's a really easy to use air fryer oven.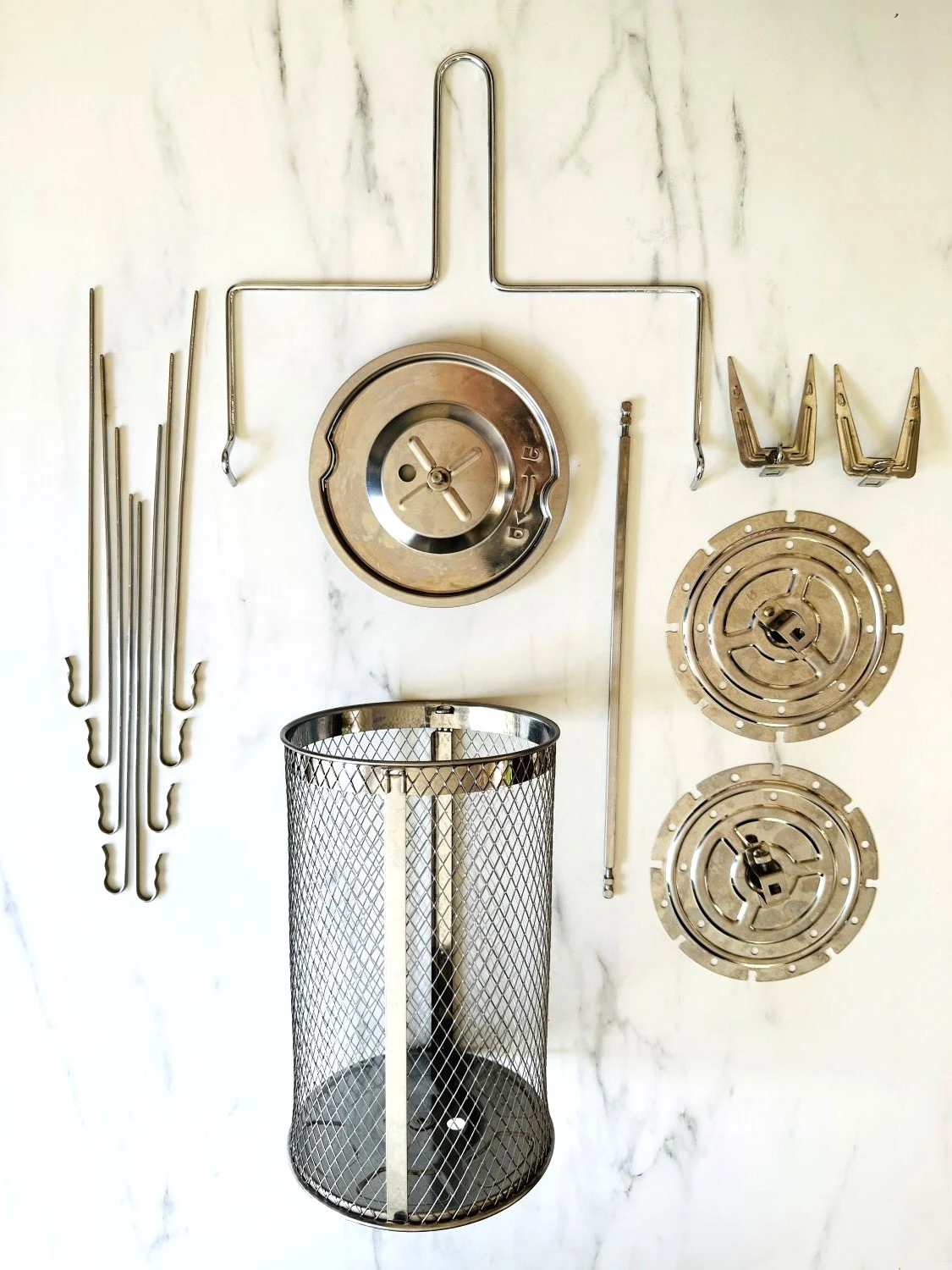 Just make sure you tie up the chicken legs (and wings if necessary), or they'll catch as the chicken turns – you'll see from the picture below that I forgot to do this, and yes, it did get caught. Luckily I was in the kitchen to fix it quickly 😉
I USED THIS AIR FRYER OVEN!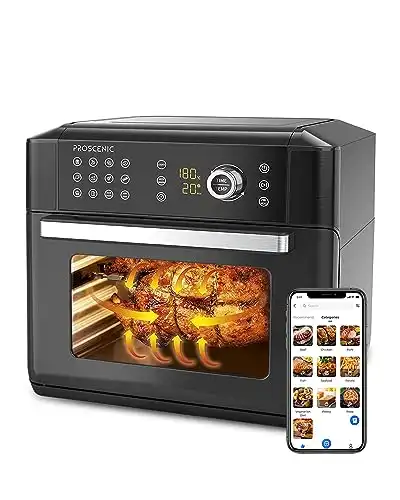 Proscenic T31 Air Fryer Oven
Capacity: 15L
Wattage: 1700W
Material: Plastic, aluminium
Special Features: TurboAir technology, 12 preset programmes, App and Alexa control, Non-stick and easy to clean
SEE ON AMAZON
We earn a commission if you click this link and make a purchase at no additional cost to you.
12/02/2023 04:16 am GMT
Ingredients
1 whole chicken (1.5kg to 2kg)
2-3 tablespoons olive oil
Salt to taste
Pepper to taste
Optional: Additional herbs and spices (e.g., garlic granules, paprika, rosemary, thyme)
Preparing the Chicken
Truss the chicken: Use kitchen string to tie the chicken legs together and secure the wings to the body. This ensures the chicken cooks evenly and stops them from getting caught as the chicken turns.
Prepare the marinade or rub: In a mixing bowl, combine olive oil, salt, pepper, and any additional herbs and spices you fancy. Then, rub the mixture all over the chicken.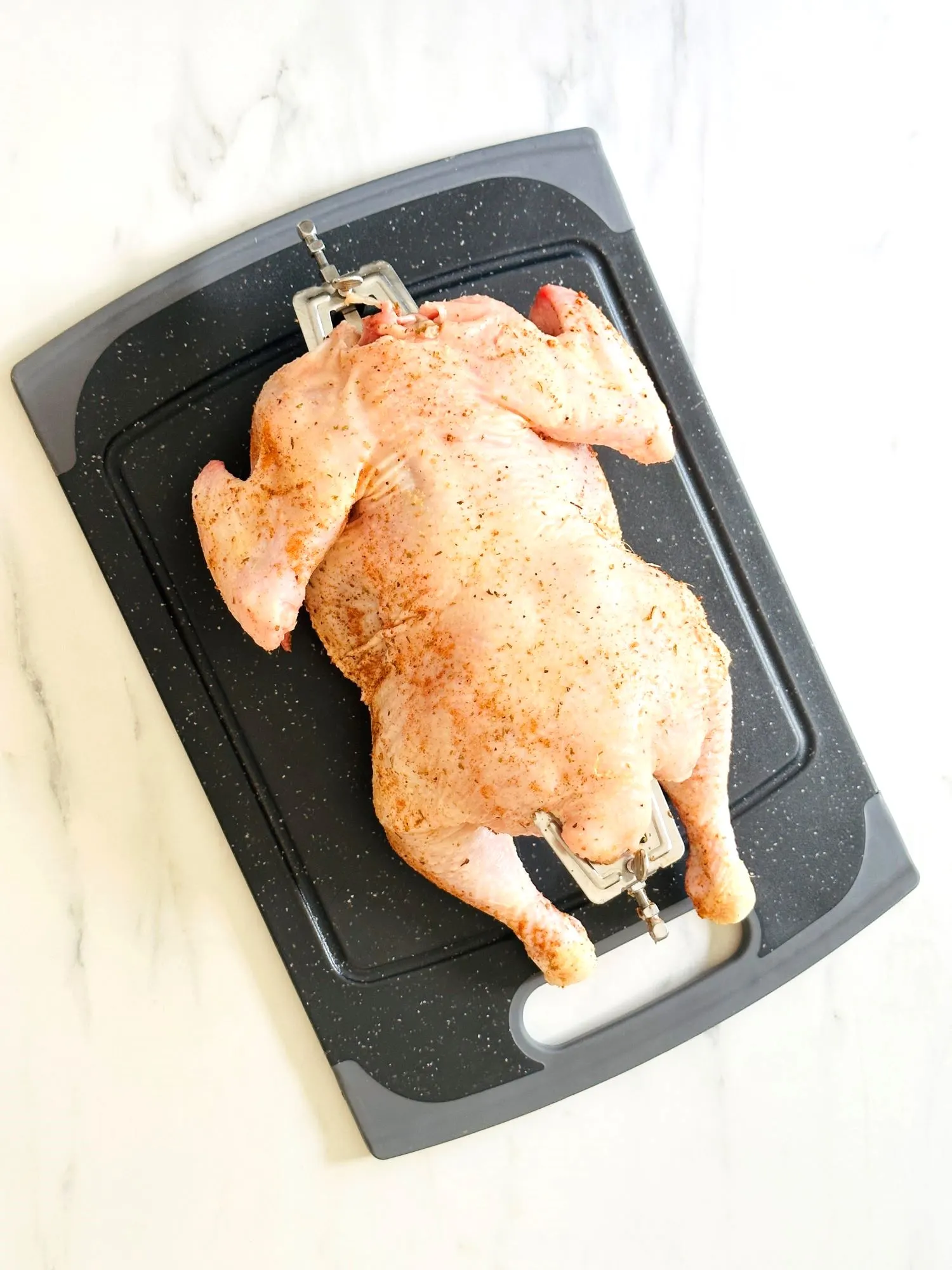 Air Frying The Rotisserie Chicken
Mount the chicken: Carefully mount the chicken onto the rotisserie spit, securing it with the rotisserie forks.
Insert the Spit: Place the rotisserie spit with the chicken into the air fryer oven, ensuring it's properly balanced and secured. Remember to place the drip tray at the bottom to collect the drippings as the chicken cooks.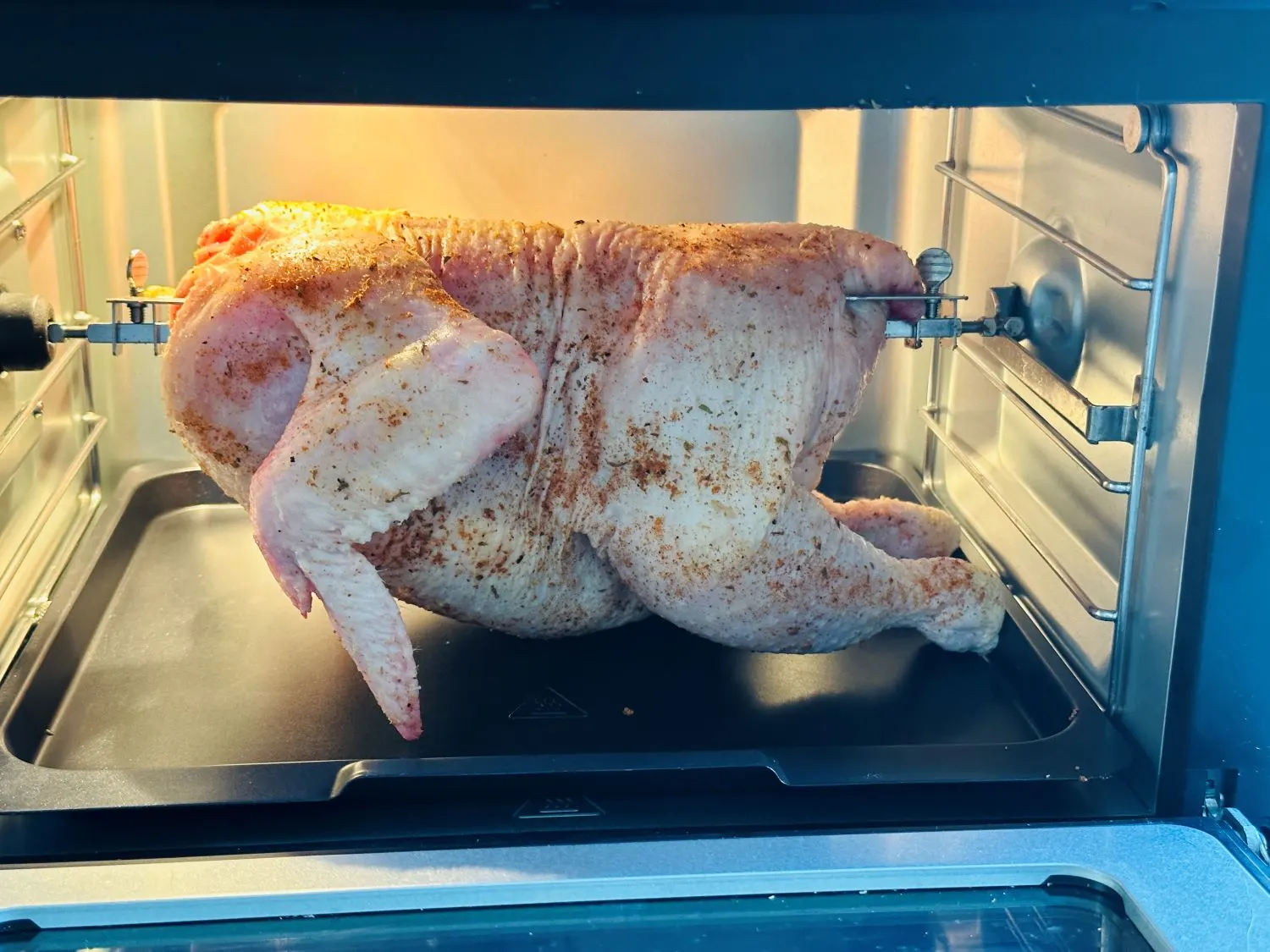 Set the Timer: The cooking time will depend on the weight of your chicken. As a general guideline, cook for 40 minutes for a 1.5kg chicken, adding an extra 5 minutes for every additional 500g. So, a 2kg chicken would cook for 45 minutes.
Check for Doneness: Use a meat thermometer to check the internal temperature of the chicken. It should reach at least 75°C in the thickest part of the thigh, avoiding the bone.
I USE THIS THERMOMETER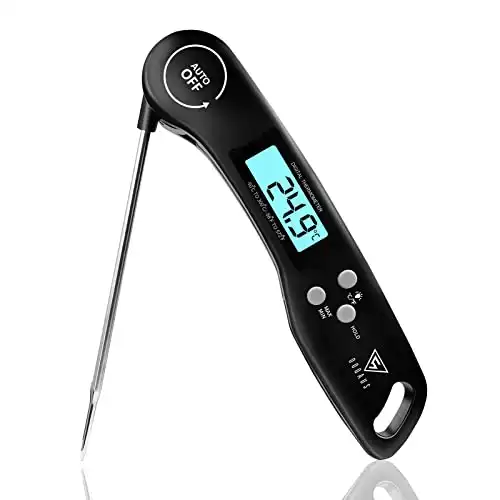 Meat Thermometer
SEE ON AMAZON
We earn a commission if you click this link and make a purchase at no additional cost to you.
12/02/2023 04:11 am GMT
Rest the Chicken: Once the chicken is cooked, remove it from the air fryer oven and let it rest for about 10 minutes before carving. This allows the juices to redistribute throughout the meat, making it juicier and easier to carve.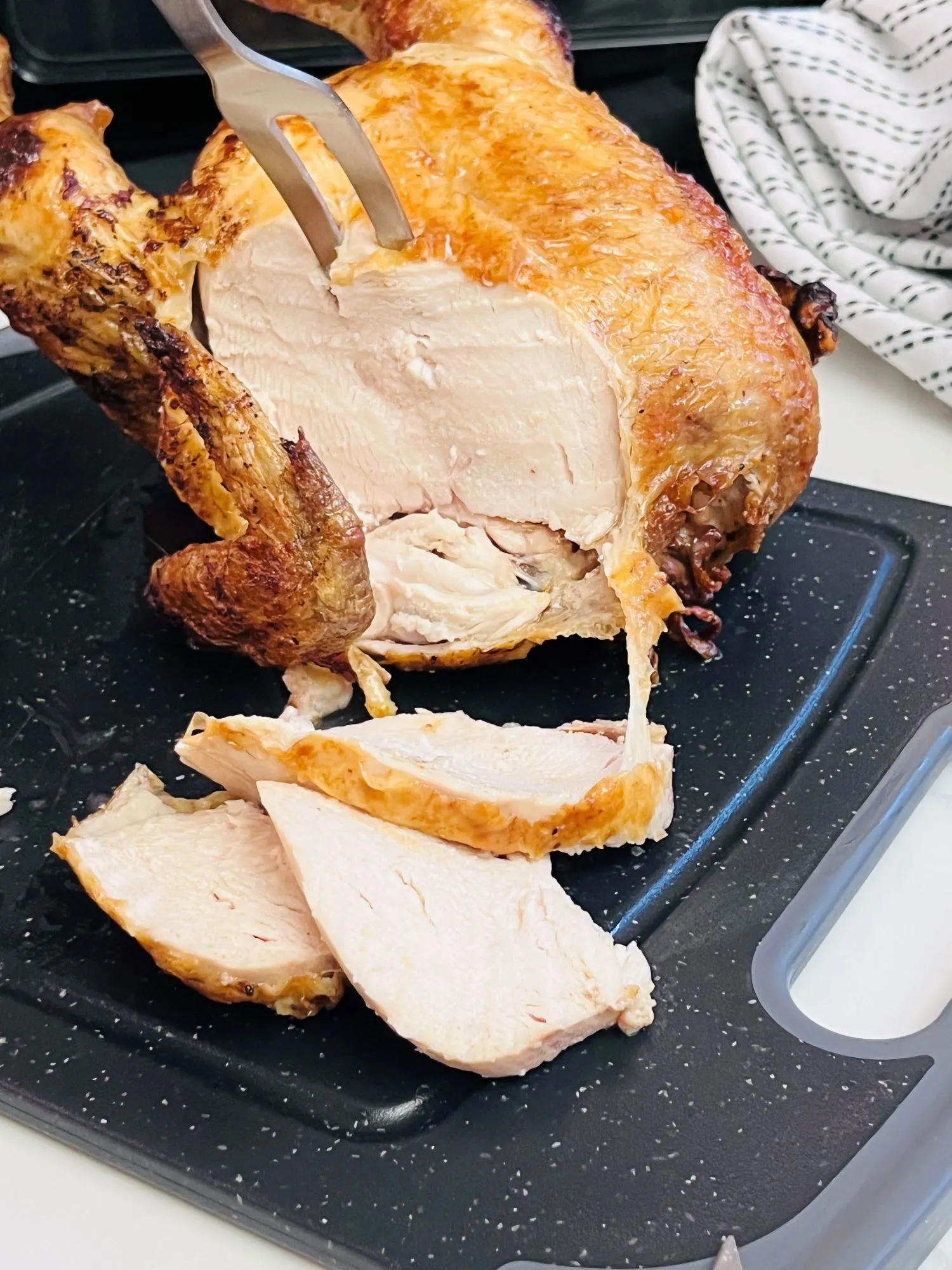 Rotisserie Chicken Serving Suggestions
Serve your rotisserie chicken with a side of roasted vegetables, which you can also prepare in your air fryer oven.
Make a simple gravy from the chicken drippings collected in the drip tray.
Pair the chicken with a light salad for a healthier option.
Rotisserie Chicken Tips and Tricks
For extra flavour, you can marinate the chicken in your preferred marinade for a few hours or overnight before cooking.
Keep an eye on the chicken as it cooks. You can lower the temperature slightly if it starts to brown too quickly.
Air Fryer Rotisserie Chicken: FAQS
What Air Fryer Is Best For Rotisserie Chicken?
There is a growing choice of air fryer ovens with a rotisserie function. I used a Proscenic T31 air fryer oven and can recommend it for a rotisserie chicken.
Is It Cheaper To Roast A Chicken In An Air Fryer?
Air fryers generally use less energy than traditional ovens because they heat up more quickly and cook food in less time. Check the wattage on the air fryer and compare it to your oven.
Can I Roast A Whole Chicken In A Regular Air Fryer?
Yes, you can! As long as the air fryer basket is big enough to fit the chicken in. See my air fryer whole chicken guide for more details.