Chicken fajitas are a classic Mexican food popular for an easy weekday meal or a dinner party with friends.
Fajitas are perfect for serving a group as everyone can help themselves and add whatever toppings they like. The flexibility also makes fajitas ideal for serving children.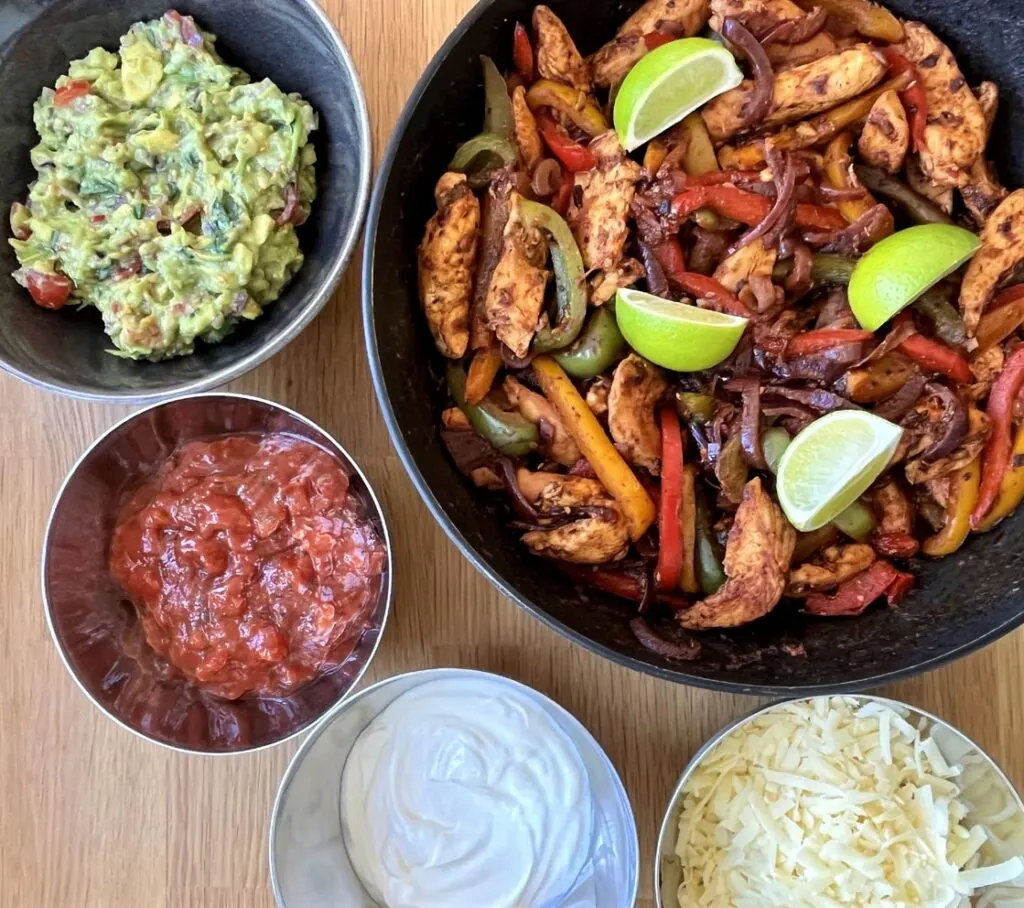 Chicken Fajitas Ingredients
This recipe serves four but can easily be halved or multiplied. If you want to print it out, head down to the recipe card at the bottom.
1tbsp rapeseed or olive oil
3-4 chicken breasts, about 650g (cut into strips)
3 mixed bell peppers, we used red, orange and green, cut into thin strips
2 red onions, halved and thinly sliced
2tsp ground cumin
2tsp smoked paprika
2tsp ground oregano
1tbsp chipotle paste
Juice of 1 lime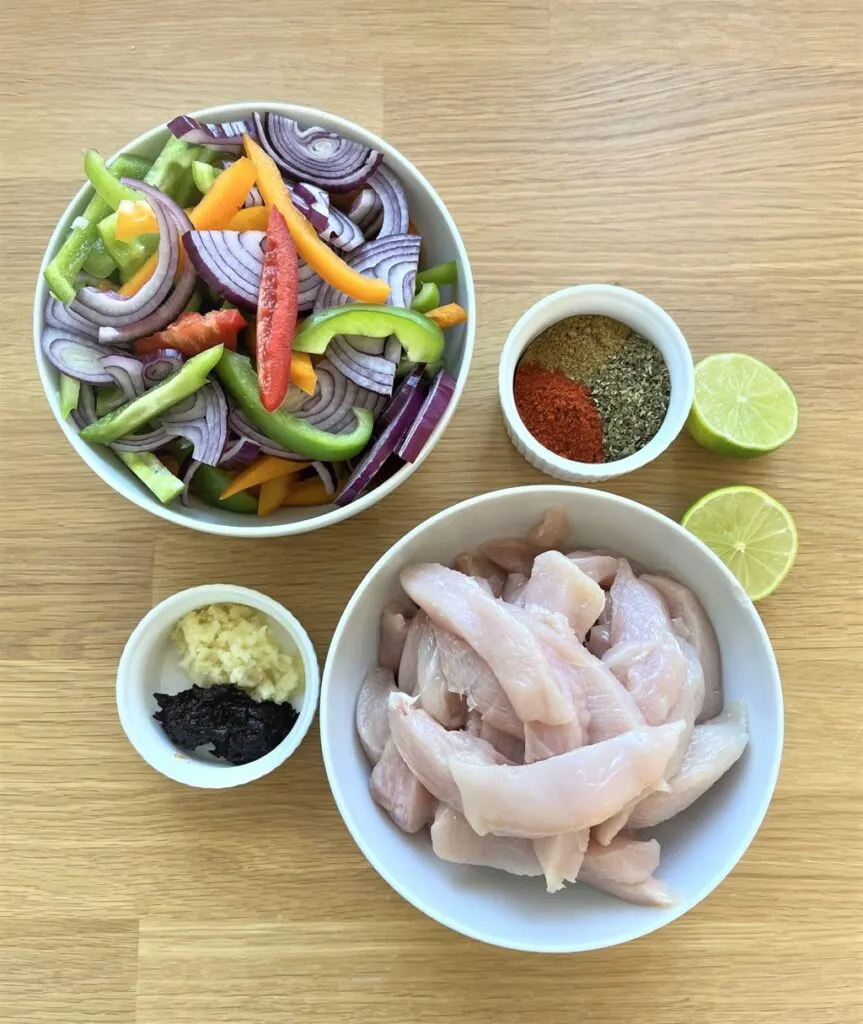 To serve:
8 tortilla wraps
Guacamole
Sour cream
Tomato salsa
Grated cheddar cheese
Lime wedges
Chicken Fajita Seasoning
We've made a homemade version of fajita seasoning using ground cumin, smoked paprika, dried oregano, garlic and chipotle paste.
This spice combination has smokey and savoury flavours that work perfectly with the chicken, peppers and onion.
If you prefer you could use chilli powder or crushed chilli flakes instead. The key here is to get a nice charred edge to the chicken and vegetables, adding to the smoky flavour.
The spice mixture of ground cumin, smoked paprika, oregano and chipotle paste creates the perfect flavour for fajitas. You can adjust the amount of chipotle paste you want to use based on how much heat you like.
The chipotle paste is made from dried and smoked jalapeño chillies and adds a delicious smoky heat that perfectly complements the smoky paprika and savoury cumin.
Related: A Quick Guide To Chipotle Paste
How To Make Chicken Fajitas – Step by Step
Heat the oil in a large frying pan over medium high heat. Once hot, add the chicken and fry until golden brown all over, 4-5 minutes.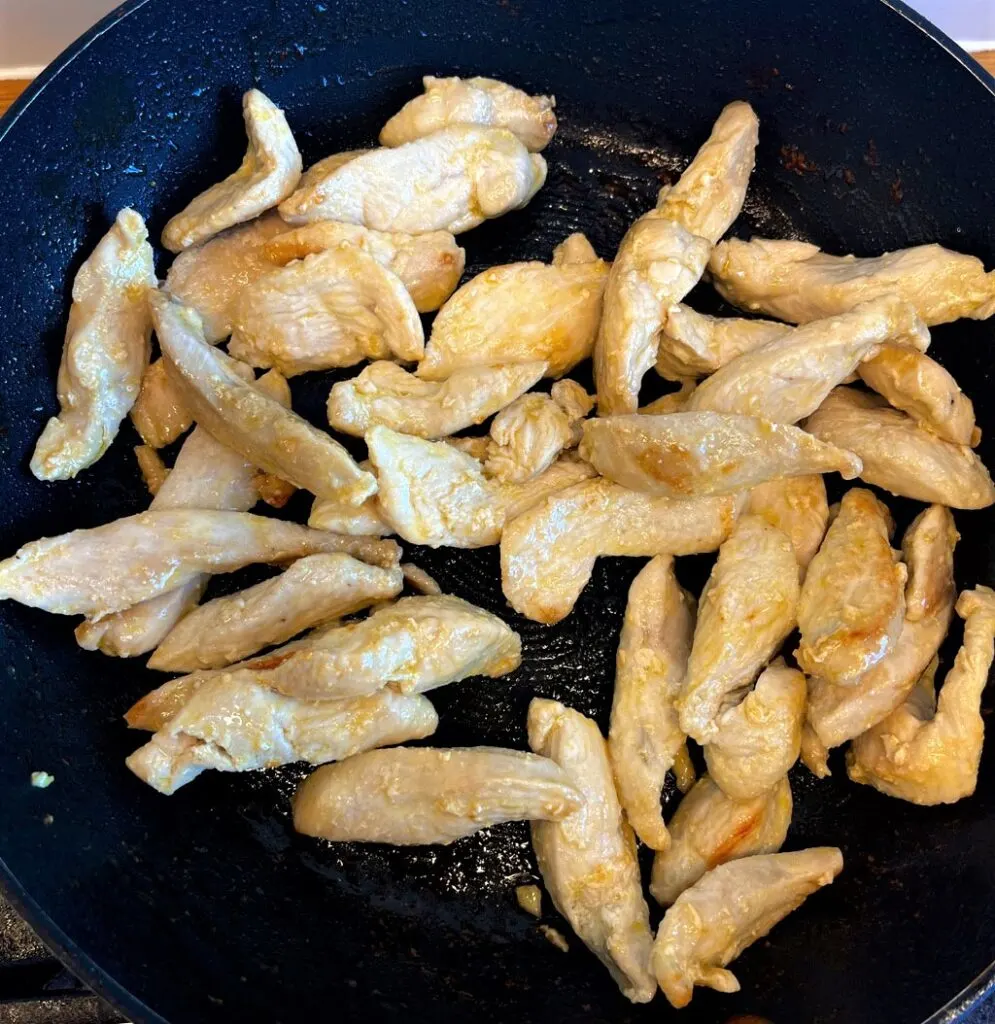 Add the sliced peppers and onion, season with salt and pepper and continue to fry until softened and golden brown, a further 4-5 minutes.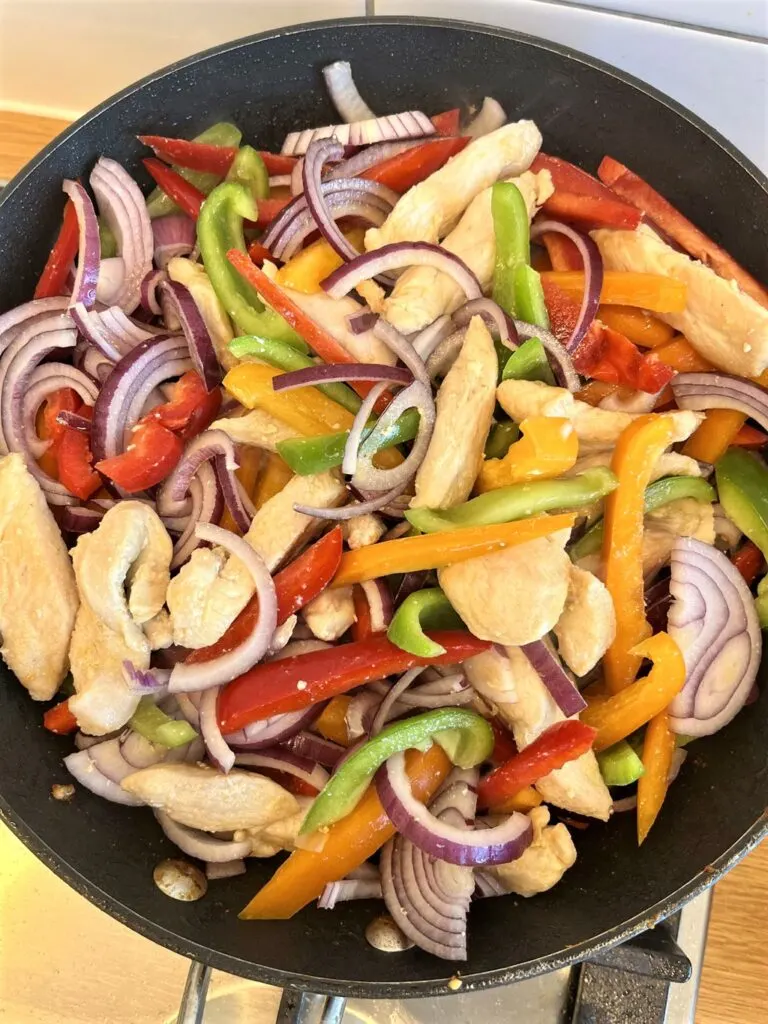 Add the spices, chipotle paste and garlic. Continue to cook, adding a splash of water as you do so, for 2-3 minutes, until aromatic and everything is coated in the spice mixture.
Stir through the lime juice, taste and add more salt and pepper.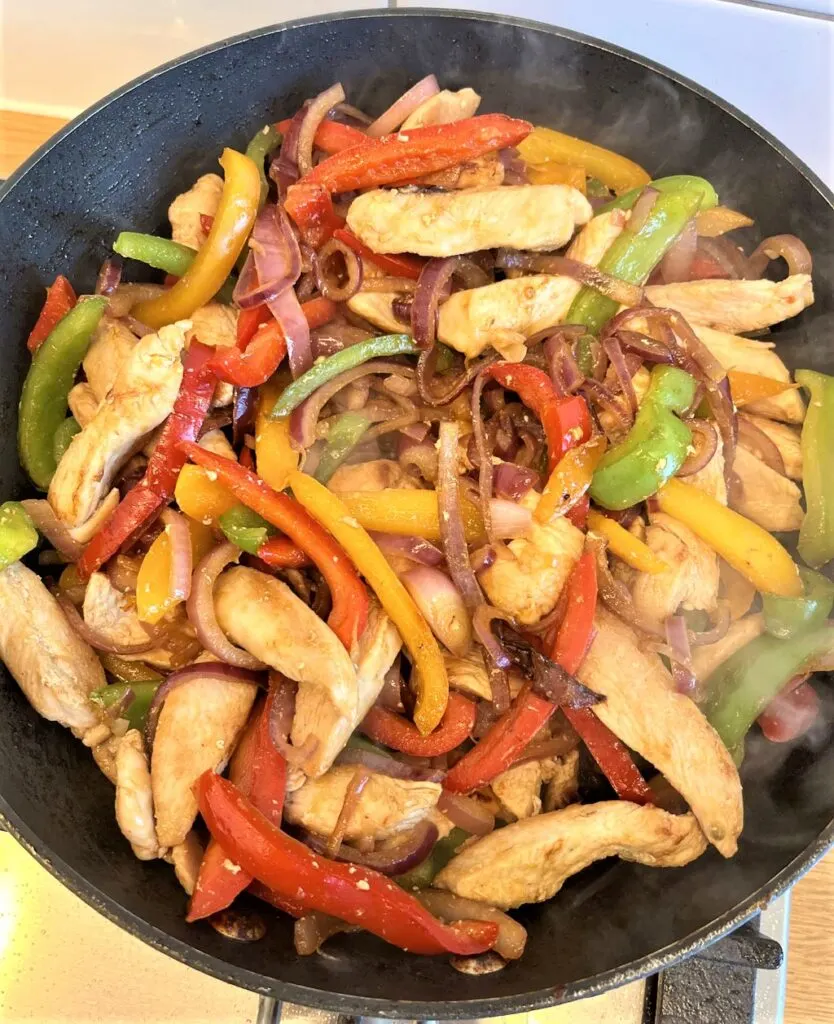 Warm the tortilla wraps. Pile the chicken mixture between them and top with the remaining topping ingredients.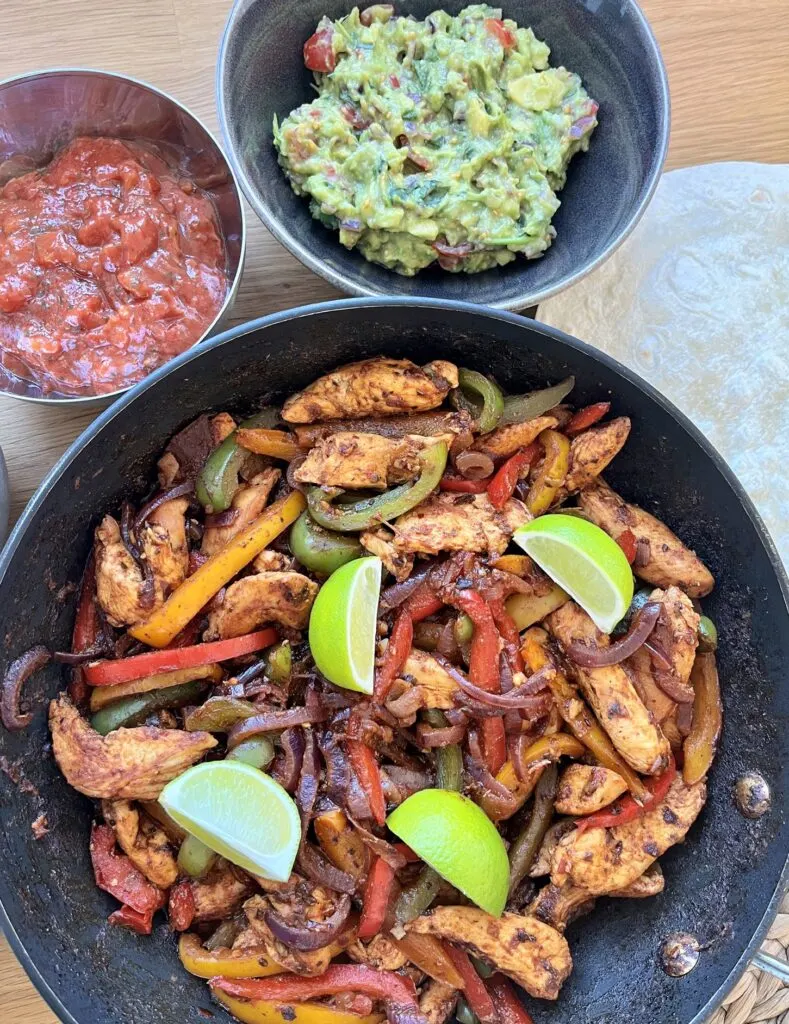 Tips For Making Fajitas
We've made this version with chicken, mixed peppers and red onions, but you could use alternative ingredients if you like.
Add More Vegetables
Courgettes and mushrooms are good if you want to add more vegetables.
Make Vegetarian Fajitas
To make vegetarian fajitas instead, you could use vegetarian chicken, halloumi or firm tofu, or pulses such as kidney beans or black beans for added protein.
Alternative Fillings
Swap the chicken out for strips of steak, pork steak or even fish such as cod or salmon.
Oven Baked Fajitas
We have cooked this in a frying pan, but you could also roast this in a hot oven. If oven baking, chicken thighs will work better as chicken breasts would dry out in the oven.
What Chicken Should I Use?
We've used chicken breasts here, but you could also use sliced boneless chicken thighs. Just make sure the chicken is thoroughly cooked through before serving.
What Are Fajitas Wrapped In?
We used flour tortillas here, but you could use any you prefer; you can also use corn-based tortillas to keep this recipe gluten-free.
What Toppings Do You Put On A Fajita?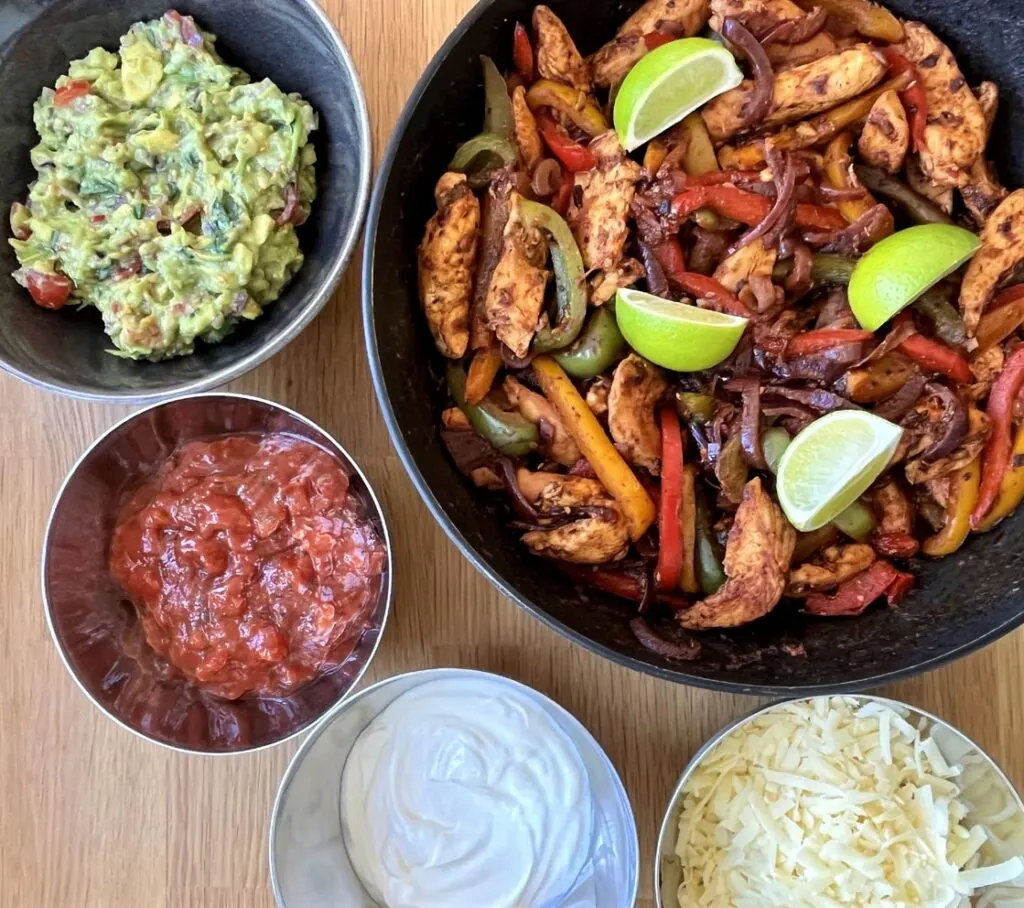 We've served this with homemade guacamole, soured cream, tomato salsa, grated cheddar cheese and lime wedges.
However, you could also make your own tomato salsa if you like!
What To Serve With Chicken Fajitas
These fajitas are a complete meal; however, if you would like to serve them with a side dish, some sweet potato wedges would be delicious, especially if you cook them in smoked paprika.
You could also serve them with some corn on the cob or a green salad.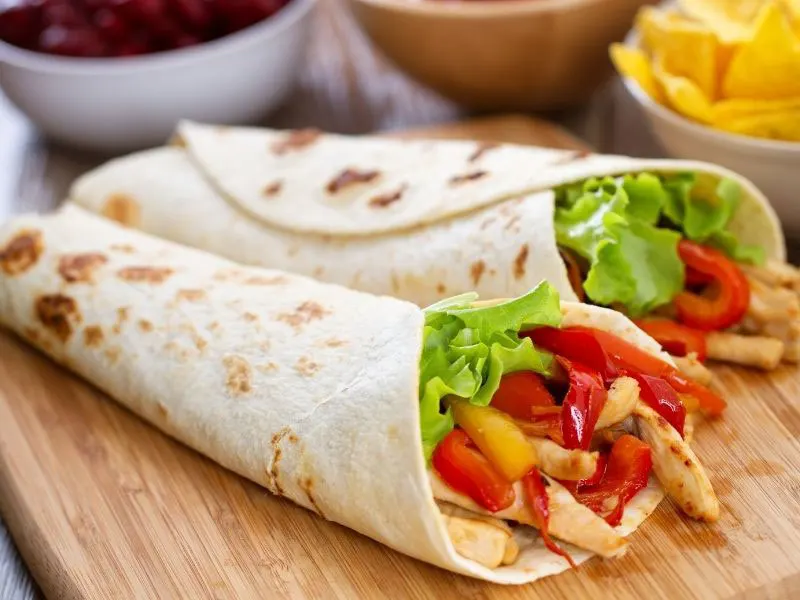 Can You Make Chicken Fajitas Ahead Of Time?
Fajitas are best cooked fresh; however, you could slice the chicken and vegetables up to a day in advance and store them in a sealed container in the fridge so they are ready to be cooked when you are ready.
Can You Freeze Chicken Fajitas?
Fajitas are best cooked fresh, and the textures of the chicken and peppers don't freeze well. However, you can use previously frozen chicken and tortilla wraps.