Are you looking for a quick and easy coronation chicken recipe?
Whether you are making coronation chicken for a sandwich, jacket potato topping, or, to enjoy with a classic green salad, you'll be pleased to know that this British food classic doesn't take long to make.
Read on and learn about what ingredients you need, the steps to making coronation chicken and some general tips for making it ahead of time.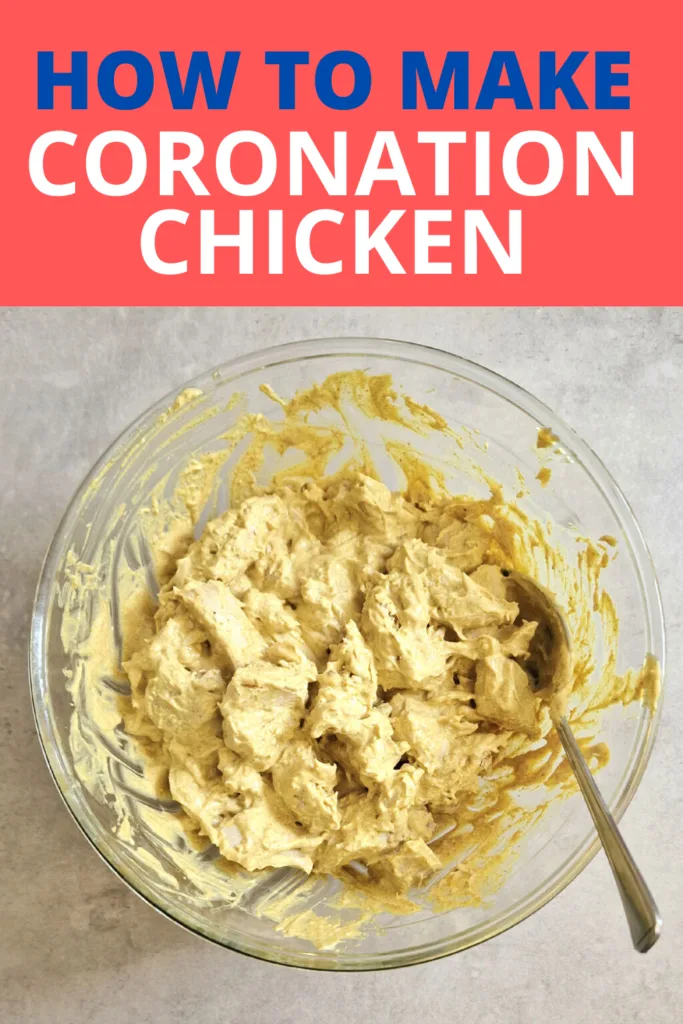 What Is Coronation Chicken?
Coronation chicken is a salad dish that was created for the Queen's coronation in 1953. It is made with cooked chicken, mayonnaise, curry powder, and other seasonings. The dish can be served on its own or used as a sandwich filling or salad topping.
Coronation Chicken Ingredients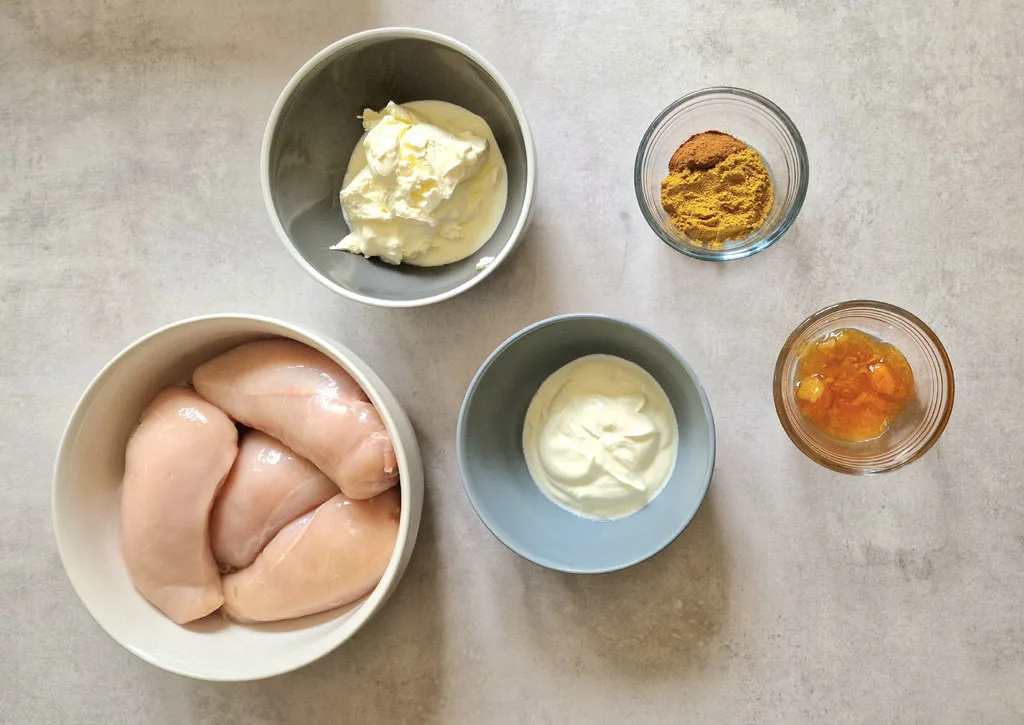 The ingredients listed below will be enough for about 4 servings, depending on how you will be serving it. If you need to make more or less you can adjust the measurements accordingly.
Scroll down to the recipe card if you want to print it out.
4 chicken breasts (approx 450g)
200g creme fraiche and 100g Greek yoghurt or alternatively you can use an equivalent amount of mayonnaise
2 tsp mild curry powder or 1 tbsp of curry paste
1 tsp ground cinnamon
1 tbsp mango chutney
1 tbsp lemon juice
2 tbsp sultanas and/or chopped apricots (optional)
Salt and pepper to season
Chopped fresh coriander (optional)
How To Make Coronation Chicken
Making coronation chicken is a great way to use up any cooked leftover chicken. If you have enough to use you can skip this step. If you don't have any already cooked, start here.
Cook The Chicken Breasts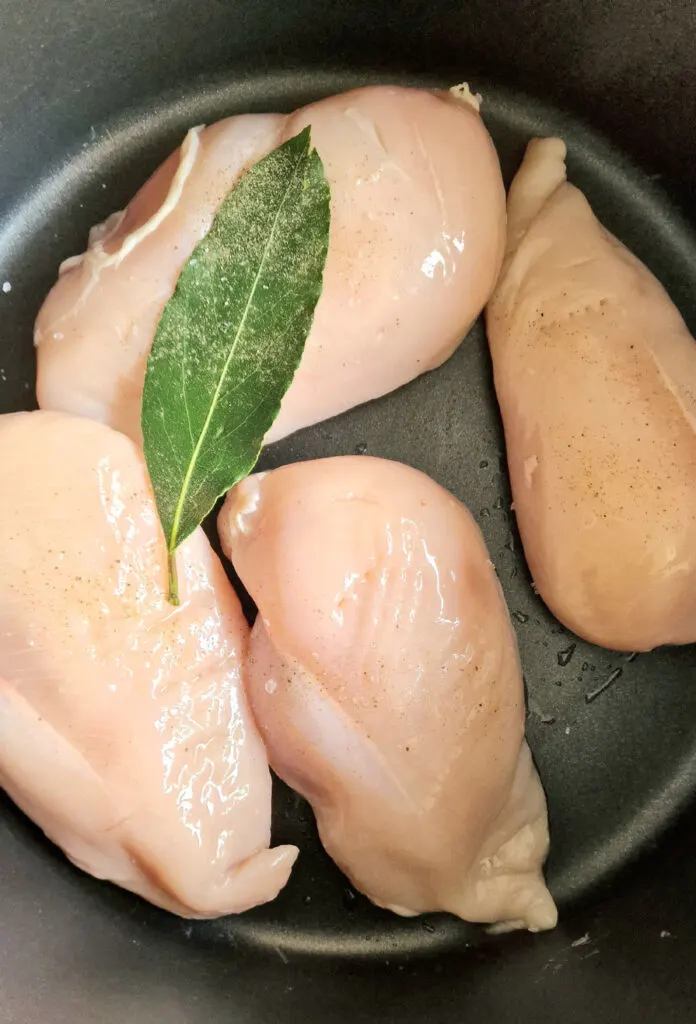 Cook the chicken breasts using your usual method (poach, oven bake, grill, air fry or pressure cook).
For coronation chicken, I like to poach chicken breasts. Cooking this way helps to keep them moist and juicy and prevents them from drying out.
Place the chicken breasts in a pan with a bay leaf and some peppercorns if you have them. You can cook the chicken in plain water or lightly seasoned with salt and pepper.
Pour water over the top of the chicken breasts so that they are covered with about 1 or 2 inches to spare.
Bring to the boil and reduce to a simmer for 15 to 20 minutes or until they are cooked through. Turn the heat off and leave the chicken to cool in the water.
Make The Coronation Chicken Sauce
While the chicken is cooling down you can make the coronation chicken sauce.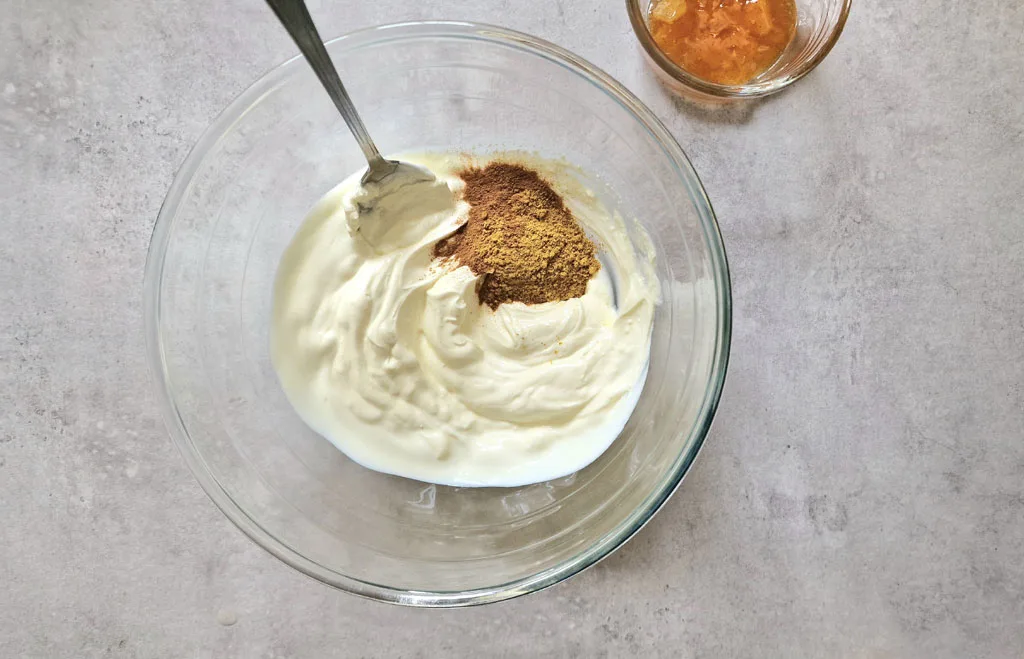 You can either use mayonnaise or a combination of creme fraiche and Greek yoghurt.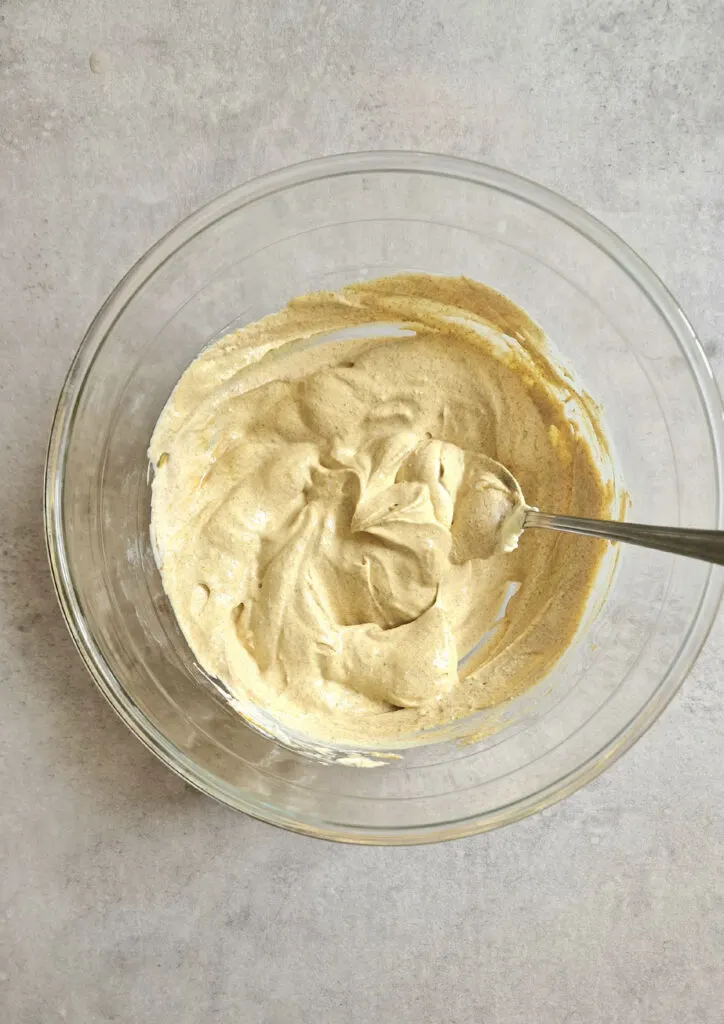 In a bowl mix the above with the curry powder or paste and cinnamon. Mix it together until it is well combined.
Stir in the mango chutney, lemon juice and any salt and pepper to season.
Add The Chicken
Once the chicken has cooled down, drain it from the liquid and shred or dice it into strips.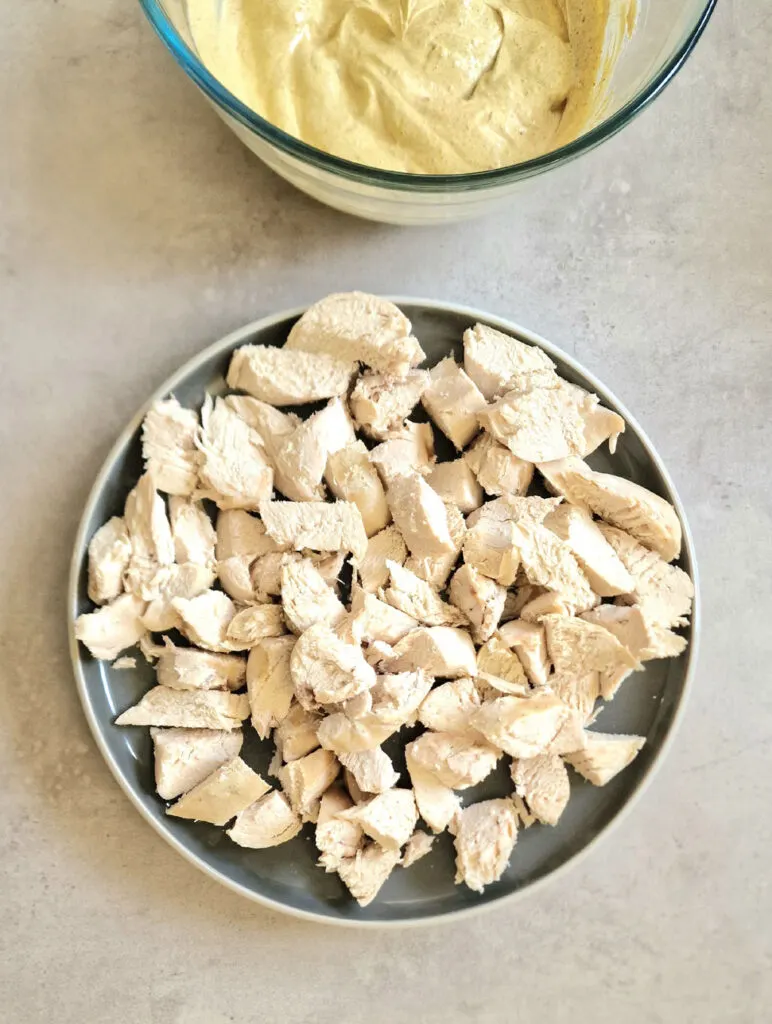 Add the shredded chicken into the curry sauce until it is well combined.
If you are adding sultanas and or apricots stir these in now.
Optionally stir in some chopped fresh coriander.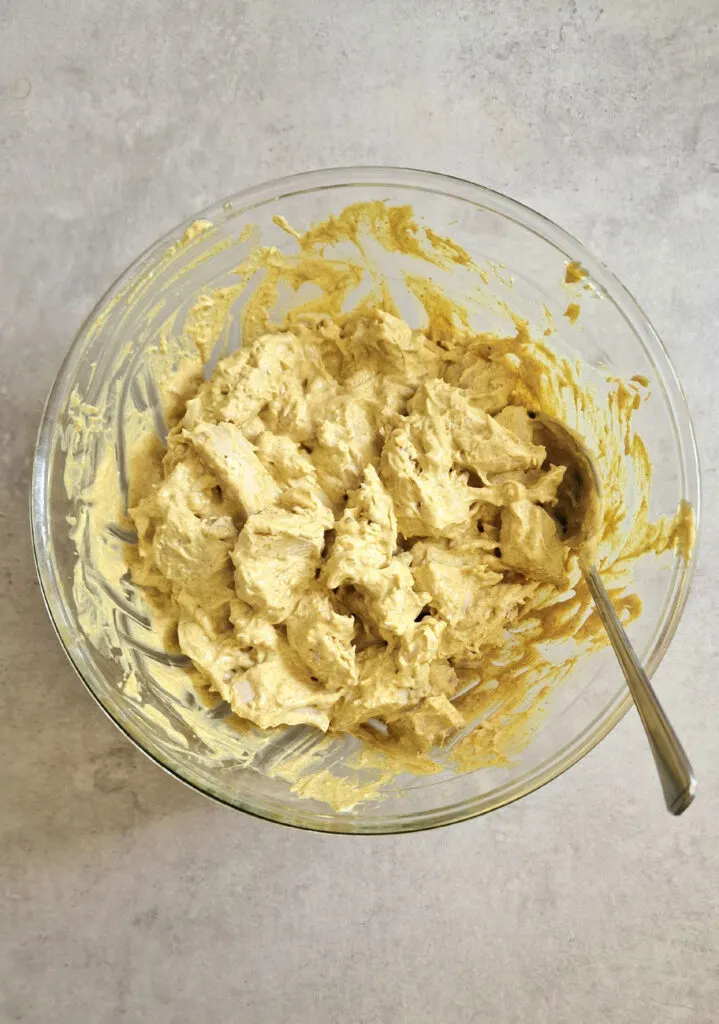 What To Serve With Coronation Chicken
Coronation chicken is most commonly served as part of a sandwich, in a wrap, or in a salad. It can also be used to top a jacket potato or rice dish.
How Long Does Coronation Chicken Last In The Fridge?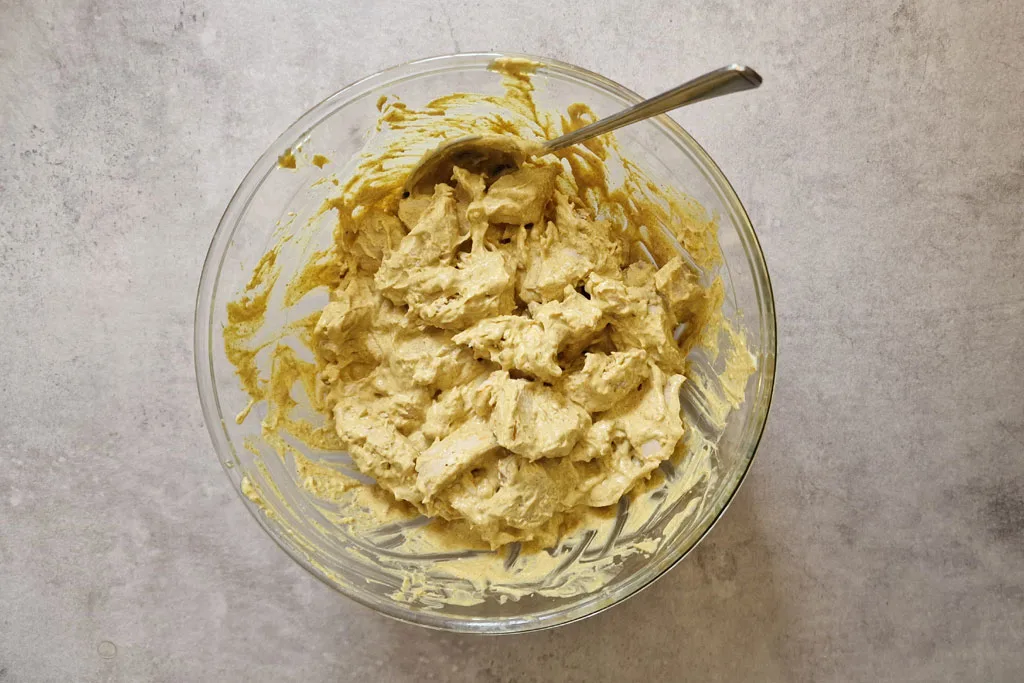 If you are making coronation chicken ahead of time it will last in the fridge for 2 to 3 days in an airtight container.
It can also be frozen for up to 2 months. When you are ready to eat it, allow it to thaw in the fridge overnight and give it a good stir before serving.