This mixed bean chilli is a delicious meal perfect for all occasions, whether for a simple family meal or to serve at a dinner party.
If you're used to eating meat chillies then you will be pleasantly surprised with this dish, the beans are packed with protein and take on the flavours of the chilli in a really delicious way – even the most avid meat eater will love this!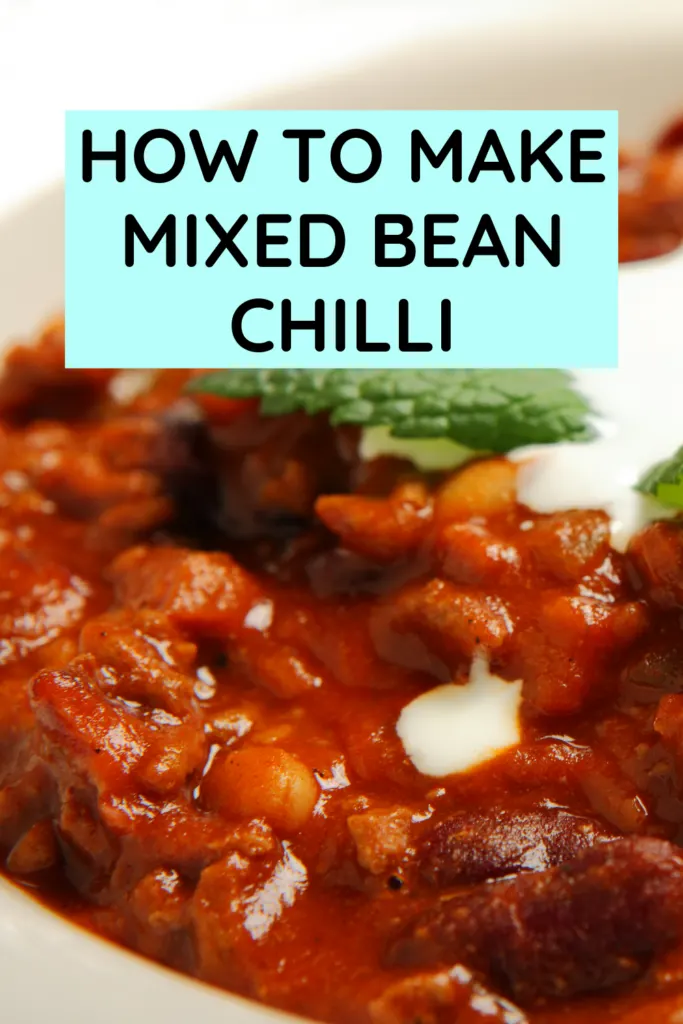 How To Make Mixed Bean Chilli
The following ingredients are to make a mixed bean chilli for four people. To print out the recipe, scroll down to the bottom to the recipe card.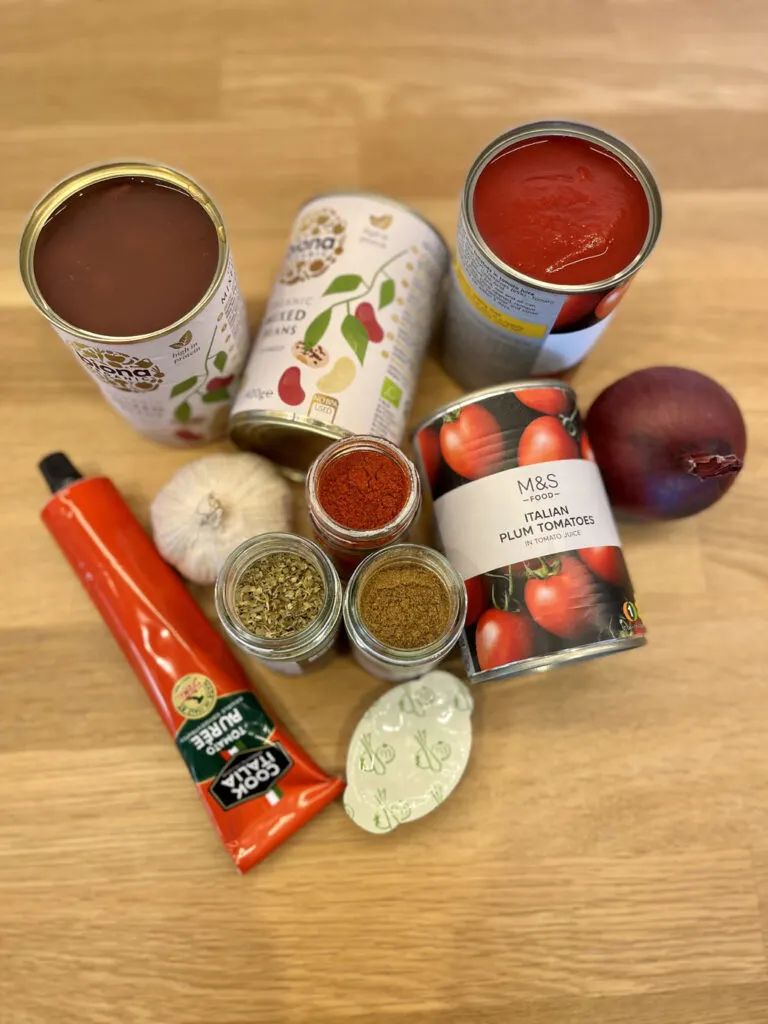 What You Need:
1 tbsp rapeseed or olive oil
2 red onions, finely chopped
3 garlic cloves, crushed
2-3 tsp chipotle paste
2 tbsp tomato purée
2 tsp ground cumin
2 tsp smoked paprika
2 tsp dried oregano
Pinch of ground cinnamon (optional)
2 x 400g tins plum tomatoes
1 tbsp brown sugar
1 tbsp red wine vinegar
1 vegetable stock pot
2 bay leaves
2 x 400g tins of mixed beans, drained and rinsed
200 ml water
Chipotle Paste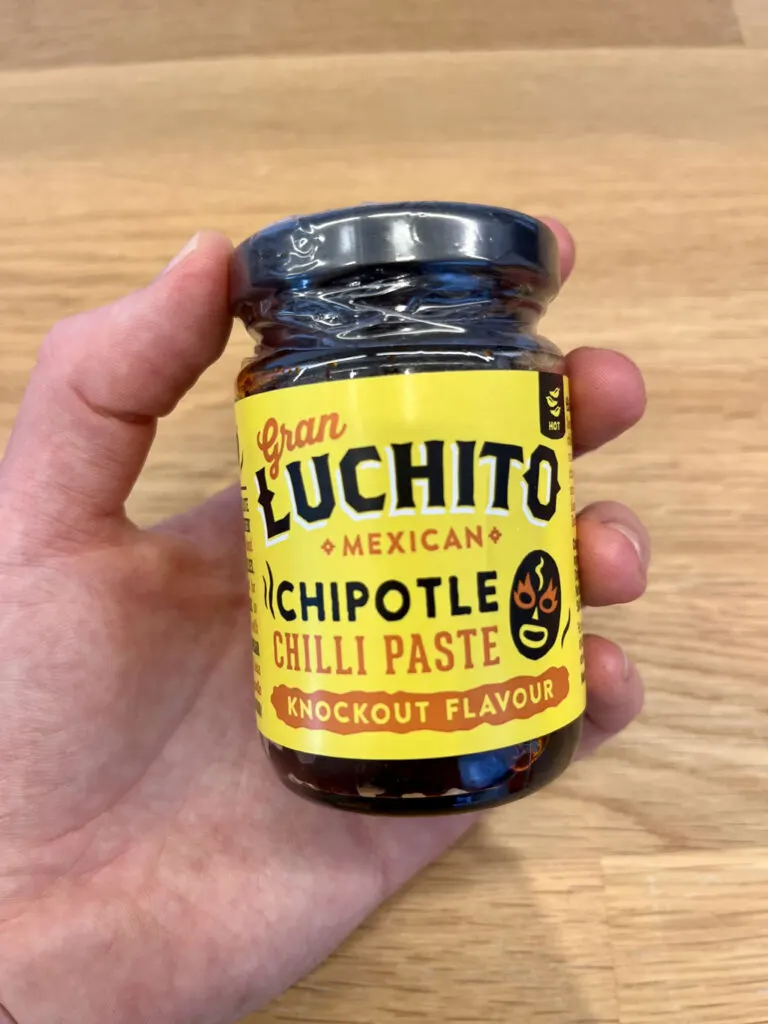 The chipotle paste is the real star of the show here which is made from smoked and dried jalapeño chillies.
We used Gran Luchito chipotle paste which is really delicious but there are lots of varieties available which will vary in heat levels. You can adjust the amount based on your heat preferences.
Mexican Spices
The combination of cumin, smoked paprika and cinnamon is deliciously warming and smoky, again feel free to adjust the levels of these depending on your preferences.
Cinnamon adds a slightly sweet and warming background flavour but you can leave it out if you prefer.
Dried oregano is also commonly used in Mexican cooking and adds a delicious background herbal flavour which is complemented by the bay leaves.
We've added some brown sugar for a bit of sweetness and red wine vinegar for a hint of sharpness, these two ingredients combined add a delicious depth of flavour.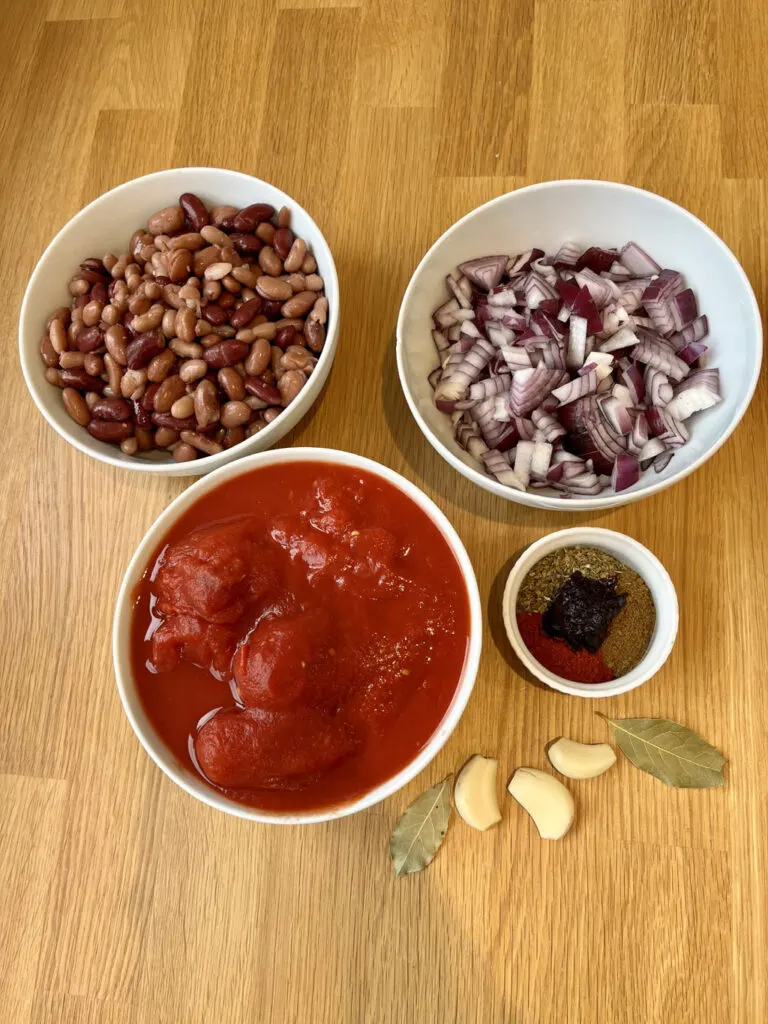 Making Mixed Bean Chilli – Step By Step
Begin by heating the oil in a large frying pan over medium heat. Add the chopped onion with a pinch of salt and cook, stirring regularly, until softened and lightly golden, about 5-6 mins.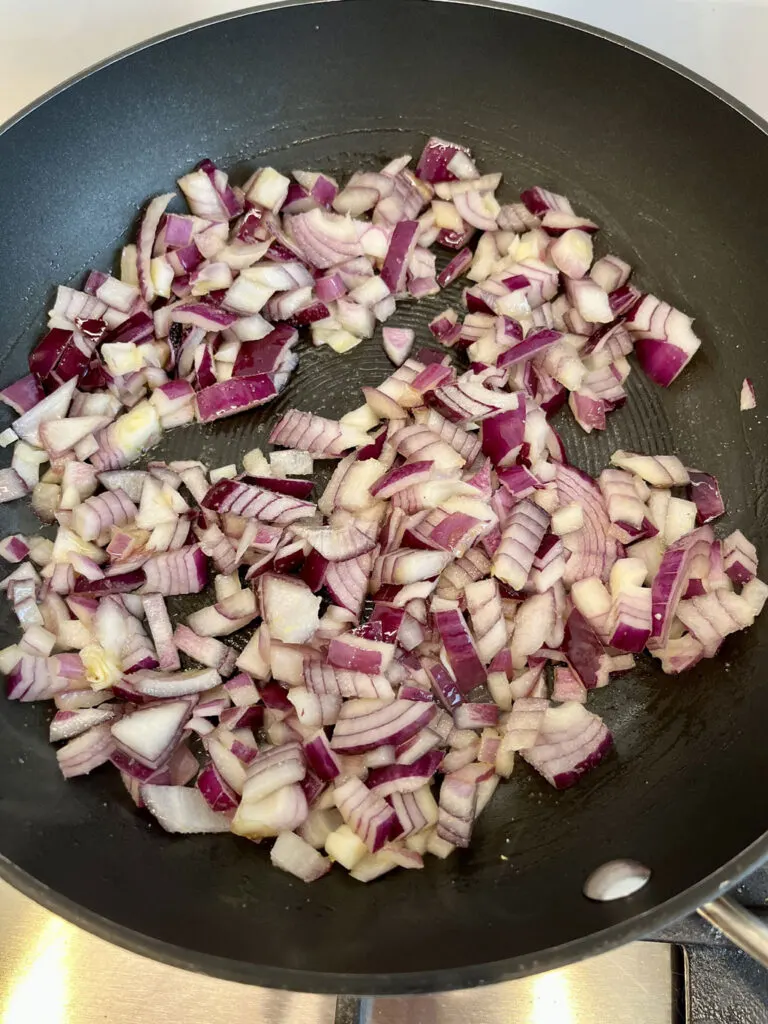 Add the garlic, chipotle paste, tomato puree, cumin, smoked paprika, oregano and cinnamon. Cook, stirring, for 1-2 minutes until aromatic.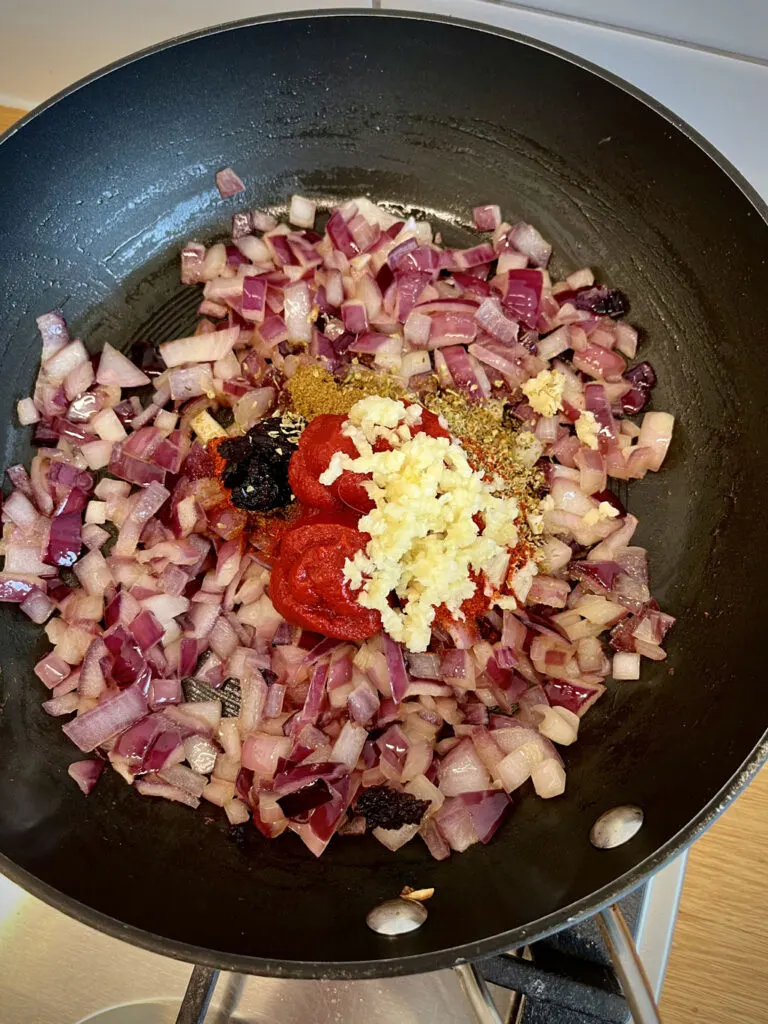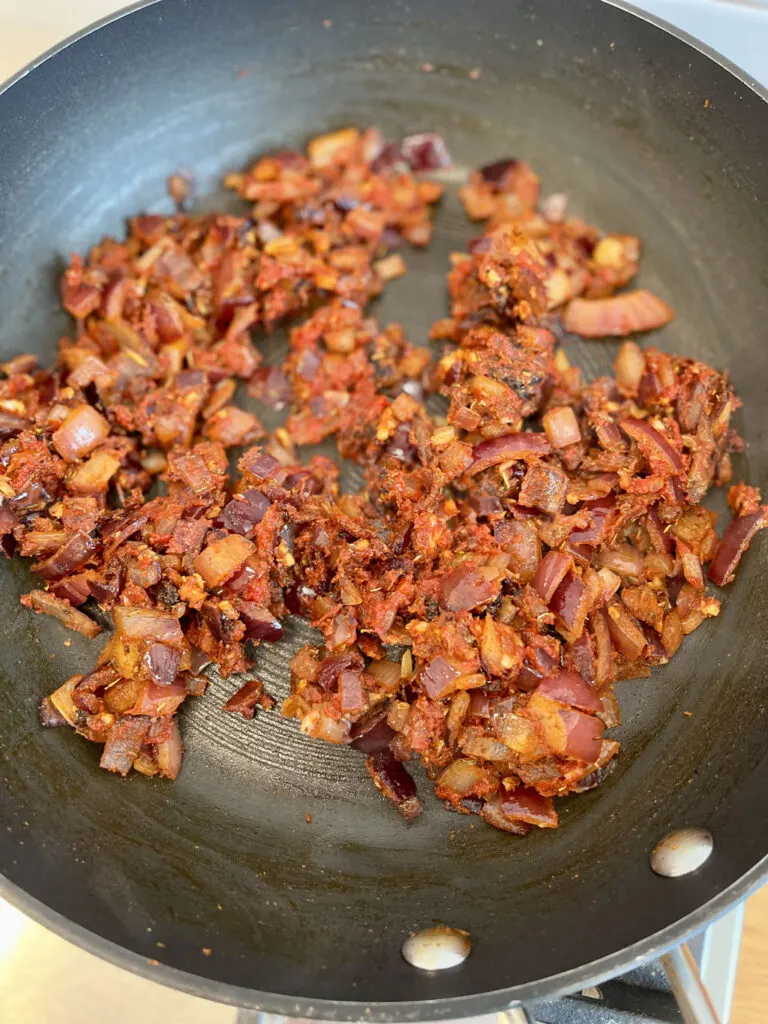 Add the tinned tomatoes and break up with the back of a wooden spoon. Add the sugar, vinegar, stock pot, bay leaves, beans and water and stir together really well.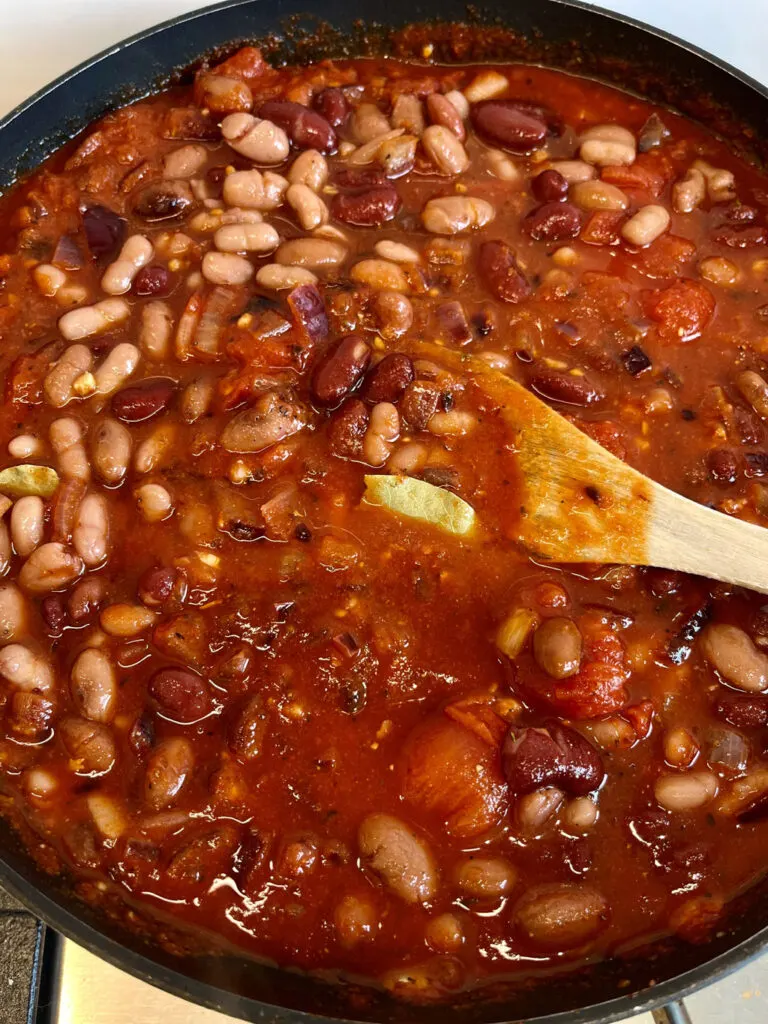 Season with salt and pepper and bring to a simmer. Cook, stirring occasionally, for 25-30 minutes until the chilli has thickened and the flavour has intensified.
Mixed Bean Chilli Variations
If you would like to add any extra vegetables you could add some chunks of roasted sweet potato or slices of pepper to the chilli.
Mushrooms and courgettes would also work well here and would be a great way to bulk it out.
The chilli itself is naturally vegan, gluten free and dairy free so is a great option to serve people with dietary requirements. If you are cooking for vegans make sure that the chipotle paste and stock you are using are suitable for vegans.
What To Serve With Mixed Bean Chilli
Mixed bean chilli is a sufficient meal served as it is, but you can optionally add any of the following;
Cooked basmati rice
Soured cream
Grated cheddar cheese
Sliced spring onions
Sliced avocado
Coriander sprigs
Lime wedges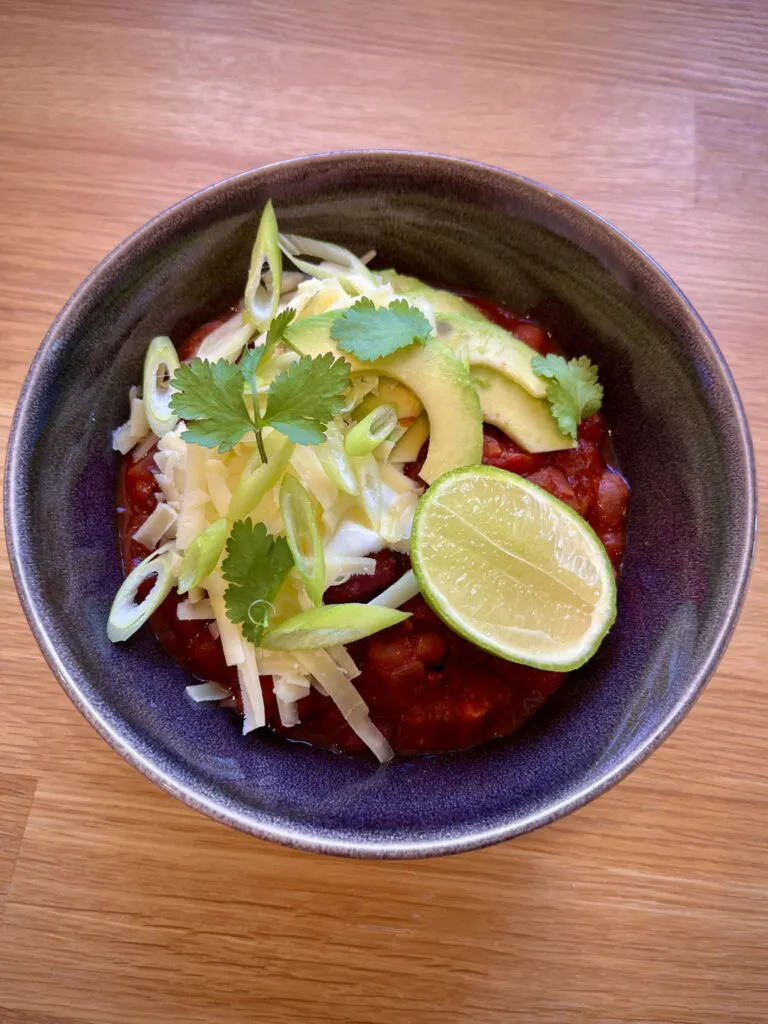 We have served this mixed bean chilli with cooked basmati rice but you could serve it with warmed tortilla wraps or tortilla crisps.
The toppings in this recipe are totally optional so you can use any you like. We have used soured cream, grated cheddar cheese, sliced spring onions, coriander sprigs and lime wedges.
If you prefer to keep the dish vegan you could use a dairy free yoghurt and vegan cheese instead.
You can also serve this with shop bought salsa or guacamole if you prefer.
This chilli could also be used as a filling for quesadillas or burritos.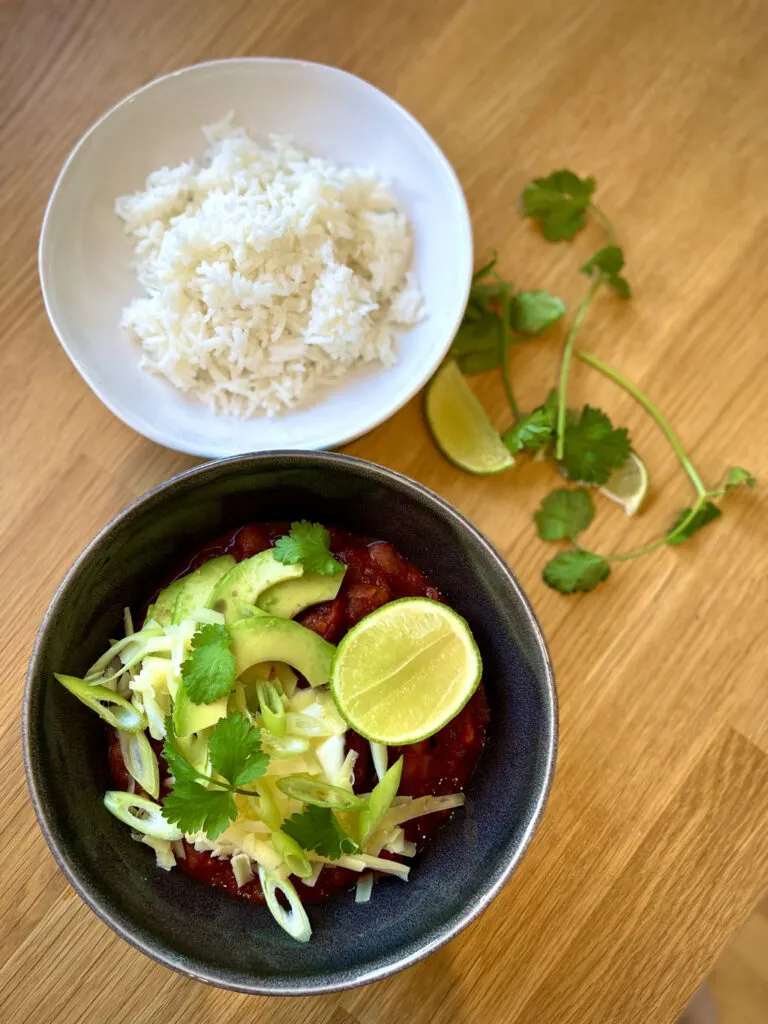 Can You Freeze Mixed Bean Chilli?
This recipe is perfect for freezing! Defrost it in the fridge overnight, you might need to add a splash of water when reheating to loosen it slightly.
Can You Reheat Bean Chilli?
Yes absolutely! This will keep well stored in the fridge for up to 3 days. In fact, the flavour of this dish actually improves after it has been in the fridge for a couple of days! Make sure you reheat it thoroughly until it is piping hot before serving.
What Are The Best Beans to Use?
We used tins of pre cooked mixed beans which contained pinto beans, cannellini beans and red kidney beans but any bean you like would work really well.
Black beans, lentils and butter beans would also be delicious in this chilli so feel free to use what you have.
Tinned beans are great for convenience, just make sure you drain and rinse them properly before adding them to the chilli.
Can You Use Dry Beans?
You can absolutely use dry beans. These will need to be soaked overnight beforehand and boiled until thoroughly cooked before being used so bear this in mind before you start cooking.
Soaking dry beans before cooking helps remove impurities and also reduces the cooking time significantly.