Are you tired of not knowing what is in your chicken nuggets?
Make your own chicken nuggets at home with this easy recipe. You'll know exactly what ingredients are going into them, and you can customise them to your liking.
Homemade chicken nuggets taste so much better than the frozen variety – and they're really easy to make.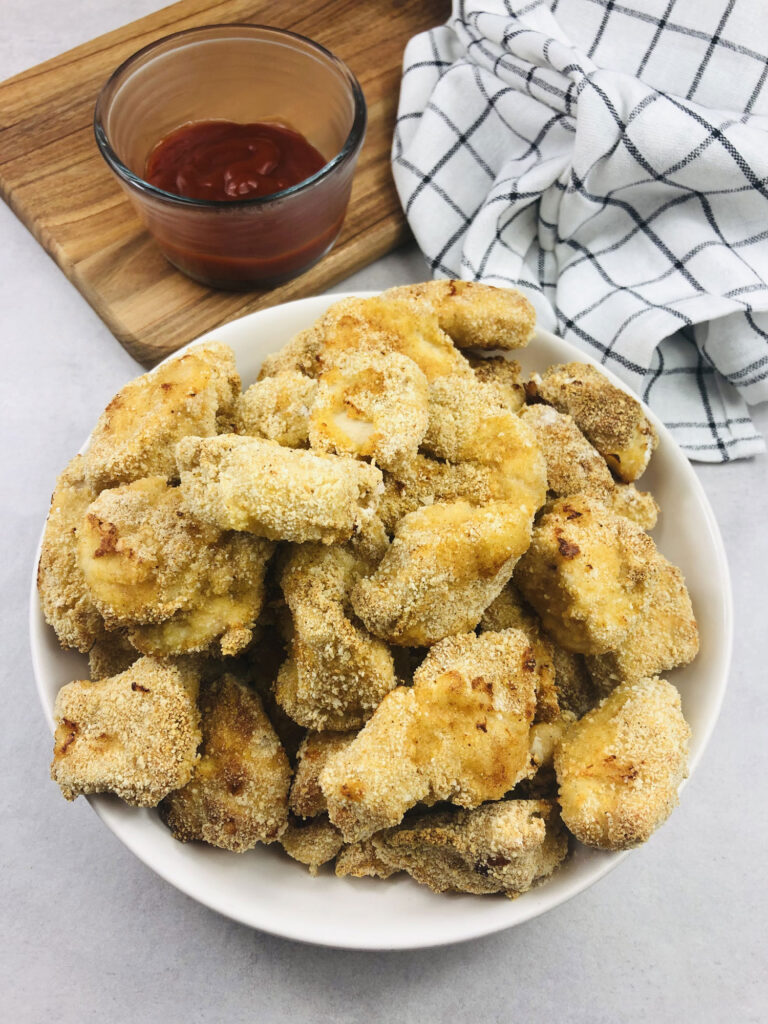 All you need is a little bit of time and some basic kitchen supplies. Plus, this recipe makes a big batch so you can have leftovers for lunch or dinner later in the week.
Let's get started on making your own homemade chicken nuggets!
How To Make Chicken Nuggets
This recipe will show you how to make breaded chicken nuggets rather than battered chicken nuggets.
This is what you need to make breaded chicken nuggets. It will make enough for 4 – 6 servings, increase or decrease the quantities according to your needs.
4 – 6 chicken breasts
150g plain flour
150g breadcrumbs – either shop-bought or homemade breadcrumbs.
3 eggs, blended
Salt and pepper to season
Side note: you can change up the flavour by adding in some different seasonings to the breadcrumbs, as well as salt and pepper, try some garlic powder, paprika or cayenne pepper.
How To Make Chicken Nuggets At Home – Step By Step
If you are cooking them in an oven preheat the oven to 200C/180C Fan/Gas Mark 6 – you can also cook chicken nuggets in an air fryer, or fry them in some oil.
Set Up A Breading Station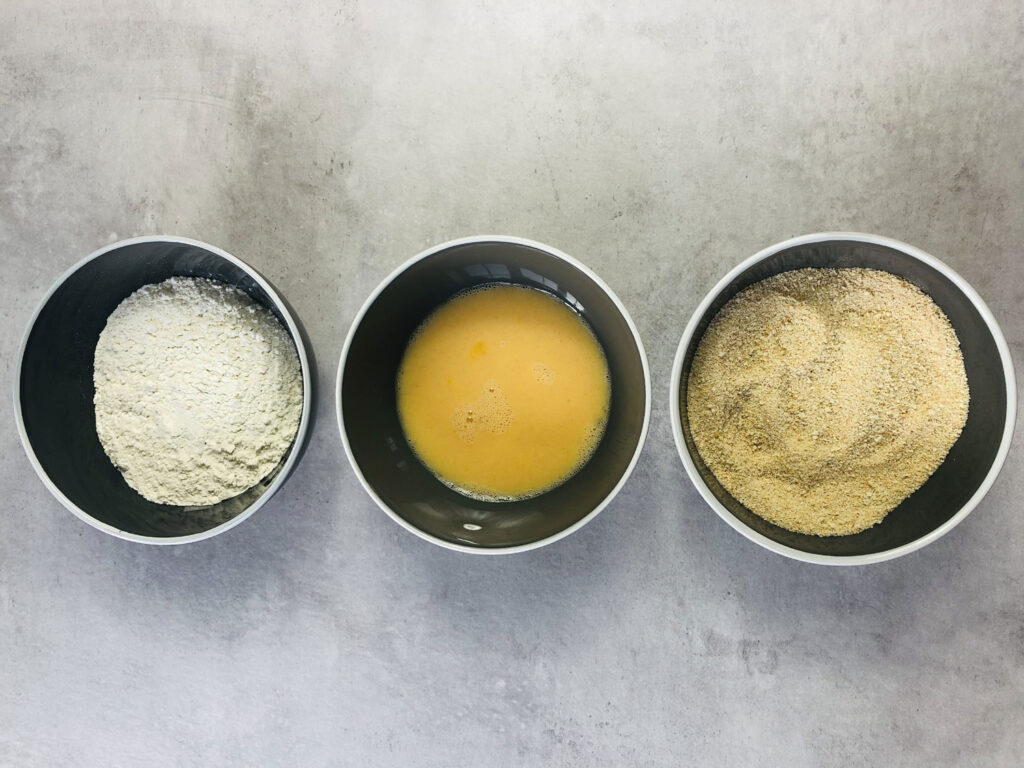 You will need 3 bowls for this step. Add the flour to the first one, the beaten egg to the next, and the breadcrumbs to the last.
Cut Up The Chicken
Using some kitchen scissors or a sharp knife cut up the chicken breasts into bite-size chunks.
Coat The Chicken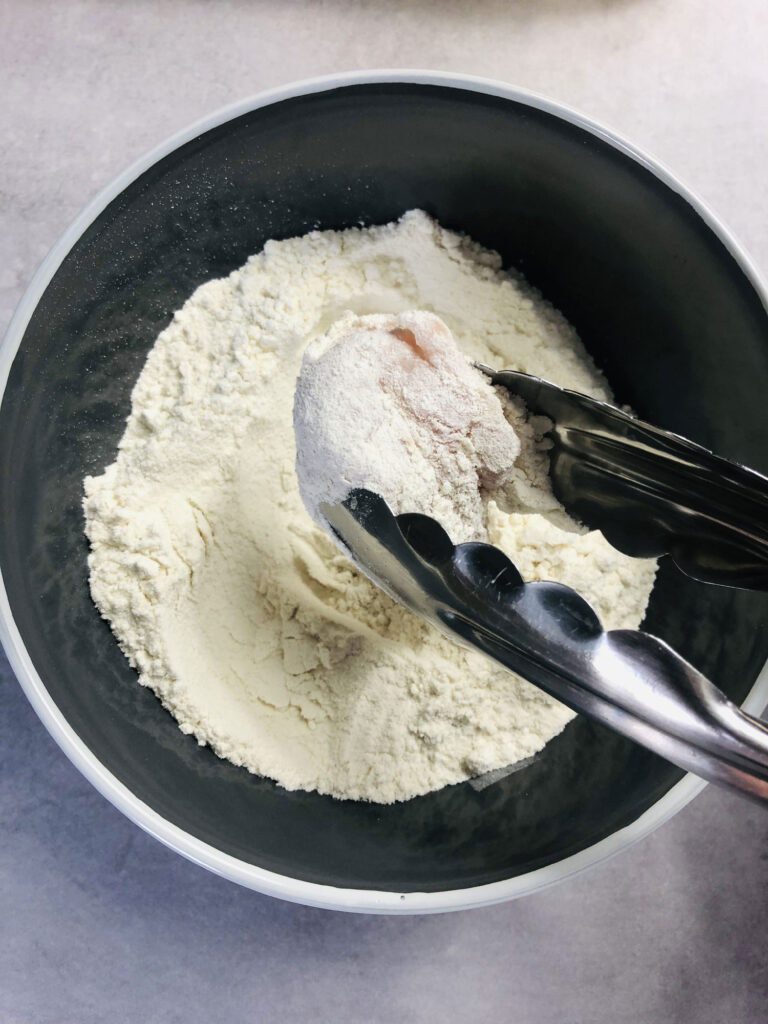 Dip and roll each piece of chicken in first the flour, then the beaten egg, then the breadcrumbs. As you finish coating each chicken piece, place it on a lined baking tray.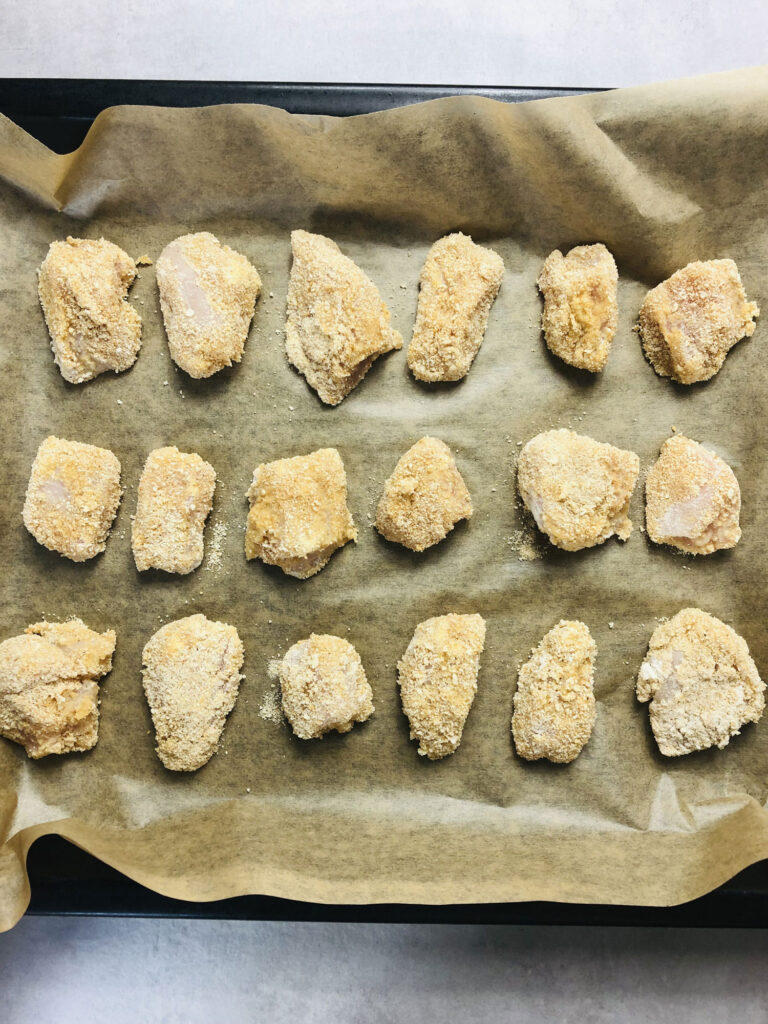 Make sure none of the chicken nuggets are touching each other.
Put In The Oven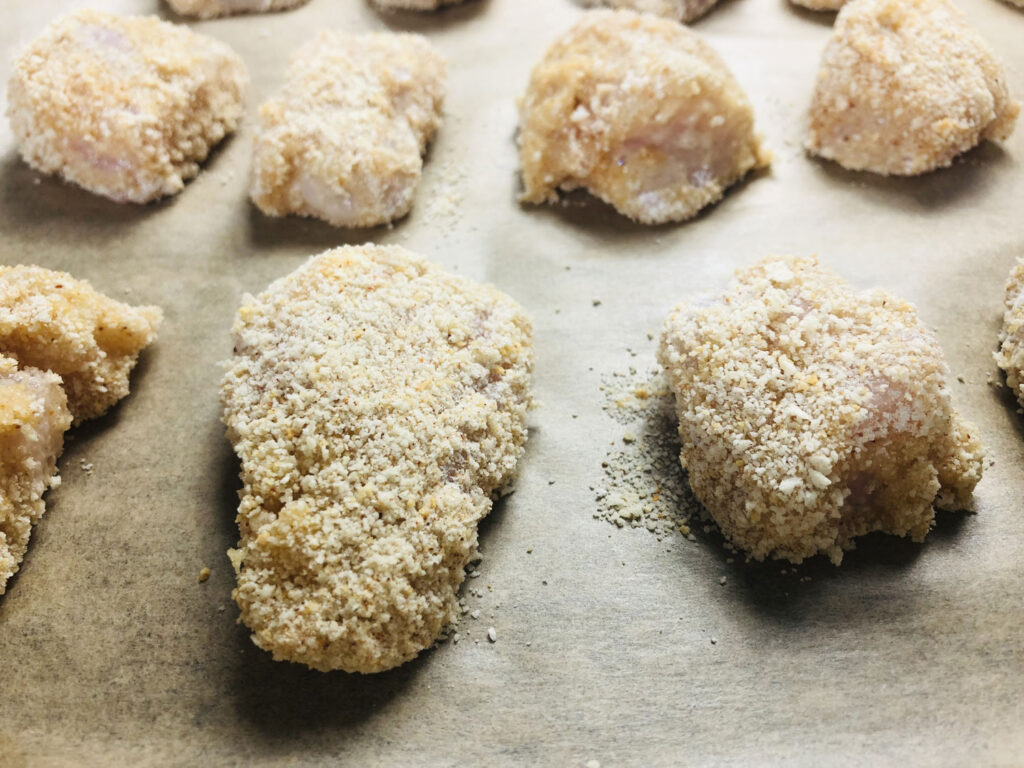 Place the baking tray in the preheated oven and cook for 10 to 15 minutes, turning over halfway.
Can You Reheat Cooked Chicken Nuggets?
You can reheat cooked chicken nuggets in a pan with some oil to get them crispy again. Or you can place them on a baking tray and cook for 10 to 15 minutes at 180C/160C Fan/Gas Mark 4.
Check that the chicken is piping hot all the way through before eating.
Can You Freeze Chicken Nuggets?
Yes, chicken nuggets can be frozen.
Once they have cooled down, if you have the space in your freezer, place them on a baking sheet with space between them.
After about 1 hour you can transfer them to a freezer bag. This will prevent them from sticking together when they freeze.
Keep in the freezer for up to 6 months.