Are you wondering how to dry chillies?
Perhaps you have been growing your own chillies at home, or you have bought some in bulk and have more than you can use right now.
Either way, drying out your own chillies at home is possible – this guide will show you how to do it in 3 different ways.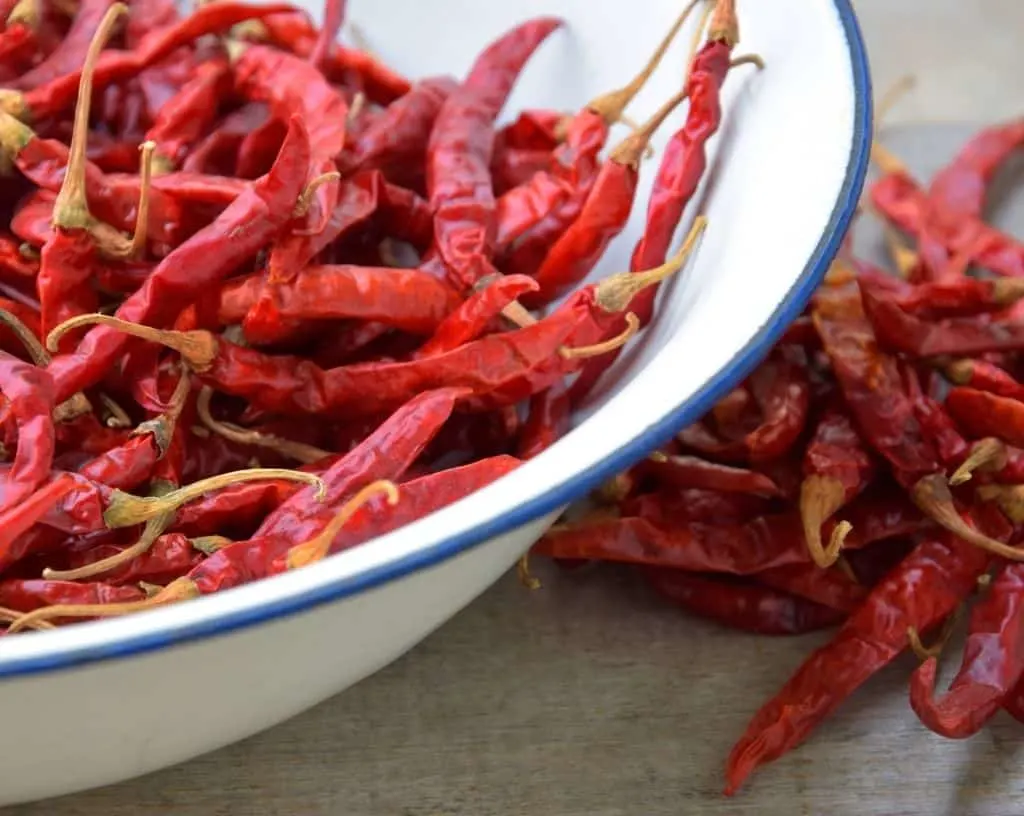 Drying Chillies In A Dehydrator
If you have a food dehydrator this is a simple method for drying out chillies.
I use a Ninja Foodi to dehydrate foods but you can dry chillies in any food dehydrator. A Ninja is a multi cooker rather than just a standalone dehydrator, if you are looking to buy the latter, you can find a wide range for sale online for all budgets.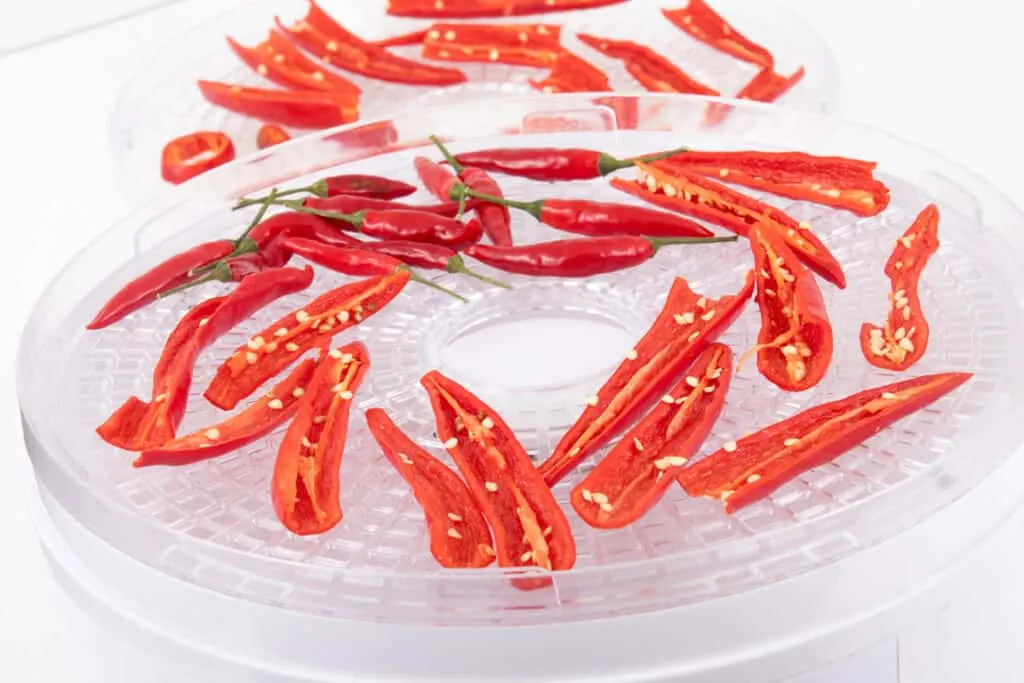 How Do You Dry Chillies Out In A Dehydrator?
As long as the chillies you are drying out are not too large you shouldn't need to slice them. However, slicing them in half will reduce the dehydration time.
Lay them out on the trays of the dehydrator, with enough space between each of them. Dry them out at 60C/140F for at least 5 hours.
Drying Chillies In An Oven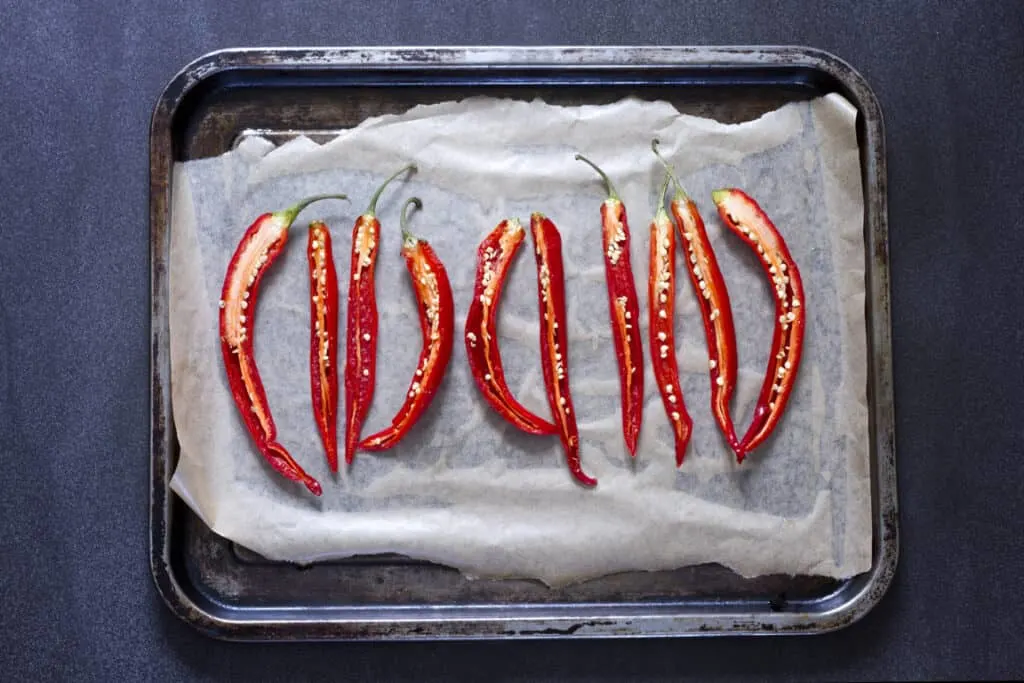 If you don't have a food dehydrator you can use an oven.
This option isn't quite as convenient as a purpose built dehydrator as the chillies will take longer to dry out and you will need to have the oven running for a long period of time. You also need to check that your oven can go low enough to dehydrate.
However, if you don't intend to dehydrate many foods, the expense and space of a food dehydrator probably isn't worth it.
How Do You Dry Chillies In An Oven?
Preheat the oven to 60C/140F. Place the chillies on a baking tray and cook for 6-8 hours, depending on the size of them. You might like to turn them over half way through the cook time.
Drying Chillies In The Sun
Whether you can dry fresh chillies the completely natural way will very much depend on what time of year it is – and of course, where you live! Even if you are lucky enough to live in a location where the sun is shining more often than not, this method will take the longest – usually a minimum of 3 days, but sometimes longer.
Also consider the weather forecast before you lay them out, you don't want the chillies to get wet or damp or they will go mouldy.
Hanging Chillies With String
Fresh chillies can be hung up with some string to dry them in the sun, this is more efficient if you don't have enough space to spread them out. Make sure that the chillies have enough space between them to ensure the sun can get to the whole chilli.
Spreading Chillies Out On The Floor
If space is less of an issue, spread the chillies out on a mat or sheet and place outside. Check on them each day, turning them over to make sure all sides can have some time in the sun.
Each evening at dusk, cover the chillies to try and keep any insects away.
The benefits of drying chillies out in the sun are;
it's free – you don't need any electricity
minimal effort – just lay the chillies out whole, or string them up – there is no need to slice them up. The only exception to this is for larger chillies that might take longer to dry out.
Drying Chillies In A Greenhouse
If you have a greenhouse this is perfect for drying out chillies in a warm climate. You could either hang them up with string, or lay them out on trays, depending on space available.
Top Tips For Drying Chillies
Take care and precautions when handling chillies. Even the mildest of chillies will really sting if any part of them get in your eyes. The hotter chillies will also potentially sting your skin and so gloves might be needed when handling them raw.
Make sure the chillies are completely mould free before dehydrating them.
Storing Dried Chillies
Once the chillies have dried out store them in a suitable container or zip lock bag.
Dried chillies can be used ground up into a powder or crushed to be used as chilli flakes.