Focaccia is an Italian bread that is simply delicious. It is great with many Italian dishes, or even on its own.
I think it's a nicer version of garlic bread, but with a more delicate flavour and softer texture.
As far as bread goes, it is very simple to make, with minimal kneading needed (see what I did there?)
Wow your dinner guests with this fancy-looking bread, while not spending all day making it!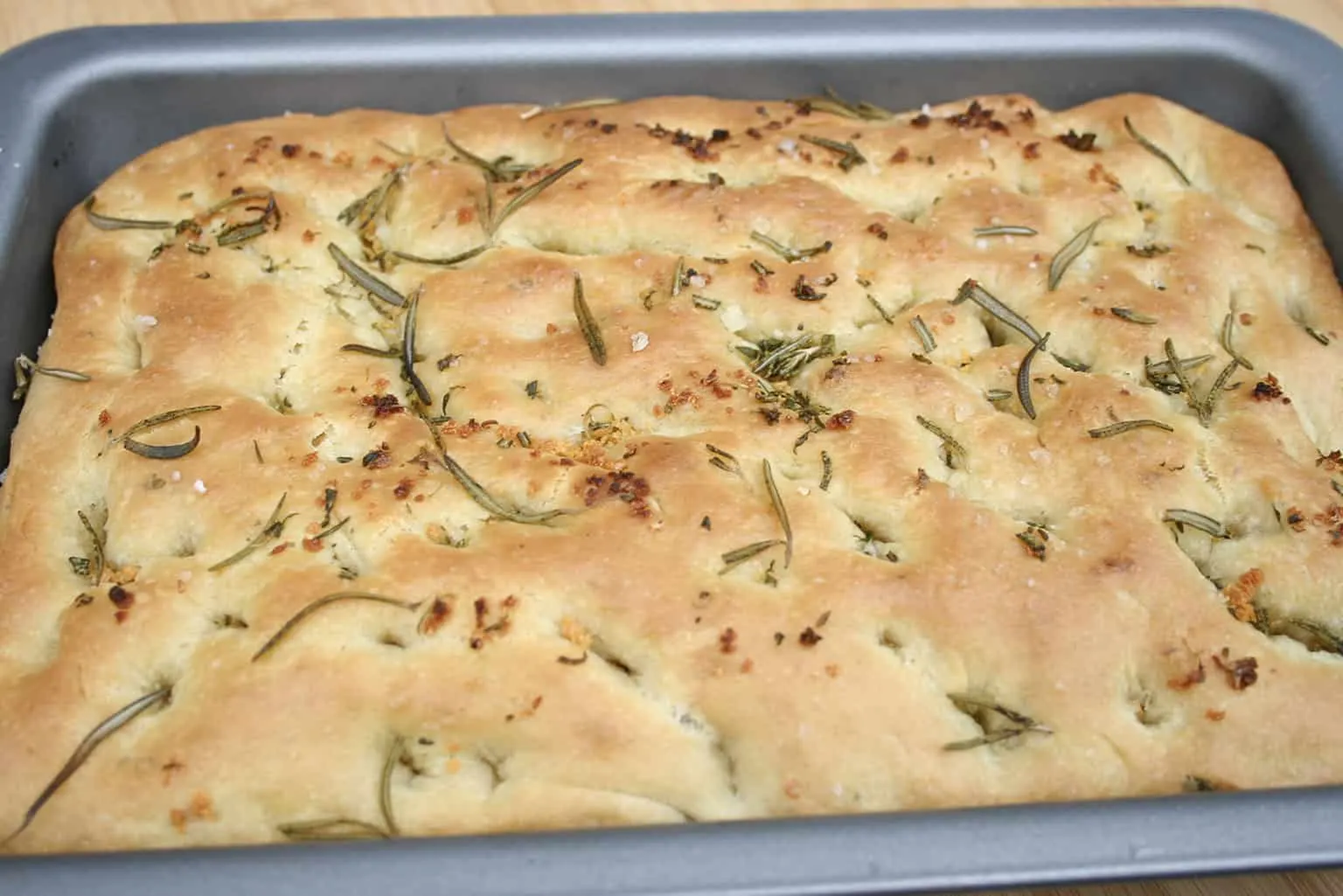 By using plain flour and topping with infused oil, this bread has a lovely, soft texture, with a delicious crust when fresh, similar in taste to pizza dough. It is also useful as it is one of the few breads that you can make successfully without bread flour.
A yeasted flatbread originating in Italy, this variation of focaccia, known as Focaccia al rosmarino in Italian is commonly served as a side dish, or a pre-meal appetiser, and even snacks.
When I first made it, I was surprised at how easily it all came together, so I would highly recommend it, and it went down rather well with the family, too.
What do you eat focaccia bread with?
As mentioned above, the most common ways it is eaten is as a side dish or appetiser with your favourite Italian dishes. Spaghetti bolognese, lasagne and pasta bake are all popular Italian meals.
Can I freeze focaccia?
Yes, you certainly can! Simply wrap any bread you wish to freeze in cling film, or place in a food/freezer bag, and put in the freezer. When you want to eat it, simply take it out of the freezer and leave to defrost at room temperature until defrosted. To make it taste freshly baked again, simply briefly bake it in the oven until it is hot all the way through, 5-10 minutes.
Do you eat focaccia hot or cold?
You can do either, whatever you prefer, although it tastes best warm, fresh out of the oven, just like most breads.
How long does homemade focaccia last?
Unfortunately, like many breads, focaccia doesn't last very long, about 2-3 days if kept wrapped in cling film, although this has never been a problem for me, as it has always been eaten rather eagerly. If you think it will go off before you finish it, simply freeze it as explained above.
Do I need to use fresh herbs?
If fresh herbs are not available to you, you can use dried herbs instead, by replacing each tablespoon of fresh herbs with 1.5 teaspoons of the respective dried herbs. However, if possible, I would recommend using fresh herbs, as they lend themselves to a nicer flavour and overall texture.
How to make focaccia:
You will need:
For the infused olive oil:
100ml olive oil
3 garlic cloves
1 tbsp fresh chopped rosemary (2 or 3 sprigs) (needles only), plus a bit extra to sprinkle over the top at the end
1 tbsp fresh chopped thyme (try to only use the leaves if you can, the stems do not have any flavour)
For the dough:
1 tsp salt
300g plain flour
2 tsp yeast
1 tsp honey
200 ml warm water
sea salt flakes/granules, to top
Method:
Prepare the garlic and fresh herbs by peeling and mincing the garlic, and chopping up the herbs into small pieces, apart from the extra rosemary.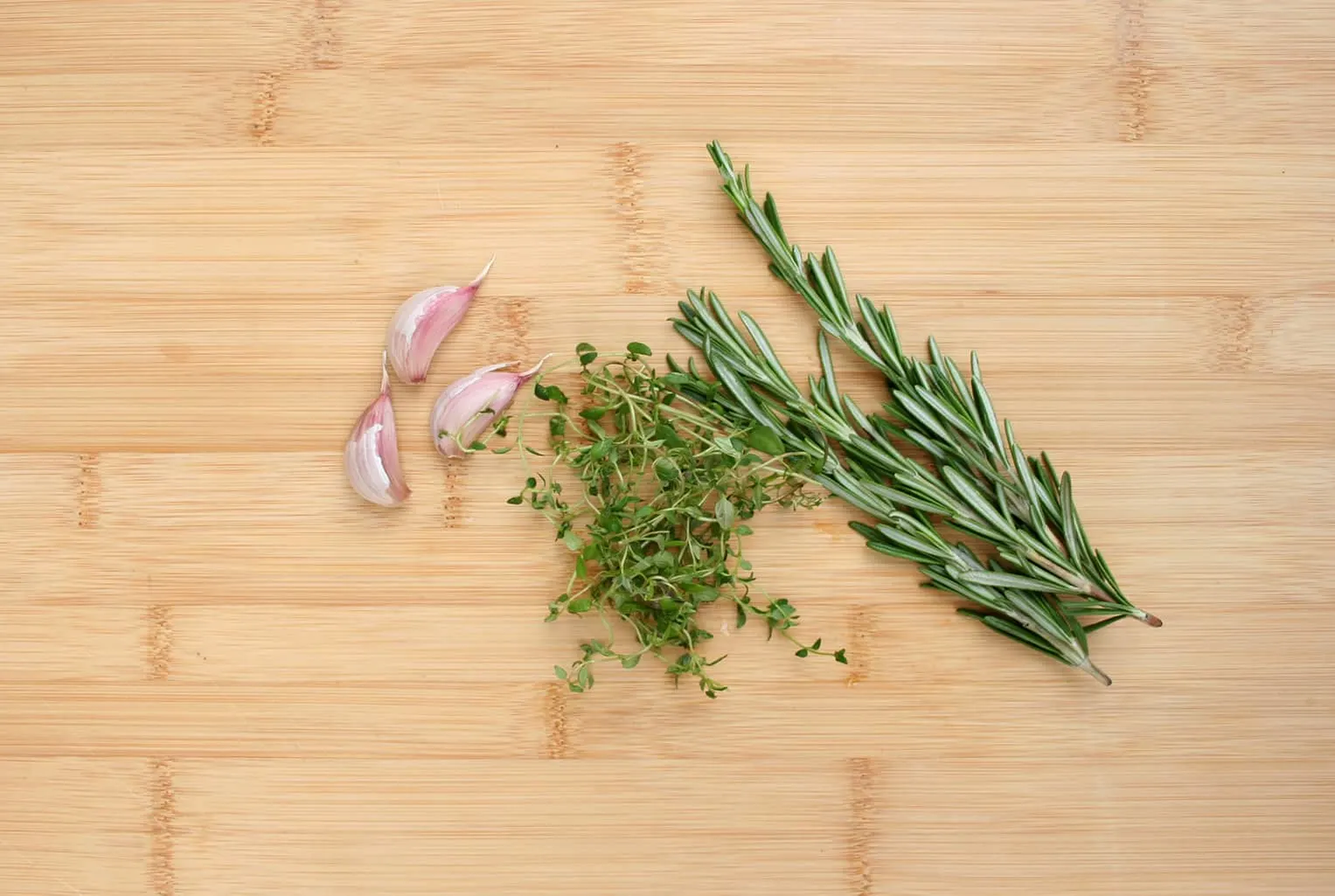 Add the olive oil and chopped herbs to a small pan.
Warm very gently, on the lowest heat, stirring constantly. The ideas here is to infuse the oil with the garlic and herbs, not cook them. The oil should have very small bubbles in it, but should not be sizzling. Do this for about 5 minutes, when it should be fragrant, but the garlic should not have turned brown. Set aside to cool.
Next, start preparing the dough by placing the yeast and the honey in a small bowl. The honey acts as the sugar for the yeast to feed off of, and rise the bread.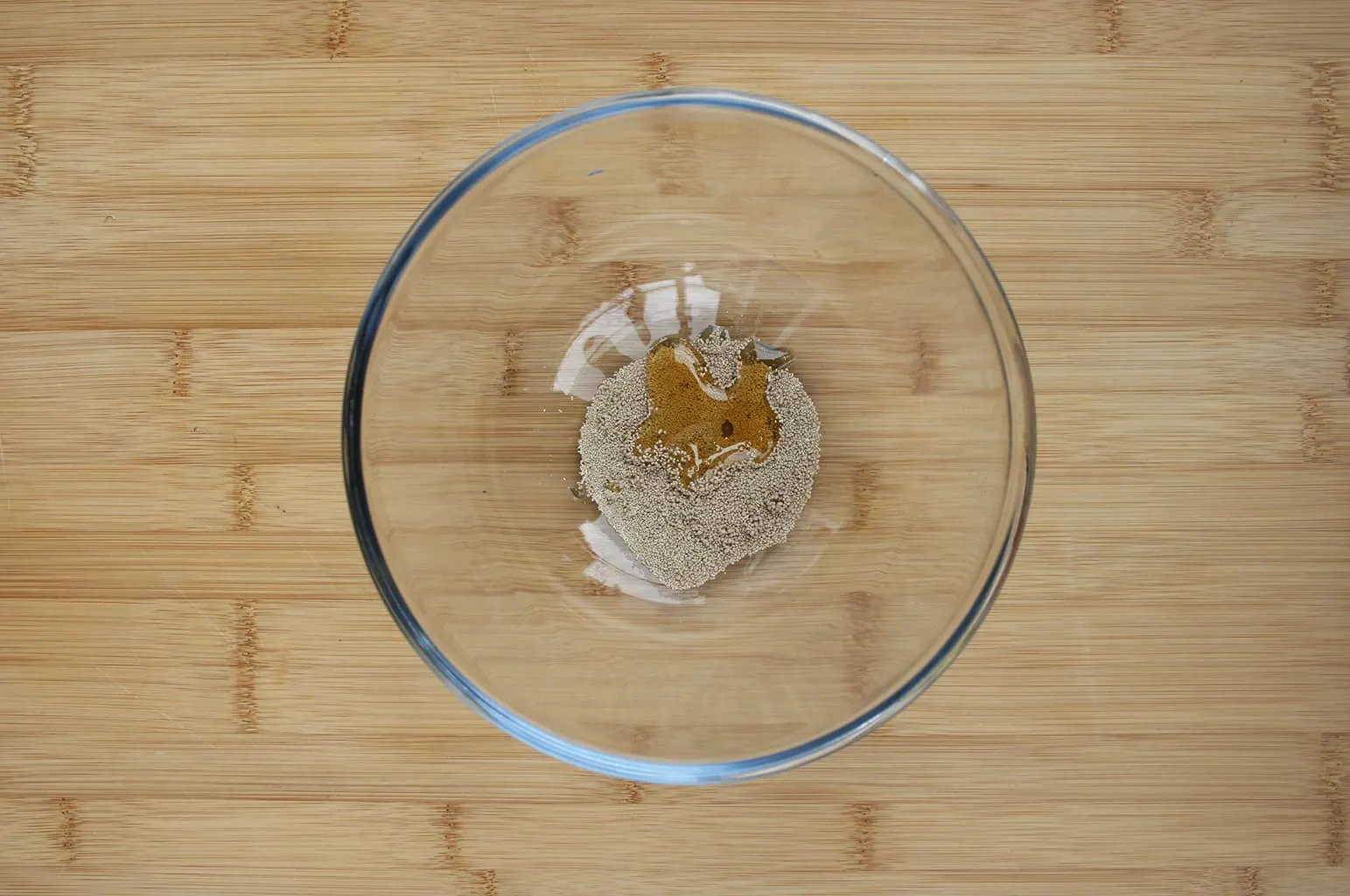 Next, add the warm water, and briefly whisk with a fork to help dissolve all the yeast.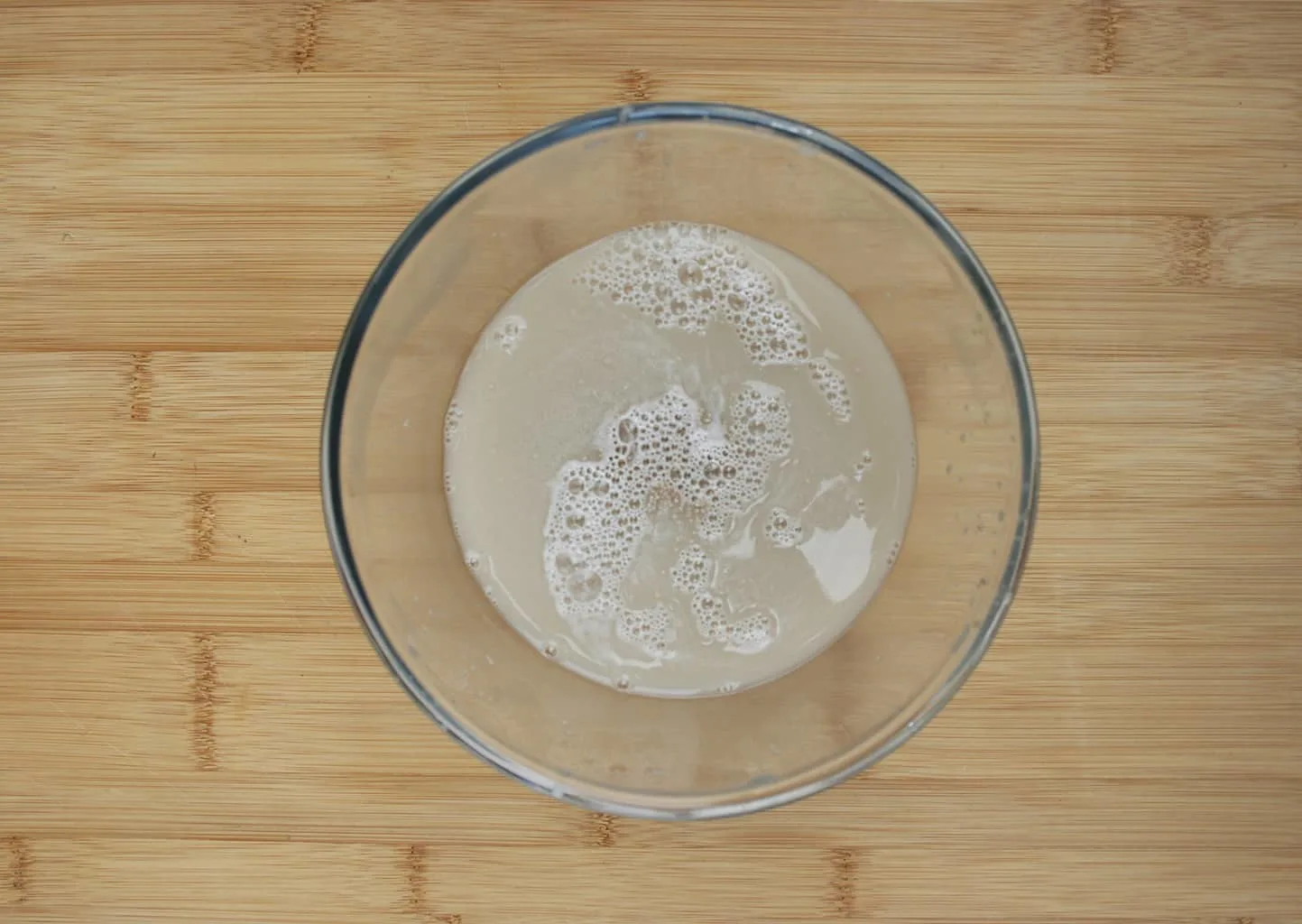 Set aside in a warm area for 10 minutes while you prepare the next step of the recipe.
Add the flour and salt to a large mixing bowl, and make a large well in the centre.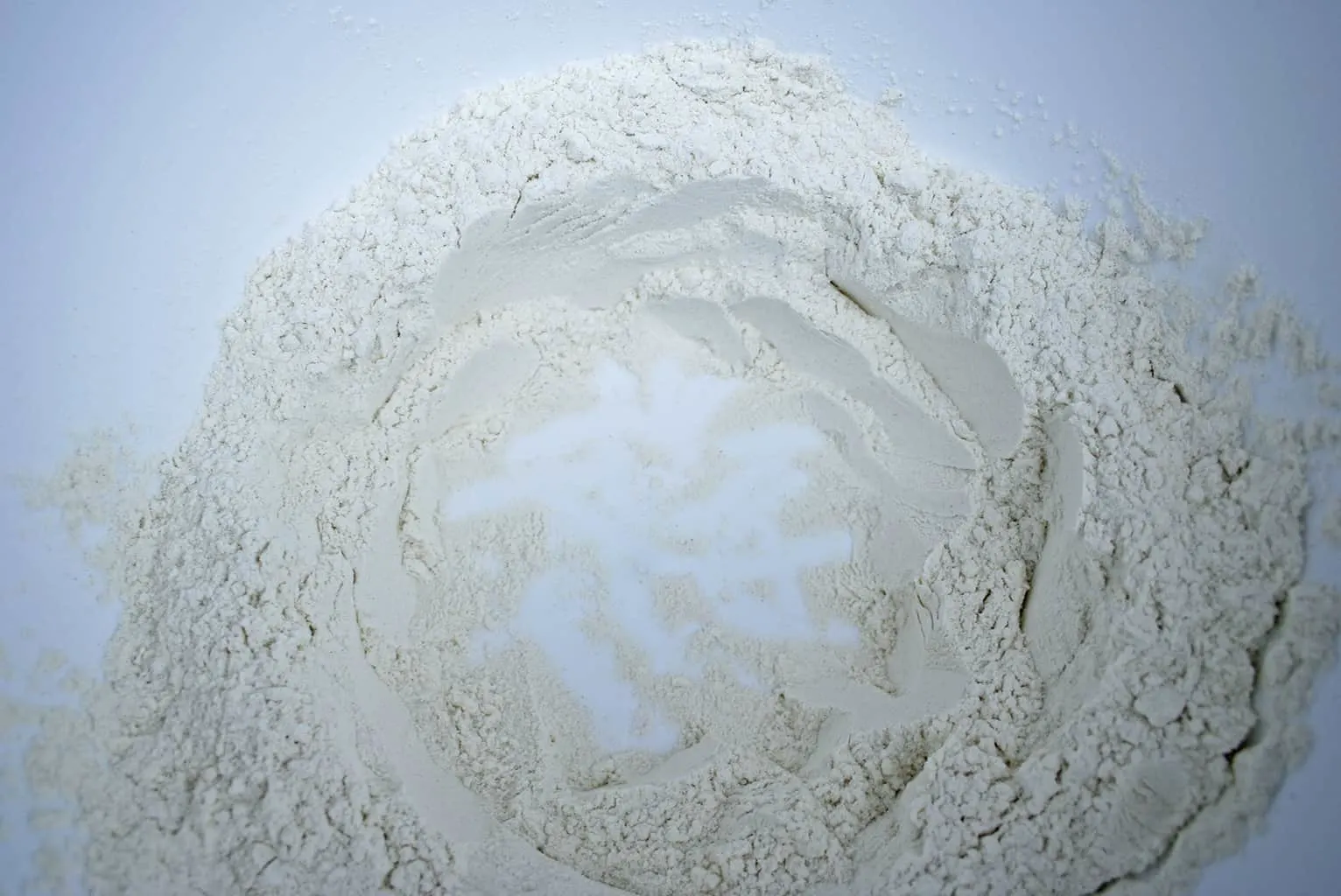 Add the yeast mixture, as well as half of the infused oil mixture to the well, having stirred the oil first to suspend the garlic and herbs.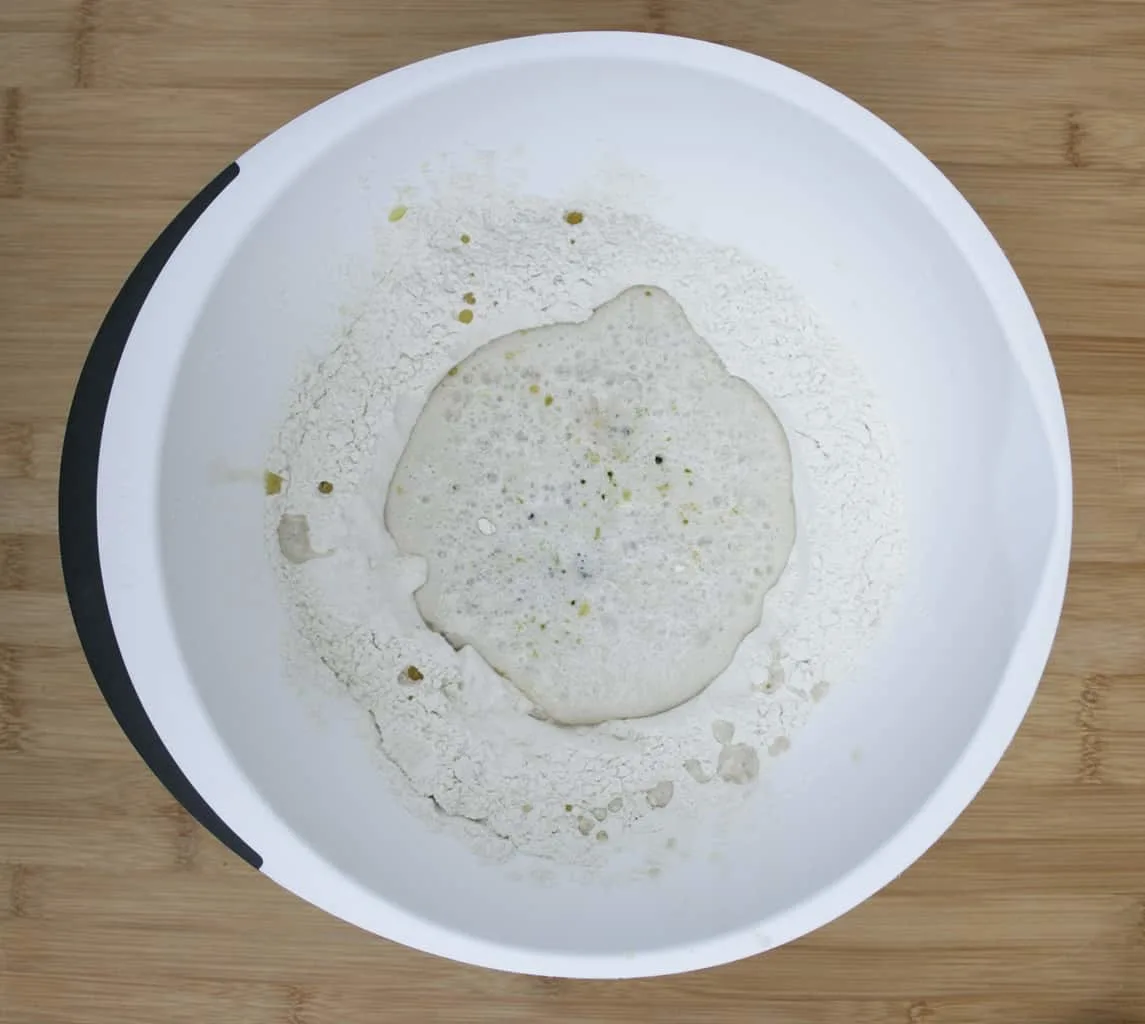 Mix with a spoon, slowly incorporating flour to bring it together into a soft, wet dough. Add some extra flour if it is too wet, although it will be sticky.
Place in a bowl oiled with fresh olive oil, cover with cling film, and leave to rise for an hour, until it has doubled in size.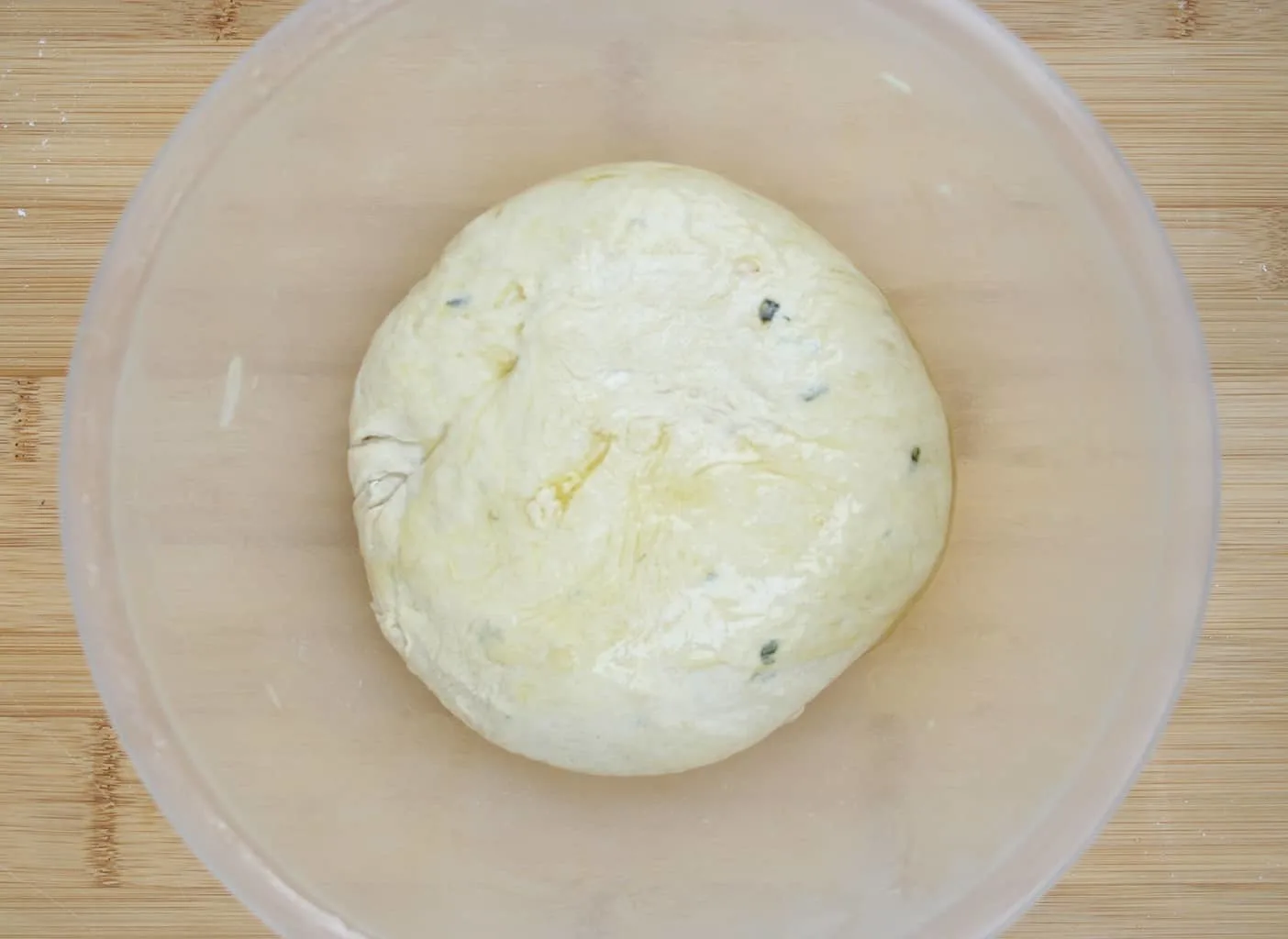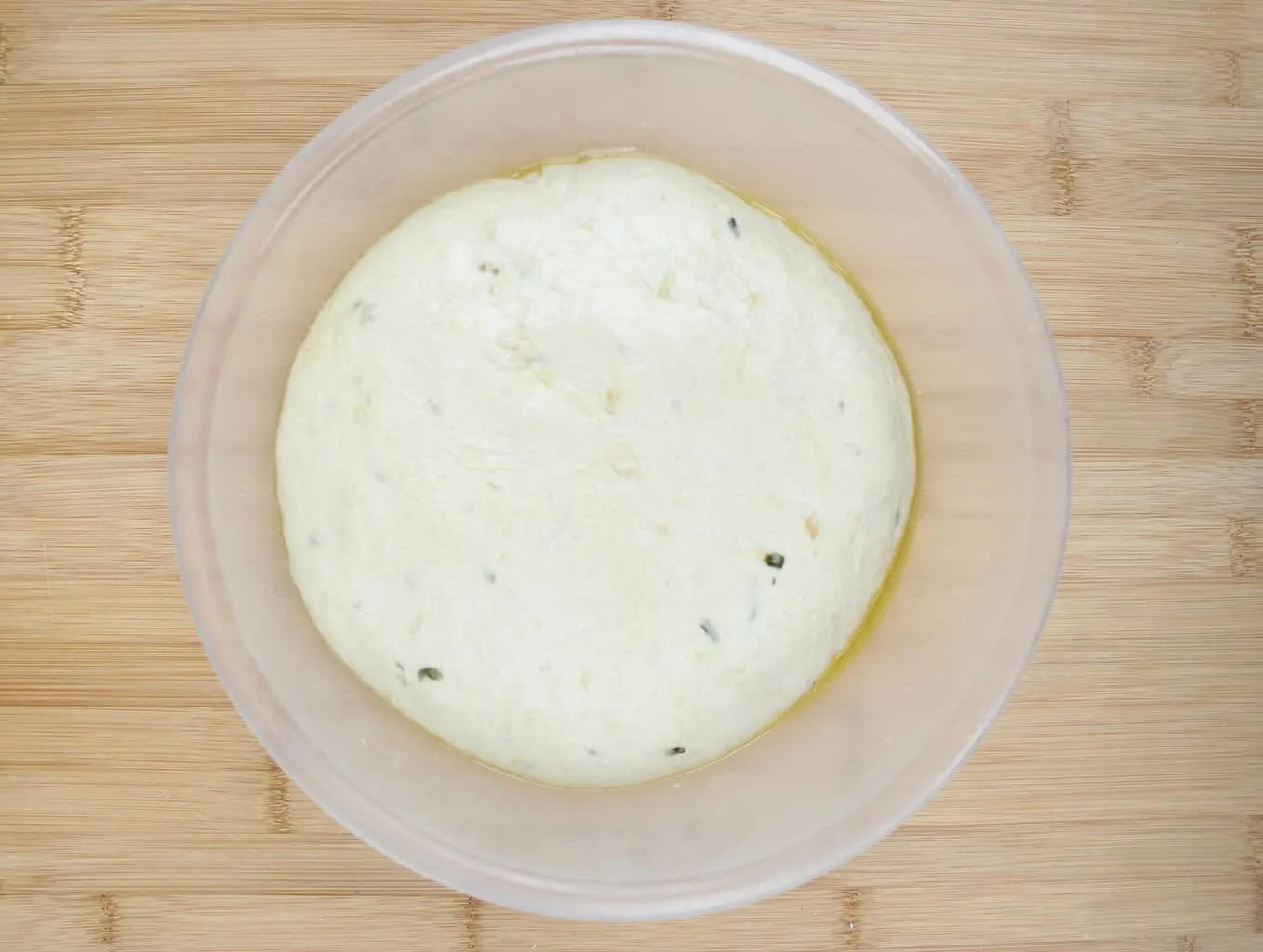 Once risen, select a suitable tin to bake it in. The exact dimensions aren't all too important, but make sure it is deep enough for the bread to rise a bit in the oven. I used a brownie tin for my bread. Oil the tin with half of the remaining herb oil. Preheat oven to 220°C/Gas Mark 7.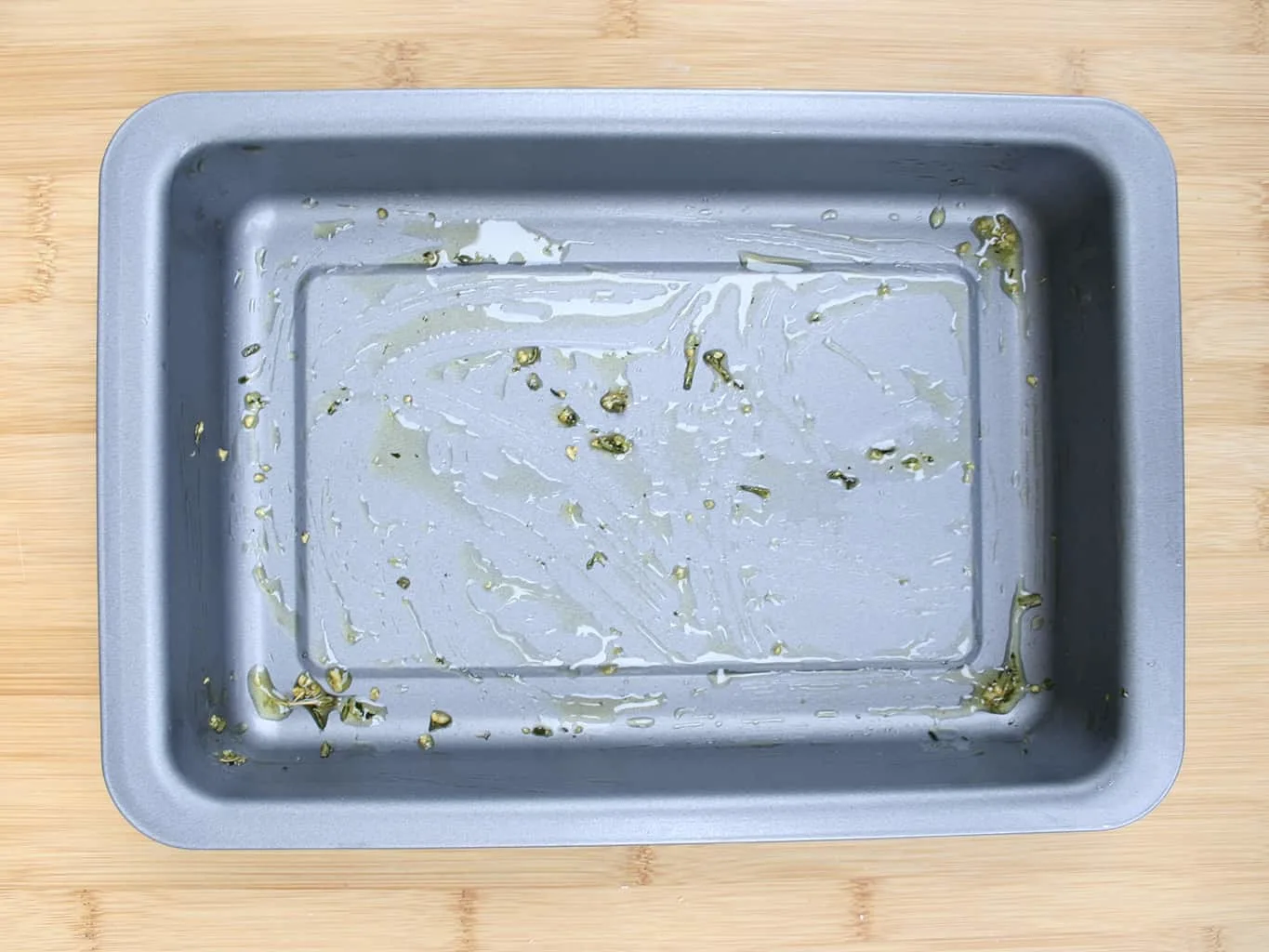 Once the dough has risen, simply turn out the dough from the bowl straight into the oiled tin, without knocking it back. Press the dough down to fill the whole tin.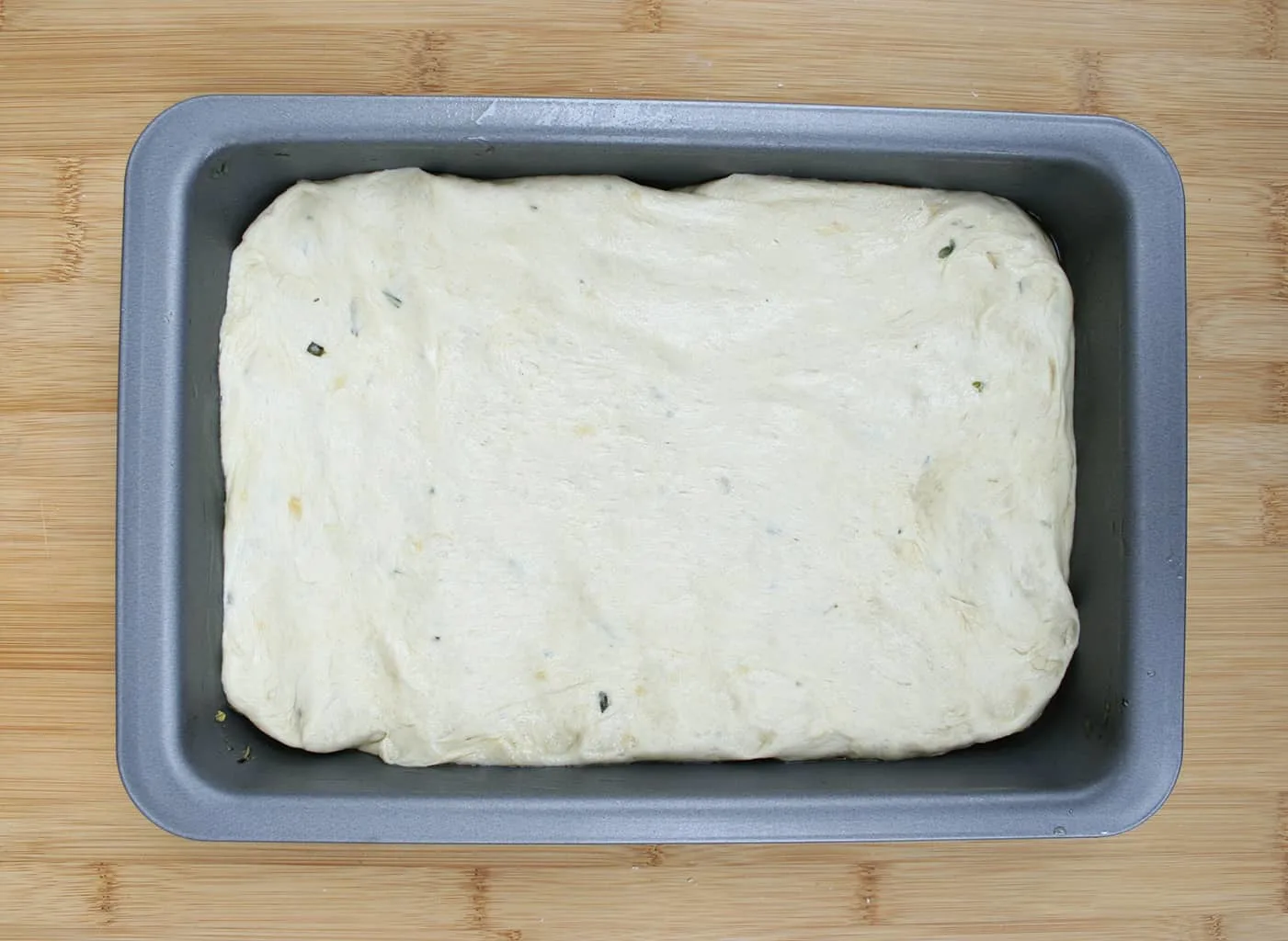 Next, use your fingertips to add dimples to the dough. This gives the traditional appearance, as well as giving the oil a place to sit.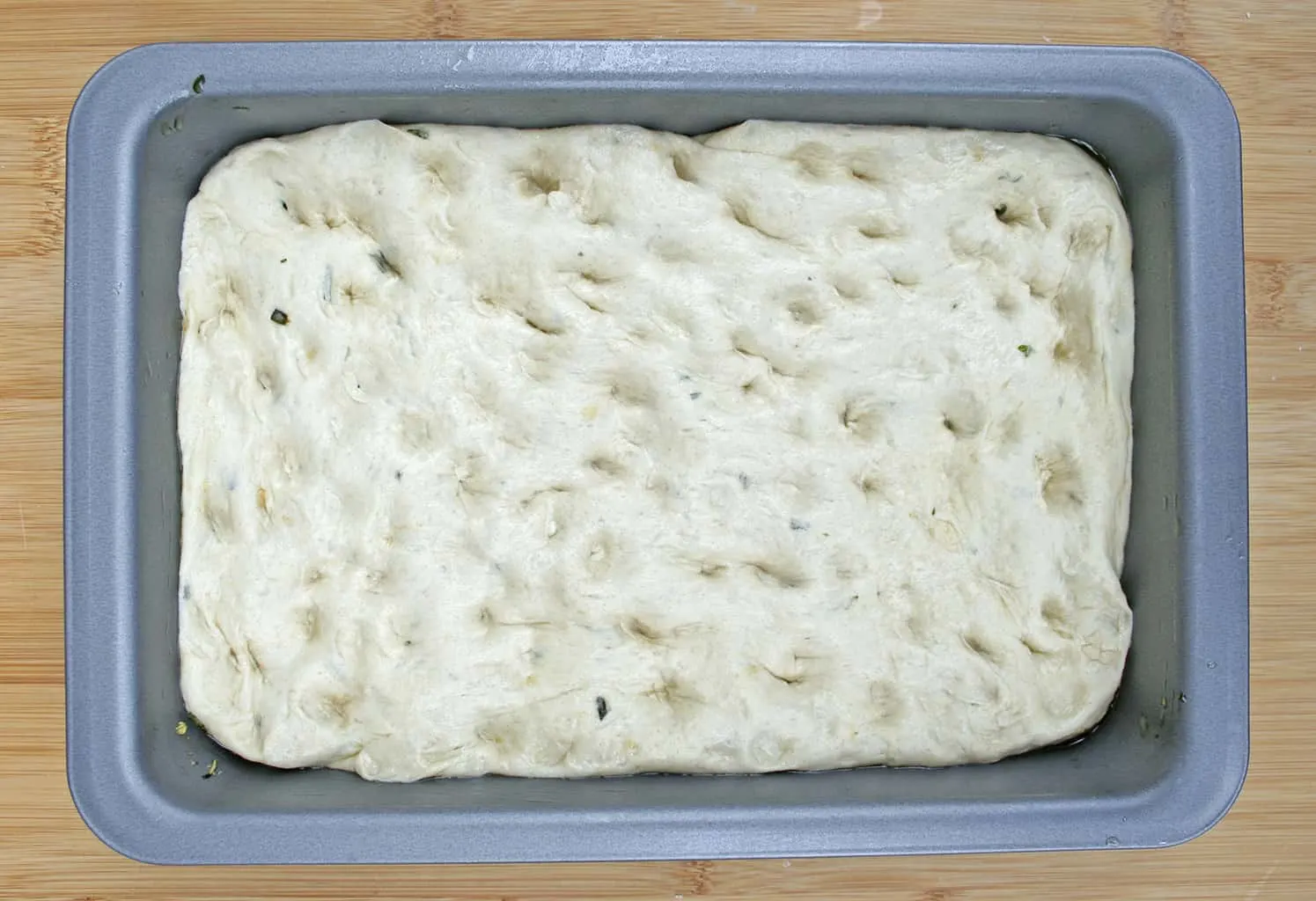 Finally, drizzle over the remaining oil, the spare rosemary needles set aside from the start and the sea salt flakes/granules, and bake for about 30 minutes, until golden brown.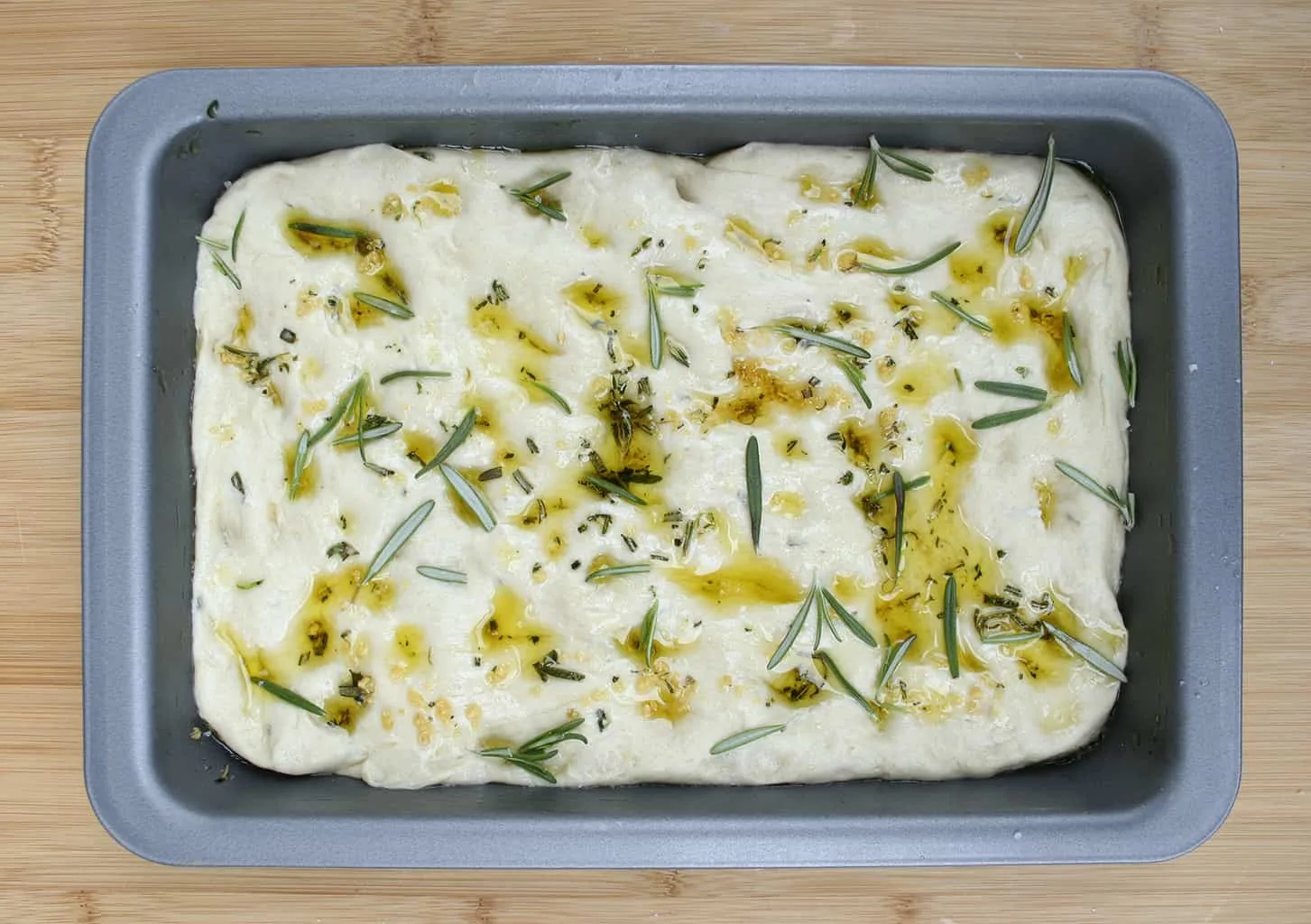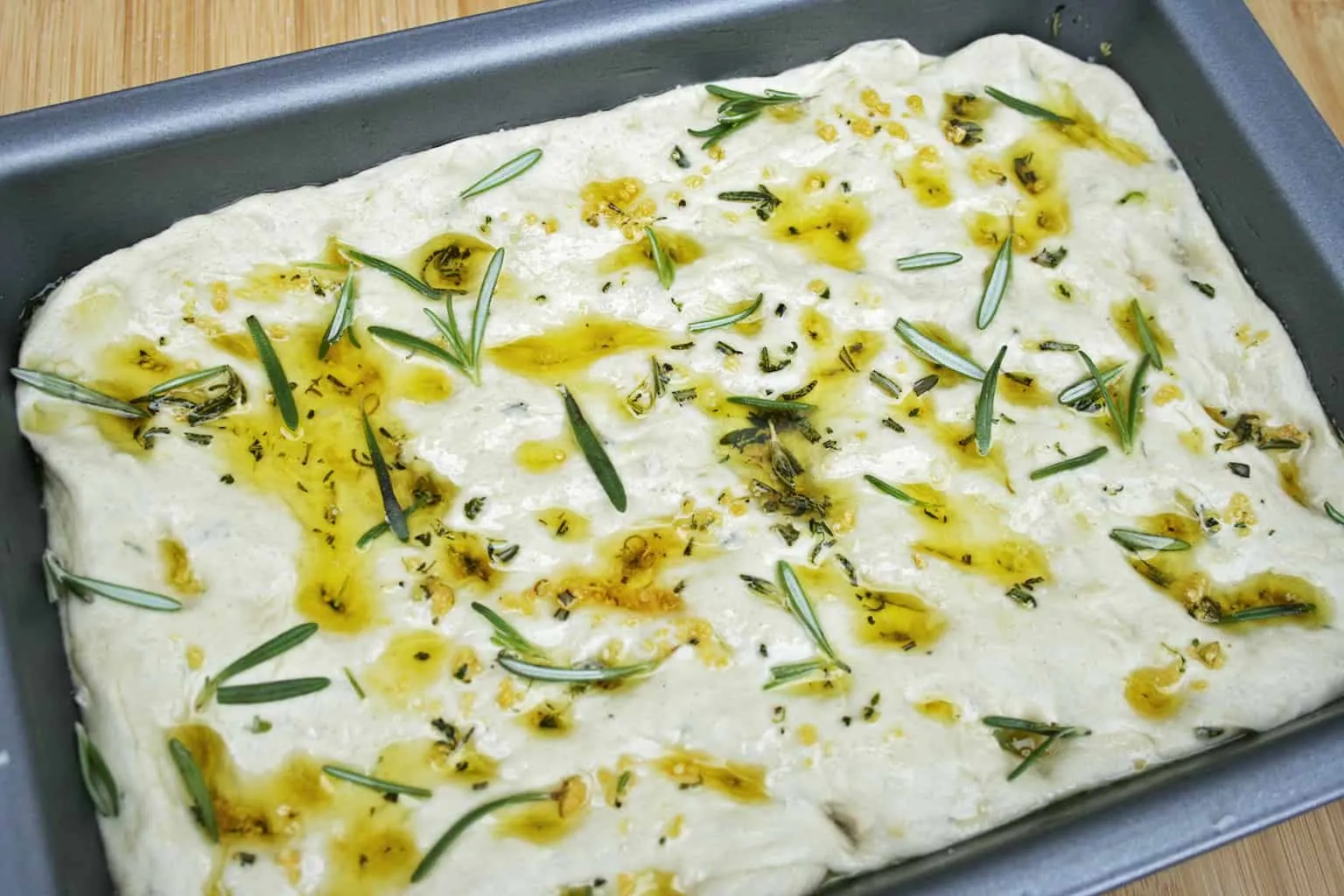 Leave to cool for 5 minutes in the tin, then turn out, cut and serve, or allow to cool completely, and store in an airtight container or cling film.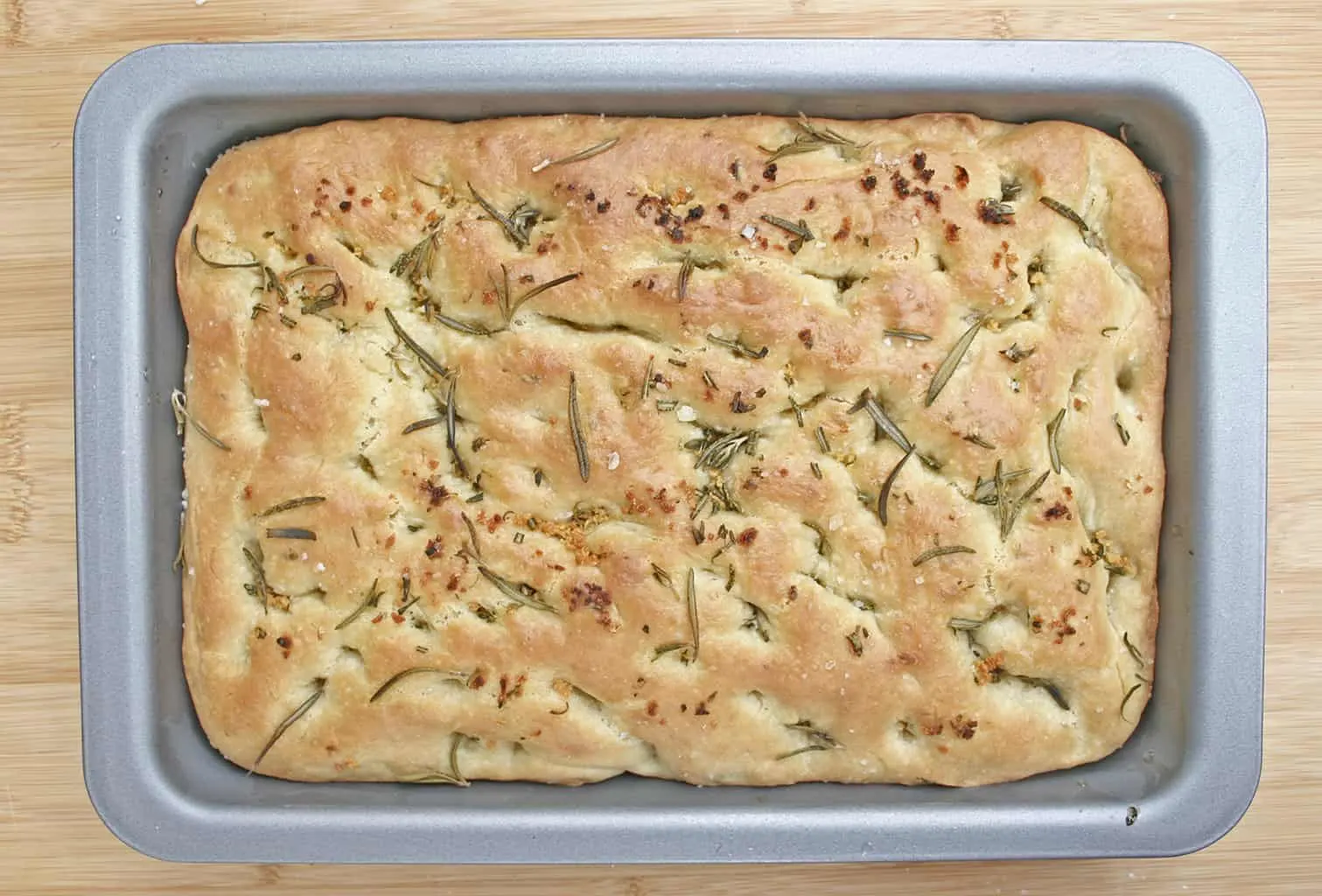 Note: like most handmade breads, when freshly baked, focaccia has a lovely crust, but after about 12 hours, it will soften. It is completely fine to eat like this, but if you want it with a crust, simply freshen by baking in the oven for 5-10 minutes.