As autumn is in full swing, this American classic is the perfect way to embrace it. The combination of warm spices with the seasonal vegetable make this pumpkin pie recipe a surprisingly scrumptious treat!
Making pumpkin pie is super easy, and takes no time at all, perfect for the beginner baker. If you are really in a hurry, use a pre-made pie base, and the pie will come together in no time at all!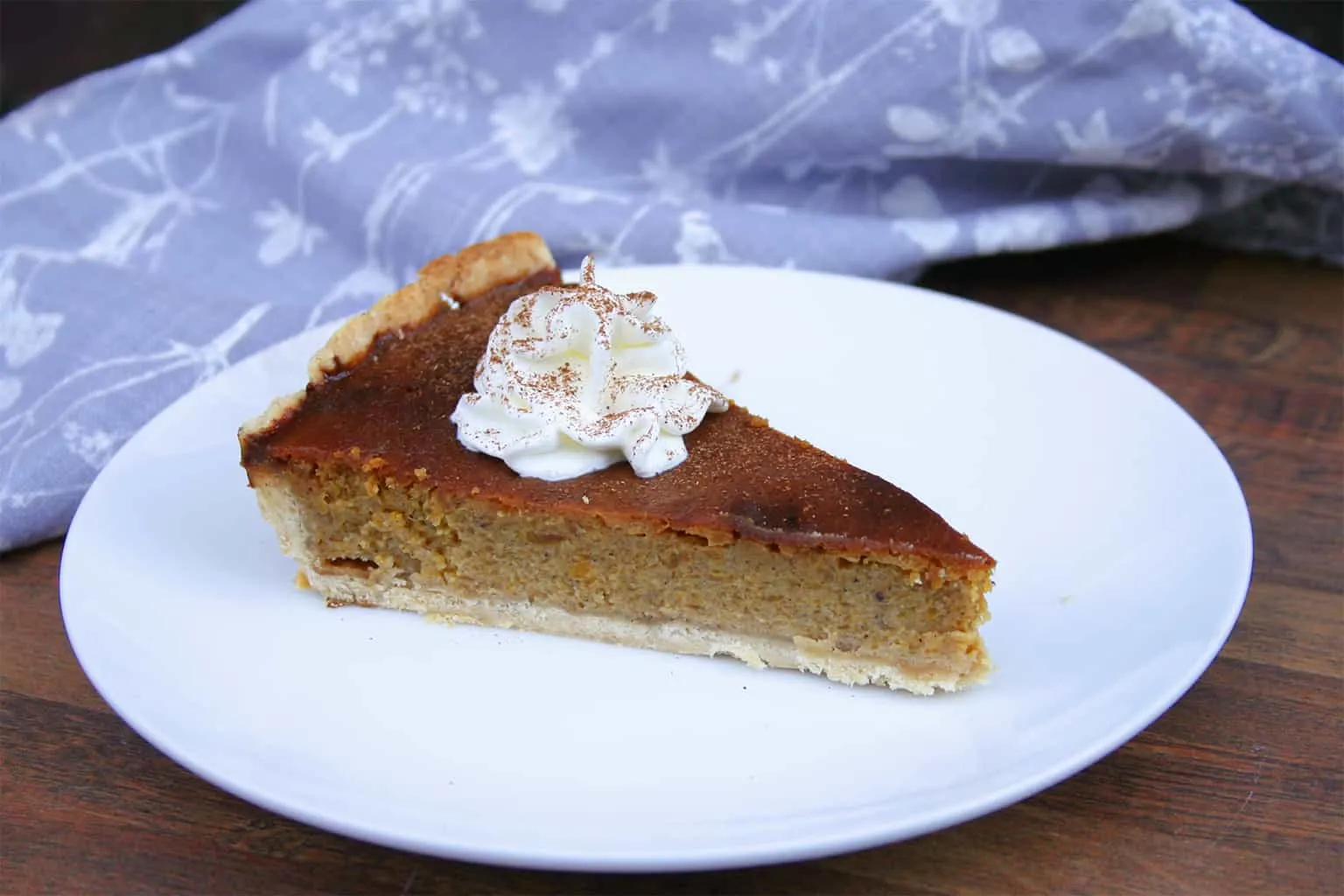 What does pumpkin pie taste like?
Before I tried it for the first time, I was quite sceptical of how it would taste, as I had never tried pumpkin before, any my only experience was carving them, which for some people can be a bit off-putting.
However, pumpkin pie doesn't taste at all like the inside of a pumpkin smells. In all honesty, pumpkin pie doesn't taste too strongly of pumpkin, more a warm, spicy flavour that is in all ways delicious. Don't be scared, give it a try.
What is the best kind of pumpkin to use for pumpkin pie?
Ideally, use a pumpkin branded as a "cooking pumpkin", these are generally smaller, and more flavour dense than carving pumpkins and will all around produce a better pie. Sometimes they are also called "sugar pumpkins".
Around October time, you may be tempted to buy a carving pumpkin to make this with, however you will likely be disappointed, as these pumpkins are grown for their size and not their taste. While you still can make pumpkin pie with these, it is not advisable as it will make the pie less flavoursome, and the watery pumpkin can make the texture go quite lumpy.
How can I store pumpkin pie?
Pumpkin pie stores well. If stored in an airtight container, it will keep for 3-5 days, but it also freezes surprisingly well. Simply slice the pie prior to freezing, and wrap in cling film, and take out to defrost when needed. Unwrap from the cling film, and leave on a plate, under a bowl. You will really struggle to tell that it has been frozen, as there is no noticeable change in texture or taste.
How to make pumpkin pie:
To start with, you need a pie base. For the dough recipe, see our shortcrust pastry recipe here.
Once you have the dough, you need to make a crust and blind bake it- this is pre-baking the pastry case so it doesn't end up soggy with the wet pumpkin pie filling in it.
Roll out the shortcrust pastry dough into a thin circle, about as thick as a £1 coin, a fair bit wider than the diameter of your tin, so there is enough pastry to go up the sides, and to allow for shrinkage. I used a loose-bottom flan tin, as this is the perfect depth, and allows for easy removal and serving of the pie.
Roll the pastry sheet over a rolling pin, and lay over the baking tin. Relax into the tin, allowing a bit of pastry to overlap the top of the tin all the way round. Excess will be cut off after baking. Cover the pastry with baking paper, and fill the baking paper with baking beans (this stops the pastry from rising and becoming puffy).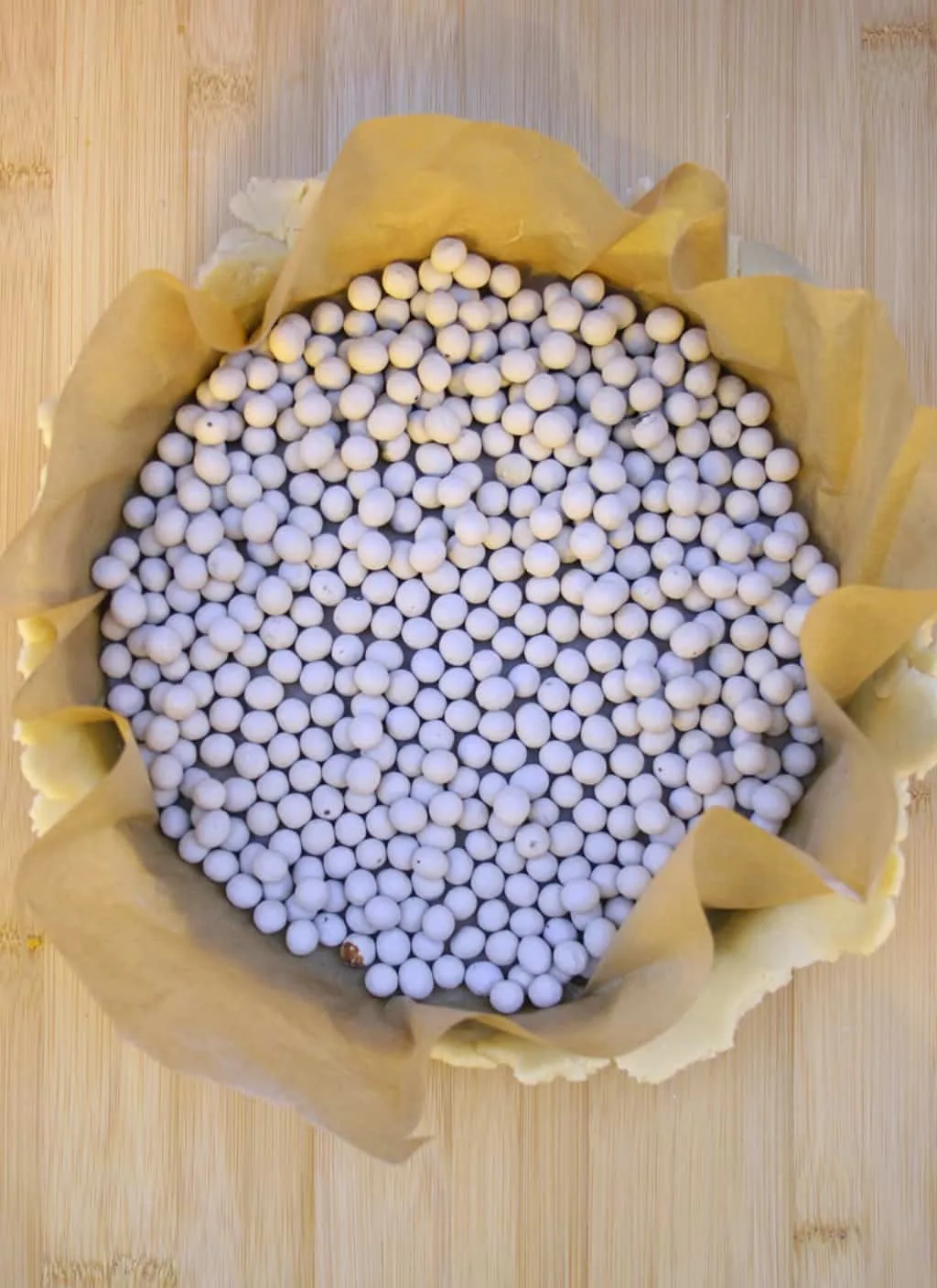 Bake for 25 minutes, until slightly browned. Leave to cool in the tin, paper and beans still in (the beans will stay hot for a while). When almost cool, cut around the edge of the pastry very carefully with a sharp serrated knife, removing the excess hanging over the edge of the tin. Don't worry too much if the cut isn't clean, as long as you don't crack the inside of the pastry badly, as the pie fillings could then leak out.
Prepare the pumpkin pie filling by peeling the pumpkin with a sharp vegetable peeler.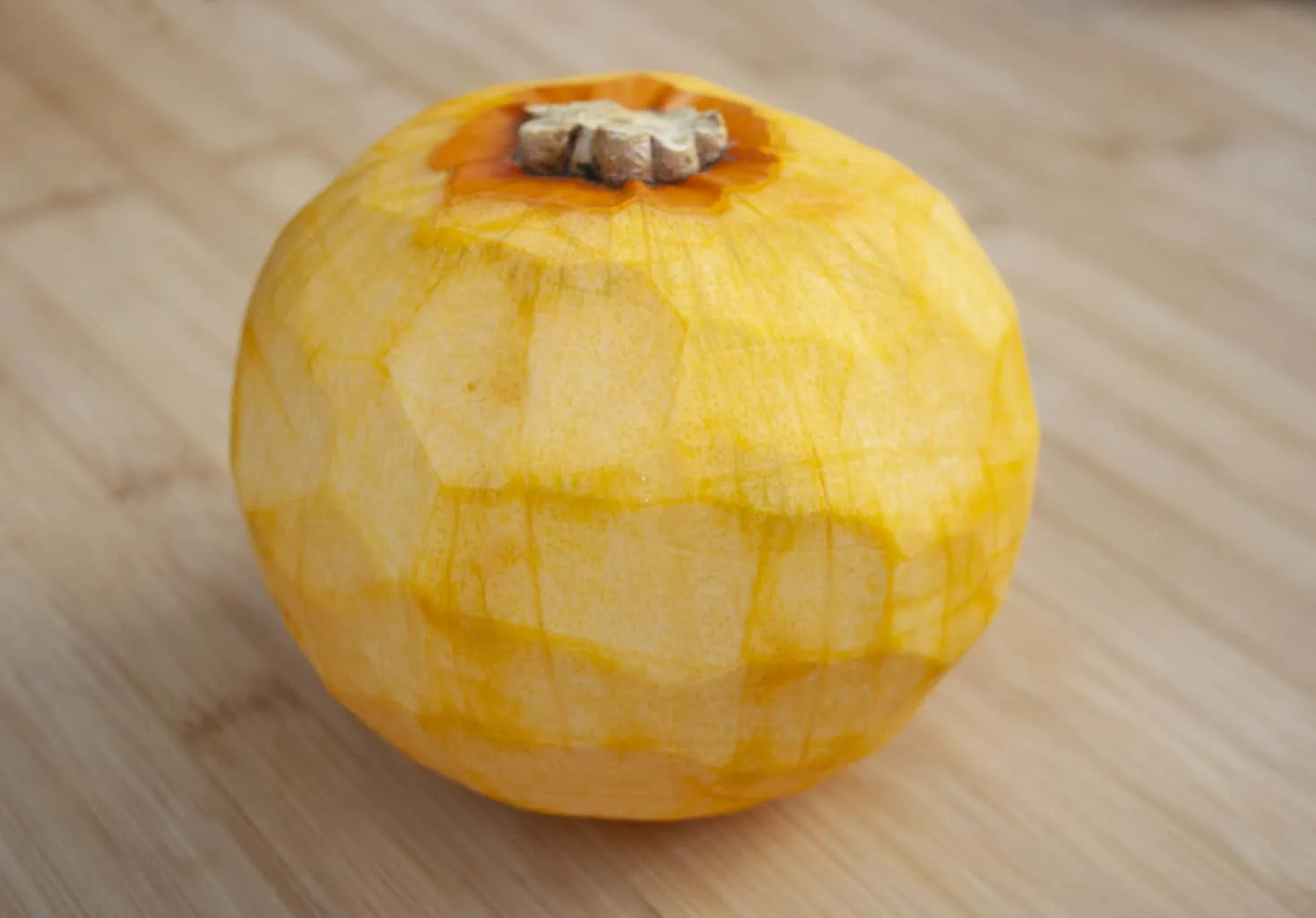 Slice the pumpkin in half down the middle.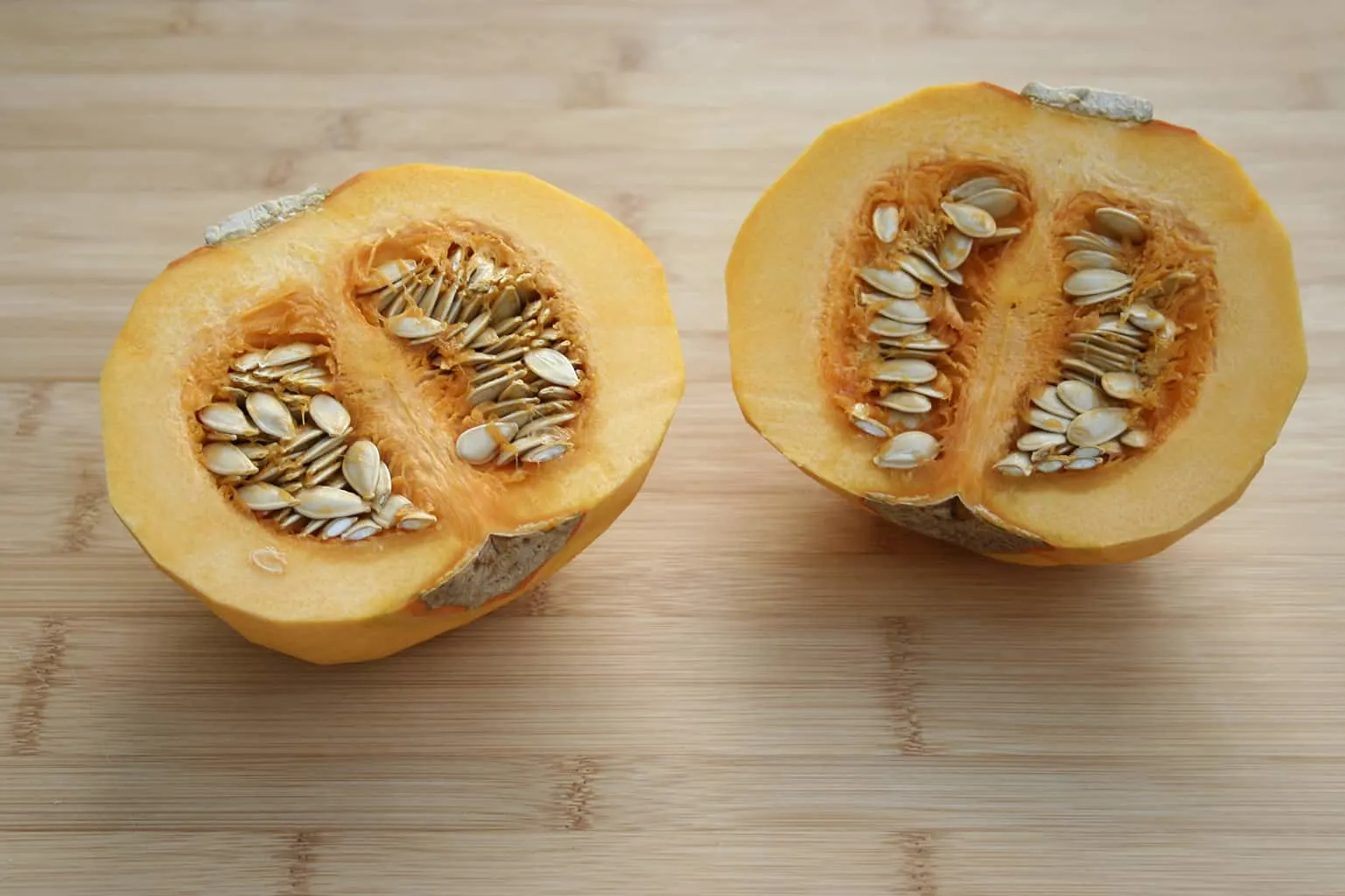 Scoop out the seeds and stringy innards with a spoon, and cut out the stalk and base.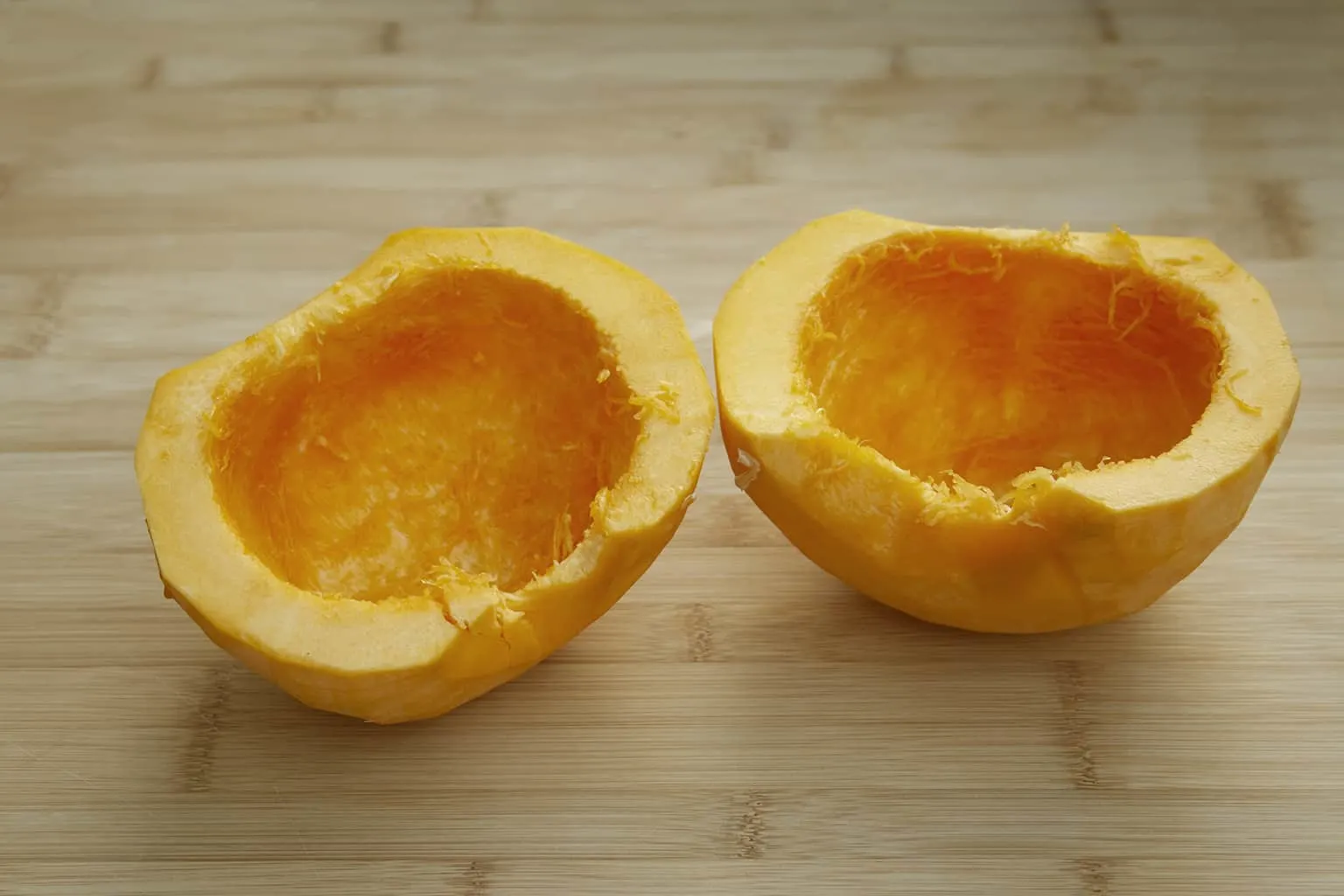 Slice up the pumpkin "shells" into small, 2cm cubes, ready to steam them.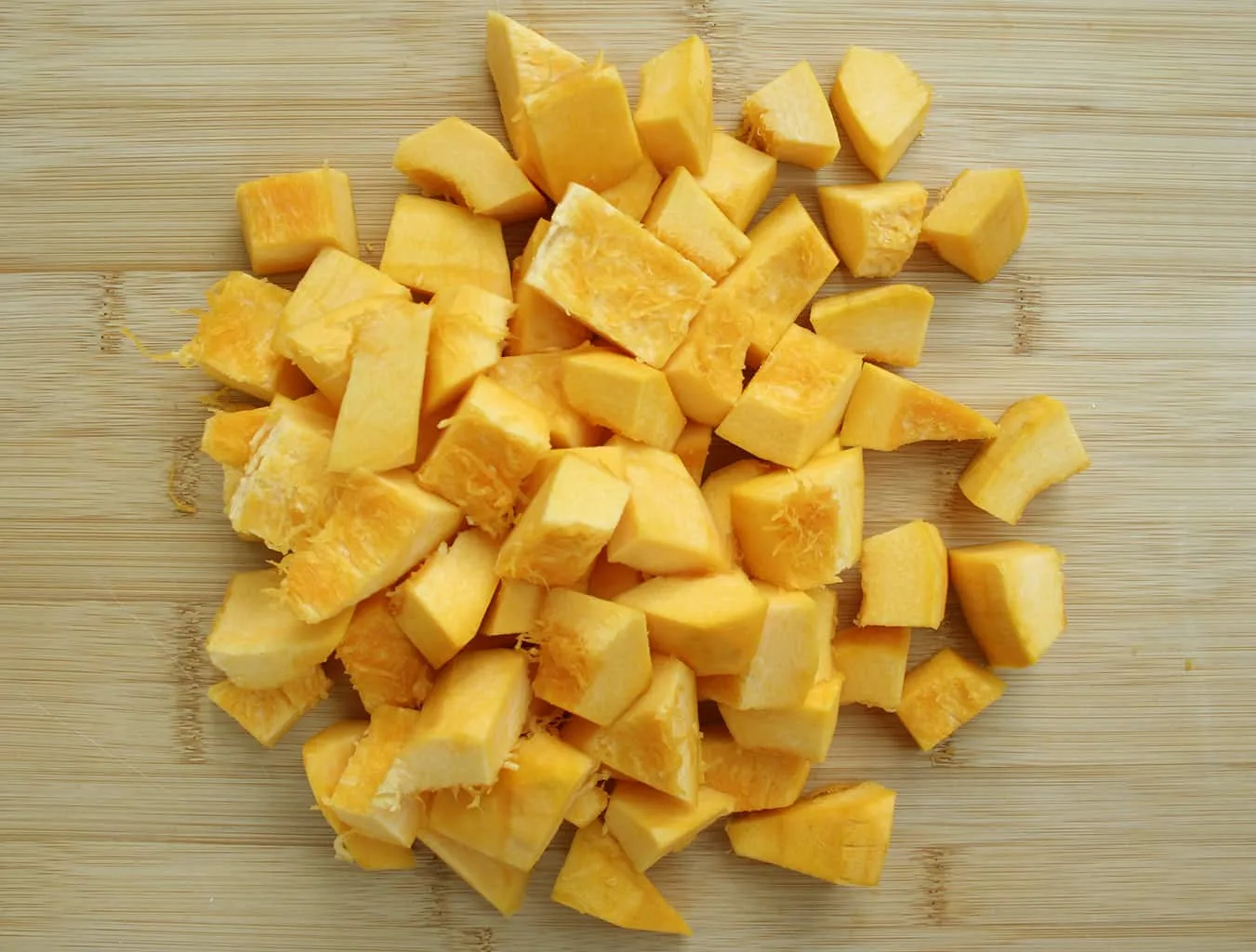 Place in steamer and steam for 30 minutes. Do this by pouring about 1cm boiling water under the steamer basket before adding the pumpkin. Steaming the pumpkin rather than boiling is cleaner, locks the pumpkin flavour in more, and stops it from becoming too wet. If you have one, you can also do this in a steamer, but I find it less hassle to just use a large saucepan.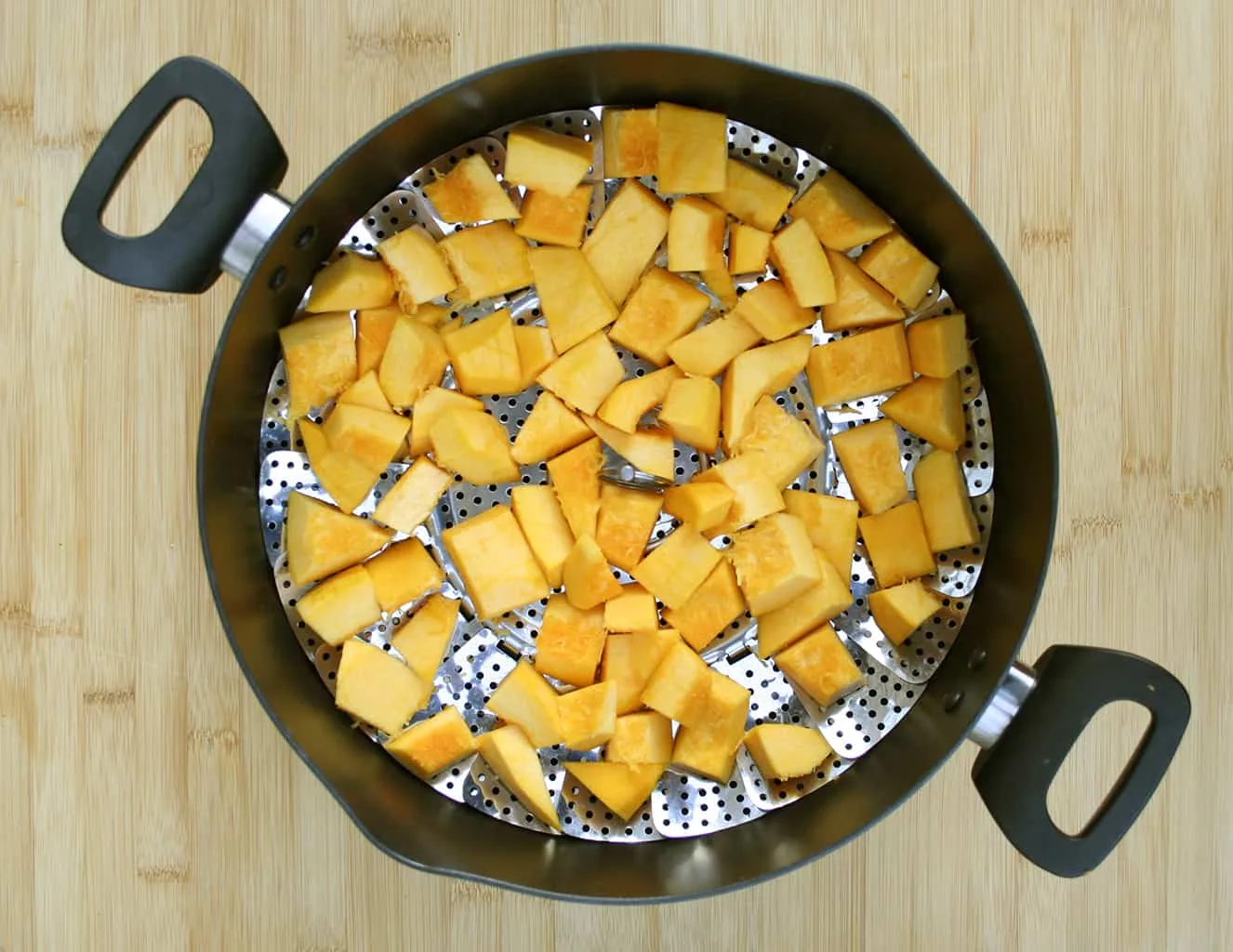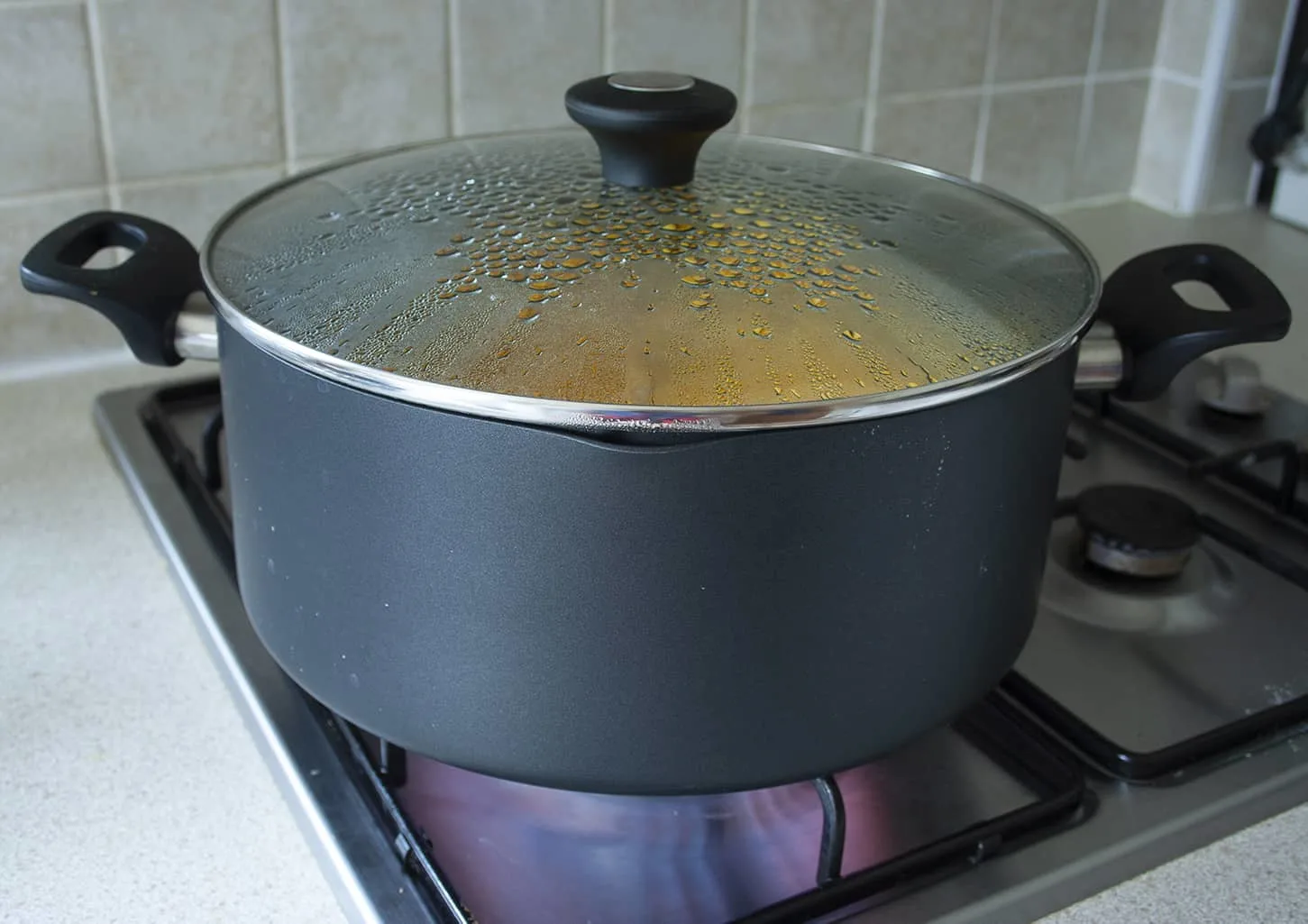 When done, the pumpkin should be soft, and it will look a deeper orange (if you used an orange pumpkin)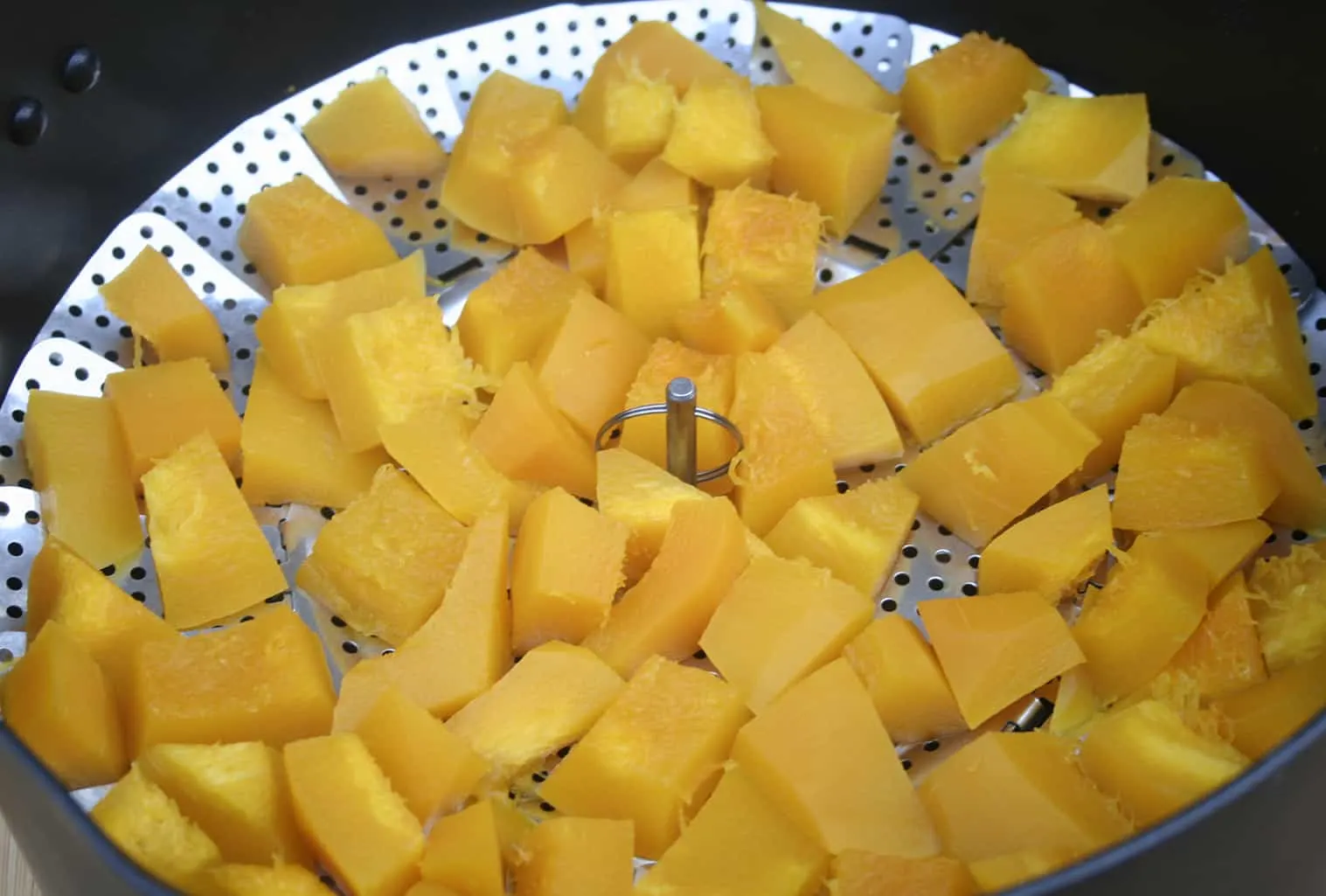 Allow to cool. Empty into a large bowl, and purée it by thoroughly mashing it with a potato masher until it is smooth. Preheat the oven to Gas Mark 7/220°C.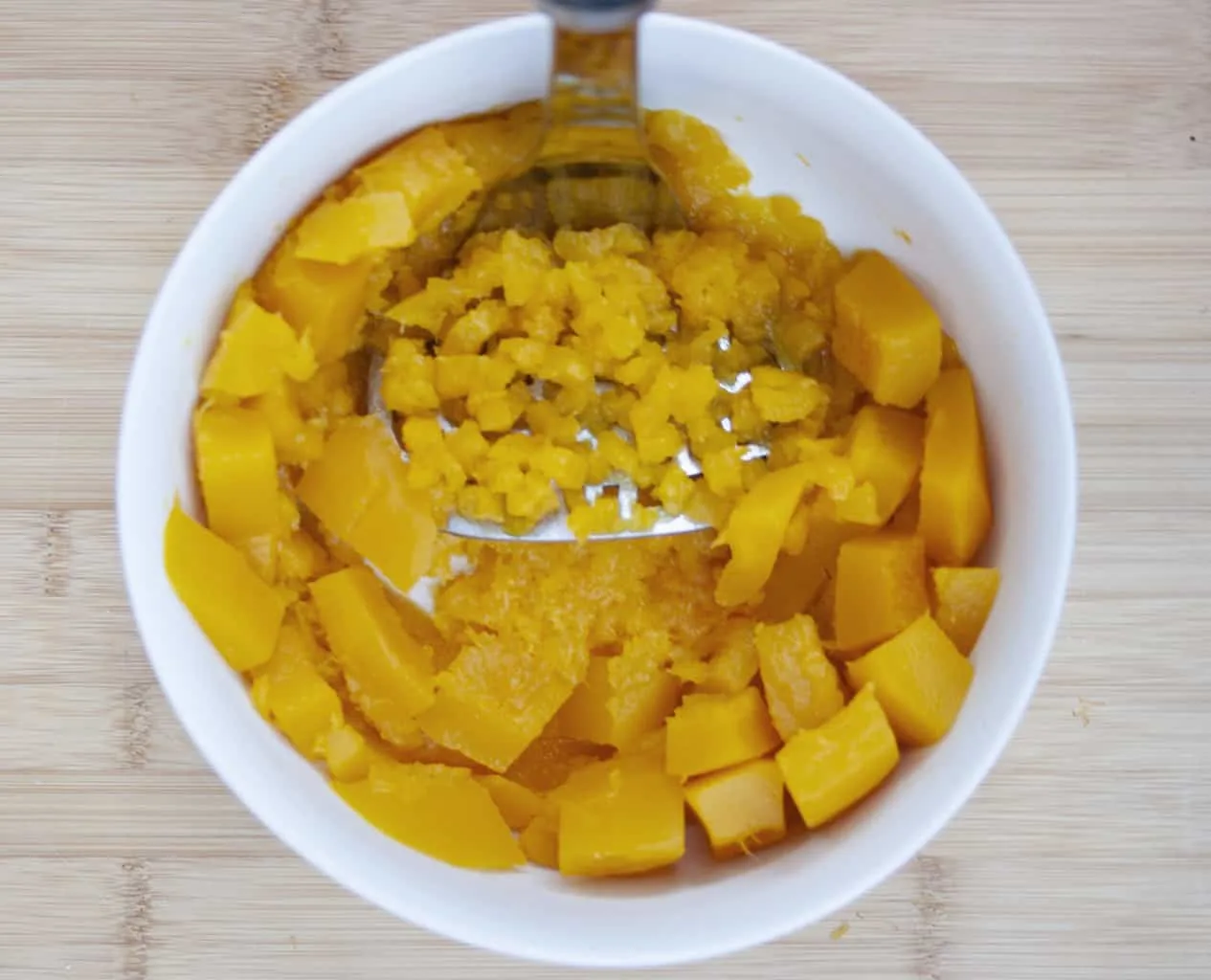 Now it is time for the easiest bit-making the filling. We do this by simply combining all the ingredients (pumpkin purée, evaporated milk, sugar, cinnamon, nutmeg, mixed spice and eggs) together in a large mixing bowl, and mixing until well combined.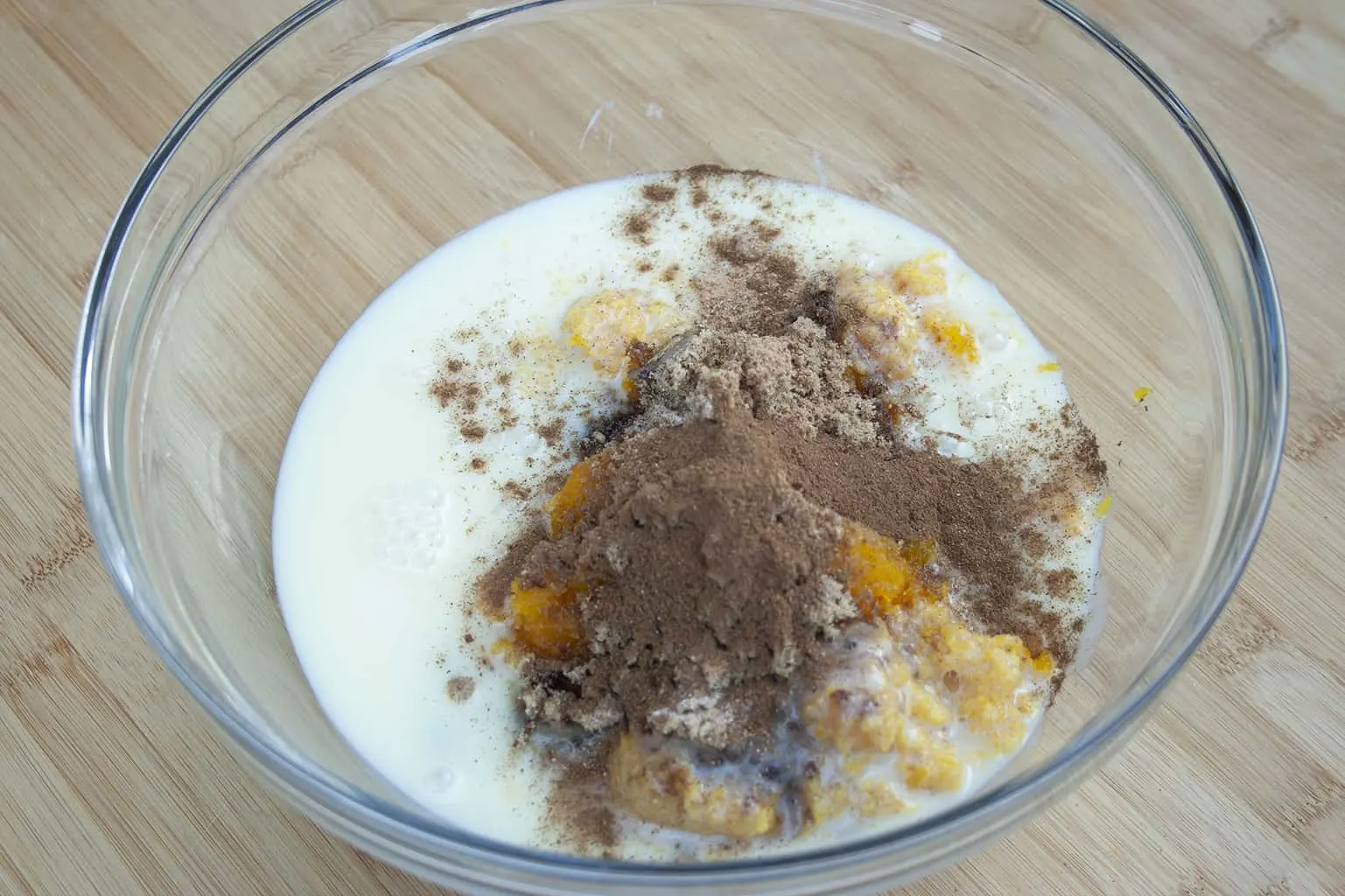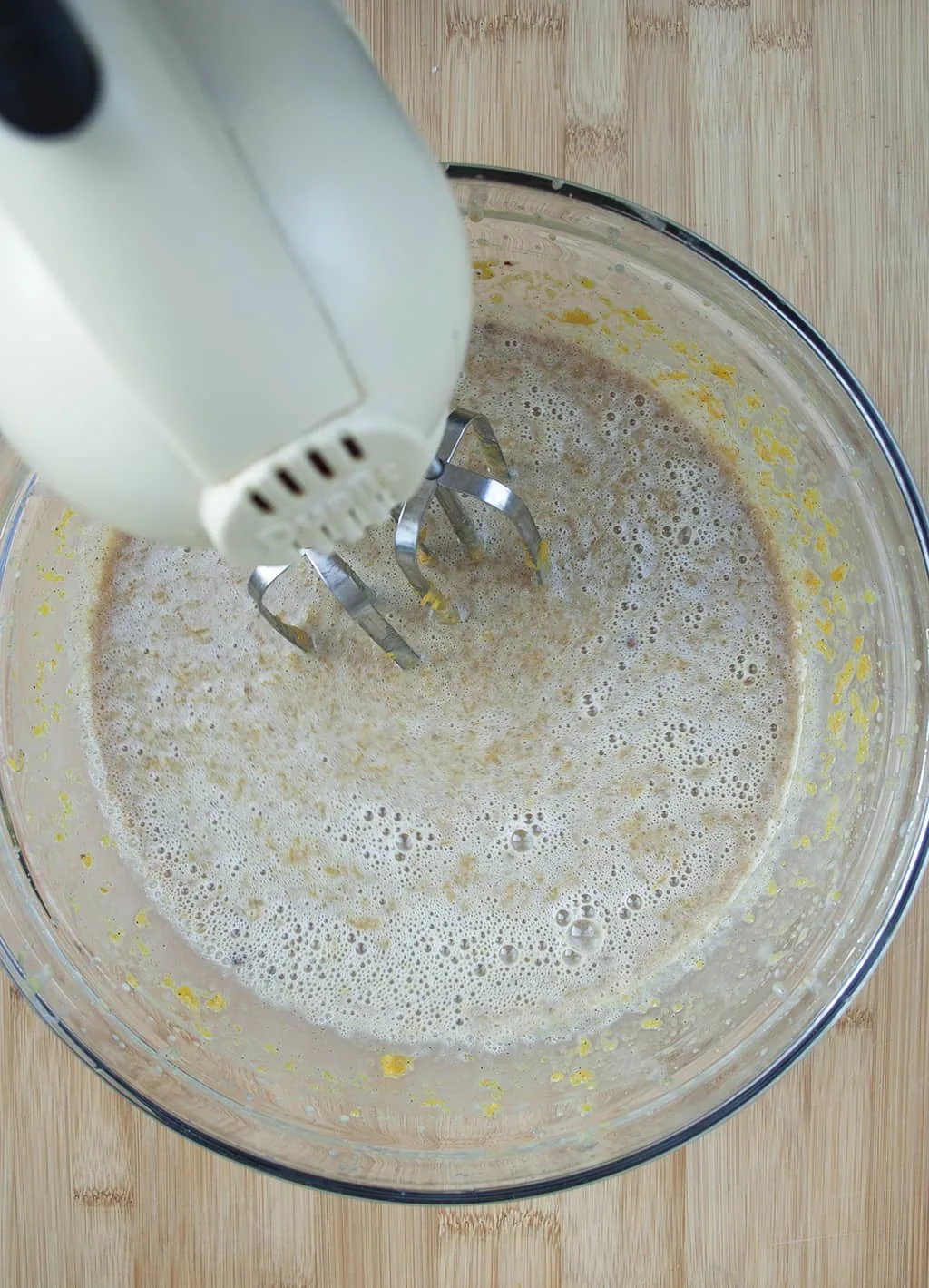 Now the filling is done! All that's left to do is to pour it into the pre-prepared pastry case, and bake for 45 minutes. Different tin depths can cause the cooking time to vary a bit, so you can tell when it's done by inserting a knife into the centre, and if it comes out clean, even if it's wet, it is done. It should be cooked until the jiggle is just about gone from the centre of the pie, as it will set more when it cools.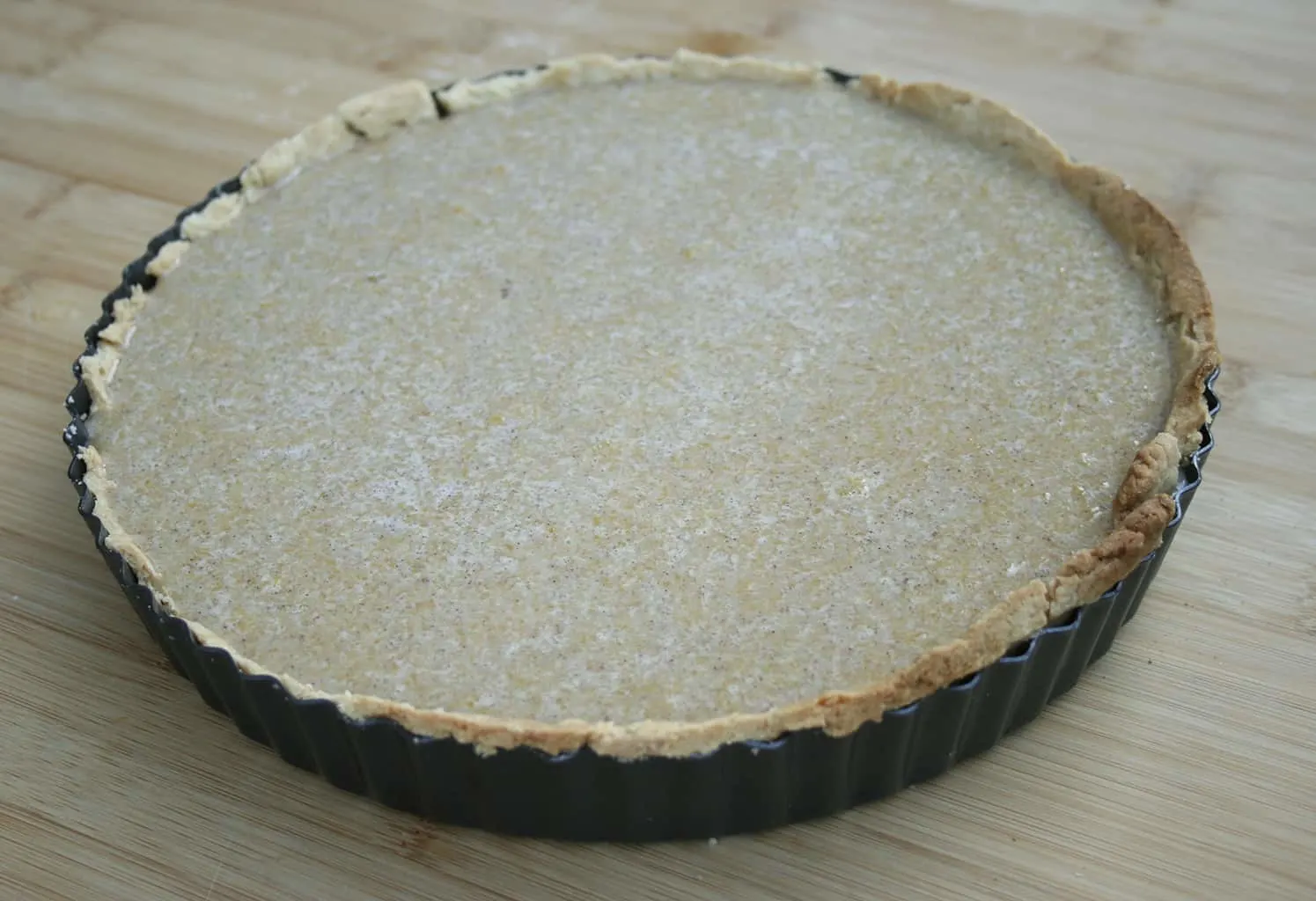 Enjoy!