Are you wondering how to make porridge? There are different methods for making it, in this article I'll go through 4 different ways.
Porridge is the perfect breakfast, more so in the colder months, but it works all year round. It's filling and nutritious, providing you with plenty of energy to see you through the morning.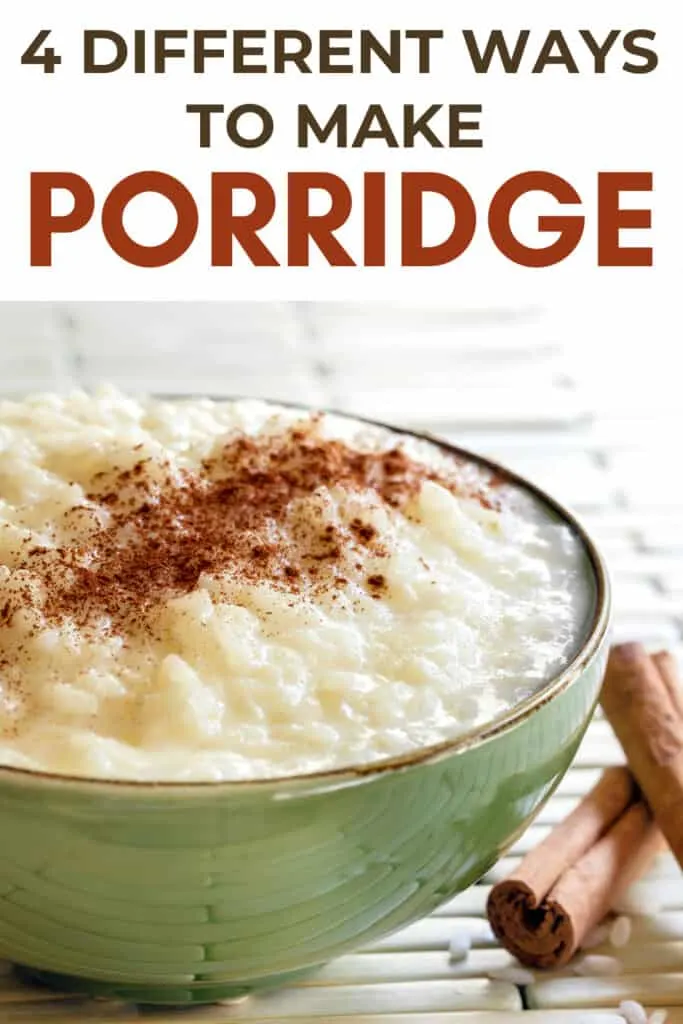 How To Make Porridge
The basics for making a bowl of porridge include;
Porridge oats – also known as rolled oats
Liquid – either water or milk, or a combination of both
Saucepan (if making on the hob, otherwise a mug/bowl – see below under methods)
Wooden spoon for stirring
Salt – optional according to taste
Toppings – you can get as adventurous as you wish – see below for suggestions
What Are The Best Oats For Porridge?
The best oats for making porridge will depend on the method you are using.
Rolled oats cook very quickly and result in a smoother porridge.
Jumbo oats take a little longer to cook and result with a little more texture than rolled.
What's The Liquid To Oats Ratio?
At a minimum, use double the amount of liquid to oats ratio. I tend to go for more of a 3 to 1 as I prefer a more runny consistency, and I know some recipes call for a 4 to 1.
So;
For a thick consistency: 50g of oats, use 100ml of liquid
For a medium consistency: 50g of oats, use 150ml of liquid
For a runny consistency: 50g of oats, use 200ml of liquid
Is Porridge Better With Water Or Milk?
It depends on how you prefer your porridge. Porridge with milk will come out creamier and thicker. Water will be lighter, but perhaps not as rich in taste. You can experiment and use a half of each, or until you get the perfect consistency for you. Just try to stick to the rough 2 to 1 liquid to solids ratio.
You can also use a nut milk instead of dairy.
How To Make Porridge Taste Good
Depending on your taste buds, porridge served as is, especially if made with water, can be pretty bland. You can spice it up, quite literally if you like, and add in some of your favourites.
Stir in, or add as toppings, one or some of the following;
Cinnamon
Brown sugar
Honey
Maple syrup
Honey
Chopped fruits – bananas, strawberries, blueberries, apples etc
Fruit syrup
Can You Reheat Porridge?
Yes you can reheat porridge. It will go a bit thick and sludgy as it cools down so you will need to loosen it up with a bit of water or milk and give it a good stir. Reheat it in a microwave, or in the saucepan again.
To store extra cooked porridge leave it to completely cool down before covering it up and placing in an airtight container. Store it in a fridge for up to 2 days.
Porridge In A Saucepan
This is probably the most common way to make porridge, it is certainly the most traditional.
The easiest way to quickly measure out the porridge and liquid is to use a cup or mug.
Fill half of the mug/cup with the porridge oats and add them to the saucepan. Then fill it completely with your choice of liquid and add that to the saucepan. Stir it together.
On a low to medium heat begin to cook the porridge. You will need to stand by the pan whilst it is cooking, continuously stirring it to make sure it doesn't stick to the bottom of the pan.
How long the porridge takes to cook will depend on the type of oats you are using. Rolled oats will take about 5 minutes, whereas jumbo oats will take a bit longer. If you are using instant oats, these will take even less time, just a few minutes. If you are using steel cut oats, these will take closer to 20 minutes. Whilst you are cooking the porridge you might decided to add some more liquid if the consistency is looking a bit too thick and sludgy.
When the porridge is ready, serve in a bowl with your favourite porridge toppings (a warm bowl will stop the porridge from hardening up too quickly).
Microwave Porridge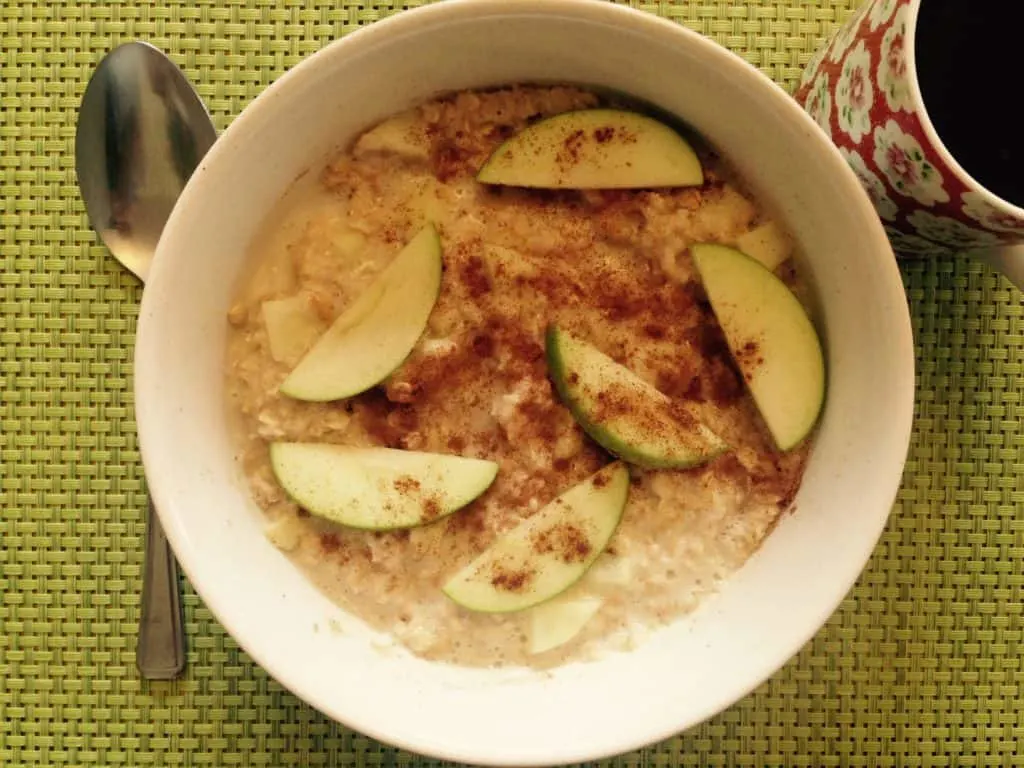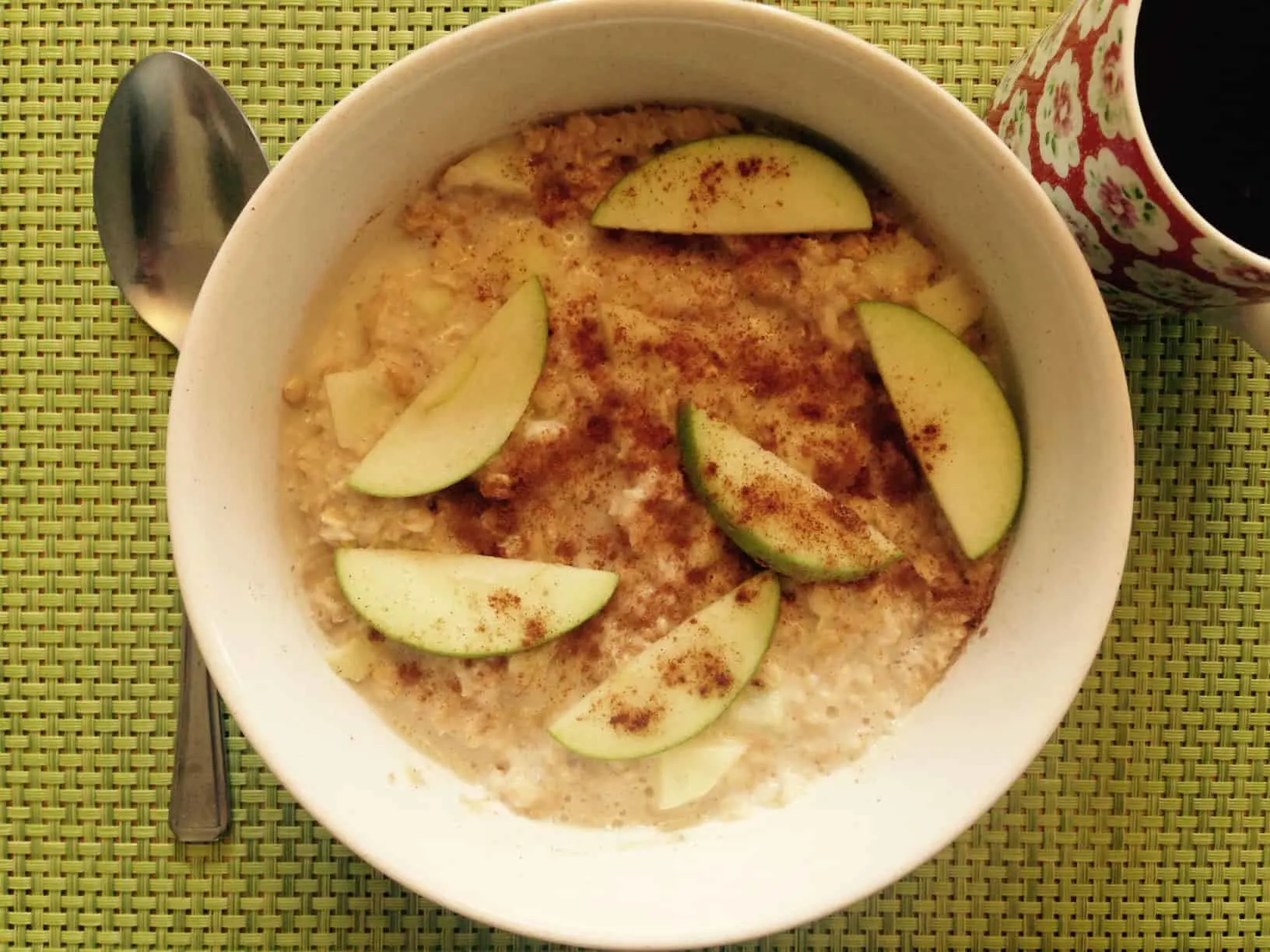 Making porridge in a microwave is by far the quickest, and likely the least messy method.
Mix the oats and liquid together in a microwave safe bowl. Don't fill it all the way to the top to allow for the mixture to bubble up and rise a little during the cooking time.
Place in the microwave and cook for 4 minutes. Stop after 2 minutes to stir round.
When the microwave has finished, stir it again before serving. Add your favourite toppings.
Related: Microwave Porridge Recipe
Slow Cooker Porridge
This was the method I was least convinced about. I couldn't think of a time when it would make sense for me to use a slow cooker to make porridge.
But, like other slow cooker recipes (I'm looking at you slow cooker fudge!) I was pleasantly surprised by the outcome.
I've made slow cooker porridge twice now, using two different methods. The first involved adding everything straight to the slow cooker pot and leaving it to cook that way, the other was placing the ingredients in a bowl and placing that within the slow cooker to cook.
The latter is my preferred method as it required minimal washing up – the porridge can stick to the side of the slow cooker bowl making cleaning it a pain. You could reduce this by spreading a little butter or oil on the slow cooker bowl surface, but it will still likely stick a little!
When making porridge in a slow cooker you should try to use steel cut oats, or jumbo oats, as they can withstand the long cook time. I have tried it with rolled oats and the porridge was easily ready after 2 hours. Steel cut oats can withstand closer to 7 or 8 hours of cook time.
Based on my experimenting, the following is my preferred method for slow cooker porridge;
Mix the oats and liquid together, either directly in the slow cooker, or in a bowl that you place within the slow cooker. You will need to use a higher ratio of liquid to oats than 2 to 1. I would use 4 to 1 as a minimum. So for 100g of oats, use at least 400ml of liquid – although I would be inclined to go even higher than this if you prefer a runnier consistency. Remember to lightly grease the slow cooker bowl first to prevent sticking (if you are not doing the bowl in bowl method).
Set the slow cooker off on low and cook for 6-8 hours*
*I have also made this during the day time, using rolled oats (Scottish) and it was ready in 1.5 hours (runny consistency). This is a great option if you are an early riser and plan on getting breakfast on the go early ready for when everyone else wakes up!
Top Tip: If your slow cooker doesn't have a keep warm feature, you could also use a timer to set the slow cooker to start during the night so that it is ready for when you wake up.
Related: Slow Cooker Porridge
Overnight Oats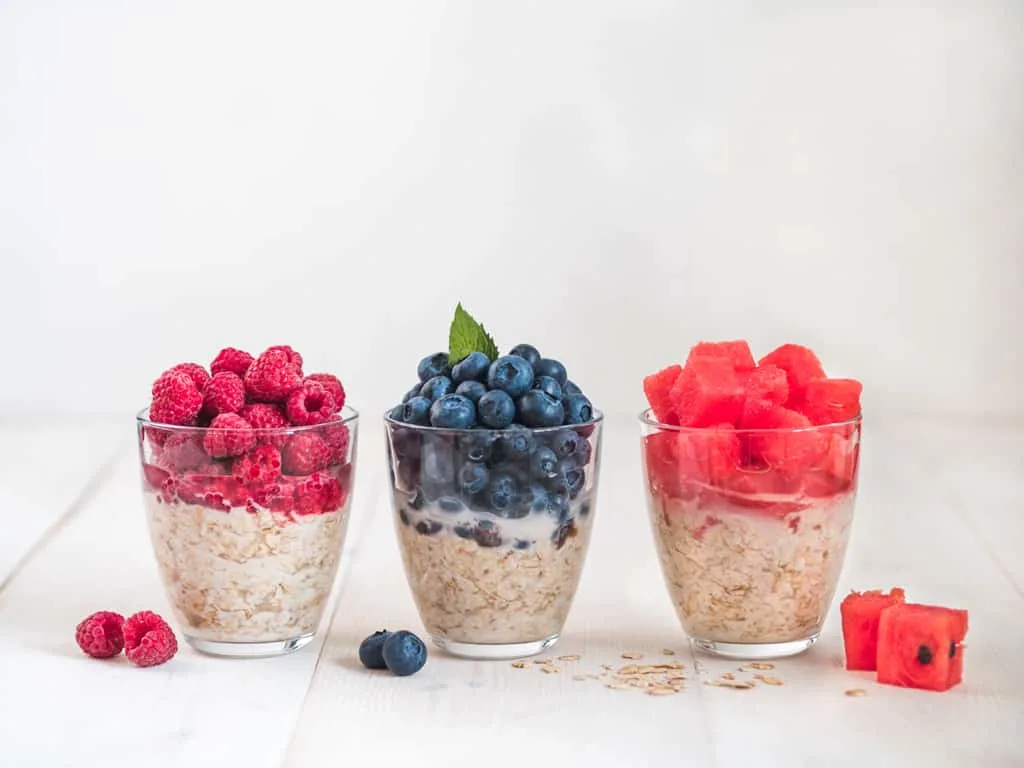 Overnight oats are another way to prepare a tasty and nutritious oat based breakfast. Although they are not cooked in the same way as traditional porridge, the soaking of the oats overnight make them really soft and creamy. You can also pop the jar of overnight oats in the microwave in the morning to heat it up – but actually, overnight oats tastes amazing chilled.
You can use instant oats, but rolled oats would be better – instant oats will turn out a bit mushy.
The great thing about overnight oats is how you can make so many different flavours, depending on what you add in. Try adding, peanut butter, cocoa powder, chopped fruits, fruit syrups, cinnamon, honey – the combinations are endless!
Using a mason jar add in 50g of oats. You can add in some cinnamon and/or chia seeds to the oats too if you wish.
Pour in 150ml of milk or water.
Put the lid on and store in the fridge overnight.
Remove from the fridge in the morning and add any chopped fruits or nuts.
Overnight oats will last in the fridge for up to 5 days so you can batch make some for the week ahead!
Related: How To Make Overnight Oats