Slow cooker porridge is a handy alternative way to make this filling and nutritious breakfast recipe.

Why Make Porridge In The Slow Cooker?
Making porridge in a slow cooker is quite obviously the slowest way to make it – but it does have it's benefits;
Slow cooker porridge results in super soft and creamy oats
It requires minimal work – set it off and leave it to cook
It can be set off before you go to bed and be ready for when you wake – no more rushing about making breakfast when you're half asleep
I wasn't convinced that I would like this method of making porridge, I usually make ours in the microwave, or in a saucepan – but I was quite pleased with the results.
Related:
How To Make Slow Cooker Porridge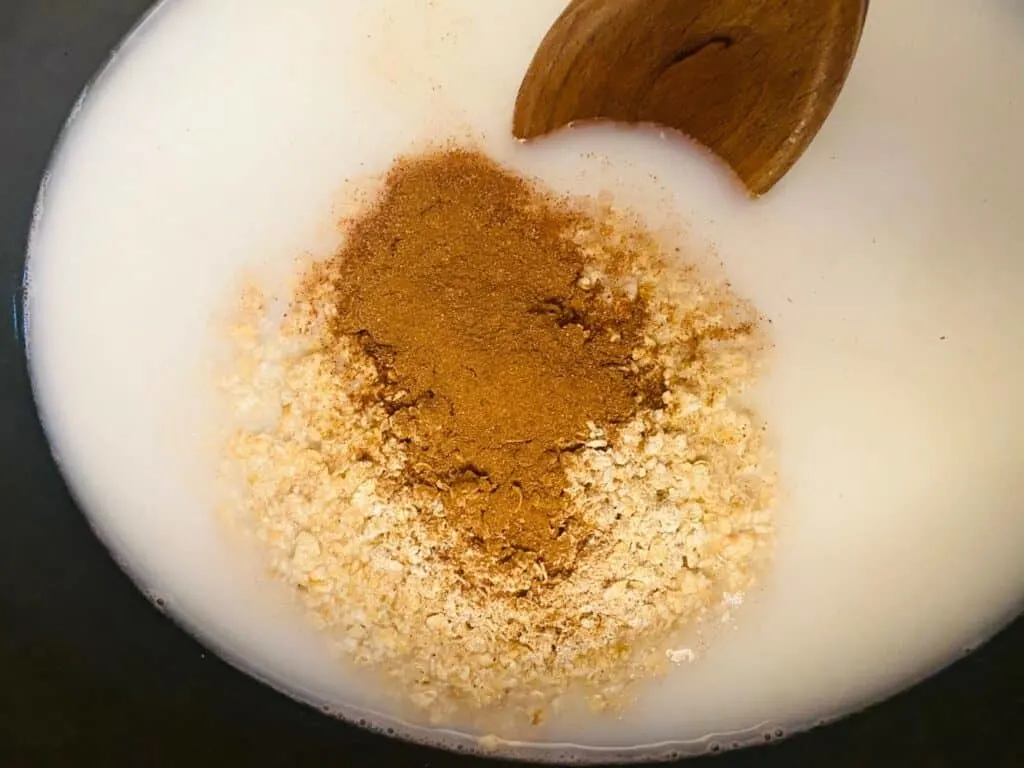 Slow cooker porridge can be made either directly in the slow cooker, or, in a bowl within the slow cooker.
The latter method will result in less cleaning up, but you will likely be able to make less in quantity.
Top Tip: if you are making the porridge directly in the slow cooker, grease the insert bowl with butter or a little oil. This will help to reduce the oats sticking to the sides.
What Oats Are Best For Making Slow Cooker Porridge?
If you are leaving the porridge to cook overnight you should try and use jumbo oats if you can rather than the instant quick cook variety. Quick cook porridge oats will end up mushy and not very tasty if you slow cook them.
How Long Does Slow Cooker Porridge Take To Cook?
Slow cooker porridge can take anywhere from 2 hours to 6 hours on low. If you leave it to cook for much longer than the 6 hours the oats might end up too soft and mushy, or start to stick to the side of the bowl.
Top Tip: To slow down the cook time, as well as prevent the porridge from sticking to the side of the slow cooker, you can cook the porridge in a large casserole dish and place that in the slow cooker. Pour a little water in the slow cooker so it comes up to around half way.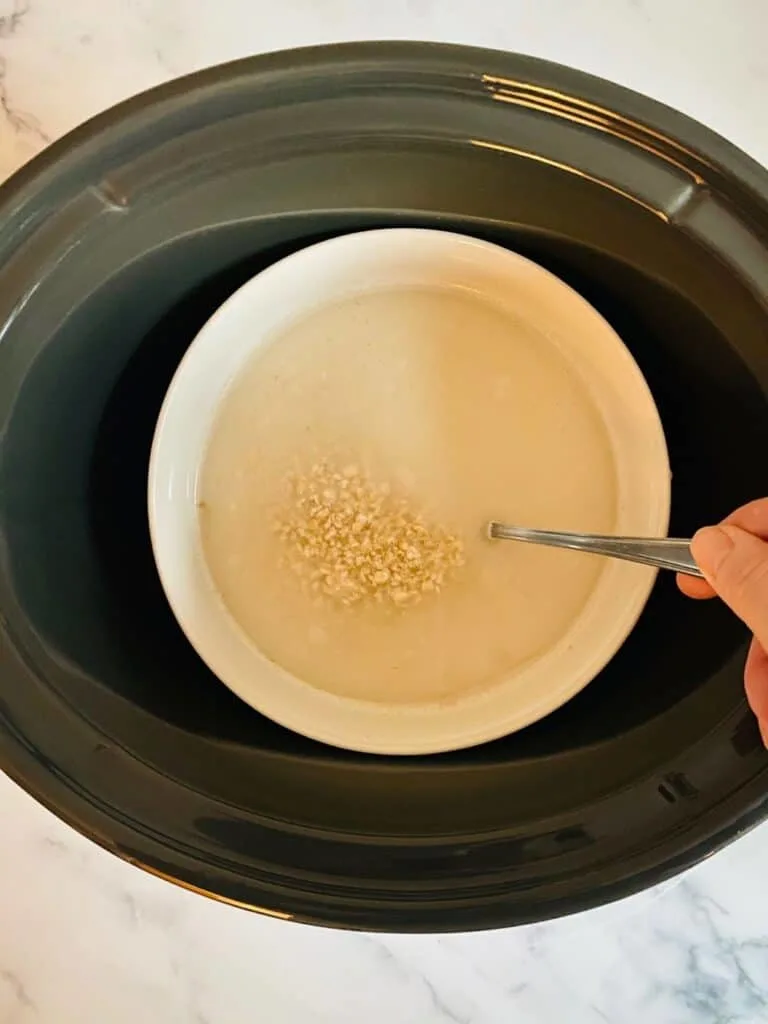 You can also use a timer to set the slow cooker off to start later, or, if your slow cooker has a keep warm feature, you can use that instead.
What You Need:
Oats – jumbo if possible (aim for around 50g per serving)
Milk or water – aim for a ratio of about 4:1 for liquid versus oats. So, for every 50g of oats, use approx 200ml of liquid.
Cinnamon or other flavourings of choice (sugar, fruit syrups, golden syrup, chopped fruits etc)
Adding It All To The Slow Cooker:
Mix the oats, liquid and cinnamon (if using) directly in the slow cooker bowl (or use a casserole dish and place that inside the slow cooker). If you are cooking it directly in the slow cooker bowl remember to grease it lightly.
Set the slow cooker off on low. Cook for a minimum of 2 hours and a maximum of 6 hours. Once finished, give the porridge a good stir.
Serve porridge in a bowl and add any favourite toppings (chopped bananas, apples, berries etc).
How Long Does Porridge Last?
To store extra cooked porridge leave it to completely cool down before covering it up and placing in an airtight container. Store it in a fridge for up to 2 days.
Can You Reheat Porridge?
Yes you can reheat porridge. It will go a bit thick and sludgy as it cools down so you will need to loosen it up with a bit of water or milk and give it a good stir. Reheat it in a microwave, or in the saucepan again.