Ninja Foodi cajun chicken and rice is a one pot meal perfect for those busy weeknights when you don't have much time to cook.
The Ninja Foodi pressure cooker function makes this meal a breeze to make. And it's packed with flavour from the chicken, bacon, and spices.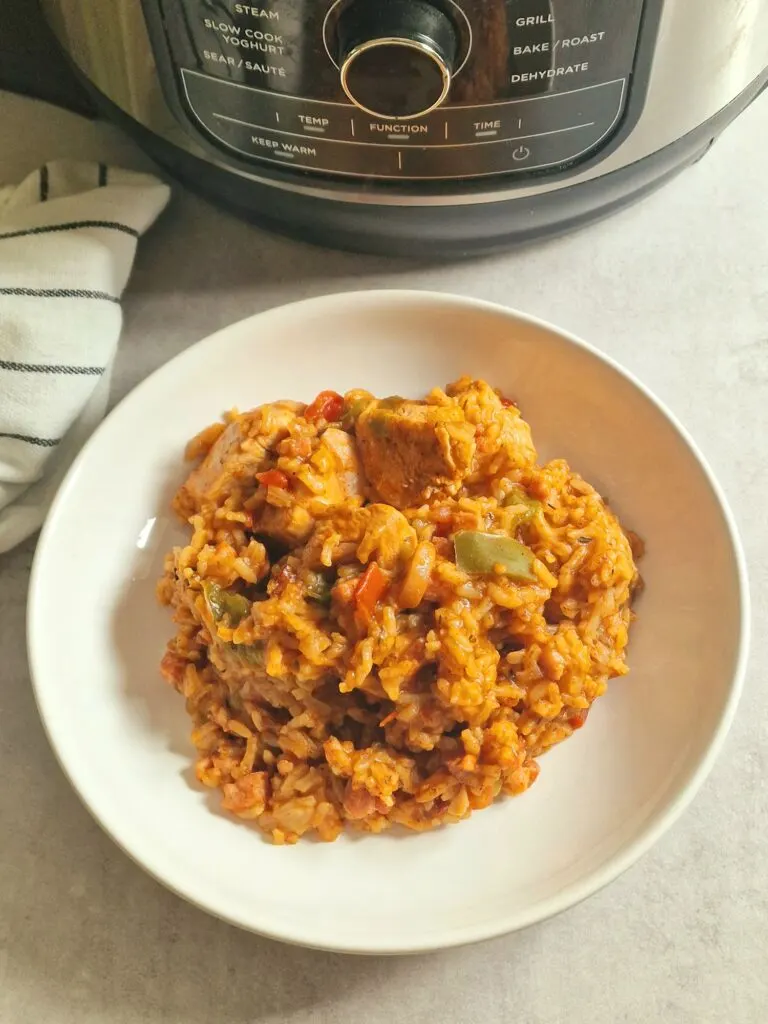 How To Make Cajun Chicken and Rice In The Ninja Foodi
The Ninja Foodi is great at cooking rice, meaning you can make almost any rice-based dish.
In fact, this multicooker is very versatile; check out some more of my Ninja Foodi Recipes to see what you can cook.
What You Need:
I picked up a packet of Schwartz's One Pan Cajun Chicken & Rice and adapted the recipe on the back. You can either use the same spice mix or make up your own cajun spice mix. I've not followed this one from The Hairy Bikers, but it looks good.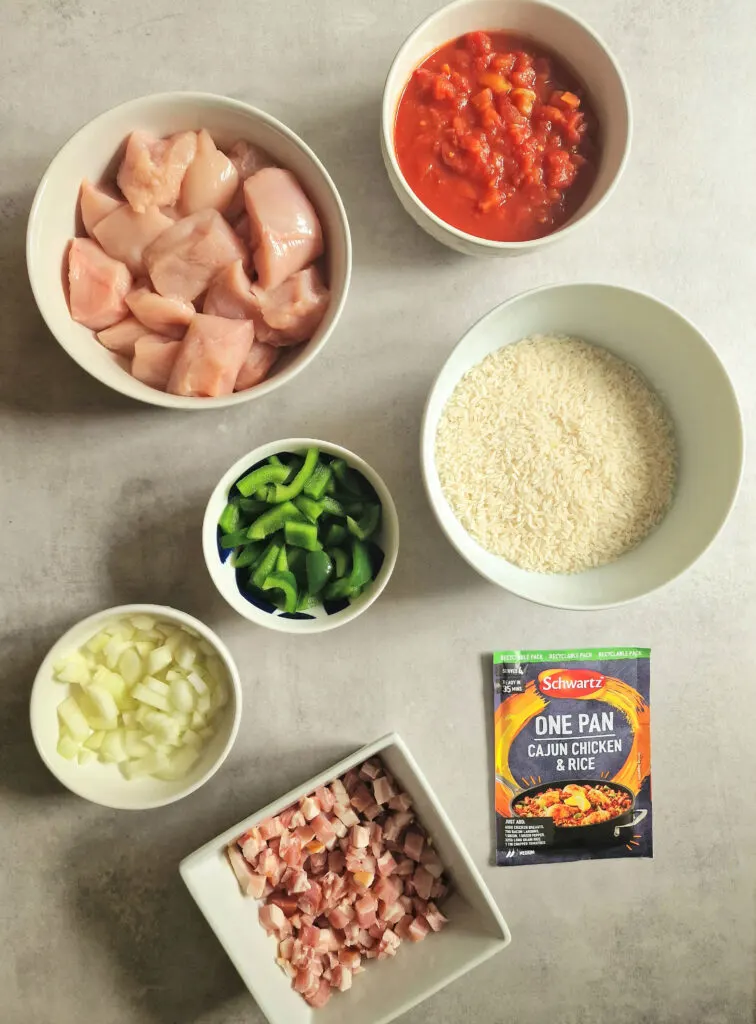 To print out this recipe with full instructions, head down to the recipe card at the bottom.
Oil or butter – use a little (about 1 tbsp) of oil or butter to saute the chicken and bacon.
Chicken breasts or boneless chicken thighs. I used 500g of chopped chicken breast; to serve four people, I would use between 400g and 600g.
Bacon – I used 200g of bacon lardons. You could use pancetta or chorizo chunks instead if you wish.
Onion – either white or red onion, chopped up.
Peppers – I used one green pepper, chopped. You can use any colour or a mixture of them.
Long grain rice – I used 350g long grain rice. Make sure you rinse it in water to get rid of the starch.
Chopped tomatoes – I used a 400g tin; you could use fresh tomatoes instead, but I've not tested this.
Cajun spice mix – either use the above-mentioned mix or make your own (use about 3 to 4 tbsp).
Water – 600ml; use boiling water if you can; the Ninja Foodi will reach pressure sooner.
I used a Ninja Foodi Max 9 in 1, but you can use any Ninja Foodi multicooker or another pressure cooker brand (Instant Pot, Pressure King Pro etc.)
You might also like: Ninja Foodi Chicken and Chorizo Stew
Making It:
Step one is gently frying the chicken, bacon and onions in the Ninja Foodi pot.
Add the butter or oil to the pot and select the saute function. Once it is hot, add the chopped chicken, onions and bacon. Keep frying it until the chicken is sealed.
Add the chopped peppers and stir around for about a minute. Try not to let any food stick to the pot; if it does, deglaze it by adding a little of the hot water.
Add the hot water and spice mix to the pot, followed by the chopped tomatoes and rice.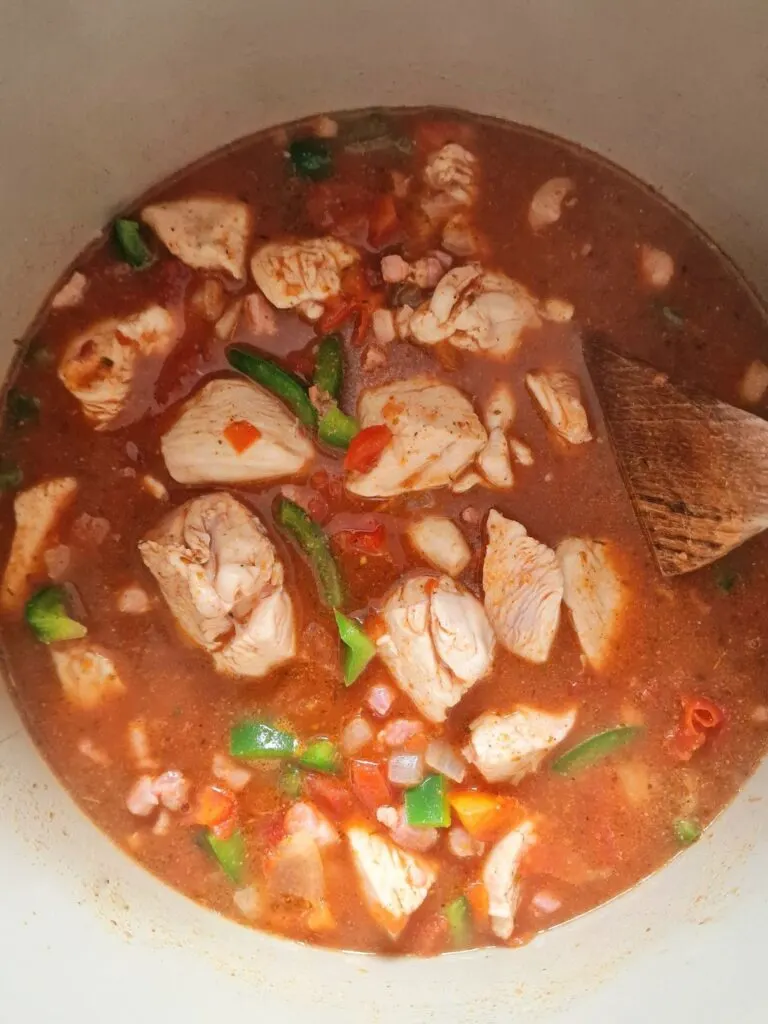 Stir everything around and leave it to come to a boil.
Then, switch off the saute function and add the Ninja Foodi pressure cooker lid. Set the pressure valve to seal and select the pressure cooker function. Select high pressure and set the timer to 8 minutes.
At the end of the pressure cooking time, leave it to release naturally for 10 minutes (that is, do nothing to it). At the end of the 10 minutes, carefully turn the pressure release valve until the lid is safe to remove.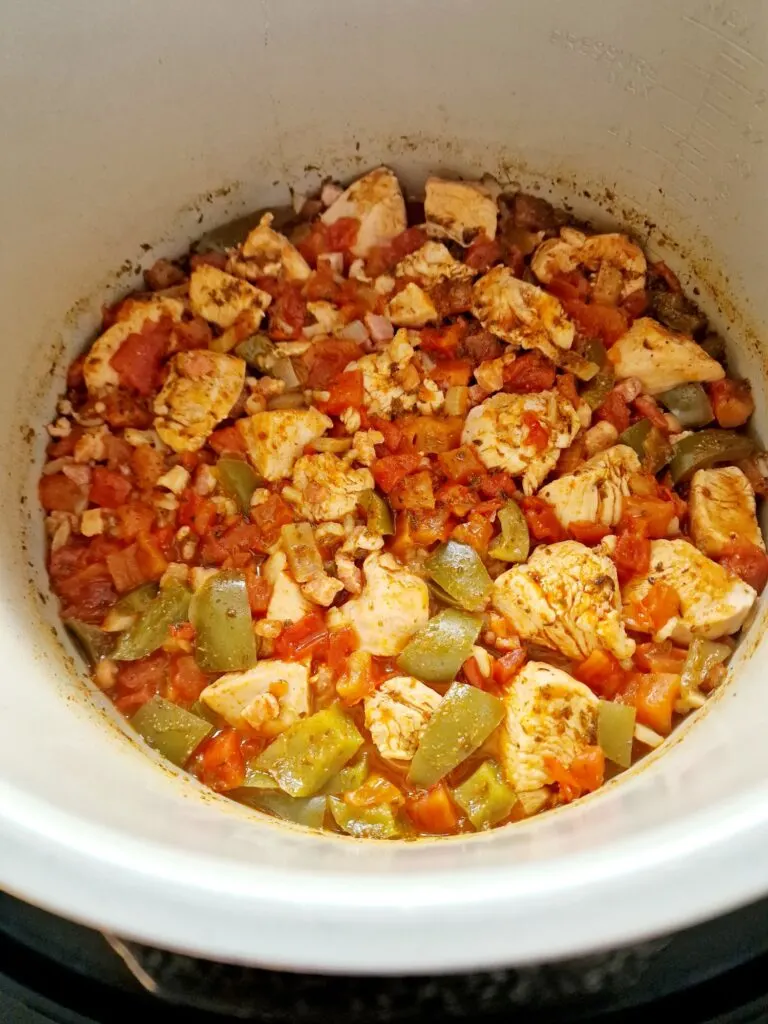 When the lid is removed, it will look a bit dried out and compressed; give everything a good stir, and check the chicken is cooked.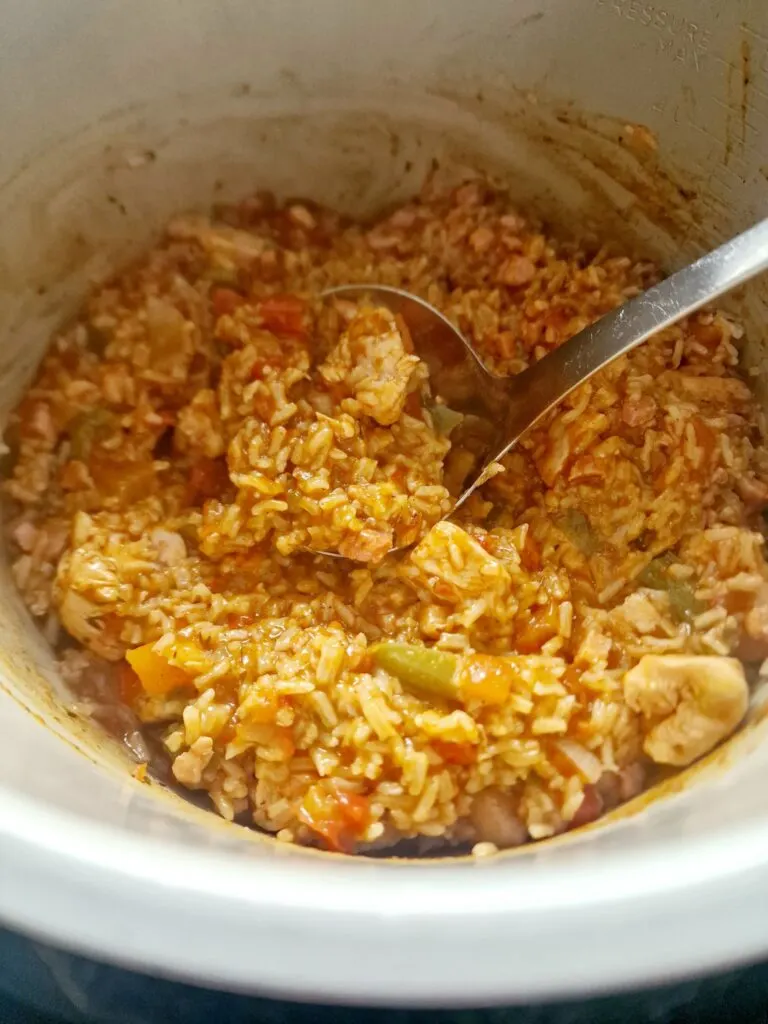 Optionally serve it with a side of green beans or a salad.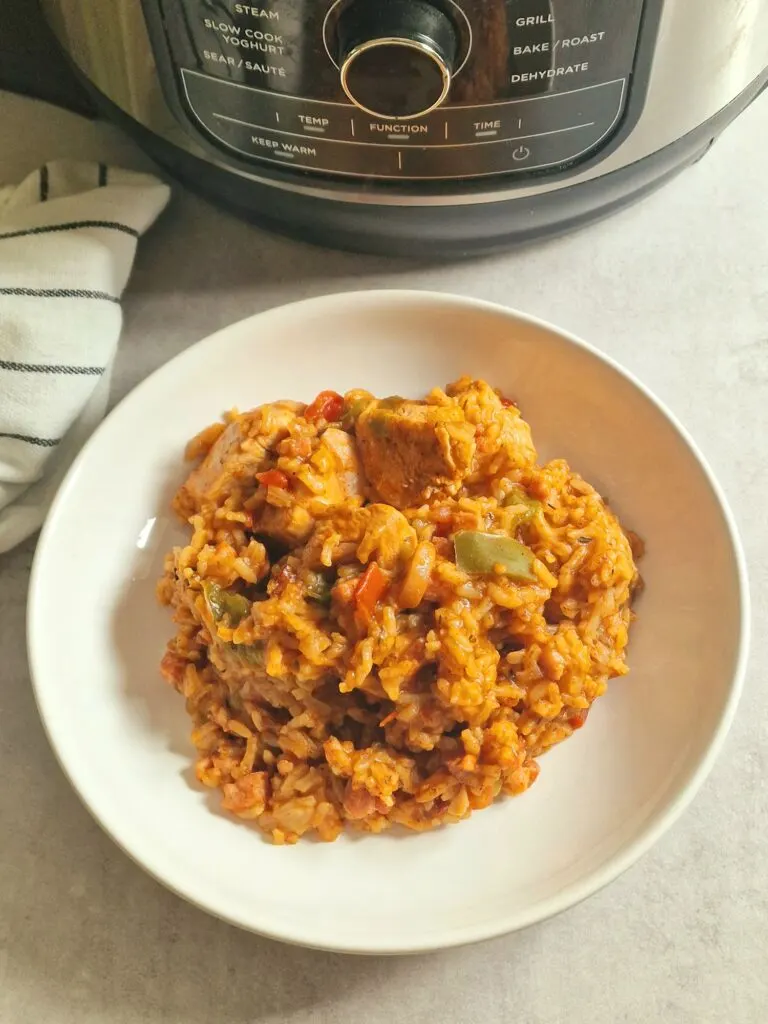 I hope you enjoyed this Ninja Foodi recipe; let me know in the comments if you make it!