This Mexican-inspired shredded chicken recipe is quick to prepare and make in a Ninja Foodi. It's a flexible recipe that can be adjusted according to your available ingredients.
It's a perfect quick dinner idea and can be served in a tortilla wrap, on a jacket potato, or alongside some potato wedges or rice.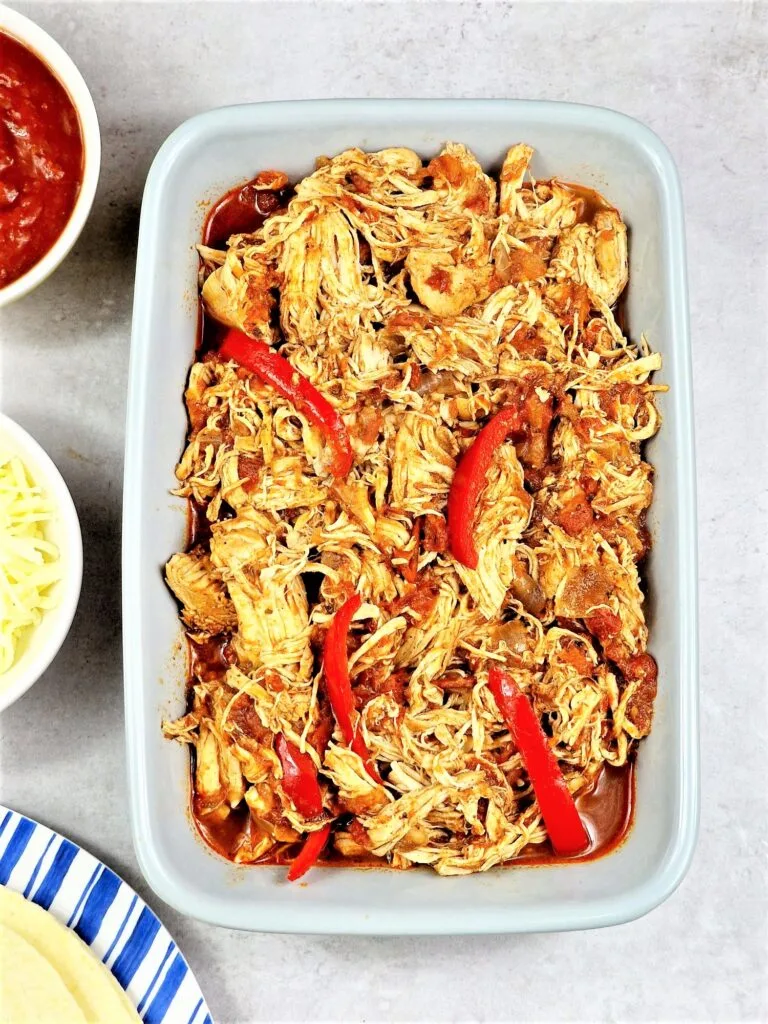 How To Make Shredded Chicken In A Ninja Foodi
I made this shredded chicken in a Ninja Foodi Max 15-in-1, but it can be made in any Ninja Foodi or other multi-cooker with a pressure cooker function.
What You Need:
This recipe can be as flexible as you need; use the below ingredients as a guideline and substitute as you wish.
It serves 4 to 6 people, depending on how you serve it. Save any leftovers for the next day, or turn it into soup!
For more concise instructions and to print this recipe out, please head down to the bottom of the post.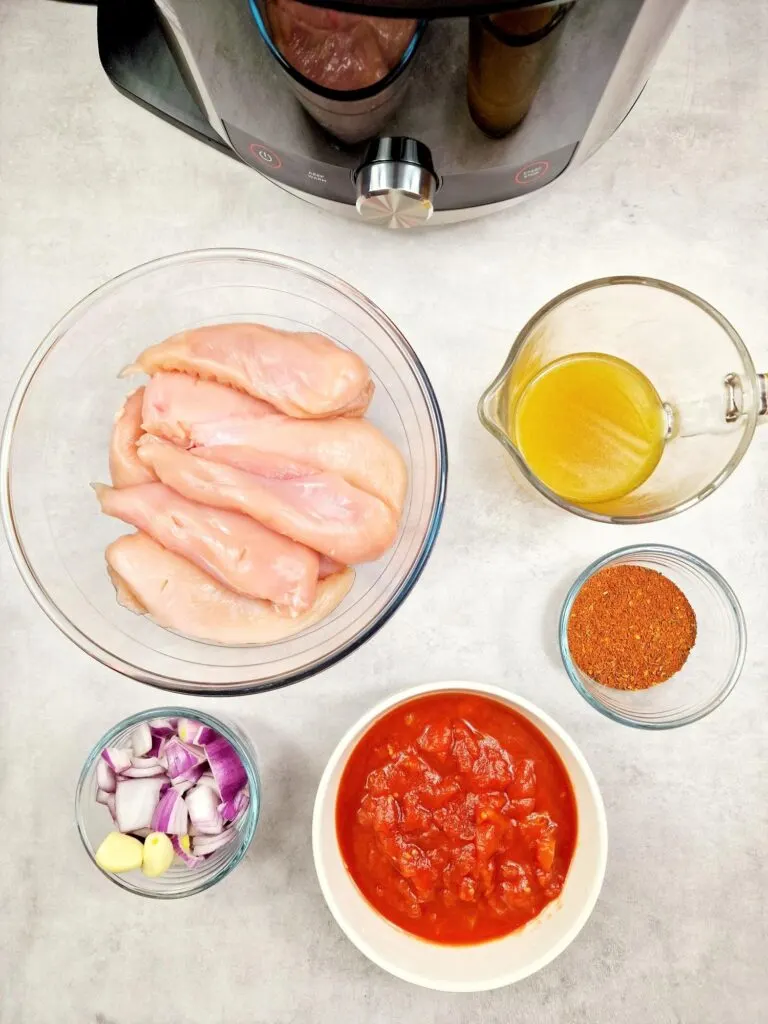 Oil – I used 1 tablespoon to saute the onions and seal the chicken; you can use butter if you prefer.
Onions and garlic – I used one red onion and two cloves of garlic.
Chicken – I used 1kg of chicken breasts; you could also use boneless chicken thighs.
2 tbsp Mexican Spices – I used a packet of mixed Mexican spices; you can substitute it with some chipotle paste or make up your own Mexican spice mix (see recipe notes for a suggested mix).
Chopped tomatoes – I used a 400g tin; you can substitute this with passata if you prefer.
Chicken stock – I made up 200ml of chicken stock from one chicken stock pot.
Sweet peppers and chillies – I used one sweet red pepper – you can use more peppers and add in a chopped chilli for even more kick!
Making It:
Start by setting the Ninja Foodi to the saute function and add a little oil to the pot. After a couple of minutes, add the chopped onion and fry it for about 5 minutes or until the onions have softened.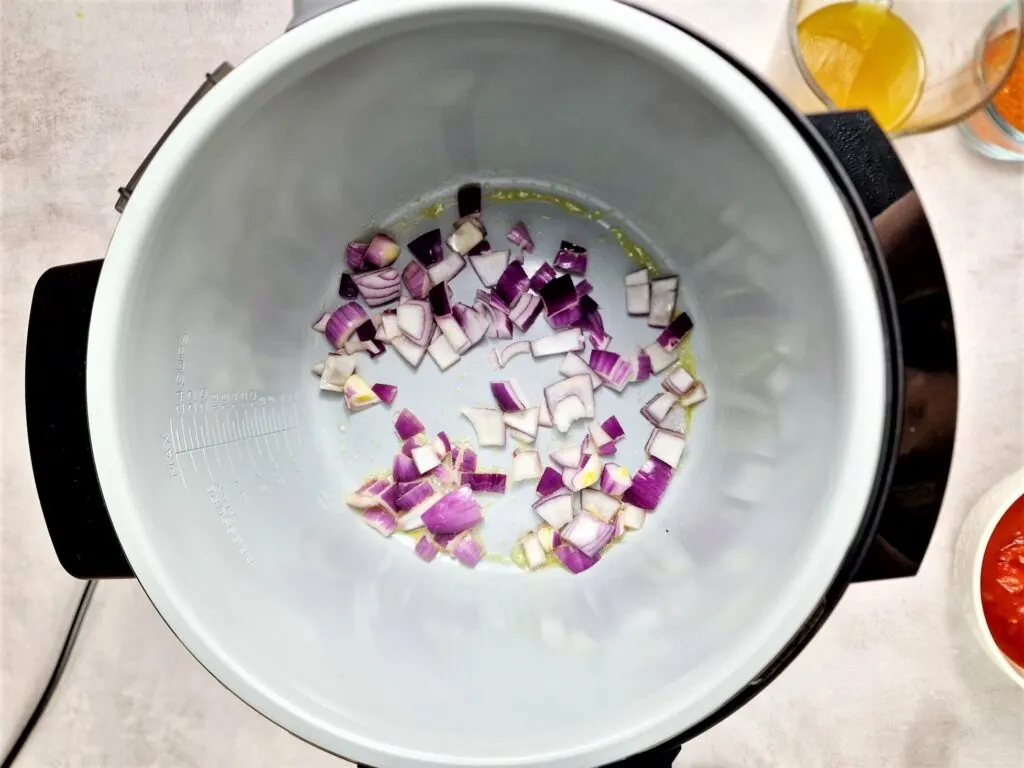 Add the chicken breasts (or thighs) to the pot and sear them on both sides, a couple of minutes on each side should be enough.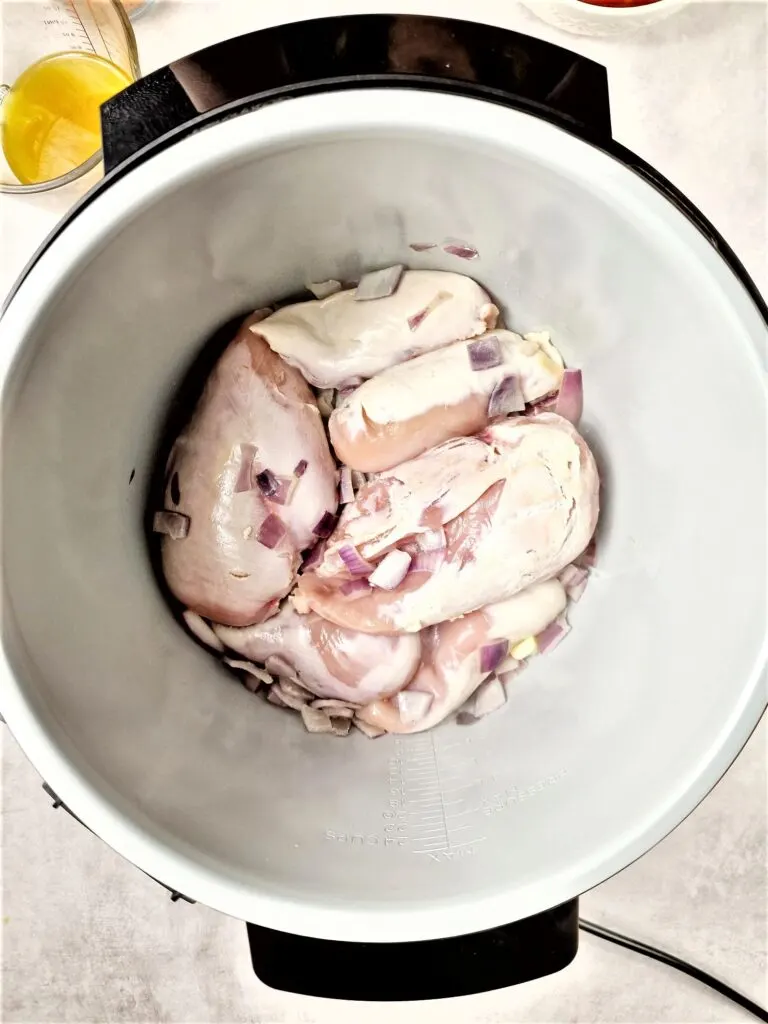 If anything has stuck to the bottom of the pot, use a little stock to deglaze it.
Stop the sear/saute function and add the Mexican spice mix (or paste), crushed garlic, chopped tomatoes and stock. If you are using chillies and peppers, you can also add them at this stage.
Side note: I added my sliced peppers after the pressure cooker stage, mainly because I forgot to add them now (!), but I do prefer them with a bit of crunch so it worked out ok, phew.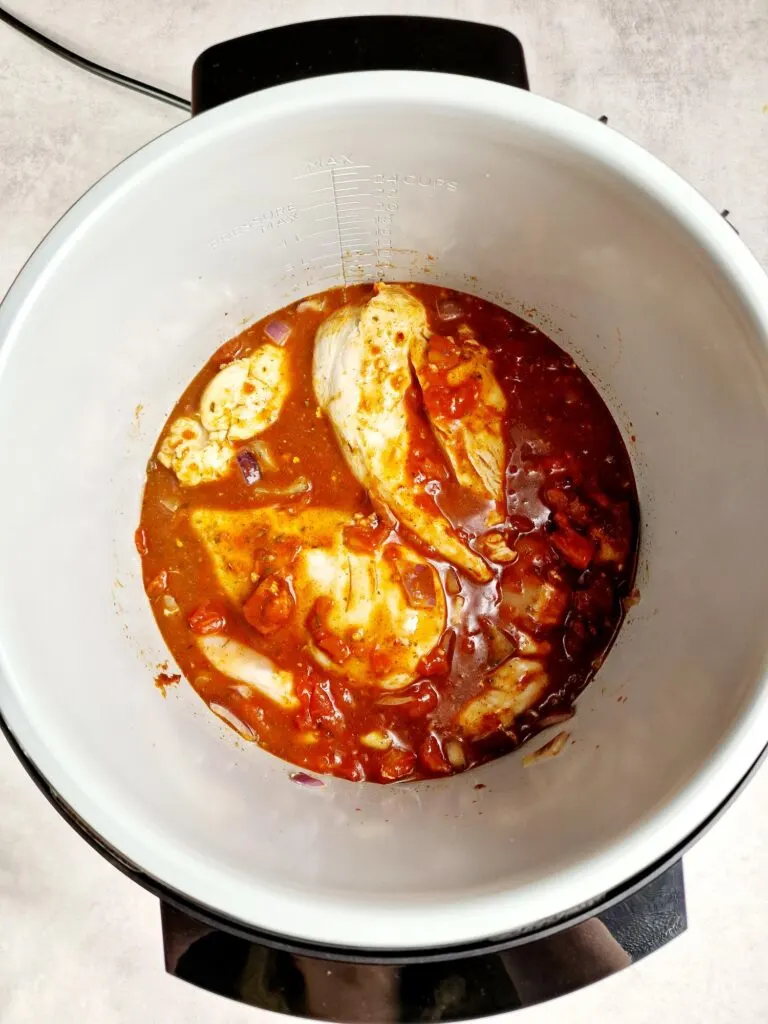 Stir everything together before closing the Ninja Foodi lid (or placing the separate pressure cooker lid on if you have a different model).
Ensure the pressure release valve is in the SEAL position (and move the slider to the left if you use the 15-in-1 model).
Select PRESSURE and set it to HI and 15 minutes. If your model of Ninja Foodi allows you to choose Quick Release at the beginning, do so now; if not, you will need to perform a quick release manually at the end.
Normally I would only pressure-cook the chicken breasts for 10 minutes, but I wanted the meat to be really shreddable. The chicken was not overcooked and was really soft and tender in texture.
The pressure cooker will take about 10 minutes to come to pressure.
At the end of the pressure cooking time is finished, move the slider to the right (for the 15-in-1 model) and carefully open the lid.
For other models, manually turn the valve to VENT (taking care not to burn your fingers on the hot water or steam – I tend to use an oven glove to do this).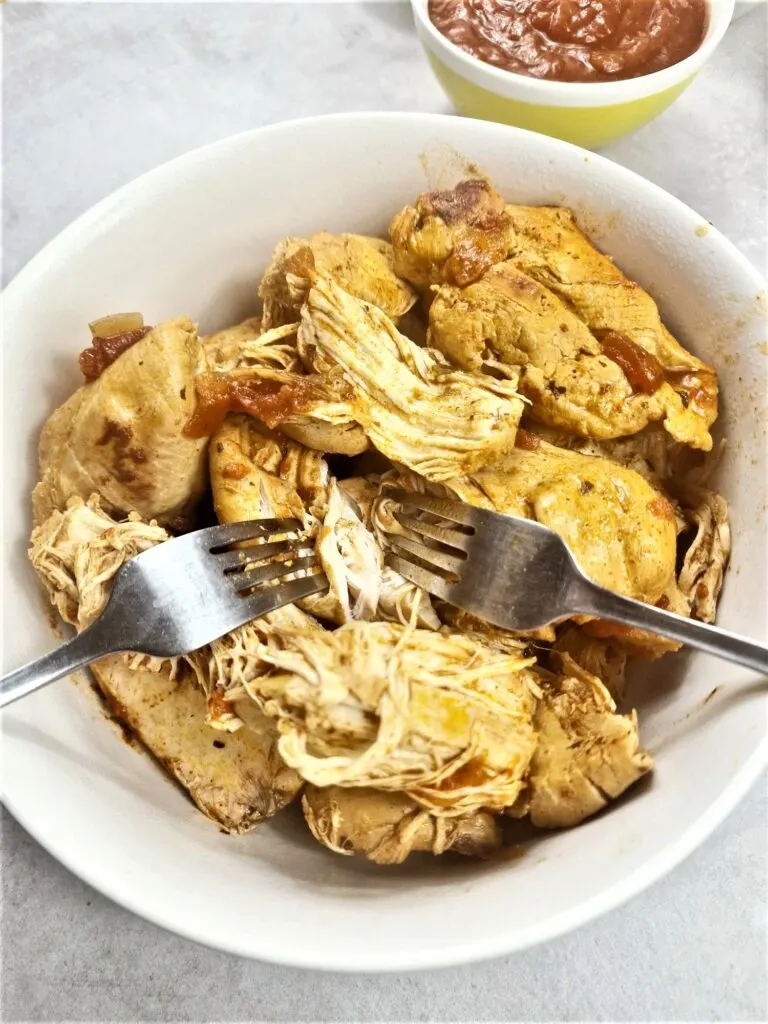 Remove the chicken and place it in a bowl ready to shred. Switch the pressure cooker to SEAR/SAUTE and leave the sauce to simmer down.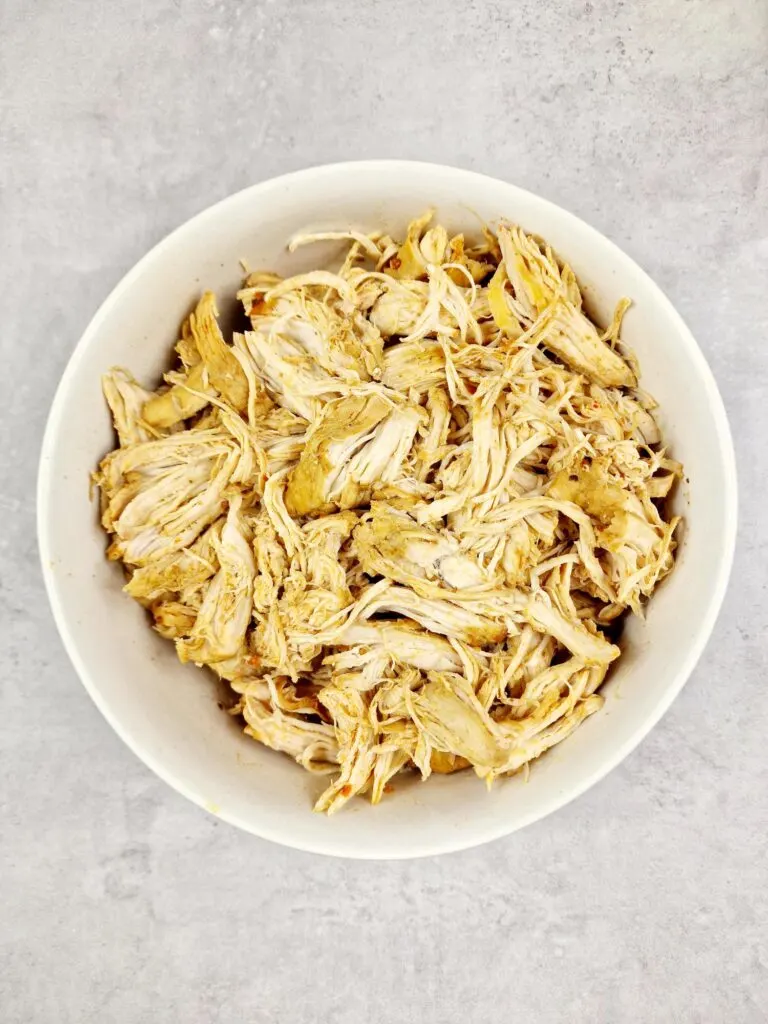 While the sauce is simmering, using two forks, shred the chicken. Once the chicken has been shredded, return it to the Ninja Foodi and mix it into the sauce.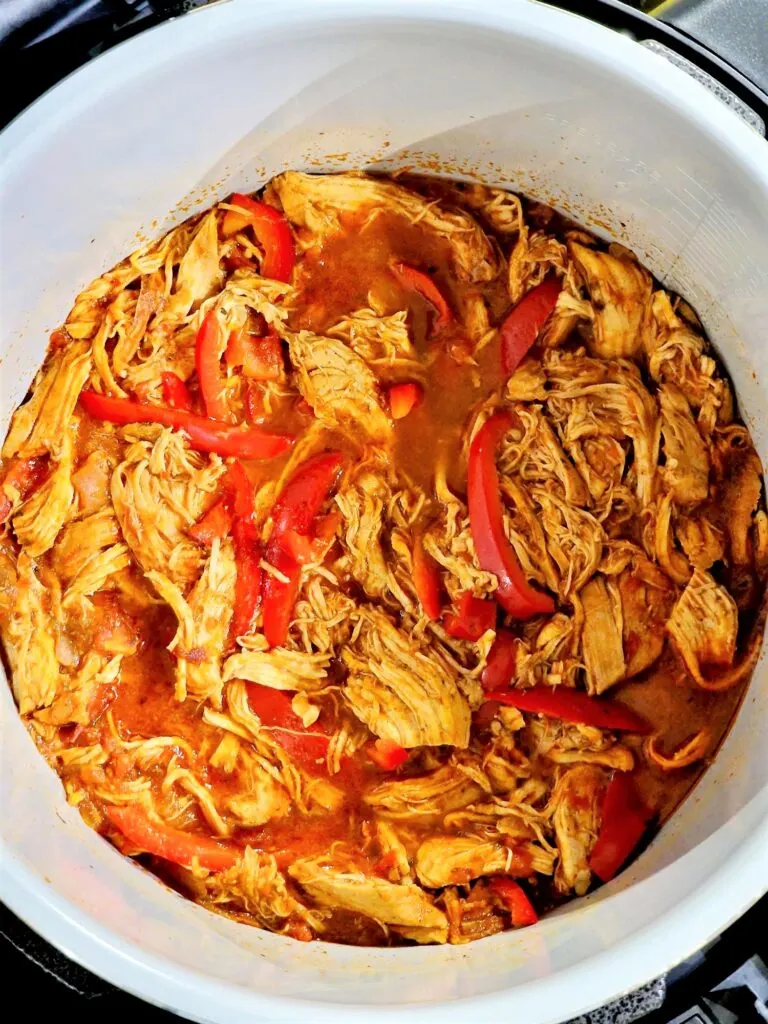 Leave it to simmer for a few minutes before switching the Ninja Foodi off.
What To Serve With Shredded Mexican Chicken
Shredded chicken can be served with a variety of sides. We had ours in tortilla wraps with some salsa, grated cheese and lettuce.
Other ideas include potato wedges, rice or on top of a jacket potato.
And I have enough leftovers that I might try and turn it into a soup – I'll keep you posted!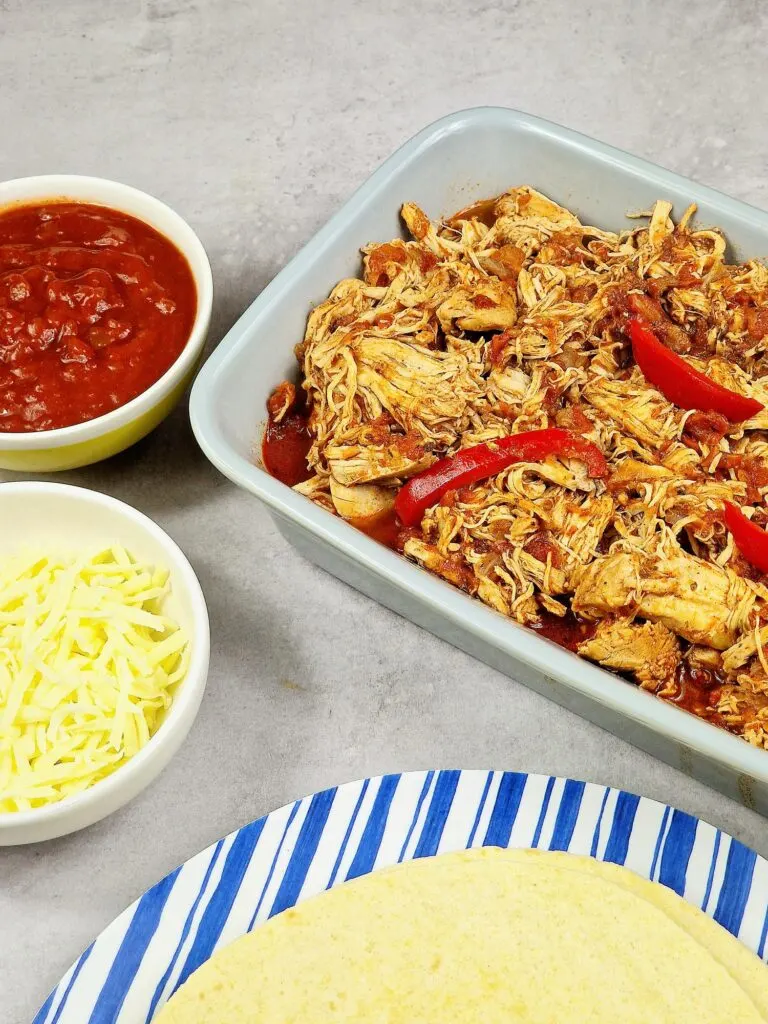 More Ninja Foodi Recipes
I hope you like this Ninja Foodi Mexican Shredded Chicken recipe; let me know in the comments if you end up making it!